No Sign of Health or Nutrition Problems from GMO Livestock Feed, Study Finds
October 1, 2014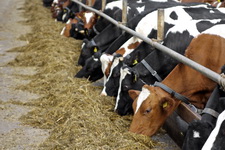 A scientific review article titled "Prevalence and Impacts of Genetically Engineered Feedstuffs on Livestock Population" shows the impact of GM crops as a feed component for animals. This review study is led by Alison Van Eenennaam and Amy Young, animal scientists from the University of California, Davis. The article summarizes the influence of GM crops used as a feed component in the performance and health of animals consuming it from its first introduction in year 1996 up to 2013. Their study also involved examining the livestock feeding studies over 30 years and encompasses about 100 billion animals.
Their findings show that GM feeds did not affect the health and productivity of livestock animals. The products of animals fed with GM feeds showed the same nutritional component as the products of animals fed with non-GM feeds.
Read more this article at: http://news.ucdavis.edu/search/news_detail.lasso?id=11038.
The Crop Biotech Update is a weekly newsletter of ISAAA, a non-for-profit organization. The CBU is distributed for free to over 23,000 subscribers worldwide to inform them about the key developments in biosciences, especially in agricultural biotechnology. Your support will help us in our mission to feed the world with knowledge. You can help by donating as little as $10.
See more articles:

News from Around the World

Research Highlights

Beyond Crop Biotech

Announcements

Resources


Subscribe to CBU: