Indian Farmers Continue to Adopt Biotech Crops
April 10, 2013
During the International Conference on the Adoption of Biotech Crops in the Developing World: Case Studies of Farmers from China, India, and the Philippines held in Manila, Philippines, Dr. Charudatta Mayee, President of the Indian Society for Cotton Improvement, revealed that farmers from India continue to adopt biotech crops (specifically Bt cotton) because of its advantages over its conventional counterpart. Among these advantages are more yield, higher income, safer farming practices, less use of pesticides, and reduction of farming cost. Mayee was project leader of a research on farmer adoption of biotech crops in India.
Mayee, who also discussed the dynamics of biotech crops adoption in India, added that Indian Bt cotton farmers were unfazed by the negative propaganda posed by anti-GM groups who are prevalent in the country. However, Mayee added that the Indian Government should extend its support for the public-private partnership of biotech crops development, approval, and commercialization in the country.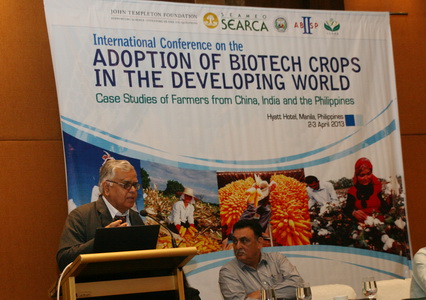 The international conference was co-organized by the John Templeton Foundation, the International Service for the Acquisition of Agri-biotech Applications, the Southeast Asian Regional Center for Graduate Study and Research in Agriculture, the National Academy of Science and Technology, and the Agricultural Biotechnology Support Project II. Over 130 participants from Asia, Africa, and Latin America attended the two-day conference.
For more information, send an email to knowledgecenter@isaaa.org.
ISAAA shares, disseminates, and promotes science-based information to help in achieving global agricultural sustainability and development. During this time of COVID-19 pandemic, we monitor research on treatments, vaccines and keep track of the pandemic's effect on food security and agriculture. We help the public make informed decisions and actions to mitigate and recover from the impact of COVID-19. At this crucial time, we need your help. Please support our efforts today from as little as $10  
See more articles:

News from Around the World

Research Highlights

Beyond Crop Biotech

Announcements


Subscribe to CBU: