New Plant Breeding Technologies Designed to Help Attain Food Security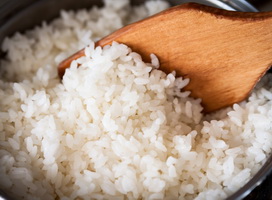 In a perspective article published in Science, an international team of researchers argues that new plant breeding technologies – such as genome editing – can contribute significantly to food security and sustainable development. Also in the past, plant breeding and other agricultural technologies played an important role for food security, but the resulting high intensity in the use of agrochemicals has caused serious environmental problems as well. Future technologies need to reduce the environmental footprint and make agriculture more resilient to climate stress. Predictions suggest that small farms in Africa and Asia will suffer especially from the effects of climate change. Genome editing can be used to make crop plants more resistant to pests and diseases and more tolerant to drought and heat. This can help to reduce crop losses and chemical pesticide sprays. Methods such as CRISPR-Cas9 can be used to make precise point mutations without introducing foreign genes. Due to their low costs, these methods can also be employed in previously neglected crops, such as pulses and local vegetables.
Nigerian Legislators Give the Country's Biosafety Agency a Clean Bill of Health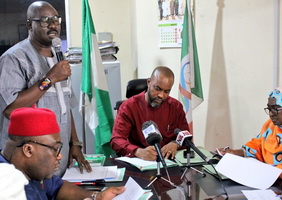 Nigerian legislators have given their support behind activities of the country's biosafety agency in regulating modern biotechnology and genetically modified organisms (GMOs). Chairman House Committee on Environment and Habitat Honorable Obinna Chidoka said the National Biosafety Management Agency (NBMA) is acting in accordance with the law and is completely backed by the National Assembly.
Speaking during the Committee's oversight visit to the NBMA in Abuja, Hon. Chidoka commended the Agency for being a regional leader in facilitating a strong biosafety system and an example to be emulated by countries adopting modern biotechnology.
Hon. Aishatu Dukku, a member of the Committee, lauded the Agency for granting approval for commercial release of pod borer-resistant (PBR) Bt cowpea in the country. She exuded confidence that Bt cowpea will offer farmers viable solutions to insect attacks on their beans and reduce their dependence on pesticides. "Your activities as a safety and regulatory agency, which has confirmed this variety safe for Nigerians, are in the interest of the common man and I must commend that," assured Hon. Dukku.
NBMA Director General (DG) Dr. Rufus Ebegba applauded the Committee's effort in ensuring a holistic biosafety framework by proposing an amendment to the National Biosafety Management Agency Act 2015 to include emerging technologies. The proposed bill seeks to expand the scope of the Act to include evolving aspects of biotechnology such as gene drives, gene editing, and synthetic biology. "We have a great responsibility in an ever-expanding sector and we must fine-tune the law to regulate emerging technologies in the biotechnology sector," said the DG.
During the visit, the Committee members were also updated on the status of the Agency's upgraded state-of-the-art Genetic Modification Detection and Analysis Laboratory.
For more information, contact Dr. Rufus Ebegba at rebegba@gmail.com, or read the NBMA Press Release.
SEARCA BIC Holds Region-wide Public Briefing on Philippine Biosafety Regulations
More than a hundred participants composed of farmers, local government officials and representives from the private sector and academe from the provinces of Ilocos Norte, Ilocos Sur, and La Union attended the Biotechnology 101 and Joint Department Circular (JDC) No. 1, Series of 2016 Public Briefing held at Plaza del Norte, Laoag City, Ilocos Norte on March 28, 2019.
EU Health Commissioner Calls for New Legislation for Plant Breeding Innovations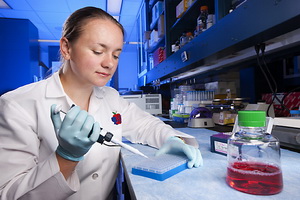 The new plant breeding innovations need new European Union legislation that considers the latest advanced technologies, said EU Health Commissioner Vytenis Andriukaitis. He said this considering the massive manipulation and "scare-mongering" on the issue.
"From my point of view, we need a new legal regulatory framework for these new techniques," Andriukaitis said, suggesting that the issue will be discussed by the new European Commission after the May elections.
The European Court of Justice (ECJ) decided in July 2018 that organisms obtained by mutagenesis, or gene editing, plant breeding technique are genetically modified organisms (GMOs) and should, in principle, fall under the GMO Directive. Andriukaitis said the ECJ had been asked to interpret a law , the GM legislation, which was implemented 20 years ago and was referring to old techniques, without consideration for the latest advances in the field. He also rejected the claim of most environmentalists that multinational companies are behind the application of biotechnology, emphasizing the example of Bangladeshi farmers who used biotechnology and produce good crops to feed their families without using pesticides.

Read the original article from Euractiv.
The Crop Biotech Update is a weekly newsletter of ISAAA, a non-for-profit organization. The CBU is distributed for free to over 23,000 subscribers worldwide to inform them about the key developments in biosciences, especially in agricultural biotechnology. Your support will help us in our mission to feed the world with knowledge. You can help by donating as little as $10.