IFPRI Study Says Farmers in Bangladesh Benefited by Adopting Bt Brinjal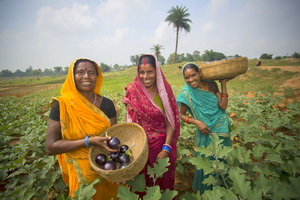 "We don't find any problem with Bt brinjal," said Bangladesh Agriculture Minister Dr. Abdur Razzaque when he addressed more than 160 guests at a policy workshop titled Agricultural Transformation in Bangladesh: Evidence on Biotechnology and Nutrition-Sensitive Agriculture at Hotel Intercontinental Dhaka on March 6, 2019.
The Agriculture Minister also said that the government has come up with hybrid varieties including GMOs to ensure availability of safe and nutritious food. He said the adoption of Bt brinjal is a success story of the government of Bangladesh. The event was organized by the Ministry of Agriculture, and Bangladesh Policy Research and Strategy Support Program (PRSSP) of the International Food Policy Research Institute (IFPRI).
Dr. Akhter Ahmed, IFPRI country representative in Bangladesh, presented the impact of Bt Brinjal technology in the country. A study conducted by IFPRI study reports that Bt brinjal farmers significantly reduced applications and amount of pesticide sprayed while fruit and shoot borer infestation was nearly eliminated among Bt brinjal plants. Planting the crop also reduced production costs, the report said, adding that Bt brinjal yield increased by 40 percent.
For more details, read the articles in the Daily Sun and IFPRI.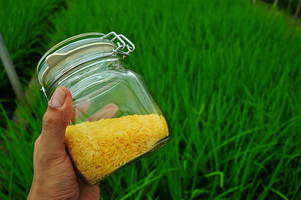 The vitamin A-enriched rice known as Golden Rice will soon be available in Bangladesh, according to Agriculture Minister Dr. Abdur Razzaque. He said this to news reporters after a meeting with the officials of the International Rice Research Institute.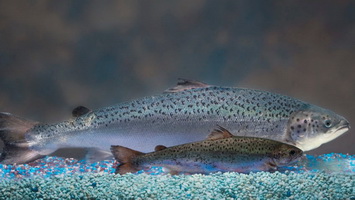 The U.S. Food and Drug Administration (FDA) released a statement on March 8, 2019 saying that the agency has deactivated an import alert implemented in 2016 that prevented the entry of genetically modified (GE) salmon. During that same year, U.S. Congress instructed the FDA not to let the GE salmon enter the country pending the final labeling guidelines. This directive was given despite FDA's comprehensive analysis of the GE salmon's scientific evidence that proved its safety as food. FDA obliged to Congress' directions by issuing the 2016 import alert.

A biweekly update on gene editing research, regulations, and impact
produced by ISAAA Inc.

A monthly update on gene drive research and development provided by ISAAA in collaboration with the Outreach Network for Gene Drive Research
Biotech Updates is a weekly newsletter of ISAAA, a not-for-profit organization. It is distributed for free to over 22,000 subscribers worldwide to inform them about the key developments in biosciences, especially in biotechnology. Your support will help us in our mission to feed the world with knowledge. You can help by donating as little as $10.