ISAAA SEAsiaCenter
ISAAA's SEAsiaCenter was established in January 1998 in the Philippines. A decade after, it has productive partnerships with several countries where knowledge sharing and/or technology transfer activities are ongoing. Among these countries include Bangladesh, China, India, Indonesia, Japan, Malaysia, Pakistan, Sri Lanka, Thailand, and Vietnam. An ISAAA South Asia office  in India currently serves as liaison to other countries in the region.
The present portfolio of projects is aimed at developing an enhanced understanding of stakeholders on biotechnology applications and increase their capacity in areas surrounding the acquisition, transfer, and adoption of key crop-biotechnology applications that meet priority needs in these countries.
Why in Asia?
Asia represents a formidable challenge because:
More than half of the world's population and many developing countries are in the Asian region;
Asia will have the highest absolute increase in population in the next 25-50 years;
Asia will have to increase cereal production by at least 40% over the next 25 years to meet its needs for food, livestock feed, and fiber;
Production of all other major food products will need to keep pace with population growth and increased demand;
Asia's per capita agricultural land will continue to decrease rapidly due to urbanization and changing land use;
Land degradation will continue, with increasing problems of salinity and deforestation;
Water scarcity will become acute and productivity increases will need to be achieved with less land and less water;
Yield plateaus/yield declines will continue to occur in some of Asia's most productive lands.
Agriculture will continue to play a central role as Asia pursues the complementary goals of poverty reduction, sustainable food security, environmental conservation, and increasing trade competitiveness. New technologies, including crop biotechnology, will be essential to meet these challenges. The prospects for their utilization are particularly promising, since Asia's high priority development needs and existing biotechnology potential can intersect to make a difference in the lives of its 700 million rural poor and many resource poor farmers. Positive experience on first generation biotech crops since these are first commercialized has already been well documented in China and numerous studies report the same in India and the Philippines.
Activities
The SEAsiaCenter coordinates activities that center on these crops:
Papaya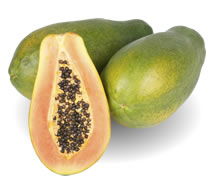 The Papaya Biotechnology Network of Southeast Asia is a regional initiative among Indonesia, Malaysia, Philippines, Thailand, and Vietnam organized to address two major constraints to papaya production: the papaya ringspot virus (PRSV) and significant post-harvest losses. ISAAA facilitated an agreement with Monsanto to donate its virus resistance technology to the network. It also brokered an agreement with Zeneca (now Syngenta Seeds) and the University of Nottingham to share their delayed ripening technology. ISAAA provided internships and fellowships on various technology aspects. ISAAA also facilitated the transfer of PRSV papaya technology to the Tamil Nadu Agricultural University (TNAU), Coimbatore, India from Monsanto. TNAU requested assistance to build capacity to develop improved and virus resistant papaya varieties.
Eggplant
ISAAA is supporting the development of a fruit and shoot borer resistant (FSBR) eggplant in the Philippines. This project is being spearheaded by the Institute of Plant Breeding of the University of the Philippines Los Baños through a partnership with the Indian Maharashtra Hybrid Seeds Company Ltd (Mahyco), Cornell University, and the United States Agency for International Development (USAID) through the Agricultural Biotechnology Support Project II.
Insect and Virus Resistant Sweet Potato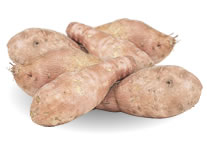 Research is underway in Vietnam and the Philippines to develop transgenic sweet potato varieties. ISAAA brokered an agreement with Novartis Seeds (now Syngenta Seeds), Switzerland, to donate Bt genes and to train Vietnamese scientists in developing a variety resistant to sweet potato weevil. ISAAA also brokered the donation of virus resistance technology from Monsanto to the Philippines to develop local varieties with sweet potato feathery mottle virus (SFMV) resistance. Spearheading research activities are the University of the Philippines Los Baños and the Leyte State University. Likewise, ISAAA supported fellowships for local scientists.
Since the establishment of ISAAA's SEAsiaCenter, ISAAA has also pursued initiatives that address constraints in the enabling environment. These seek to overcome the most significant immediate limitations to the introduction and use of important biotechnology applications already available. These initiatives focus on:
Development and adoption of effective biosafety regulatory and review systems
Management of intellectual property rights
Enhancing public awareness and understanding of the applications of agricultural biotechnology, their safe use and benefits
ISAAA supports capacity building in developing countries in order to assist these countries increase their technical capacities in the different aspects of biotechnology that need strengthening. ISAAA provides training in its partner countries at the national level and collectively at the regional level. ISAAA facilitates leveraging of resources from various agencies and institutions to enable activities at the regional level. This allows limited resources in Southeast Asia to be utilized most effectively and also facilitates a common understanding of constraints and the harmonization of regional guidelines to manage and deploy crop biotechnology products.