ISAAA Inc. Launches Pinoy Biotek Magazine
September 6, 2023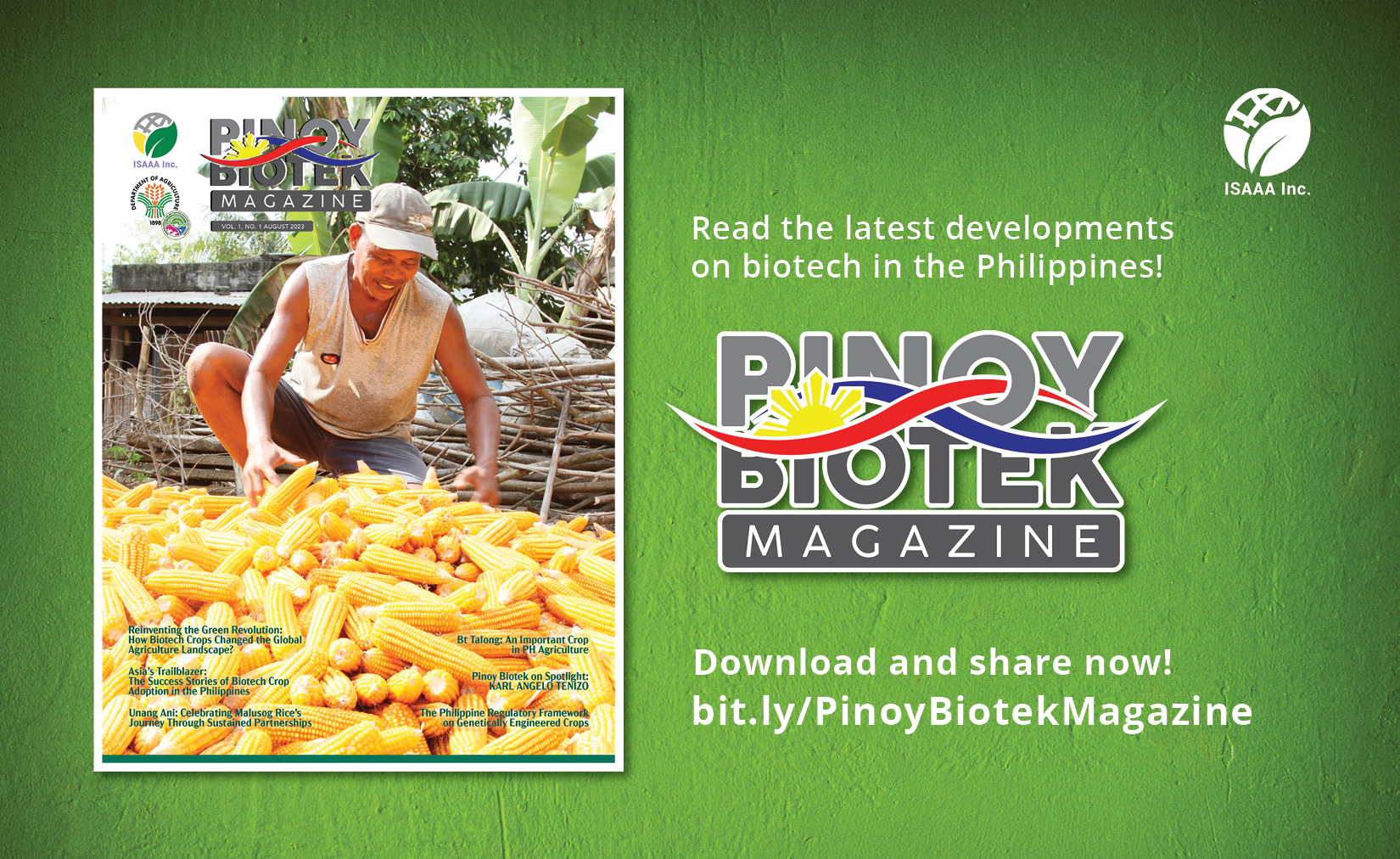 ISAAA Inc., as part of the Pinoy Biotek na Tayo project with the Philippine Agriculture and Fisheries Biotechnology Program of the Department of Agriculture (DA Biotech Program), launches Pinoy Biotek Magazine, a new information resource tool to help Filipinos better understand agricultural biotechnology (agbiotech).
Magazines have a far-reaching impact on society. They are a great source of information and entertainment and present stories with more information and details than newspaper articles. They are also affordable, portable, and shareable, and have featured articles that reach more people. New developments in agbiotech are interesting to many people, but such topics should be presented in an easy-to-understand format and include important details. Magazines offer the space and coverage for a more in-depth discussion of modern agbiotech.
Pinoy Biotek Magazine aims to raise awareness, understanding, and acceptance of Pinoy biotech products that are derived from conventional and modern biotechnology. This magazine will be published in print and distributed for free to selected schools and institutions. It is also available for free download on the ISAAA Inc. website at www.isaaa.org.
The maiden issue of Pinoy Biotek Magazine has the following topics and articles:
Reinventing the Green Revolution: How Biotech Crops Changed the Global Agriculture Landscape?
Asia's Trailblazer: The Success Stories of Biotech Crop Adoption in the Philippines
Facts About Biotech Crops in the Philippines
Unang Ani: Celebrating Malusog Rice's Journey Through Sustained Partnerships
Bt Talong: An Important Crop in PH Agriculture
The Philippine Regulatory Framework on Genetically Engineered Crops
Empowering Filipino Fishers Through Aquaculture Innovation
Pinoy Biotek on Spotlight: Karl Angelo Tenizo
BioMeg: The Tool for Crop Success
Infographics on Biotech Crops in the Philippines
Pinoy Biotek Magazine is part of the project titled "Awareness Building on Biotechnology and Products of Philippine Biotechnology (Conventional and Modern Biotechnology)," also called "Pinoy Biotek na Tayo" which prioritizes communicating biotechnology to help increase the awareness of Filipinos on biotech crops and its products. ISAAA Inc. has recently launched the Biotechnology in the Philippines Resource, a repository of materials that highlight biotechnology applications, regulations, and communication efforts in the Philippines. The Resource is also part of the same project.
Download the magazine at www.isaaa.org.
Science Speaks is ISAAA Inc.'s official blog. Weekly blog articles, authored by ISAAA writers, partners, and invited contributors, aim to help share, disseminate, and promote scientific knowledge and its vital role in achieving global agricultural sustainability and development. Your support to Science Speaks will help us achieve this goal. You can help us by donating as little as $10.