ISAAA and Partners Diversify to Face New Challenges
May 6, 2020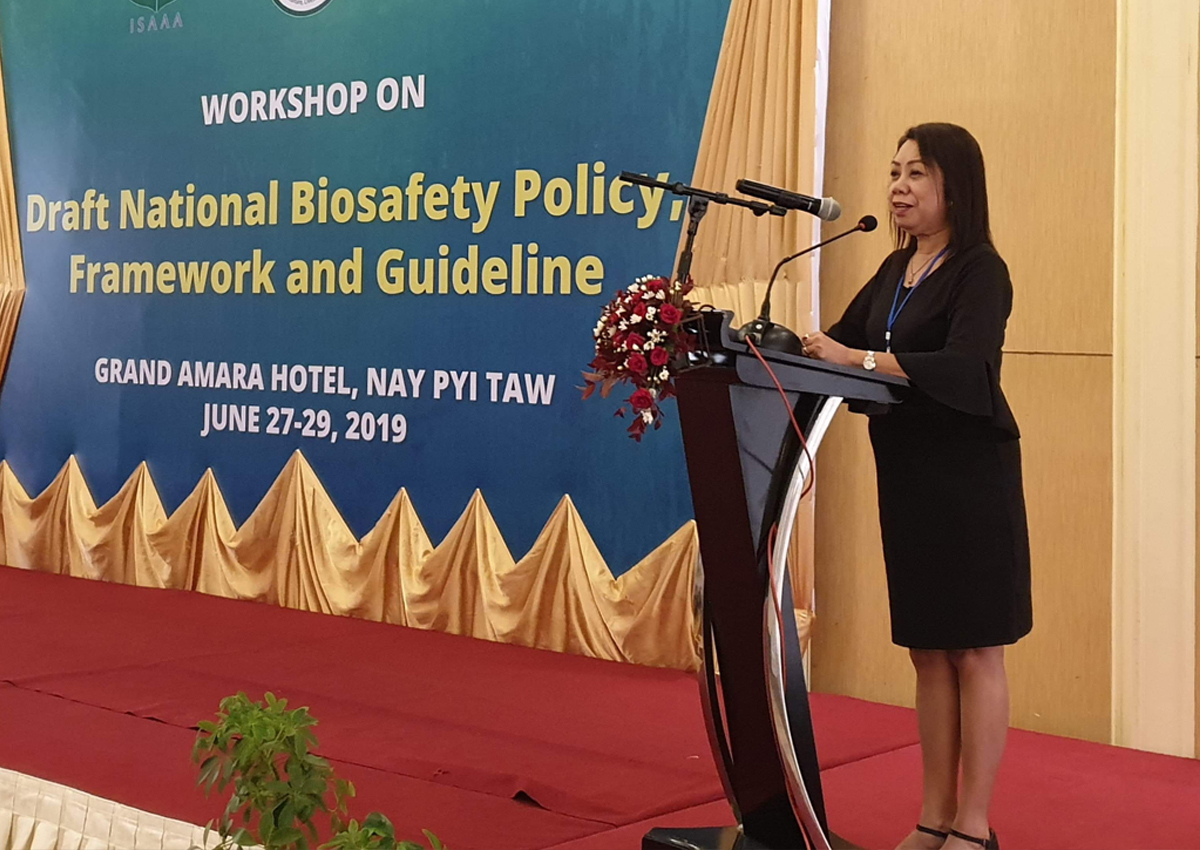 A Message by Dr. Rhodora Romero-Aldemita, Director, ISAAA Southeast Asia Center;
Director, Global Knowledge Center on Crop Biotechnology
In more than two decades of existence, ISAAA has become the embodiment of a not-for-profit organization that responds to and faces the challenges of the times. ISAAA was established to serve the global community especially the developing countries in harnessing the benefits that crop biotechnology brings to farmers and consumers.
Through ISAAA's knowledge sharing, capacity building, and technology transfer activities, enabling policies and regulations were put in place in many countries that expedited technology adoption. New seed technologies were delivered to needy farmers as the number of countries that adopt biotech crops increased from five to 26 planting countries; global economic gains from biotech crop adoption have gone up to $186 billion from 1996 to 2016 due to crop productivity and reduced labor costs, and benefits to the environment accrued due to reduced applications of hazardous chemical plant protectants.
ISAAA is a major player in the global acceptance and adoption of biotech crops.
As the need for a more efficient food production system continues, coupled with problems brought by climate change and declining natural resources, innovative technologies such as genome editing came to the rescue. New varieties of products that target agricultural problems in crops and livestock were developed in a faster and more efficient way. Nutritious food, feed, pharmaceuticals, ways to decrease disease vector population, and vaccines including the one for COVID-19 are coming our way faster to improve the lives of humanity.
The challenge again is how all these humanitarian products can be known and accepted by the general public, be made available to farmers and other food producers, and the benefits accessed by the general public.
Once again, ISAAA is gearing up to respond to these challenges. ISAAA is expanding beyond crop biotechnology to bring science culture to our everyday lives. New science-based materials will be developed and distributed widely using quad media (print, broadcast [radio and tv], online, and social media). ISAAA partners and followers will have more access to information materials on innovative bioscience technologies. Release of new technologies and products will be showcased in our newsletters and social media platforms on science. Countries with capacity building needs to make regulation and guidelines science-based, systematic, and transparent will be assisted fully. Continuous conversations will be forged online and face to face to help advance science and new technologies through various modalities. These will only become possible through global networking and fortifying communities of practice.
All these initiatives will be implemented together with like-minded organizations who also strive to face challenges with bigger goals and wider outlook. Partners and donors are welcome to join ISAAA in its quest for a productive and safer global society through innovative bioscience technologies. Email us at knowledge.center@isaaa.org
Science Speaks is ISAAA Inc.'s official blog. Weekly blog articles, authored by ISAAA writers, partners, and invited contributors, aim to help share, disseminate, and promote scientific knowledge and its vital role in achieving global agricultural sustainability and development. Your support to Science Speaks will help us achieve this goal. You can help us by donating as little as $10.