ISAAA, SEARCA, and DA Biotech Release Policy Brief on Coexistence Farming
May 3, 2023
ISAAA, in partnership with the Philippine Agriculture and Fisheries Biotechnology Program and the Southeast Asian Regional Center for Graduate Study and Research and Agriculture (SEARCA), published a policy brief titled We Can Be Friends: Harvesting the Benefits of Coexistence Farming. The policy brief is authored by SEARCA Director Dr. Glenn Gregorio, together with Jerome Barradas, Program Coordinator II, and Danellie Joy Medina, Program Associate.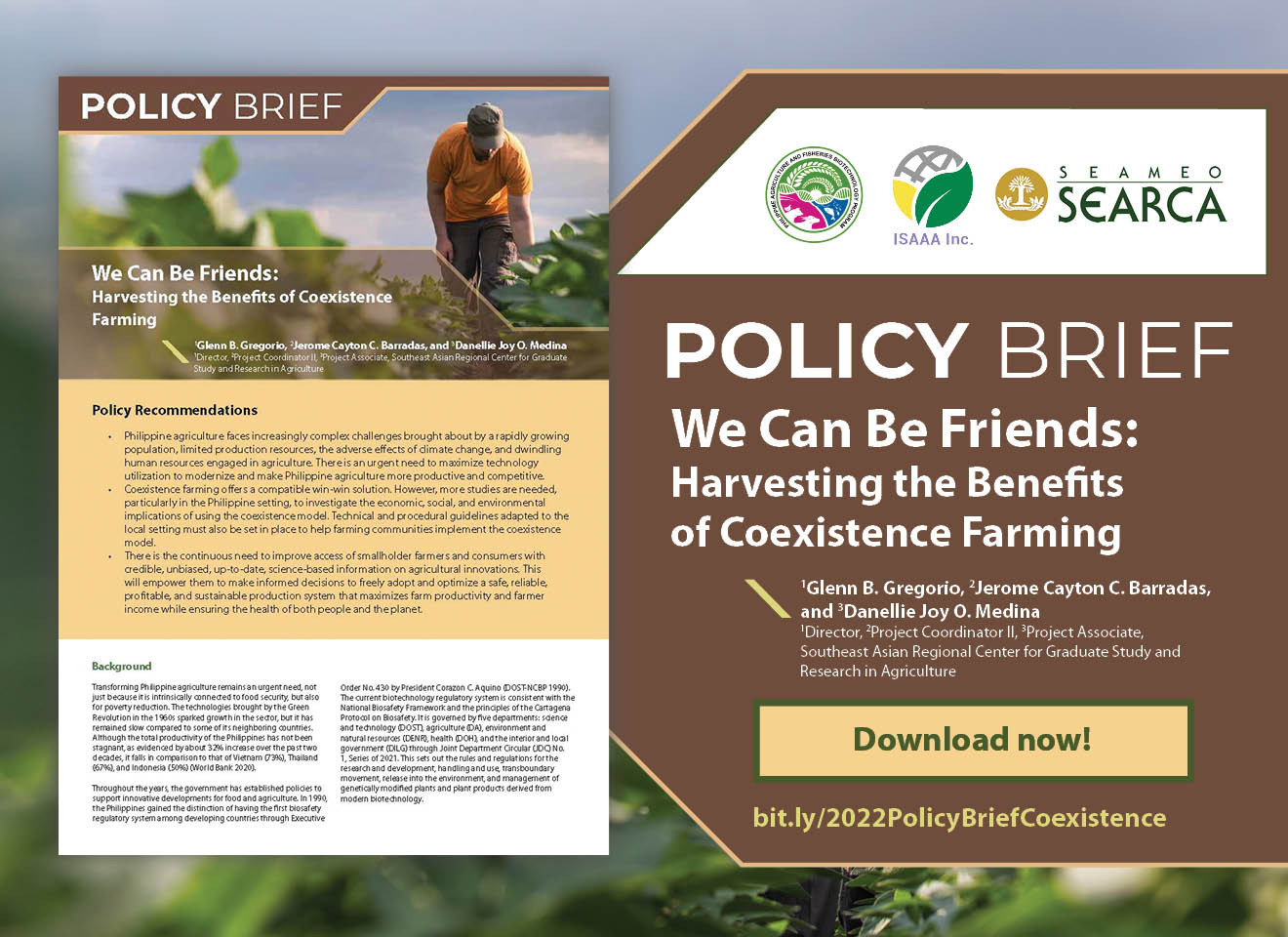 The brief tackles the regulations of biotech crops in the Philippines, as well as policies on organic agriculture. Case studies of countries with experience in coexistence are also featured as benchmarks for the Philippine setting. Results of a survey on farmers' perspectives about coexistence are also discussed.
Based on the points presented, the brief provided the following policy recommendations:
With the challenges faced in climate, population growth, and production resources, there is a need for modern technologies for more productive and competitive Philippine agriculture.
While coexistence provides a win-win solution, additional studies will provide insights into applying the coexistence model in the country.
Improved access to science-based information on agricultural innovations is vital to empower stakeholders to make informed decisions relating to farmer productivity and income.
The brief on coexistence is the last and final addition to the Know the Science Policy Briefs intended for distribution to the Senate and the House of Representatives to promote the modernization of Philippine agriculture. Download the following policy briefs to know more:
Science Speaks is ISAAA Inc.'s official blog. Weekly blog articles, authored by ISAAA writers, partners, and invited contributors, aim to help share, disseminate, and promote scientific knowledge and its vital role in achieving global agricultural sustainability and development. Your support to Science Speaks will help us achieve this goal. You can help us by donating as little as $10.