Bt Eggplant to Boost Marketable Yield by 192%, Reduce Insecticide Use by 48% in PH
May 20, 2020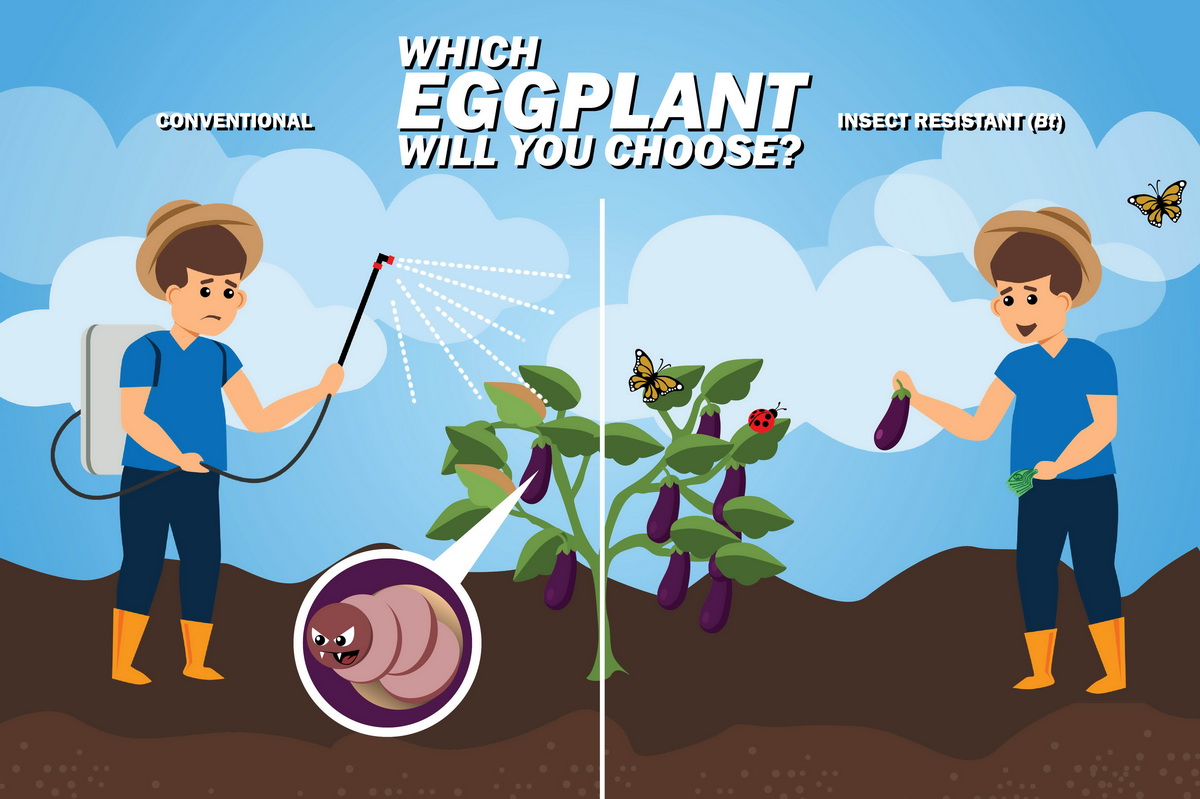 In the Philippines, eggplant farming is a major source of income for thousands of farmers in the eggplant-producing regions in Luzon and Central Visayas. Eggplant is the number one vegetable in the country in terms of production. According to the Philippine Statistics Authority (PSA), during the October to December 2019 period, eggplant production in these regions reached 24.57 thousand metric tons, which is 1.4 percent higher than the 2018 same quarter level of 24.24 thousand metric tons.
Despite the crop's profitability, eggplant farming is suffering from damages brought by pests and diseases, putting farmers, consumers, and the environment at huge risk. Eggplant crops are susceptible to the eggplant fruit and shoot borer (EFSB), a pest that can cause up to 92% yield loss annually. To address the problem brought by EFSB, farmers rely heavily on chemical insecticides. This practice increases the exposure of farmers, consumers, and the environment to toxic insecticides which are sometimes illegal and unlabeled. Farmers lament that if they don't use pesticides and spend more than 30 percent of their capital on these, they will lose all their produce and income.
Using Bt insect resistant technology, a team of researchers from the University of the Philippines Los Baños Institute of Plant Breeding developed an insect resistant eggplant that will increase farmer profits and reduce their use of harmful chemical insecticides. If Bt eggplant is grown on a commercial scale in the country, it is expected to boost marketable yield by 192 percent and reduce pesticide application per hectare by 48 percent.
To demonstrate the benefits of Bt eggplant, ISAAA released a new infographics titled Which Eggplant Will You Choose? The infographics present a comparison between planting conventional and Bt eggplant in terms of EFSB infestation, insecticide use, marketable yield, effects on non-target organisms, and benefits to farmers' well-being. The infographics show that farmers who plant conventional eggplant are exposed continuously to various broad-spectrum insecticides, some of which are illegal and unlabeled. The documented effects of such insecticides include dermal irritation, respiratory problems, altered vascular function, occupational skin cancer, and paralysis of body parts.
The infographics is available for download on the ISAAA website, together with other ISAAA infographics on biotech crops.
Science Speaks is ISAAA Inc.'s official blog. Weekly blog articles, authored by ISAAA writers, partners, and invited contributors, aim to help share, disseminate, and promote scientific knowledge and its vital role in achieving global agricultural sustainability and development. Your support to Science Speaks will help us achieve this goal. You can help us by donating as little as $10.