Filipino Research Team Presents First Publicly Available Data on Field Performance of Bt Eggplant in Asia
March 3, 2021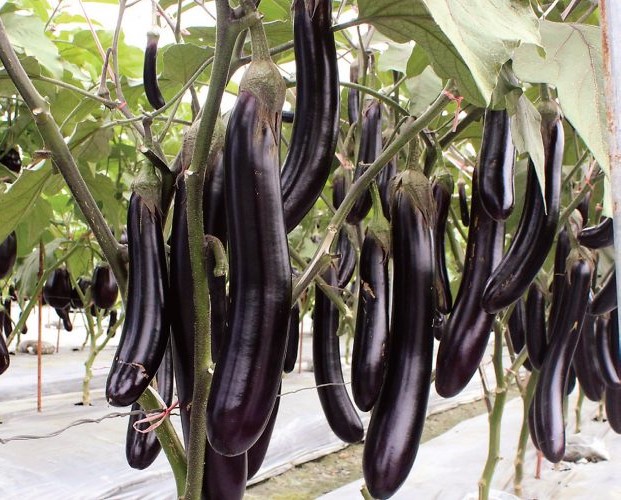 Eggplant is one of the most important and profitable vegetables in the Philippines. It accounts for more than 30% of the total volume of vegetable production in the country. Eggplant farming provides resource-poor Filipino farmers with a better source of income. The biggest threat for eggplant producers, not only in the Philippines but in Asia as well, is the eggplant fruit and shoot borer (EFSB).
EFSB is responsible for the yield loss of up to 80% of eggplant farming in the Philippines. Thus, several Filipino farmers employ frequent application of mixtures of chemical pesticides to control EFSB. This method resulted in an increase in production costs and constituted risks to health of the farmers and consumers.
A field study conducted by researchers from the University of the Philippines Los Baños led by Dr. Desiree Hautea, professor of genetics and crop biotechnology, produced the first publicly available data on the field performance of Bt eggplant in Asia. The results showed that Bt eggplant demonstrated high levels of control against EFSB compared to non-Bt eggplant varieties over the span of three cropping seasons in the Philippines from 2010-2012.
The study evaluated the value of Bt protein found in Bt eggplant in controlling the target pest, EFSB. Bt eggplant displayed a success rate of 98.6-99.3% in preventing shoot damage, 98.1%-99.7% in preventing fruit damage, and 95.8–99.3% in reducing larval infestations under the most extreme pest pressure.
The results of the study was the first report to be submitted to a peer-reviewed journal in Asia. The data served as a benchmark in choosing which variety of Bt eggplant will be used for commercialization.
To learn more about the studies, read the article in PLOS One. For more information on Bt eggplant, visit the Bt Eggplant Resource page.
Science Speaks is ISAAA's Blog hosted by the ISAAA website and publishes weekly blog articles to help share, disseminate, and promote scientific knowledge and its vital role in achieving global agricultural sustainability and development. Your support to Science Speaks will help us in our goal to promote scientific knowledge. You can help us by donating as little as $10.