ISAAA Report on Global Adoption of GM Crops in 2019 Now Available
February 17, 2021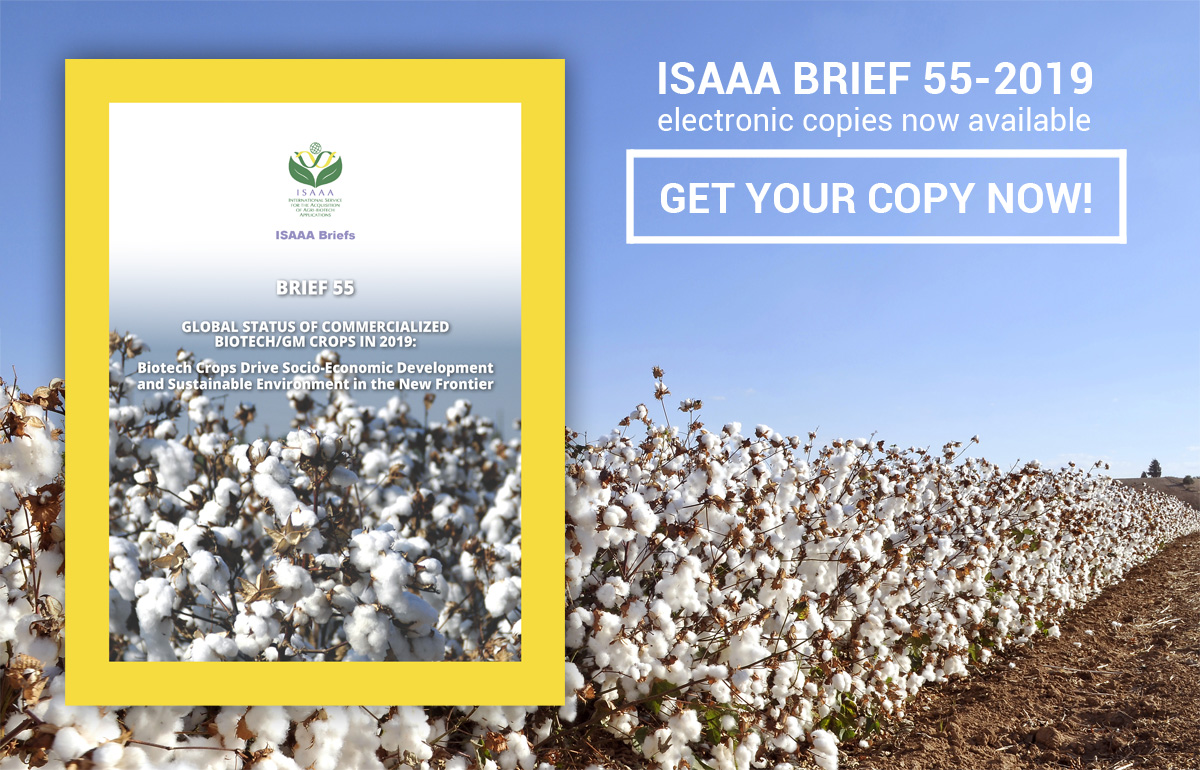 ISAAA Brief No. 55, the full report on the global adoption of biotech/GM crops in 2019 authored by the International Service for the Acquisition of Agri-biotech Applications is now available. Brief 55 contains 26 tables and 23 figures presenting the following:
planting area and biotech crops in 29 countries;
global biotech crop events;
socio-economic benefits of biotech crops; and
regulation highlights of country adopters
According to Global Status of Commercialized Biotech/GM Crops: 2019 (ISAAA Brief No. 55), 190.4 million hectares of biotech crops were grown in 29 countries in 2019, contributing significantly to food security, sustainability, climate change mitigation, and upliftment in the lives of up to 17 million biotech farmers and their families worldwide. Double-digit growth rates in biotech crop areas were recorded in developing countries, particularly in Vietnam, the Philippines, and Colombia.
Get an electronic copy of the full report for only US$50. Report highlights in slides and infographics (report highlights and top 5 biotech crops) are also available for US$30 each.
The Brief 55 Executive Summary, Press Release, and infographics "Do you know where biotech crops are grown?" are available for free download on the ISAAA website.
Follow ISAAA on Facebook, Instagram, Twitter and Science Speaks blog for more publications on biotech crops.
Science Speaks is ISAAA's Blog hosted by the ISAAA website and publishes weekly blog articles to help share, disseminate, and promote scientific knowledge and its vital role in achieving global agricultural sustainability and development. Your support to Science Speaks will help us in our goal to promote scientific knowledge. You can help us by donating as little as $10.