Biotech Innovations for a Sustainable Agriculture
November 15, 2023
ISAAA Inc., in collaboration with the Philippine Agriculture and Fisheries Biotechnology Program of the Department of Agriculture (DA Biotech), Biotechnology Coalition of the Philippines, Inc. (BCP), Bureau of Animal Industry (BAI), and Corteva Agriscience, conducted the webinar series on Biotech Innovations for A Sustainable Agriculture on November 8 to 10, 2023, via Zoom. This webinar series is a build-up activity for the 19th National Biotechnology Week with the theme "Empowering Innovation for Sustainable Future with Biotechnology." It aims to promote biotech innovations and their potential to help build a sustainable food system in the Philippines.
During the opening remarks on November 8, ISAAA Executive Director Dr. Rhodora Romero-Aldemita hopes that the three-day webinar will increase the knowledge of the general public regarding biotech innovations in crops and animals and appreciate their potential in building sustainable food systems. Similarly, DA Biotech Director Dr. Claro N. Mingala also hopes that at the end of the webinar, the audience will have a clearer picture and appreciation of how biotechnology can contribute to the promotion of a more sustainable and efficient agricultural system.
On November 9, Mr. Elijah M. Avante, Science Research Specialist at BAI, delivered the opening remarks on behalf of BAI Biotechnology Program Assistant Director and Chair Dr. Arlene Asteria V. Vytiaco. In his message, he emphasized the need for scrupulously designed solutions to address the pressing issues and challenges in agriculture around the world. On the last day of the webinar series, BCP Executive Secretary Dr. Abraham J. Manalo said that "innovation and sustainability are not just buzz words but actionable paths that we commit to exploring and materializing our collective vision for biotechnology." This article is an overview of the topics discussed during the event.
New Breeding Innovations in Crops: The Technologies, Application in Mitigating Pesticide Use, and Regulation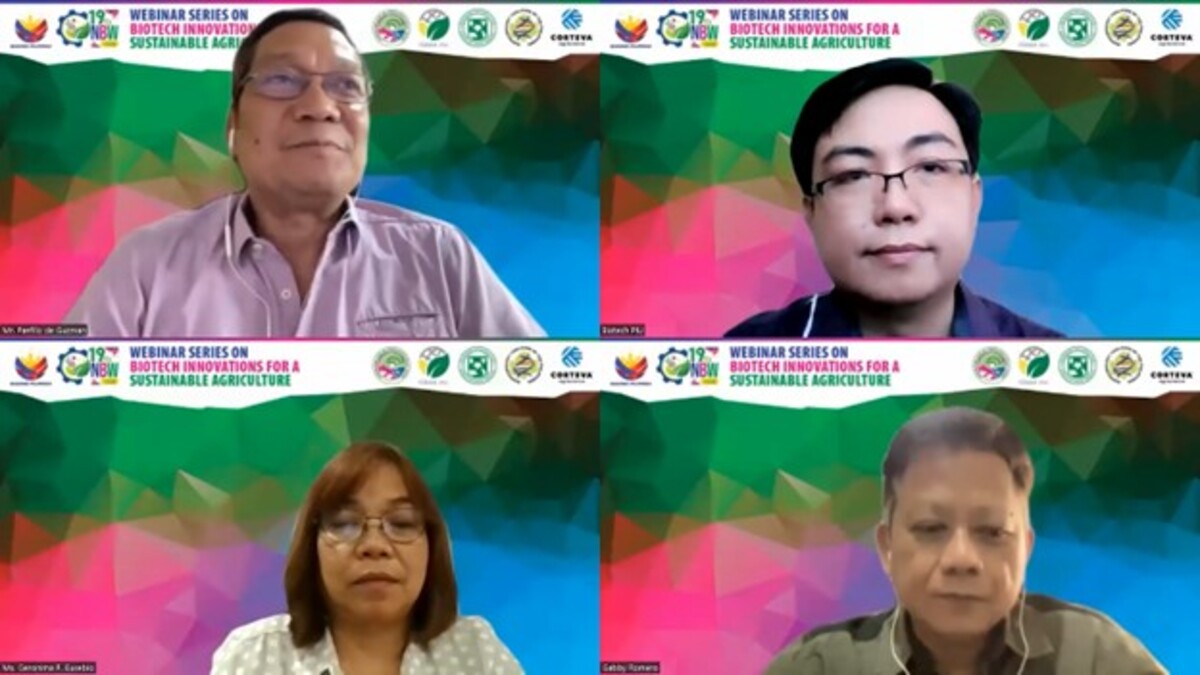 Dr. Reynante L. Ordonio, a Senior Science Research Specialist at the Philippine Rice Research Institute (PhilRice), presented the different plant breeding innovations (PBIs) in agriculture and provided an overview of the current global regulatory frameworks on PBIs. Some of the PBIs mentioned in his presentation are the Site-Directed Nucleases or SDN (e.g., ZFN, TALEN, CRISPR-Cas), Oligonucleotide-directed mutagenesis (ODM), Cisgenesis and Intragenesis, RNA-dependent DNA methylation (RdDM), and Agro-infiltration – Agrobacterium tumefaciens-mediated. During his presentation, he also mentioned that genome editing is the most popular among PBIs because of its efficiency in targeting genetic changes.
Dr. Gabriel O. Romero, the Executive Director of the Philippine Seed Industry Association (PSIA), highlighted the importance of crop protection in driving agricultural sustainability. Pesticides, such as insecticides, herbicides, and fungicides, play an important role in crop protection. As Dr. Romero said, "Pesticides are an integral part of our world." He also emphasized that biotech crops promote judicious application of pesticides. For decades, biotech crops have reduced the widespread use of pesticide application, which significantly improved its impact on the environment.
Ms. Geronima P. Eusebio, the Officer in Charge - Head of the Bureau of Plant Industry (BPI) Biotechnology Office, provided an overview of the regulatory status of PBIs in the Philippines. She discussed the guidelines and process for Technical Determination and Official Determination of PBI products. In her presentation, she emphasized that the DA Memorandum Circular (MC) No. 08, s2022 is not a regulation on product safety. It is an evaluation and determination focused on the nature of genetic changes present in the final product of PBI.
Biotechnology Applications and Regulation in Animals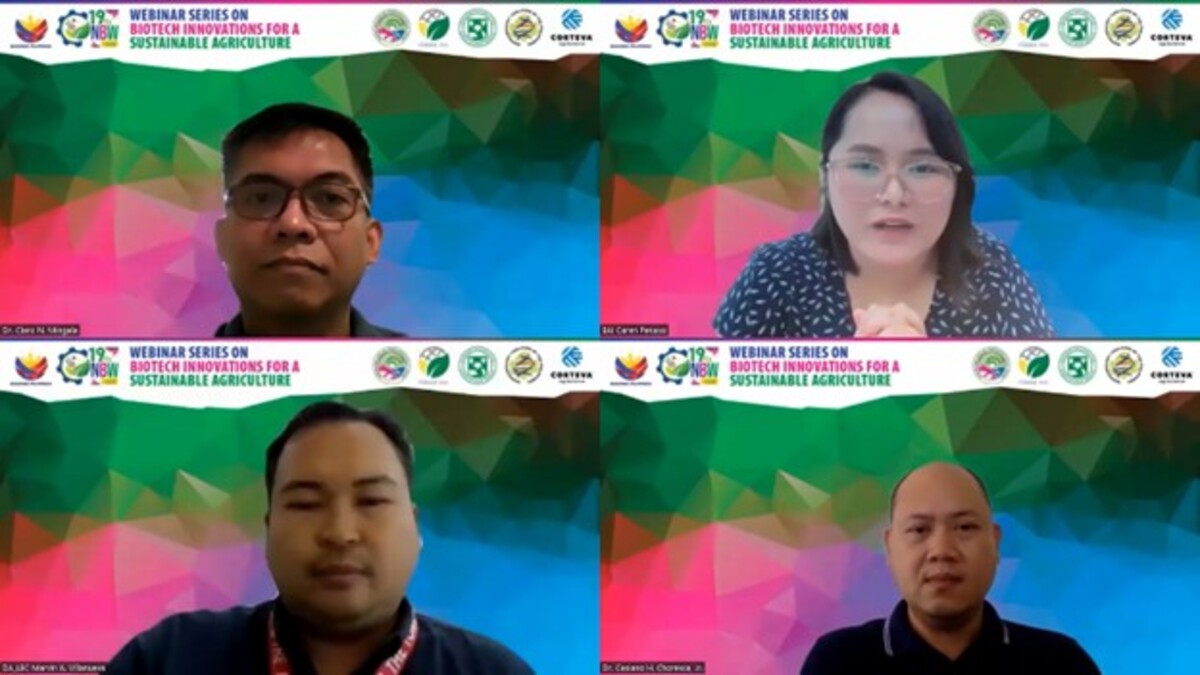 Dr. Marvin A. Villanueva, the Center Chief of the Department of Agriculture (DA) Livestock Biotechnology Center, presented an overview of the developments in research and policy framework in Genetically Modified (GM) animals. He emphasized the role of biotechnology in addressing the challenges in the livestock industry. Some gene-edited animals mentioned are color-diluted dairy cattle, porcine reproductive and respiratory syndrome-resistant pigs, and bird flu-resistant chickens. Dr. Villanueva highlighted the importance of adaptive and responsive policies and regulations to ensure an enabling environment for the advancements of animal biotechnology in the country.
Dr. Casiano H. Choresca Jr., the Center Chief of DA Fisheries Biotechnology Center (DA-FBC), discussed the role of biotechnology in the aquaculture industry. Tools in fisheries biotechnology, such as fish breeding, new breeding techniques, sex control and transgenesis, aquaculture nutrition, fish health management, molecular biology, and cryopreservation, were highlighted in his presentation. Dr. Choresca believes biotechnology provides promising tools to meet the increasing demand for seafood sustainability and food security amidst pressing global challenges like climate change and the exploitation of aquatic resources.
Dr. Claro N. Mingala, the Director of DA Biotech, provided an overview of the regulatory status of GM animals in the Philippines. He mentioned that biosafety decisions include the standard of precaution, risk assessment, environmental and health risk assessment, socio-economic, ethical and cultural considerations, access to information, and transparency and public participation in the GM animals regulatory policy. Dr. Mingala also presented the general procedure for regulated articles for commercial use. This includes processing from the BFAR or BAI Biotechnology Office, Joint Assessment Group chaired by BFAR or BAI, and BAI or BFAR Director.
Bio-Innovation: Potential and Challenges, the Concept of Social License and Path to Commercialization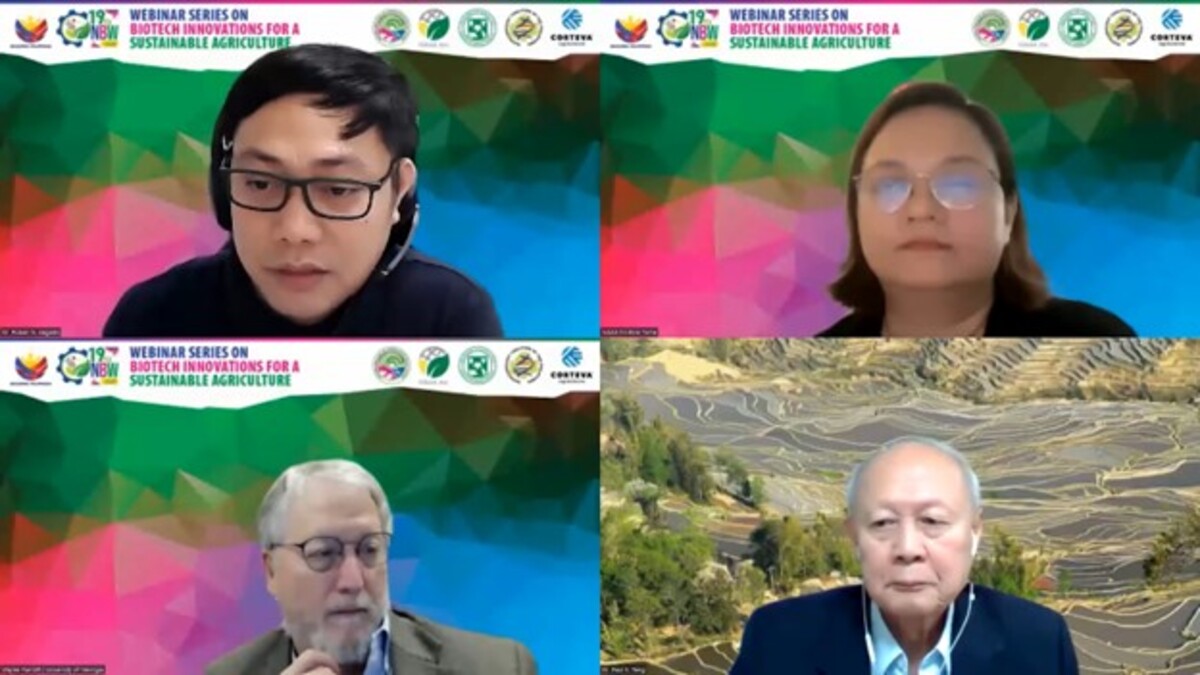 Dr. Paul S. Teng, the Dean and Managing Director of the National Institute of Education International (NIEI) and ISAAA Chair, defined a sustainable economy as an economy that "meets the needs of the present without compromising the ability of future generations to meet their own needs." Dr. Teng believes that outcomes from bio-innovation will positively contribute to the challenges within the Sustainable Development Goals (SDGs). He specifically mentioned how the benefits of biotech crops, such as productivity gain and reduction of greenhouse gas emissions, can be essential for achieving a sustainable economy.
Dr. Wayne Parrot, a research professor at the University of Georgia, said that "communication changes perception." He said that communicating facts is not enough in handling issues concerning gene editing. It is not just about giving information. As a scientist, telling stories and explaining concepts with emotion, shared values, trust, and empathy are essential. More than legal permission, a social license must be built upon legitimacy, credibility, and trust.
In the presentation of Dr. Ronan G. Zagado, the Chief Science Research Specialist and Lead of the Golden Rice Program at PhilRice, Golden Rice, also known as Malusog Rice, was introduced and featured as one of the promising products of bio-innovation. Dr. Zagado also presented the Golden Rice Stewardship Program, which aims to ensure product integrity, prevent unintended release, and promote education among stakeholders on stewardship protocols. He also provided an overview of the production status of Malusog Rice as well as the promotional activities conducted by PhilRice.
Dr. Zagado emphasized the importance of establishing structure and multi-level processes as well as the integration into agri-nutrition and other programs in creating an enabling environment for bio-innovation. Aside from that, he also said that stakeholder engagement plays an integral role in gaining LGU support and community approval.
To formally conclude the webinar series, Asia Pacific Regulatory Program Leader Dr. Antonio Alfonso of Corteva Agriscience delivered his closing remarks at the end of the session on November 10. Dr. Alfonso recognizes that there are dedicated and passionate groups and individuals, as well as progressive farmers and entrepreneurs, who are contributing to the development and advancement of biotechnology in the country. He believes that achieving farm sustainability and national development is made possible through them. In his message, Dr. Alfonso encourages the viewers "to ponder and take pride in the fact that the Philippines is an early adopter, leader, and an active player in the biotech arena."
For more information, visit ISAAA Webinars to download the presentations and watch the recorded webinar series.
Science Speaks is ISAAA Inc.'s official blog. Weekly blog articles, authored by ISAAA writers, partners, and invited contributors, aim to help share, disseminate, and promote scientific knowledge and its vital role in achieving global agricultural sustainability and development. Your support to Science Speaks will help us achieve this goal. You can help us by donating as little as $10.