News
Global
Alessandro Nicolia from the University of Perugia, Italy, and colleagues reviewed scientific papers on genetically engineered crop safety published during the last 10 years. These papers were classified and analyzed in terms of distribution and composition, and seached for scientific consensus that has matured since GE plants became widely planted globally. No significant risks were found to be associated with GE crops however through the years, the debate on the issue continues to be intense. The authors of the study recommended that an enhanced scientific communication could have a significant impact on the future of GE crops.
Get a copy of the review article at http://informahealthcare.com/doi/abs/10.3109/07388551.2013.823595.
[ Send to a Friend | Rate this Article ]
---
Eleven eminent scientists around the world have co-authored an editorial focusing on Golden Rice. The article, titled Standing Up for GMOs, was published in September 20 edition of Science magazine. The editorial expresses outrage at the recent destruction of Golden Rice field trial in the Philippines by vandals. It also summarizes the extensive health consequences of vitamin A deficiency and the contribution that Golden Rice could make to addressing this problem the moment the biotech crop becomes available.
Scientists who wrote the article include Bruce Alberts, President Emeritus of the U.S. National Academy of Sciences; Roger Beachy, Wolf Prize laureate and President Emeritus of the Donald Danforth Plant Science Center in Montana, USA; Swapan Datta, Deputy Director General for Crop Science of the Indian Council of Agricultural Research in New Delhi, India; and Gurdev S. Khush, World Food Prize laureate, Japan Prize laureate, and former scientist at the International Rice Research Institute in Los Baños, Philippines.
Access the editorial at http://www.sciencemag.org/content/341/6152/1320.full.
Africa
The governor of Baringo County, Kenya, H.E Benjamin Cheboi has said that there is a gap between policy makers, scientists and the public on issues of biotechnology especially in the introduction of GM crops. "The lack of information on biotech issues leads to undermining its adoption in the country and yet, it holds great promise for all round economic development of any nation. It has become crucial for sustainable development in every biological sector including agriculture, forestry, medicine, and environment," he said.
Mr. Cheboi made these remarks in a speech read by his Deputy, H.E Mathew Tuitoek, at a biotechnology awareness seminar organized by the Open Forum on Agricultural Biotechnology in Africa (OFAB), Kenya Chapter, in Kabarnet, Baringo County. The OFAB Kenya county event was attended by officials and members of the County Assembly.
Participants appreciated the seminar saying that it has increased their understanding on GM technology. They expressed the need to cascade the knowledge to others who were not able to attend. The County Secretary of Agriculture assured researchers of the county's support and promised to provide land for planting of Bt cotton once approved for environmental release. Baringo County is exploring ways of reviving the cotton industry, a crop whose yields have declined substantially, due to production constraints.
For more information on the OFAB Kenya Chapter, contact Margaret Karembu at mkarembu@isaaa.org.
[ Send to a Friend | Rate this Article ]
---
Confined field trials for biotech cowpea have started at Nyapkala in Tolon District, Ghana. The crop, together with cotton, rice, and sweet potatoes, has been approved by the biosafety regulation for testing in the country. The biotech cowpea confers resistance to pod borer. It is expected that once the results of the trials are favorable, planting of biotech cowpea will contribute towards reduction of insecticide use, and improve the nutritional well-being and economic status of farmers.
The project is under the partnership of public and private institutions including Council for Scientific and Industrial Research Organization (CSIRO) in Australia, African Agriculture Technology Foundation (AATF).
Read more details at http://agriculture.einnews.com/article/168358546 and http://www.ghanabusinessnews.com/2013/09/19/gmo-field-trials-for-cowpea-begin-in-northern-ghana/.
[ Send to a Friend | Rate this Article ]
---
The Africa Agriculture Status Report, published by the Alliance for a Green Revolution in Africa (AGRA), was launched on 4 September during the third African Green Revolution Forum in Maputo, Mozambique. The 204-page long report addresses the gaps in agricultural statistics and data that are often hard to come by in Africa, yet necessary for forming policies that would promote food and nutrition security.
It was compiled from data supplied by African ministries of agriculture, bureaus of statistics and international institutions that track key indicators such as the World Bank, the UN Food and Agriculture Organisation and the Organization for Economic Cooperation and Development. The report looks at staple crops such as cereals and edible root crops in Africa and focuses on the 16 countries where AGRA operates: Burkina Faso, Ethiopia, Ghana, Kenya, Liberia, Malawi, Mali, Mozambique, Niger, Nigeria, Rwanda, Sierra Leone, South Sudan, Tanzania, Uganda, and Zambia.
To read the full report, follow the link: http://www.agra.org/AGRA/en/news-events/news/africa-agriculture-status-report-launched/
[ Send to a Friend | Rate this Article ]
---
A workshop on "Climate Change and Abiotic Stress" was organized by the Egypt Biotechnology Information Center (EBIC), on 23th September 2013 at Cairo University, Egypt. About 150 people representing researchers and students from different universities and research institutes attended the workshop.
One of the speakers in the workshop was Dr. Adel Elbeltagy, former president of International Center for Agricultural Research in the Dry Areas (ICARDA). He outlines the impact of climate change on world's agriculture, affecting both quality and quantity of the crops causing a loss that can reach up to 50 percent. He also showed the relation of food shortage, energy, and political stability. He concluded that adopting new technologies in agriculture can counquer the effects of climate change.
Dr. Naglaa Abdallah, the Director of EBIC and Department Head of Genetics, demonstrated the role of the EBIC sharing information on GM crops in Egypt. She also highlighted the importance of GM crops for solving the expected food shortage in Egypt during the coming decades with the expected increase in population. She stated that climate change and global population are two important forces that affect the world's food demand by reducing productivity and increasing the requirement for more food. She discussed the Water Efficient Maize for Africa (WEMA) project which addresses these concerns by developing drought tolerant white maize.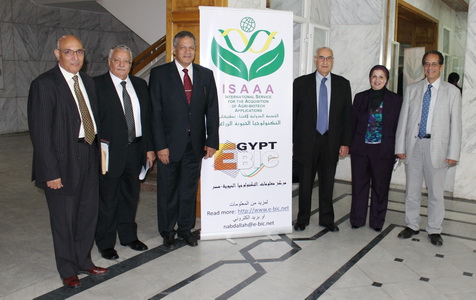 For more information about the workshop email Dr. Naglaa Abdalla of the Egypt Biotechnology Information Center at naglaa_a@hotmail.com.
Americas
A team of biologists from Indiana University Bloomington led by Prof. David M. Kehoe has shown for the first time that a protein long been known as critical for the initiation of protein synthesis in all organisms can also play a role in the regulation of gene expression in some bacteria, and probably in land plants as well.
The protein, called translation initiation factor 3, or IF3, is one of three proteins that make up the core structure needed to guide the joining of messenger RNAs and ribosomes as protein translation begins. These three proteins have been considered to play little, if any, role in regulating the expression of genes. The new findings, however, reveal that IF3, in addition to its function during translation initiation, also regulates the expression of genes that encode components of the photosynthetic machinery in response to changes in the color of light in the surrounding environment, a process called "chromatic acclimation."
Professor Kehoe said "Particularly interesting was our finding that IF3 families exist in a number of plant species, including commercially important crops. This means that new approaches to the modification of traits in agriculturally significant plant species may be possible by manipulating the expression patterns of different IF3 family members."
For more details about this research, read the news release available at http://news.indiana.edu/releases/iu/university-wide/2013/09/kehoe-pnas-if3.shtml.
[ Send to a Friend | Rate this Article ]
---
The Grocery Manufacturers Association (GMA) launched www.FactsAboutGMOs.org, a new website that contains basic information about genetically modified (GM) food ingredients. The website is designed for consumers, policy makers, and the media who want to research about GM food. Links to important articles governmental food safety agencies, medical and health organizations, news agencies, food safety experts, and non-governmental organizations are provided in the website covering various topics such as safety, food prices, environment, poverty, and malnutrition.
"GMA and its member companies will continue to advocate for the continued safe and effective use of agricultural biotechnology to increase the food supply while lowering cost. And we will continue to engage in an informative dialogue with our consumers so that they understand the safety, prevalence and benefits of GM technology and so that they can make informed choices for themselves and their families," said GMA president and CEO, Pamela Bailey.
GMA, based in Washington, D.C., is a consortium of more than 300 food, beverage, and consumer product companies in the U.S. and other countries.
Read GMA's press release at http://www.gmaonline.org/news-events/newsroom/grocery-manufacturers-association-launches-wwwfactsaboutgmosorg/.
[ Send to a Friend | Rate this Article ]
---
Agriculture Secretary Tom Vilsack has announced that the US Department of Agriculture (USDA) will soon publish a notice in the Federal Register asking the public to comment on how agricultural coexistence in the United States can be strengthened.
"The Advisory Committee on Biotechnology and 21st Century Agriculture recommended that USDA support agricultural coexistence by strengthening education and outreach on this vital issue," said Secretary Vilsack. "In response, with this notice, we are asking all those with a vested interest in coexistence to help us learn more about what coexistence means to them, how they are already contributing to it, and what more is needed to achieve coexistence. With this input, we can continue the dialogue begun by the AC21 group and find practical solutions that will help all sectors of American agriculture be successful."
The notice seeks public comment to identify ways to foster communication and collaboration among those involved in all sectors of agriculture production. The 60-day comment period begins upon publication of the notice in the Federal Register.
For more information, visit http://www.aphis.usda.gov/newsroom/2013/09/ac21.shtml.
[ Send to a Friend | Rate this Article ]
---
Utah State University scientists led by biochemistry professor Lance Seefeldt have discovered new insights about nitrogen fixation, a complex and energy-intensive process that converts nitrogen into a form that humans, animals and plants can access. The research team has published two papers in the online Early Edition of Proceedings of the National Academy of Sciences to describe their findings. The team's experiments show that electron transfer precedes ATP hydrolysis, a process that has eluded researchers for decades.
In the second paper, the research team describes the mechanism for hydrogen formation during nitrogen fixation. There are two known processes that break nitrogen bonds to allow conversion, according to Seefeldt. The first is a natural, bacterial process, while the other is the man-made Häber-Bosch process, and the world's food supply currently depends equally on each of these. Seefeldt adds "The century-old Häber-Bosch process, used to make agricultural fertilizers, is energy-intensive and depends heavily on fossil fuels, Seefeldt says, so interest is high in harnessing and making more use of the cleaner, natural process."
For more details about this research, read the news relase available at http://www.usu.edu/ust/index.cfm?article=52663.
Asia and the Pacific
The National Academy of Science and Technology (NAST) Philippines released a statement regarding the anti-biotech groups' uprooting of Golden Rice plants under field trial in Camarines Sur last 8 August 2013. According to NAST, the disruption is "an act of sabotage of a lawfully and responsibly-conducted scientific experiment." The trials are being conducted for scientific inquiry and thus the incident disregards the hard work devoted towards finding results.
The field experiment in Camarines Sur is one of the 13 multilocational trials which started in 2012. At present field trials in nine locations have been completed and the results have shown that Golden Rice has no adverse effects on the environment. The sabotaged experiment in Camarines Sur could have been part of the third set of observations on the field performance of Golden Rice.
Golden Rice is genetically modified rice with increased beta carotene, a source of vitamin A.
Read NAST Philippines' statement at http://www.nast.ph/index.php?option=com_content&view=article&id=451:nast-statement-on-golden-rice-trial-sabotage.
[ Send to a Friend | Rate this Article ]
---
The Wheat Productivity Enhancement Project (WPEP), a joint research collaboration of the United States and Pakistan held a two day Annual Wheat Planning Meeting in Islamabad, Pakistan on 20 September 2013. Discussions were focused on reviews of progress of the past wheat growing season and on developing a plan for breeding, disease surveillance, and agronomy research in the coming years.
NARC 2011, a wheat variety developed by the project which is resistant to UG99 and high yielding was considered a milestone during the meeting. The meeting was attended by wheat researchers from across Pakistan, including representative from International Maize and Wheat Improvement Center (CIMMYT), International Center for Agricultural Research in the Dry Areas (ICARDA), and the United States Department of Agriculture (USDA). WPEP links USDA, Pakistani, and international scientists to develop, introduce, and test disease-resistant wheat varieties as well as improve agronomic practices and upgrade research capacity in the country.
See the original news at: http://zaraimedia.com/2013/09/20/us-funded-wpep-pakistani-scientists-defending-pak-wheat-dreaded-ug-99-disease/ Pabic link: http://www.pabic.com.pk/US%20project%20about%20varieties%20of%20drug%20resistant%20wheat%20in%20Pakistan.html
Europe
A team of scientists from the University of Manchester hs discovered an important mechanism in plant cells which regulates the direction of plant cell growth. The team demonstrated how the building of plant cell scaffolds is regulated to produce distinct shapes, allowing the plant cell to grow in particular directions. They found that a protein scaffold with the cell, called the microtubule network, dictates the organization of cellulose in the wall by forming tracks which guide its placement. Previous studies found that microtubules are organized into aligned configurations, with poorly aligned microtubules being cut away by an enzyme called katanin.
The researchers demonstrated that a protein called SPIRAL2 regulates where and when microtubule cutting occurs. Depending on the organization of microtubule required by the plant SPR2 either remains stationary preventing katanin cutting the microtubules or is constantly moving along microtubules exposing areas for katanin to cut microtubules and drive the formation of aligned microtubules. It is the first plant protein described that determine microtubule organization by regulating where and when katanin cuts microtubules.
Professor Simon Turner, who led the research team said "This study answers some important fundamental questions about cell growth and microtubule patterning, and potentially gives us the ability to predictably alter microtubule patterns."
More details about this research are available at: http://www.manchester.ac.uk/aboutus/news/display/?id=10696.
[ Send to a Friend | Rate this Article ]
---
A new charity based at the Universities of Bath and Warwick will use expert knowledge of plants to develop crops for the future and tackle the global issue of food security. The charity, called Crop-Innovations, brings cutting-edge plant research to farmers to help increase the value of under-utilized crops. Using innovative research methods and techniques, Crop-Innovations will resolve problems related to plant seeds; problems that often occur in various aspects of the farming process, from germination to seed production and also in the use of seed as food.
Professor Rod Scott, Chair of the Board for Crop-Innovations and Head of the Department of Biology and Biochemistry at Bath, said "Our over-reliance on a few food crops limits our ability to respond to these emerging global challenges. Every year, millions of pounds are spent improving major crops, but we also need to invest in research promoting agricultural diversity."
For more on Crop-Innovations see http://www.crop-innovations.org/.