News
Global
The biotech industry boosted farming globally by almost $65 billion from 1996 to 2009, according to the latest analysis conducted by Graham Brookes and Peter Barfoot of PG Economics Ltd. in United Kingdom. Brookes and Barfoot investigated the economic impact at the farm level of agricultural biotechnology, looking at yields, key costs of production, direct farm income, indirect farm level income effects and impacts on the production base of the four major crops of soybeans, corn, cotton and canola. Based on the results of their analyses, there was about $65 billion increase in the net farm income, which is the farm level benefit after paying for the seed and its biotech traits. They estimated that almost half of the global net income comes are from the farmers in the developing countries.
"Biotech, and specifically genetically modified (GM) crops has had a significant positive impact on farm income derived from a combination of enhanced productivity and efficiency gains," the team estimated. It has added 5.8% to the value of global production for the four main crops investigated, with cost savings being greatest for soy. In terms of the division between different parts of the world, the team reports that in 2009, 53.1% of the farm income benefits went to developing country farmers and the vast majority of those income gains were from GM insect-resistant cotton and GM herbicide-tolerant soybeans.
The full report is published by International Journal of Biotechnology.
Read the news release at http://www.physorg.com/news/2011-09-benefits-biotech-gm-crops-benefit.html.
[ Send to a Friend | Rate this Article ]
---
United Nations Secretary General Ban Ki-moon hosted a high-level event with focus on nutrition last September 20, 2011. The two day summit was attended by representatives of United Nations agencies, governments, civil society and the private sector to emphasize the importance of good nutrition in human health as well as for national economic and social development. The event coincided with the one year anniversary of the Scale Up Nutrition (SUN) movement which is a global initiative to improve maternal and child nutrition.
Project activities are focused in Bangladesh, Benin, Burkina Faso, Ethiopia, Gambia, Ghana, Guatemala, Laos, Malawi, Mali, Mauritania, Mozambique, Nepal, Niger, Peru, Senegal, Tanzania, Uganda, Zambia and Zimbabwe.
"It is particularly gratifying to see this emphasis in countries that have been experiencing protracted crises with support for resilient food systems and special attention to the needs of pregnant women and children," said David Nabarro, the Secretary-General's Special Representative for Food Security and Nutrition.
Original news can be viewed at http://www.un.org/apps/news/story.asp?NewsID=39623&Cr=nutrition&Cr1=
[ Send to a Friend | Rate this Article ]
---
Participants from ten countries with significant Muslim populations recognized the urgency for increased science communication activities in order to streamline the acceptance of modern agricultural biotechnology in their respective countries. The workshop was held from 20 to 21 September 2011 at the Mutiara Burau Bay Beach Resort in Langkawi Island, Malaysia and focused on the subject of 'Addressing the Challenges of Communicating Agribiotechnology in Muslim Countries'.
As one fifth of the world's population is Muslim, this workshop developed a strategic communication paradigm that will provide a benchmark in communicating the potential, issues and concerns to do with agribiotechnology to be carried out by relevant stakeholders in their respective countries. Delegates from Bangladesh, China, Egypt, Indonesia, Iran, Malaysia, Pakistan, Philippines, Thailand, and Uganda attended the workshop, providing a mix of experiences from countries with various levels of support for biotech crops with significant populations of Muslim devotees.
In a declaration, the participants avered that "Modern agricultural biotechnology is an important tool in addressing food security, poverty alleviation, and social economic transformation in developing countries...Islam supports scientific innovation and human endeavor, and modern biotechnology is not an exception. However, it is apparent (to the delegates) that the advancement of this technology is affected by insufficient communication that support its understanding and acceptance."
Delegates emphasized the dangers of misinformation and inadequate information that has hampered the adoption of modern biotechnology in their respective country presentations. They pointed out the need for media to be better equipped to handle scientific news and for scientists to be better trained to engage the media. Farmers have also been identified as key stakeholders who need to be informed of advances in agricultural biotechnology as they have high potential to be champions for biotechnology. Therefore, targeted science communication to various stakeholders has been recommended as an effective strategy to debunk the myths of biotechnology and convey accurate information based on the experiences of leading countries in biotechnology.
"Science communication is a crucial component for social acceptance and adoption. It brings together stakeholders to learn and acquire technology and stimulates knowledge creation, aggregation and exchange," the declaration emphasized.
The workshop was jointly organized by the Malaysia Biotech Information Center and the International Service for the Acquisition of Agri-biotech Applications.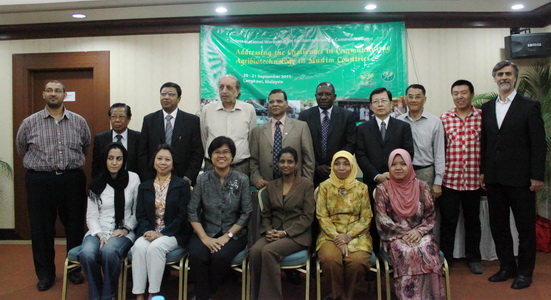 For more information about the workshop, send an e-mail to Mahaletchumy Arujanan of the Malaysia Biotechnology Information Center at maha@bic.org.my.

Africa
The United States Embassy in Banjul, Gambia, conducted an outreach seminar for policy makers on September 15, 2011 bearing the theme "Using Biotechnology to Fight Hunger and Poverty in Africa." The U.S. Department of State invited Dr. Hortense Dodo, a biotechnology and molecular biology professor at Alabama A&M University in the U.S. Aside from Gambia, the expert will also visit other East African countries to talk with policy makers, farmers, and members of the scientific community about biotechnology applications in agriculture and in attaining food self sufficiency.
Cynthia Gregg of the U.S. Embassy delivered the opening remarks during the seminar and expressed her fervor for the various impacts of biotechnology. Biotech crops, she said, "can play an important role through increasing productivity while decreasing costs of production by a reduced need for inputs and ploughing." She also said that the adoption of biotech crops has significantly reduced insecticide use and has allowed many farmers to adopt farming practices that reduce soil erosion and consumption of energy and water.
Read the complete story at http://allafrica.com/stories/201109191478.html.
Americas
Wireworms, the slender brownish-orange larva of click beetles are destructive pests of potatoes. Previous studies by United States Department of Agriculture scientists have discovered that two wild potatoes from Chile and Bolivia, Solanum berthaultii and S. etuberosum have broad spectrum resistance to the beetles and green peach aphids.
To see the effects of the resistance genes to the wireworms, scientists crossed germplasm derived from the wild potatoes with a cultivated variety. The 15 top-performing plants from three generations of progeny were selected and were planted in wireworm-infested field plots.
Results published in the Journal of Economic Entomology showed that the resistant clones performed well and in some cases performed better than the insecticide-treated Russet Burbank potatoes. The researchers have also discovered that the natural compounds called glycoalkaloids may be protecting the breeding clones at concentrations not harmful to the consumers.
To see the original news, check http://www.ars.usda.gov/is/pr/2011/110919.htm
[ Send to a Friend | Rate this Article ]
---
Modified soybean seed with reduced phytate content was found to have better seedling field emergence than the control with a normal phosphorus value. This is contrary to the vigor of low phytate corn seedling in the field. The research published in the current issue of Crop Science thus shows that the modified soybean line developed by Dr. Joe Burton at the USDA-ARS proves that seed germination and field emergence with low phytate content such as the modified soybeans are possible.
"Based on our experience with the North Carolina line, soybean breeders working with the low-phytate trait now know that good seed germination and emergence is an attainable objective," said Dr. Katy Martin Rainy, one of the study's authors. "Our study provides breeders with critical insights on how to do this."
See details of the news at https://www.crops.org/news-media/releases/2011/0916/512/. The full article is available for no charge for 30 days following the date of this summary. View the abstract at https://www.crops.org/publications/cs/articles/51/5/1946.
[ Send to a Friend | Rate this Article ]
---
Fusarium head blight is considered as one of the most serious diseases of Durum wheat, a cereal crop widely used for human consumption in the United States, Canada and several European countries. Unfortunately, the durum wheat cultivars do not have resistance to this disease. At the USDA-ARS Northern Crop Research Laboratory at Fargo, North Dakota, scientists Dr. Prem Jauhar and his staff discovered an FHB resistance gene from wheat grass.
Under the Durum Germplasm Enhancement Project (DGE), the scientists were able to produce a new wheat line called DGE-1 that posses the 1E gene from the wheat grass, making it FHB resistant. Subsequent crossing of DGE-1 line with durum wheat cultivars and the use of molecular marker technique, hybrid strains of durum wheat with 1E grass chromosome were developed.
"These studies on chromosome engineering will help bring about genomic reconstruction that will have far-reaching implications in both basic and applied research on wheat, and new genomic resources could result," said Jauhar.
The full article is available for no charge for 30 days following the date of this summary. View the abstract at https://www.crops.org/publications/tpg/articles/4/2/102. See the original news at https://www.crops.org/news-media/releases/2011/0916/514/
[ Send to a Friend | Rate this Article ]
---
Researchers from New Mexico State University (NMSU) and the International Crop Research Institute for the Semi-Arid Tropics (ICRISAT) developed a system that reviews the collections of genetic information on peanuts that are stored in gene banks around the world.
"Gene banks around the world have large collection of peanut germplasm and it is unmanageable for any organization to accurately screen such large collections for useful traits," said NMSU researcher and professor Naveen Pupalla. In an article in Crop Science, the study reported that a core collection to the Valencia peanut was developed representing genetics from 15 countries.
Through further collaborative research with scientists from U.S. universities, the USDA-ARS Cropping System Research Lab and the National Semi-Arid Resources Research Institute, scientists placed the genetic information they gathered into five distinct location-based groups. This allowed them to determine which areas contain the most genetic diversity for the Valencia peanut. They found Brazil to be the primary center of origin for the Valencia peanut, a cultivar that is able to thrive in harsh environments.
The findings in this study may help develop crop cultivars that are able to thrive in harsh and changing environments.
Check out https://www.crops.org/story/2011/jul/wed/using-crop-genetics-to-battle-harsh-conditions for the full article.
[ Send to a Friend | Rate this Article ]
---
Researchers at the Texas AgriLife Research and Extension Center in Uvalde are developing improved varieties fo drought-tolerant crops. In particular, they are looking at melons that also meet consumer preference in terms of size, shape, color, texture, firmness and sugar content.
"We're looking into improved varieties of melons, such as cantaloupe and honeydew, and are growing and assessing some Spanish and Italian specialty melons that are relatively new to this area," said Dr. Daniel Leskovar, Texas AgriLife Research vegetable physiologist and interim center director.
Leskovar also explained that they were interested in the possibility of "specialty melons such as Tuscan-type melons with orange flesh, Galia-type melons with green flesh and canary types with near-white flesh, from the perspective of how they might fare as a high-value, high-income crop for Texas producers. We've also been examining the effects of factors such as deficit irrigation on their growth and productivity."
The full article is at http://agrilife.org/today/2011/09/19/agrilife-research-melons/
[ Send to a Friend | Rate this Article ]
---
There is first evidence that an organism's "epigenetic" code - an extra layer of biochemical instructions in DNA - can evolve more quickly than the genetic code. Thus, it can strongly influence biological traits. This breakthrough was reported in the September 2011 issue of the journal Science.
"Our study shows that it's not all in the genes," said Joseph Ecker, a professor in Salk's Plant Molecular and Cellular Biology Laboratory, who led the research team. "We found that these plants have an epigenetic code that's more flexible and influential than we imagined. There is clearly a component of heritability that we don't fully understand. It's possible that we humans have a similarly active epigenetic mechanism that controls our biological characteristics and gets passed down to our children. "
Ecker and colleagues traced these patterns to chemical markers that serve as a layer of genetic control on top of the DNA sequence. "Perception of the extent of epigenetic variation in plants from generation to generation varies widely within our scientific community," said Robert Schmitz, a post-doctoral research in Eckers' laboratory and the lead author on the paper. "We actually did the experiment, and found that overall there is very little change between each generation, but spontaneous epimutations do exist in populations and arise at a rate much higher than the DNA mutation rate, and at times they had a powerful influence over how certain genes were expressed."
See Salk's press release at http://www.salk.edu/news/pressrelease_details.php?press_id=516
Asia and the Pacific
Bt cotton varieties have been planted in China starting 1997 to eliminate some pests that affect the growth and yield of cotton. At present, it is estimated that about 70% of the total cotton-producing areas are devoted to Bt cotton.
In a study conducted by Michel Fok of Agricultural Research for Development (CIRAD) in France and Naiyin Xu of Jiangsu Academy of Agricultural Sciences in China, it was shown that Bt cotton use in China is influenced by the development of the cotton variety market. Bt cotton adoption has benefited from the development of the variety market facilitated by a favorable legal framework since the mid-1990s. However, quality uncertainties and high seed prices may affect the profitability and continued use of Bt cotton as well as development of the variety market. In 2007, a quality seed subsidy policy was launched to solve the problems in the variety and seed market, however many are still questioning the efficacy of this new regulation.
The research article is available at http://agbioforum.org/v14n2/v14n2a02-fok.htm.
[ Send to a Friend | Rate this Article ]
---
The Commonwealth Scientific and Industrial Research Organization (CSIRO) is seeking approval from the Australian Office of the Gene Technology Regulator to conduct a field trial of wheat and barley genetically modified for altered grain composition or enhanced nutrient utilization efficiency.
The GM wheat lines proposed for testing contain either one gene for altered grain composition or one gene for enhanced nutrient utilisation efficiency, while the barley lines contain one gene for enhanced nutrient utilization efficiency. The experimental field test will be conducted to assess agronomic traits of the genetically modified plants under field conditions on a maximum area of 1 hectare per year, between May 2012 and June 2015 in one site in Western Australia. The GM wheat and barley will not be used in human food or animal feed.

For any inquiries and to receive a hard copy of the application summary, please contact the OGTR at: The Office of the Gene Technology Regulator, MDP 54, GPO Box 9848, Canberra, ACT, 2601 Tel. 1800 181 030 Facsimile: 02 6271 4202 and E-mail: ogtr@health.gov.au. See the announcement at http://www.ogtr.gov.au/.

[ Send to a Friend | Rate this Article ]
---
Indonesian farmers learned the basic science, regulation, and issues and concerns related to biotechnology during the five day Farmer to Farmer Workshop: Agricultural Biotechnology Outreach and Capacity Building at the New World Hotel, Makati City, Philippines on September 19-23, 2011. Knowledge on biotechnology were shared by various scientists and experts from the Philippines including the proponents of the fruit and shoot borer resistant Bt eggplant, the delayed ripening virus resistant papaya, and the vitamin A-enriched Golden Rice in the Philippines.
The activity provided an avenue for the farmers to network with key stakeholders in the region. In addition, Filipino biotech corn farmers shared their first-hand experiences to the Indonesians. The workshop also included study visits to a seed processing plant and biotech corn farms in Pangasinan and Pampanga, as well as to laboratories and screen house trials in the International Rice Research Institute (IRRI) in Laguna; the farmers were able to see drought tolerant rice as well as the Golden Rice.
Dr. Gil C. Saguiguit, Director of the SEAMEO Southeast Asian Regional Center on Graduate Study and Research in Agriculture (SEARCA), in his opening message, highlighted the importance of educating the farmers about agri-biotechnology as they are the end users. Dr. Randy Hautea, Director of the International Service for the Acquisition of Agri-biotech Applications (ISAAA) said that he hoped the farmer participants would be teachers of biotech to other farmers in Indonesia.
The Indonesian farmers were delighted of the new learnings they acquired as they expressed their support of biotechnology. They unanimously agreed to endorse the technology to the government.
The Workshop was co-organized by ISAAA, SEARCA – Biotechnology Information Center (SEARCA BIC), and the United States Department of Agriculture Foreign Agricultural Service (USDA FAS).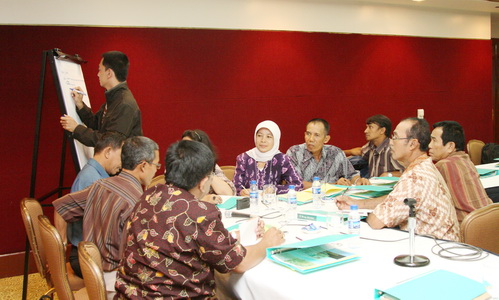 For more details about the workshop, visit SEARCA BIC's website http://www.bic.searca.org or e-mail bic@agri.searca.org.
Europe
Orange peels could be a potential source of biofuel, according to a team of scientists from the University of York, headed by Professor James Clark. Using high-powered microwaves, Clark has figured out how to capture gas from fruit peels that can be converted into a variety of useful materials, from plastics to ethanol. With the cooperation of scientists from the University of Sao Paolo, Brazil and the University of Cordoba, Spain, Clark started a project called Orange Peel Exploitation Company (OPEC) which aims to search for ways to extract value from orange peel using safe and sustainable chemistry. One of the main products that they target to develop is bio-ethanol.
"The by-product of the juicing industry therefore has the potential to provide a range of compounds, offering a more profitable and environmentally valuable alternative to current waste use practices. We are seeking to do this by harnessing the chemical potential of food supply chain waste using green chemical technologies and use nature's own functionalities to obtain sought-after properties in everyday products," said Clark.
"Waste is a problem worldwide. Food residues and by-products are being generated in very significant quantities by the food industry and the agricultural sector...The increasing demand for renewable feedstocks is encouraging the re-use of organic waste from the food supply chain for the production of novel added-value materials, chemicals and fuels," he added.
Read the news release at http://www.york.ac.uk/news-and-events/news/2011/research/waste-orange/.
[ Send to a Friend | Rate this Article ]
---
As of September 2011, Bt corn cultivation in Spain has reached a record high of 97,326 hectares, representing 26.5% of total grain maize planted in the country for 2011. Aragon, an autonomous community has the largest area planted with Bt corn at 41,368 hectares, 12,716 more than in 2010. Catalonia and Extremadura followed with 29,632 and 10,567 hectares respectively. Thus again in 2011, farmers have relied on genetically modified varieties, seeds that allow them to increase the production of more sustainable and decreased resource consumption per unit of production: less land, less water and less energy.
See the original news in Spanish at http://fundacion-antama.org/
[ Send to a Friend | Rate this Article ]
---
An investigation on the possible effects of Bt maize pollen on two butterfly species "Little Fox" and "Peacock" was conducted by Mechtchild Schuppener of the RWTH Aachen, Germany. Bt corn produces Bt toxins that are specifically effective against the corn borer pest, a moth. It was then assumed that other species of butterflies are also sensitive to the Bt protein.
A feeding experiment was conducted in the laboratory for laboratory-bred butterflies. At 200 to 300 pollen grains per square centimeter, the first effects of Bt pollen diet was observed and manifested by a decrease in pollen consumption. Increasing pollen grains to 1,000 pollen grains per square centimeter resulted to high mortality compared with the conventional maize pollen.
Another study was conducted in the field to determine the amount of corn pollen that land on the food plants of butterflies under natural conditions. Pollen traps in the form of stinging nettle, Urtica dioica – plants with stinging hairs on stems and leaves were placed at different distances from the corn field. As might be expected, the highest amount of pollen at 150 pollen grains per square centimeters - one fifth of the lethal amount of protein, were found in the pollen traps directly at the field edge. The amounts of pollen, which resulted in the laboratory to an increased mortality of larvae, could therefore not be detected in the wild.
See the news in German at http://www.biosicherheit.de/presse/1353.schmetterlinge-bt-mais.html
[ Send to a Friend | Rate this Article ]
---
The Department for Environment, Food and Rural Affairs (DEFRA) in the United Kingdom has granted approval to Rothamsted Research to conduct a research trial on wheat genetically modified to resist aphids in 2012 and 2013. It was evaluated by the Advisory Committee of Releases to the Environment (ACRE).
Precautionary conditions were attached to the statutory consent for the trial to ensure that no GM material from the trial will enter the food and feed chain.
Read the news release at http://www.defra.gov.uk/news/2011/09/16/gm-wheat-trial/. More information on the Rothamsted Research application and the statutory consent is at http://bit.ly/nn793T.
[ Send to a Friend | Rate this Article ]
---
How would Swiss consumers decide if they had freedom of choice? Consumers were given the option to choose among organic, conventional and GM corn bread in a supermarket. It was observed that Swiss consumers treat GM foods just like any other type of novel food. Results of the discrete choice analysis according to researchers Philip Aeerni and colleagues of the Institute for Environmental Decisions at ETH Zurich proved that consumers tend to appreciate transparency and freedom of choice even if one of the offered product types is labeled as containing a GM ingredient.
The researchers recommended that retailers should allow consumers to make their own choice and accept the fact that not all people appear to be afraid of GM food.

View the article at http://www.sciencedirect.com/science/article/pii/S0306919211001102.