News
Africa
A one-day workshop on biosafety was held at Academy of Scientific Research and Technology on July 9, 2017 under the leadership of Prof. Dr. Abdel Monem ElBanna, the Minister of Agriculture and Land Reclamation and Prof. Mahmoud Sakr, President of ASRT.
In his speech Prof. Dr. Hamdi Abdel Aziz, Vice President of the Executive Committee of the National Strategy for Biotechnology and Genetic Engineering emphasized the importance of the technology, stressing that genetic engineering should be a priority within the interest of Egypt. He added, "research and development also require government support to scientific research in Egypt in order to access alternative or innovative products to solve the problems of agriculture." He also assured that Egypt has developed a scientific base that is fully qualified in terms of expertise and possibilities to deal with these products for the benefit of the country. Prof. Hamdi added, "Scientific research should not be carried out of fear, rather, it is necessary to have legal systems governing the circulation of these products in Egypt. There is consensus in international forums that the products of genetic engineering are completely safe. Prof. Hamdi concluded that safety is ensured by providing clear information with a transparent manner about these products.
A presentation was given by Prof. Naglaa Abdallah, Director of EBIC on the global status of biotech/GM crops and the new breeding techniques for crop improvement. She gave a comprehensive talk about CRISPR-Cas9 as a new, cost-effective, quick and safe technique which could be used with all living organisms.
The meeting was attended by 50 top scientists and stakeholders that are connected with the biosafety law in Egypt. The biosafety law is expected to be released by the end of this year.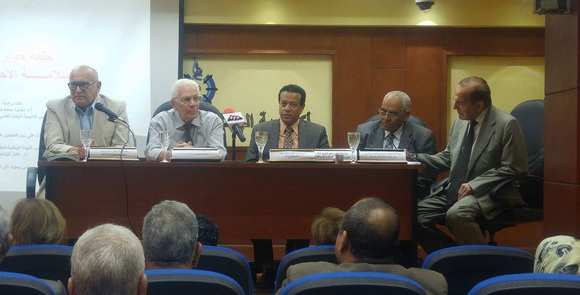 For more information, contact Prof. Naglaa Abdallah at naglaa.abdallah@agr.cu.edu.eg.
[ Send to a Friend | Rate this Article ]
---
Dr. Elioda Tumwesgye, Ugandan Minister for Science, Technology and Innovation has reaffirmed government support towards the passage of a Biosafety Bill currently under parliamentary debate. The Minister spoke as he officially opened the Agri-biotechnology and Biosafety Communication (ABBC) 2017 Africa Symposium, in Entebbe, Uganda on July 18, 2017. "Agri-biotech communicators must remain steadfast in sharing factual information on the technology, amid misinformation, myths and misconceptions. While acknowledging that there are concerns and knowledge gaps that need to be addressed, he commended Ugandan researchers for their relentless effort in engaging parliamentarians and providing factual information on the science amid controversies delaying passage of the bill. "When scientists undertake to communicate about their innovations, there is usually a positive impact in adoption," said the minister.
ABBC 2017, whose theme is strengthening communication for improved biosafety management was attended by over 100 participants, mainly heads of regulatory agencies from 18 countries who have made a biosafety decision and their communication spokespersons. It is a partnership between ISAAA AfriCenter, New Partnership for Africa's Development- African Biosafety Network of Expertise, National Agricultural Research Organization, Uganda Biotechnology Information Center, and Program for Biosafety Systems, among others. It precedes the ABBC 2015, which was held in Nairobi, Kenya.
Dr. Margaret Karembu, Director, ISAAA AfriCenter in her opening statement said that ABBC's idea was conceived to provide a platform for agri-biotech and biosafety stakeholders to actively exchange experiences and best practices towards improving communication on the technology. "At this conference, we converge to be aware that biosafety communication is an often neglected aspect of the risk analysis and decision-making process for genetically modified organisms (GMOs)," she said. Dr. Karembu urged participants to innovate communication techniques that can address communication gaps, thus building confidence in the biosafety systems and enabling the safe and beneficial use of agri-biotechnology especially in Africa.
The keynote speaker at the conference, Dr. Mahaletchumy Arujanan from Malaysian Biotechnology Information Centre (MABIC) challenged agri-biotech communicators to counter misinformation on the technology, through balanced and non-biased communication. "In adopting agri-biotechnology, we must ask ourselves whether it is a matter of lifestyle or safeguarding livelihood," she said.
Other key speakers at the function included Hon. Beatrice Atim, an environmentalist and an MP in Uganda, Hon. Adam Malima, former Minister for Agriculture in Tanzania and Prof. Yaye Gessame, former Minister of Agriculture and the vice-Chair, Academy of Sciences, Senegal. Prof. Yaye took the opportunity to recognize Senegalese President, Macky Sall, for his commitment to adoption of agricultural biotechnology for the transformation of Senegal's Agriculture.
The function was attended by key government officials, including the Permanent Secretary in the Ministry of Science, Technology and Innovation, Dr. David Ebong and Parliamentarians including the Chairperson of the Parliamentary Committee for Science Technology and Innovation in the Ugandan Parliament, Hon. Robert Kafeero.

Follow the conference proceedings at #ABBC2017, for more information, contact Dr. Margaret Karembu at mkarembu@isaaa.org.
Americas
Corn management processes contributing to optimal levels of nitrogen uptake could lead to lower greenhouse gas emissions, according to a study conducted by Purdue University scientists. The results are published in the journal Frontiers in Plant Science.
"Previous internationally accepted estimates were that for every pound of nitrogen fertilizer applied in grain crop production, there is a loss of 1 percent as nitrous oxide to the atmosphere," said Purdue professor Tony Vyn. "We found that when it comes to North American corn production, nitrous oxide emissions are more of a function of two things, nitrogen balance and nitrogen recovery efficiency, than simply nitrogen rate alone. Moderate N rates cause less concern for nitrous oxide emissions, but when high rates of nitrogen fertilizer exceed optimal plant nitrogen requirements, then we will get higher nitrous oxide emissions."
He said that the findings of the study should be a guide in conducting agronomic research on identifying the impact of agricultural production on nitrous oxide emissions. "Our models indicate that a careful selection of appropriate nitrogen rate applied at the right time can both increase nitrogen recovery efficiency, lower the nitrogen balance left in the field, and reduce nitrous oxide emissions," Vyn said. "If you're going to measure greenhouse gas emissions, you must also measure the whole plant nitrogen uptake for each nitrogen fertilizer management program being tested."
Read more information about the study from Purdue University.
[ Send to a Friend | Rate this Article ]
---
Tomato plants can influence caterpillars to become cannibals, according to a study conducted by scientists from the University of Wisconsin. The results are published in Nature Ecology and Evolution.
Herbivorous pests have been known to eat each other when there is shortage of food. Some plants also influence pests by making them more predatory towards other insect species. In the study conducted by UW integrative biologist John Orrock and team, a defensive reaction in tomato plants was triggered by exposing them to methyl jasmonate (MeJA), an airborne chemical that plants release to alert others about an impending danger. When tomato plants sense meJA, they react by producing toxins that make them less nutritious to insects. Then the the tomato plants were exposed to caterpillars of a common pest, the small mottled willow moth. After eight days, the tomato plants more strongly alarmed by MeJA had lost less biomass compared with control plants or those plants that received less alarm from MeJA. This implied that the reaction was effective at protecting the tomato plants.
After two days, the researchers observed that caterpillars fed with leaves from the treated plants had turned onto the dead larvae earlier, and had eaten more of them, than those fed with leaves from control plants.
Read more from Nature.
[ Send to a Friend | Rate this Article ]
---
The US government has regulated genetically modified organisms (GMOs) under the "Coordinated Framework for the Regulation of Biotechnology" (Coordinated Framework). In January 2017, the U.S. Department of Agriculture's (USDA) Animal and Plant Health Inspection Service (APHIS) published a proposed rule to revise the Agency's biotechnology regulations.
In comments submitted recently to the USDA, industry stakeholders applauded the Agency's proposed rule, but has also called out a number of proposed revisions as improperly expanding the Agency's review process in certain respects which could effectively hamstring developers before they can even begin testing products.
In a separate set of comments, the National Grain and Feed Association and other organizations representing companies that process and export grain and oilseeds, urged USDA to withdraw the proposed rule on the basis that USDA did not consult with foreign markets and international regulators in preparing the proposed rule to ensure they would approve U.S. crop traits that would be commercialized under the proposed new system.
For more details, read the article at The National Law Review.
[ Send to a Friend | Rate this Article ]
---
Researchers, including a plant pathologist from the University of Kentucky (UK) have uncovered an important link to wheat blast, a devastating disease. Wheat in North America has not been susceptible to wheat blast, but in 2011, UK researchers discovered a single diseased wheat head in a research plot at the UK Research and Education Center in Princeton, Kentucky. Wheat blast epidemic swept through Bangladesh in 2016, and again this year.
Research conducted at the UK Department of Plant Pathology revealed that the pathogen collected in 2011 is genetically distinct from South American wheat blast. It is very closely related to strains found on annual ryegrass and tall fescue in the U.S., suggesting that the 2011 incident arose via a '"host jump" from forage grasses to wheat. The group also found that the 2016 Bangladeshi epidemic very likely arose through the introduction of a South American strain of the fungus.
UK plant pathologist Mark Farman, together with collaborators from Japan, found that the 2011 wheat blast strain experienced a mutation in a key gene that codes for a protein that is normally recognized by wheat cultivars possessing a key blast resistance protein. The mutation compromises the "good" protein, and allows the fungus to escape the wheat resistance response by avoiding recognition. "This information will help spur the development of crop varieties with more durable resistance," Farman said.
For more, read the University of Kentucky News.
Asia and the Pacific
Commonwealth Scientific and Industrial Research Organization (CSIRO) released the Food and Agribusiness Roadmap, which shows detailed action plans for new products and innovation to ensure future success in the sector. The new technologies include algae-based protein, allergenic-free nuts, tolerable varieties of lactose and gluten, and edible packaging to reduce environmental impact.
The Roadmap centers on the themes of keeping a greater share of food processing onshore and better differentiating Australian food product. This calls for businesses to act quickly or risk losing future revenue streams to the competitive global market.
"Australian businesses are among the most innovative in the world, and together with our world-class scientists, can deliver growth in the food and agribusiness sector amid unprecedented global change," said CSIRO Deputy Director Dr. Martin Cole.
Read the full report from CSIRO.
[ Send to a Friend | Rate this Article ]
---
Australia's Office of the Gene Technology Regulator (OGTR) has issued a license to the University of Adelaide for the limited and controlled release (field trial) of wheat and barley genetically modified (GM) for abiotic stress tolerance and yield enhancement.
The field trial (License Application DIR 152) is authorized to take place at up to five sites, with up to 3.75 hectares per growing season (across all sites) in South Australia, Western Australia and New South Wales, between July 2017 and January 2021. It will assess the agronomic characteristics of the GM wheat and barley under field conditions. The GM wheat and barley would not be used for commercial human food or animal feed.
The final Risk Assessment and Risk Management Plan (RARMP) concludes that this limited and controlled release poses negligible risks to people and the environment and does not require specific risk treatment measures.
The finalized RARMP, together with a summary of the RARMP, a set of Questions and Answers on this decision and a copy of the license, are available online from the DIR 152 page in the OGTR website.
Europe
Scientists at the John Innes Centre (JIC) have discovered that plants under aphid attack use calcium as a warning signal. They found that when the insect feeds on leaves, it triggers the plant to send calcium into damaged cells. This prompts the plant to signal that an attack is underway, and a larger amount of calcium is then mobilized from within the cell.
The researchers used electrophysiological monitoring and a genetically-encoded fluorescent reporter of calcium to show that calcium is elevated in penetration sites of aphids during the early stages of its attempt to establish a long-term feeding site. They combined this knowledge with evaluation of the genetic response to determine that the elevation of calcium was dependent on specific plant membrane channels.
"Understanding the mechanisms involved in the early stages of feeding may provide information on how we can stop the aphid in its tracks and prevent virus transmission," says JIC Professor Saskia Hogenhout.
For more details, read the JIC News.
Research
The Ta-Lr34res gene confers partial, durable, and broad spectrum resistance against several fungal pathogens in wheat (Triticum aestivum). Transgenic barley (Hordeum vulgare) lines expressing Ta-Lr34res showed enhanced resistance against powdery mildew and leaf rust. While the gene is only active at adult stage in wheat, Ta-Lr34res was found to be already highly expressed at the seedling stage in transgenic barley, resulting in severe negative effects on growth.
To solve this, University of Zurich researchers expressed Ta-Lr34res under the control of the pathogen-inducible Hv-Ger4c promoter in barley. The resulting transformants showed strong resistance against leaf rust and powdery mildew. The transformed events also had similar grain production compared to susceptible wild types.
These results showed that negative effects caused by early high expression of Ta-Lr34res can be eliminated by inducible expression without compromising disease resistance.
For more information, read the article in Plant Biotechnology Journal.
[ Send to a Friend | Rate this Article ]
---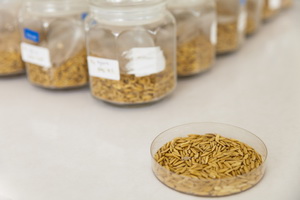 Plant lodging resistance is an important agronomic trait for grain yield and quality in crops. Extensin proteins are associated with plant cell growth and cell wall construction. However, little has yet been reported on their effect on on plant lodging resistance. A team from Huazhong Agricultural University in China, led by Chunfen Fan, isolated a novel extensin-like (OsEXTL) gene in rice, and expressed it in transgenic rice plants under two distinct promoters.
The two-promoter-driven OsEXTL-transgenic plants exhibited significantly reduced cell elongation in stem internodes, leading to relatively shorter plants compared to wild types. The transgenic plants also showed remarkably thickened secondary cell walls with higher cellulose levels in the mature plants, resulting in significantly increased mechanical strength.
Due to reduced plant height and increased plant mechanical strength, the OsEXTL-transgenic plants had enhanced lodging resistances compared to those of the rice cultivar ZH11. The OsEXTL-transgenic plants also maintained normal grain yields and biomass production.
This study demonstrates an improved lodging resistance in the OsEXTL-transgenic rice plants, and provides insights into extensin function in plant growth and development.
For more information, read the article in Plant Biotechnology Journal.