News
Global
Drs. Maria Andrade, Robert Mwanga, Jan Low, and Howarth Bouis, scientists responsible for improving the health of 10 million rural poor in Africa, Asia, and Latin America were announced on June 28 as the 2016 World Food Prize Laureates during a ceremony at the U.S. State Department.
USAID Administrator Gayle Smith gave keynote remarks and applauded the selection, saying "These four extraordinary World Food Prize Laureates have proven that science matters, and that when matched with dedication, it can change people's lives."
Three of the 2016 laureates -- Dr. Maria Andrade, Dr. Robert Mwanga, and Dr. Jan Low of the International Potato Center (CIP) -- are being honored for developing the single most successful example of biofortification -- the orange-fleshed sweet potato (OFSP). Dr. Andrade and Dr. Mwanga, plant scientists in Mozambique and Uganda, bred the Vitamin A-enriched OFSP using genetic material from CIP and other sources, while Dr. Low structured the nutrition studies and programs that convinced almost two million households in 10 separate African countries to plant, purchase and consume this nutritionally fortified food.
Dr. Howarth Bouis, founder of HarvestPlus at the International Food Policy Research Institute (IFPRI), over a 25-year period pioneered the implementation of a multi-institutional approach to biofortification as a global plant breeding strategy. As a result of his leadership, crops such as iron and zinc fortified beans, rice, wheat, and pearl millet, along with Vitamin A-enriched cassava, maize and OFSP are being tested or released in over 40 countries.
2016 marks the 30th anniversary of the establishment of the World Food Prize by the late Nobel Peace Prize Laureate Dr. Norman E. Borlaug. The World Food Prize is the most prominent global award for individuals whose breakthrough achievements alleviate hunger and promote global food security. This year's $250,000 prize will be divided equally among the four recipients.

For more details, read the news release at the World Food Prize website.
Africa
ISAAA AfriCenter, in collaboration with the Open Forum on Agricultural Biotechnology (OFAB-Ethiopia), launched the ISAAA Brief 51 in Addis Ababa, Ethiopia on June 9, 2016. AfriCenter Director, Dr. Margaret Karembu presented the report in the event, which was attended by 10 journalists, scientists and members of OFAB Africa. She commended the progress of African countries towards adoption of biotech crops with 19 countries having enacted biosafety laws. Notably, Ethiopia has revised its Biosafety Law to enable commencement of Confined Field Trials (CFTs) on biotech crops in the country. She observed that there is a need for the continent to enable adoption of agricultural biotechnology to tackle challenges such as drought which render the continent food insecure.
The guest of honor, Dr. Maleku Tadesse from Ethiopian Institute of Agricultural Research (EIAR) stressed the need to couple agri-biotech research with communication to ensure wide acceptance in the continent. "Uncommunicated science cannot be impactful," he said, urging for more efforts to link scientists and journalists to ensure factual reporting on agricultural biotechnology. Dr. Endale Gebre of EIAR outlined Ethiopia's progress with agri-biotech and biosafety, highlighting the revision of the Biosafety Law and the upgrading of EIAR's Holleta Agricultural Research Center to a dedicated biotech research center.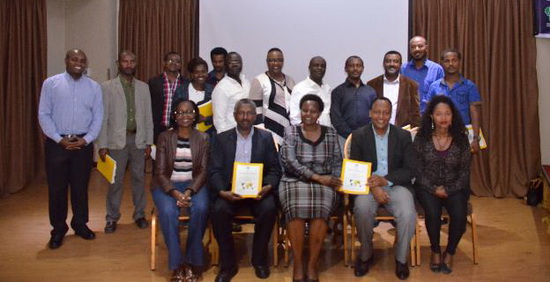 For more information about biotech in Africa, contact Dr. Margaret Karembu at mkarembu@isaaa.org.
[ Send to a Friend | Rate this Article ]
---
Rwanda's Minister for Agriculture and Animal Resources, Dr. Geraldine Mukeshimana, has warned that
GM crop
imports, particularly
maize
and bananas, will enter in Rwanda as the country has no regulatory mechanisms to check such imports. Speaking at the closing ceremony of the just concluded Science Week of the Forum for Agricultural Research in Africa (FARA), Dr. Mukeshimana argued that Rwanda could soon face an influx of
genetically modified crops
from Kenya and Uganda, which are in the process of legalizing genetically modified organisms (GMOs).
"We need to fast track our biosafety regulations to enable us to deal with GMOs once they are in the country. They [EAC member countries] are ahead in setting biosafety regulations, while we are still defining ours," said Dr. Mukeshimana.
The 7
th
Africa Agriculture Science Week and the Forum for Agricultural Research in Africa's general assembly was held on June 13-16, 2016, in Kigali, Rwanda. The four-day conference and exhibition whose theme was to "Apply Science, Impact Livelihoods" focused on the operationalization of the science agenda for agriculture in Africa at country level. The event brought together
scientists
, agriculturists, the private sector, and
media
, among others.
The president of the African Development Bank Group, Dr. Akinwumi Adesina, who received the FARA award at the event for outstanding contributions to the advancement of agricultural research for African development emphasized the need to invest more in agricultural research for improved efficiency. "Transforming African agriculture requires a research system that includes policies, comprehensive investments, infrastructure development and transformation of financial sector to ensure that we transform subsistence-based agriculture to market-oriented," he said. Dr. Adesina also added that Africa needs to be a processing center for agricultural produce instead of a consumption center.
Read the full story in
All Africa
. For more information on the FARA event, visit the
website
.
Americas
Doreen Ware, lead scientist in a new research to analyze and annotate the depth of maize genome says that "it is a lot more exciting" than previously believed. Ware, from the U.S. Department of Agriculture and Cold Spring Harbor Laboratory (CSHL) in New York reports that their research establishes the amazing diversity of maize that has great importance for agriculture.
Ware was part of the multinational team in 2009 that assembled the first-ever sequence of maize's 30,000 or so genes. The discovery of maize's extraordinary protein diversity is based on more accurate "long-read" sequencing technology. This updated technology did not reveal many previously unknown genes, but rather, many more of the RNA messages that are generated when genes are activated. In all, 111,151 RNA transcripts from genes expressed in six different maize tissues were read and analyzed in the research. About 57% of these messages had never been seen – and therefore had never been sequenced.
Many of maize's 30,000-odd genes can generate RNA messages that can be edited in different ways, leading to the production of different proteins with different shapes and different functions. The research reveals new functional parts used to be unknown, and gives insight into what those other parts are and what they do, making possible new ways to breeding and adapting maize.
For more details, read the news release at CSHL News & Features.
Asia and the Pacific
Japanese scientists have discovered a simple
genetic modification
that can lead to more robust plants. Their findings are published in
Plant & Cell Physiology.
Previous study of the same research team revealed the molecular mechanism that was controlling the biological clock of Arabidopsis plants. In their initial trials, they inhibited three
pseudo-response regulator
(
PRR
)
genes
, which led to delayed flowering resulting to larger size and improved adaptability. In the current study, the researchers modified a single
PRR
gene called
PRR5-VP
which led to the same outcome as the initial study.
Delayed flowering caused production of twice the plant's biomass and greater resilience to stress. When exposed to freezing temperatures for one day, all of the control plants died, while only half of the
PRR5-VP
plants died. When exposed to
drought
for 16 days, all of the
PRR5-VP
survived, while almost all of the control plants were killed.
[ Send to a Friend | Rate this Article ]
---
The Pakistan Biotechnology Information Center (PABIC) organized the launch of ISAAA Brief 51 20th Anniversary (1996 to 2015) of the Global Commercialization of Biotech Crops and Biotech Crop Highlights in 2015 at the Latif Ebrahim National Science Information Center, University of Karachi, Pakistan, on June 20, 2016.
The launch was attended by more than 120 researchers, media representatives, and university faculty. The speakers included Mr. Sardar Atif Sultan (Chief Executive Officer, Cantonment Board Malir, Karachi), Prof. Dr. Ghulam Sarwar Markhand, (Director Date Palm Research Institute, Shah Abdul Latif University, Khairpur, Sindh), and Prof. Dr. Abdul Razak Mahar (Chairman, Department of Botany Shah Abdul Latif University, Khairpur, Sindh) and PABIC Director Prof. Dr. M. Iqbal Choudhary. Prof. Choudhary presented the important facts and figures from ISAAA Brief 51.
The speakers emphasized the need for swift implementation of agri-biotech applications in Pakistan to meet the food, feed, and fiber needs of the growing population, adding that those are the most important human needs from the agriculture sector. They said that agriculture will remain as the most important sector in Pakistan's economy. The media representative appreciated the role of ISAAA and PABIC for the distribution of information on crop biotechnology.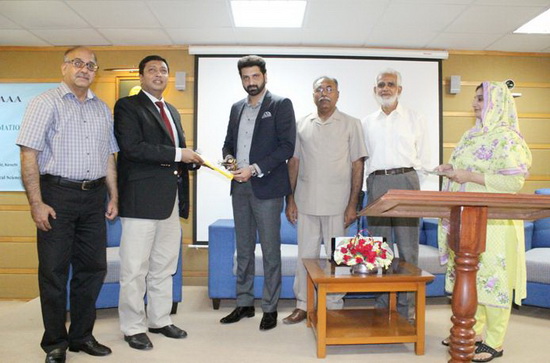 For updates on agri-biotech in Pakistan, visit the PABIC website.
[ Send to a Friend | Rate this Article ]
---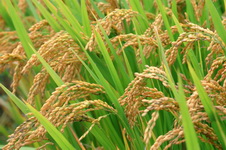 A research team from Kobe University in Japan has discovered four new genes in rice that are potentially significant to agriculture. The team used genome-wide association studies (GWAS), a frequently used method in analyzing human genes, instead of quantitative trait loci (QTL) analysis, which has been in use for genetic analysis of crops.
The research team limited their targets to 176 Japanese rice cultivars, including 86 cultivars used in Japanese-sake brewing that Kobe University has maintained over many years. Using next-generation sequencing, the group determined the whole sequence of each cultivar, and discovered a total of 493,881 of the DNA-based polymorphisms.
Based on these results, the team identified four genes within a group of 12 rice plant chromosomes. Chromosome 1 contains a gene that decides rice flowering date; chromosome 4 contains a gene that influences panicle number produced, leaf breadth, and rice grain number; a chromosome 8 gene affects awn length (a factor which influences harvesting); and a gene within chromosome 11 decides flowering date, plant height, and panicle length. This experiment could aid the discovery of genes in other plant and animal species and potentially contribute towards solving food shortages caused by population growth.
For more details, read the news release at the Kobe University website.
[ Send to a Friend | Rate this Article ]
---
The Institute of International Legal Studies of the University of the Philippines Law Center (ILSI-UPLC) held the forum "GM Crops: Public Perception and Trade Regulation Practices" on June 28, 2016 in Diliman, Quezon City, Philippines. The activity brought together scientists, biotech proponents from the public and private sectors, and other concerned agencies and organizations to discuss the implications of the Philippines' Supreme Court decision on December 8, 2015 on the Bt 'talong' (eggplant) field trials, and the new Joint Department Circular (Rules and Regulations for the Research and Development, Handling and Use, Transboundary Movement, Release into the Environment, and Management of Genetically-Modified Plant and Plant Products Derived from the Use of Modern Biotechnology) as the revised GM regulatory guidelines in the country.
Assistant Professor at the UP College of Law and ILSI-UPLC Officer-in-Charge Atty. Edgardo Carlo L. Vistan II discussed the Bt talong case and emphasized the importance of effective communication between the legal and scientific sectors to enhance understanding and establish proper mechanisms for regulation. He pointed out the need for workable rules in terms of the level of uncertainty that can be accommodated when it comes to modern biotech applications. Atty. Vistan also explained that the Supreme Court decision was not entirely an attack on science, but aimed to encourage the institution of a sound regulatory and biosafety framework. He likewise encouraged scientists and lawyers to be more creative in communicating their messages to various sectors.
Other topics discussed during the event include: basic foundation of and latest developments in biotechnology and its importance and impact in health and agriculture; relevant trade agreements and their relation and impact to GMOs; socioeconomic impacts of Bt corn in the Philippines; and the role of the Department of Health in crafting the new GM regulatory guidelines.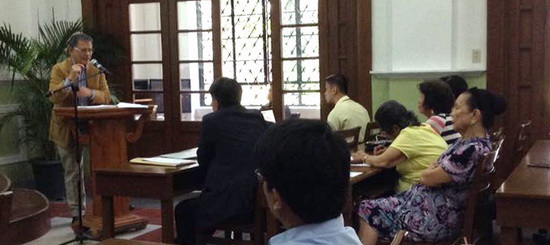 For more information about biotech developments in the Philippines, visit SEARCA Biotechnology Information Center website.

Research
Targeted manipulation of phenylalanine (Phe) synthesis is a potential strategy to boost biologically and economically important metabolites. South China Agricultural University's Qingjun Xie led a team of researchers from various institutions in increasing the levels of aromatic amino acids, tomato flavour-associated volatiles and antioxidant phenylpropanoids in tomato.
Overexpression of the petunia MYB transcript factor, ODORANT1 (ODO1), combined with expression of a feedback-insensitive E. coli 3-deoxy-D-arabino-heptulosonate 7-phosphate synthase (AroG), altered the levels of multiple primary and secondary metabolites in tomato fruit, boosting levels of multiple secondary metabolites.
The results indicate that coexpression of AroG and ODO1 has a dual effect on Phe and related biosynthetic pathways. It positively impacted tyrosine (Tyr) and antioxidant related metabolites, however, it negatively affected other downstream secondary metabolites of the Phe pathway as well as aromatic volatiles.
The metabolite profiles were also distinct from those obtained with either single transgene. Coexpression of the two genes also provided insights into regulation of phenylpropanoid metabolic pathways.
For more on this promising study, read the article in Plant Biotechnology Journal.
[ Send to a Friend | Rate this Article ]
---
Scientists from the John Innes Centre have analyzed the genomes of plants that grow in harsh, serpentine soils and have found out how they survive in such conditions. The team, which included Dr. Kirsten Bomblies and Dr. Levi Yant, used new techniques in genomics to determine which genes give serpentine plants their incredible tolerance.
Seeds of Arabidopsis arenosa, a close relative of Arabidopsis thaliana, were collected from all over Europe and tissues from plants grown from these collected seeds were used for genomic analysis. Researchers found that the serpentine population of A. arenosa possessed gene variants that may help them cope with challenges.
Researchers hypothesize that some of A. arenosa's adaptations evolved independently through natural selection. However, they also found A. lyrata gene variants in the genome of the serpentine-tolerant A. arenosa but not in other populations, suggesting that serpentine-tolerant population has borrowed some advantageous migrant genes from its relative.
Knowing which genes help A. arenosa thrive in poor soils would be useful for crop breeders, who may be able to use this knowledge to develop stress resilient crop varieties.
For more on this study, read the article on the John Innes Centre website.
[ Send to a Friend | Rate this Article ]
---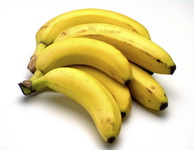 Scientists from Agricultural Research Organization in Israel have developed
transgenic
banana plants with longer shelf-life by reducing expression of two transcription factors. The results are published in
Plant Physiology
.
Based on previous studies about ripening
genes
of tomato, Dr. Haya Friedman and colleagues characterized similar genes in banana known as the
MADS
box genes,
MaMADS1
and
MaMADS2
. When the expression of these genes was repressed, the banana plants exhibited delayed ripening and extended shelf-life characteristics. The delayed ripening characteristic was linked to the production of ripening hormone, ethylene. The lines with highest gene repression did not produce ethylene and ripening was most delayed. Furthermore, the quality and taste of transgenic bananas remained the same.
The researchers are now working on commercializing the results to help farmers and producers.
Beyond Crop Biotech
Respiratory diseases are common ailments in calves. Hubert Pausch from the Chair of Animal Breeding at the Technical University of Munich in Germany and his team have traced a gene mutation in cattle responsible for it — a recessive mutation that alters the structure of the cilia of the airways. It only manifests in homozygous animals, where both parents were carriers of the mutation.
The altered structure affects the movement of the cilia, preventing the expulsion of sufficient amounts of secretion from the respiratory tract leading to infections. This mutation on chromosome 19 had already been discovered several years ago.
When reviewing the genome databases of cattle breeding associations, the team discovered that the mutation rarely occurred in homozygous animals. However, they found out that homozygous offspring died immediately after birth and was not included in the database.
So to clarify the cause of such high calf mortality, the scientists required information on homozygous calves not included in the database. They had to identify immediately after birth to be able to characterize them from a clinical perspective.
The scientists found twelve homozygous calves: five were stillborn, three died within 30 days, and four were taken to the cattle hospitals. These four were underweight and had chronic respiratory diseases. The animals had to be put to sleep after a few weeks due to their deteriorating health. The pathological examination showed changes in the structure of cilia inside their airways.
For more on this study, read the article at Technical University of Munich website.
[ Send to a Friend | Rate this Article ]
---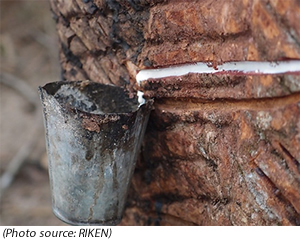 Researchers at the RIKEN Center for Sustainable Resource Science (CSRS) in Japan, together with collaborators at Universiti Sains Malaysia (USM) have successfully decoded the genome of Hevea brasiliensis, the natural rubber tree native to Brazil. The study, published in Scientific Reports, provides a draft genome sequence that covers more than 93% of expressed genes, and identifies regions specific to the biosynthesis of rubber.
The team led by Minami Matsui at the RIKEN CSRS and Alexander Chong set out to sequence and analyze the H. brasiliensis genome, and find genetic information explaining why some strains of rubber tree yield more amounts of rubber than others. The team looked for genes related to rubber itself and for resisting disease — two factors that affect rubber production. They found that the two most abundant proteins that make up rubber — Rubber Elongation Factor and Small Rubber Particle — are encoded on a large number of genes that are clustered together in a small region of the genome. While other tropical plants also express these proteins to some extent, being encoded more than eight times on different genes is unique to H. brasiliensis.
The team also found that compared to other members of the Euphobiaceae family, the rubber tree has more genes related to disease resistance, and that these genes also formed clusters within the genome. Matsui thinks that the high latex production found in the rubber tree may be caused by a coordinated expression of these genes combined with increased gene number due to gene duplication.
For more information, read the news release at the RIKEN website.
Document Reminders
ISAAA releases Biotech Booklet No. 5, "Beyond Promises: Top 10 Facts about Biotech/GM Crops in Their First 20 Years, 1996 to 2015," a visual presentation of the 10 important highlights about biotech crops from 1996 to 2015, taken from the 20th Anniversary of the Global Commercialization of Biotech Crops (1996 to 2015) and Biotech Crop HIghlights in 2015, authored by Clive James, Founder and Emeritus Chair of ISAAA.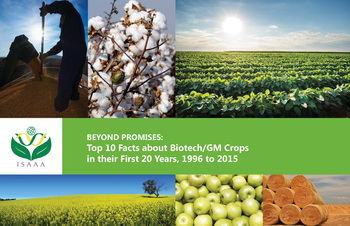 The booklet and other information materials from Brief 51 are available for download at the ISAAA website.
---
The latest ISAAA report, 20th Anniversary (1996 to 2015) of the Global Commercialization of Biotech Crops and Biotech Crop Highlights in 2015 (ISAAA Brief 51), has reached an estimated 4.27 billion individuals all over the world who have been informed about the report through news reports and social media posts. This is the highest media impressions recorded for any ISAAA Brief for the time period of two months since the launch.