News
Global
The global seed industry was urged to "respond and adapt to global challenges to ensure it continues to thrive and not just to survive" by International Seed Federation (ISF) President, Jean-Cristophe Gouache, during the World Seed Congress opening on May 22, 2017 in Budapest, Hungary. Mr. Gouache added that the seed industry must pursue implementation of more consistent policies for new products to make sure that they become accessible to all the make sure continuous trade.
On the other hand, Hungarian Minister of Foreign Affairs and Trade, Péter Szijjarto, said that the seed industry must initiate the development of innovations that will address global challenges such as food security.
Around 1,700 delegates from 64 countries participated in the activities of the congress, including open meetings, panel discussions, and roundtable events.
Read the press release from the International Seed Federation.
Africa
Scientists in Kenya are set to start the field trials of biotech maize and cotton varieties soon, said Simon Gichuki of the Kenya Agricultural, Livestock Research Organization's (KALRO) Biotechnology Research Institute (BioRI) during an agricultural biotechnology sensitization workshop held in Nairobi last week. The scientists are waiting for the results of the National Performance Trials (NPT) and then the field trials will follow.
Bt cotton research was conducted in 2002-2012 and was approved for NPT by the Kenya Plant Health Inspectorate Service (KEPHIS). On the other hand, insect resistant and drought tolerant maize varieties are under NPT conducted by KEPHIS experts. National Biosafety Authority (NBA) officer, Julia Njagi, mentioned that the authority has approved 24 biotech crop varieties for laboratory and greenhouse trials, 14 for confined field trials (CFT) and three for environmental trials.
Read the original article from News Ghana.
Americas
Southern Gardens Citrus in Clewiston, Florida, an agricultural company, has applied to the United States Department of Agriculture (USDA) in February for permission to use the engineered version of the citrus tristeza virus (CTV) to fight the bacterium that causes citrus greening. Citrus greening, or huanglongbing, is a disease that has slashed orange production in the US in half over the past decade, and threatens to destroy the US$3.3-billion industry entirely. The application's comment period has ended, and the USDA will now assess the possible environmental effects of the engineered virus.
Field trials of engineered CTV are being conducted and once the request is approved, it would be the first time this approach has been used commercially. It could also provide an opportunity to sidestep the regulations and public stigma related to genetically engineered crops.
The engineered virus is not the only option being explored to tackle citrus greening. Other projects aim to edit the citrus tree genome using CRISPR–Cas9 to make them more resistant to the pest, or to engineer trees that express defense genes or short RNA molecules that prevent disease transmission. Local growers have also helped to fund an international project that has sequenced citrus trees in the search for more weapons against citrus greening.
For more details, read the article in Nature News.
[ Send to a Friend | Rate this Article ]
---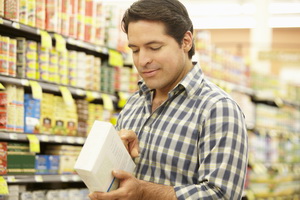 Members of the Canadian Parliament have voted against the mandatory labeling of genetically modified foods in its second reading at the House of Commons on May 17, 2017. The C-291 bill, an Act to amend the Food and Drugs Act (genetically modified food), sponsored by Mr. Pierre-Luc Dusseault, the NDP (New Democractic Party) MP for Sherbrooke, Québec, was defeated by a significant margin, with 67 yeas, and 216 nays.
The bill specified that the Food and Drugs Act be amended, such that "No person shall sell any food that is genetically modified unless its label contains the information... to prevent the purchaser or the consumer of the food from being deceived or misled in respect of its composition." However, the term genetically modified lacked description in the bill, which generated enormous discussion during the second reading. Opponents argued that the wording was too vague, but supporters said that such vagary provided important 'latitude.'
Read more about Bill C-291 at the Parliament website. Details of the votes are available here.
Asia and the Pacific
A petition calling on the Indian government to approve the commercial planting of genetically modified (GM) mustard has been created. The South Asia Biotechnology Centre (SABC) in New Delhi, India started the petition that calls for the Minister of Environment, Forests & Climate Change (MOEF&CC), Dr. Harsh Vardhan, to approve GM mustard and allow Indian farmers to plant it.
A week ago, the Genetic Engineering Appraisal Committee (GEAC), India's GM crop regulator, has recommended the commercial use of GM mustard in a submission to the environment ministry. The environment ministry received over 750 comments from various stakeholders, including students, farmers, and researchers on the Assessment of Food and Environmental Safety (AFES) report on GM Mustard, which it had earlier posted on the ministry website. The report contains results of thorough assessment of the biosafety data in comparison with international assessment made by well-known regulatory agencies such as the European Food Safety Authority (EFSA), Australia's Office of the Gene Technology Regulator (OGTR), and Canadian regulatory authorities, and existing peer-reviewed scientific literature on the subject. The report also addressed the specific uses of mustard in India and concluded that GM mustard was safe and nutritious for consumption.
The petition is available at Change.org. For more information on GM mustard and edible oil economy in India, visit SABC, where English, as well as Hindi translated materials are available.
[ Send to a Friend | Rate this Article ]
---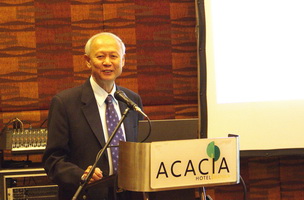 On May 19, 2017, media practitioners, farmers, and government agency officers were briefed during a media conference on ISAAA's latest report, Global Status of Commercialized Biotech/GM Crops: 2016 at the Acacia Hotel, Alabang, Muntinlupa City, Philippines.
The 2016 report states that Philippine biotech corn adoption increased to 812,000 hectares in 2016, a remarkable 16% increase (110,000 hectares) from the 702,000 hectares planted in 2015. The increase is due to favorable weather conditions, and high local demand for livestock and feed stocks. Biotech/GM corn, which was approved for commercial planting in 2002 is the only biotech crop planted in the country. The other two countries in Southeast Asia that planted biotech crops in 2016 are Myanmar and Vietnam.

ISAAA Board Chair Dr. Paul S. Teng presented the report, including the global impact and future prospects of biotech crops. SEARCA Director Dr. Gil C. Saguiguit, Jr. said that the 2016 figures surpass previous records and attest to the effectiveness and benefits of biotechnology.

Meanwhile, Officer-in-Charge and Director of the Bureau of Plant Industry; and Director of the Philippine Agriculture and Fisheries Biotechnology Program of the Department of Agriculture, Dr. Vivencio R. Mamaril, reported on the biosafety regulatory developments in the country, particularly the harmonization of the Joint Department Circular by the five government departments, namely the Departments of Agriculture; Science and Technology; Environment and Natural Resources; Health; and the Interior and Local Government. The JDC is the latest biosafety regulatory guidelines for biotech crops in the Philippines, and is expected to regulate the testing and commercialization of other biotech crops in the pipeline, including Bt eggplant, PRSV-R papaya, Bt cotton, and Golden Rice.

For more information about biotechnology in the Philippines, visit SEARCA Biotechnology Information Center's website.

[ Send to a Friend | Rate this Article ]
---
The Philippine media developed a matured editorial position over 17 years of modern biotechnology reporting, according to the new publication of ISAAA titled From Fear to Facts: 17 Years of Agri-biotech Reporting in the Philippines (2000-2016). The publication is based on a study conducted by ISAAA and SEARCA Biotechnology Information Center published in the April 2017 issue of Philippine Journal of Crop Science.
The initial 10-year study (2000-2009) authored by Dr. Mariechel Navarro and colleagues showed that majority of the reports from the top newspapers, Manila Bulletin, Philippine Daily Inquirer, and Philippine Star were about the development and commercialization of biotech corn in the Philippines. The coverage was high in terms of the number of articles, but sensationalism and speculations were evident, since a biotech crop was just introduced and commercialized in the country. Negative metaphors such as "frankenfood" and "poison" were commonly used in the initial years of reporting. The follow up study (2010-2016) conducted by Kristine Grace Tome, Dr. Navarro, and colleagues showed that the use of fear metaphors declined, and an increasing effort to present science-based information became more evident in the succeeding years. More positive metaphors such as "new hope", "answer to farmers' dreams", and "light of hope" were used in the articles depicting favorable potential or promise of the technology. Bt eggplant development and field trial case sparked the interest of journalists to write about biotechnology. Articles from Business Mirror were also included in the analysis of 2010-2016 articles due to its high coverage on biotechnology.
Media practitioners and scientists were encouraged to continue to collaborate to sustain media coverage of biotechnology in the Philippines. With the increasing use of social media, a new breed of information seekers and producers could help revolutionize discourses on biotechnology not just in the Philippines, but also in other countries.
Download the publication from the ISAAA website. Get a copy of the research article for more details.
[ Send to a Friend | Rate this Article ]
---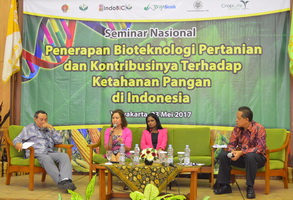 ISAAA's most recent report, Global Status of Commercialized Biotech/GM Crops: 2016 was launched at Gadjah Mada University, Yogyakarta, Indonesia on May 23, 2016 during a one-day national seminar on biotechnology. The event, organized by ISAAA and the Indonesian Biotechnology Information Centre (IndoBIC) was attended by some 90 members of the academe, local government representatives, media practitioners, and students. The event was graced by Ir. Arofa Noor Indriani MSI, Director of Food Security Agency, Yogyakarta Province, who gave the welcome message.
Dr. Rhodora R. Aldemita, ISAAA Senior Program Officer, presented the 2016 Global Status of Commercialized Biotech/GM Crops. Dr. Mahaletchumy Arujanan, Executive Director of the Malaysian Biotechnology Information Centre (MABIC), gave an overview of biotech/GM crop adoption in Asia, while Dr. Muhammad Herman discussed the research and development of biotech product and its regulation in Indonesia. Scientists from Gadjah Mada University, Bogor Agricultural University, and Yogyakarta province presented updates on agri-biotech research.
Drs. Aldemita and Arujanan, together with IndoBIC Director, Prof. Dr. Bambang Purwantara, and Dr. Herman were guests on live television interviews on Jogja TV on May 22, and Kompass TV on May 23.
For more information about biotechnology in Indonesia, visit the IndoBIC website.
Research
Pectate lyase genes have been documented as excellent candidates for improvement of fruit firmness. However, this approach in regulating fruit postharvest deterioration has not been fully explored. Lu Yang from Chongqing University in China, along with colleagues, identified pectate lyase genes in tomato and focused on the pectate lyase gene SlPL.
RNA interference of SlPL resulted in enhanced fruit firmness and changes in pericarp cells. Furthermore, the SlPL-RNAi fruit demonstrated greater anti-rotting and pathogen-resisting ability. Compared to wild types, the SlPL-RNAi fruit exhibited higher levels of cellulose and hemicellulose, while pectin levels were lower.
The activities of peroxidase, superoxide dismutase and catalase were also higher in SlPL-RNAi fruit. RNA-sequencing results showed large amounts of differentially expressed genes involved in hormone signalling, cell wall modification, oxidative stress, and pathogen resistance.
These demonstrate that pectate lyase plays an important role in both fruit softening and pathogen resistance. This could be a foundation for improvement of postharvest fruit preservation in tomato and other fleshy fruits.
For more information on the study, read the article in Plant Biotechnology Journal.
[ Send to a Friend | Rate this Article ]
---
High temperature alters the amylose content of rice, leading to mature grains with poor eating quality. Despite this, only a few genes/loci involved in this process have been studied and the mechanisms of this process remain unclear. Hua Zhang from the Zhejiang Academy of Agricultural Sciences, along with his team, identified the floral organ identity gene, OsMADS7, involved in stabilizing rice amylose content at high temperatures.
OsMADS7 was greatly induced by high temperature at the early filling stage. Suppression of OsMADS7 stabilizes amylose content under high temperature stress, but also results in low spikelet fertility. However, rice plants with both stable amylose content at high temperature and normal spikelet fertility can be obtained by specifically suppressing OsMADS7 in endosperm.
GBSSI is the major enzyme responsible for amylose biosynthesis. A low filling rate and high expression of GBSSI were detected in OsMADS7 RNAi plants at high temperature, which may be correlated with stabilized amylose content in these transgenic seeds under high temperature.
Specific suppression of OsMADS7 in the endosperm could improve the stability of rice amylose content at high temperature, and such materials may be a valuable genetic resource for breeding rice with elite thermal resistance.
For more information, read the article in Plant Biotechnology Journal.
New Breeding Technologies
Flowering marks the transition from vegetative growth to reproductive growth and has considerable effects on soybean (Glycine max). Chinese Academy of Agricultural Sciences researchers, led by Yupeng Cai, used the CRISPR-Cas9 system to induce targeted mutagenesis of GmFT2a, an integrator in the photoperiod flowering pathway in soybean.
The soybean cultivar Jack was transformed with three sgRNA-Cas9 vectors targeting different sites of the GmFT2a. Site-directed mutations were observed at all targeted sites by DNA sequencing analysis. T1 generation soybean plants homozygous for null alleles of GmFT2a exhibited late flowering under natural conditions in Beijing, China. The targeted mutagenesis was also found to be stably heritable in the following T2 generation.
The team then identified some "transgene-clean" soybean plants that were homozygous for null alleles of GmFT2a and without any transgenic element from the T1 and T2 generations. These mutants may provide materials for more in-depth research of GmFT2a functions.
For more on this study, read the article in Plant Biotechnology Journal.
[ Send to a Friend | Rate this Article ]
---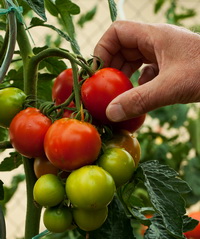 In the 1950s, scientists found a wild tomato relative in the Galapagos Island that does not have a swollen part of the stem referred to as joint. Joints are the weak parts of the stem that make the fruit fall easily from the plant. Breeders then developed jointless tomatoes to prolong the stay of the fruits in the plants. However, when the jointless tomato was bred with the existing tomato varieties, the resulting plants had flower-bearing branches that produced many extra branches and looked like a broom, terminating in a host of flowers. This led to reduced number of fruits.
Years after, geneticist Zachary Lippman of Cold Spring Harbor Laboratory in New York and other researchers tracked down the gene responsible for the jointless trait and another gene that promotes the formation of a large green cap of leaf-like structures on top of the fruit. Then they used CRISPR-Cas9 to correct the conflict of the traits, leading to tomato plants with different plant architectures,including those with long, spindly flower-bearing branches to bushy, cauliflower-like bunches of flowers, and some with better yields.
Read more from Nature.
Beyond Crop Biotech
An international research team, including researchers from the University of Georgia (UGA) has published the first sunflower genome sequence. The research team in North America and Europe sequenced the genome of the domesticated sunflower Helianthus annuus L., and also conducted comparative and genome-wide analyses, which provide insights about the evolutionary history of Asterids, a subgroup of flowering plants that includes potatoes, tomatoes, and coffee.
Sunflower is an important global oil crop, and has potential for climate change adaptation as it maintains yields despite environmental stresses, including drought. The team identified new candidate genes and reconstructed genetic networks that control flowering time and oil metabolism, two major sunflower breeding traits, and found that the flowering time networks have been shaped by the past duplication of the entire genome. Their findings suggest that ancient copies of genes can retain their functionality and still influence traits of interest after tens of millions of years.
Paper co-author John M. Burke, professor of plant biology and member of the UGA Plant Center said that the sunflower genome is over 40 percent larger than the maize genome, and roughly 20 percent larger than the human genome, and its highly repetitive nature made it a unique challenge for assembly.
The results of this study are available in the open access paper published in Nature. For other details, read the article at UGA Today.
Document Reminders
ISAAA summarized the highlights of Global Status of Commercialized Biotech/GM Crops: 2016 into a one-page infographic. It includes visual figures on the global area of biotech crops, percentage of developing and industrial countries adopting biotech crops, biotech crops planted in 2016, number of approved GM crop events, and the benefits of biotech crops in the environment.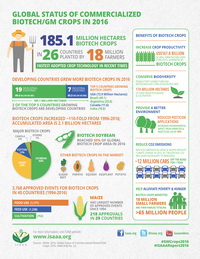 Download a copy of the infographic from ISAAA and share it on social media.
From The BICs
Pakistan's Punjab government developed a strategy to introduce modern techniques in the agriculture sector to make it profitable. Under the directive of the Punjab Chief Minister, the Agriculture Department has formulated a three-year plan costing Rs 4.76 billion to introduce new techniques in agriculture to enhance yield and improve the economic conditions of farmers in Punjab.
The chairman of Pakistan Agriculture Research Council (PARC) Dr.Yousuf Zafar, on May 9, 2017, said that the country's agriculture sector is continuously adopting new agri-biotech technologies and implementing research results to use in farmer's fields. He added, "We all have to perform as per our capacity for the betterment of agriculture sector to make the country self-sufficient in food production." Tunnel Farming Technology will be installed on 3,000 acres of land to help in growing off-season vegetables year-round, which will help in improving the economic conditions of growers in the Province.
The program involves introducing modern and profitable farming, enhancing productivity, lessening productivity expenditures, better utilization of fertilizers and pesticides, and water conservation.
For more details, read the Business Recorder. For more about biotechnology in Pakistan, visit the Pakistan Biotechnology Information Center website.