News
Global
The Secretariat of the Convention on Biological Diversity released a new report on the potential impact of synthetic biology on biodiversity. Synthetic biology refers to "de novo" production of genetic material and an engineering based approach to develop components, organisms, and products. Synthetic biology employs modern biotechnology techniques, such as high-throughput DNA technologies and bioinformatics.
The report is based on a review of relevant literature and views submitted by Parties to the Convention on Biological Diversity (CBD) and other stakeholders. Thus, it provides technical information on the potential impacts of synthetic biology on biodiversity and how adequately existing regulations, including risk assessment and international regulatory regimes, cover the components, organisms, and products of synthetic biology.
The report suggests that current frameworks on biosafety risk assessment may be adequate to evaluate possible risks of synthetic biology application on conservation and sustainable use of biodiversity.
Download a copy of the report from CBD.
[ Send to a Friend | Rate this Article ]
---
The World Trade Organization (WTO) and the Food and Agricultural Organization of the United Nations (FAO) enhanced their collaboration in addressing food security concerns. They offer each other mutual assistance to deal with important issues such as the functioning of international grain markets. This reinforced agreement was announced by the heads of both organizations on April 17, 2015 in Geneva, Switzerland.
"Food security is closely linked to trade and therefore it is an important element of our work at the WTO," said WTO Director-General Roberto Azevêdo. "I am delighted that we will now be able to enhance our work on this crucial issue, which affects so many people, through an even closer partnership with the FAO."
Among the activities planned were the preparation of the FAO's flagship publication, the State of Agricultural Commodity Markets, which focuses on trade and food security this year; and a symposium on food security in June 2015.
Read the news release from FAO for more details.
Americas
A group of soil fungi classified as arbuscular myccorhizal fungi (AMF) gets sugars from plant roots in exchange for nutrients. AMF dies off if they cannot provide nutrients to the plant. A research team from Cornell University led by Professor Maria Harrison has identified the exact protein transporters needed to keep the exchange going. They found that while the plant prefers phosphate, under certain conditions, it appears that nitrogen will suffice, and a single transporter is required to tell the plant that it's getting nutrients.
Professor Harrison's research team interbred mutant Medicago truncatula plants that were missing certain phosphate or ammonium transporters to create double- and triple-mutants. By creating plants without necessary proteins to take in the nutrients, they can genetically simulate a shortage of AMF-delivered phosphate or nitrogen. They then grew these mutants with the fungi and looked for evidence of successful AM formation to find the vital transporters.
They identified AMT2;3, a critical ammonium transporter that can keep the symbiosis going. The researchers hypothesize that without this transporter or the critical phosphate transporters, sugars stop flowing to the fungus and consequently the symbiosis breaks down. The discovery of AMT2;3 improves the understanding of how plant and fungal partners regulate the symbiosis and how phosphate and nitrogen move through the system. These are both important components of fertilizers in agriculture, and in future applications.
For more details, read the news release from the Boyce Thompson Institute for Plant Research.
Asia and the Pacific
A study was conducted to investigate the impact of Bt cotton cultivation on the profitability of farmers in Khanewal district, Punjab, Pakistan. The researchers collected the cost of various stages in the production technology, yield and prices of inputs and outputs to estimate the financial and economic returns of the Bt cotton farmers. They also computed the benefit cost ratio for both economic and financial returns.
Results showed that large farmers earned more net revenue and gross margin as compared with medium and small farmers due to more inputs induction for the sake of more profitability. The benefit cost ratio (BCR) analysis revealed that BCR with imputed cost is less than one in all the cases, i.e. small, medium and large while it is more than one in the case of without imputed cost. This means that farmers with imputed cost are unable to get profit. Furthermore, financial analysis showed that BCR is highest for small farmers followed by large farmers. This may be attributed to savings in labor costs as family members are engaged in all the operations of crop cultivation.
The research article is available at Science International.
[ Send to a Friend | Rate this Article ]
---
The Variety Evaluation Committee (VEC) on Rice meeting was held at Pakistan Agriculture Research Council (PARC) headquarters under the Chairmanship of affiliate Plant Sciences Division, Dr. Muhammad Shahid Masood. At this meeting, Pakistan Agriculture Research Council (PARC) sanctioned eleven (11) new high-yielding rice varieties including seven (7) hybrid and four (4) Open-Pollinated (OP) seed for cultivation in various ecologies. According to the statement issued by the PARC, "The hybrid varieties approved by the VEC have yield potential up to 92 mounds per acre, whereas the OP rice varieties have potential to produce much yield than the existing IRRI-6 and KSK-133 varieties." The OP varieties have been developed from the Green Super Rice (GSR) germplasm supplied by the International Rice Research Institute (IRRI) to PARC and National Institute for Biotechnology and Genetic Engineering (NIBGE). These OP varieties have high yield potential and also submergence, salinity and water stress tolerance characters.
Dr. M. Shahid Masood Chairman VEC said, "With the addition of new recommended hybrids of rice in the national system of the country, it is expected that there will be a considerable improvement in rice production in Pakistan." In the interim, Chairman PARC, Dr. Iftikhar Ahmad commended the endeavors of the scientists and other stakeholders for introducing new rice varieties. "I expect that the commencement of new rice varieties would not only produce promising crop yield, but would also help farmers to raise their incomes, to improve their livelihood and eventually play a role in building of overall economy of the country," he remarked.
Read the news article from PARC for more information.
[ Send to a Friend | Rate this Article ]
---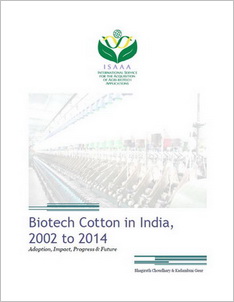 Biotech cotton has transformed the cotton cultivation, production and export of raw cotton, and the availability of quality cotton for the Indian textile industry in the last 13 years (2002-2014). This new document Biotech Cotton in India 2002 to 2014 – Adoption, Impact, Progress and Future measures the success of biotech cotton by featuring a comprehensive overview of the adoption, impact, progress and future of biotech cotton in the country.
The document presents a synopsis of the 13 years of adoption and impact of Bt cotton since its first commercial release in 2002. It highlights the most relevant statistics and references on Bt cotton in India, including hectarage of Bt cotton hybrids, numbers of Bt cotton farmers, reduction in insecticides due to Bt cotton, and a chronology of approved Bt cotton events and hybrids. Highlighting the spike in cotton production and yield in both irrigated and rainfed cotton areas, the document tracks the performance of Indian cotton at international level where India's contribution to cotton production equals or more than that of China.
India produces a quarter of global cotton production and becomes a major exporter of cotton in the recent years. Importantly, the document analyzes the contribution of Bt cotton in tripling the production of cotton oil and its relevance to the Indian edible oil sector, which is increasingly becoming dependent on imported edible oil. The document summarizes the impact of Bt cotton in India at the national and farm-level focusing on the socio-economic benefits during the 13 year-period of commercialization taking into account the 14 independent studies conducted by public institutions during that period.
The new document also presents the major highlights of India's largest and most comprehensive survey on Bt cotton of the Indian Society for Cotton Improvement (ISCI), that draws the key trends in cotton cultivation in India and confirms the widespread planting of Bt cotton in both rainfed and irrigated areas over a long period of time.
Download the document from the ISAAA and India Biotechnology Information Center websites. The document is available in English and Hindi.
[ Send to a Friend | Rate this Article ]
---
Researchers from Northwest Agricultural and Forestry University, China and The University of Western Australia collected and analyzed yield data from a total of 1,850 Chinese wheat varieties from 1920's to 2014 at three wheat producing regions in China. This was done to evaluate and understand the yield-traits related to wheat yield increases and how the traits evolved through the years. This will also be important in creating and developing future breeding strategies for wheat.
Based on their analysis, wheat grain yield increase is attributed to the increase in kernel weight and number of kernels per spike with a decrease in plant height and seed density. This finding is significant in wheat breeding since strategies can be made by focusing on these kernel traits to improve yield.
Details of the story can be read at The University of Western Australia.
Europe
Dandelions are increasingly becoming the focus of attention of the rubber-producing industry because dandelions are robust and undemanding plants with a desirable product: rubber. How rubber is formed from the plants' white milky fluid has not been completely answered yet, but a team headed by Münster University and the Fraunhofer Institute for Molecular Biology and Applied Ecology IME (Münster branch) in Germany has now identified proteins which play a key role in the production of rubber in dandelions.
The milky fluid containing the rubber is produced in special cells in the dandelion. What is responsible for the biosynthesis of rubber is a protein complex located on the surface of rubber particles filled with polyisoprene, the main component of rubber. Rubber transferase activator, a special protein, plays a key role in the formation of the rubber-producing protein complex. A second study, by researchers from IME and Münster University identifies a further important protein, which plays a key role in the formation of the long polyisoprene chains. These so-called polymers give the rubber its elasticity and resilience.
For more information, read the news article at the University of Münster website.

[ Send to a Friend | Rate this Article ]
---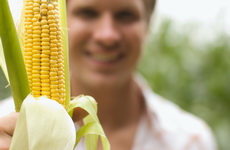 The European Commission has authorized 10 new biotech products for food/feed use, 7 renewals of existing authorizations and also the authorization for the importation of 2 genetically modified (GM) cut flowers (for import). These products had gone through a full authorization procedure, including a favorable scientific assessment by the European Food Safety Authority (EFSA), and the authorization decisions do not cover cultivation.
All the biotech products approved have been proved to be safe before they were placed on the EU market. The risk assessment has been done by EFSA in collaboration with Member States for each individual genetically modified organism (GMO) to be put on the market. The GM food and feed authorizations will be added to the existing list of 58 GMOs authorized in the EU for food and feed uses (covering maize, cotton, soybean, oilseed rape, sugar beet). The authorizations are valid for 10 years, and any products produced from these GM products will be subject to the EU's labelling and traceability rules. The GM products adopted are as follows:
10 new authorizations: MON 87460 maize, MON 87705 soybean, MON 87708 soybean, MON 87769 soybean, 305423 soybean, BPS-CV127-9 soybean, MON 88302, oilseed rape, T304-40 cotton, MON 88913 cotton, LLCotton25xGHB614 cotton
7 renewals: T25 maize, NK603 maize, GT73 oilseed rape, MON 531 x MON 1445 cotton, MON 15985 cotton; MON 531 cotton and MON 1445 cotton
2 GM cut flowers (carnations line IFD-25958-3 and line IFD-26407-2).
For more information, go to the European Commission website.
[ Send to a Friend | Rate this Article ]
---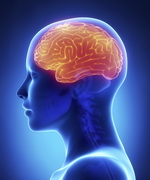 Why does opposition to biotechnology continue to spread? This was answered by Belgian philosophers and plant biotechnologists from Ghent University using cognitive science in their paper published in Trends in Plant Science.
According to the authors, the human brain is highly susceptible to negative representations, especially those that appeal to emotions, which are used by biotech critics in their campaigns. People use intuitive reasoning in their perception about GMOs, which are based on folk biology, teleological and intentional intuitions and disgust. Thus, people refuse to adopt sustainable solutions on the issue.
Read the highlights of the report in Trends in Plant Science.
Research
In Africa, maize production has been affected by Aspergillus flavus, a fungus that produces aflatoxin, causing economic losses and negative health impacts to human and animals. Hence, researchers from Kenyatta University and Jomo Kenyatta University of Agriculture and Technology conducted a study which aimed to develop a strategy in reducing aflatoxin production in maize.
By the use of host induced gene silencing, transgenic maize was developed with a hairpin construct which targets the aflatoxin biosynthesis transcription factor aflR. Downregulation of alfR was observed in transgenic maize when exposed to A. flavus colonization. This has resulted to lower production of aflatoxin in maize kernels by 14 fold than those observed in wild maize types. These results suggest the potential of host induced gene silencing in developing aflatoxin-resistance maize.
Full details of the story can be read in Plant Cell Reports.
[ Send to a Friend | Rate this Article ]
---
Asparagine is synthesized by asparagine synthetase (AS) and is the major nitrogen form in both xylem and phloem sap in rice (Oryza sativa L.). There are two genes encoding AS in rice, OsAS1 and OsAS2. However, the functions of individual AS genes are unknown. Tomoyuki Yamaya from the Tohoku University in Japan studied the individual functions of the two genes.
OsAS1 was found to be mainly expressed in roots while OsAS2 was abundant in leaf blades and sheaths of rice. Although OsAS2 was also detectable in the roots, its content decreased when ammonium was supplied. Mutants lacking AS1 showed slight stimulation of shoot length and a slight reduction in root length at the seedling stage. However, the mutation caused an approximately 80–90% reduction in free asparagine content in both roots and xylem sap.
These results suggest that AS1 is responsible for the synthesis of asparagine in rice roots following the supply of ammonium.
For more information of the study, read the full article on Oxford Journals.
Beyond Crop Biotech
A team of researchers has discovered the gene involved in determining the melting point of cocoa butter, an important trait for food and pharmaceutical products. The team discovered TcSAD1, the gene primarily involved in the synthesis of cocoa butter and is responsible for its melting point.
An earlier study by lead researcher Mark Guiltinan described the stearoyl-acyl carrier protein desaturase (SAD) gene family. In this follow-up research, the SAD gene family is examined in detail, and the expression patterns of each SAD gene in various cacao tissues are explored along with functional analysis to study how the enzyme works.
According to Guiltinan, the 'snap' and 'melt' of chocolate are two very important textural features that determine the appeal of chocolate to consumers. He added that new cocoa varieties that produce butter with different melting points would be a valuable resource to control those characteristics.
For more details, read the news release from The Pennsylvania State University.
[ Send to a Friend | Rate this Article ]
---
A team of researchers from Stanford University makes biotechnology interactive with games and robotics. This aims to help people interact with biotechnology the same way they interact with computers. Riedel Kruse, a Stanford researcher, referred to it as interactive biotechnology. The concept of interactive biotechnology has been adopted in their projects.
By using a Biotic Processing Units (BPUs), the researchers created and designed biotic games such as the museum kiosk which allows the people to interact with Euglena and its responses to light colors by drawing patterns of red, blue or green color in the screen. In addition, BPUs are also used in developing robotic biology cloud lab that has the ability to conduct remote-controlled experiments. BPUs is an instrument that can help in stimulating the biological materials and measure their biological responses.
Details of their study can be read at Stanford University's website.
From The BICs
In a bid to sensitize cultural leaders in modern biotechnology, Uganda Biosciences Information Center (UBIC) participated in an agricultural expo organized by Buganda Kingdom. Buganda is the largest and the most prominent kingdom in Uganda among several others. The expo was a side event of the re-launch of Buganda Cultural and Development Foundation (BUCADEF) which took place on the April 23-24, 2015. While visiting the UBIC stall, BUCADEF chairperson lobbied the Kingdom's premier-Honorable Charles Peter Mayiga to support the passing of the biotechnology and biosafety bill into law. "Honorable Prime Minister Sir, the only solution to address that rot problem in cassava is through biotechnology, but there is currently no law to allow for its release to farmers," noted BUCADEF chairperson while showing an exhibit of cassava infected by brown streak virus.
On April 21-22, 2015, UBIC participated in another event dubbed "Generation Agriprenuer, Shaping the Next 25 years of Agribusiness with US Partnerships". The event was hosted in Kampala by the American Chamber of Commerce Uganda and US Embassy of Uganda. The event attracted over 1,000 people from Uganda and overseas. Frequently asked questions were about: whether GM foods cause cancer and obesity, their long term impact on the environment, ability to replant them, and our relationship with big corporations such as Monsanto. Generally, the event was a success and increased UBIC's public engagement and understanding of modern agricultural biotechnology.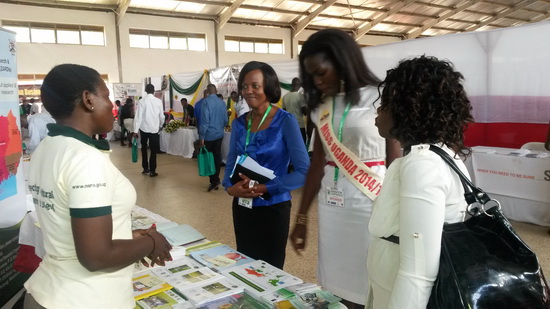 For more information on biotechnology in Uganda, send an e-mail to ubic.nacrri@gmail.com.