News
Africa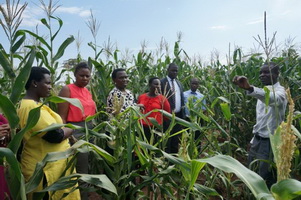 African governments need to exert more effort to put in place viable legislation and investments that promote agricultural biotechnologies and address food insecurity. This was one of the recommendations put forward during the Food and Agriculture Organization (FAO) Regional Meeting on Agricultural Biotechnologies in Sustainable Food Systems and Nutrition in Sub-Saharan Africa held from November 22 to 24, 2017 in Addis Ababa, Ethiopia.
The African Union Commission (AUC) and FAO urged African governments to proactively employ Science, Technologies and Innovations (STI) – especially biotechnologies – to address food insecurity and malnutrition challenges faced by the continent. AUC Commissioner for Department of Rural Economy and Agriculture Sacko Josefa Leonel Correa noted that the application of STI in the agricultural sector is a priority in combating food insecurity and malnutrition in Africa.
"African governments should create a favorable policy environment and invest more resources in order for the region to benefit from the safe applications of proven biotechnologies so as to lift vulnerable communities out of extreme food insecurity," she said.
Her sentiments were echoed by FAO Assistant Director-General for the Department of Agriculture and Consumer Protection Ren Wang, who remarked that it is imperative for Africa to make biotechnologies, knowledge and innovation available, accessible and applicable to smallholder farmers to help them maximize their agricultural productivity while keeping the environment healthy and sustainable.
Ethiopian Minister of Agriculture and Natural Resources Eyasu Abraha revealed that Ethiopia is building a capacity to extensively use biotechnologies to enhance the production of crops and animals to support the country's efforts towards food self-sufficiency. He noted that 80 percent of the country's population depends on subsistence agriculture to provide food and income for their families.
The meeting was attended by over 200 representatives of governments, intergovernmental organizations, civil society organizations, private sector entities, academia and research institutions in the region. It built upon FAO's international symposium, The Role of Agricultural Biotechnologies in Sustainable Food Systems and Nutrition, which took place from February 15 to 17, 2016 in FAO Headquarters, Rome.
For more information, read the article from FAO.
Americas
A team of researchers has uncovered a previously unknown mechanism that triggers gene silencing in corn. Gene silencing turns off genetic traits, and plant breeders consider it as the key on trait inheritance from one generation to the next.
Lead researcher Surinder Chopra, professor of maize genetics in the College of Agricultural Sciences at Penn State and his team showed that silencing the corn pericarp color 1 gene can have two "overlapping" epigenetic components — RNA dependent DNA methylation (RdDM) and non-RNA dependent DNA methylation (non-RdDM).
The pericarp color 1 gene regulates the accumulation of brick-red flavonoid pigments called phlobaphenes. The pattern of pigmentation on the corn kernel pericarp and "glumes" depends upon the expression of this gene. Some examples of these patterns are: white kernels, red cob; red kernels, red cob; variegated kernels, variegated cob; red kernels, white cob; and white kernels, white cob.
Chopra said that the study showed the involvement of both small RNA-dependent and small RNA-independent mechanisms for gene suppression. He added that the study revealed the additional layer of gene regulation by small RNAs, and improved their understanding of how gene expression is regulated specifically in one tissue but not in the other.
For details, read Penn State News.
[ Send to a Friend | Rate this Article ]
---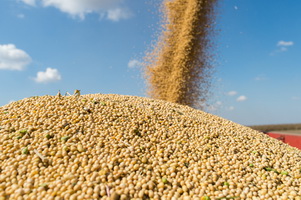 Argentina's Ministerio de Agroindustria has announced the commercial approval of genetically modified (GM) soybean SYN-000H2-5 event, a new biotech crop tolerant to glufosinate-ammonium herbicides and inhibitors of the HPPD enzyme.
Resolution No. 83-E/2017 published in the Boletín Oficial formalized the commercial release of the event which was requested jointly by the companies Syngenta Agro SA and Bayer SA. The Ministry said that the new event will allow a greater rotation in the modes of action of this type of herbicide.
Argentina is the third largest producer of biotech crops in the world, and planted 18.7 million hectares biotech soybean in 2016.
Read the Resolution in the Boletín Oficial de la República Argentina (in Spanish). For more information about biotech crops in Argentina, read ISAAA's Biotech Country Facts & Trends: Argentina.
[ Send to a Friend | Rate this Article ]
---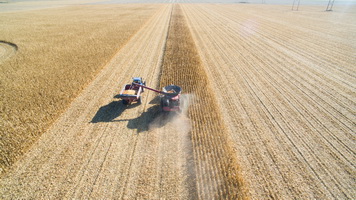 A ban on genetically modified (GM) crops in the European Union hurts productivity, according to retired Montana State University Economics Professor Gary Brester. At the Montana Farm Bureau Annual Convention in Billings, Professor Brester explained that claims that European yields without GM crops match those in the U.S., the debate is not taking into account enough years of data.
"When I heard this debate, I went back to the early 1960s and started tracking productivity. Until 1996, the United State and the European Union shared technologies. Then when GMOs were banned, I've noticed in my data a flattening of yields in corn and soybeans in the EU, yet the U.S. yields using GMOs continue to increase."
The professor also said that banning GM crops increases world hunger. "The banning of this technology has been done with no documented human health problems despite extensive testing," Brester said. He explained that agriculture has advanced because of technology, and that farm productivity has increased by 250 percent since the 1940s owing to continued adopted technologies.
For more information, read the Montana Farm Bureau Federation news article.
Europe
The European Food Safety Authority (EFSA) Panel on Genetically Modified Organisms of the European Food Safety Authority (GMO Panel) has published the Scientific Opinion on the safety of genetically modified glufosinate- and glyphosate-tolerant and insect-resistant maize 1507 × 59122 × MON810 × NK603 and its 10 subcombinations independently of their origin. The scientific opinion is published based on the application EFSA-GMO-NL-2011-92 under Regulation (EC) No 1829/2003 from Pioneer.
The scope of application EFSA-GMO-NL-2011-92 is for the placing on the market of maize 1507 × 59122 × MON810 × NK603 and all its subcombinations, independently of their origin, for food and feed uses, import and processing.
The GMO Panel previously assessed the four single events combined in this four-event stack maize and five of their combinations and did not identify safety concerns. No new data on the single events or their previously assessed combinations leading to modification of the original conclusions were identified. The GMO Panel concludes that the four-event stack maize is as safe and as nutritious as its non-GM comparator.
For more details, read the scientific opinion in the EFSA Journal.
Research
Scientists from the Chinese Academy of Agricultural Sciences and partners conducted a study to investigate the performance of an insecticidal protein that has the potential to be used in combating cotton pests. The result is published in Transgenic Research.
The researchers developed a chimeric protein of Vip3Aa1 and Vip3Ac1, named Vip3AcAa, which exhibits a broader insecticidal spectrum. Then in a more recent study, they investigated the cross resistance and interactions between Vip3AcAa and Cry1Ac with three strains of cotton bollworm, one that is susceptible and two that are Cry1Ac-resistant, to determine if Vip3AcAa can be pyramided with Cry1Ac protein in cotton.
Results showed that progression of insect resistance to Cry1Ac toxin did not affect the sensitivity of Cry1Ac-resistant strains to Vip3AcAa. Mortality was found to be comparable to the expected mortality for all the combinations of Vip3AcAa and Cry1Ac tested, which indicate independent activity between these two insecticidal proteins. When the vip3AcAa and cry1Ac genes were both introduced into cotton, mortality rates of Cry1Ac resistant bollworms (larvae) that fed on this new cotton increased significantly compared with larvae fed on non-Bt cotton and cotton producing only Cry1Ac.
Based on the findings, Vip3AcAa protein is a good choice for a "pyramid" strategy for pest resistance management in cotton.
Read the research article in Transgenic Research.
[ Send to a Friend | Rate this Article ]
---
The aerial parts of most plants are covered with cuticular wax which is important for plants to avoid harmful factors. While the wax is an important part of the plant, there is still no cloning study on the wax synthesis gene of the alcohol-forming pathway in Brassica species. The team of Dongming Liu from the Chinese Academy of Agricultural Sciences aimed to study the target gene using a wax-deficient cabbage (Brassica oleracea) mutant, LD10GL.
The team used scanning electron microscopy to compare the leaves of the wild type and the mutant. Compared with wild type, wax crystals are severely reduced in both the adaxial and abaxial sides of leaves from the LD10GL mutant. Analysis revealed that the glossy trait of LD10GL is controlled by a single recessive gene, designated Bol013612 or Cgl2 (Cabbage Glossy 2). The gene is also homologous to Arabidopsis CER4, which encodes fatty acyl-coenzyme A reductase.
Sequencing identified a single nucleotide substitution that results in an insertion of six nucleotides in the Bol013612 gene in LD10GL. The phenotypic defect of LD10GL was confirmed by a functional complementation test with Arabidopsis mutant cer4.
These results indicate that wax crystals of cabbage mutant LD10GL are severely reduced and mutation of gene Bol013612 or Cgl2 causes a glossy phenotype in the LD10GL mutant.
For more information, read the article in BMC Plant Biology.
[ Send to a Friend | Rate this Article ]
---
JAZ (Jasmonate ZIM-domain) proteins are important repressors in JA signaling pathway. JAZs take part in various developmental processes as well as in resistance to biotic and abiotic stresses in Arabiodopsis. However, in tomato, the studies on these JAZs are rare, especially on their roles in plant growth and development. The research team of Xiaohui Yu from Chongqing University in China isolated and studied a tomato JAZ gene, SlJAZ2.
Tomato plants overexpressing SlJAZ2 exhibited quicker leaf initiation, reduced plant height and internode length. The transgenic tomatoes also had decreasing trichomes, earlier lateral bud emergence and advanced flowering transition. Further experiments showed that pith cells in transgenic plant stems were much smaller than wildtypes as a result of the downregulation of genes related to cell elongation and gibberellin synthesis.
Genes controlling trichome formation were also inhibited. Furthermore, there was earlier flower initiation in transgenic plants, and the genes controlling flowering time were upregulated significantly after SlJAZ2 overexpression.
These results suggest that SlJAZ2 could be related to the initiation of the plants' reproductive stage as its overexpression accelerated the plants' transition from vegetative to reproductive growth.
For more on this study, read the article in Plant Science.
New Breeding Technologies
The CRISPR-Cas9 system has allowed the possibility to engineer targeted mutations in eukaryotic genomes. However, the efficiency of mutagenesis and the generation of off-target mutations vary greatly between different organisms. Chantal LeBlanc of Yale University now reports that plants subjected to heat stress at 37°C show higher frequencies of CRISPR-induced mutations compared to plants grown at the standard temperature of 22°C.
LeBlanc's team found that targeted mutagenesis by CRISPR-Cas9 in Arabidopsis has increased by approximately five times in somatic tissues and up to 100 times in germlines upon heat treatment. This effect of temperature on the mutation rate was also found to be not limited to Arabidopsis, as a similar increase was observed in CRISPR-edited Citrus plants exposed to heat stress at 37°C.
Analysis revealed that the Cas9 protein from Streptococcus pyogenes (SpCas9) was more active in creating double-stranded DNA breaks at 37°C than at 22°C, indicating a potential contributing mechanism for the effect of temperature on CRISPR-Cas9.
This study reveals the importance of temperature in improving SpCas9 activity in eukaryotes, and provides a simple method to increase on-target mutagenesis in plants using CRISPR-Cas9.
For more information, read the article in The Plant Journal.
[ Send to a Friend | Rate this Article ]
---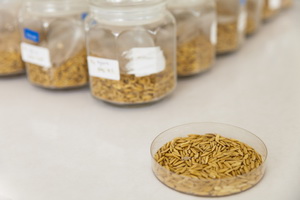 Scientists from France and the U.K. reviewed 52 articles on CRISPR use in crops published from 2014 to mid-2017 in peer-reviewed journals. The result is published in Emerging Topics in Life Sciences.
Results showed that 15 crops were studied for CRISPR application, and the most studied crop is rice, followed by tobacco, Arabidopsis, and corn. Most of the applications of CRISPR were to improve the yield performance of the crops, as well as to improve the nutrient content (biofortification) and the tolerance to abiotic and biotic stresses. For viral disease resistance, the reviewers observed two main strategies used: the integration of CRISPR-coding sequence in the host plant genome that targets and interferes with the virus genome once it is incorporated in the plant to establish a CRISPR-like immune system in the host genome; and the induction of a CRISPR-mediated targeted mutation in the host plant genome that will confer improved virus resistance traits.
In terms of the countries with most studies on CRISPR applications, China and the U.S. ranked first with 22 (42%) and second with 10 articles (19%), respectively. Europe, which includes the U.K., Sweden, France, Hungary, Germany, Austria, and Belgium, had 9 articles (17%) on CRISPR. The other countries which published articles on CRISPR include Saudi Arabia (5 articles), Turkey (5), South Korea (5), Philippines (5), India (5), Japan (4), and Israel (2). According to the authors, this data is consistent with the globalized economic, regulatory and research contexts and can be partly explained by the uncertain regulatory framework in Europe that may be holding back work towards commercial application.
Read the review article in Emerging Topics in Life Sciences.
Beyond Crop Biotech
The Defense Advanced Research Projects Agency (DARPA) of the U.S. Department of Defense announced the conduct of a new project that explores on the potential of plants to be used in next-generation surveillance technology.
The project, called Advanced Plant Technologies, focuses on engineering robust, plant-based sensors that are self-sustaining in their environment and can be remotely monitored using existing hardware. The main objective of the project is to boost the natural stimulus response mechanisms in plants to detect the presence of specific chemicals, pathogens, radiation, as well as electromagnetic signals.
DARPA plans to use genome editing, a technology that has shown promising results in other plants. "Plants are highly attuned to their environments and naturally manifest physiological responses to basic stimuli such as light and temperature, but also in some cases to touch, chemicals, pests, and pathogens," said Blake Bextine, Program Manager of APT. "Emerging molecular and modeling techniques may make it possible to reprogram these detection and reporting capabilities for a wide range of stimuli, which would not only open up new intelligence streams, but also reduce the personnel risks and costs associated with traditional sensors," he added.
Read the news release from DARPA for more details.
[ Send to a Friend | Rate this Article ]
---
The regulation of phenylalanine metabolism is important, especially in conifers, a long-lived species that use large amounts of carbon in wood. In this study, María Belén Pascual from Universitario de Teatinos in Spain studied the maritime pine (Pinus pinaster) transcription factor PpNAC1, and found that it is a main regulator of phenylalanine production.
PpNAC1 was found to be expressed in the secondary xylem and compression wood of adult maritime pine trees. Silencing of PpNAC1 in P. pinaster resulted in the alteration of the stem vascular pattern and the downregulation of several genes associated with cell wall synthesis. Further analysis revealed that PpNAC1 is able to activate its own expression as well as the PpMyb4 promoter, while the PpMyb4 protein activates the PpMyb8 gene, a regulator of phenylalanine and lignin synthesis in maritime pine.
Knowledge of the mechanisms of controlling wood formation is of great importance in tree biology and paves the way for biotechnology applications in conifers.
For more information on this study, read the article in Plant Biotechnology Journal.
[ Send to a Friend | Rate this Article ]
---
Birch (Betula platyphylla) contains triterpenoids with anti-HIV and anti-tumor activities. However, the natural amount of these triterpenoids is low, and their chemical synthesis, costly. Transcription factors, such as the bHLH (basic helix-loop-helix), can regulate metabolite pathways, and improve yield. Thus, transcription factors can potentially improve production of birch triterpenoids.
The team of Jing Yin from Northeast Forestry University in China studied two genes, BpMYC4 and BpbHLH9, which encode bHLH transcription factors in birch. The expressions of BpMYC4 and BpbHLH9 were found to be increased with treatments of abscisic acid, methyl jasmonate, and gibberellin while it is decreased by ethephon treatment.
The BpbHLH9 gene was then attached to an improved promoter and introduced to birch. Compared to wild types, the resulting transgenic birch exhibited upregulated expression of genes related to triterpenoid synthesis.
These findings will be the groundwork for the development of birch accessions with improved triterpenoid production.
For more information, read the article in BMC Plant Biology.
Announcements
What: The 3rd Biennial National Agricultural Sciences Conference and Exhibition
When: March 25-27, 2018
Where: Kampala, Uganda
For more details, download the flyer or visit the SCIFODE website.
Document Reminders
ISAAA releases the second set of the updated series Biotech Country Facts and Trends. The set features five developing biotech countries: China, South Africa, Uruguay, Bolivia, and Philippines. Biotech Country Facts and Trends are concise summaries highlighting the commercialization of biotech crops in specific countries.
Data on biotech crop commercialization (area and adoption), approvals and planting, benefits and future prospects for each country are presented in a brief and easily understandable manner. The contents are based on ISAAA Brief 52, Global Status of Commercialized Biotech/GM Crops: 2016.
The Biotech Country Facts and Trends are available for download from the ISAAA website.