Genetically Modified Multi-Nutrient Rice Offers Three Micronutrients Against Malnutrition
August 16, 2017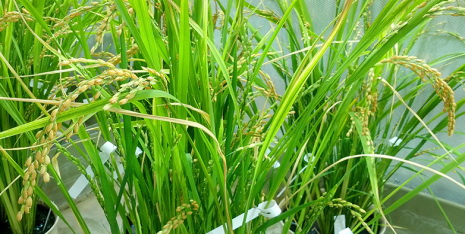 A group of researchers from ETH Zürich led by Navreet Bhullar and her PhD student Simrat Pal Singh have succeeded in genetically modifying a new rice variety that not only has increased levels of the micronutrients iron and zinc in the grains, but also produces beta-carotene, a precursor of vitamin A.
The group's success was the engineering of a gene cassette containing four genes for the micronutrient improvement that could be inserted into the rice genome as a single genetic locus. This allows the iron, zinc, and beta-carotene levels to be simultaneously increased by genetic crosses in rice varieties from different countries, instead of crossing rice lines with the individual micronutrients to reach their improved content in rice grains.
The new multi-nutrient rice lines are still being tested in the greenhouse and analyzed for their micronutrient content. Bhullar hopes that the new rice lines will be tested in the field next year.
For more details, read the ETH News article and the research article in Scientific Reports.
See more articles:

News from Around the World

Research Highlights

Plant Breeding Innovations

Beyond Crop Biotech

Announcements

Resources

Subscribe to CBU: