This year's World Food Prize goes to Sir Fazle Hasan Abed, founder and head of the Bangladesh Rural Advancement Committee (BRAC). Sir Fazle was awarded by the WFP Foundation with US$250,000 and honored his excellent achievements through BRAC, which is known as the most effective anti-poverty organization in the world. BRAC's headquarters is in Bangladesh, but it also operates programs in 10 other countries around the globe. BRAC has engaged women in science, technology, engineering,
agriculture
, and math, benefitting local and global communities, and providing opportunities for about 150 million people worldwide. Thus, Sir Fazle and BRAC's efforts have enhanced food security and led people out of poverty through dynamic and effective development programs.
"Being selected to receive the 2015 World Food Prize is a great honor. I consider this award recognition of the work of BRAC, which I have had the privilege to lead over the last 43 years. The real heroes in our story are the poor themselves and, in particular, women struggling with poverty. In situations of extreme poverty, it is usually the women in the family who have to make do with scarce resources. When we saw this at BRAC, we realized that women needed to be the agents of change in our development effort. Only by putting the poorest, and women in particular, in charge of their own destinies, will absolute poverty and deprivation be removed from the face of the earth," said Sir Fazle upon receiving his award at the ceremony presided over by U.S. Agriculture Secretary, Tom Vilsack.
Sir Fazle's award was announced shortly after the United Nations reported that Bangladesh has successfully achieved the Millennium Development Goal to decrease hunger by half in 2015.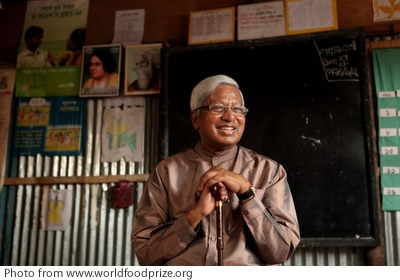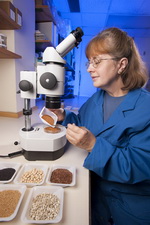 Scientists at Rothamsted Research have announced the first year results of the field-scale trial of Camelina oilseed plants genetically engineered (GE) to make omega-3 fish oils in their seeds. The new data demonstrate an important proof of concept that a plant can be engineered to synthesize beneficial fatty acids in seeds, providing hope for sustainable land-based sources of omega-3 fish oils, and decreasing pressure from the oceans.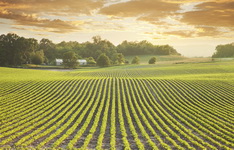 A genetically modified soybean is on its way to being the world's first soybean with a stress tolerance trait. Bioceres S.A., Arcadia Biosciences, Inc., and Tropical Melhoramento e Genética Ltda., have agreed to develop new soybean varieties based on the HB4 stress tolerance trait. HB4 enables plants to adapt to multiple environmental stresses and achieve higher yields. It was developed by Verdeca LLC, a joint venture between Bioceres and Arcadia.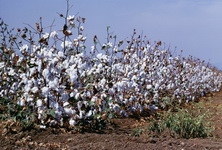 Confined field trials of
Bt cotton
in Northern Ghana show positive results, according to scientist Dr. Emmanuel Chamba from the Yam and Cotton Breeding Program of the Savanna Agricultural Research Institute (SARI).
The Bt cotton field trials were conducted at six locations in three northern regions of Ghana. Bt cotton plants were grown alongside non-Bt cotton plants. The non-Bt cotton plants were sprayed with insecticide six times, while the Bt cotton plants were sprayed only twice. With the positive results, these indicate that Bt cotton could help
farmers
decrease their insecticide use, and incur costs, time, and labor savings. Furthermore, farmers will be less exposed to toxic chemicals, reducing risks to their health and to the
environment
.
"The farmers are eager for the seeds to plant because of the high yields and the cost-effectiveness involved, but ours is to do the investigations and present the findings to the National Biosafety Authority for advice on the way forward," Dr. Chamba said. Although the confined field trials showed positive results, necessary procedures are still needed to accomplish before Bt cotton will be commercialized in the country.
The Crop Biotech Update is a weekly newsletter of ISAAA, a non-for-profit organization. The CBU is distributed for free to over 23,000 subscribers worldwide to inform them about the key developments in biosciences, especially in agricultural biotechnology. Your support will help us in our mission to feed the world with knowledge. You can help by donating as little as $10.