With the increasing number of genetically modified (GM) crops, approval of these technologies may vary depending on the needs, demand, and trade interest. ISAAA established the GM Approval Database to document approvals of biotech crops. Based on the approval documents, ISAAA conducted a study on the trends and factors that affect GM approvals in the last 23 years (1992-2014). The study also provides the rationale for factors affecting approvals, and their implications in GM crop adoption. The results of the study are published in GM Crops and Food.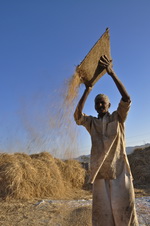 India's Prime Minister Mr. Narendra Modi calls for a second Green Revolution, saying it should start immediately as Indian agriculture has been lagging in several areas including inputs, irrigation, value addition and market linkages. The Prime Minister said his government is committed to modernizing the sector and making it more productive. He also emphasized the need in using the scientific method for farming to increase productivity.
The Crop Biotech Update is a weekly newsletter of ISAAA, a non-for-profit organization. The CBU is distributed for free to over 23,000 subscribers worldwide to inform them about the key developments in biosciences, especially in agricultural biotechnology. Your support will help us in our mission to feed the world with knowledge. You can help by donating as little as $10.