News
Global
The European Commission (EC), the Food and Agriculture Organization (FAO), the International Fund for Agricultural Development (IFAD) and the World Food Programme (WFP) have signed in Rome a new Strategic Framework of Cooperation. The framework, according to a FAO press release, "hopes to increase the capacity of the international community to deliver effective, coordinated, timely and sustainable support to food security and nutrition."

The joint effort seeks higher collective impact on the world's food security. The comparative advantages and core mandates of each of the four partners will be defined to set the agenda for strengthened coordination and collaboration.


View the FAO media release at http://www.fao.org/news/story/en/item/80748/icode/
[ Send to a Friend | Rate this Article ]
---
José Graziano da Silva of Brazil is the newly-elected Director-General of the United Nations Food and Agriculture Organization. He was Brazil's Extraordinary Minister of Food Security and Fight Against Hunger, who was responsible for the design and implementation of the country's highly-successful "Zero Hunger" Program. The five year program helped 24 million people out of poverty and reduced malnourishment by 25 percent.
Graziano da Silva has served as FAO Assistant Director-General and Regional Representative for Latin America and the Caribbean since 2006. He is FAO's eighth Director General and will succeed Senegal's Jacques Diouf on 1 January 2012, for a three year term.
See the news release at http://www.fao.org/news/story/en/item/80713/icode/.
[ Send to a Friend | Rate this Article ]
---
Kofi Annan is this year's Food and Agriculture Organization's (FAO) McDougall Distinguished Lecturer on agriculture and hunger alleviation. In his speech at the opening of the 37th session of the FAO Conference, Annan warned that the current food security crisis, with almost one billion people hungry, could turn into a permanent disaster and endanger millions of lives as well as international cooperation. He added that "along with tackling the linked problem of climate change, delivering global food and nutrition security is the challenge of our time."
Annan called for the FAO to take the lead in increasing the transparency of global food stocks by compiling more accurate and accessible information on the quantity and quality of these stocks, which would help dampen speculation and market volatility. He also called for more research and development into the benefits and impacts on food security of crop-based biofuels, and for more focus on smallholder farmers and women.
Details on this news can be seen at http://www.fao.org/news/story/en/item/80646/icode/
Africa
Scientists from different research institutions announced that they are close to producing super rice varieties of wheat that can resist a new strain of wheat rust (Ug99) and produce more yields. The researchers involved in this study are from Kenya Agricultural Research Institute, International Maize and Wheat Improvement Centre, Ethiopian Institute of Agricultural Research and the U.S. Department of Agriculture. According to them, the new varieties have resistance to all three wheat rusts: stem rust, yellow rust, and leaf rust.

"The new resistant varieties will come in handy as they posses important characteristics including improved yield performance, drought tolerance as well as regional suitability,"said Peter Najau, head of Durable Rust Resistance Project and wheat breeder Arther Kenya Agriculture Research Institute.

"We are facing the prospect of a biological firestorm, but it's also clear that the research community has responded to the threat at top speed, and hence the new superior varieties," said Ronnie Coffman, head of the Durable Rust Resistance in Wheat project at Cornell University. "But the job of science is not over. Declining support for public agricultural research got us into this problem with Ug99. Unless that changes, the problem is likely to arise again in a few years. We are dealing with a constantly-evolving pathogen, and we need to stay at least one step ahead at all times," he added.

Read more at http://allafrica.com/stories/201106270665.html
[ Send to a Friend | Rate this Article ]
---
The Ghana Biosafety Bill was unanimously passed into law by the Parliament on June 21, 2011, two weeks after Nigeria, another West African country, passed its own biosafety bill into law on June 1. The bill was passed during the third reading of the Bill that now awaits Presidential assent, after which, the regulations for its full implementation will be developed.
The Bill was first submitted to the Ministry of Environment and Science (MES) for submission to the Cabinet in 2004. However, successive changes in Ministers and dissolution of the MES in 2006 led to a delay in its processing. The Bill was taken up by the Ministry of Environment, Science and Technology with the installation of the new government in 2009 and resubmitted to the Parliament by the Cabinet in 2011.
News of passage of the Bill was greeted with excitement by members of the National Biosafety Committee (NBC) and a cross section of stakeholders. Ajayi Boroffice, a member of the newly inaugurated seventh senate, said that the bill would have a positive impact on the economy.
Ghana's NBC is currently processing application for Bt cowpea confined field trials. Application for field trials of nutrient enhanced sweet potato is expected to be submitted soon.
For more information on the passage of the Biosafety Bill and biotechnology developments in Ghana please contact the Secretary of the NBC, Mr. Eric Okorie at eriokor@yahoo.com or Prof. Walter S. Alhassan at the Forum for Agriculture Research in Africa (FARA) at walhassan@fara-africa.org.
Americas
U. S. Rep. Timothy V. Johnson, Chairman of the House Agriculture Committee's Subcommittee on Rural Development, Research, Biotechnology, and Foreign Agriculture conducted a public hearing to review and discuss the opportunities and benefits of agricultural biotechnology for farmers, the environment, food and energy security, and competition in the global marketplace.

"Global population growth creates a pressing humanitarian challenge. We can either meet this demand by utilizing marginal lands and lands with fragile soils and poor water resources, or we can make the smart choice of increasing the production capacity of the plants and animals themselves. Innovation in agricultural science and technology is the key," said Johnson.

"The role of biotechnology in aquaculture represents one of the key tools that could enable humanity to expand protein production in sustainable way. The United States needs to follow its own lead in agriculture and provide regulatory support to sustainable aquaculture," said Harvard University professor Calestous Juma.

Read more statements of the panel members at http://agriculture.house.gov/press/PRArticle.aspx?NewsID=1406.
[ Send to a Friend | Rate this Article ]
---
Insect resistant soybean event MON 87701 was determined by the Canadian Food Inspection Agency (CFIA) to be of minimal risk to the environment from incidental release. The Animal Feed Division of the CFIA had earlier determined that this event does not present livestock feed safety concerns when compared to currently commercialized soybean varieties. These approvals are critical steps in the potential commercialization of plants with novel traits. Evaluation of food safety by Health Canada, have been addressed separately.
For more on this article, see http://www.inspection.gc.ca/english/plaveg/bio/dd/dd1081e.shtml.
[ Send to a Friend | Rate this Article ]
---
Scientists at the Inner Mongolian University, University of Wisconsin-Madison and the USDA-ARS were able to reduce the activity of a single protein that allowed for low-temperature storage of potato tubers without an accumulation of sugars. In regular potatoes, these sugars undergo chemical reactions during cooking, giving rise to dark-colored chips and fries due to the presence of unhealthy acrylamide.
Results of the study published in journal Crop Science showed that the modified potato has improved low temperature storage, thus spoilage-related potato waste can also be reduced. Initial greenhouse and field evaluations show that the method does not have negative effects on plant growth and yield.
For more details, see the news at https://www.crops.org/news-media/releases/2011/0628/485/
[ Send to a Friend | Rate this Article ]
---
The USDA in its Federal Register recently issued a non-regulated status to Pioneer Hi-Bred International's GM corn event DP32138-2. The line has been genetically engineered to produce male-sterile/female inbred plants to generate non-transgenic hybrid corn. The decision is based on evaluation data and on the comments received from the public in response to public solicitations on the environmental assessment and plant pest risk assessment. Documents on the written determination and findings of no significant impact are now available to the public.
See http://www.aphis.usda.gov/newsroom/2011/06/engineered_corn_seed.shtml for complete details
[ Send to a Friend | Rate this Article ]
---
On 22nd June, Uruguay´s regulatory body, Comisión de Gestión del Riesgo (CGR) approved the cultivation of five genetically modified (GM) maize biotech events: MON810 x NK603 and NK603 from Monsanto, GA21 and BT11x GA21 from Syngenta and TC1507 from Pioneer Hi-Bred/Dow AgroSciences. This approval ends the 18 months moratorium in Uruguay that will enable for the very first time the use of stacked biotech maize hybrids by farmers in Uruguay.
These GM events allow a reduction on insecticide use and the deployment of no tillage corn techniques which protects soil from erosion and reduces the CO2 footprint from agriculture. It also reflects the strong current support on biotechnology in Uruguay.
There are now five GM events that can be grown in the country, as corn MON810 and GA21 were already approved as well as Round Up Ready soybeans.
For details, see the approvals in Spanish at http://www.mgap.gub.uy/portal/hgxpp001.aspx?7,1,144,O,S,0,MNU;E;2;2;12;5;MNU
[ Send to a Friend | Rate this Article ]
---
In a press release, Environment Minister Peter Kent and Agriculture Minister Gerry Ritz recently announced that the 2 percent renewable content requirement in diesel fuel and heating oil is coming-into-force by July 1, 2011 in Canada.
"The renewable fuels standard is an important component in the 'Canola Growing Great 2015' industry strategy of reaching 15 million tonnes of sustainable canola demand and production," said Canola Council of Canada (CCC) president JoAnne Buth. "Today's announcement will create a consistent domestic market for canola seed of about one million tonnes annually."
Since most of the canola-based biodiesel is produced from Canadian canola and processed into biodiesel in the United States, and then transported back to Canada, biodiesel plants in Canada now becomes a necessity. "This will enable Canada to produce its own biodiesel and keep the jobs in Canada," said Buth.
For details, see the news release at http://www.canola-council.org/news/2387/canola_biodiesel_reaches_milestone.aspx
Asia and the Pacific
"India, a pioneer among developing countries in agricultural practices, is paying a high cost by not going in for bioengineering crops in a big way," said Dr. Clive James, founder and chair of the International Service for the Acquisition of Agri-biotech Applications (ISAAA) at a plenary session on "Demystifying crop biotechnology: Issues and concepts for the mass media" held in Hyderabad, India on June 27, 2011. The session was part of the 20th Asian Media Information and Communication Center (AMIC) 20th Annual Conference which was attended by participants from Asia, U.S., and Europe.
In the same session, Dr. William Dar, director general of the International Crops Research Institute for the Semi-Arid Tropics (ICRISAT), added that "It is time to apply new products being developed and this is possible only with political will." Both experts believe that crop biotechnology is a powerful tool to address the food demand of a rising global population. In just 15 years, after commercialization, accumulated biotech crops exceed 1 billion hectares in 2010 benefiting over 15 million farmers worldwide of whom 90 percent are small and resource poor farmers. "Two principal requirements for continued success are needed: political will, and access to new and improved biotech crops," James added.
The book "Communication Challenges and Convergence in Crop Biotechnology" published by ISAAA and SEARCA, was launched during the session. It highlights the experiences of many countries in their knowledge sharing initiatives to facilitate a favorable environment for the growth of crop biotechnology. To get a copy of the book, visit http://www.isaaa.org.
[ Send to a Friend | Rate this Article ]
---
China has issued biological safety certificates to seven GM crops including cotton and papaya. Aside from GM cotton, other GM crops have been planted in small-scales in China such as delayed-ripening tomatoes, phytase corn, pest-resistant rice, and disease-resistant peppers.

China's national agricultural GM biosafety evaluation authority ratified imports of genetically modified cotton, soybean, corn, and rape. China only allows imported cotton to be used for planting, and the other three imports can only be used as materials for processing. Most GM imports of China come from the U. S., Canada, Brazil, and Argentina.

Read the original article at http://english.cri.cn/6909/2011/06/28/189s645259.htm.
[ Send to a Friend | Rate this Article ]
---
The Third Biosafety and Genetic Engineering Congress was successfully concluded in Islamic Azad University, Tehran, Iran on June 13 – 18, 2011. More than 200 scientists, faculty and students, policy makers, members of the parliament, non-government organizations, and scientists from 6 countries (Philippines, Pakistan, Malaysia, Turkey, Switzerland, and Canada) participated in the congress.
Dr. Klaus Amman, a noted Swiss botanist and biotechnologist, and member of the Steering Committee of Public Research and Regulation Initiative (PRRI) gave the keynote message on "Regulatory Misconception of Transgenesis". He discussed the misconception that GM and non-GM crops are extremely different which was picked up by policy makers and regulators. Amman thus called for a change in GE regulation from one that is being driven by 'extreme precaution principles' to being driven by 'science-based' principles.
Plenary Talks and workshops were conducted on genetic engineering and food security, genetic engineering and environmental safety, risk assessment, management, standards and national/international regulations, socio-economic impact of applications and use of GMOs, and public awareness and participation for biosafety. The congress is jointly organized by the Biosafety Society of Iran, the Islamid Azad University, and the Iran Biotechnology Information Center.
Iran is the first country to commercialize biotech rice in 2004, and has very active crop and animal biotechnology researches, with the first cloned goat named Hana born in 2009 in the Royan Institute of Iran.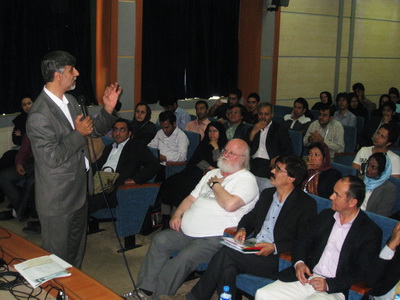 For more on the Congress, contact Naghmeh Abiri of IrBIC at nmabiri@gmail.com.
[ Send to a Friend | Rate this Article ]
---
"Biotechnology is one of the most promising and dynamic areas of science and technology. Every step forward for biotechnology will have a far-reaching influence on human health, economy, and social development. The Chinese Government is willing to join hands with other countries to promote biotechnology and bio-industry." This was forwarded by the State Councilor of China, Liu Yandong during the opening ceremony of the 2011 International Conference for Bioeconomy (BioEco). The event sponsored by the Ministry of Science and Technology, P.R. China and Tianjin Municipal People's Government was held in Tianjin, China on June 26-28, 2011.
Liu also stated that biotechnology should be well-applied in agriculture, life and health, disaster prevention and climate change mitigation, environmental protection and other fields. Mr. Percy Misika, FAO Resident Representative in China, appreciated the active promotion of biotechnology by the Chinese government. He noted that biotechnology is playing an important role in meeting the increasing demand for food and energy. With the theme ''Develop Bioeconomy, Improve People's Livelihood'', the conference attracted more than 150 speakers and 1200 participants from all over the world.
See conference details at http://www.bioeco.net.cn/english/index.htm or contact Prof. Hongxiang Zhang from the China Biotechnology Information Center at zhanghx@mail.las.ac.cn
[ Send to a Friend | Rate this Article ]
---
The Workshop on 'Socio-Cultural Consideration, Biosafety, Biotechnolocy and Decision-Making in Indonesia" was recently concluded in Jakarta in June 2011. The workshop was aimed to build common understanding about assessment of socio-economic considerations (SEC) and providing options for ensuring a science-based and predictable approach to decision-making.
In his welcome remarks, Dr. Agus Pakpahan, chairman of Biosafety Commission of Genetically Engineered Product expressed his appreciation in holding the workshop and highlighted the active role of Indonesia in international affairs. He said that Indonesia has laws, government regulations and organizational laws to process and inspect entry and utilization of GMO products.
Dr. Bahagiawati discussed the current status of biotechnology research and cost of compliance with biosafety regulation in Indonesia, while Dr. Jose Falck-Zepeda discussed a comparative analysis of the assessment of socio-economic considerations and decision making in Brazil, Argentina, China, India, USA and the EU as well as considerations and options for regulatory design.
The workshop which was attended by some 50 participants was organized by the Program for Biosafety Systems and Indonesia Commission of Genetically Engineered Product.
For information on biotechnology in Indonesia, contact Dewi Suryani at dewisuryani@biotrop.org.
[ Send to a Friend | Rate this Article ]
---
Deputy Prime Minister Nguyen Thien Nhan stressed the need to promote scientific research in a bid to ensure sustainable development for the agricultural sector. The Deputy PM was speaking at a meeting with leaders of the Ministry of Agriculture and Rural Development (MARD) on June 17, where he described agriculture as one of Vietnam's strengths and a sector greatly contributing to the country's exports.

"Apart from such factors as soil and human resources, new varieties and advanced technologies were of significance to the development of agriculture," he said. With its own inherent advantages, Vietnam needs to become a power in agriculture while ensuring the sector's sustainable development in the next ten years, he added. The State was ready to pour money into scientific agricultural research to help raise productivity and quality. He then urged relevant ministries, agencies and localities to give priority to scientific research and apply their outcomes in agricultural production.

In reply, MARD Minister Cao Duc Phat said that the research, application and transfer of science and technology were urgently required to ensure the sector's effective and sustainable development. MARD Deputy Minister Bui Ba Bong made a report on results of technological research and transfer during the 2006-2010 period, which, he said actively contributed to agricultural production and rural development.
For more on this news, see http://en.vietnamplus.vn/Home/Scientific-research-essential-for-agriculture/20116/19045.vnplus
[ Send to a Friend | Rate this Article ]
---
"Developing a biotechnology outreach strategy for Indonesia" is the theme of Netmapping Worskshop which was concluded on 14-15 June 2011 in Jakarta.
Dr. Judith Chambers, Director of the Program for Biosafety Systems (PBS) underscored the fact that developing countries grew 48% of global biotech crops and has faster growth rates than industrial countries. Products of biotechnology are widely accepted and they show benefit with minimal risks for two decades of use. Dr. Chambers also mentioned that PBS is a partner to empower countries to build and implement functional and efficient regulatory systems by providing an integrated package of assistance.
Donna Ramaeker Zahn of IFPRI led the workshop on strategic directions for the design and implementation of innovative biotechnology acceptance approach for Indonesian policy makers, while Dr. Tantono Subagyo of CropLife Indonesia actively facilitated the event.
The event was organized by PBS and Indonesian Biotechnology Consortium and participated by 30 people from government institutions and policy makers in Indonesia.
For information on biotechnology in Indonesia, contact Dewi Suryani at dewisuryani@biotrop.org.
[ Send to a Friend | Rate this Article ]
---
The Asia-Pacific region, which is the home of some of the world's most populous countries, is still suffering from food insecurity despite various efforts to reduce poverty. According to Nanyang Technological University scientists Margarita Escaler and Paul Teng, a "new agriculture" that is based on biotechnology and bioscience entrepreneurship is needed in the region. Though there is well-developed R&D capacity, the lack of knowledge and experience in commercialization is hindering the process. Once the "lab to market" path turns stable, it can make "a significant contribution in improving agricultural productivity, ensuring agricultural surpluses in the countryside, raising incomes for farmers and protecting the environment."

Read the complete article at http://www.techmonitor.net/tm/images/8/8c/11mar_apr_sf1.pdf.http://www.techmonitor.net/tm/images/8/8c
/11mar_apr_sf1.pdf
Europe
The European Commission announced a regulation on the implementation of the zero tolerance policy on non-authorized GM material in feed. The regulation sets out a technical zero at the level of 0.1%, which is the lowest level of GM material that will be allowed by the EU Reference Laboratory for validation. This regulation only refers to GM feed materials. The regulation was set to have a uniform approach in controlling GM imports in all Member States and as legal guideline for livestock feed importers which are mainly coming from Argentina, Brazil, and the U.S.
Read the original article at http://www.mvo.nl/Portals/0/handelspolitiek/news/2011/06/middayExpres24062011.pdf. For more details on the regulation, visit http://europa.eu/rapid/pressReleasesAction.do?reference=MEMO/11/451&format=HTML&aged=0&language=EN&guiLanguage=en.

[ Send to a Friend | Rate this Article ]
---
TRY, the world's largest database on plants' functional properties, or traits has been recently published. The project is hosted at the Max Planck Institute for Biogeochemistry in Jena, Germany and led by Jens Kattge who with a team of scientists from 106 institutions conducted four years of intensive development. The database holds three million traits for 69,000 out of the approximately 300,000 plant species.
"This huge advance in data availability will lead to more reliable predictions of how vegetation boundaries and ecosystem properties will shift under future climate and land-use change scenarios," points out Dr. Ian Wright from Macquarie University. He added that, "The TRY global database also promises to revolutionize biodiversity research, leading to a new understanding of how not only the numbers of species (biodiversity) but also the variation among species in their traits (functional diversity), together effect ecosystem functions and services."
For more on this news, visit http://www.wur.nl/UK/newsagenda/news/Global_plant_database__.htm