News
Global
As part of the Earth Day 2012 celebration, the Biotechnology Industry Organization (BIO) released its 2012 Earth Day fact sheet which contains the different biotech contributions to sustainability. Moreover, the said fact sheet tags agricultural biotechnology as an environmental success story.
Biotechnology makes farming more earth-friendly, as it helps enhance soil, air, and water quality. Moreover, BIO emphasizes that agricultural biotechnology continues to provide significant environmental benefits because it makes positive contributions to both global food production and security.
According to the National Research Council, improvement of water quality proves to be the largest single benefit of genetically engineered crops.
Other benefits of biotechnology that BIO has listed are reduced pesticide runoff and greenhouse gas emissions, ensured energy security brought by biofuels, and lowered pollution through the transformation of a wide variety of industrial processes.
Read more about how biotech contributes to sustainable farming at http://www.biotech-now.org/food-and-agriculture/2012/04/earth-day-2012-biotech-contributions-to-sustainability.
[ Send to a Friend | Rate this Article ]
---
The International Food Policy Research Institute's (IFPRI) 2011 Global Food Policy Report, the first in a new annual series, looks at the past year's major food policy developments and events. It answers the following questions: What happened in food policy in 2011 and why? What challenges and opportunities resulted? What could have been done differently? What should be done in the future?
"IFPRI's 2011 Global Food Policy Report is the first of its kind, and I hope it will contribute to an enriched research agenda that informs sound food policies to the benefit of the world's poorest and most," said Shenggen Fan, IFPRI executive director. Contributions were commissioned from experts, scholars, and stakeholders on topics such as a new development in food policy, a major change in food policy, or a new way of looking at a food policy issue. The topics cover both regional and global perspectives and feature research results as well as expert opinions.
A preview of the report is available for download at http://www.ifpri.org/sites/default/files/publications/oc72a.pdf.
Africa
Government ministers representing 24 African countries have officially endorsed the use of biotechnology to address the persistent food insecurity and poverty across the continent. The landmark declaration was made during the 2nd Annual Dialogue of Ministers of Agriculture, Science and Technology held under the auspices of the Government of Ghana and Forum for Agricultural Research in Africa (FARA), on 18-19 April, 2012. The forum is primarily convened to share ideas and agree on collective actions towards enhancing agricultural productivity in Africa.
The joint declaration was made through a joint communiqué signed by all delegates at the end of the meeting. Another significant resolution at the forum was the call for the establishment of an Innovation Fund for Agricultural Transformation (IFAT) to generate funds for all stakeholders within the agricultural value chain with an added advantage of insurance to the farmers.
Click on http://www.fara-africa.org/media/uploads/communique_2nd_annual_ministerial_dialogue.pdf to view the communique.
[ Send to a Friend | Rate this Article ]
---
Tunisia's Minister of State for Foreign Affairs Hedi Ben Abbes met with India's Minister of State for Science and Technology Ashwani Kumar in New Delhi to discuss further their countries' scientific technological collaboration.
During the meeting, the two countries agreed on specific areas of cooperation that include biotechnology. The new Program of Cooperation provides opportunities for bilateral cooperation through exchange of scientists between the two countries, training of Tunisian researchers and scientists in Indian laboratories, joint R&D projects, and organization of workshops.
More information about this cooperation is available at India's Press Information Bureau: http://pib.nic.in/newsite/erelease.aspx?relid=82467.
Americas
A study conducted by the United Soybean Board (USB) showed that 61 percent of health care professionals in the United States see biotechnology as a way to increase food production. The study participants identified positive health and agriculture attributes of soybean, such as low saturated fat content in food products and reduced use of pesticides and herbicides in farming.
The 204 health care professionals who participated in the study are dietitians, nurse practitioners, and physician assistants from across the country. Many of them view agricultural biotechnology positively if it enhances the nutritional benefits of food products. Seventy-seven percent of participants recognize the benefits of soybean oil, saying it is as healthy as canola oil. They said that they are likely to recommend use of soybean oil once they are aware of the benefits of biotech soybean.
For more information about the study, read the news release from the United Soybean Board available at http://www.soyconnection.com/pressroom/press_release_view.php/NEW+STUDY+HEALTH+PROFESSIONALS+
SUPPORT+BIOTECHNOLOGYS+USE+IN+FOOD+PRODUCTS+AND+SUSTAINABLE+FARMING?id=99.
[ Send to a Friend | Rate this Article ]
---
One third of California's cash farm receipts is represented by its fruit and nut tree crop, which also accounts for 70 percent of the total fruit and nut production in the U.S. Thus, advances in crop biotechnology are important to protect these crops from diseases and also, to further improve yield. However, biotechnology has not gained a foothold in these crops because it is more complicated to use genetic engineering in woody tree crops.
Scientific Analyst Victor Haroldsen from Morrison and Foerster in San Francisco, together with other researchers, conducted a survey of published genetic engineering (GE) research and issued field trial permits on woody tree crops from 2000 to 2011. They found out that citrus and grape were the most studied fruits while walnut, and not almond, was the focus among nut crops. Most of these research initiatives focused on finding resistance against the top-identified pests and diseases. The team also reported that transgrafting, where a transgenic rootstock is grafted with a conventional wild-type scion, was the most promising GE technology in fruit and nut crops.
Read the research article at http://californiaagriculture.ucanr.org/landingpage.cfm?article=ca.v066n02p62&fulltext=yes.
[ Send to a Friend | Rate this Article ]
---
Michigan State University (MSU) found out how plants "decide" between growth and defense. This new research can help plants keep their balance of staying safe from peril and continuous growth.
Sheng Yang He, MSU Plant Biology professor, and his team found the two inseparable hormones, gibberellins and jasmonates, that decide what to do in a time of crisis. Gibberellins control growth while jasmonates control defense. They discovered that these two hormones, together with some key components of growth and defense programs, communicate and coordinate with each other. Sheng Yang He said that now that they have known where one of the subtle molecular links between growth and defense is located, scientists will be able to figure out ways of separating the two hormones and work with each one at a time. If this is possible, crops with increased yield potential and better defense mechanisms can be developed.
Read more at http://news.msu.edu/story/plant-scientists-find-mechanism-that-gives-plants-balance/ .
[ Send to a Friend | Rate this Article ]
---
In celebration of Earth Day 2012, CropLife America (CLA) and its members recognized the impact of advances in environmental sustainability and food production on crop protection industry and agricultural policy. In their press release, they said that growers and ranchers are now aware of the significance of good environmental stewardship. By using modern farming products and techniques, they are able to gain more yield on less land and with fewer inputs while conserving natural resources such as water, soil, and energy.

"The celebration of Earth Day marks an important reminder of the continued evolution of modern agriculture," said Jay Vroom, president and CEO of CLA. "From creating safer, more effective products, to fostering an open dialogue between industry, growers and policymakers, CropLife America and our members hold a responsibility to furthering sustainability and conservation in modern agriculture."
With the use of modern agricultural practices such as drought and disease resistant seeds, biotechnology, crop protection chemicals, drip irrigation, conservation tillage systems, farmers have been able to provide the food for the growing population without increasing the amount of land used for farming.
Read the press release at http://www.croplife.com/article/26787/croplife-america-highlights-ag-advancements-in-honor-of-earth-day.
[ Send to a Friend | Rate this Article ]
---
Two downy mildew resistant cucumber varieties will be available to farmers in the United States and Canada this spring. Monsanto's Seminis brand will offer the new slicer cucumber varieties exclusively with FarMore® and F1400 Cucumber Technology from Syngenta Seed Care. This seed protection system provides fungal disease and insect control to enhance cucumber performance and quality.
Downy mildew is a disease affecting the quality and yield of many crops, including cucumbers. Ronnie Blackley, Monsanto's Cucurbit Technology Development Lead said that the new varieties offer cucumber growers a new defense against downy mildew, which was previously limited to fungicides.
More information about the new crops is available at http://monsanto.mediaroom.com/downy-mildew-resistant-cucumber-hybrids.
Asia and the Pacific
BGI, the world's largest genomics organization, and the International Crops Research Institute for the Semi-Arid Tropics (ICRISAT) signed a Memorandum of Understanding (MoU) to enhance precision of breeding programs for semi-arid tropic crops particularly in the drylands of Asia and Sub-Saharan Africa.
The collaboration will focus mainly on next generation sequencing technologies towards crop improvement for sustainable food production in the drylands since ICRISAT's mandate crops, while highly nutritious and drought tolerant, have low productivity in marginal environments. The partnership between BGI and ICRISAT will be critical to improve varieties which are both productive and resistant against the threat of climate change and scarce natural resources in the drylands.
For more information about the partnership, visit http://www.icrisat.org/newsroom/news-releases/icrisat-pr-2012-media7.htm.
[ Send to a Friend | Rate this Article ]
---
The Third National Biotechnology Conference for Teachers was recently held at the Fertilizer and Pesticide Authority Building, Quezon City, Philippines. The event was organized by the Department of Agriculture's Biotechnology Program Implementation Unit and the National Institute of Molecular Biology and Biotechnology (NIMBB). This was attended by 80 college and high school teachers and around 60 students.
In the conference, teachers were encouraged to use innovative approaches in teaching biotechnology. Thus, a TV news program called News Bites was shown in the conference, where experts played as news reporters. An expert from NIMBB reported about Cuba, a developing country where some of the most important biotech companies are located. The government of Cuba has also been supporting the use of biotech. Neil Bascos, on the other hand, introduced an online game called Fold-It, which is a protein-folding activity that enables gamers to predict the 3D structures of proteins based on their amino acid sequence.
A One-Act Play competition was also held for high school students. Students from Mapulang Lupa National High School in Valenzuela City bagged the first prize award. They used song and dance to debate the pros and cons of biotech.
The original article is posted at http://newsinfo.inquirer.net/180835/biotech-comes-alive and http://www.nimbb.upd.edu.ph/?page_id=1117. For more news about biotech in the Philippines, visit http://www.bic.searca.org/ or send an email to bic@agri.searca.org.
[ Send to a Friend | Rate this Article ]
---
Vietnam has been known as a center of rice production while waste rice straw is a potential source of biofuels. Thus, the Biological Sciences Research Council (BBSRC) and the British Embassy sponsored a UK-Vietnam Workshop on Biofuels in Hanoi, Vietnam. Experts from UK met with their counterparts in Vietnam to discuss possible research initiatives.
Later this year, six young Vietnamese researchers will visit the UK to see the cutting edge work on second generation biofuels. Two of the researchers will be hosted by the Institute of Food Research and will be able to use the new Steam Explosion Unit and help devise strategies in converting agricultural waste into biofuels.
The original article is available at http://news.ifr.ac.uk/2012/04/uk-vietnam-biofuels-workshop/
[ Send to a Friend | Rate this Article ]
---
New varieties of safflower containing high amount of oleic acid are being developed by researchers at the Commonwealth Scientific and Industrial Research Organisation in Australia. These new varieties are expected to provide the grain growers with the opportunity to produce and supply renewable and sustainable plant oils that will replace petroleum-based feedstocks used in industrial lubricants and fluids.
The research team used gene silencing technology to increase the level of valuable oleic acid in the seed by turning off the conversion of the oil into undesirable polyunsaturates.
According to the CSIRO report, safflower is ideal for Australian biofactories as it is a very hardy and adaptable crop that can withstand warm season conditions and should cope well with the expected stresses of climate change.
Read more details at http://www.csiro.au/Portals/Media/Supercharged-safflower.aspx.
[ Send to a Friend | Rate this Article ]
---
Scientists at the Commonwealth Scientific and Industrial Research Organisation (CSIRO) are developing popular grains with higher levels of resistant starch, a type of starch that can reduce the risk of DNA damage in the colon which can cause bowel cancer. Resistant starch is present in some wholegrain breads and cereals, legumes, bananas, and even in cooked pasta, rice and potatoes. Resistant starch is not digested by the small intestine, but it passes to the bowel, where it has positive effects on bowel health.
According to a study published in the latest edition of The Journal of Nutrition, diets high in protein and fat can increase the risk of developing bowel cancer but consuming resistant starch could eliminate the risk.
"What we've been trying to do is to develop grains and cereals which are higher in resistant starch, to essentially increase the range of things in our diet that we consume with pretty high frequency, which are rich in resistant starch," CSIRO researcher Dr. Trevor Lockett.
CSIRO has successfully developed barley with high resistant starch content, BarleyMax, which has been added in commercial cereals. The goal of CSIRO is to increase resistant starch content of commonly eaten grains such as wheat. In one of their studies, they have genetically engineered wheat with higher levels of resistant starch, called amylose.
Read more information at http://csiro.au/en/Portals/Media/resistant-starch-may-offer-potential-to-help-protect-against-bowel-cancer.aspx.
[ Send to a Friend | Rate this Article ]
---
China National Development and Reform Commission, Ministry of Finance and Ministry of Agriculture have been jointly implementing the Biological Breeding Capacity Building and Industrialization Project since 2012. This is part of the Twelfth Five-Year Plan for National Economic and Social Development, Decisions of the State Council Concerning Speeding up Modern Crop Seed Industry Development.
The project aims to improve the sustainable development ability of the biological breeding industry. It is designed specially for domestic seed industry enterprises. In particular, the project supports the development of the emerging breeding technology and application of major new varieties including genetically modified crops.
See the news at http://www.ndrc.gov.cn/zcfb/zcfbtz/2012tz/t20120329_470222.htm
[ Send to a Friend | Rate this Article ]
---
The National Center for GM Crops (NCGC) of the Rural Development Administration and Korea Biosafety Clearing House (KBCH) of the Korea Research Institute of Bioscience and Biotechnology signed a bilateral Memorandum of Understanding for sharing information. The signing was held at the Ramada Plaza, Suwon City, South Korea on April 24, 2012.
In this meeting, participants discussed sustainable developments on status and issues of GM crops. The Korea Biotechnology Information Center (KBIC) of the NCGC and KBCH will plan collaborative activities to discuss ways to commercialize GM crops and change consumer attitudes towards the technology. Other topics to be tackled include information, policy, and communication-related issues on GM crops.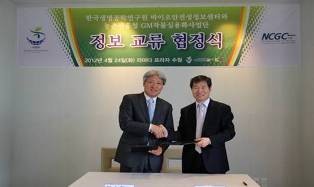 For more informtion about crop biotech in Korea, email Dr. Soo-Chul Park, director of the Korea Biotechnology Information Center, NCGC at rdapark@hanmir.com
[ Send to a Friend | Rate this Article ]
---
Beijing Origin and Henan Agricultural University (HAU) established the S.K. Wu Corn Research Institute to focus on corn genetics research, hybrid development, and crop seed technologies in China. Named after Dr. S.K. Wu, a pioneer corn breeder in China, the Institute will also provide a platform for research exchange and technology transfer between Beijing Origin and HAU.
During the opening ceremony in Zhengzhou last April 20, Dr. Gengchen Han, chairman and CEO of Origin said that the Institute represents his company's continued commitment to crop research and development. The President of HAU Qiong Zhang commented that the establishment of the Institute commemorates the centennial celebration of HAU and pointed out that their cooperation with Beijing Origin could benefit the industrialization of corn in China.
More details are available at http://www.marketwatch.com/story/origin-agritech-limited-and-chinas-leading-agricultural-university-jointly-established-corn-research-institute-2012-04-23.
Europe
The Biotechnology and Biological Sciences Research Council (BBSRC) in the United Kingdom announced that the Crop Improvement Research Club (CIRC) has invested £4 million ($6.5 million) to support nine new research projects. The CIRC, a public-private consortium, funds studies of cereal crops, and the new projects are aimed towards improving the main cereal crops in the UK – oilseed rape, barley, and wheat – to boost food security efforts.
Among the projects funded by the CIRC are: breeding wheat to make bread with lower levels of salts, fats, and emulsifiers; improving yields of oilseed rape by studying how plants foster beneficial microorganisms in their roots; and growing better barley that is easy to process.
Dr. Celia Caulcott, BBSRC's Director of Innovation and Skills, said "We cannot hope to meet the enormous food security challenge without harnessing the strengths of both the academic research community and those of industry."
More details about these projects are available at http://www.bbsrc.ac.uk/news/food-security/2012/120424-pr-circ-deliver-better-crops.aspx.
[ Send to a Friend | Rate this Article ]
---
Dr. Martin Trick and Dr. Cristobal Uauy of the John Innes Centre (JIC) have recently published a study that applies next generation sequencing techniques to wheat. These can help hasten and more efficiently fine map of genes to the level that the plant breeding community needs.
Because of the wheat's huge genome, which has been duplicated twice for durum wheat and thrice in bread wheat during domestication, identifying the genes functions or knowing which genes are responsible for certain traits have been difficult, time consuming, and costly.
To accelerate fine mapping in wheat, as well as to address the problem with gene markers not being close enough to the genes needed in commercial plant breeding programmes, Dr. Uauy and his team at JIC used a newly-developed next generation sequencing techniques to try mapping a previously defined wheat gene. These methods focus on the sequencing of mRNA transcribed from the DNA. Also, these methods identify single nucleotide polymorphisms (SNPs) which can be mapped into the genome. Furthermore, these SNPs could be developed into useful markers.
The study tests the use of next generation sequencing and SNP detection in mapping a gene that influences grain protein content. Together with The Genome Analysis Centre, the team is able to identify 3, 500 potential SNPs that represent the differences between wheat genes of the two lines of genetically identical (isogenic) that the team crossed. The resulting plants are then sorted into two groups, according to grain protein content. Through segregant analysis, a technique that examines the frequency of each SNP in the two groups and shows which are the closest to the gene, the team is able to fine map the gene to a very small interval in a much shorter time.
Read more about how these next generation sequencing techniques and segregant analysis can help in fine mapping genes in wheat and other plants with non-sequenced genome at http://www.tgac.ac.uk/news/27/68/Fine-mapping-wheat-genes/.
[ Send to a Friend | Rate this Article ]
---
Rothamsted Research and the University of Sheffield found that growth-promoting microbes live amongst maize roots because of their emission of chemical signals that attract them. This study may not just increase the yield potential of maize but also promote studies on fight against soil-borne pests and diseases. If plants are able to attract disease repellent and growth promoting bacteria, crop producers may reduce their dependence on fertilizers and pesticides.
Dr. Andy Neal, leader of the research, said that though they have known for a while that plants radiate chemicals, some of these are thought of as toxic and not as attractants of beneficial bacteria. Now they have studied Pseudomonas putida that are attracted to the said toxins which produce nutrients like iron and phosphorous that plants need and help defend plants against harmful bacteria.
Scientists also found that Benzoxazinoids or BXs which are chemicals that help in defending plants from pests involve genes which are linked to movement response. These genes are the ones that encourage or attract the P. putida to migrate to the plant's roots. The study also shows that P. putida increased the rate of the molecular breakdown of BX and also suggests that these bacteria increase the ability of BX to "detoxify the root environment".
Dr. Ton from University of Sheffield, co-leader of the research, added that they also found that bacterial genes are switched on in the presence of root produced BX chemicals. This implies that the BX chemicals not only attract the beneficial bacteria but also control them into helping the plant supress soil-borne diseases.
BBSRC Chief Executive Professor Douglas Kell shared that in "using advances in computing to study entire biological and ecological systems" strong solutions to cater to food security and sustainability may be developed.
Read more at http://www.rothamsted.ac.uk/PressReleases.php?PRID=179.
[ Send to a Friend | Rate this Article ]
---
Pod corn, a crop that is said to be maize's wild ancestor, is proved to be a product of mutation that results to development of leaves in the wrong places. Max Planck Institute for Plant Breeding Research and Friedrich Schriller University said that the cause of leaf generation in the cob area is a leaf gene that is usually not active there. This type of maize has bewildered scientists for years with its covered kernels. These "covers" are long membranous husks which are known as glumes. In contrary to those who believe that this is an old relative of our normal maize today, pod corn is said to be just a mutant corn.
Findings of Heinz Saedler, Günter Theißen and their team have discovered how the mysterious look of the pod corn arises and the results show that it has nothing to do with the domestication of the maize as it is today. Saedler said that from the old crossing experiments the mutation must consist of at least two genetic components that can be inherited separately. When one component is inherited, the glumes that surround the kernels in this mutant are significantly smaller and less noticeable than that of the samples with both genetic components. Thus, these results show that the two components involved are copies of the same gene which are usually together and located in chromosome four (4). The region that controls the transcription of the gene is said to be damaged according to researchers and as a result, glumes develop a leaf-like pattern and mature until the kernels are completely wrapped.
The mutated gene is proved to belong to an entire family of development control genes known as the MADS-box gene family and other representatives of this family control other developmental processes in the plant.
Read more at http://www.mpg.de/5755791/pod_corn_leaves_inflorescences .
[ Send to a Friend | Rate this Article ]
---
Food and Drink Federation (FDF) President Jim Moseley called on Europe to rethink genetic modification (GM) technology. During an FDF dinner in London, Moseley issued a plea to politicians and consumers in Europe to consider the merits of GM technology saying that with over one billion people going to bed hungry at night, the United Kingdom and Europe should start the debate about new technologies such as GM.
Moseley's comments came as anti-GM groups were calling on food manufacturers to boycott the Rothamsted Research Institute's aphid repelling GM wheat if it reaches the market.
The news release is available at http://www.truthabouttrade.org/2012/04/24/leading-food-industry-figure-calls-for-gm-rethink/. A copy of Moseley's speech is available for download here: http://www.fdf.org.uk/speeches/FDF_Presidents_Dinner_speech_2012.pdf.
[ Send to a Friend | Rate this Article ]
---
ISAAA's Board of Directors member, Prof. Jonathan Jones of The Sainsbury Laboratory on the Norwich Research Park in the United Kingdom is the recipient of the 2012 E.C. Stakman Award by the University of Minnesota, for his outstanding achievements in plant pathology.
Professor Jones and his group were among the first to isolate and characterize a plant disease resistance gene. His discovery that an R gene codes for a receptor-like protein was a validation of the concept of gene-for-gene and elicitor-receptor interactions that originated from the work of E.C. Stakman, Harold Flor, and other pioneers of plant pathology.
A strong advocate of using transgenic approaches to control plant diseases, his research have been applied to solve serious disease problems in Agriculture. A field trial of late blight-resistant potatoes is testament to this practical approach and his efforts to engage with the public, media, farmers and NGOs during this trial have typified his open approach to talking about GM and plant biotechnology.
Member of the European Molecular Biology Organization since 1998, and Fellow of the Royal Society since 2003, Professor Jones is one of the most highly cited plant and animal scientists in the world.
For more information about Professor Jones, visit The Sainsbury Laboratory: http://www.tsl.ac.uk/profile/jonathan-jones.asp. The news release is available at http://www.tsl.ac.uk/jjpressrelease.html
Beyond Crop Biotech
Thirty-three genes linked to autism, related disorders, and other psychiatric conditions such as schizophrenia have been identified, of which 22 of which are identified for the first time.
Dr. James Gusella, director of Massachusetts General Hospital Center for Human Genetic Research (MGH CHGR) reported that by sequencing the genomes of the group of children with neurodevelopmental abnormalities (including autism) they have identified the exact points where the DNA strands of these subjects have been disrupted and segments exchanged within or between chromosomes. The result of the genome sequencing resulted to their discovery of a series of genes that have active individual impact on the mentioned disorders. They also found that these genes play important roles in various clinical situations that even the slightest change in them can cause severe intellectual disabilities and psychiatric conditions.
This new way of studying human genes was developed by Dr. Michael Talkowski, also from MGH CHGR, lead author of the Cell paper. The new approach allows the gene sequencing to identify the breakpoints of balanced chromosome abnormalities (BCAs), which are occurrences in the chromosomes wherein DNA segments are moved into different locations in the same chromosome or exchanged with segments in other chromosomes, leaving the chromosome size unaffected. This new method has been proven to be faster than their previous method for completing the study that formerly requires months for less than two weeks. This method identified 33 genes associated with autism and other neurodevelopmental disorders, only 11 of which are previously suspected to affect the mentioned disorders.
Dr. Gusella, Bullard Professor of Neurogenetics at Harvard Medical School said that this is a first step towards further identification and understanding of neurodevelopmental disabilities and psychiatric disorders and towards the development of new clinical treatments.
Read more at http://www.massgeneral.org/about/pressrelease.aspx?id=1460.
[ Send to a Friend | Rate this Article ]
---
Xenonucleic Acid or XNA is said to be able to copy DNA and RNA – the main genetic languages of almost all organisms. DNA is made up of nucleic acid bases (A, C, G, and T) with a backbone made up of phosphates and sugar deoxyribose while the XNA carries the same nucleic acid bases but with a backbone made up of different sugars. Though they have found this to be possibly very useful in experiments and biomedical applications, they find it difficult to make them in large quantities.
The team, led by Philipp Holliger, a synthetic biologist at the UK Medical Research Council's Laboratory of Molecular Biology, have "engineered enzymes that helped six types of XNA to assemble and replicate genetic messages". These enzymes had at least 95% accuracy in transcription of DNA to XNA and back. One of their tests also showed that some of these XNAs are capable of undergoing processes "akin to evolution". Holliger notes that these results confirm that replication, heredity, and evolution are possible in these alternative backbones.
Biochemist Steven Benner and other researchers have replicated polymers with extra artificial nucleic acid bases on backbone made up of phosphates and sugar deoxyribose. These synthetic nucleic acid bases are said to be possible components for chemical degradation resistant DNA and RNA.
Although XNAs still depend on DNA-derived enzymes for replication, Holliger shares that these new alternative molecules can help experts develop new drugs and nanotechnologies.
Read more at http://www.nature.com/news/enzymes-grow-artificial-dna-1.10487.
[ Send to a Friend | Rate this Article ]
---
For the first time, researchers from the Institute of Research in Biomedicine (IRB Barcelona) and the Barcelona Supercomputing Centre (BSC) are able to extract the structural information of a triple helix DNA reliable gas phase.
According to Dr. Modesto Orozco, principal investigator at the IRB Barcelona and director of Life Sciences at the BSC, with the aid of their study, it is only now that the special DNA structures are characterized. Before, it is not known if they have preserved structural memory in solution when they were evaporated. Dr. Orozco states that the study also demonstrates that these special DNA structures maintain a "surprising memory of its previous biological environment, aqueous solution, in which it is normally difficult to characterize."
It has taken more than 10 years for the group to complete the atlas of classical DNA structures in gas phase. Through mass spectrometry, Dr. Orozco and his team have combined computational simulation techniques with experimental validation.
This breakthrough could help in the development of antigen therapy, a triple DNA helix-based therapeutic approach that can switch off the activity of genes responsible for specific diseases. Dr. Orozco states that there is still no drug based on gene therapy, although some are already under development. Aside from aiding the advancements in antigen therapy research, the study of Dr. Orozco's team might soon enable the use of x-ray free-electron lasers (X-FEL) in acquiring structural data about the behavior of a molecule in its natural biological environment while in gas phase. If this happens, Dr. Orozco adds that the X-FEL will become a powerful tool in resolving the structure of macromolecules.
Find more about the study of Dr. Orozco's team at http://www.biochemist.org/news/page.htm?item=45146
[ Send to a Friend | Rate this Article ]
---
Researchers from the U.S. National Institute of Allergy and Infectious Diseases in Maryland reported that they have pinpointed the gene that makes some strains of an antibiotic-resistant bacterium more virulent and that the gene is becoming more prevalent.
Molecular microbiologist Michael Otto and team studied the molecular basis of virulence of methicillin-resistant Staphylococcus aureus (MRSA). They focused on a rare genetic element in a strain of MRSA called ST239, which is widespread in Asia. The results of their investigation showed that one reason of the virulence is that the gene sasX, which codes for a protein anchored on the surface of S. aureus, is spreading to other strains. The gene can jump from one strain to another, aside from being passed down through the generations. The team also found out that sasX-carrying bacteria aggregate strongly. They believe that when the bacteria stick together, it is hard for white blood cells to ingest the bacteria and kill them.
By knowing the characteristics of the most virulent strains of MRSA, the researchers will be able to develop vaccines to stop the bug.
For more information, read the article at http://www.scientificamerican.com/article.cfm?id=mrsa-gene-that-enhances-superbugs-virulence-is-on-the-rise.
[ Send to a Friend | Rate this Article ]
---
Chinese scientists from BGI, a genomics organization, together with the Institute of Genetics and Developmental Biology, Chinese Academy of Sciences (CAS), and Shihezi University, Xinjiang province announced a breakthrough in animal breeding. The world's first transgenic sheep produced with a simplified technique referred to as handmade cloning, was successfully born on March 26,2012 in China.
This research being done through the Breeding and Cultivation of New GM Varieties Project was launched in 2008. It is recognized as one of the most significant technological investment in China. Mr. Han Changbin, Minister of Agriculture, pointed out that, as a big agriculture country, China should create a niche in the field of animal breeding.
See the news at http://www.genomics.cn/navigation/show_news.action?newsContent.id=100489