Global
Scientists from all over the world met at the International Center for Agricultural Research in the Dry Areas (ICARDA) in Aleppo, Syria for the two-day "Stem Rust Baseline Survey Workshop on Standardizing Protocols and International Collaboration". The workshop aims to standardize protocols and strengthen international cooperation to combat the stem rust (strain Ug99). Ug99 (after Uganda where it was first recorded in 1999) has defeated the resistance in varieties that were resistant to stem rust in the past. It was found in Yemen in 2006 and has recently been reported in Iran. It now threatens wheat production in the Near East and West Asia region.
The workshop was jointly organized by ICARDA, the International Maize and Wheat Improvement Center (CIMMYT), the Food and Agriculture Organization (FAO) of the United Nations, and the Cornell University through the Borlaug Global Rust Initiative.
The complete press release is available at http://www.cgiar.org/newsroom/releases/news.asp?idnews=720
[ Send to a Friend | Rate this Article ]
---
The crucial role of communication among stakeholders to encourage a transparent and science-based debate on crop biotechnology was again highlighted during the annual network meeting of the Biotechnology Information Centers (BICs) of the International Service for the Acquisition of Agri-biotech Applications (ISAAA). Representatives of the BICs in Asia (Bangladesh, China, India, Indonesia, Malaysia, Pakistan, Philippines, Thailand, Vietnam), Africa (Egypt and Kenya), and Europe (Spain) converged in Petaling Jaya, Malaysia to share communication strategies from interpersonal to tri-media approaches that were used to increase awareness and understanding of biotechnology in their respective countries.
Eighteen BICs are now part of the network and are sharing information, resources, expertise, and experiences to the global community. Other members include Sri Lanka, Bulgaria, Russia, South Africa, Francophone Africa, and Brazil. The BICs are actively involved in translating and disseminating crop biotech information to various stakeholders, conduct workshops, and perform other knowledge sharing initiatives.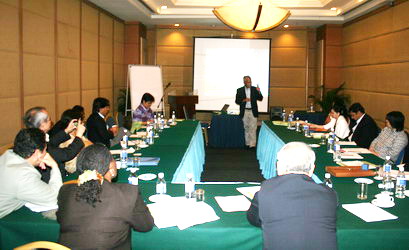 For more information on the Global Knowledge Center on Crop Biotechnology and the BIC network visit http://www.isaaa.org/kc.
Asia and the Pacific
The research team at Kasetsart University in Thailand that elucidated the compound responsible for aroma in rice and the method to increase the aromatic fragrance has obtained a US patent. This invention is based on their discovery that the inhibition of Os2AP gene can result in the production of aromatic compound, 2-acetyl-1-pyrroline (2AP), the major potent flavor component of aromatic rice. The patent was applied in the US in January 2005 and granted on 13 November 2007. This patent has also been filed in Australia, China, the Philippines, Thailand, Japan, Vietnam, India, France and the European Patent Office (EPO).
Rice Gene Discovery Unit is a collaborative research unit between BIOTEC and Kasetsart Univerity.
To find out more, visit the University official website at http://dna.kps.ku.ac.th/rice/ or contact Supat Attathom of Biosafety and Biotechnology Information Center at safetybio@yahoo.com
[ Send to a Friend | Rate this Article ]
---
Bagasse, the agricultural waste of sugar cane in sugar production can now be used to produce a new kind of food packaging which is safe for health, environment friendly, and biodegradable. This technology is being developed in Thailand to minimize the accumulatiion of plastic and foam packaging materials which have already amounted to 2.3 million tonnes. The new food packaging could be degraded within 45 days without waste management involved.
Food-packaging manufacturer Biodegradable Packaging for Environment's managing director Dr Weerachet Kittirattanapaiboon said that the company has developed a technology and a production process to use bagasse to produce food packaging. A key technology in the production process is the binder, a polymer substance that can force the bagasse pulp particles to join together so when it is used for food packaging, it can be heat resistant and waterproof. The company's binder has passed the safety standards set by the Food and Drug Administration in the United States.
The complete article is available at http://www.nationmultimedia.com/worldhotnews/read.php?newsid=30047606. For details contact Supat Attathom of Biosafety and Biotechnology Information Center at safeybio@yahoo.com
[ Send to a Friend | Rate this Article ]
---
To encourage the emergence of the biotechnology business in Thailand, the National Science and Technology Development Agency (NSTDA) and the Thailand Centre of Excellence for Life Science (TCELS) are working with the Board of Investment to promote investments in the biotechnology area. As Thailand has a strong biotechnology base, especially in food, biodiversity and healthcare, it could become a hub for biotechnology-business development in the region, said NSTDA's president Sakarindr Bhumiratana. Satit Charnjavanakul, the BoI secretary-general, said the board offered privileges for biotechnology businesses through an eight-year tax exemption, while investors would also pay zero tariffs when they import machinery into Thailand. There are four key areas of biotechnology which would get investment promotion privileges. They are seed production or plant and animal breed improvement businesses; bio-pharmaceutical business; medical diagnostic kits, agriculture, food and environment businesses; and biomolecule and bio-active compound production businesses.
The complete article is available at http://www.nationmultimedia.com/worldhotnews/read.php?newsid=30065103. For further details, contact Supat Attathom of Biosafety and Biotechnology Information Center at safetybio@yahoo.com
[ Send to a Friend | Rate this Article ]
---
To benefit from the advances in biotechnology, Indonesia's regulations should be set in place. A study was conducted by Dr. Bahagiawati and Dr. Sutrisno from the Indonesian Center for Agricultural Biotechnology and Genetic Resources Research and Development (ICABIOGRAD) on the "Application of Genetically Modified Crops: Status, Regulation and Detection Method in Indonesia". The results published in the Journal AgroBiogen, showed that Indonesia had several regulations on application of transgenic crops such as Government Regulation (GR) 21/2005; GR 69/1999 on labeling of GMO products; and GR 28/2004 on GM food. However, according to the authors, the implementation of GR 69/1999 and GR 28/2004 are still not realized since there is no implementation guidance, lack of laboratory facility, and capable human resources to implement the rules.
In Indonesia, the labeling of GMO is still mandatory with the threshold of 5.0. The authors also mentioned that until now, Indonesia has only four GMO detection laboratories, of which two are government laboratories (ICABIOGRAD, Ministry of Agriculture and Food and Drugs Agency), and two private laboratories (PT. Saraswanti and Atmajaya University). The authors further recommended that Indonesia needs to have a biosafety framework, enhanced facility and human resources to assess the existence of GMO in any food materials.
See more details at: http://www.indobiogen.or.id/agrobiogen.php or contact the authors for more information at s.trisno@indo.net.id , bahagiawati@indo.net.id, or Dewi Suryani of IndoBIC at dewisuryani@biotrop.org
[ Send to a Friend | Rate this Article ]
---
Business enterprises based on the use of biological knowledge are contributing to economic development as shown by the experience of the United States where biosciences contributed to a third of its gross domestic product.. Developing countries should exploit this development, says Dr. Paul Teng of the National Institute of Education, Nanyang Technological University in Singapore. He spoke on "Bioscience entrepreneurship: Creating value and wealth from biology" in a public seminar on commercialization of biotechnology at the University Pertanian Malaysia in Petaling Jaya, Malaysia.
Potential bioscience enterprises in Asia include hybrid plant and seed varieties, tissue culture, biofermentation, biofertilizers and biopesticides, biofuels, bioremediation, biodetection, and biotechnology crops. Teng notes that the opportunities for bioscience entrepreneurship are growing and Malaysia can take an active role through capacity development, intellectual property product development, incubator support, financing, and services.
In the same seminar, Mr. Izhar Hifnei Ismail of the Malaysian Biotechnology Corporation discussed "Incentives for biotechnology companies in Malaysia". Aware of "biotech for wealth creation" the Malaysian government has set up the BioNexus status which is a designation awarded to qualifying biotechnology companies, making them eligible for privileges. These privileges include fiscal incentives such as income tax excemption, tax exemption on dividends, and exemption of import duty and sales.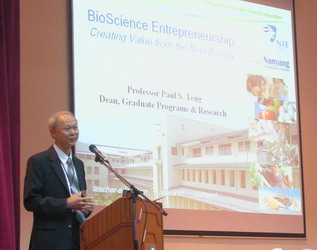 More information on the seminar can be obtained by emailing Mahalechumy Arujanan of the Malaysian Biotechnology Information Center at maha@bic.my.
[ Send to a Friend | Rate this Article ]
---
Origin Agritech Limited has updated its GM pipeline to set forth the next generation transgenic corn products in China. These include:
Phytase corn, expected to be the first for transgenic maize in China, is currently in its final approval (Phase 5) stage in the country. Phytase is currently being used as an additive necessary for animal development and growth. It also limits the amount of phosphorus in animal wastes. Addition of phytase to animal feed is mandatory in Europe, Southeast Asia, Taiwan and Japan.
Glyphosate resistant maize is in the intermediate testing stage (second phase). To date, herbicide-tolerant crops represent the largest segment of the GM crop market worldwide.
Bt corn is also in its second phase, the same as with GM corn with stacked traits (Bt and glyphosate resistance).
Transgenic corn with nitrogen efficiency and drought tolerance traits are in the laboratory testing phase (Phase 1).
For further information visit http://www.originagritech.com/
[ Send to a Friend | Rate this Article ]
---
A Center of Excellence in Genomics (CEG) was launched by the International Crops Research Institute for the Semi-Arid Tropics (ICRISAT) at its headquarters in Patancheru, India, in partnership with the Department of Biotechnology (DBT), the Government of India. ICRISAT also announced the launch of a Bio-Food Knowledge Center (BFKC) in its Agri-Science Park with financial support from the Government of Andhra Pradesh.
The CEG has started providing the following services:
High-throughput, low-cost, allele detection platforms, to help with molecular-marker assisted breeding.
Access to large-scale field screening for abiotic stresses, such as drought and salinity.
Biometrics (agricultural statistics) and bioinformatics (information management and analysis) support.
Training courses for scientists and students from Indian institutes in the use of high-throughput methods in breeding and research.
The BFKC on the other hand, will develop a platform for R&D, innovation, technology transfer, and commercialization in food processing focusing on cereals, legumes, fruits and vegetables. It will be developed as a public-private partnership model and also to backstop food processing related research requirements for ICRISAT mandate crops.
View the complete press release at http://www.cgiar.org/newsroom/releases/news.asp?idnews=721