Kenya's Biosafety Authority has granted a conditional approval for environmental release of insect resistant maize (Bt maize) for National Performance Trials. The Bt maize has been genetically modified to produce an insecticide – Bt protein – that kills certain insect pests. The gene added to the maize comes from the soil bacterium Bacillus thuringiensis (Bt), which has long been known to possess an insecticidal effect and widely used in organic agriculture. The transformed crop will be able to withstand stem borers, known to reduce maize production by an average of 13 percent or 400,000 tonnes of maize, equivalent to the normal yearly amount of maize that Kenya imports. This damage is valued at more than USD 80 million. Other African countries that have already authorized the sale of GM crops including Burkina Faso, South Africa and Sudan. In 2014, South Africa grew 2.1 million hectares of biotech maize of which 28% was Bt maize.
The Kenyan approval was reached after comprehensive review of the application submitted by Kenya Agricultural Livestock and Research Organization (KALRO) and the African Agricultural Technology Foundation (AATF) in June 2015. The review process included a public participation exercise, where stakeholders submitted written comments on the application.
Kenya has the requisite capacity for GM crop research and regulation. Members of parliament from seven committees, led by the chair of Education and Research committee Hon. Sabina Chege acknowledged this during biotech study tours at various research facilities in the country.
"We have the capacity, technology and science to produce adequate food for our people, through biotechnology" said Hon. Dr. Wilbur Ottichilo, Kenyan parliamentarian.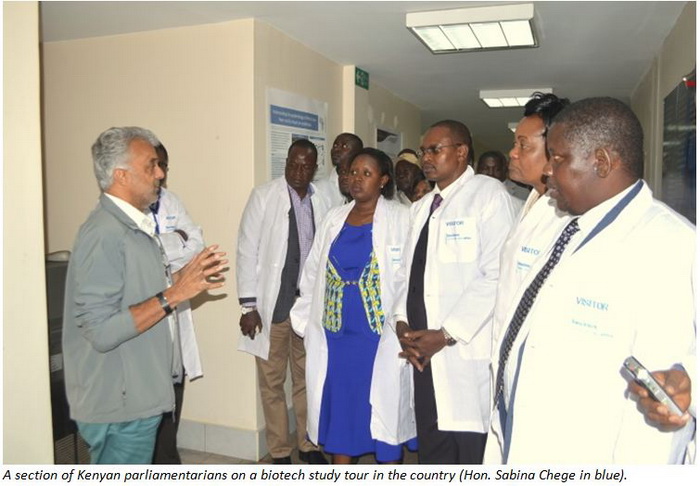 Kenya developed a National Biotechnology Development Policy in 2006 and enacted the Biosafety Act in 2009. This was followed with the setting up of the National Biosafety Authority and publication of four regulations to address the governance of various aspects of modern biotechnology enterprise.
For more information see link: http://www.biosafetykenya.go.ke/images/Public_Notice.pdf or at ceo@biosafetykenya.go.ke