News
Global
Researchers from the University of Illinois, University of California Los Angeles, and the Chinese Academy of Sciences have sequenced the genome of the sacred lotus, a plant known to symbolize longevity because its seeds can survive up to 1,300 years. The sequence reveals that the sacred lotus has the closest resemblance to the ancestor of all eudicots, a broad category of flowering plants including apple, cabbage, cactus, coffee, cotton, grape, melon, peanut, poplar, soybean, sunflower, tobacco, and tomato.
The research team found that the lineage of the sacred lotus is a separate branch of the eudicot family tree, and lacks a signature triplication of the genome seen in most members of this family. According to University of Illinois professor Ray Ming, whole-genome duplications - the doubling, tripling (or more) of an organism's entire genetic endowment – are important events in plant evolution. Despite lacking the 100 million-year-old triplication of its genome seen in most other eudicots, the sacred lotus experienced a separate, whole-genome duplication about 65 million years ago, said the researchers, and that a large proportion of the duplicated genes (about 40 percent) have been retained.
The researchers also found that the sacred lotus has a slow mutation rate relative to other plants. These traits make lotus an ideal reference plant for the study of other eudicots, Professor Ming said.
Results of their study has been published in the journal Genome Biology, with the following link: http://genomebiology.com/2013/14/5/R41/abstract. The news release is available at http://www.news.illinois.edu/news/13/0510lotus_genome_RayMing.html.
[ Send to a Friend | Rate this Article ]
---
The United States Agency for International Development (USAID) signed a Memorandum of Understanding (MOU) with Syngenta International AG to improve agriculture and food security activities in Africa, Asia, and Latin America. Through the MOU, USAID, and Syngenta will collaborate in research and development and smallholder capacity building and work with scientists, entrepreneurs, policy makers and other donors. The MOU will also help build the capacity of smallholder farmers to adopt and safely use technologies that increase their yields through training, demonstrations, and other approaches.
Dr. Rajiv Shah, USAID Administrator, said that "Scaling the adoption of innovative technologies like drought-tolerant seeds and crop insurance can build the foundation for sustainable food security. By strengthening our partnership with Syngenta, we can reduce hunger and undernutrition across three different continents and help bring the end of extreme poverty within reach."
This USAID-Syngenta commitment advances agricultural development and food security goals of developing country governments supported by USAID through Feed the Future, the U.S. Government's global hunger and food security initiative, which is part of the U.S. contribution to the New Alliance for Food Security and Nutrition.
For more information about this collaboration, read the news release available at http://www.usaid.gov/news-information/press-releases/usaid-syngenta-collaborate-improve-global-food-security.
Africa
Calestous Juma, Professor and Director of Science, Technology and Globalization Project at Harvard University said that national food security in Uganda can be substantially improved by using genetically modified organisms (GMOs) to get better yields.
In a lecture organized by the Association for Strengthening Agriculture Research in Eastern and Central Africa (ASARECA) in Kampala, Uganda, Juma said that biotechnology and genetic engineering have the potential to contribute to agriculture just like what mobile technology has done for the communications sector in Africa. However, the Harvard professor stressed that it would be dangerous to adopt GMOs without clear, flexible, and supportive biotechnology regulations. Juma therefore appeal for the Ugandan Government to pass the Biotechnology Bill.
For more information, visit http://allafrica.com/stories/201305062242.html.
[ Send to a Friend | Rate this Article ]
---
Cairo University hosted the 2013 Biotechnology Day organized by the Egyptian Biotechnology Information Center (EBIC) on April 20, 2013. Prof. Ahmed Sharaf, Dean of the Faculty of Biotechnology, formally opened the celebration passing his warmest wishes to the new generation of the biotechnology students and stressing how the technology is affecting the life of millions of farmers throughout the world. He also mentioned that biotechnology applications in agriculture would help solve several agricultural problems in Egypt.
The program of activities included a brief introduction to biotechnology, including its applications and benefits. Some of the students demonstrated their graduation projects including anti-cancer, bioluminescent bacteria, bioremediation, and genetically modified organisms (GMOs).
As part of their celebration, the students performed a play "Milestones of Biotechnology" which featured four major events in the field of biotechnology: 60 years for discovering the structure of DNA, 30 years since producing the first transgenic plant, 30 years since PCR discovery, and 10 years for human genome sequencing.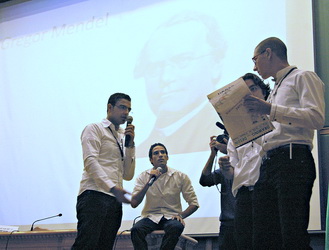 For more information about biotechnology events in Egypt, contact Dr. Naglaa Abdallah at naglaa_a@hotmail.com.
Americas
J.R. Simplot Company submitted a petition to U.S. authorities to deregulate biotech potatoes known as Innate. This potato variety have been genetically engineered to decrease production of acrylamide, a potential carcinogen, and reduce black spot bruising. The petition claims that the potatoes are unlikely to pose a plant pest risk and thus should not be a regulated article under Animal and Plant Health Inspection Service (APHIS) regulations. APHIS published the petition on the Federal Register for public comment within 60 days since its publication date (May 3, 2013).
Read the petition at http://www.aphis.usda.gov/newsroom/2013/04/pdf/fr_ge_potato.pdf.
[ Send to a Friend | Rate this Article ]
---
Biotech pineapple developed in Costa Rica by Del Monte Fresh Produce Co. Inc. has been approved for testing by the U.S. Department of Agriculture. The new pineapple variety is called Rosé because of its rose-colored flesh. The developers overexpressed a gene from pineapple and tangerine, silenced other genes, and altered flowering for more uniform growth and quality. Del Monte must complete the testing and a food safety consultation with the Food and Drug Administration prior to commercialization of the product.
Read more at http://www.fruitnet.com/americafruit/article/158143/del-monte-gets-gm-pineapple-green-light and http://www.thepacker.com/fruit-vegetable-news/Del-Monte-testing-genetically-modified-pineapple-204909111.html.
[ Send to a Friend | Rate this Article ]
---
After years of suffering from blight caused by the fungus Cryphonectria parasitica, American chestnut trees may rise again through genetic engineering. Dr. William Powell of the State University of New York and Scott Merkle of the University of Georgia started the search for genetic protection for the American chestnut tree in 1990. Dr. Powell knew that most of the chestnut blight symptoms are caused by the oxalic acid that C. parasitica generates as it grows. He also knew that wheat has an enzyme called oxalate oxidase, which detoxifies oxalic acid. Together with his team, he transferred the gene that encodes oxalate oxidase from wheat to chestnut, and they found that oxalate oxidase can indeed enhance blight-resistance.
This month, the U.S. Department of Agriculture supervised the planting of three experimental patches, a project organized by the Forest Health Iniative (FHI). If the trial works, the FHI will request permission to plant transgenic chestnut trees in the wild to re-establish the species in America's woodlands. The team hopes to use the model for future projects to re-establish threathened species such as the elm tree, ash tree, and a fir tree known as the eastern hemlock.
More information available at http://www.economist.com/news/science-and-technology/21577033-gm-species-may-soon-be-liberated-deliberately-wildwood?fsrc=scn/tw_ec/into_the_wildwood.
[ Send to a Friend | Rate this Article ]
---
Researchers have discovered nearly 4,600 wild relatives of crop plants in the United States, including close relatives of globally important food crops such as sunflower, bean, sweet potato, and strawberry. These findings, which were published in the journal Crop Science may help plant breeders who have increasingly relied iin recent years on wild kins of domesticated crops as new sources of disease resistance, drought tolerance, and other traits.
Over the past four years, a team led by Colin Khoury of the International Center for Tropical Agriculture (CIAT) in Colombia, and Stephanie Greene of the USDA-Agricultural Research Service has been collecting as much information on U.S. crop wild relatives as it can. This includes the species' names, which crop plants they have been used to improve (if any), how closely related they are to their respective crops, and whether any of the genetic resources found in crop wild relatives are already conserved in gene banks.
View CIAT's news release at http://dapa.ciat.cgiar.org/the-wild-and-weedy-cousins-of-crops-documented-in-the-united-states/?utm_source=dlvr.it&utm_medium=twitter.
[ Send to a Friend | Rate this Article ]
---
A collaboration by scientists from the U.S. Department of Energy's Joint Genome Institute (DOE JGI), Pacific Biosciences (PacBio) in California and the University of Washington has led to an improved workflow for genome assembly that the team describes as "a fully automated process from DNA sample preparation to the determination of the finished genome."
The technique, known as HGAP (Hierarchical Genome Assembly Process), uses PacBio's single molecule, real-time DNA sequencing platform, which generates reads that can be up to tens of thousands of nucleotides long, even longer than those provided by the workhorse technology of the Human Genome Project era, the Sanger sequencing technology, which produced reads of about 700 nucleotides. The developers further explained that with HGAP, only a single, long-insert shotgun DNA library is prepared and subjected to automated continuous long-read SMRT sequencing, and the assembly is performed without the need for circular consensus sequencing.
View DOE JGI's news release at http://www.jgi.doe.gov/News/news_13_05_06.html.
Asia and the Pacific
A forum on agriculture among the public and private sectors executives of the Southeast Asian nations was organized by the Southeast Asian Regional Center for Graduate Study (SEARCA) in Los Baños, Laguna, Philippines on May 9-10, 2013. The Executive Forum gave importance on the role of biotechnology to level up the agriculture landscape of the Association of Southeast Asian Nations (ASEAN Region).
Dr. Paul S. Teng, Professor of Nanyang Technological University in Singapore and Vice Chairman of the International Service for the Acquisition of Agri-biotech Applications (ISAAA) gave his talk on Drivers of the New ASEAN Agriculture Landscape. Dr. Rhodora R. Aldemita, ISAAA's Senior Program Officer and Dr. Tan Siang Hee of CropLife Asia (CLA), delivered their lectures on Biotechnology for 21st Century's Agriculture and Food Security, presenting the viewpoints from the public and private sectors, respectively. Dr. Andrew Powell of Asia BioBusiness gave a presentation on the Commercialization of Agricultural Research Innovations.
A high level dialogue was also conducted with ASEAN executives in agriculture and resouce persons from the International Rice Research Institure, SEARCA, CLA, Asian Development Bank, and the Food and Agriculture Organization of the United Nations on challenges that the region is facing.
For more information, visit http://searca.org/index.php/news/1202-searca-holds-executive-forum-on-the-new-asean-agriculture-landscape.
[ Send to a Friend | Rate this Article ]
---
Murdoch University researchers have developed an environmentally friendly gene silencing method to control Root Lesion Nematodes, plant pathogens known to reduce yields of major crops such as wheat and barley by 15 percent or more. Professor Mike Jones of Murdoch University's Plant Biotechnology Research Group, said the microscopic, worm-like pests were an economic drain on agriculture as they invade and damage plant roots, making the plants susceptible to water and nutrient stress.
He said that their team worked to block the formation of proteins needed for nematodes to complete their life cycles. Their gene silencing work presents a new, environmentally sound approach to control the nematode pests and boost agricultural yields without the need for expensive chemicals.
For more information, read the news article at http://media.murdoch.edu.au/new-gene-silencing-set-to-boost-agricultural-yields.
[ Send to a Friend | Rate this Article ]
---
A research team led by Associate Professor Shuichi Yanagisawa in the Laboratory of Plant Functional Biotechnology at the Biotechnology Research Center of the University of Tokyo demonstrated that NIN-like transcription factors play a central role in the regulation of nitrate-inducible events in plants. The researchers found that nitrate signaling activates NIN-like transcription factors, and the activated factors then promote the expression of a number of nitrate-inducible genes. Hence, NIN-like transcription factors function as key regulators of the nitrogen utilization mechanism.
In plants, nitrate is not only a major nitrogen source but also a signalling molecule that modulates the expression of a wide range of genes and regulates growth and development. The critical role of nitrate as a signalling molecule has been established for several decades. However, the molecular mechanisms underlying the nitrate response have remained elusive, as the transcription factor that primarily responds to nitrate signals has not yet been identified until recently.
View the University of Tokyo's news release at http://www.u-tokyo.ac.jp/en/todai-research/research-news/the-plant-mechanism-controlling-nitrogen-utilization/.
Europe
Laperinne's olive tree, the Saharan cousin of Mediterranean olive tree, remains largely unknown, but researchers from France's Institut de Recherche pour le Développement (IRD) and their partners are working on a conservation program to prevent the gradual erosion of its genetic diversity. The researchers learned that its longevity was ensured by its original vegetative reproduction. Considered a 'relict' tree, the Sahara olive tree is extremely drought resistant and could be an excellent genetic resource to improve its domestic counterparts. IRD researchers are looking into the ecology and evolutionary history of the Laperrine's olive tree to better identify the dangers facing this tree, and establish the priorities for conservation programs.
Learn more about this tree at http://en.ird.fr/the-media-centre/scientific-newssheets/428-the-sahara-olive-tree-a-genetic-heritage-to-be-preserved.
[ Send to a Friend | Rate this Article ]
---
Leading plant biologists from around the world report their recent discovery on the way plants transport important substances across their biological membranes. According to them, the transport process that allows plants to resist toxic metals and pests, increase salt and drought tolerance, control water loss, and store sugar may have implications for increasing food supply and energy to the rapidly growing global population. Transporters are specialized proteins that plants use to take up nutrients from the soil, help plants resist pathogens and make plants more tolerant to adverse conditions.
Professor Dale Sanders, director of the John Innes Centre (JIC) in Norwich Research Park, is working on improving the accumulation of zinc in cereal grains. He said that more research on transporters will improve uptake from soil to plant, and redistribution within the seed, and emphasized that simply increasing fertilizer use and water supply will not be enough to satisfy the requirements of increased yield and environmental sustainability.
The team's research results was published in the journal Nature available at http://www.nature.com/nature/journal/v497/n7447/full/nature11909.html. The JIC news release can be read at http://news.jic.ac.uk/2013/05/more-food-and-greener-farming-with-specialised-transporters-for-plants/.