News
Global
Chronic hunger and food security is at the top of the Obama administration agenda. Speaking at the 2009 World Food Prize Announcement Ceremony in Washington, DC, U.S. Secretary of State Hillary Rodham Clinton said: "The effects of chronic hunger cannot be overstated. Hunger is not only a physical condition, it is a drain on economic development, a threat to global security, a barrier to health and education, and a trap for the millions of people worldwide who work from sunup to sundown every single day but can barely produce enough food to sustain their lives and the lives of their families."
Clinton enumerated seven principles for sustainable agricultural systems in rural areas worldwide. These include the need to:
Increase agricultural productivity by expanding access to quality seeds, fertilizers, and irrigation tools.
Stimulate the private sector by improving the storage and processing of foods and improving rural roads and transportation.
Maintain natural resources so that land can be farmed by future generations.
Expand knowledge and training by supporting R&D and cultivating the next generation of plant scientists.
Increase trade so small-scale farmers can sell their crops.
Support policy reform and good governance.
Support women and families.
See the full article at
http://www.state.gov/secretary/rm/2009a/06/124659.htm
.
Africa
Kenya will start confined field trials of drought-tolerant transgenic maize variety pending regulatory approval from the National Biosafety Committee. The project is spearheaded by the Kenya Agricultural Research Institute and is being coordinated by the African Agricultural Technology Foundation (AATF). Other cooperating institutions include the International Maize and Wheat Improvement Center (CIMMYT) and Monsanto. AATF, CIMMYT, and Monsanto have agreed that varieties developed through this project will be licensed to AATF.
The project, known as the Water Efficient Maize for Africa (WEMA) project, is being implemented in five African countries – Kenya, Uganda, Tanzania, Mozambique and South Africa. The public-private partnership is led by the national agricultural research systems in the respective countries. Funding is provided by the Bill and Melinda Gates Foundation.
Visit the AATF website at http://www.aatf-africa.org
[ Send to a Friend | Rate this Article ]
---
The Tanzania chapter of the Open Forum for Agricultural Biotechnology (OFAB) was launched to serve as a venue to discuss benefits of agricultural biotechnology. Monthly meetings with stakeholders will be held to share knowledge and experiences and facilitate relevant discussion on agricultural biotechnology. "There are specific conditions and different levels of awareness in different countries, therefore the need for localizing the debate on crop biotechnology," said Dr. Hassan Mshinda, director-general of the Tanzania Commission for Science and Technology, during the launching ceremony.

Mshinda added that a lack of information on the opportunities offered by biotechnology has resulted in the slow adoption of various agro-technologies to address food problems. He said that developing countries need to be part of the dialogue on food biotechnology crops. OFAB is supported by the African Agricultural Technology Foundation which also assists forum chapters in Kenya, Uganda and Nigeria.

The full article is available at http://africasciencenews.org/asns/index.php?option=com_content&task=view&id=1365&Itemid=2.
[ Send to a Friend | Rate this Article ]
---
A new book in Arabic on important papers for decision makers on biotechnology in Egypt has just been published by the Egypt Biotechnology Information Center (EBIC). It includes key definitions of agricultural biotechnology and provides answers to questions on the safety of biotech crops. Likewise, it highlights the role of biotech crops in the developing world particularly India, China, Argentina and Brazil.
The book reviews the experiences of African countries such as South Africa, and Burkina Faso, as well as Egypt as a first Arab country commercializing a biotech crop. This is the second book published by EBIC on the applications of agricultural biotechnology. The first book dealt with topics designed to raise public awareness.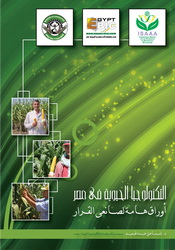 For more information contact Dr. Ismail Abdel Hamid at ebicvision@yahoo.com.
[ Send to a Friend | Rate this Article ]
---
The West African Economic and Monetary Union (UEMOA) has launched a regional biosafety program called the PRB-UEMOA. It is supported by the World Bank and has been established following the need of UEMOA member countries (Burkina Faso, Togo, Ivory Coast, Senegal, Benin and Mali) to have a centralized system of regulation for the development and rapid expansion of modern biotechnology activities in the West Africa sub-region. It envisages instituting and implementing a common institutional and legal framework for the whole region and will also facilitate member countries to honor the Cartagena Protocol on Biosafety.
Though initiated in 2007, the three-year program was officially launched on 17th June 2009 by His Excellency the Minister of Environment and Sanitation of Mali, Prof. Sangaré Tiémoko. The Malian Ministers in charge of Promotion of the Family and Child and representatives of the Ministers of Environment, Agriculture and Finance of the UEMOA member states were also present in the launching.
For more information contact : Mali BIC Coordinator Dr. Mohamed N'diaye, mohamedndiaye1@yahoo.fr mohamedndiaye1@yahoo.fr
[ Send to a Friend | Rate this Article ]
---
The first in the series of workshops sponsored by the Agricultural Research Center and the Egyptian Biotechnology Information Center was recently held to raise public awareness on biotech crops. The first workshop was held to discuss the importance of biotech crops and the benefits of biotech maize and cotton. It was attended by agricultural extensionists from 20 governates of Egypt. Prof. Mohamed Elgarhey, Deputy Director of Agricultural Research Center mentioned that Egypt had an early start in agricultural biotechnology by establishing the Agriculture Genetic Engineering Research Institute. The cooperation between its extension section and the EBIC will allow a transparent discussion on current issues in agricultural biotechnology.
Prof. Magdy AbdelZaher of Alexandria University discussed his intensive Bt maize field trial studies in over 36 maize-growing areas in Egypt and mentioned that, "the use of biotech maize saves on pesticide usage, gives almost 100% protection from stem borers, and increases yield of 30-40% over the conventional maize varieties". Dr. Hasan Dahey, a researcher of Bt cotton stressed that, "Bt cotton gives full protection against bollworms infestation". He added that the Egyptian Bt cotton variety development project will be successfully completed soon.
For more information contact Dr. Ismail AbdelHamid at ismail@isaaa.org
Americas
Researchers at the U.S. Department of Agriculture's Agricultural Research Service (ARS) have identified a compound that can inhibit the growth of the plant pathogen Fusarium verticillioides. F. verticillioides is an important cause of corn seedling blight and root, stalk and ear rot. The fungus also produces fumonisin mycotoxins, particularly fumonisin B1, which are toxic to livestock and poultry. Ingestion of F. verticillioides-infected corn is linked with high incidence of esophageal and liver cancers in humans.
The research team, headed by Charles Bacon, identified the compound from a strain Bacillus mojavensis, a plant residing bacterium. The bacterium produces Leu7-surfactin which is effective in controlling Fusarium even at very low concentration (20 micrograms per liter of liquid). Surfactin has a detergent-like activity that dissolves the lipid membranes inside the fungus. It can also be used in textile manufacture and environmental remediation.
The original story is available at http://www.ars.usda.gov/is/pr/2009/090624.htm
[ Send to a Friend | Rate this Article ]
---
Arabidopsis thaliana, a ubiquitous weed related to broccoli and mustard, has emerged as a powerful tool for research in plant molecular biology and genetics. Although it has little agricultural importance, Arabidopsis has several advantages that made it the model for understanding the biology of important crops. Its entire genome consists of a small set of genes, many of which have functional analogs in plants with much larger genomes. The complete genome sequence along with gene structure, genome map and physical markers of this model plant reside in a database dubbed the Arabidopsis Information Resource (TAIR). Recently, the TAIR group released a new version of the genome sequence of Arabidopsis, which includes an array of improvements and novel features.
The new TAIR9 genome release contains detailed information on all 33,518 genes that make up the tiny plant. The TAIR team, based at the Carnegie Institution for Science in California, has made extensive updates to the genome sequence based on new sequence data submissions. "We now have a ranking system that provides a measure of our confidence that the structure of a specific gene is correct," explained TAIR head Eva Huala. Huala and colleagues have also overhauled information on pseudogenes - genes that have lost their protein coding ability.
For more information, read http://www.ciw.edu/news/midget_plant_gets_makeover and http://www.arabidopsis.org/news/news.jsp Visit TAIR at http://www.arabidopsis.org/
[ Send to a Friend | Rate this Article ]
---
An international team of researchers, led by scientists at the Virginia Bioinformatics Institute (VBI) and Virginia Tech, has completed the genome of Azotobacter vinelandii, an important soil-living and nitrogen-fixing bacterium. The genome sequence is expected to advance research on A. vinelandii's role as a model organism in the investigation of nitrogen fixation and other biochemical processes. The researchers said that the work will also pave the way for new applications in biotechnology, including the possible use of A. vinelandii as a "bio-factory" for the production of other proteins, in particular those that may be damaged by the presence of oxygen. The genome will also provide information about the unique biosynthetic pathways involved in the bacteria's ability to adapt its metabolism to diverse sources of nutrients.
The complete article is available at http://dx.doi.org/10.1128/JB.00504-09
[ Send to a Friend | Rate this Article ]
---
The stacked trait insect-protected Roundup Ready 2 Yield™ soybeans is planned to be commercialized by Monsanto in Brazil, a Monsanto press release said. Monsanto has completed all regulatory submissions in Brazil and the new genetically modified soybean variety is expected to be commercialized in Brazil early the next decade. "We expect this product to provide a step change for Brazilian soybean farmers by protecting against insects that cause significant economic loss combined with the increased yield provided by the Roundup Ready 2 Yield trait, which was introduced commercially this year in the United States," said Roy Fuchs, oilseed technology lead for Monsanto. "Better insect control can help reduce pesticide applications and offer farmers yield protection, thus helping agriculture meet the food, fuel and fiber needs of a growing population," he added.
Submissions to the U.S. Department of Agriculture, the U.S. Food and Drug Administration have been completed, and submissions to the U.S. Environmental Protection Agency and key import markets will occur over the next several months.
For details see press release at: http://monsanto.mediaroom.com/index.php?s=43&item=717
[ Send to a Friend | Rate this Article ]
---
Monsanto Company and Dole Fresh Vegetables Inc. announced that they will be working together to breed vegetables that could be more attractive to consumers. The companies will focus on the nutrition, flavor, color, texture, taste and aroma of broccoli, cauliflower, lettuce and spinach. Monsanto stressed that the new varieties will not be genetically modified. New products developed from this collaboration could be commercialized by Dole in North America.
Monsanto has been expanding its vegetable business. The company acquired giant vegetable company Seminis in 2005 and the Netherlands-based De Ruiter Seeds last year.
The press release is available at http://monsanto.mediaroom.com/index.php?s=43&item=721
Asia and the Pacific
Malaysian scientists with support from the Ministry of Science, Technology and Innovation (MOSTI) and the Ministry of Women, Family and Community Development (MWFCD), are mulling over the establishment of a National Bioethics Committee (NBC). A workshop to tackle this issue was organized by MWFCD in collaboration with MOSTI, University Malaya and the United Nations Educational, Scientific, and Cultural Organization.
Scientists feel the need to form the NBC given the wide applications of biotechnology that encompass an entire spectrum of human life and the environment. The committee is expected to look into areas such as cloning, gene therapy, genetic modification technology, stem cell research, climate change, nanotechnology and others. An interim steering committee has been set up which will work towards the establishment of the NBC.
For more biotech developments in Malaysia email Mahaletchumy Arujanan of the Malaysian Biotechnology Information Centre (MABIC) at maha@bic.org.my
[ Send to a Friend | Rate this Article ]
---
A recent study by the Bank of Thailand found significant correlation between ethanol demand and increases in feedstock prices, particularly for tapioca prices. However, despite higher feedstock prices, increased biofuel demand should have only a marginal impact on food prices. Currently the commodity most susceptible to increased biofuel demand is palm-based cooking oil. However, the price of palm cooking oil is currently regulated by the Thai Government. Ethanol is produced using sugar and tapioca as feedstock.
Longer term increases in the quantity of tapioca produced is not expected to come at the expense of food crops. All other things being equal, ethanol production will likely remain viable despite anticipated higher feedstock prices, which have been driven by market demand and government intervention programs. Price increases for tapioca should drive yield improvements and acreage expansion in the long run. Domestic demand for feed corn, often grown in the same areas as tapioca, will likely be met by low-cost imported corn from neighboring countries. Increased demand for biodiesel should drive acreage expansion for oil palm through orchard replacement.
More information available at Biosafety and Biotechnology Information Center in Thailand at http://safetybio.agri.kps.ku.ac.th/images/stories/pdf/thai.biofuel.food2009.pdf
[ Send to a Friend | Rate this Article ]
---
Florigene Pty Ltd has received approval from Australia's Office of the Gene Technology Regulator (OGTR) for the commercial release of a genetically modified (GM) hybrid tea rose variety. The GM rose, which sports blue flowers, expresses the flavonoid 3'5'-hydroxylase gene from Viola and the anthocyanin 5-acyltransferase gene from Torenia for altered flower color. These genes cause the production of delphinidin, a blue pigment found in a range of edible plants including blueberries and blackcurrants. The GM rose was created by Florigene and Japan-based Suntory Company after 12 years of joint research.
Parent plants and plants for cut‑flowers will be grown by commercial growers registered with Florigene. Flowers that are produced will be sold through normal commercial distribution channels to the public, Australia‑wide. The risk assessment paper prepared by OGTR concluded that the commercial release poses negligible risk to human health and environment safety.
For more information, read the Risk Assessment and Risk Management Plan prepared by OGTR at http://www.ogtr.gov.au/internet/ogtr/publishing.nsf/Content/dir090-4/$FILE/dir090rarmp.doc
[ Send to a Friend | Rate this Article ]
---
Malaysia's Ministry of Science, Technology & Innovation (MOSTI), Malaysian Biotechnology Corporation (BiotechCorp) and global research house Frost & Sullivan joined forces in assessing Malaysia's competitive edge in human capital development in the areas of biotech and life sciences. Together they launched Malaysia's first Human Capital Development Report 2009.
This report assesses the needs of the industry, biotech education and research at higher learning institutes, high-demand areas, constraints related to workforce, private-public collaboration, demand gap analysis, and workforce sentiments in the industry. The areas of biotech covered are agricultural, healthcare, and industrial biotechnology. The report is instrumental in mapping Malaysia's current position as the country moves toward being at par with the other countries in the Asian region – especially so in the current economic times.
"The study of human capital development for the Malaysian biotechnology industry contained in this report is both timely and significant. Specific to human capital, effective public-private sectors initiatives are critical in meeting the qualified and competent Malaysian talent in biotechnology," said YBhg. Datuk Dr Maximus J Ongkili, Minister of Science, Technology and Innovation (MOSTI). CEO of BiotechCorp, Datuk Iskandar Mizal Mahmood believes this report will be an enabling tool to develop programs to address the issues faced by the industry to bridge the gap in human capital development in the biotech sector.
The report is available at http://www.biotechcorp.com.my. For more information, contact mohamad.ali@biotechcorp.com.my or maha@bic.org.my.
[ Send to a Friend | Rate this Article ]
---
DuPont announced that it has made two cotton acquisitions in Andra Pradesh to enhance its product lineup in India. DuPont business Pioneer Hi-Bred has purchased the cotton seed business of Nandi Seeds and acquired cotton germplasm from Nagarjuna Seeds in a bid to tap India's US$250 million cotton seed market.
"These acquisitions will help us enter the cotton seed market here and meet the needs of Indian farmers who grow more than 9 million hectares of cotton each year – more than anywhere else in the world," said K.V. Subbarao, Pioneer India's manager. Pioneer currently offers corn, rice, pearl millet, sunflower and mustard in the Indian market.
The acquisitions are the latest in a series of investments by DuPont in India. DuPont recently established the DuPont Knowledge Center (DKC) in Hyderabad which includes the Biotechnology Research Center.
The press release is available at http://www2.dupont.com/Media_Center/en_US/daily_news/june/article20090626.html
Europe
Serbia's National Parliament has adopted a new law that prohibits commercial growing of live modified organisms (GMOs), according to a new report by the USDA Foreign Agricultural Service. The new law, which regulates basic conditions for the use of GMOs in closed and open systems, also prohibits trading of products derived from GMOs. With this law, Serbian import of soybean meal from roundup ready soybeans for cattle feed is no longer possible. Serbia's previous law on GMOS allowed import of RR soybeans, the only GMO product used in the Eastern European nation.
Download the FAS report at http://gain.fas.usda.gov/Recent%20GAIN%20Publications/New%20Law%20on%20GMO%20is%20prohibiting%20trade%20or%20commercial%20growing%20of%20GMO%20_Belgrade_Serbia_6-10-2009.pdf
[ Send to a Friend | Rate this Article ]
---
A group of anti-GMO activists who destroyed a field trial of genetically modified (GM) wheat in the German village of Gatersleben was sentenced last week by a court in Saxony-Anhalt. The court ruled that the group acted against the law on April 21, 2008 as they entered the field trial area maintained by the Leibniz Institute of Plant Genetics and Crop Plant Research. The anti-GMO group was asked to pay for the damage, which the Institute estimated at not less than 245,000 euros (342,000 USD).
According to the report by GMO Compass, the activists objected to the field trial because of its proximity to the Gatersleben gene bank. They cited the German legal concept of übergesetzlicher Notstand ("extra-statutory necessity") as a justification for the destruction.
Wheat plants are self-pollinating with outcrossing rates estimated at less than 1 percent. The field trial was separated from the Genebank's propagation lots by 500 meters.
The original article is available at http://www.gmo-compass.org/eng/news/449.docu.html
[ Send to a Friend | Rate this Article ]
---
Researchers at the University of Almeria in Spain are working to develop genetically modified castor oil plants with altered seed oil composition. The researchers, led by Federico García Maroto, have identified a series of genes and promoters that could increase the concentration of monounsaturated fatty acids, particularly oleic and palmitic acids, in castor oil seeds. Oils with high levels of monounsaturated fatty acids are ideal for use as bio-lubricant. The oxidation rate of vegetable oils strongly depends on its fatty acid composition. High-oleic acid oils, for instance, resist oxidation, reducing the amount of chemical processing and additives required.
Several research institutions and universities in Spain are working together to develop bio-lubricant-producing castor oil plant varieties suitable to the agronomic conditions in the country.
For more information, visit http://www.andaluciainvestiga.com/english/salaPrensa/notas/090625-01.asp
[ Send to a Friend | Rate this Article ]
---
A new report Green Biotechnology and Climate Change has been released by Eurapabio. It highlights the significant potential of agricultural biotechnology to reduce green house gas emissions, and help crops adapt to a changing climate and produce more food from less available land. The book also provides information on how green biotech allows a range of options to help farmers adopt sustainable agricultural practices that can tackle tomorrow's challenges.
Willy de Greef, Secretary General of EuropaBio, endorsed the book commenting that, "Climate change poses a huge threat to the survival of millions around the world through famine and disease. It's our responsibility to stop talking shop and start leading by acknowledging, endorsing and applying the full range of tools available, including safe agricultural biotech solutions."
For the press release see: http://www.europabio.org/PressReleases/green/PR_090619_Green_Week.pdf . The full report can be downloaded at: http://www.europabio.org/positions/GBE/PP_090619_Climate_Change.pdf