News
Global
The recently released study on GM crops: global socio-economic and environmental impacts 1996-2009 by Graham Brookes and Peter Barfoot is hoped to become another eye opener for the farmers and policy-makers in Europe. The higher profits from higher yields and environmental benefits of biotech crops translate to savings of more land, fuel, money, reduced application of crop protection products, and less water. A related study by the Joint Research Center of the EC revealed that farm income increase by up to €122 per hectare, led to higher average yields of 11.8% during heavy insect infestation, and resulted to a reduction in insecticide costs by as much as €20.4 per hectare.
Carel du Marchie Sarvaas, EuropaBio's Director for Green Biotechnology Europe, commented, "Purely in economic terms, a recent study showed that EU farmers are missing out on €440-930 million each year, simply because they do not have access to the GM crops that could be grown here. This means, as well, that there are other foregone benefits, such as no-till methods, fuel savings, and carbon emissions reductions. There is no question that these crops are beneficial – otherwise, why would 15.4 million farmers around the world continue to plant them?"
For more on this article, see http://www.europabio.org/PressReleases/green/2011-04-15-15.4-million-farmers-can-not-be-wrong-GM-crops-offer-tangible-socio-economic-benefits.pdf.
Africa
During the launch of Ghana Policy Action and nodes organized by the Ministry of Food and Agriculture in partnership with the Alliance for Green Revolution (AGRA) in Accra, Minister of Food and Agriculture (MOFA) Kwesi Ahwoi declared that achieving agricultural growth and transformation in Africa can only be achieved if there is existence of supportive policies that would meet the needs of farmers.
The development of the Ghana Policy Action is aimed at developing progressive national agricultural policies to raise productivity, increase household incomes and assure household and food security, said the press release.
He further said that with technical and financial support from AGRA, the MOFA can engage with senior policy makers, national, regional and international research centers to form policy action nodes along seeds, soil health, markets and environment and climate change policy thrusts.
For more on this news, see http://www.ghanaweb.com/GhanaHomePage/NewsArchive/artikel.php?ID=207100.
[ Send to a Friend | Rate this Article ]
---
A meeting of biosafety service providers in Africa together with focal points took place in Nairobi, Kenya from April 11 to 12, 2011. The meeting was the third biosafety coordination meeting one year after the second one held in Ouagadougou, Burkina Faso on April 9, 2010. Representatives from 12 biosafety initiatives and focal points from 12 countries attended the two-day meeting which was organized by the AU-NEPAD Agency ABNE, in collaboration with the IFPRI/Program for Biosafety System (PBS).
Up for discussion was the coordination and collaboration among service providers in the area of Biosafety programming. Participants shared insights and reflections that could inform organizations and individuals involved in Biosafety; facilitated the establishment of workable agricultural biotechnology regulatory frameworks through a platform that would synergize work on emerging Biosafety legislations in Africa; and promoted information sharing on the Sub-Regional Framework on Biosafety, to improve the capacity of member states for Biosafety administration and management.
During the meeting, it was emphasized that African countries must develop workable regulatory frameworks that are science-based, predictable, transparent and balanced. Discussions focused on the assessment of the legislative environment of COMESA and ECOWAS countries, the critical issues in legislating biotechnology in Africa focusing on country experiences, challenges,and lessons learned. The Nagoya-Kuala Lumpur Supplementary Protocol and the industry position as revealed in the compact were also shared. To minimize duplication, participants agreed to establish an information exchange platform across various biosafety initiatives through annual meetings; exchange of work plans among service providers, and cost-sharing among listservs. It was concurred that strategies for preparatory meetings for stakeholders on Nagoya outcomes such as environmental risk assessment, socio-economics at both country and regional levels be developed.
Participants recommended continuous capacity strengthening for regulators and other stakeholders involved in biosafety legislation processes. They also proposed to develop training information kits or manuals for regulators. A working group was formed and timelines agreed upon for activities to be carried out jointly by the service providers.
For more information, contact Prof. Diran Makinde, Director of the AU-NEPAD Agency African Biosafety Network of Expertise at diran.makinde@nepadbiosafety.net.
[ Send to a Friend | Rate this Article ]
---
Kenyan Minister for Higher Education, Science and Technology Hellen Sambili has committed to publish the Kenya Biosafety Regulations, which will take the country to the next level of commercialization of genetically modified crops. The Minister opened a stakeholders' workshop to discuss the draft Biosafety regulations at the Kenya Agricultural Research Institute (KARI) headquarters on April 12, 2011. She said the workshop aimed to solicit stakeholders' inputs into the regulations in compliance with the Cartagena Protocol on Biosafety for Public Participation in regulatory matters. The government published a National Biotechnology Development Policy in 2006, enacted the Biosafety Act in 2009, and established a National Biosafety Authority in 2010.
Stakeholders from research institutions, ministry officials, parliamentarians, universities, civil society, industry and various embassy representatives participated and provided valuable contributions towards the refinement of the Draft Regulations. The final draft will be presented to the Minister for publication in the gazette, which in essence will operationalize the Biosafety Act. The three sets of Draft Regulations are: the Contained Use, the Environmental Release; and Export, Import and Transit. These have been developed by the National Biosafety Authority together with its regulatory agencies and in consultation with the State Law Office.
The National Biosafety Authority acting C.E.O., Dr. Roy Mugiira informed the audience that the crops in the pipeline for commercialization are Bt cotton, the Water Efficient Maize for Africa (WEMA) and Insect Resistant Maize, among others.
For more information contact Dr. Roy Mugiira, Acting C.E.O of the National Biosafety Authority, at roybmugiira@gmail.com or Mugiira@yahoo.com.
Americas
Susceptibility of the North American viburnums, the common woody shrubs found in gardens and forests to viburnum leaf beetle (Pyrrhalta viburni) has been a puzzle to entomologists. Cornell University researchers believe that the beetle was able to successfully invade the North American plant species because of their inherent lack of disease resistance mechanism, compared to related South American, Asian, and European species. The paper which examines the relationship between the shrub and the beetle was published in the April 11 issue of journal Proceedings of the National Academy of Sciences.
"North American viburnum species have not evolved with a leaf beetle," said Anurag Agrawal, professor of ecology and evolutionary biology, and the paper's senior author. He added that, "In the absence of beetle pests, the North American species have evolved low levels of defense."
The team studied evolutionary relatedness among groups of organisms using molecular sequencing data and morphology.
For more on the news, see http://www.news.cornell.edu/stories/April11/ViburnumBeetle.html.
[ Send to a Friend | Rate this Article ]
---
Refuge-in-a-bag product is the current strategy to delay build-up of insect resistance to the Bt protein. This is an important strategy since about 65% of the planted corn in the US is Bt hybrid. The product contains 90 percent Bt corn seed with 10 percent non-Bt 'refuge' bag. Farmers can plant all the seed together so that in the field, refuge corn is interspersed in the field with Bt corn.
Christian Krupke, a Purdue University entomologist, said "Refuge corn dilutes the genetic traits that made them survive with susceptible ones from insects that fed on non-Bt corn and, therefore, should be susceptible." He added that "The other advantages with having Bt and refuge plants mixed together in a field is that you get the rootworm beetles closer together, which facilitates matings between beetles that might be Bt resistant and those that are susceptible from the refuge."
More information on this news can be seen at http://www.purdue.edu/newsroom/outreach/2011/110413KrupkeRefuge.html.
[ Send to a Friend | Rate this Article ]
---
Purdue University Extension plant pathologist Charles Woloshuk has published a three-page report on Diseases of Corn: Aspergillus Ear Rot to address inquiries on the most important and challenging disease of corn. Aspergillus produces a deadly mycotoxin known as aflatoxin that affects the liver and suppresses the immune systems of livestock and man, leading to weight loss, cancer or death.
Currently, there is no commercial corn hybrid that is resistant to the disease. Several recommendations to address the disease were suggested, including reduction of stress (drought, nutrition, temperature) in the corn plant to resist the pathogen. The author also provided information on the US Department of Agriculture's action levels or regulations based on the amount of aflatoxin present and the grain's end use.
"Accurate mold identification is critical for making the right feeding and management decisions, so producers should confirm any mold identification at a diagnostic laboratory," Woloshuk said. The Purdue Plant and Pest Diagnostic Laboratory (www.ppdl.purdue.edu) offers mycotoxin testing.
For details of the news, see http://www.purdue.edu/newsroom/general/2011/110412WoloshukRot.html.
[ Send to a Friend | Rate this Article ]
---
Scientists in West Virginia have planted purple-black HoneySweet plums, which are one of the two transgenic fruit trees approved by the US Department of Agriculture (USDA). This genetically engineered (GE) fruit has been developed by the scientists of USDA to fight the emerging, invasive plum pox virus, which has infected 100 million trees in Europe and surfaced in Pennsylvania, Michigan, and New York during the past 12 years.
"We couldn't find a gene for plum pox resistance in any plums, so we turned to genetic engineering," says Ralph Scorza, a horticulturist and lead scientist at the USDA's Appalachian Fruit Research Station. "We've had test-field plantings in Europe since 1996 and the U.S. since 1995, and we've never had a single tree infected."
HoneySweet plums have been in the GM approval pipeline for eight years and will clear final regulatory hurdles this year. Scorza said that he does not expect farmers to plant the GE plum since plum pox can still be managed. But when the pathogen causes outbreaks in the U.S., especially in California which is the largest producer of prunes, HoneySweet will be of great help to producers.
For more details, read http://audubonmagazine.org/features1103/biotech.html.
[ Send to a Friend | Rate this Article ]
---
The Sectorial Regulations for Biosafety of GMOs for Agriculture, Forestry, and their Derive Products were approved and published as Supreme Decree No 003-2011-AG and signed by the President and by the Minister of Agriculture of Peru on April 14, 2011. The Regulations was written and subjected to public discussion, and amended accordingly some two years ago. However, the opposition of the Ministry of the Environment fostered a moratorium on the approval of GMOs which delayed approval.
The approved regulations will allow the National Institute of Agricultural Innovation (INIA) of the Ministry of Agriculture to exercise powers of regulation, risk analysis and monitoring on applications for agro-GM field testing and production in Peru. At present, a GM sterile potato variety with resistance to the Andean moth has been developed in Peru by the International Potato Center, and INIA is in the process of developing a local GM papaya variety resistant to a local viral strain. Peru is also developing a National Biotechnology Center for Agriculture and Forestry as a research and service institution.
Decree DS 003-2011-AG and the full text of the Regulation and its Annexes I and II (in Spanish) are accessible at http://www.inia.gob.pe/eventos/evento0694/default.htm.
For more news on biotech in Peru, email Dr. Alexander Grobman at
alexander.grobman@gmail.com
or Dr. Javier Verastegui at
verastegui.javier@gmail.com
.
[ Send to a Friend | Rate this Article ]
---
At the recent meeting at the Ministerial level of the Governing Body of the International Treaty for Plant Genetic Resources for Food and Agriculture (ITPGRFA) in Bali, Indonesia and the subsequent technical level meeting, the Peruvian delegation read a statement of the Minister of Agriculture of Peru, announcing the initiative of developing an Andean Center for Phytogenetic Resources. It hopes to expand present facilities and germplasm banks existing in Peru and place facilities of the National Institute of Agricultural Innovation at its disposal.
The project will expand present collections of plants in storage, amounting to 17,500 accessions by exploration and collection of cultivated plant landraces and varieties, and wild related species. The Center will also store, index and document accessions. It will explore the potential of useful genes in the various species including some underutilized or "orphan species" of the 142 agricultural species that have been domesticated in Peru, one of the major world centers of agricultural plant origins and primary variation.
Countries of the Andean and Amazonian regions will be invited to participate in the project . Other countries, will also be able to participate in the project as it will be established under the ITPGRFA, which is linked to the Food and Agriculture Organization.
Email Dr. Alexander Grobman of PeruBiotec at alexander.grobman@gmail.com for more details.
Asia and the Pacific
In an impact assessment of its research and development, Australian Centre for International Agricultural Research (ACIAR) Principal Advisor Dr. Simon Hearn said that agricultural research partnerships are effective and efficient forms of international development assistance that improves the livelihoods of the poor and assist Australian farmers along the way.
Successful investment results include the projects in fisheries in Indonesia with a benefit:cost ratio (BCR) of 52:1, breeding and feeding pigs in Vietnam (BCR 159:1), and in research identifying the sex pheromone of the sugarcane borer moth in Papua New Guinea, a BCR 46:1. In the 120 ACIAR projects, there was a total benefit of A$31.6 billion (A$15.9 billion attributable to ACIAR), from an outlay of A$372 million.
"These and other studies demonstrate the value of agricultural research partnership investments as an increasingly important part of Australia's development assistance program, a relevant consideration in the context of food security and development debates in Australia and overseas," he said.
Details on this news can be seen at http://aciar.gov.au/node/13511.
[ Send to a Friend | Rate this Article ]
---
China-Brazil Joint Laboratory of Agricultural Sciences was established at the Chinese Academy of Agricultural Sciences (CAAS) on April 13, 2011. This is the first laboratory set up with a Latin American country for agricultural sciences in China. The cooperation between CAAS and Embrapa from Brazil will encourage application and commercialization of technological achievements . It will commit agricultural sustainability and improve international influence for both countries, as well as to ensure food security and stimulate economic development of other developing countries.
At the opening ceremony, Huqu Zhai, president of the CAAS, said that the joint lab will promote bilateral development in genetic resources, biotechnology, renewable energy, food processing technology, animal husbandry and veterinary, agricultural ecology, environmental science, grassland science, and also training on communication of researchers. In addition, another joint lab will be set up in Embrapa in 2012.
For more information, contact Prof. Hongxiang from the China Biotechnology Information Center at zhanghx@mail.las.ac.cn.
[ Send to a Friend | Rate this Article ]
---
An auditorium in the biotechnology hub of Singapore, BioPolis became glitzy during a recent fashion show organized by the Malaysian Biotechnology Information Centre (MABIC), International Service for the Acquisition of Agri-biotech Applications (ISAAA) and Genetic Modification Advisory Committee of Singapore. The fashion show featured outfits carrying the elements of modern biotech such as DNA, plasmids, Bt corn, Bt brinjal, and Golden Rice among others. It was part of a Public Forum on Biotechnology Communication where experts from India, Kenya, and Malaysia shared their experiences in bridging the gap between science and society.
This is the third biotech fashion show organized by MABIC which aims to make biotechnology more attractive to the lay public and to reach out to a wider audience. The young designers from Universiti Teknologi Mara, Malaysia explained the biotech behind their creations. They had no science background and read up on modern agri-biotechnology to be able to create the unique designs. Designers and their lecturers vowed to continue using biotechnology motifs in their work.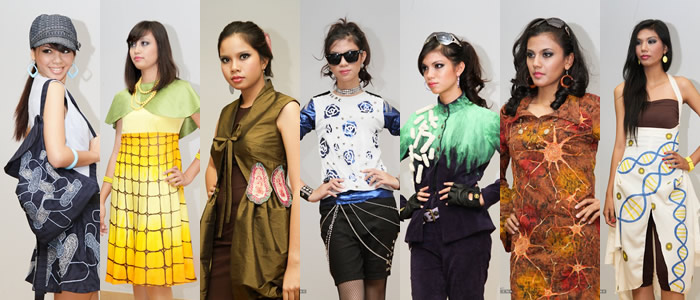 Visit http://www,isaaa.org to download a brochure on MyBio Carnival which highlights the use of a fashion show to popularize biotechnology. For more information, email Mahaletchumy Arujanan of MABIC at maha@bic.org.my.
[ Send to a Friend | Rate this Article ]
---
Vanilla planifolia, the source of the vanillin flavor used in food, can now be grown through micropropagation. The perennial orchid is propagated through a labor intensive, time-consuming and not economical method of stem cuttings. Scientists in the School of Biosciences on the University Malaysia's campus (UNMC) have developed the tissue culture method of propagation but found that there were variations in the sub-clones of one parental line, creating sub quality off-types. Scientists Peter Alderson and Chin Chiew Foan of UNMC were provided a grant to use DNA marker systems to investigate how these mutations occur.
Dr. Chin Chiew Foan said: "Our research will help to provide a tool for tracking abnormality of growth occurring in tissue culture and will also attempt to understand how such abnormalities can occur after a number of cycles of subculturing in tissue culture. Currently, we are developing a tool that will explore the internal RNA sequence region to detect sequence variations. Our initial results indicate that some variability of DNA fragments exists among the tissue culture samples under study. We are sending these DNA fragments for sequencing to reveal the level of mutations that has taken place."
The news article can be viewed at http://www.nottingham.ac.uk/news/pressreleases/2011/april/vanilla.aspx.
[ Send to a Friend | Rate this Article ]
---
"Farmers show high interest in genetically modified organism (GMO) products that we're going to bring to the market as Vietnam extends the sector in 2012," opined Paul Schickler of Pioneer Hi-bred during his recent trip to Vietnam.
The country with its strong economic growth and young population can easily adopt biotech crops and reap the benefits to support its increasing population. Genetically modified (GM) seeds which can protect crops against pest and weed without using too much pesticide and herbicide, have the potential to boost productivity, ensure food security in the midst of limited land use and negative environmental factors such as climate change.
Recently, the country started field trials of biotech corn and has launched a pilot program to develop GM crops on a large scale, overseen by the Agriculture Ministry. The trial phase will be completed by the end of 2011 and commercialization is hoped to commence by 2012.
The original article can be seen at http://english.vietnamnet.vn/en/science-technology/6942/pioneer-pins-high-hopes-on-gm-seeds-in-vietnam.html.
Europe
The Ministry of Agricultural Policy and Food of Ukraine has recently issued a decree "to strengthen state control over the safety of agricultural products and the presence or absence of genetically modified organisms in it." The Order is seen as a technical barrier to trade violating Ukrainian obligations in WTO. It also does not contribute to improving any security issue or to the implementation of the Law of Ukraine on GM organisms.
For details of the news and the specific Orders, see http://www.bsba.ag/BSBA/NewsEn/Entries/2011/4/15_Ukraine_introduces_measures_to_strengthen_state_
control_over_the_safety_of_agricultural_products_due_to_possible_presence_of_GMO_in_it.html.
[ Send to a Friend | Rate this Article ]
---
Learning from Nature to Protect Crops is the new research program established by the Wagenigen University. The program lead by entomology professor Marcel Dicke aims to create an overview of the key stress factors for crops, such as nematodes, fungi, insects and viruses, and stress factors such as drought, salt and heat.
Arabidopsis thaliana, the molecular biologists' model plant will be used to facilitate comparison of the interactions between the plant and the different sources of disease. Different research groups will evaluate the plant for specific stress factors, results of which will be entered in a central database, and bioinformatics scientists will determine the gene function.
For more on this news and to know the collaborating research facilities involved, see http://www.wur.nl/UK/newsagenda/news/All_diseases_and_pests_in_a_single_database.htm.
[ Send to a Friend | Rate this Article ]
---
Monsanto is lacking only one approval from the U.S. Food and Drugs Administration for Soymega™, the genetically modified soybean that produces heart-healthy omega-3 fatty acids. Many are speculating that the approval will be granted this year.
Soymega can be added to a broad variety of food products which include cereals and baked goods. Once approved, this will provide more sources of omega-3, instead of just getting it from fish.
According to Dr. Gilbert Ross, Executive Director and Medical Director of the American Council on Science and Health (ACSH), Soymega could be a beneficial, genetically improved product. "The future of genetic modification for both agricultural products and pharmaceuticals (biopharming) is unpredictable but obviously vast," he added.
The original article is available at http://www.acsh.org/factsfears/newsID.2536/news_detail.asp. Know more about Soymega at http://www.monsanto.com/products/Pages/soymega-soybeans.aspx.
Document Reminders
Updated versions of the following Pocket Ks are now available for download:
The International Service for the Acquisition of Agri-biotech Applications' (ISAAA) Pocket Ks are Pockets of Knowledge, packaged information on crop biotechnology products and related issues produced by the Global Knowledge Center on Crop Biotechnology. These publications are written in easy to understand style and downloadable as pdf for easy sharing and distribution.
Other topics are also available at http://www.isaaa.org/resources/publications/pocketk/.
---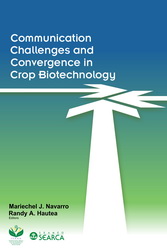 Asia and the Pacific are expected to spearhead the global market for crop biotechnology. Four countries in Asia and the Pacific-Australia, China, India, and the Philippines are mega biotech countries or those that grew 50,000 hectares or more of biotech crops. These countries take the lead in sharing their experiences in communicating biotechnology in a book Communication Challenges and Convergence in Crop Biotechnology edited by Drs. Mariechel J. Navarro and Randy A. Hautea of the International Service for the Acquisition of Agri-biotech Applications (ISAAA). Science communication initiatives of countries such as Philippines, China, Australia,Thailand, India, Malaysia, Bangladesh, and Vietnam as well as the Organization of Islamic Conference countries and CropLife Asia are discussed in the 13 chapter, 310 page book.
The authors say that the book presents case studies that offer unique and rich examples of how countries have been able to guide through the 'drama' of crop biotechnology as they shepherd innovations from the laboratory, greenhouse trials, multi-location trials, and hopefully to farmers' fields. "Each country is making its own contribution, and together they converge to form a consensus on crop biotechnology," they added. Lessons learned from counter experiences will hopefully contribute to a better appreciation and understanding of the crucial role of science communication in the laboratory to farmer's field continuum.
The case studies show that despite diversity in culture, political set-up, economic development, religious beliefs, and language, countries have been able to address specific issues that impede or hasten the development of crop biotechnology. "An appreciation of science communication and appropriate strategies have led to a better understanding of the societal environment where the technology can best thrive," the authors conclude. The book is jointly produced by ISAAA and the Southeast Asian Regional Center for Graduate Study and Research in Agriculture.
Get your copy at http://www.isaaa.org/purchasepublications/itemdescription.asp?ItemType=BOOKS&Control=BK002.
---
Tropical Plant Biology journal released a special edition titled "Sugarcane" with an article about the advances in transgenic research for insect resistance in sugarcane. According to the review, sugarcane production losses due to pests reach 10% and thus the need for transformed resistance to biotic stresses. Conventional breeding for such trait is difficult due to the genetic complexity of the plant. The authors recommend field-level strategies based on the success of other GM crops, along with the search for new potent replacement molecules for transformation.
The review is available at http://www.springerlink.com/content/c1416tw3k9443513/