News
Global
The Nagoya-Kuala Lumpur Supplementary Protocol on Liability and Redress to the Cartagena Protocol on Biosafety has closed for signatures with 51 signatories. For 2012, a total of 14 countries have signed the supplementary protocol including Brazil, United Kingdom of Great Britain, and Japan. It will be implemented after 40 countries have ratified it. To date, Latvia and Czech Republic are the countries that have ratified the supplementary protocol.
The supplementary protocol was formed in March 7, 2011 to contribute to the conservation and sustainable use of biodiversity, and at the same time considering account risks to human health, by providing international rules and procedures in the field of liability and redress relating to living modified organisms.
Read the media release at http://www.cbd.int/doc/press/2012/pr-2012-03-08-nklr-en.pdf.
Africa
Six representatives from Chad, Benin, Mali and Burkina Faso will be hosted by Australian scientists and farmers to learn knowledge and insights on cultivating cotton, to improve their cotton farming practices, and cotton seed production, to consequently reduce poverty in Central and West Africa.
Dr. Peter Carberry, Deputy Director of CSIRO's Sustainable Agriculture flagship, said non-staple crops like cotton are extremely important for West Africa. "These crops provide small holder farmers with cash to either purchase food or buy farm inputs that can be used to grow other food crops like maize and sorghum. Cash crops also offer important income sources for things like school fees and medical expenses," Dr. Carberry said.
The visit is funded by the Department of Agriculture, Forestry and Fisheries (DAFF), through its International Agricultural Cooperation program, with support from Conservation Farmers Inc. (CFI).
The news can be seen at http://www.csiro.au/en/Portals/Media/Australian-science-lessons-West-Africa.aspx.
[ Send to a Friend | Rate this Article ]
---
A report titled Initiating Agricultural Biotechnology in Tanzania released by the Tanzania Pesticides Research Institute (TPRI) in Arusha says that biotechnological innovations are potentially powerful tools for improving agricultural production and productivity. In addition, they will also address issues related to food quality, human health, industrial development and natural resource utilization and protection.
"The diversity of available techniques alone is sufficient to cater for sustainable development needs of the resource for poor-farming communities of Tanzania where hunger, poverty, malnutrition are chronic problems," the report noted.
Likewise, while the use of biotechnology can promote development of new related industries and create more employment opportunities, the report called for responsible use of the technology. Specifically, this means deciding how technology is embraced in the national research agenda, setting policies, and determining the benefits and risks of biotechnology application.
View the original news report at http://allafrica.com/stories/201203120192.html
Americas
The practice of hardening – the withdrawal of water from plants which are due for transplanting has been termed anew. The new term drought-hardening justifies its practice in the development of the transplants' response to drought. The paper published in the journal Nature Communications discuss the mechanisms involved in the process.
Using the model plant Arabidopsis, the researchers including Michael Fromm of the University of Nebraska-Lincoln compared the reaction of plants that had been previously stressed by withholding water to those not previously stressed. Results showed that the pre-stressed plants recovered more quickly the next time they were water stressed. The non-trained plants wilted faster and their leaves lost water at a faster rate than trained plants.
The team found that the response of the trained plants corresponds to the increased transcription of certain genes during dehydration. They also found that during recovery periods when water is available, transcription of these genes returns to normal levels, and when similar drought period comes, the plants are now attuned to take the transcriptional response to stress and induce these genes to higher levels.
More on the story can be viewed at http://cropwatch.unl.edu/web/cropwatch/archive?articleID=4764327
Asia and the Pacific
Some 44 science communication practitioners from Asia (Bangladesh, China, India, Indonesia, Iran, Japan, Malaysia, Pakistan, Philippines, South Korea, Thailand, and Vietnam), Africa (Egypt, Kenya, Uganda), and Latin America (Peru) converged in Phuket, Thailand to share experiences on initiatives to increase awareness and appreciation of crop biotechnology.
The participants highlighted innovative communication strategies to help stakeholders make decisions regarding their acceptance or use of biotechnology. These include animation and cartoons, radio programs, exercises with children, nontechnical news magazine, and exchange visits to biotech farms. A story book on the Adventures of Mandy and Fanny in Kenya: the Future of Sustainable Agriculture was launched by the AfriCenter team. It is the Kenyan adaptation of an educational cartoon book developed by the ISAAA South Asia Office, India. It narrates the story of Mandy (Bt corn) and Fanny (Bt cotton) who provide useful insights on biotechnology and its benefits, as well as clarifies misconceptions.
The workshop highlighted the dynamics of science and society that affect technology acceptance and adoption; hence the need to prioritize knowledge sharing initiatives that reduce misinformation and encourage interaction among stakeholders. It was organized by the International Service for the Acquisition of Agri-biotech Applications (ISAAA) and the Biotechnology and Biosafety Information Center in Thailand.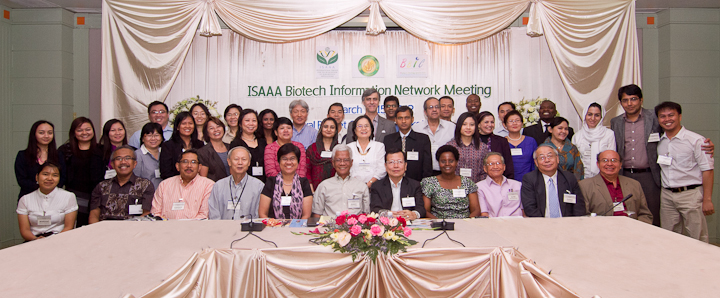 Obtain additional information from knowledge.center@isaaa.org
[ Send to a Friend | Rate this Article ]
---
The Commonwealth Scientific and Industrial Research Organization (CSIRO) and the Cotton Seed Distributors (CSD) announced during the Cotton Breeding Australia Symposium the continuation of their cotton joint project for another five years. The renewed project involves a $35 million project for the Australian cotton industry which focus on improved quality; higher yields; drought and heat tolerance; water use efficiency and pest and disease resistance.
"CSIRO-bred varieties currently comprise the entire Australian market and we are pleased our expertise in biotechnology and core breeding is delivering results in the field," said Dr Jeremy Burdon CSIRO Division of Plant Industry's Chief.
The Symposium held in Narrabri, NSW brought together representatives and growers from the cotton industry, shared new developments and discussed ways to combat the challenges which the industry may face in coming years. CSD has been working with CSIRO for nearly 30 years and has been delivering valuable technologies to cotton growers in Australia.
See the news at http://www.csiro.au/en/Portals/Media/CBA-Cotton-Announcement.aspx.
[ Send to a Friend | Rate this Article ]
---
The Senior Officials' Meeting (SOM) of the 31st United Nations Food and Agriculture Organisation (FAO) Regional Conference for the Asia-Pacific opened in Hanoi on March 12, with hundreds of delegates from over 40 member countries taking part. Addressing the opening ceremony, Vietnamese Minister of Agriculture and Rural Development Cao Duc Phat said this year's event takes the theme "Food Security" and "Poverty Reduction in Rural Areas", which are practical and urgent issues, given that 65 percent of people living in the Asia-Pacific region are suffering from hunger. He added the reduction by half of hungry and poor people by 2015, as set in Millennial Development Goals, is a great challenge to the world and the Asia-Pacific in particular.
Dr. Hiroyuki Konuma, Regional representative for Asia and the Pacific, stressed the need to increase global food output by 60 percent, especially in developing countries and encouraged agricultural expansion, application of scientific and technological advances, provision of training, reduction of the impact of climate change, and harmonization in the development of biofuels with the goal of ensuring food security.
From March 12 to13, participants will discuss relevant issues and provide heads of delegations with consultancy on strategies and measures for endorsement at the plenary session, to be convened on March 15-16.
See the news at http://en.vietnamplus.vn/Home/UN-regional-food-conference-opens-in-Hanoi/20123/24805.vnplus. For biotechnology news in Vietnam, contact Hien Le of Agbiotech Vietnam at hientttm@yahoo.com.
[ Send to a Friend | Rate this Article ]
---
Kenyan High Commissioner to Pakistan Mishi Masika Mwatsahu highlighted the need to improve bilateral cooperation between the two countries in agricultural research and trade. She was a guest during the Spring Festival at the University of Agriculture Faisalabad (UAF). She said with stronger ties, the two countries could learn useful lessons on the various challenges they face. In addition, the Commissioner opined that farmers and consumers in both countries would benefit from joint research projects in agriculture, the former by boosting their incomes and the latter by getting better-quality food products.
The Kenyan High Commissioner praised the UAF for giving equal access to education to women. She was told that women students were of 40 percent of the total enrollment at the university. The majority of these women belonged to rural areas and families that were engaged in agriculture.
Check out the article at http://www.pabic.com.pk/Joint%20Agricultural%20Research%20Project%20of%20Pak%20and%20Kenya.html
[ Send to a Friend | Rate this Article ]
---
Scientists at the Commonwealth Scientific and Industrial Research Organization (CSIRO) introduced a salt-tolerant gene in a commercial durum wheat variety using conventional breeding techniques. Results of the field trials showed that the new variety outperforms other commercial varieties by 25 percent.
According to the researchers, the salt-tolerance gene stops sodium from getting to the leaves. The research is the first study that fully describes the development of salt-tolerant agricultural crop that starts from understanding the role of the gene in the lab to demonstrating increased grain yields in the field.
"Farmers now have additional options for maximizing profits by growing a premium wheat in those more saline paddocks which they may typically avoid or reserve for less valuable crops," said CSIRO researcher Dr. Richard James.
Get more information about the study at http://www.csiro.au/en/Portals/Media/Wheat-farmers-salinity.aspx.
[ Send to a Friend | Rate this Article ]
---
India will not accomplish its economic growth goals and potential without new and sustained government reforms, according to a new policy report released by Rice University's Baker Institute for Public Policy. The report titled Limits of the Jugaad Growth Model: No Workaround to Good Governance for India was authored by economist Russel Green.
Green tackled the much needed reforms in different aspects such as education, taxes, governance, debt collection, and agriculture. For agriculture, Green said that India must cut out the middlemen mandated through current agricultural marketing laws. India must also remove barriers to interstate trade. With such changes, there will be a bigger difference than multibrand detail foreign direct investments in developing the plight of small farmers and decreasing the pressure on food process that fuel inflation spikes.
Read more information at http://news.rice.edu/2012/03/15/india-cannot-achieve-china-like-growth-without-reforms/.
Europe
Blood orange juice has been known to reduce oxidative stress in diabetic patients, protect DNA against oxidative damage, and reduce cardiovascular risk factors, just like other high-anthocyanin foods. However, the development of red pigmentation in oranges requires a period of cold prior to ripening. Thus, scientists at John Innes Centre isolated the gene responsible for blood orange pigmentation and named it Ruby. The team also discovered how the expression of Ruby can be controlled so blood oranges can grow even in sunny areas.
"Blood oranges contain naturally-occurring pigments associated with improved cardiovascular health, controlling diabetes and reducing obesity," said Professor Cathie Martin from the JIC. "Our improved understanding of this trait could offer relatively straightforward solutions to growing blood oranges reliably in warmer climates through genetic engineering."
Read the complete story at http://news.jic.ac.uk/2012/03/blood-oranges/.
[ Send to a Friend | Rate this Article ]
---
The European Commission JRC published one summary notification for the limited environmental release of genetically modified potato with resistance to Phytophthora infestans, the causal pathogen of late blight disease. The environmental release will be conducted to quantify the impact of GM potato cultivation on bacterial, fungal, nematode and earthworm diversity in the soil, compared to a conventional potato system; identify integrated pest management (IPM) strategies and components which could be positively or negatively affected by the adoption of GM late blight resistant potato; and to educate various stakeholders on the issues and concerns that the public has on GM crop cultivation in Ireland.
The study will be conducted in June 2012 to December 2016 in Oak Park, Co. Carlow, Ireland by the Teagasc Company, Ireland.
See the notification at http://gmoinfo.jrc.ec.europa.eu/gmp_report.aspx?CurNot=B/IE/12/01.
[ Send to a Friend | Rate this Article ]
---
Bayer CropScience is changing from a producer of crop protection products to a biotechnology and seed breeding group. CEO Helmut Schramm announced that the company will increase its research and development allocation to enable genetic engineering and breeding efforts. Biotech research will account for 50 percent of its total research activities. Over 850 million € is expected to be spent on biotech research.
The company will strengthen its presence in Brazil, Russia, India and China. The acceptance of biotech in Europe, according to Schramm is only "a matter of time."
See the original article in German at http://www.agrarheute.com/bayer-cropscience.
Research
Purification of therapeutic monoclonal antibodies from genetically modified plants is considered as a low-cost technique with high scalability and ensured product safety. However, it is a challenge to purify antibodies in plants compared with animals due to the need for large quantities of biomass required in the process.
Scientist Michael McLean and team from the University of Guelph in Canada developed and used Protein A oilbodies (OB) technology to purify trastuzumab, an anti-HER2 (human epidermal growth factor receptor 2) therapeutic antibody from Nicotiana benthamiana. They isolated Protein A-OB from transgenic safflower seeds then used to capture human IgG (hIgG) spiked into buffer, hIgG spiked into the wild-type plant extract, and trastuzumab from genetically engineered N. benthamiana plants. With these results, it is verified that Protein A-OB is a promising tool for the purification of antibodies from plants.
Read the abstract at http://www.springerlink.com/content/mu7k002428255jr4/.
[ Send to a Friend | Rate this Article ]
---
Maize rough dwarf disease is one of the major viral diseases of maize in China. It is caused by rice black-streaked dwarf virus (RBSDV). Previous studies have shown that viral infection of plants might cause distinct disease symptoms through inhibition or activation of host gene transcription. Thus, China Agricultural University scientist Meng-Ao Jia and colleagues analyzed the gene expression profile of maize infected by RBSDV using specialized gene chips to reveal possible expression changes linked to symptom development.
Results of the analysis showed the occurrence of alterations in expression of different resistance-related genes as well as cell wall- and development-related genes. These findings could be used to look for new ways to protect cereal crops against viruses, and reveal the molecular mechanisms involved in the development of specific symptoms in rough dwarf-related diseases.
Subscribers of Molecular Plant Pathology can access the article at http://onlinelibrary.wiley.com/doi/10.1111/j.1364-3703.2011.00743.x/abstract.
[ Send to a Friend | Rate this Article ]
---
New sugarcane varieties are protected using morphological descriptors, which have drawbacks in recognizing morphologically alike cultivars. Thus, the development of a consistent DNA fingerprint system for identification of new varieties is important in breeding of these species.
Dennis Silva of the Federal University of Alagoas in Brazil, together with a team of scientists conducted a study to analyze molecular markers to assist in the protection of new sugarcane varieties (RB varieties) from the RIDESA breeding program. DNA sequences with microsatellites were extracted from a unique stretch of sugarcane DNA and analyzed in 15 accessions.
The markers revealed several alleles and low nonspecific amplification. The polymorphic information content showed high values for the three markers analyzed. The accessions showed an average genetic similarity of 0.46 and consisted of four distinct groups. With the primers used in the study, all accessions were distinguished from one another, which implies that the methodology could determine unique genetic profiles. Therefore, DNA fingerprinting is a useful tool in protection of new RB varieties developed though the RIDESA breeding program.
Read the research paper at http://www.academicjournals.org/AJB/abstracts/abs2012/13Mar/Silva%20et%20al.htm.
Beyond Crop Biotech
Oxford Nanopore Technologies in Oxford, U.K., developed a new technology that will sequence a human genome in just 15 minutes. The initial results of this new technology called GridION system was presented at the Advances in Genome Biology and Technology conference held in February 2012 in Florida. The company expects that the new machine will be marketed later this year. They are also developing a mini disposable USB-key sequencer, MinION, which can sequence about a billion base pairs of DNA and will be sold for less than US$900.
According to Daniel MacArthur, a geneticist who monitors the development of genomics industry, this new technology could have a seriously disruptive effect on the sequencing industry due to its flexibility, scalability, and low entry price.
Read the original article at http://www.nature.com/news/nanopore-genome-sequencer-makes-its-debut-1.10051.
[ Send to a Friend | Rate this Article ]
---
Spider venom could be the bioinsecticide of the future as they have been the all time insect predators. Researchers at The University of Queensland's Institute for Molecular Bioscience are currently looking at the insecticidal peptides found in spider venom compounds for use in controlling insects that threaten crops.
Speaking at recent Grain Research Development Center (GRDC), grains research Updates in the southern cropping region, GRDC Manager for Commercial Farm Technologies, Paul Meibusch said, a four-year project at the Institute for Molecular Bioscience, supported by the GRDC, is focused on the toxic short-chain peptides within spider venom for potential artificial reproduction.
He said, "Researchers are isolating peptides from these venoms and running them through a screening mechanism to assess their potential for replication and use in the grains industry.We believe this is an area that will continue to expand, for a number of reasons. Firstly, the products themselves are reasonably benign on the environment – they can be quite specific in which insects they control and are often safe for predators."
See the article at http://news.agropages.com/News/NewsDetail---6483.htm.
[ Send to a Friend | Rate this Article ]
---
A team of scientists from Cornell University, University of Illinois and Wellesley College have found that humans and bees share the same signaling compound in regulating novelty seeking (in humans) and scouting (in bees).
"The questions driving this study were, what makes some bees boldly go where no bee has gone before? What underlies the tendency of some bees to function as scout bees -- to seek novelty when foraging and house-hunting?" said co-author Thomas Seeley, Cornell professor of neurobiology and behavior.
Differentiating the scouting and the non-scouting bees, the researchers found strong differences in the expression of 10 genes that code for compounds dopamine, glutamate and gamma aminobutyric acid (GABA) signaling. Similar neurochemical signaling pathways have been associated in personality differences between humans which are important in understanding personality differences in organisms.
Details on this research can be viewed at http://www.news.cornell.edu/stories/March12/HoneybeeScouts.html