Americas
Scientists at the University of California, Davis, have cloned plants as seeds for the first time. According to one of the scientists, Simon Chan, they were trying to make a hybrid that breeds true, that even if it undergoes sexual reproduction, the offspring would be genetically identical to one parent.
In a previous study conducted last year, Chan and his team were able to breed haploid Arabidopsis plants carrying chromosomes from only one parent. After fertilization, the chromosomes from one of the parents are discarded. In the new study they crossed these plants with two mutants that can produce diploid eggs. The results of the experiment showed that "in about one-third of the seeds produced, the diploid eggs were successfully fertilized, and the chromosomes from one parent were eliminated, leaving a diploid seed that was a clone of one of its parents."
The researchers hopes to produce crop plants that can fertilize themselves and yield clonal seeds.
Read the media release at http://www.news.ucdavis.edu/search/news_detail.lasso?id=9766.
[ Send to a Friend | Rate this Article ]
---
Oak Ridge National Laboratory scientists have developed a transgenic switchgrass that can produce about one-third more ethanol by fermentation than the conventional switchgrass. This enhanced plant feedstock will be able to generate more biofuel per acre, which will benefit not just the transportation sector, but also the growers and farming community.
One of the teams working on the project led by Zeng Yu Wang, decided to "downregulate" a gene involved in lignin production. "The presence of lignin in plant cell walls interferes with the fermentation to produce biofuels," said Wang. "The transgenic lines require lower temperature preprocessing and only one-quarter to one-third the level of enzymes for equivalent ethanol fermentation compared to the unmodified switchgrass. This significantly lowers the cost of biofuels and biochemicals from this switchgrass."
For more details, visit http://www.ornl.gov/info/press_releases/get_press_release.cfm?ReleaseNumber=mr20110214-00.
[ Send to a Friend | Rate this Article ]
---
In attempts to improve the shelf life of tomatoes and to improve its nutritional content, scientists Autar Mattoo, a plant physiologist at USDA-ARS Sustainable Agricultural Systems Laboratory in Beltsville, Maryland collaborated with Avtar Handa's group at Purdue University. Spermidine synthase, a polyamine-producing yeast gene was introduced into tomato which resulted to an increase in the production of polyamine spermidine that modulates the tomato ripening process.
Results published in the Plant Journal also showed that there was delayed post harvest shelf life, slower rate of decay caused by diseases, and higher levels of lycopene in the transgenic tomatoes.
The news article can be viewed at http://www.ars.usda.gov/is/services/Introduction/February%202011%20AR%20Magazine.html
[ Send to a Friend | Rate this Article ]
---
The US Department of Agriculture had announced the full deregulation of Syngenta's corn amylase trait. The corn labeled as Enogen corn seed is the first genetically modified (GM) corn for the ethanol industry. It contains a gene that optimizes the action of the alpha-amylase enzyme on corn for efficient ethanol production.
Davor Pisk, Chief Operating Officer of Syngenta said that. "Enogen corn also reduces the energy and water consumed in the production process while substantially reducing carbon emissions."
The news release said that "the corn amylase trait in Enogen has already been approved for import into Australia, Canada, Japan, Mexico, New Zealand, Philippines, Russia, and Taiwan, and for cultivation in Canada."
See the original news at http://www2.syngenta.com/en/media/mediareleases/en_110211.html and http://www2.syngenta.com/en/media/pdf/mediareleases/en/20110211-EN-USDA-approves-Enogen-Corn-Amylase-Trait-for-Enogen.pdf.
Asia and the Pacific
In his speech at the Agriculture and Fisheries Summit last February 10, 2011, Philippine President Benigno Aquino said that farmers should be allowed to choose the technologies that are suited to their farm. The president's address, which was delivered by Agriculture Secretary Proceso J. Alcala, stated that the organic agriculture is being supported by the government. Still, he said "in spite of this, we are open to the use of technology that is safe to the environment and would increase the yield and income of farmers."
He was quoted "We shall allow our farmers to choose the technology to which they are comfortable and in which they have developed expertise. This technology should be suited to soil conditions in their farms." Pres. Aquino also highlighted his intention for Filipino farmers to get a significant part in $50-billion global organic food market. He said that the government will set a premium on organic farming trainings for farmers, what with the aim for the country of exporting organic products.
The Biotechnology Program Office of the Department of Agriculture is one of the lead agencies supporting the development of the genetically modified fruit and shoot borer resistant Bt eggplant in the Philippines. The Bt eggplant is a promising Bt crop technology that could resist the damage caused by the most destructive pest-eggplant fruit and shoot borer.
The Philippines is known to be the first in Asia to approve Bt corn for direct food, feed and propagation after several years of food and environmental safety assessment. Since 2003, after eight years of propagation, more than a million hectare of biotech corn have been planted throughout the country. The benefits derived by farmer adopters have been well-documented which include reduced pesticide inputs, improved yield, and better income.
For a related article, visit http://www.mb.com.ph/articles/304170/aquino-keeps-open-mind-biotech-crops. For more information on biotechnology in the Philippines, visit SEARCA BIC website http://www.bic.searca.org or e-mail SEARCA BIC at bic@agri.searca.org.
[ Send to a Friend | Rate this Article ]
---
Philippine National Academy of Science and Technology (NAST) President, and former UP President Dr. Emil Q. Javier; and University of the Philippines Los Baños (UPLB) Chancellor Dr. Luis Rey I. Velasco rebuked the unanticipated destruction of the anti-biotech group Greenpeace to the Bt eggplant field trial site in UPLB last February 17, 2011- the first time a research project was assaulted in the more than 100 years history of the revered University's campus. The anti-biotech group Greenpeace forced entry to the field experiment but only succeeded in uprooting more than a hundred non-transgenic eggplants, which served as pollen traps and check varieties (see picture).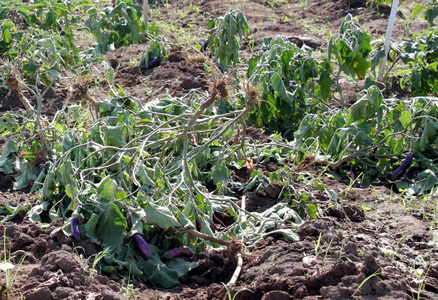 "It is a sad day for Philippine science. Misinformed, misguided people are denying our poor farmers and consumers the benefits of good science," said Dr. Javier. He added that the academy denounces and condemns the trespassing, destruction of government property, violation of academic freedom of university, and interference to legitimate activities of the scientific community. He also reaffirmed the academy's "support to the legitimate activity of the scientific community which is consistent with the national policy of the government on the safe and responsible use of modern biotechnology products."
Chancellor Velasco, meanwhile, pointed out that the group's actions were illegal. "The issue is about how members of Greenpeace came here to the University and did things that are unacceptable, morally, ethically, and legally. We are now forced to respond accordingly and take legal action against Greenpeace… The issue now is that these people have violated rules and legal procedures in the University and in the land. Because of their actions, we will have to deal legally with them as an institution," he said. The chancellor also asserted the right to research and called for its respect.
"We expect people who adhere to academic freedom and to science to also have equal respect to people who oppose their ideas. We respect opposing views and the views of Greenpeace. And while we do that, we are still bound by the rules and laws of the land," he said.
Chair of the Department of Agriculture-Biotechnology Program Office Dr. Candida Adalla also slammed the attack as the Bt eggplant trial has always been compliant to all government guidelines. Dr. Adalla said, "I particularly condemn the uprooting of the Bt plants because that is tantamount to stopping the truth to come out. Scientific experimentation is the only means to generate the truth and therefore all scientists should be allowed to conduct independent experiments."
The Bt eggplant project has been consistently complying with all the biosafety conditions prescribed by the Department of Agriculture Administrative Order 8, as set by the national regulatory agency Bureau of Plant Industry. The regulatory assessment of biotech crops in the Philippines is science-based and is considered as a biosafety framework model by other countries.
For more information about the incident, visit the original article at http://www.bic.searca.org/press_release/2011/18feb.html. Visit SEARCA BIC website http://www.bic.searca.org for more news about biotechnology in the Philippines.
[ Send to a Friend | Rate this Article ]
---
A Filipino corn farmer expressed regret on the recent intrusion and destruction of an anti-biotech group to Bt eggplant trial site in the University of the Philippines Los Baños. Ms. Rosalie Ellasus, a biotech corn farmer advocate from the province of Pangasinan, called for the group to consider the benefits at stake and hear the side of the farmers when it comes to what is beneficial for them.
She said that such groups need to understand the true needs of the farmers, and should not rashly take actions. Ms. Ellasus also lamented that the anti-biotech groups would not listen to the scientists. "They [the anti-biotech groups] won't listen to what biotech experts have to say. Maybe if they would open their minds, even just once, and see the truth, they would know how these crops really benefit our farmers," she said.
Ms. Ellasus pointed out that biotech farmers, which have been estimated to be already more than 125,000 in the country, cannot be stopped by the groups from cultivating the biotech crops. "They cannot do anything about it because we farmers have already seen the benefits of biotech corn," she said. "Many farmers are already anticipating for the Bt eggplant seeds. The crop is still under research, and it needs to go through the field trials to generate the data. They (the anti-biotech groups) are making our lives more difficult," she said.
For related article visit http://www.bic.searca.org/press_release/2011/18feb.html. For more updates in biotechnology in the Philippines visit SEARCA BIC website http://www.bic.searca.org.
[ Send to a Friend | Rate this Article ]
---
A University of the Philippines (UP) Manila professor at the National Institutes of Health, Dr. Jinky Leilani Lu, warned of the hazards posed by chemical pesticide spraying. She said that mere exposure of skin to the chemicals may be deadly. In the "Seminar on Creating Awareness, Knowledge, and Understanding of Biotech Crops" last February 10, 2011 at Pangasinan State University (PSU), Dr. Lu presented preliminary results of an ongoing study about pesticide, particularly insecticide residues in eggplant farms.
"Burning sensations, headache, and itchiness were among the symptoms recorded based on the health assessment among the farmers," reported Dr. Lu. She also reported the unsafe work practices observed among the farmers. Among these were the non-wearing of any Personal Protective Equipment during spraying and re-entering of a previously sprayed area. She recommended following safety tips such as donning proper gear before and immediately taking a bath after spraying.
In a related research effort, the practice of dipping eggplant fruits in a cocktail mix of insecticides was noted in a profitability study of eggplant farms in top provinces in the country by Dr. Cesar Quicoy, an economics professor from UP Los Baños.
According to Dr. Lu, the Bt eggplant technology is a very promising development in vegetable farming as it will tremendously decrease the health and environmental associated risks related to chemical pesticide use.
For more information about the seminar, e-mail SEARCA BIC at bic@agri.searca.org, or visit SEARCA BIC website http://www.bic.searca.org.
[ Send to a Friend | Rate this Article ]
---
During the 2020 International Conference on Leveraging Agriculture for Improving Nutrition and Health held in New Delhi, India, biofortification was mentioned by several speakers as an example of how agriculture can be leveraged to improve nutrition and public health.
One of the speakers is Inger Andersen, Vice-President of Sustainable Development at the World Bank and Chair of the CGIAR Fund Council. He spoke about the promise of biofortified foods for addressing hidden hunger: "The impact of [micronutrient] deficiencies…is staggering. There is an answer and one of these answers is clearly biofortified foods, which can provide nutrition where there was previously none. So, we need to increase this adoption by farmers."
The conference was organized by the International Food Policy Research Institute (IFPRI) with the theme "Leveraging Agriculture for Improving Nutrition and Health" on February 10–12, 2011.
Read more at http://www.harvestplus.org/content/biofortification-highlighted-recent-2020-conference.
[ Send to a Friend | Rate this Article ]
---
The International Food Policy Research Institute (IFPRI) research study "Bt Cotton and Farmer Suicides in India: An Evidence-based Assessment" published in the recent issue of the Journal of Development Studies provides a comprehensive review of evidence on the potential link between Bt cotton and farmer suicides in India. The study finds that there is no evidence of a 'resurgence' of farmer suicides in the country. Bt cotton may have indirectly contributed to farmer indebtedness, leading to suicides, but its failure was mainly the result of the context or environment in which it was planted, reports the study. Some of the critics opposed to Bt cotton in India have, without presenting supporting evidence, alleged that Bt cotton has contributed to farmer suicides in India.
On the contrary, the report concludes that Bt cotton technology has been very effective overall in India. The research article "Bt Cotton and Farmer Suicides in India: An Evidence-based Assessment" by Guillaume Gruère and Debdatta Sengupta is available at: http://www.informaworld.com/smpp/content~db=all~content=a932842104~frm=titlelink

For more information about biotech development in India, contact: b.choudhary@cgiar.org and k.gaur@cgiar.org.
[ Send to a Friend | Rate this Article ]
---
To transfer modern agriculture technology to local farmers, Pak-German Polytechnic Institute for Agriculture Technology in Multan, Pakistan organized a one-day farmer training program. Thousands of farmers from surrounding areas participated and showed willingness to adopt new technology. Zia-ul-Hassan Shad, project director of the Institute, briefed the farmers about tunnel technology, drip irrigation, cotton sowing, and benefits of non-traditional type of cultivation. Seed and pesticide companies exhibited products and discussed their importance.
For further details visit
http://www.pabic.com.pk/Farmer%20training%20programme%20held%20%20for%20One-day.html
[ Send to a Friend | Rate this Article ]
---
The University of Agriculture Faisalabad (UAF), Pakistan, will set up an International Agriculture Center to provide a foundation for biotechnology and address issues related to precision agriculture, efficient use of agricultural inputs, and climate change. Vice Chancellor Professor Iqrar Ahmad Khan made this announcement while addressing the participants of Horticulture Week at the Institute of Horticultural Sciences.
The vice chancellor added that the University of Western Australia intends to offer scholarships for conducting research in flood hit areas.
For further details visit http://www.pabic.com.pk/UAF%20setup%20International%20Agriculture%20Centre.html.
Europe
The Turkish Biosafety Board approved three soybean events A2704-12, MON40-3-2, and MON89788-1 to be used exclusively as animal feed or feed ingredient. This was reported in the Official Gazette on January 26, 2011. The Turkish Feed Millers received approval for the said application after being assessed by the Scientific Risk Assessment Committee and the Socio-Economic Committee.
View the original article at http://www.bsba.ag/BSBA/NewsEn/Entries/2011/2/17_First_approvals_of_GM_crops_in_Turkey.html
[ Send to a Friend | Rate this Article ]
---
The European Parliament's agriculture committee called the attention of the European Commission to reevaluate its zero tolerance policy on unapproved GM material in imported feed. The committee requested the Commission to consider introducing thresholds that ensure continuous supply of soy for the European Union (EU) market. These demands are part of a non-legislative report adopted on January 26, 2011 about Europe's "protein deficit" which refers to EU's dependence on imported products like soy. The Plenary of the European Parliament is anticipated to vote about this on March 7, 2011.
The European Association for Bioindustries (EuropaBio) believes that the zero tolerance policy on GM crops cannot be sustained since Europe's assessment process for GM crops for food and feed has been time-consuming. The European livestock farmers are expected to encounter disruption to their feed supply until more GM products are assessed. Member States are currently discussing technical solutions in dealing with the low level presence of unapproved GM material in imported animal feed.
Read the original article at http://www.europabio.org/EBioNews/2011Feb14-18.htm.
[ Send to a Friend | Rate this Article ]
---
A total of 14 notifications for research and development of genetically modified (GM) crops have been submitted by Spain and Slovakia to the European Commission – Joint Research Center. The notifications were on different stages of development of GM crops from laboratory to field trials. The notifications from Spain were on GM crops: sugarbeet (2 notifications), maize (6). cotton (4), and one on alternative energy crop for bioethanol production. The notification from Slovakia is on the field trial of Syngenta's corn MIR 604.
To get more details on the notifications and to access the dossiers, see http://gmoinfo.jrc.ec.europa.eu/gmp_browse.aspx.
[ Send to a Friend | Rate this Article ]
---
The Institute of Biological, Environmental and Rural Sciences at Aberystwyth University and the National Institute of Agricultural Botany in Cambridge have jointly established a Center of Excellence for UK Farming or CEUFK. The center aims to provide the best information and advice to policy makers and stakeholders on the developments in science, innovation, and practical know-hows, and link with partners in applied research and industry.
Since June 2010, initial work have been carried out in the Center and pilot research programmes to benchmark the efficiency of UK lamb and wheat production have been started. Results of the projects which focus on key sustainability indicators, greenhouse gas emissions, and ecological diversity will be announced later in the year.
For details on this news, view http://www.niab.com//news_and_events/article/172.
[ Send to a Friend | Rate this Article ]
---
A PCR based method of detecting Xanthomonas axonopodis pv. allii, the causal organism of bacterial disease of onion was recently developed by the French Center for Agricultural Research for Developing Countries (CIRAD). The disease affects onions, garlic, leeks, chives, and shallots through the formation of lesions on the aerial tissues of the plant causing the plants to wither. The disease can cause shrinking of bulbs resulting to a yield loss of 10 to 50%.
The CIRAD diagnostic test was found to be three times more sensitive than conventional methods since double PCR can already be conducted from the isolated seed DNA. The test is planned to be used as a European reference method for the disease which affects the south-west Indian Ocean, the island of Reunion and Mauritius.
The news release In French is available at http://www.cirad.fr/actualites/toutes-les-actualites/articles/2011/science/test-de-detection-de-xanthomonas-axonopodis-pv.-allii.