News
Global
Evidence shows that "it would be unwise to ignore transgenic crops as one of the tools that can help meet aspirations for increasingly sustainable global development." Julian Raymond Park and colleagues from the School of Agriculture, University of Reading, United Kingdom, forward this thought in "The role of transgenic crops in sustainable development" published in the Plant Biotechnology Journal.
The researchers evaluated a range of scientific literature pertaining to the use of transgenic crops in meeting sustainable development goals. They found out that transgenic crops can contribute to three traditional pillars of sustainability, i.e. economically, environmentally, and socially.
For the full article, subscribers can go to http://onlinelibrary.wiley.com/doi/10.1111/j.1467-7652.2010.00565.x/full.
[ Send to a Friend | Rate this Article ]
---
If commercialized on a large scale, genetically modified (GM) trees can provide many benefits. Wesley Dwyer and H. Sterling Burnett, intern and fellow, respectively, at the National Center for Policy Analysis (NCPA), enumerates these benefits:
Tree species can be modified to enable them to resist pathogens and destructive pests.
Trees modified to produce high yields of cellulose could be a cost-effective source for cellulosic ethanol production, a renewable transportation fuel.
Forests of biotech trees could remove carbon dioxide, a greenhouse gas, more efficiently from the atmosphere than unmodified trees. ·
Commercial development of GM trees could reduce the need for timber products.
Read more on "Biotech Forests: An Environmental Blessing?" at http://www.ncpa.org/sub/dpd/index.php?Article_ID=20132
[ Send to a Friend | Rate this Article ]
---
Three lucky CBU subscribers comprise the 9th set of winners of the Knowledge Campaign on crop biotechnology, launched by the International Service for the Acquisition of Agri-biotech Applications (ISAAA). They are Mulindwa Mukasa, WBS TV reporter from Uganda; Dr. Campbell Akujobi, lecturer at the Federal University of Technology, Nigeria; and Guodong Lu from the Lanzhou Veterinary Research Institute of Chinese Academy of Agricultural Sciences, China. They will each get a bronze duplicate of the Dr. Norman E. Borlaug Congressional Gold Medal and are eligible for the grand draw of a netbook on December 31, 2010. Three medals will be drawn every week until the end of the year.
Geoffrey Kamadi (shown in picture), a freelance science journalist from Kenya, was one of the winners of the Dr. Norman E. Borlaug Congressional Gold Medal. Through an e-mail, Kamadi said: "I was wonderfully surprised to have been one of three winners selected to receive a bronze replica medal of Dr. Norman Borlaug. I wish to express my sincere gratitude for having been chosen and I must say I am humbled by this gesture which I truly regard as an honor. Biotechnology is an important field in science as it seeks to find solution to the problem of food insecurity, which is a big issue in many developing African countries like Kenya. And as a science journalist, I intend to make use of a lot of important and relevant information provided in the Crop Biotech Update to inform and educate my audience in Kenya and beyond, on this very important topic."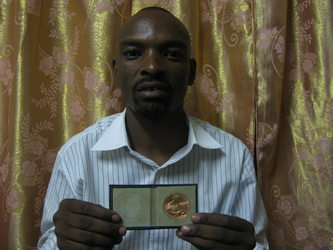 The International Service for the Acquisition of Agri-biotech Applications (ISAAA) launched a Knowledge Campaign which will run until December 31, 2010. The Knowledge Campaign for "A million healing hands to help a billion hungry" is dedicated to Dr. Norman Borlaug, 1970 Nobel Peace Laureate who was the founding patron of ISAAA. With his full support and initiative, ISAAA established the Global Knowledge Center on Crop Biotechnology in 2000 in the Philippines with active nodes called Biotechnology Information Centers (BICs) in 24 countries globally. ISAAA and its global family of BICs are celebrating a decade of success in spearheading the sharing of knowledge and capacity building on crop biotechnology to help alleviate poverty in developing countries.
ISAAA has institutionalized the sharing of knowledge on crop biotechnology by creating and distributing a weekly email-based newsletter Crop Biotech Update (CBU) which summarizes the latest world developments in agriculture, food and crop biotechnology relevant to developing countries. CBU is now distributed to over 850,000 subscribers in 200 countries and the campaign hopes to up the figures to 1 Million by December 31, 2010. ISAAA urges people participation by simply enrolling, without cost or obligation, 1 to 5 email addresses, or preferably more, of their co-professionals, and colleagues including students until December 31, 2010. To participate, log on to ISAAA Knowledge Campaign at http://www.isaaa.org/kc/cropbiotechupdate/invitepromo/cbu-promo.asp.
Africa
A FAS-GAIN Report on Soybean production in South Africa has been recently published by the U.S. Department of Agriculture. The Report highlights the current consumption of South Africa which is about 1.3 million tons of oilseed meal for animal feed. In addition, the South African Bureau for Food and Agricultural Policy (BFAP) has predicted that with the increased population by 2020, the country's demand for soybean meal will double to 1.8 million tons. Moreover, the country imports 90 percent of its soybean meal from Argentina, and only 100,000 tons is produced locally.
BFAP believes that expansion of the soybean area and increased soybean yield could be the solutions for this increased demand. In the past ten years, the area planted to soybeans in South Africa more than doubled from 134,000 hectares in 2001/02 to 311,000 hectares in 2010/2011. In addition, a record soybean crop was achieved at 561,000 tons in 2010/11. It is thus imperative that Africa could reach 1.62 million tons of soybean production by 2020.
This increase in soybean production has been made and is expected to continue because of the availability of genetically modified soybean seeds in South Africa and the current practice of mechanization in soybean production. The report also reveals that farmers have realized the benefits of planting soybeans as a rotation crop with corn which also makes the soil nitrogen rich.
See the full report at http://gain.fas.usda.gov/Recent%20GAIN%20Publications/Soybean%20production%20in%20South%20Africa%20could%20reach%201.62%20million%20tons%20_Pretoria_South%20Africa%20-%20Republic%20of_11-24-2010.pdf.
[ Send to a Friend | Rate this Article ]
---
A Biotechnology Research Laboratory for the Crops Research Institute of the Council for Scientific and Industrial Research will be constructed in Fumesua near Kumasi, Ghana. To be completed in 10 months, the World Bank-financed laboratory is under the auspices of the West Africa Agricultural Productivity Program and the West Africa Council for Agricultural Research and Development.
The laboratory will strengthen biotechnology research and build capacity of researchers said Dr. Felix Annor-Nyarko, technical specialist at the Crops Research Institute.
See the news item at
http://www.gbcghana.com/index.php?id=1.184342
Americas
Genetically modified (GM) tomato has been developed by scientists from the Pontificia Universidad Catolica de Chile that will produce vaccines against hepatitis and cholera. Patricio Arce, the lead researcher, explained that the tomato-derived vaccine is cheaper, will not require storage requirements, and can be eaten raw minimizing possible damage caused by cooking temperatures.
The scientists isolated the genes that encode key proteins from both pathogens, fused them as a single gene and introduced into tomato plants. The genes are made to express in both fruits and seeds and would be evaluated for recognition by the body's defenses. The GM tomato will be tested in mice in 2011 and if successful is planned for human testing in 2013.
See the news article in Spanish at http://fundacion-antama.org/cientificos-chilenos-desarrollan-tomate-transgenico-que-inmuniza-contra-la-hepatitis-y-el-colera/.
[ Send to a Friend | Rate this Article ]
---
"Honey bees are critical to U.S. agriculture, with about 130 crops depending on pollination to add more than $15 billion in crop value annually. It is vital that we find a way to deal with Colony Collapse Disorder (CCD)," said Agriculture Research Service Administrator Edward B. Knipling.
To this end, the US Congress in 2008 mandated a study to find the cause of Colony Collapse Disorder (CCD) syndrome and how to stop or mitigate its impact. Recently, the US Department of Agriculture released the 2010 Colony Collapse Disorder (CCD) Progress Report on the three- year investigative research conducted by federal agencies, state departments of agriculture, universities and private organizations.
The Report said that "numerous causes for CCD have been proposed and investigated but the cause(s) of CCD are still unknown. It supports the hypothesis that CCD may be a syndrome caused by an interplay of many different factors in various combination and interaction modes.
The original news can be viewed at http://www.ars.usda.gov/is/pr/2010/101217.htm. The Report is available online at http://www.ars.usda.gov/is/br/ccd/ccdprogressreport2010.pdf.

[ Send to a Friend | Rate this Article ]
---
Stem rust has been and still is a devastating disease of wheat worldwide. Its initial discovery and spread in the 1950s was controlled by the development of resistant varieties at that time. A new race of stem rust named Ug99 was discovered in 1999 in Uganda, in which the previously used resistance is no longer effective.
In efforts to overcome this new stem rust strain, scientists at the University of California-Davis, Kansas State University and the USDA Cereal Disease Laboratory in Minnesota have mapped and characterized resistance gene Sr35. Molecular markers and candidate genes associated with the gene can be used to accelerate the development of wheat varieties with Sr35 gene. Stable resistance against Ug99 can be achieved however with a deployment of the Sr35 gene with other resistance genes.
According to Jorge Dubcovsky, the author of the study, "The presence of multiple resistance genes is expected to extend the durability of resistance, since the probability of simultaneous mutations in the pathogen to overcome multiple resistance mechanisms is much lower than the probability to overcome individual mutations."
To view the original news, visit https://www.crops.org/news-media/releases/2010/1220/440/. Abstract is available at https://www.crops.org/publications/cs/abstracts/50/6/2464.
[ Send to a Friend | Rate this Article ]
---
Rice blast caused by Magnaporthe oryzae is one of the major diseases of rice. Global efforts to understand the pathogen and to control its spread have been going on for decades. It can reduce rice yield by up to 30 percent per year and a related organism can affect other cereals such as wheat. Currently, rice blast is spreading havoc in Arkansas, USA, and a related species has been found in wheat in Brazil.
In a journal article of the Proceedings of the National Academy of Sciences, University of Nebraska-Lincoln plant pathologist Richard Wilson and his colleagues discovered a genetic switch that regulates plant infection by signaling to the fungus that it is in a nutrition rich environment. This signal will trigger infection and establishment of the disease. These scientists have now renewed their efforts to control the switch and the related processes so that a targeted control of the disease can be developed.
See the original news at http://citnews.unl.edu/ianrhome/ianrnews/static/1012200.shtml.
[ Send to a Friend | Rate this Article ]
---
The US Wheat and Barley Scab Initiative's (USWBSI) annual conference was concluded recently. The meeting was attended by scientists and stakeholders who discussed current research and strategies to reduce the threat of Fusarium head blight.
Among the strategies are the development and use of resistant varieties which National Association of Wheat Growers Director of Government Affairs for Research and Technology Jane De Marchi discussed during a session on gene discovery and genetic resistance. She told researchers that the wheat industry's work would pave the way for the eventual introduction of biotechnology into wheat crop. The participants also learned about an outreach tool launched in 2010 that will aid wheat growers in identifying scab risk critical points in the growing season.
For more on this article, see http://www.wheatworld.org/2010/12/scab-forum-focuses-on-genetic-resistance-alerting-growers/.
[ Send to a Friend | Rate this Article ]
---
The U.S. Department of Agriculture announced the release of the final environmental impact statement (EIS), an assessment of the possible environmental effects of deregulating Roundup Ready (RR) alfalfa which has genetically engineered resistance to glyphosate.
USDA considered the following alternatives during the preparation of the final EIS: "1) to maintain the RR alfalfa's status as a regulated article; 2) to deregulate RR alfalfa; or 3) to deregulate RR alfalfa with geographic restrictions and isolation distances for the production of RR alfalfa." After analyzing the possible environmental effects of these three alternatives, the agency chose options numbers 2 and 3.
USDA also dealt with plant pest concerns, and other broader environmental and economic issues on coexistence of GE alfalfa with non-GE and organic alfalfa production. "We have seen rapid adoption of biotechnology in agriculture, along with the rise of organic and non-genetically engineered sectors over the last several decades," USDA Secretary Tom Vilsack said. "While the growth in all these areas is great for agriculture, it has also led, at times, to conflict or, at best, an uneasy coexistence between the different ways of growing crops. We need to address these challenges and develop a sensible path forward for strengthening coexistence of all segments of agriculture in our country. All are vital and a part of rural America's success. All should be able to thrive together."
Read the press release a http://www.usda.gov/wps/portal/usda/!ut/p/c5/04_SB8K8xLLM9MSSzPy8xBz9CP0os_gAC9-wMJ8QY0MDpxBDA09nXw9DFxcXQ-
cAA_1wkA5kFaGuQBXeASbmnu4uBgbe5hB5AxzA0UDfzyM_N1W_IDs7zdFRUREAZXAypA!!
/dl3/d3/L2dJQSEvUUt3QS9ZQnZ3LzZfUDhNVlZMVDMxMEJUMTBJQ01IMURERDFDUDA!/?
contentidonly=true&contentid=2010/12/0667.xml.
[ Send to a Friend | Rate this Article ]
---
The U.S. Department of Agriculture released the final environmental statement (EIS) for genetically modified (GM) alfalfa, commonly known as Roundup Ready (RR) alfalfa. The EIS evaluates the possible effects on the environment after deregulating GM alfalfa with resistance to glyphosate.
Secretary of Agriculture Tom Vilsack also called for a dialogue among stakeholders to talk about coexistence solutions. Biotechnology Industry Organization (BIO) president and executive officer Jim Greenwood responded on the issue: "Our agriculture regulatory system provides for the thorough and science-based review of agricultural biotechnology products, and has enabled these products to come to market and provide our nation's farmers with the tools to grow crops more sustainably. But our regulatory system has become hindered by legal challenges, and farmers are ultimately the ones who pay the price. We are more than ready to sit down with the Secretary and other stakeholder groups to discuss these issues."
"One thing we know for sure is that farmers already practice coexistence, and have been doing so successfully for decades. Biotech crops (grown on 154 million acres of U.S. land) and organic crops (grown on 2.5 million acres of U.S. land) play an important role in providing healthful foods and in helping farmers provide for a growing population and meet the diverse needs of consumers.
For more information, read the press release at http://bio.org/news/pressreleases/newsitem.asp?id=2010_1217_02.
Asia and the Pacific
Philippine regulatory guidelines had been set for products of genetic engineering, and since the Bt technology is just one of its technologies, Bt 'talong' (eggplant) needs to comply. This point was emphasized by experts and a regulator in back-to-back information activities in Baybay, Leyte, Philippines last December 6-7, 2010.
"It [regulatory guidelines] is a set of rules that should be applied to all GM crops. Even though we know it [Bt talong] is safe, we still comply with the regulations," explained Dr. Emiliana Bernardo, Insect Resistance Management Advisory Team of the Department of Agriculture (DA) and member of the Institutional Biosafety Committee of the University of the Philippines Los Baños (UPLB). To emphasize her point, she said "I will volunteer as a guinea pig for the Bt eggplant because I feel very sure. And yet I'm one of those enforcing regulation…It is better to be overcautious than to regret in the end." That is why we do not agree with a 'no to all GM crops' position; our stand is to examine them on a case-by-case basis," she added.
In the "Seminar on Understanding the Science, Safety and Benefits of Bt Crops Technology", held on December 7, 2010 at Visayas State University (VSU), Baybay Leyte, VSU President Dr. Jose Bacusmo reminded in his opening message that it is wrong to reject something without testing or doing research. He hoped that decisions for the release of Bt talong would be based on gathered data from the trial sites. Dr. Bacusmo also expressed that he is open to Bt talong and believes in the potential benefits it would bring to farmers.
"Many farmers are already asking when the seeds of the Bt eggplant will come out. They know spraying is risky, but they have to save their crops because it is their livelihood. That is why if we could give crops that are safe to farmers, consumers, and the environment, I think that is the best. And that is my sincere hope for Bt eggplant," said Dr. Bernardo in the seminar. The seminar was organized and supported by VSU, International Service for the Acquisition of Agri-biotech Applications (ISAAA), Southeast Asian Regional Center for Graduate Study and Research in Agriculture - Biotechnology Information Center (SEARCA BIC), ABSPII, DA-Biotechnology Program Office (DA-BPO), and the United States Agency for International Development (USAID).
For more information about the seminar, send an e-mail to bic@agri.searca.org or visit SEARCA BIC website at http://www.bic.searca.org.
[ Send to a Friend | Rate this Article ]
---
University of the Philippines Mindanao professor Dr. Eufemio Rasco told a forum in Davao, Philippines, last December 9, 2010 that there is nothing to be worried about Bt 'talong' (eggplant). Dr. Rasco, who is co-project leader of the fruit and shoot borer resistant Bt eggplant in the field trial in UP Mindanao in Davao explained in his talk that the insecticidal property of Bacillus thuringiensis (Bt) has been used since the 1950s, even by organic farmers, as a biological insecticide. Its insecticidal property was already known since 1901.
Rasco added that he is convinced that Bt eggplant is actually safer than the traditional Bt sprays. "If you'll ask me if I would eat Bt eggplant, 100 percent. I would eat it, feed it to my children, and my grandchildren. I'm completely convinced that it's safe," he said. He also emphasized that the Bt eggplant is a promising solution to solve the problem of fruit and shoot borer infestation. Meanwhile, Ms. Merle Palacpac, of the Bureau of Plant Industry explained how the physical confinement, biological traps, and 200-meter isolation are being strictly implemented as part of the risk management. She also ensured that "Bt talong is being assessed for safety, as it passes through the risk assessment set by Administrative Order No. 8.
For a related article about the forum, visit http://www.dailymirror.ph/Dec-2010/12132010/front3.html. For additional information, e-mail bic@agri.searca.org or visit the SEARCA BIC website at www.bic.searca.org.
[ Send to a Friend | Rate this Article ]
---
The continuing research collaboration between Korea Rural Development Authority and the International Rice Research Institute (IRRI) has released another product – the Anmi japonica rice. Anmi is a high quality medium grain rice typically grown in temperate countries. It is highly resistant to a destructive rice pest, the brown planthopper (BPH), and also to blast, bacterial blight, and rice stripe virus.
The BPH resistance of the variety was developed through genetic research led by IRRI plant breeder Dr. Kshirod Jena. He said, "In 2004, we had a significant breakthrough when we were able to locate the gene Bph18 for BPH resistance. We were then able to add this gene to a BPH-susceptible elite japonica rice variety successfully employing the modern rice-breeding technique called marker-assisted breeding for the first time ever in japonica rice."
Anmi, besides containing multiple resistance to pests is also high yielding, at more than 5.8 tons per hectare, 11% more yield than the best japonica check variety in Korea, Hwaseongbyeo.
The original article can be viewed at http://irri.org/news-events/media-releases/korea-releases-tasty-new-pest-proof-rice.
[ Send to a Friend | Rate this Article ]
---
Nutrition researchers from the Commonwealth Scientific and Industrial Research Organization, the University of Adelaide, the University of Melbourne, and the University of Queensland will collaborate for the next three years to develop new 'healthier' varieties of wheat, barley, and rice, which are known as the world's most extensively planted grains. One of the main objectives of their research is to boost the amount of beneficial compounds, such as beta glucans and arabinoxylans, which are key contributors to the soluble component of dietary fiber in the various grains.
"By bringing together scientists from CSIRO and leading Australian research institutions, the High Fiber Grains Cluster will produce more significant outcomes far more rapidly than if we each tackled these problems on our own," said Dr. Bruce Lee, Director of CSIRO's Food Futures Flagship. "This is world-leading and groundbreaking research in the area of grains and has impact on human health."
Read more at http://www.csiro.au/news/Research-for-healthier-grains.html.
[ Send to a Friend | Rate this Article ]
---
A roundtable dialogue on GM crops participated by scientist and the general public was held during the Communication Dialogue of Agribiotech Symposium in October at the Huazhong Agricultural University in October. The aim of the dialogue was to address the issues on GM crops.
One of the delegates shared his concern that was rooted from a U.S. television programme that talked about a child who died after eating food with GM maize. Another participant mentioned about a Chinese news story which reported that Yuan Longping, known as the 'father of hybrid rice' in China, said that GM rice could be harmful to health.
Chinese National Institute of Nutrition and Food Safety reasercher Yang Xiaoguang, said mentioned that "such media reports were partly to blame for the public's fears." While scientist Zhu Zhen from the Chinese Academy of Sciences said that if the television programme's conclusions were true, the U.S. Food and Drug Administration could have banned GM crops.
Jia Hepeng, organizer of the symposium and editor of the Chinese Academy of Sciences' (CAS) bi-weekly magazine Science News, plans to promote more dialogues on GM among scientists, media, and the public.
Read more at http://forests.org/shared/reader/welcome.aspx?linkid=200051.
[ Send to a Friend | Rate this Article ]
---
Scientists at the Crop Improvement Section, Directorate of Rice Research, Rajendranagar, Hyderabad, India have for the last 10 years been conducting research on the management of rice blast, a devastating disease of rice. The group led by Dr. Sheshu Madhav has recently developed a functional marker for one of the major blast resistance genes which has been observed to show resistance against many isolates of the blast pathogen in India.
The scientists through a large allele mining effort have identified a novel allele for the blast gene, Pi54 MAS. The functional marker is very useful for enhancing the precision and accuracy in marker-assisted selection (MAS) of target gene(s) with minimum effort, time and cost. Further validation of this marker in 105 diverse rice genotypes showed its utility in routine deployment of blast resistance in rice breeding programs.
The work is published in the online journal Molecular Breeding, Dec 4, 2010 issue at http://www.springerlink.com/content/535662l427w2p974/. For more information, email the author Dr. Sheshu Madhav at sheshu_24@yahoo.com.
[ Send to a Friend | Rate this Article ]
---
The ongoing multi-location trial at the University of the Philippines Mindanao (UPMin) was prematurely terminated after the Davao City Mayor Sara Z. Duterte issued a cease and desist order. The mayor's order was based on inaccurate information provided by City Agriculturist Leonardo R. Avila III which contradicts the official certification issued by the national regulatory body, the Bureau of Plant Industry (BPI).
Based on the official letter forwarded by the BPI to the City Agriculturist, the UPMin has substantially been complying with all the technical and regulatory conditions listed in its biosafety permit for the field trial. The BPI emphasized that the confined field trial is just a component of a series of studies to ensure that the plant and its products are as safe as conventional counterparts and that they do not pose any significant risks to humans, animals and the environment.
The FSBR/Bt eggplant project implementers carefully followed the guidelines set by the BPI regarding the parameters of a confined trial, which include among others, a 200 meter isolation distance from the experimental site. The trial was conducted under the strict supervision of the BPI pursuant to the provisions of DA AO No. 8. Similarly, the project also complied with the requirements for supervised transport, planting, replanting, regulated access to experimental area, and prevention of unauthorized release of the regulated plant. The project and its collaborators have also been active in biotech and project outreach, and public information and dissemination.
Although the UPMin also requested for additional time to explain and provide additional information, the local government order was still carried out, destroying the entire experiment which is officially permitted by the national government.
For details on the article and for biotechnology updates in the Philippines, contact Jenny Panopio of SEARCA-BIC at jmapanopio@yahoo.com.
Europe
The government of Germany supports the initiatives set by the Food and Agriculture Organization in providing food and nutrition security, sustainable livelihoods and climate –smart agriculture. The agency announced that the German government has committed six million dollars to conduct various activities to these ends.
Among the activities include the evaluation and documentation of the effectiveness of existing complementary feeding practices and two other projects aimed at improving nutrition and nutrition education. Funds will also be used in the first phase of a 52-month project to promote the commercial and environmental potential of sisal.
Sisal thrives on marginal land in hot and arid climates and its fiber could be used to generate bioenergy, animal feed, fertilizer and ecological housing material.
For more details, see http://www.fao.org/news/story/en/item/48884/icode/.
[ Send to a Friend | Rate this Article ]
---
Regulators, CEOs, VCs, stakeholders, industry representatives, and journalists from across Europe gathered on 9 December 2010 to discuss "the role of biotechnology in contributing to the creation of Europe's Innovation Union". Speakers from various industries shared their insights on how biotechnology is increasing employment opportunities, at the same time improving lives and building a healthier society. Aside from these, they also outlined other benefits of biotechnology in combating climate change and food shortage.
Through a video address, European Commission President Jose Manuel Barroso stressed that "efforts by industry must be underpinned by a predictable regulatory environment and legal certainty for operators" in the context that "the European biotechnology industry has been a leader worldwide, from its research and development capacity to its success in diffusing these innovations globally."
Read the rest of the story at http://pr.euractiv.com/press-release/europabio-event-european-biotechnology-industry-will-deliver-responsible-innovation-16 and watch the video address of Pres. Barroso at http://ec.europa.eu/avservices/video/video_prod_en.cfm?type=details&prodid=18856&src=1.
[ Send to a Friend | Rate this Article ]
---
Researchers led by Dr. Pietro D. Spanu of the Department of Life Sciences at the Imperial College London, United Kingdom have sequenced the genome of Blumeria, the causal pathogen of a major fungal disease called downy mildew. The disease attacks many cereal crops, fruits and vegetables in Northern Europe, covering the leaves and stems with powdery white spots that result to reduced production.
The team found that there are a large number of active transposons within the genome of Blumeria that could be an adaptive mechanism to allow it to respond more rapidly to the plant's resistance evolution and defeat its immune system. The genomic sequence of the pathogen is hoped to give scientists important scientific knowledge to design and develop resistant crops and other control strategies.
'With this knowledge of the genome we can now rapidly identify which genes have mutated, and then can select plant varieties that are more resistant,' Dr . Spanu explains.
Visit http://cordis.europa.eu/fetch?CALLER=EN_NEWS&ACTION=D&SESSION=&RCN=32891 to access the original story.