News
Global
A Joint Statement was released on December 14 by attendees to the UN Climate Change Talks in Copenhagen that include the Food and Agriculture Organization, International Federation of Agriculture Producers, International Fund for Agricultural Development, Consultative Group on International Agricultural Research and its Challenge Program on Climate Change Agriculture and Food Security, Global Donor Platform for Rural Development, University of Copenhagen Faculty of Life Sciences, Center for International Forestry Research, and the Collaborative Partnership on Forests. The recommendations were the conclusion of the three day events: Agriculture and Rural Development Day, Forest Day, and a side event sponsored by the UN Food and Agriculture Organization.
The agreed action points stipulated in the joint statement include:
• Food security should be integrated in the shared vision of the Long Term Cooperative Action text, in order to open the door to adaptation and mitigation support;
• Urge climate negotiators to agree on the early establishment of an agricultural work program under the Subsidiary Body for Scientific and Technological Advice;
• Look for agreement that Reduced Emissions from Deforestation and Forest Degradation include agriculture, forestry and other land uses;
• Believe that the Land Use, Land Use Change and Forestry accounting system needs to be favorable to agriculture.
See the news at: http://www.ifpri.org/blog/agriculture-and-forestry-groups-release-joint-statement-negotiators-cop-15 Joint Statement downloadable at http://www.agricultureday.org/ARDD_Joint-Statement.pdf
[ Send to a Friend | Rate this Article ]
---
The International Food Policy Research Institute (IFPRI) says the "worldwide progress in reducing hunger remains slow." In the 2009 Global Hunger Index (GHI) The Challenge of Hunger: Focus on Financial Crisis and Gender Inequality released by IFPRI, the 2009 global GHI has fallen by only one quarter from the 1990 GHI. Southeast Asia, the Near East and North Africa, and Latin America and the Caribbean have reduced hunger significantly since 1990, but the GHI remains high in South Asia. Progress in in Sub-Saharan Africa has been marginal.
The report which records the state of hunger both worldwide and country by country, shows that In 2009, "high and volatile food prices combined with economic recession posed significant risks to poor and vulnerable households, with often dire consequences for their food security." It adds that "global economic downturn could make many countries even more vulnerable to hunger and that high rates of hunger are strongly linked to gender inequalities. Overall, limited progress has been made in reducing hunger since 1990."
To download the full report visit http://www.ifpri.org/publication/2009-global-hunger-index
Africa
Four specific policy changes can greatly improve the lives of Africa's rural poor says Daniel Sacks and Jasson Urbach in Fixing Famine, a report published by the International Policy Network, London. To reduce agricultural barriers, the authors note, African governments must :
Allow the use of GM seeds which can greatly increase crop yields;
Remove the restriction s on trade that drive up the prices of even the simplest technology;
Allow ordinary smallholders greatest access to credit to develop their land; and
Acknowledge that bad roads are a major obstacle to agricultural innovation.
Without these barriers, "Africa's farmers are more than capable of feeding themselves," the authors conclude.
Visit http://www.newvision.co.ug/D/8/20/702923 for the full article.
[ Send to a Friend | Rate this Article ]
---
There is a need for systemic nationwide awareness creation both at high policy and at grassroots levels. This was the verdict from technocrats from the Kenyan Agricultural Sector Ministries, who converged for a brainstorming session on how to upscale implementation of the National Biotech Awareness Strategy (BioAware). The technocrats observed that a lot of biotech awareness activities have been conducted at high policy echelon but the information has not trickled down to the end users of the technology.
"We would like to know if GM food is on the market. Right now we need to have answers for farmers who are asking if some varieties of maize are GMOs," commented Dr. Peter Ithondeka, the Director of Veterinary Services in the Ministry of Livestock Development. As an urgent priority, there is a need to equip technocrats in the agricultural sector with the necessary knowledge and information on current global and national activities regarding biotechnology. It was recommended that an activity be carried out to prepare a critical mass of champions to move the BioAware strategy.
The Agricultural Sector Coordinating Unit committed to take the lead in coordinating the upscaling of BioAware activities to reach beneficiaries. The meeting was organized under a collaborative agreement between the Program for Biotechnology Systems and other Kenya Partners including the National Council of Science and Technology, Regulatory agencies and ISAAA AfriCenter.
For more information, contact Brigitte Bitta of the ISAAA AfriCenter at b.bitta@cgiar.org
[ Send to a Friend | Rate this Article ]
---
With significant progress made in biotech development in Burkina Faso and other initiatives, more governments in West Africa are taking interest in developing biosafety regulations and participating in regional policy harmonization projects and biotech capacity building programs. Mali, Togo and Senegal join Burkina Faso as Francophone countries with approved biosafety legislation at the national level. However, the overall pace for approval of biosafety regulatory frameworks remains to be slow. The lack of implementing regulations limit the level of research using agricultural biotechnology applications.
The Francophone West Africa Biotechnology Report released by the U.S. Department of Agriculture Foreign Agricultural Service is available at http://gain.fas.usda.gov/Recent%20GAIN%20Publications/AGRICULTURAL%20BIOTECHNOLOGY%20ANNUAL_Dakar_Senegal_11-2-2009.pdf
Americas
The Brazilian National Technical Commission on Biosafety (CTNBio) has approved the use of a new genetically-modified soybean seed developed jointly by the German chemical company BASF and EMBRAPA, the Brazilian Agricultural Research Corporation. The soybean variety is tolerant to imidazoline-based herbicides.
There are more than 18 biotech crop events approved for cultivation in Brazil. However, Monsanto's Roundup Ready is the only GMO soy available in the country. In 2008, 14.2 million hectares of Roundup Ready soybean were planted in Brazil.
The newly approved GM soybean variety is expected to be available to Brazilian farmers from 2011 onwards. Brazil is the world's second-largest soybean producer and the largest exporter. The country produces some 50 million tons of soybean annually, according to the UN Food and Agriculture Organization.
For more information, visit http://www.embrapa.br/
[ Send to a Friend | Rate this Article ]
---
A new online database for potato and sweetpotato has just been published by the International Potato Center (CIP). The database, among the first of its kind to apply a scheme originally used for housing genomics data to a genebank collection, is searchable for more than 90 attributes related to the germplasm held in Center's extensive collections. It contains passport data, such as the origin and availability of germplasm, characterization data, molecular marker data (SSR), and the entire list of worldwide distributions of CIP held germplasm.
"It is the holy grail of the genebank and breeding information managers' community – having a data search facility for different kinds of data," says Reinhard Simon, head of CIP's Research Informatics Unit.
The database will be updated as new released data and is available at: http://www.cipotato.org/research/genebank/search For more information, visit https://research.cip.cgiar.org/confluence/display/cpx/Germplasm+Passport+and+Evaluation+Data+Search
[ Send to a Friend | Rate this Article ]
---
A country-wide survey conducted by the RPC Crop Expedition PRC, a Brazilian media company, reveals that 2009-2010 planting of genetically modified seeds exceeded the cultivation of conventional crops in Brazil. Transgenic seeds will account for 67.4 percent of the Brazilian soybean area while Bt corn is projected to be planted in about 40 percent of the area.
Brazilian states Mato Grosso and Parana have 22.8 and 8.2 million hectares, respectively, this summer. Earlier projection for transgenic soybean, notably Roundup Ready soybean was below 50 percent. The 2009-10 planting is only the second season that Brazil is using Bt corn, but already farmers are easily accepting this new technology.
"Some of my neighbors who planted only non-transgenic corn have applied insecticide three or four times a year this year. My Bt corn didn't need any so far," narrates Modesto Daga, grain producer in Cascavel, West Parana.
Read the full article at http://www.agriculture.com/ag/story.jhtml?storyid=/templatedata/ag/story/data/1260308100788.xml
[ Send to a Friend | Rate this Article ]
---
Granting non-regulated status to two genetically modified, herbicide-tolerant alfalfa lines "will not result in significant impacts" to the environment, the U.S. Department of Agriculture's Animal and Plant Health Inspection Service (APHIS) said in a draft environmental impact statement (EIS) that evaluates the potential impacts of deregulating Monsanto's Roundup Ready alfalfa. APHIS is now seeking public comment on the draft EIS before making a final decision.
The Agency had previously deregulated the GM alfalfa lines in 2005. In 2007, however, a California Court ruled that APHIS failed to adequately consider certain environmental and economic impacts as required by the National Environmental Policy Act (NEPA). The Court vacated APHIS' decision to grant non-regulated status. The court did not overturn APHIS' 2005 conclusions regarding the safety of the RR alfalfa for food and feed purposes.
If granted a non-regulated status, the GM alfalfa lines can be freely moved and planted without the requirement of permits or other regulatory oversight by APHIS. APHIS said that it will consider all comments submitted before making a decision.
Comments can be submitted before February 16, 2010 at http://www.regulations.gov/fdmspublic/component/main?main=DocketDetail&d=APHIS-2007-0044 Read http://www.aphis.usda.gov/newsroom/content/2009/12/alfalfa.shtml for more information.
Asia and the Pacific
Rasi Seeds, India's pioneer hybrid cotton and Bt cotton hybrid seed manufacturer, has launched a separate high profile brand 'HyVeg' for its vegetable seed business. Rasi Seeds has invested roughly US$ 8-10 million creating the-state-of-the-art operational facility including R&D farm, greenhouse and seed production facility in Gurgaon, Kullu and Bangaluru and corporate office at Gurgaon, Haryana. After its research and development in Bt cotton hybrid seeds, it aims to expand its vegetable seed business under 'HyVeg' brand that will focus on high yielding and nutritious hybrid vegetables. Dr. R.S. Paroda, former Secretary, Department of Agricultural Research and Education and director general of the Indian Council of Agricultural Research and Chairman, Trust for Advancement of Agricultural Science, inaugurated the opening of the vegetable seed processing facility and the corporate office on 14th December 2009 at Gurgaon, Haryana.
The newly created vegetable seed brand 'HyVeg' is committed to deliver innovation vegetable hybrids for the benefit of farmers and consumers. The dedicated vegetable division and the brand will develop hybrids of okra, brinjal, gourds and cluster beans. "We are aiming for a 10-15 per cent share of the vegetable seed market in the next three to five years," said Dr. M. Ramasami, Managing Director of Rasi Seeds. Dr. Arvind Kapur, CEO, Rasi's Vegetable division stressed that "these research farms will develop and test hybrids for different agro-climatic zones. The 11-acre Kullu station, for example, is well-suited for cole crops (cabbage, cauliflower), while our 50-acre Bengaluru center will concentrate on tomato, okra, melons and hot pepper. Growers are willing to pay more for vegetable seeds, since the yields are higher. Vegetable seed production is also more complex and it is not easy to maintain high genetic purity and viability. That is why farmers rarely use saved seeds and prefer to buy," Dr Kapur added.
For more information about Rasi Seeds and for the new 'HyVeg' brand vegetable products contact Dr. Arvind Kapur at: arvindkapur@rasiseeds.com or visit http://www.rasiseeds.com/vegetable_products.html For more information about biotech development in India contact b.choudhary@cgiar.org and k.gaur@cgiar.org
[ Send to a Friend | Rate this Article ]
---
A Chinese patent has been granted to FuturaGene PLC, on the "Method for increasing stress tolerance in plants". The patent includes Futura Gene's drought tolerance gene for use in both food and non-food crops including the drought tolerance technology granted by the company to Bayer CropScience for its utilization in cotton worldwide in early December.
Since September this year, the company has been collaborating with the Chinese Academy of Forestry on the use of the same gene technology for the development of new enhanced poplar with increased water efficiency. Dr. Stanley Hirsch, FuturaGene CEO said, "China is the largest global cotton producer, both by volume and by value, and is also a major potential market for drought tolerant poplar, which could play an important role in reversing desertification. This patent provides protection for our commercial efforts in China. In a country with real concerns about food security, it is a major development in the process of establishing sustainable agriculture."
See the story at: http://www.futuragene.com/Chinese%20Patent%20Granted%20-%20Lo%20%20.pdf
[ Send to a Friend | Rate this Article ]
---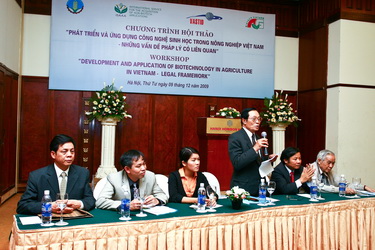 A Biotech Workshop on the Development and Application of Biotechnology in Agriculture in Vietnam – Legal Framework was held on December 9 at the Horizon Hotel, Hanoi. Dr. Le Huy Ham, the Vietnam Agricultural Genetics Institute Director said that biotechnology is needed to feed the country's population which will be 100 million by 2020. Dr. Nguyen Quang Toan, the Ministry of Agriculture and Rural Development Director also strongly emphasized the applications of modern biotechnology in overcoming agricultural stress, in increasing yield, reduction of pesticide applications, and the accompanying cost savings and environmental benefits. Dr. Nguyen Thanh Nhan from the Ministry of Natural Resources and Environment and Dr. Le Tien from Agbiotech Vietnam gave their insights on biotechnology, biosafety and legal framework in Vietnam.
More than a hundred media, agricultural officers, policy makers, lawyers, S&T representatives of government and private sector attended the workshop. A similar workshop will be conducted in Phu Tho Province on December 24, 2009. The workshop was organized and sponsored by the ISAAA Biotechnology Information Center or Agbiotech Vietnam.
For details of the workshop contact Agbiotech Vietnam at hientttm@yahoo.com
[ Send to a Friend | Rate this Article ]
---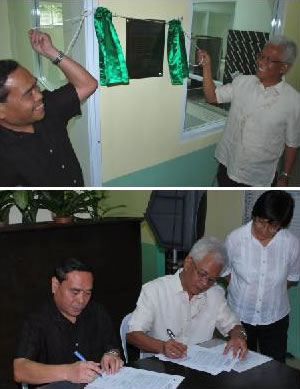 The Philippine Department of Agriculture (DA) Bureau of Plant Industry Plant Quarantine Service (BPI-PQS) upgraded its molecular testing facility for plant pathogen and GMO detection in order to enhance efficiency and effectivity of lab analyses that comply with international standards. The improvement of the facility and procurement of necessary equipment were provided through a grant from the DA-Biotechnology Program Unit and the assistance of the International Service for the Acquisition of Agri-Biotech Applications (ISAAA).
The upgraded facility was donated by DA and ISAAA to the BPI during the turn-over ceremony last December 15. "The Philippines' biotech regulation continues to evolve and learn from its experiences since the first approval of GM product in 2002. We need to set-up necessary infrastructure for the testing and detection of GMOs and plant pathogen in order to continuously perform our tasks as the main regulatory agency for biotechnology in the country," said BPI Assistant Director Clarito Barron during the turn-over ceremony. To date, the Bureau has now approved 51 events for the direct use and importation of several biotech crops such as alfalfa, corn, soybean and potato.
The enhancement of the molecular laboratory of BPI-PQS will further boost the confidence of the general public on the capability of BPI in implementing DA Administrative Order No.8, the policy that governs the importation and release into the environment of plants and plant products derived from the use of modern biotechnology. With increased capability, the molecular laboratory can carry out testing of agricultural products that may contain GMOs not approved by the regulation, and monitor the entry of exotic pests. The facility also opens service opportunities in testing samples sent by neighboring countries for GMO and pathogen detection.
For additional information on biotechnology updates in the Philippines, email bic@agri.searca.org or visit www.bic.searca.org
[ Send to a Friend | Rate this Article ]
---
Syngenta and Australia-based CSR Sugar announced that they have signed an agreement to develop high-sugar-content technology in cane. Syngenta has acquired exclusive global rights, Australia excluded, to CSR Sugar's SugarBooster, a technology that uses genetic modification to introduce an enzyme into a plant to help increase sugar content. The license agreement includes milestone payments and royalties on product sales to CSR Sugar. Additional terms of the deal were not disclosed.
"While commercial release is not expected for at least several years, this agreement with Syngenta will accelerate the potential development of the new high-yielding varieties," said Ian Glasson, CSR Sugar CEO.
The press release is available at http://www.syngenta.com/en/index.html
[ Send to a Friend | Rate this Article ]
---
BASF Plant Science, Genomine, the South Korean venture company and POSTECH, the South Korean university, announced that they have entered into a license agreement focusing on the discovery of genes that help maximize yields in staple food and feed crops such as rice and corn. This includes genes that increase yield under normal circumstances as well as under adverse environmental conditions such as drought. Financial details of the agreement were not disclosed.
"In today's knowledge-based society, private-public collaborations such as this one will not only benefit the parties directly involved, but also benefit the country," Yang Do Choi, Director of the Korean Crop Functional Genomics Center, said. "Over the past decade, South Korea has taken a leadership position in plant biotechnology research."
"The agreement with Genomine and BASF Plant Science enables POSTECH to benefit from commercial dynamism, innovation and efficiency," explained Hong-Gil Nam, Professor at POSTECH. "It will leverage POSTECH's technologies of plant functional genomics and the expertise of BASF Plant Science into further development and commercialization."
Read the media release http://www.agro.basf.com/agr/AP-Internet/en/content/news_room/index
Europe
The Turkish Ministry of Agriculture and Rural Affairs this Wednesday released a directive repealing the Oct. 26, 2009 regulation that restricted importation of food and feed products with biotechnology-derived content. The directive instructs Turkish ports to resume pre-October 26 procedures.
Earlier this week, the Turkish Danistay Court, the highest administrative court in Turkey, suspended the implementation of the Ministry's regulation. The court gave the Ministry 30 days to implement the decision.
In addition, Turkey's Prime Minister has referred a draft biosafety law to Parliament for discussion, according to the US Grains Council (USGC). Rebecca Fecitt, USGC Director of Biotechnology Programs, noted "Although we don't know the exact terms and details of the new, latest version of the biosafety law, it is possible that if this law is passed, it may provide the legal basis for the Oct. 26 regulation to resume. Some reports show it is unlikely the draft law will be discussed in Parliament until early next year."
Read the original story at http://www.grains.org/news-events/2098-turkey-officially-lifts-ban-on-biotech-imports
[ Send to a Friend | Rate this Article ]
---
The first application for registration of GMO intended for food use has been officially accepted by the Ukrainian Ministry of Health. Monsanto Company applied the registration of genetically modified Round Up Ready Soybean GTS40-3-2. The application will be evaluated within 90 days following the national regulations and should be registered after 30 days.
See the story at: http://www.bsba.ag/BSBA/Home_en.htmlhttp://www.bsba.ag/BSBA/Home_en.html
[ Send to a Friend | Rate this Article ]
---
AFSSA, the French Food Safety Agency completed a report on honey bee mortality and the ways that colony losses are monitored in Europe. The European Food Safety Authority commissioned the study and published the report. Initially, AFSSA set up a consortium of seven European bee disease research institutes in France, Germany, Italy, Slovenia, Sweden, Switzerland, and the United Kingdom.
The project covers 1) a description and critical analysis of surveillance programs that measured colony loss; 2) the collection and analysis of the epidemiological data sets on colony losses; and 3) a critical review and selection of relevant literature on the possible causes and risk factors of colony losses.
The researchers found that bee colony losses in Europe and the USA are multifactorial which include beekeeping and husbandy practices, environmental factors, biological agents as well as excessive use of pesticides. The interaction of these factors create stress, weaken bees' defense system allowing pests and pathogens to kill the colony.
See the EFSA press release on the Report at http://www.efsa.europa.eu/EFSA/efsa_locale-1178620753812_1211903101339.htm and the article at http://www.efsa.europa.eu/EFSA/efsa_locale-1178620753812_1211903101123.htm The full report is downloadable at http://www.efsa.europa.eu/cs/BlobServer/External_Rep/027e.pdf?ssbinary=true
[ Send to a Friend | Rate this Article ]
---
Bulgaria's Commission for Environment and Water's approval for a change in the law regarding genetically modified organisms (GMOs) has set the pace for the Parliament to allow wider use of GM crops. The Commission decided to harmonize the legislation on GMOs with European Union requirements. Bulgaria has very strict laws on the cultivation of GMOs which are not yet widely grown in the country.
Read http://www.novinite.com/view_news.php?id=110960 for the news article.
[ Send to a Friend | Rate this Article ]
---
The European Food and Safety Authority's scientific panel on genetically modified organism has released its opinion for the renewal of the authorization for continued marketing of food/feed materials produced from the genetically modified oilseed rape GT73. GT73, developed by Monsanto Co., expresses two genes encoding the CP4 EPSPS and GOX proteins that confer glyphosate tolerance and resistance, respectively.
The EU food watchdog has previously issued a scientific opinion related to the approval of herbicide-tolerant GM rape in 2004. It concluded that "the placing on the market of GT73 oilseed rape for processing and feed use is unlikely to have an adverse effect on human or animal health or, in the context of its proposed use, on the environment."
Considering information provided by Monsanto Co., Member States comments, as well as relevant information published in the scientific literature, the EFSA GMO Panel reiterates its previous conclusions that the GM oilseed rape is as safe as its conventional counterpart with respect to its potential effects on human and animal health or the environment, following its intended uses.
A summary of the scientific opinion is available at http://www.efsa.europa.eu/cs/BlobServer/Scientific_Opinion/1417,0.pdf?ssbinary=true For the complete report, visit http://www.efsa.europa.eu/cs/BlobServer/Scientific_Opinion/s1417,0.pdf?ssbinary=true