Malaysian Biotechnology Information Centre and The Petri Dish Launch Science Media Centre Malaysia
April 9, 2020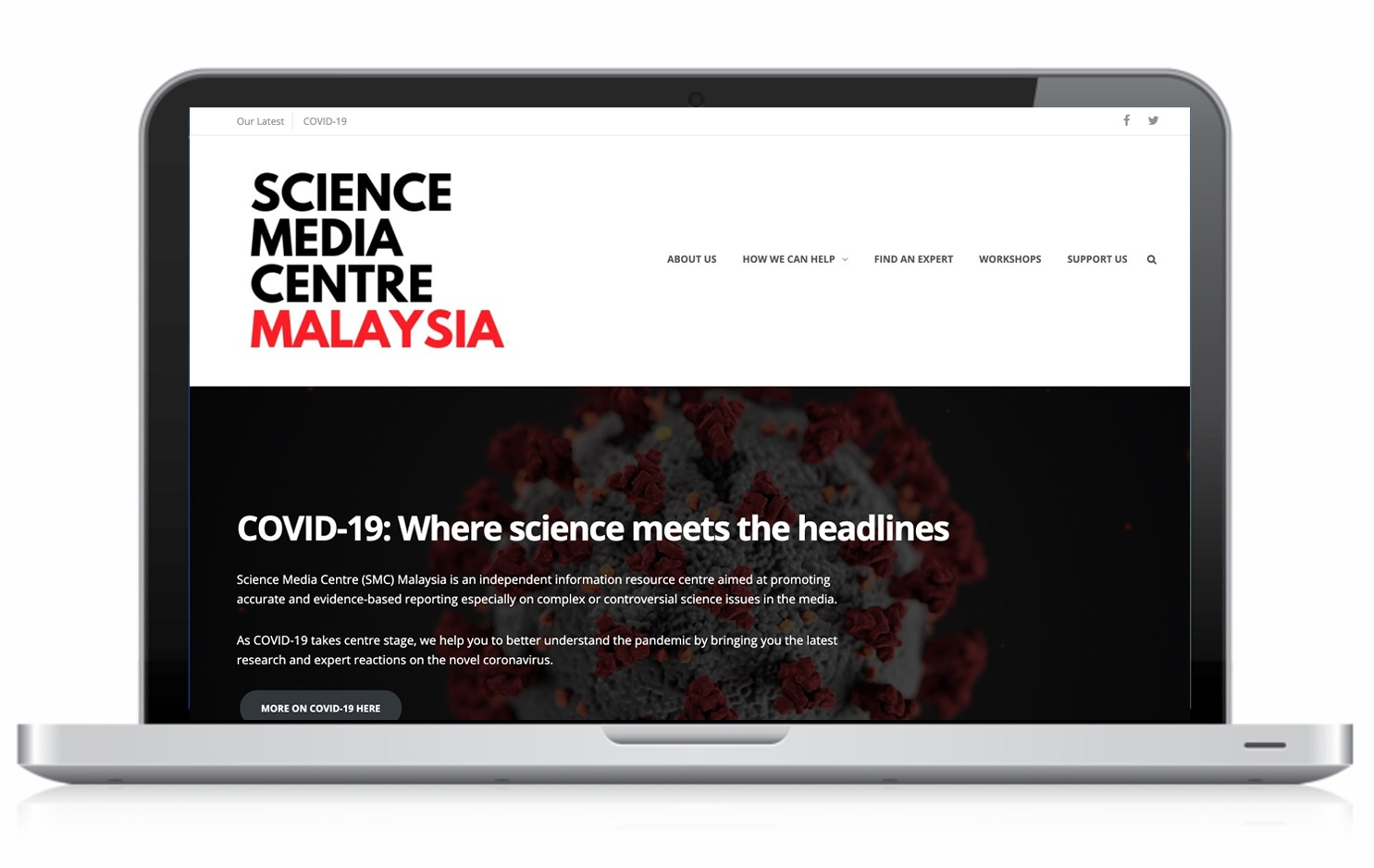 Science is everywhere and it impacts all aspects of our lives, but it remains an elite subject, far from the comprehension of the public and even mass media. Fake news abounds and both the public and the media are often unable to distinguish between science and pseudoscience. This is more evident in the time of crisis such as the COVID-19 pandemic.
Science often takes a backseat in mainstream media and only hits the headline either during a eureka moment or a crisis. There are many reasons for this. Lack of science desks at media houses; lack of science journalists and scientists who are trained in communication; the knowledge and cultural gap between scientists and journalists; and the fear of being misquoted by the media are some of the main reasons.
These issues become magnified during a crisis like COVID-19.
To address this concern, the Malaysian Biotechnology Information Centre (MABIC) and The Petri Dish launched Science Media Centre Malaysia (SMC Malaysia), an online platform to provide factual and evidence-based information that journalists can use to report on complex or controversial science issues that make headlines, such as the COVID-19 pandemic.
SMC Malaysia is co-founded by MABIC Executive Director, Dr. Mahaletchumy Arujanan and former Astro AWANI broadcast journalist, Tan Su Lin.
As a journalist, Su Lin is aware of the struggle faced by journalists who are looking for sources to report timely science-based information and experts in relevant scientific disciplines.
"Currently, there is so much misinformation out there about COVID-19, especially on social media. We want to help better inform the public about the risks of the virus, and this is achieved by debunking misinformation through critical and accurate reporting on science by the media."
"We know that journalists are constantly working on a deadline, therefore our online resource center will provide journalists with timely and relevant quotes from scientists on insightful analysis from across the research fields," said Su Lin who is also a returning Chevening scholar from the United Kingdom.
On COVID-19, SMC Malaysia aims to compile reactions and statements from scientists ranging from basic information on virology, immunology, viral genomes, vaccine development and treatments for easy reference of journalists.
"Beyond this pandemic, SMC Malaysia will serve as a bridge between the scientific community and mass media to ensure science reaches the public without being tainted with misinformation", says Dr. Arujanan.
SMC Malaysia also connects journalists to credible and articulate scientists from across various research fields through its database of experts.
"This is long overdue in Malaysia and this is MABIC's second project after successfully publishing the first science newspaper in Malaysia, The Petri Dish for almost 10 years now,' says Dr. Arujanan who is the founder and editor-in-chief of the newspaper.
Other services provided by SMC Malaysia are media training workshops; a network of scientists and journalists who could continuously interact and exchange information; and excerpts from scientists on the latest scientific development.
Mahaletchumy hopes that scientists, universities, research institutes, and government agencies will support this effort to improve science communication and science literacy in the country.
"SMC Malaysia welcomes the scientific community to use this platform to share their expertise on pressing science-related issues. The virtual center will facilitate more scientists to engage with the media.
"The SMC network of journalists and scientists is expected to improve the quality and quantity of media coverage on science-related topics and ultimately help the public to access scientific information."
SMC Malaysia is part of an international network of Science Media Centres around the world such as the UK, New Zealand, Australia, Germany, and Canada. SMCs are not-for-profit independent organizations that work collaboratively with each other and with the media and scientific institutions within their own countries; with the main mission is to inform public debate and discussion on the major issues of the day by injecting evidence-based science into headline news.
Visit SMC Malaysia here: https://sciencemediacentremalaysia.com/
Science Speaks is ISAAA's Blog hosted by the ISAAA website and publishes weekly blog articles to help share, disseminate, and promote scientific knowledge and its vital role in achieving global agricultural sustainability and development. Your support to Science Speaks will help us in our goal to promote scientific knowledge. You can help us by donating as little as $10.