News
Global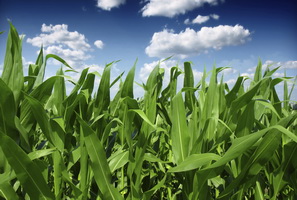 An international team of experts from 10 institutions has released Reconciling Food Security and Bioenergy: Priorities for Action, a report that says energy and food security can be simultaneously improved through well-designed biofuel and bioenergy development programs.
The report points out that food and energy security are complementary goals, as embodied in the United Nations 2030 Sustainable Development Goals (SDGs), and in the Paris Agreement under the UN Framework Convention on Climate Change (UNFCCC). The authors outline a number of ways in which development-focused efforts to promote food security and secure clean and reliable sources of energy for local populations can align in a synergistic way. The report identifies science-based steps to ensure that biofuels, food crops and natural resources can be managed sustainably together. It also contains conclusions pointing out how bioenergy can promote food security.
The report is published in the journal Global Change Biology Bioenergy, generated by an international and multidisciplinary collaboration that was initiated at a conference in November 2014. More details are available at the International Food Policy Research Institute website.
Africa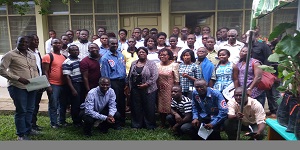 Ghanaian scientists have urged their government to invest more in agricultural research. Speaking at a recent workshop on media outreach and the launch of ISAAA's Global Status of Commercialized Biotech Crops (2015), Professor Kenneth Danso, Director of the Biotechnology and Nuclear Research Institute (BNRI), called on the government to invest in agricultural research to improve the sector. "The government should take agricultural issues more seriously by allocating more funds to research in order to limit overdependence on donor support," said Dr. Danso.
Dr. Lawrence Misa Aboagye, Director of the Plant Genetic Resources Centre (CSIR/PGRRI) in Bunso, Eastern Ghana, acknowledged the importance of continuity of GM crops research in the country. "GM Crops are developed to obtain new desired traits such as early maturing crops to match reduced rainfall, heat and drought tolerant varieties as well as high yielding varieties."
The Global Status report was presented by Professor Walter Sandow Alhassan, an Agricultural Specialist and former Director General of the Council for Scientific and Industrial Research (CSIR). He underlined farmer benefits that ensued from GM crops in the 20 years of commercialization. He also shared with participants copies of the summary report in Akan language, one of the most commonly spoken languages in Ghana, by 53% of the population.
The event held at the Plant Genetic Resources Centre (CSIR/PGRRI) of Bunso in Eastern Ghana on May 26, 2016 was organized by the Open Forum on Agricultural Biotechnology-Ghana Chapter and CSIR.
For more information on the event, contact Dr. Margaret Ottah Atikpo, chair of the OFAB Programming Committee in Ghana at magatik@yahoo.co.uk.
[ Send to a Friend | Rate this Article ]
---
The Permanent Secretary of Tanzania's Ministry of Agriculture and Food Security, Honorable Florens Turuka has vouched for the country's readiness to transact business on GM crops. Speaking at the launch of the ISAAA Global Report on Commercialized Biotech/GM Crops (2015), Honorable Turuka said the government intends to revolutionize agriculture by introducing biotech crops to improve the quality of yields.
"We want to make sure that the quality of the yields that we are harvesting is improved. We believe this report we have launched will help us show the public on how other countries are benefiting from agri-biotechnology." Prof. Gerald Monela, Vice Chancellor, Sokoine University of Agriculture, the host of the event, echoed Hon. Turuka' sentiments, adding that the country has the required capacity for research on GM crops.
"Our experts here at the university will follow internationally accepted guidelines to conduct the research on GM crops." Prof. Monela urged the public not to worry and asked leaders "who because of misinformation, might have said inaccurate things, that have instilled fear in the public to reassure them of the safety standards in place."
The meeting was organized by the Open Forum on Agricultural Biotechnology in Tanzania in collaboration with the Tanzania Commission for Science and Technology (COSTECH) at the Sokoine University of Agriculture (SUA) in Morogoro, Eastern Tanzania, on May 30, 2016. It was attended by 90 participants, including farmers, scientists, representatives from academia and media.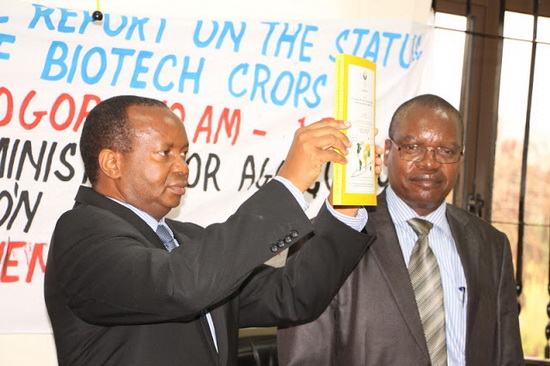 For more information on the event, contact Mr. Philbert Nyinondi, coordinator of the OFAB Programming Committee in Tanzania at nphilbert@costech.or.tz.
Americas
The U.S. Soybean Export Council (USSEC) and U.S. Grains Council (USGC) held meetings in Brussels, Belgium last week to discuss the delays in approvals for soybean and corn biotech events in the EU. They highlighted the need for a predictable, transparent, and science-based regulatory system in the EU.
Jim Miller, USSEC Vice Chairman, and Dean Taylor, leader of the USGC Biotechnology Advisory Team, shared their experiences in using biotechnology and other modern technologies. They explained how these technologies have helped them achieve economic and environmental sustainability. They engaged with European stakeholders and stated that they will continue to use the biotech events approved in the U.S. and other key markets with workable and functioning regulatory systems.
According to the news release of USSEC, the meetings with the European Commission departments covering agriculture, trade, health were done not to seek change in the EU's biotech approval laws and regulations. USSEC and USGC were merely asking for improvements in the EU approval system to make it in line with EU-legislated timelines as well as a more practical approach to situations of low-level presence of yet-unapproved traits in grain shipments to the EU.
Read the news release from USSEC.
Asia and the Pacific
ISAAA has released the 20th Anniversary of the Global Commercialization of Biotech Crops (1996-2015) and Biotech Crop Highlights in 2015 in seminars in Nay Pyi Taw and Yangon, Myanmar on June 17 and June 18, 2016, respectively. The seminars were organized by the Agricultural University Alumni Association (AUAA) in collaboration with Yezin Agricultural University (YAU) and ISAAA.
Deputy Minister for Agriculture, Livestock and Irrigation, H.E. Dr Tun Winn inaugurated the seminar at Nay Pyi Taw attended by 50 government officials, scientists, researchers and students. Twenty-five farmers, media, government officials and general public attended the seminar at Yangon, inaugurated by Dr. Tin Htut Oo, Executive Director of the Agribusiness and Rural Development Consultants at AUAA facility at Yangon.
H.E. Deputy Minister Dr. Tin Winn, strongly endorsed the use of new technologies in agriculture to improve farm productivity and increase farmers' income, against the growing threat of climate change, which is harming food production and making it difficult for farmers to raise crops and livestock. "Biotechnology can contribute in the alleviation of problems related to climate change, including biotic and abiotic stresses such as drought and flood. We need to take proactive and corrective steps using biotechnological approaches to solve some of current problems facing our country," said Minister Tun Winn. The deputy minister lauded the success of Green Revolutio- led release of IR-8 varieties in rice, hybrid revolution in maize and Bt technology revolution in cotton. "The success of these technology-led revolutions are the classic examples of success of scientific endeavor to overcome natural vagaries induced by climate change and ensure livelihood to our people. "Bt cotton is the classical example of a technology-led success in the most recent years in Myanmar," stated Dr. Tin Winn.
Dr. Khin Thida Myint, head of Department of horticulture and agriculture biotechnology of the Yezin Agricultural University, Nay Pyi Taw shared the status of biotechnology in Myanmar. Dr. Mahalectumy Arujanan of Malaysian Biotechnology Information Centre (MABIC) briefed the participants about the global status of the commercialization of biotech crops (1996-2015) and biotech crop highlights in 2015. Mr. Bhagirath Choudhary of the South Asia Biotechnology Centre (SABC), New Delhi, India, presented insights and analysis of genetically modified crops in Asia.
Other important participants in the seminar were Prof. Dr. Myo Kywe, the rector of Yezin Agricultural University, Dr. Khin Moe Khaing of Department of Agriculture, Dr. Pa Pa Aung and Dr. Thawda of Plant Biotechnology Centre and heads of different departments of Yezin Agricultural University, Dr. Tin Maung Shwe and Mr. Naing Lin Oo of the Agribusiness and Rural Development Consultants and senior officials of Agricultural University Alumni Association (AUAA), Nay Pyi Tau and Yangon.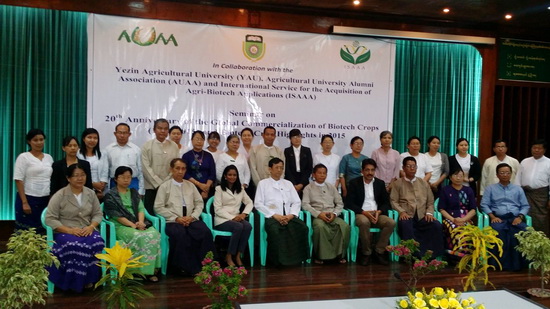 For information about biotech crops in Myanmar, visit the ISAAA website, and for more information on the two events, contact knowledge.center@isaaa.org.
Europe
Melatonin, a well known hormone that promotes sleep in humans and animals, is also involved in stress tolerance in plants, according to a recently published study.
Together with the University of Texas Health Science Center at San Antonio, Texas, USA, crop physiologists from the Department of Plant and Environmental Sciences at the University of Copenhagen has documented the roles of melatonin in drought priming and stress memory in barley. The study suggests that external melatonin application enhances drought priming induced cold tolerance (DPICT) and resulted in higher concentrations of abscisic acid (ABA) in barley. The interplay of melatonin and ABA results in plants that can better maintain water.
According to first author Dr. Xiangnan Li and Associate Professor Fulai Liu, the senior author of the article, "Regulating melatonin production in plants via drought priming could be a promising approach to enhancing abiotic stress tolerance of crops in future climate scenarios."
Read more at the University of Copenhagen website.
[ Send to a Friend | Rate this Article ]
---
According to research led by the University of Leeds and published in Nature Climate Change, crop yields will fall within the next decade due to climate change unless immediate action is taken to speed up the introduction of new and improved varieties.
The research focuses on maize in Africa, but the underlying processes affect crops across the tropics. Looking at a range of data on farming, regulatory policy, markets and technologies, the researchers developed average, best and worst case scenarios for current crop breeding systems. They found that crop duration will become significantly shorter as early as 2018 in some locations, and by 2031 in the majority of maize-growing regions in Africa. Only the most optimistic assessment – in which farming, policy, markets and technology all combine to make new varieties in 10 years – showed crops matched to temperatures between now and 2050.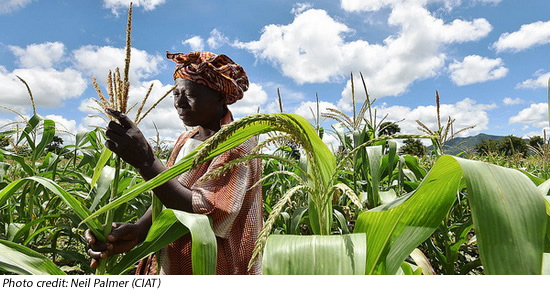 For more details, read the news release at the University of Leeds website.
Research
Rice sheath blight, caused by fungus Rhizoctonia solani, is a major disease of rice. NPR1 regulates systemic acquired resistance (SAR), conferring broad spectrum resistance to various plant pathogens. Previous reports have shown that expression of the Arabidopsis thaliana NPR1 (AtNPR1) in rice results in disease resistance but negatively impacts growth and agronomic traits.
Scientists from the University of Calcutta now report that green tissue-specific expression of AtNPR1 in rice confers resistance to sheath blight, with no negative effect on plant growth. Elevated levels of NPR1 activated the defense pathway in the transgenic plants by inducing expression of disease relevant genes such as PR1b, RC24, and PR10A. Enhanced sheath blight resistance of the transgenics was evaluated and showed no kind of negative phenotypic effect.
These results demonstrate that green tissue-specific expression of AtNPR1 is an effective strategy for controlling the sheath blight pathogen. This work in rice could also be used for other crop plants severely damaged by the pathogen.
For more information on this study, read the article in Plant Science.
[ Send to a Friend | Rate this Article ]
---
Nicotianamine (NA) is an amino acid involved in metal uptake, transport and homeostasis in plants. Nicotianamine synthase (NAS) genes, which encode enzymes that synthesize NA, are regulated by iron status in most plant species, and plant genomes have been found to contain anywhere from 1 to 9 NAS genes.
A study by researchers from the University of Melbourne and the University of Adelaide in Australia describes the identification of 21 NAS genes in the hexaploid bread wheat (Triticum aestivum L.) genome. The TaNAS genes were found to be highly expressed during germination, seedling growth and reproductive development. Fourteen NAS genes were also found to be upregulated in root tissues under iron deficiency.
The results expand knowledge of NAS genes in plants as well as the genetics underlying iron nutrition in bread wheat.
For more on this study, read the article in Plant Biotechnology Journal.
[ Send to a Friend | Rate this Article ]
---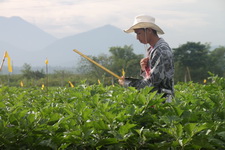 Eggplant (Solanum melongena) is a vegetable grown throughout Asia that is ravaged by the eggplant fruit and shoot borer (EFSB) , Leucinodes orbonalis, prompting farmers to treat it heavily with insecticides. While Bt technology has been used for controlling insect pests in maize and cotton, there have been only few Bt vegetable crops.
Dr. Desiree Hautea and her team from the Institute of Plant Breeding/ Crop Science Cluster of the University of the Philippines Los Baños, together with collaborators from Cornell University and the International Service for the Acquisition of Agri-biotech Applications (ISAAA) now present data on the field performance of Bt eggplant in the Philippines.
Replicated field trials with five Bt eggplant open-pollinated (OP) lines and their non-Bt counterparts were conducted for three cropping seasons in the biggest eggplant growing province of Pangasinan from 2010–2012. The trials evaluated levels of Cry1Ac protein in plants and evaluated their efficacy against EFSB.
The Bt eggplant exhibited excellent control of EFSB and were significantly better than their non-Bt counterparts in all parameters tested. These results show how Bt eggplant lines effectively control EFSB, which can greatly reduce the need for conventional insecticides.
For more on this study, read the full article in Plos One.
Beyond Crop Biotech
The U.S. Food and Drug Administration (US FDA) approved the clinical trial of an experimental vaccine for Zika virus for the first time. The first experimental vaccine for Zika was developed by Inovio. The initial results of the trial, which will involve 40 adults, are expected to come out later this year.
The vaccine developed by Inovio with a working name of GLS-5700 is a DNA vaccine. When injected, it involves coding of DNA to produce the protein that surrounds the Zika virus. Electrical pulse is applied to the site of injection to help the DNA locate the cells. Then the cells teach the immune system to detect Zika virus as a foreign invader, producing antibodies to combat the virus.
Read the original article from Stat News.
[ Send to a Friend | Rate this Article ]
---
Rice University scientists have synthesized a novel anti-cancer agent, Thailanstatin A, which was isolated from a bacteria collected in Thailand.
Thailanstatin A fights cancer by inhibiting the spliceosome, the machinery in the cell that edits messenger RNA after transcription but before translation. Researchers explained that the spliceosome, a composite of proteins and ribonucleoproteins that regulate DNA splicing, is more active and displays higher mutation rates in cancer cells than in healthy cells, making it a suitable target for the study.
Rice synthetic chemist K.C. Nicolaou said the synthesis of Thailanstatin A, first isolated from bacterium Burkholderia thailandensisa, opens the way to construct and test variations of the molecule. The program can take two directions, one directed toward high-potency compounds that could be used for antibody drug conjugates and the other toward selective agents that can kill cancer cells with minimal damage to healthy cells.
For more on this study, read the article on the Rice University Website.
[ Send to a Friend | Rate this Article ]
---
Smoking cigarettes alters dozens of genes important for immune defense and these changes likely increase the risk of infections. Now, University of North Carolina School of Medicine scientists report that electronic cigarettes alter those same genes, and more.
Their findings suggest that inhaling the vaporized flavored liquids in e-cigarettes has consequences on the level of epithelial cell gene expression. While, the discovery cannot yet be linked to long-term health effects of e-cigarette use or the risk of diseases associated with cigarette smoking, the findings suggest that e-cigarette use will not be harmless.
The team recruited non-smokers, smokers, and e-cigarette users for analysis of urine and blood samples for nicotine levels and biomarkers relevant to tobacco exposure. Using non-smokers as the baseline, the team found that smoking cigarettes decreased the gene expression of 53 genes important for the immune response of epithelial cells. Using e-cigarettes decreased the gene expression of 358 genes important for immune defense, including all 53 genes affected in the smoking group.
For more on this study, read the article at the UNC Healthcare website.
Announcements
What: Program Management for Plant Breeders (Short Course)
Where: UC Davis, Davis, California, USA
When: September 16-22, 2016
For questions or additional information, please contact Sally Mohr (sjmohr@ucdavis.edu), or visit the PMPB Registration Information website.
Document Reminders
Forest and farm producer groups are vital in achieving the expanding global need for food and forest products, as well as improving the lives in rural communities and reaching the Sustainable Development Goals (SDGs). This point was highlighted in the publication by the Food and agriculture Organization of the United Nations (FAO) in cooperation with AgriCord.
Through the publication, FAO challenges governments, development partners, civil society, and the private sector to increase support to forest and farm producer organizations to enhance their ability to fulfill their role in sustainable global development.
Read the publication from FAO.