News
Global
The International Rice Research Institute (IRRI) and its partners released 44 new and improved rice varieties in 2013. These include six improved varieties released in sub-Saharan Africa, nine salt tolerant varieties released in the Philippines, and three flood tolerant varieties released in South Asia.
"We are excited over these varieties, especially those released in Nigeria. These are the fruits of many years of collaboration," said Glenn Gregorio, senior rice breeder at IRRI. "IRRI worked hard and closely with national breeding programs, and we know that this will lead to more collaboration as demand for rice increases in sub-Saharan Africa," he added. Aside from varieties with enhanced stress tolerance, Eastern and Southern Africa (ESA) also demands for aromatic varieties. "Releasing these rice varieties in ESA, including the aromatic ones, is a step toward meeting the demand of the region," said IRRI scientist RK Singh.
Read more at http://irri.org/news/media-releases/44-new-rice-varieties-in-asia-and-africa.
[ Send to a Friend | Rate this Article ]
---
The Federation of Asian Biotech Associations (FABA) Special Award for 2014 was conferred upon Dr. William Dar, director general, International Crops Research Institute for the Semi-Arid Tropics (ICRISAT), in recognition of his relentless efforts to improve the livelihoods of poor smallholder farmers in Asia and sub-Saharan Africa. Dr. Dar was chosen by a team of global experts to receive this honour for his notable contributions to science and sustainable agriculture and his transformational leadership at ICRISAT that turned the institute into a forward-looking global center of excellence.
His institutional innovations in agricultural biotechnology, genomics and agribusiness incubation and in fostering public-private partnerships, guided by the strategic framework of inclusive market-oriented development (IMOD), have led to significant impacts in the dryland tropics of Asia and sub-Saharan Africa. The award was presented to Dar by Nobel Laureate and eminent German virologist Dr Harald zur Hausen, during the valedictory ceremony of BioAsia 2014, which took place at the Hyderabad International Convention Centre recently.
"I dedicate this award to the smallholder farmers of Asia and sub-Saharan Africa," he said in his acceptance speech at the event. Sharing valuable insights with the dignitaries and participants at the event, Dr. Dar said, "In order to be the global leader, India must invest in and strengthen genome science in terms of agriculture. This would help improve the health and living standards of the poor people and feed the country's growing population."
ICRISAT is among the global leaders in genomic science in agriculture, and currently leads the genome sequencing of pigeonpea, chickpea and pearl millet. The FABA Special Award was instituted in 2010 to recognize and honor eminent personalities for their significant contributions to biotechnology and life sciences.
For more information visit http://www.icrisat.org/newsroom/news-releases/icrisat-pr-2014-media11.htm
Africa
In a symposium featuring the ISAAA Brief 46: Global Status of Commercialized Biotech/GM Crops 2013 in Egypt, Prof. Raamzy Stino, Minister of State for Scientific Research discussed the ministry's efforts to support scientific researches and new innovations in the field of agriculture to face the challenges of drought and food shortage. The new innovations include the use of modern agricultural technology such as biotechnology, contained in the ISAAA Briefs, discussed and highlighted by Prof. Naglaa Abdallah, director of Egypt Biotech Information Center.
The event held on on 23 February 2014 at the National Research Center, Egypt was participated in by more than 500 members of the academe, journalists and other stakeholders and was viewed live through three television stations. It was organized by the Ministry of Agriculture and Land Reclamation, Ministry of State for Scientific Research, the Ministry of State for Environment, and the Cairo University. Other prominent speakers include Prof. Ezz Abustate, Vice President of Cairo University, who thanked the Egypt Biotechnology Center (EBIC) for the role it plays in disseminating correct information on biotech crops. Talks on status of transgenic wheat, cotton, and maize which are under field trials, as well as environmental safety were discussed by prominent scientists of Cairo University.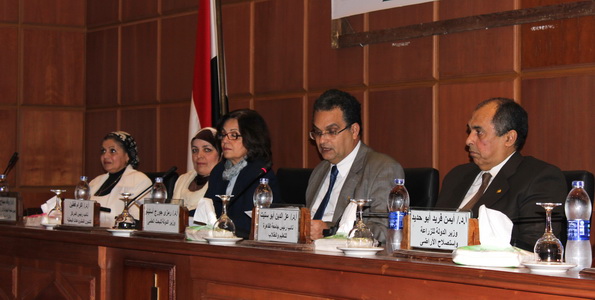 For details of the symposium, contact Dr. Naglaa Abdallah, director of Egypt BIC at naglaa_a@hotmail.com
[ Send to a Friend | Rate this Article ]
---
Tanzanian researchers involved in GM research expressed their confidence that a clause which holds them and their partner companies liable for any negative effects of GM will be amended this year. The liability clause which is a regulation directly from 2004 National Environmental Management Act has impeded the conduct of GM crop field trials. According to Dr. Roshan Abdallah, member of National Biosafety Advisory Committee, and Dr. Nicholar Nyange, acting DG of Commission for Science and Technology, a bill to amend the 2004 NEM Act will be forwarded to the Parliament this year to allow them complete field trials for GM maize.
"It takes sometime to change regulations in which case this liability clause directly emanated from the mother law," said Dr. Abdallah who said President Jakaya Kikwete had promised to work on the legal hurdle when he officially opened the modern biotech laboratory at Mikocheni Agriculture Research Institute (MARI) last year. Dr. Abdallah also said that the clause prevented private companies to work with local scientists in developing GM crops because it opens all avenues of legal litigation against them. Furthermore, Dr. Abdalla stressed that Tanzania must be allowed to conduct field trials now since their neighbors Kenya and Uganda are already conducting trials and will soon be growing GM maize.
Read more at http://b4fa.org/b4fa-week-review-11-february-2014/ and http://www.dailynews.co.tz/index.php/local-news/27930-local-researchers-confident-on-gmo-field-trials.
[ Send to a Friend | Rate this Article ]
---
Researchers at the University of the Witwatersrand, Johannesburg, has debunked a long-standing hypothesis about plant speciation or the formation of new and distinct species in the course of evolution. The results of their study suggests that agricultural crops could be more vulnerable to climate change than was previously believed.
Plants can tolerate multiple copies of their genes. Some plants called polyploids, can have more than 50 duplicates of their genomes in every cell. Scientists used to think that these extra genomes helped polyploids survive in new and extreme environments, like the tropics or the Arctic, promoting the establishment of new species. However, Dr. Kelsey Glennon and colleagues found that, more often than not, polyploids have the same habitats as their close relatives with normal genome sizes. This implies that environmental factors do not play a large role in the establishment of new plant species and that maybe other factors, like the ability to spread your seeds to new locations with similar habitats, are more important. "This study has implications for agriculture and climate change because all of our important crops are polyploids and they might not be much better at adapting to changing climate than their wild relatives if they live in similar climates," said Dr. Glennon.
The study also provides an alternative explanation for why plants are so diverse in places like the Cape where the climate has been stable for hundreds of thousands of years. The study involved plant species from North America and Europe and will soon be conducted in South African plants.
For more details, visit http://www.wits.ac.za/newsroom/newsitems/201402/22941/news_item_22941.html.
[ Send to a Friend | Rate this Article ]
---
The Africa Rice Center in Cotonou, Benin is holding 'Science Week" from 24 to 27 February. The conference brings together 250 international and national rice research and development partners from the public and private sectors and national research and extension programs of 28 African countries. The Center is reviewing the Strategic Plan known as the Global Rice Science Partnership (GRiSP), a Rice Task Force mechanism and a network of Rice Sector Development Hubs set up across Africa to concentrate R&D efforts and connect partners along the rice value chain.
The main objectives of the AfricaRice Science Week & GRiSP-Africa Forum are:
Carry out effective and efficient planning of research-for-development (R4D) activities in 2014 with partners
Facilitate the building up of 'a Rice Sector Development Hub Innovation team' in each of the 24 countries where the Rice Hubs have been set up
Determine 'desirable outcomes' for each Hub over the next 5 years and identify the first set of indicators to gauge progress towards these outcomes
Develop a work plan to achieve the outcomes in each Hub through dissemination of 'scalable products' by working with development partners from public and private sectors
Plan collaborative research activities in the various Africa-wide Rice Task Forces and identify opportunities for synergies between the Task Forces
Familiarize the participants with the AfricaRice monitoring and evaluation (M&E) tool and the Rice eHub
For details of the news, see http://africarice.blogspot.com/2014/02/africarice-science-week-to-focus-on.html
Americas
A new study conducted by a research team at the U.S. Department of Energy's (DOE) Brookhaven National Laboratory has identified hormone distribution mechanisms in plants that could lead to sustainable bioenergy crops with increased growth and reduced need for fertilizer.
Led by biochemist Chang-Jun Liu, the study identified the protein essential for relocating cytokinins from roots to shoots. Cytokinins are plant hormones that stimulate plant development. Using Arabidopsis, the researchers studied a large family of transport proteins called ATP-binding cassette (ABC) transporters, which act as a kind of inter- or intra-cellular pump moving substances in or out of a plant's cells or their organelles. While performing gene expression analysis on a set of these ABC transporters, the research team found that the gene AtABCG14 is highly expressed in the vascular tissues of roots. They then examined mutant plants with disrupted AtABCG14 gene, and found that without the gene, plants had weaker growth, slenderer stems, and shorter primary roots than their wild-type counterparts. These structural changes are symptoms of cytokinin deficiencies.
According to Liu, manipulating cytokinin distribution by tailoring the action of the transporter protein could be one way to increase biomass yield and stress tolerance of plants grown for biofuels or agriculture.
For more details about this research, read the news release available at: http://www.bnl.gov/newsroom/news.php?a=11608.
[ Send to a Friend | Rate this Article ]
---
A multi-institutional team led by researchers from the University of Illinois reports that it can increase sugarcane's geographic range, boost its photosynthetic rate by 30 percent and turn it into an oil-producing crop for biodiesel production. Aside from sugarcane, the initiative will also include sorghum into even more productive, oil-generating plants.
The team introduced genes to sugarcane that increased its natural oil production to about 1.5 percent. Using genetic engineering, the research team increased photosynthetic efficiency in sugarcane and sorghum by 30 percent, according to team leader Stephen Long. To boost cold tolerance, researchers are crossing sugarcane with the perennial grass Miscanthus. The new hybrid is more cold tolerant than sugarcane, but further crosses are still needed to restore the other attributes of sugarcane while preserving its cold tolerance.
Long added, "Our goal is to make sugarcane produce more oil, be more productive with more photosynthesis and be more cold tolerant."
For more details about this research, read the news release at http://news.illinois.edu/news/14/0224sugarcane_StephenLong.html.
[ Send to a Friend | Rate this Article ]
---
A new research effort called Feed the Future Innovation Lab for Climate Resilient Chickpea under the leadership of University of California Davis (UC Davis) aims to improve the productivity of chickpea varieties by harnessing the genetic diversity of wild species. Launched in Ethiopia on February 24, 2014, the five-year, $4 million research program is especially important in the developing world, where the chickpea provides a crucial source of income, food security and nutrition to poor farmers, particularly women. Chickpea is the third most widely grown legume crop in the world, and it captures and uses atmospheric nitrogen, thus contributing to soil fertility.
Doug Cook, UC Davis plant pathology professor and director of the project said "This project aims to develop chickpea for increased resilience to climate stress and other high-value traits by expanding the range of genetic adaptations available to breeders." Through this project, researchers will combine advanced genomic technologies with analysis of plant traits to identify new and desirable genes from chickpea's closest wild relatives.
To learn more about this initative, read the UC Davis news release at http://news.ucdavis.edu/search/news_detail.lasso?id=10836.
[ Send to a Friend | Rate this Article ]
---
The USDA Animal and Plant Health Inspection Service (APHIS) extended the comment period on the draft environmental impact statement (DEIS) until March 11. The DEIS evaluates the potential environmental impacts of one corn and two soybean herbicide tolerant varieties developed by Dow AgroSciences. According to APHIS, the extension is a response to stakeholder requests to provide more time for comments.
Read the official announcement at http://www.aphis.usda.gov/newsroom/2014/02/pdf/sa_comments_ge_corn_soybeans.pdf.
Asia and the Pacific
Addressing the gathering of senior policy makers and agriculture officials, the Union Minister of Agriculture and Irrigation Mr. U Myint Hlaing acknowledged the major contribution of Bt cotton in doubling cotton production and increasing income of small holder farmers in Myanmar. For the first time, the Union Agriculture Minister recognized the wide-spread cultivation of Bt cotton variety in Myanmar since 2006-07. Lauding the multiple benefits of Bt cotton to small holder farmers in Myanmar, Agriculture Minister highlighted that "the use of Bt cotton has resulted in significant benefits for the farmers such as high crop yield, reduce input cost, increase profit, and less hazard exposure to pesticides".
Dr. Clive James, Founder and Emeritus Chairman of ISAAA, delivered the inaugural address and shared advancement of biotech/GM crops highlighting the unprecedented 170-fold increase in GM crops hectarages from 1.7 million ha in 1996 to175 million hectares in 27 countries in 2013. The long staple Bt cotton variety Ngwe Chi-6 developed by the Myanmar Industrial Crops Development Enterprise and approved by the National Seed Committee of the Ministry of Agriculture and Irrigation is now planted on 305,000 hectares by 435,000 small farmers equivalent to an adoption rate of 85%. In the eight year period, Bt cotton increased long staple cotton yield to 2,100 kg per hectare as compared to the yield of 450 kg per hectare for short staple cotton, a four times yield difference. "It is estimated that Bt cotton has enhanced the farm income of Myanmar by US$222 million for the period 2006 to 2012 and the benefits for 2012 alone at US$48.7 million", said James.
Dr. Pa Pa Aung of the Biotechnology Research Center briefed the participants with the status of biotechnology R&D in Myanmar while Dr. Randy Hautea and Bhagirath Choudhary of ISAAA shared the analysis of the adoption and impact of biotech maize in the Philippines and Bt cotton in India, respectively. Dr. Tin Htut Oo, the chairman of the National Social and Economic Advisory Council of Myanmar delivered the concluding remarks.
The agriculture seminar "Global review of commercialization of biotech/GM crops 2013" was organized by the Ministry of Agriculture and Irrigation (MOAI) in collaboration with the National Social and Economic Advisory Council (NSEAC) and ISAAA in the new Nay Pyi Taw, the new capital city of Myanmar on 24 February 2014. The seminar was attended by senior policy makers, government officials, agricultural scientists and university officials.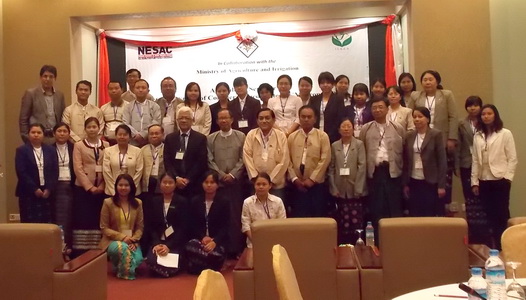 For details of the seminar contact India BIC Director Bhagirath Choudhary at b.choudhary@cgiar.org. More information about Bt cotton in Myanmar, can be obtained at: www.isaaa.org
[ Send to a Friend | Rate this Article ]
---
Myanmar's Union Minister of Agriculture and Irrigation, H.E. U Myint Hlaing stressed the importance of adopting the appropriate modern technologies including biotechnology in development of crop production in his address during the agriculture seminar on the Global review of commercialization of biotech/GM crops 2013. The event was organized by the Ministry of Agriculture and Irrigation (MOAI) in collaboration with the National Social and Economic Advisory Council (NSEAC) and ISAAA in Nay Pyi Taw, the new capital city of Myanmar on 24 Feb 2014.
Understanding the importance of biotechnology in agricultural development, Myanmar established the plant biotechnology laboratory in 2001 in Yangon region to enhance research activities in plant biotechnology. The plant biotechnology laboratory was henceforth upgraded to Plant Biotechnology Center in 2009 with newly trained technical staffs and laboratory facilities. The Plant Biotechnology Center performs various important activities including the release of improved crop varieties, DNA finger printing, and GMO analysis on imported agriculture crops and issuing non-GMO certification.
"Given the limitation in current activities in plant biotechnology, we have to extend the research activities of plant biotechnology in near future of which strengthening of technical capacity and human resource development is crucial", said the agriculture minister. He further elaborated the need and called on the global society to extend support, technologies and technical know how to improve plant biotechnology R&D and sustainable agriculture production in the country. "Although potential benefits of Bt cotton are large in the country, the scientific capacity to maintain the generation and to access biosafety of GM crops is still needed. In addition, the evaluation on their work, regulatory capacity for safe deployment and legal system need to be strengthened," pointed the Minister.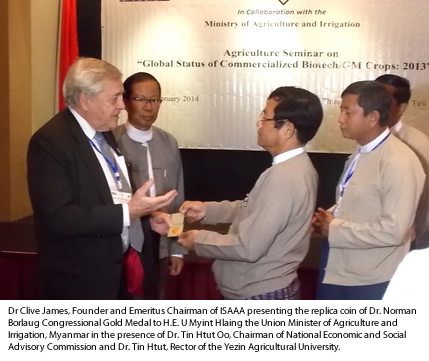 For more information about the status of biotech in agriculture in Myanmar, visit Myanmar's Ministry of Agriculture and Irrigation at: http://www.moai.gov.mm
Europe
Anne Glover, the chief scientific adviser to the European commission, together with prominent European GM researchers and policymakers will meet this week with Ethiopian, Kenyan, Ghanaian, and Nigerian farm ministers and officials from the African Union.
During the European Academies Science Advisory Council (EASAC) meeting last year, British environment secretary, Owen Paterson, mentioned that UK would be acting immorally if it did not make GM crop technologies available to underprivileged countries. Thus, the upcoming meeting will help EU and African scientists collaborate to allow biotech crops to be planted with ease in Africa, says EASAC representative.
For more details, read http://www.europabio.org/news/gm-crops-european-scientists-descend-africa-promote-biotech.