Americas
In a statement released on January 28, 2016, the American Soybean Association (ASA) is urging the European Commission to address delays in the approvals timeline for crops grown with new biotechnology traits, saying the delays create a barrier to entry into the market for American soybeans and risk the supply of high quality feed for Europe's livestock industry. The ASA noted the improvements that the current Commission has made, and urged the Commission to give final authorization to new biotech events after they have passed through the EU's long review process.
The statement followed a report released earlier in January from European Ombudsman Emily O'Reilly highlighting delays in the previous Commission's decisions on approving the import of new biotech crops that she said amounted to "maladministration."
ASA President Richard Wilkins noted that while the current Commission is making progress, it must continue to do so. "While Ombudsman O'Reilly's report is a reaffirmation of what we have known to be true for some time, it is still a good acknowledgement of the work that is ahead with regard to Europe. The process for approving new traits for export must be a transparent, efficient and science-based one," he said.
Read the statement at the American Soybean Association website.
[ Send to a Friend | Rate this Article ]
---
Researchers from Purdue University found that engineering plants to produce high levels of the protein PYL9 dramatically boosted drought tolerance in rice and the model plant Arabidopsis. The new study offers insights into the drought survival mechanisms of plants and presents a possible means of protecting crops from severe drought stress.
Under severe drought conditions, the transgenic plants triggered the death of their old leaves - a process called senescence - to conserve resources for seeds and buds, a survival strategy referred to as "die and let live." During drought, plant responses are controlled by abscisic acid (ABA), a hormone which regulates plant growth, development, and reaction to stress. The researchers found that altering plants to overexpress PYL9 made them highly sensitive to ABA, and a stress-responsive promoter protein controlled the level of PYL9 expression in the plants. The alterations helped Arabidopsis and rice to better withstand severe drought stress. PYL9 transgenic rice had a 50 percent survival rate after a two-week drought compared with 10 percent survival in wild type rice.
The study did not test for yield, though, and first author Yang Zhao cautioned that the spike in survival rate does not mean that the yield of the transgenic plants under drought conditions would equal that of conventional rice varieties under good growing conditions. "We still can't really solve the problem of drought," he said. "But we can make it better. In extreme drought conditions, even a bad yield would be better than nothing in terms of preserving human life."
For more details, read the news article at the Purdue University Newsroom.
[ Send to a Friend | Rate this Article ]
---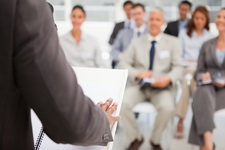 The U.S. Department of Agriculture's Animal and Plant Health Inspection Service (APHIS) has announced that it will issue a notice that it is developing a draft programmatic environmental impact statement (EIS), required under the National Environmental Policy Act, that will evaluate a range of alternatives that the Agency can take as it works to update its biotechnology regulations. The notice also invites the public to comment on the range of alternatives that APHIS will study in the draft EIS, along with definitions that APHIS plans to use in the draft EIS.
APHIS is considering amending its biotechnology regulations pertaining to introductions of the products of biotechnology that may pose plant pest or noxious weed risks to reflect lessons learned from regulating biotechnology products since 1987, reflect advances in biotechnology and address comments and suggestions raised by stakeholders.
The notice is expected to be on display at the Federal Register on February 4, 2016, and will officially publish in the Register on February 5, 2016.
For more, read the APHIS bulletin.
[ Send to a Friend | Rate this Article ]
---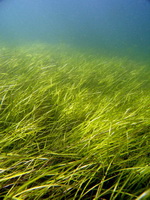 An international research team from Europe and the United States have sequenced the genome of the seagrass Zostera marina, an eelgrass taken from the Archipelago Sea off Finland. It is the first marine flowering plant to be fully sequenced, and its genome provides insight to extreme genetic plant adaptations. Eelgrass was once a flowering land plant that evolved over millions of years to become an ocean-dwelling seagrass, and researchers are interested in understanding how the plant adapts to climate change.
The research team compared the eelgrass genome with the freshwater plant duckweed and noted differences in genes related to cell wall structure due to adaptations to freshwater or terrestrial conditions. For example, the duckweed lost genes that help plants retain water in the cell wall, while eelgrass regained these genes to better deal with osmotic stress at low tide.
Study lead author Jeanine Olsen of the University of Groningen in the Netherlands said that the eelgrass re-engineered itself, noting the changes affecting the plant's cell walls. She added that crop breeders may benefit from lessons on how salt tolerance has evolved in these plants.
For more details, read the news release at the US Department of Energy's Joint Genome Institute website.
Asia and the Pacific
Stem rust is one of the most devastating barley diseases in Kazakhstan. Despite efforts for developing resistant lines, a molecular approach towards SR resistance gene identification had never been used in Kazakhstan.
Researchers led by Yerlan Turuspekov of the Institute of Plant Biology and Biotechnology used GWAS (genome-wide association study) mapping to identify reliable SNP markers and quantitative trait loci (QTL) associated with resistance to stem rust.
Barley commercial cultivars were characterized for resistance to stem rust. Analysis identified 2 reliable SNP markers located at chromosome 6H that were associated with resistance to stem rust at heading time (HA). However, no significant resistance QTLs were found for the maturity phase of development.
Genotyping of barley accessions from Kazakhstan identified highly significant QTL for the SR resistance at the HA phase of growth on chromosome 6H. The results provide additional information towards better understanding of SR resistance in barley.
For more information, read the full article in BMC Plant Biology.
Europe
The union of a sperm and an egg is the beginning of a new life. This is the case in humans and animals, and in principle, it also happens in plants. A German-Israeli team led by Professors Ralf Reski from Albert-Ludwigs-University of Freiburg and Nir Ohad from Tel-Aviv University has discovered a gene trigger in the moss Physcomitrella patens which leads to offsprings without fertilization.
The team describes the gene BELL1 as a master regulator for the formation of embryos and their development in Physcomitrella. After the researchers activated this gene in the plants by genetic engineering, embryos developed spontaneously in a specific cell type. These embryos grew to fully functional moss sporophytes. These spore capsules could even form spores, which grew into new moss plants. The team identified BELL1 as a master regulator for embryo development in mosses. Professor Reski said, "Our results may help to modernize agriculture through the creation of genetically identical offspring from high-yielding crop plants."
For more information, read the news releases from the Albert-Ludwigs-University of Freiburg and Tel Aviv University.
[ Send to a Friend | Rate this Article ]
---
A new study conducted by scientists at Rothamsted Research and colleagues at the University of Manchester using high-resolution imaging during wheat sperm cell development reveals the way that chloroplasts are passed from one generation to another via only the maternal parent.
Chloroplasts are structures in plant cells that perform photosynthesis and mature from small precursors called plastids. Wheat, like many other plants, inherit their chloroplasts only from their mother. However, the mechanism that leads to this was not known. The research team labeled plastids in wheat with a green fluorescent protein (GFP) and observed them in developing pollen grains. They show for the first time that plastids are degraded in mature sperm cells just prior to fertilization.
Dr. Anil Day from the University of Manchester said, "We have shown that plastids are actually degraded in mature sperm cells just prior to fertilization rather than simply being stripped away with the rest of the cytoplasm."
Read the news release at Rothamsted Research for more information.
[ Send to a Friend | Rate this Article ]
---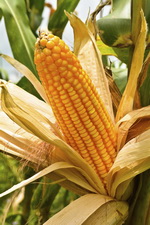 Feeding studies of GM food/feed have been studied in detail by an EU-funded project called GMO Risk Assessment and Communication of Evidence (GRACE). The project team used GM maize event MON 810 in a 90-day and one-year feeding study. The team did not find any indication that a routine performance of 90-day feeding studies with whole food/feed would provide additional information on the safety on MON810 when compared to the compositional comparison of the GM variety.
Results also indicate that feeding the rats with MON810 did not lead to any adverse effects. Additional findings support the scientific reasoning that feeding trials with whole food / feed may provide an added scientific value for the risk assessment of GM crops, but only in case a trigger is available from the initial molecular, compositional, phenotypic and / or agronomic analyses.
For details, see the news at CORDIS.