News
Global
An international research team led by Wageningen University & Research in the Netherlands has sequenced the genome of Xerophyta viscosa, also called the 'resurrection plant.'
In their paper published in Nature Plants, the team reveals a genetic 'footprint' of the amazing ability of this plant to tolerate severe drought for long periods of time. The team hopes their results will contribute to a faster development of food crops that are resilient enough to cope with foreseen global climate changes.
Maria-Cecília D. Costa and Mariana A. S. Artur of the Laboratory of Plant Physiology of Wageningen University & Research studied desiccating plants and the associated gene expression patterns. The team did not find a link between genes active during desiccation and genes known for their activity during drought-induced senescence. However, the team did find a link with genes involved in seed ripening, a process that allows seeds to survive many years of dry storage. According to Costa, these findings could mean that X. viscosa acquired its desiccation tolerance from ancestors that evolved genes that allow seeds to survive drying.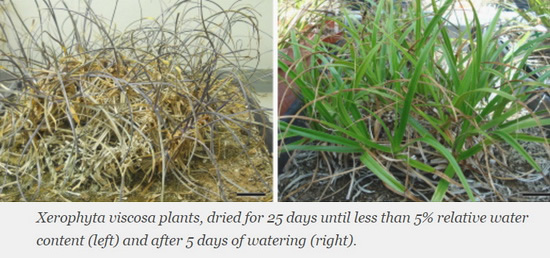 For more details, read the news release at Wageningen University & Research News.
Americas
Scientists working to study the impacts of climate change on agriculture based their predictions on rainfall, drought intensity, and weather volatility. However, a new study conducted by scientists at the University of Illinois at Urbana-Champaign puts predictions based on field working days.
In a previous study, the group developed models that reliably translated past climate data into field working days for Illinois. Those models are coupled with climate change scenarios to forecast field working days into the future in the new study. The group ran the models for nine crop districts in Illinois for two time periods, mid-century (2046 to 2065) and late-century (2080 to 2099), using three climate scenarios ranging from mild to extreme.
For Illinois, the corn planting window will be split in two to avoid wet conditions in April and May. Each planting window carries increased risk, as the early planting window could be thwarted by frost or heavy precipitation, and the late window cut short by intense late-summer drought.
"Drought periods will intensify in mid- to late-summer under all the climate scenarios. If farmers decide to plant later to avoid the wet period in April and May, they're going to run into drought that will hit yield during the anthesis-silking interval, leading to a lot of kernel abortion. That second planting window is probably pretty risky," said University of Illinois and USDA Agricultural Research Service ecologist Adam Davis.
For more details about this study, read the article in the ACES College News.
[ Send to a Friend | Rate this Article ]
---
Canadian farmers are set to plant four new varieties of genetically engineered potato developed by J. R. Simplot company. The genetically engineered potato varieties Russet Burbank, Ranger Russet, Atlantic and Snowden have non-browning traits and produce low acrylamide, which is beneficial for the Canadian market. The varieties have been approved by Health Canada and Canadian Food Inspection Agency last year, but it was too late for the spring planting season. According to Simplot, they hope to work with Canadian grower cooperatives and processing companies for the arrangement of seeds to make it for the planting season this year.
Read more from Grainews.
Asia and the Pacific
Korea's Ministry of Food and Drug Safety enforced new biotech labeling requirements in February 2016. USDA FAS Global Agricultural Information Network summarized these guidelines in a report, together with a Q&A document released by the Ministry, with an aim to provide more clarity to stakeholders.
According to the report, the major changes in the new labeling scheme include the following:
Mandatory labeling has been implemented to all detectable products, including products with detectable minor ingredients.
The font size of labeling was increased from 10 to 12.
Use of "Non-GMO" or "GMO Free" labels for products that do not have biotech counterparts are not allowed.
"Non-GMO" or "GMO Free" labels are only allowed for products with biotech counterparts.
Non-detectable products like cooking oil, sugar, soy sauce and alcoholic beverages are exempted from mandatory labeling.
Read more from the
GAIN Report
.
[ Send to a Friend | Rate this Article ]
---
Pakistan's Sindh Seed Council (SSC) assessed 21 new seed varieties of different crops, including 9 cotton varieties – 6 of which are Bt cotton – to improve per acre production of major cash crops. The SSC meeting on March 15, 2017 was led by the provincial agriculture minister where new varieties were considered for consent. After the SSC approval, Federal Seed Certification and Registration Department would issue certificates and new types would be made available for general cultivation.
Official sources stated that there are 62 cotton seed varieties in the country for general cultivation. With the approval of 9 new varieties, the number would bring the total to 71 cotton seed varieties. Other seed varieties assessed in the meeting are wheat (5), sugarcane (3), mango (2), lentil (1) and okra (1).
Read more at the Pakistan Biotechnology Information Center and Pakistan Agriculture Research.
Europe
The European Food Safety Authority (EFSA) Panel on GMO previously evaluated the single trait events Bt11, MIR162, MIR604, and GA21 as well as different stacked events with combination of the said events. EFSA found that these events are as safe as their conventional counterparts. For the event Bt11 x MIR162 x MIR604 x GA21, EFSA also assessed the subcombination of these events, including those with limited or without experimental data provided by the developers. In 2016, the European Commission received information from Syngenta about the subcombination Bt11 x MIR162. Thus, the Commission tasked EFSA to evaluate the information and determine if they have an effect on the previously issued opinion on Bt11 x MIR162 x MIR604 x GA21 and its subcombinations. Results of the EFSA evaluation show that the new information on Bt11 x MIR162 does not change the scientific opinion on the four-trait event that has been previously released.
Read more information from the EFSA Journal.
[ Send to a Friend | Rate this Article ]
---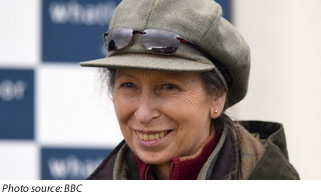 In an interview on BBC Radio 4's Farming Today aired on March 23, 2017, Great Britain's Princess Anne has said genetically modified (GM) crops have important benefits for providing food and she would be open to growing them on her own land. She said "we have to accept" the process could help production and livestock health.
Speaking from Buckingham Palace, the Princess Royal said she saw no problem with modifying crops if it improved their ability to grow. "Gene technology has got real benefits to offer," she said, and added that she would be happy to use GM for crops and livestock on her own farming estate. Princess Anne also said, "To say we mustn't go there 'just in case' is probably not a practical argument." Her brother, Prince Charles has long opposed GM crops and warned that the technology could cause an environmental disaster.
In the interview, Princess Anne told Farming Today that "GM is one of those things that divides people." She said, "Surely, if we're going to be better at producing food of the right value, then we have to accept that genetic technology... is going to be part of that." She also discussed biofuels, the use of science in farming and what kind of subsidies could help farmers in the future.
Read more about the Princess Royal's interview at BBC News. To listen to the interview, visit BBC Radio 4's Farming Today.
Research
Scientists at Nagoya University revealed the molecular mechanisms that occur during nitrogen starvation in plants. The results are published in Nature Plants.
Nitrogen is vital for plant growth, but it is present as patches in the soil. When plants are lacking with nitrogen, the roots express a mobile plant hormone (CEP) which travels to the shoot and then signals compensatory nitrogen uptake by the roots from soil areas with high concentration of nitrogen. The signal from CEP is received by a protein present in the leaves, but the molecules working on the shoot-to-root reaction were unidentified.
Nagoya University researchers elucidated that phloem-specific polypeptides are turned on after receiving CEP signal, leading to the expression of nitrate transporter gene when nitrate is present in the soil around the root. They found out that these polypeptides build up in the roots, however the genes that code for them were expressed only in the shoots. Thus, the polypeptides act as mobile descending shoot-to-root signals. This complex signaling system implies that plants have efficient mechanisms to ensure optimal nutrient intake. The information provided by the study can be used to enhance fertilizer usage and improve plant productivity.
For more details, read the press release from Nagoya University and the research article in Nature Plants.
[ Send to a Friend | Rate this Article ]
---
The co-expression of Rosea1 (Ros1) and Delila (Del) genes control the anthocyanin accumulation in snapdragon flowers. In tomato, their overexpression strongly induces anthocyanin accumulation. Korean researchers led by Aung Htay Naing from Kyungpook National University investigated how Del expression alone influences anthocyanin accumulation.
In tobacco, Del expression enhanced leaf and flower anthocyanin production through the regulation of NtCHS, NtCHI, NtF3H, NtDFR, and NtANS transcript levels. Transgenic overexpression lines displayed different anthocyanin colors, resulting from varying levels of biosynthetic gene transcripts. Under salt stress, the T2 generation had higher total polyphenol content, radical scavenging activities, antioxidant-related gene expression, as well as overall greater salt and drought tolerance than wildtypes.
These results suggest that Del overexpression elevates transcript levels of anthocyanin biosynthetic and antioxidant-related genes, leading to enhanced anthocyanin production and antioxidant activity, leading to improved abiotic stress tolerance.
For more information, read the article in BMC Plant Biology.
Beyond Crop Biotech
A team of breeding researchers and geneticists from Wageningen University and Research has successfully created a highly detailed genetic map of roses. Roses are tetraploid and it is unclear how the four sets of chromosomes pair during cell division, an important process that determines which genes are passed on to the next generation after crossing two roses.
The research team developed a new software to be able to create a good genetic map. More than 25,000 genetic markers can be found on the new genetic map of roses which are evenly divided across the 4 x 7 chromosomes. Through the new software, the researchers discovered that the way in which rose chromosomes pair during meiosis is not straightforward. This pairing is mostly random, but at certain locations on the chromosomes the same two chromosomes nearly always or always pair.
For more information, read the article at the Wageningen University & Research website.
[ Send to a Friend | Rate this Article ]
---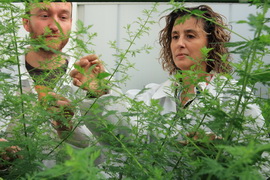 The plant Artemisia annua has been used for more than 2,000 years in traditional Chinese medicine to treat intermittent fevers. The artemisinin molecule – the active ingredient synthesized in this plant's trichomes – is the main component of malaria treatments worldwide. But the low content produced by the plant and the high cost of its chemical synthesis result in a scarce and costly drug.
An international team of researchers led by the Centre for Research in Agricultural Genomics (CRAG) and Sequentia Biotech S.L. has been able to obtain, through genetic engineering, Artemisia annua plants that produce twice as much artemisinin. The research team has identified a gene involved in the formation of plant trichomes and in the synthesis of terpenes, such as artemisinin. The AaMYB1 gene has a dual function: it promotes trichome formation in the leaves and artemisinin synthesis inside the trichomes. Soraya Pelaz, CRAG researcher and senior author of the study said, "By manipulating this gene, we have managed to grow plants which contain much more artemisinin than their wild-type counterparts."
The researchers at CRAG designed transgenic plants that overexpressed the AaMYB1 gene and found that they accumulated larger doses of artemisinin than non-genetically modified plants. To confirm the role of AaMYB1 gene in trichome formation, they searched for similar genes in Arabidopsis thaliana and found the gene AtMYB61. When this gene was overexpressed in the model plant, the plant produced more trichomes.
For more details, read the article in CRAG News.
Document Reminders
EuropaBio released a new publication titled The Green G-Nome's Guide to GM Crops and Policies in the EU. It contains discussions on GM crops worldwide, trade and approvals, cultivation and benefits, as well as innovation and IP. Download a copy from EuropaBio.
---
SEARCA Biotechnology Information Center launched its social media campaign #KnowTheScience. The campaign aims to encourage people to be discerning about biotech crops and the technology by understanding the science behind them through major social media networks namely: Facebook, Twitter, Youtube, and Instagram. By highlighting this message, consumers are also being urged to be more critical about what is "natural" and "organic." The campaign will use the scientific and evidence-based leverage of biotech crops through studies published on its safety, and actual and potential benefits. Through its posts, the campaign will refute the claims made by anti-GMO groups. It will also highlight the personal stories and experiences of people who adopt (farmers, consumers) or develop (scientists) biotech crops.

Be part of the campaign by liking/following the social media pages and sharing the posts:

Facebook: facebook.com/KnowSciencePH
Twitter: twitter.com/KnowSciencePH
Instagram: instagram.com/knowscienceph