News
Global
Governments concur on a sequence of actions that will move forward the Nagoya Protocol on Access and Benefit Sharing, which entered into force on October 12, 2014. Representatives of governments convened in Pyeongchang, Korea, on October 13-17, 2014, for the first Meeting of the Conference of the Parties serving as the meeting of the Parties to the Nagoya Protocol (COP MOP1). Among the decisions approved were mechanisms to ensure compliance with the Protocol, measures to assist institutional capacities in developing countries, and a strategy to raise awareness of the international instrument.
The Nagoya Protocol was agreed in 2010 and has received 54 ratifications. It was established to set clear rules for accessing, trading, sharing and monitoring the use of the world's genetic resources that can be used for pharmaceutical, agricultural, cosmetic and other purposes.
Read the press release at http://www.cbd.int/doc/press/2014/pr-2014-10-17-np-cop-mop-1-en.pdf.
[ Send to a Friend | Rate this Article ]
---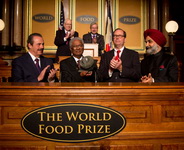 Wheat breeder Dr. Sanjaya Rajaram was awarded The World Food Prize during the World Food Day and the UN-FAO's International Year of Family Farming in Des Moines, Iowa. The award was given during the centennial year of its founder and Dr. Rajaram's mentor, Dr. Norman Borlaug.
Dr. Rajaram has developed more than 480 varieties of wheat, and his research led to a remarkable increase in world wheat production by more than 200 million tons. His crossing of winter and spring wheat varieties produced plants that have higher yields and dependability under a wide range of environments around the world. He also developed wheat varieties resistant to the rust disease.
As he accepted the award, Dr. Rajaram said, "This award honors the resilience and innovative spirit of farmers in the developing world and the national agricultural systems. Without their contributions, my research would not have been possible. The mission was – and the mission remains - to serve them."
Dr. Rajaram worked closely with Dr. Borlaug, succeeding him as head of the wheat breeding program at the International Maize and Wheat Improvement Center (CIMMYT) in Mexico. Amb. Kenneth M. Quinn, President of The World Food Prize said, "Dr. Borlaug himself called Dr. Rajaram the greatest present-day wheat scientist in the world' and 'a scientist of great vision." Dr. Rajaram is currently the Director of Resource Seeds International and a consultant to the International Center for Agricultural Research in the Dry Areas (ICARDA).
More details are available at: http://www.worldfoodprize.org/index.cfm/24667/33059/2014_world_food_prize_awarded_
to_dr_sanjaya_rajaram_at_iowa_state_capitol.
[ Send to a Friend | Rate this Article ]
---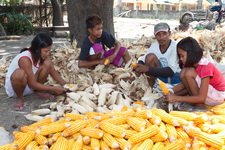 On October 16, 2014, nations celebrated the World Food Day focusing on the theme Family Farming: Feeding the World, Caring the Earth. According to Food and Agriculture Organization of the United Nations (FAO) report State of Food and Agriculture 2014 released on the same date, 9 out of 10 of the world's 570 million farms are operated by families. Family farms produce about 80 percent of the world's food. Thus, the family farm is the predominant form of agriculture and at the same time vital agent of change in attaining food security in alleviating hunger in the future.
At present, family farming faces three major challenges: need for more yield to meet the world's demand for food and better nutrition, environmental sustainability to protect the planet; and productivity growth and livelihood diversification to lift themselves out of poverty and hunger. According to FAO Director General Jose Graziano da Silva, all the challenges mean that family farmers must be protagonists of innovation. Thus, the report calls for the public sector, civil society groups, and the private sector to enhance innovation systems for agriculture. Agricultural innovation systems include all the institutions and actors that support farmers in developing and adopting better ways of working in today's increasingly complex world. Innovation capacity must be promoted at various levels, with incentives for farmers, researchers, advisory service providers and integrated value chains to interact and create networks and partnerships to share information.
Read the report at http://www.fao.org/publications/sofa/en/.
Americas
Researchers from University of California at Riverside study the role of microRNA (miRNA) in the resistance of tomato against Fusarium oxysporum that causes vascular wilt disease. The experiment was conducted by doing a comparative miRNA profiling between Moneymaker, a susceptible tomato cultivar, and Motelle, a resistant tomato cultivar. The roots were treated with water and F. oxysporum.
Two miRNA, slmiR482f and slmiR5300, which repress upon infection of F. oxysporum were identified in Motelle. These two miRNAs were predicted to have four targets and the virus-induced gene splicing (VIGS) system revealed that these targets has the ability to encode a protein from a nucleotide binding (NB) domain, which is associated with the plant's resistance. However, among the targets predicted, none of them was observed which corresponds to l-2, a resistance gene for F. oxysporum in tomato and further proves the necessity for this gene in increasing tomato's immunity in F. oxysporum.
Read more their study at: http://www.plospathogens.org/article/fetchObject.action?uri=info%3Adoi%2F10.1371%2Fjournal.ppat.1004464&representation=PDF.
[ Send to a Friend | Rate this Article ]
---
Researchers from Washington State University (WSU) led by biologist Helmut Kirchhoff have found the mechanism by which plants heal from the botanical equivalent of a bad sunburn. Kirchhoff said plants are continuously exposed to solar damage. While the process produces energy for plants, it also creates modified oxygen molecules, called reactive oxygen species or ROS, that can damage proteins and other important plant molecules.
Kirchhoff and his colleagues worked on a specialized system of photosynthetic membranes inside the chloroplast, which converts sunlight to energy. The membranes contain sophisticated molecular-scale nanomachines that are the prime target of oxidative damage. Other nanomachines can repair the damage.
Previous studies found that the machines make repairs in multiple steps, with each step dependent on the success of its predecessor. The research team determined that the required order of steps is established by separating different repair proteins from different membrane regions. This compartmentalization is guaranteed by folding of the membrane. This insight could help scientists generate plant mutations with membrane architectures that make more efficient repairs, said Kirchhoff. "It could be good to improve the repair machinery in hot and bright climates," he said.
For more details, read the WSU news release at: https://news.wsu.edu/2014/10/20/wsu-researchers-see-how-plants-optimize-repair/#.VEW19SKUeSo.
[ Send to a Friend | Rate this Article ]
---
The USDA Animal and Plant Heath Inspection Service (APHIS) announced the extension of determination of nonregulated status for insect resistant soybean MON 87751. According to APHIS Deputy Administrator for Biotechnology Regulatory Service, Michael Firko, they have determined that MON 87751 soy and progeny derived from it are unlikely to pose plant pest risks and are no longer to be considered regulated articles under APHIS' Biotechnology Regulations. Hence, APHIS will approve the request to extend the determination of nonregulated status to MON 87751 soy. Therefore, APHIS-approved permits or acknowledged notifications that were previously required for environmental release, interstate movement, or importation under those regulations will no longer be required for MON 87751 soy and its progeny.
Read the complete announcement at http://www.aphis.usda.gov/brs/aphisdocs/13_33701p_det.pdf.
[ Send to a Friend | Rate this Article ]
---
One of the challenges for researchers after the sequencing of genetic code is to find the appropriate assembler. This is a challenge because of the several factors that need to be considered upon assembling DNA fragments. This problem is being addressed by the use of a repository of genome assemblers, http://nucleotide.es, developed by Michael Barton, a bioinformatics system analyst from the U.S. Department of Energy Joint Genome Institute and has been available for public use.
The site contains a virtual box called docker containers, where each genome assembler was enclosed. This docker container will ease the mode of sharing and the use of the software. According to Barton, the genome assemblers available on the site is limited to testing microbial genome.
Visit this site for further details of the article: http://jgi.doe.gov/automating-selection-process-genome-assembler/.
Asia and the Pacific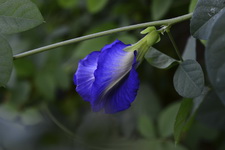 Scientists at Nanyang Technological University in Singapore (NTU Singapore) have discovered a new molecule which can join together chains of amino acids, the building blocks of protein. The new molecule was derived from a common medicinal plant found in Singapore and Southeast Asia, scientifically known as Clitoria ternatea, or Blue Butterfly Pea. The plant's blue flowers are used to make food coloring and are also commonly used as a traditional herb to enhance memory, as well as an anti-depressant and anti-stress agent.

The new molecule is named Butelase-1 after the plant's Malay name Bunga Telang. It acts as a ligase, joining longer chains of amino acids known as proteins or peptides together. Only three other known molecules have been discovered to perform this function, which is an important process in the development of new drugs. A key difference is that the new molecule can do the same process 10,000 times faster than the other three, without leaving any residue behind.
Lead scientist Professor James Tam said that the properties of the new molecule make it a very useful tool in protein biotechnology and the development of new peptide and protein therapeutics, including anti-cancer agents.
For more information, read the NTU news release at: http://media.ntu.edu.sg/NewsReleases/Pages/newsdetail.aspx?news=3e8147c0-1de3-44e3-aca3-c7892a9bd86e.
Europe
Pea and bean weevil and bruchid beetle are common pests of legumes in the UK. Damage caused by these pests affect the quality and value of the legumes, thus farmers spray insecticides to the plants. However, growers have reported that spray applications have become less effective. Thus, Rothamsted Research and partners are conducting a study to develop a control system for the beetle pests eliminating the need for massive insecticide sprays.
In the new biocontrol system, the beetles will be lured to simple devices, baited with beetle-specific attractive odors, where they will be coated with spores of an insect fungal disease. The spores and the attractants will be prepared in a novel formulation that is electrostatically charged and sticks to the beetle's body. When they leave the device they will spread the disease to other beetles. This will lead to reduction of pest population without affecting the environment and other beneficial insects. The insect fungal disease is naturally occurring in the soil and will not affect other animals.
The research will run for four years and will be partially funded by the Biotechnology and Biological Sciences Research Council, Innovate UK, and private companies.
Read more at http://www.rothamsted.ac.uk/news/new-collaborative-research-project-gets-under-way-fight-beetle-pests-pulse-crops-innovative.
Research
Scopoletin and scopolin are important secondary metabolites produced in plants as a defense mechanism against abiotic stresses. They belong to coumarins, phytochemicals widely used in medical applications and cosmetics. While coumarins scopolin and scopoletin occur in Arabidopsis thaliana roots, nothing is known about their variation in different Arabidopsis accessions.
Anna Ihnatowicz of the University of Gdansk in Poland studied scopolin and scopoletin content in seven Arabidopsis accessions. A quantitative trait locus (QTL) mapping was performed and found one QTL for scopolin and five QTLs for scopoletin accumulation. The identified QTLs explained 13.86% and 37.60% of the observed phenotypic variation between accessions in scopolin and scopoletin content, respectively. In silico analysis of genes identified other possible candidate genes for coumarins biosynthesis.
These show that Arabidopsis is an excellent model for studying coumarin biosynthesis in plants. It also provides basis for fine mapping and cloning of the genes involved in scopolin and scopoletin synthesis. The team has also identified new loci for this biosynthetic process.
For further information about the study, read the full article here: http://www.biomedcentral.com/content/pdf/s12870-014-0280-9.pdf
[ Send to a Friend | Rate this Article ]
---
Hybridization in plants combines different genomes in the same cell, and genome "shock" and instability occur during this process. Chromosome doubling then reconstructs the genome dosage. Recent studies have shown that small RNAs play an important role in maintaining genome stability. However, little is known of small RNA's role during wide hybridization and chromosome doubling. Therefore, Liping Chen of Zhejiang University in China studied the genetic and DNA methylation alterations and changes in the siRNA and miRNA during the formation of the allodiploid and allotetraploid between Brassica rapa and Brassica nigra.
The expression of miRNAs increased in the allodiploid and allotetraploid compared with the parents, while the levels of siRNAs was found higher compared to B. rapa but lower compared with B. nigra. As the polyploidy increases, the levels of miRNAs increased, suggesting its role in regulating gene expression. On the other hand, levels of siRNAs and DNA methylation alterations decreased as the ploidy increased and become more stable. These results may provide new information for understanding that the allotetraploids have a growth advantage over the parents and the allodiploids.
To learn more about this study, read the full article here: http://www.biomedcentral.com/content/pdf/s12870-014-0272-9.pdf.
Beyond Crop Biotech
Harvard geneticist, George Church is working on a study about restoring mammoth through the use of genetic engineering in Asian elephant, the closer relative of mammoth than African elephant. According to Church, this can be done by increasing the cold tolerance of Asian elephants which will require several changes in the traits of Asian elephants. In his presentation, "Adapting Species to a Changing World: The Potential of Genome Editing", he stated the importance of his work on mammoth in making the tundra colder, which is important in climate change, specifically the issue of the accumulation of methane in the permafrost. Aside from his work on mammoth, he also discussed the importance of biotechnology in human health by citing examples of the advantages of this technology in human disease-related issues.
Read more about the story at: http://news.harvard.edu/gazette/story/2014/10/behold-the-mammoth-maybe/.
[ Send to a Friend | Rate this Article ]
---
Researchers from the University of Santiago de Chile have developed a plant-based technology known as "phytostabilization," to combat the effects of contaminants produced from mining production processes.
Phytostabilization reduces the mobility of heavy metals in soil by growing metal-tolerant plants that can retain contaminants in mine waste. The roots of the plants absorb waste particles from mining production and eliminate the spread of waste particles by wind, which could affect certain ecosystems and human health.
The biotechnology is already being applied at some state-owned Chilean mines, and is being evaluated in mine sites in Bolivia, Colombia, and Canada.
For more, read: http://www.miningglobal.com/tech/1202/Chile-Develops-New-PlantBased-Technology-for-Mining-Waste.
From The BICs
Seventeen agriculture officers, local government constituents, and farmers from municipalities of the top eggplant producing province of Pangasinan, Philippines expressed their appreciation of modern biotechnology after learning about its techniques, applications, and products during the Biotechnology 101: Seminar-Workshop and Study Visit on Biotechnology for Crop Improvement. The seminar-workshop was held at the University of the Philippines Los Baños-Institute of Plant Breeding (UPLB-IPB) on 15-17 October 2014. The highlight of the activity was the notable interest of participants in the current status of the commercialization of Bt eggplant. The participants stated that most of the farmers in their respective areas are patiently waiting for the release of Bt eggplant seeds, and would like to benefit from the said technology.
The participants were briefed on medical biotechnology, global scenario on biotech crops, the science of genetic engineering, food and environmental safety, biosafety regulations in the country, the potential benefits of Bt eggplant, as well as presentations on the Philippine agri-biotech initiatives of the Department of Agriculture, the Institute of Plant Breeding (IPB) and the UPLB-National Institute of Molecular Biology and Biotechnology.
Laboratory visits and demonstrations on tissue culture and molecular markers were also conducted at IPB. The activity was organized by the International Service for the Acquisition of Agri-biotech Applications (ISAAA), Agricultural Biotechnology Support Project II (ABSPII), and Southeast Asian Regional Center for Graduate Study and Research in Agriculture Biotechnology Information Center (SEARCA BIC).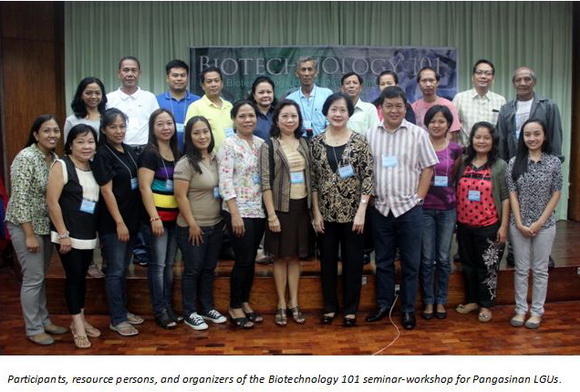 For more information about biotechnology in the Philippines, visit http://www.bic.searca.org/.