News
Global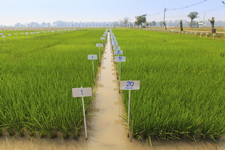 Around 1,500 individuals from 69 countries are gathered for the 4th International Rice Congress (IRC2014) at the Bangkok International Trade and Exhibition Centre (BITEC) in Thailand from October 27 to November 1, 2014. IRC is known as the "Olympics of rice science" because it is the largest gathering of individuals involved in rice science held every four years. This year's theme is "Rice for the World", focuses on the latest advances in rice research and technologies around the globe.
Robert Zeigler, Director General of the International Rice Research Institute (IRRI), delivered the keynote message during the opening ceremony of the Congress. "There is already profound impact for several million farmers worldwide who have adopted one of the first technologies of the second Green Revolution—flood-tolerant rice...Many of these farmers belong to the poorest of the poor who, for various reasons, did not benefit fully from the first Green Revolution in rice," he said. He added that the third Green Revolution of rice will be sometime around 2030, when farmers will be planting more robust C4 and nitrogen-fixing rice varieties, and more nutritious rice are available in the market for consumption. He stressed that these would not be possible without the help of young rice scientists in the fields and laboratories.
Read more at http://irri.org/news/media-releases/second-green-revolution-seeks-to-leave-no-farmer-behind.
Africa
"We need biotechnology so as to increase agricultural productivity. Farmers will be able to plant more easily and expect better yields", said area member of Parliament for Wakiso District, Mr. Kasule Sebunya, during the World Food Day celebration on October 16, 2014 at the National Crops Resources Research Institute (NaCRRI). Mr. Sebunyacalled on his fellow Members of Parliament to support the enactment of the National Biotechnology and Biosafety Bill, which is currently under debate. Uganda presently has no law on the safe use and application of biotech products. The existing legal and regulatory framework in Uganda only allows for research and development of biotech products. Studies are being carried out on major Ugandan staple food crops such as bananas, cassava, maize, sweet potatoes, and rice.
Other dignitaries present at the occasion also reiterated the role biotechnology can play in facing global challenges such as hunger, food insecurity, climate change, and population growth. National Agricultural Research Organization Governing Council chairman Prof. Joseph Obua highlighted how advances in agricultural science are being embraced to address some of these challenges. "Climate change is a big challenge to our farmers, and indeed a big challenge as well to our researchers. Our scientists have gone beyond conventional approaches and now using biotechnology to address challenges such as drought in maize," Prof. Obua noted. The Guest of Honour, the Vice President Hon. Edward Ssekandi, urged parents to have small families that they can care for, and engage in family farming for food security and better livelihood.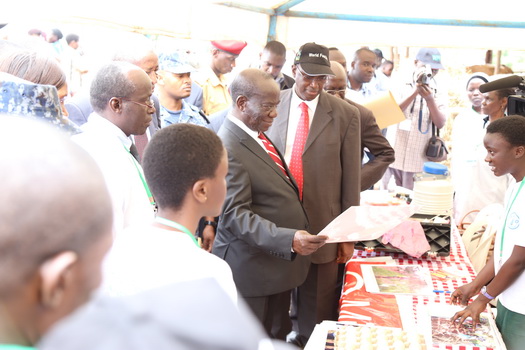 Uganda VP Hon. Ssekandi talking to high school students in the exhibit
The celebration brought together local and international stakeholders involved in agricultural research and development. Activities included tissue culture demonstration, exhibits showcasing new crop and animal technologies, and performing arts appraising the importance of family farming.
For more information about UBIC's activities, send an email to ubic.naccri@gmail.com.
[ Send to a Friend | Rate this Article ]
---
Nine Kenyan members of Parliament promised to take specific measures towards lifting the ban on importation of genetically modified (GM) foods that was instituted in November 2012. The MPs visited the Water Efficient Maize for Africa (WEMA) project's confined field trials site at KALRO Kiboko on October 9, 2014. They were briefed on ongoing efforts to develop water efficient maize with insect resistance trait.
The legislators expressed their satisfaction with the experts' work towards food security. "We know that GM foods are safe for human consumption. Credible institutions have conducted trials on this and they have assured us of the safety," said Hon. Fred Outa. The MPs regretted that the technology is already available, yet people could not benefit from it as a result of the ban. "We are in the process of constituting a Parliamentary Select Committee, to independently gather information on GM food safety, and ultimately advise the House and the Cabinet to lift the ban" said Hon. Wilbur Otichilo. He lauded the scientists for having done their work in ensuring that the country has the technology and that it was now for the parliamentarians to work around the politics hindering the commercialization of the biotech crops for the benefit of poor farmers.
The tour had been organized to create awareness on biotechnology among key parliamentarians from parliamentary committees on agriculture, education, environment and labor. The tour provided them with information on the research process of the WEMA drought tolerant maize varieties developed in Kenya. The tour was organized by the Kenya Agricultural and Livestock Research Organization (KALRO) in collaboration with the Ministry of Agriculture, Livestock and Fisheries, the International Service for the Acquisition of Agri-biotech Applications (ISAAA), and the Open Forum on Agricultural Biotechnology in Africa (OFAB-Kenya).
Hon. John Serut said that a lot more effort was required to sensitize especially the public about GM food safety. "Our people (electorates) have a lot of stigma on this technology, which needs to be removed by public education on GM foods," he said.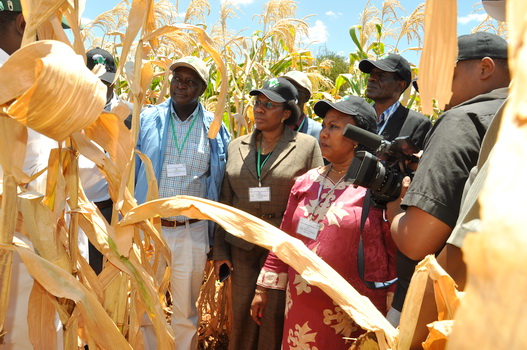 (From left to right) Hon. Wilbur Otichilo, Hon. Cecilia Ng'etich, Hon. Florence Mutua and, Hon. John Serut during the field visit in Kiboko
For more information on the tour, contact mkarembu@isaaa.org.
Americas
Rochester Institute of Technology (RIT) scientists and alumnus are closer in identifying the genetic code of grape crown gall. Grape crown gall is a bacterial disease which attacks the vascular tissue, causing formation of galls and suppression in the transport of water and nutrients. This disease can lead to yield reduction, affecting the growth of the grape industry. Their study uses 16 grape varieties from the vineyards of New York, Hungary, Tunisia, and Japan. These varieties were infected with crown gall disease and planted in specific geographical locations in the continents of North America, Europe, and Asia.
Findings show that from a total of 52 sampled tissues of crown gall tumors obtained from the 16 grape varieties, the common core microbiome was composed of Agrobacterium, Erwinia, and Novosphingbium and one member from Enterobacteriaceae and Microbacteriaceae. This was identified through the use of DNA sequencing platform, a technique used to separate the DNA of the bacteria from its close relatives to the DNA plant cell. By this finding, comparison of the ecological differences among the grapes planted in different continents is the next step to further create an efficient crown gall disease management that will lead to increase in crop production.
For further details of the study, visit the article here http://www.rit.edu/news/story.php?id=51040.
Asia and the Pacific
Vietnam Association for Scientific and Technological Information and Documentation and AGBiotech Vietnam organized a seminar on the process development and application of genetically modified crops in Hanoi, Vietnam on October 22, 2014 during the biotech trade fair event Biotechmart 2014. The seminar was attended by leading scientists in the field of genetics and genomics, representatives of agricultural research institutes, management agencies, professional organizations and seed companies, domestic and international.
Prof. Dr. Le Dinh Luong, chairman of the Genetics Society of Vietnam discussed the nature of GM technology. He stressed that GMOs, in scientific nature, are not dangerous. According to him, majority of the Vietnamese have unfounded fear of GMOs because of media reports. He said that the media should be guided and should know what is right to follow, what is wrong to avoid. He insisted that scientists like him are willing to engage with the media.
Assoc. Dr. Nong Van Hai, Director of the Institute of Genome Research under Vietnam Academy of Science and Technology, believed that there should be no worries about GMOs because of the studies that have shown the benefits of GMOs. According to him, GM products when put in use will be governed by market mechanisms and farmers will choose the varieties suitable and beneficial for them.
Dr. Pham Van Toan from Vietnam Academy of Agricultural Sciences, said that GM crops are achievements of science and technology and they have shown their economic and social significance. He said there are still concerns and different opinions because of the view that all the technologies must ensure the safety in application process. Vietnam has participated in and ratified the Cartagena Protocol on Biosafety, the legal tool to manage the safety of GMOs. He also said the safety assessment of GMOs should be based on basic similar principles. If GM crops show no difference with the traditional products, it can be concluded that the safety of these products is similar to that of the traditional products. The same method should be applied when assessing the environmental safety of GM crops.
Other issues related to GM crops have also been discussed such as the legal framework and regulations governing the labeling of GMOs, the compliance with the provisions of the law on fair competition as well as current status of GM crops research in Vietnam and abroad.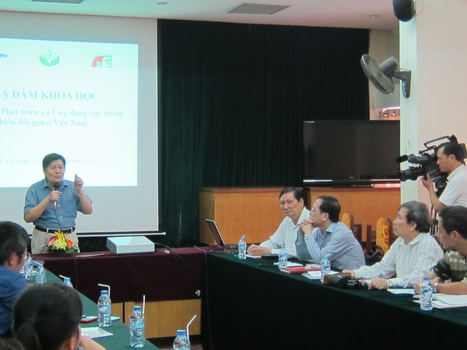 For more details about this seminar, contact Le Duc Linh of Agbiotech Vietnam at ldlinh@gmail.com.
[ Send to a Friend | Rate this Article ]
---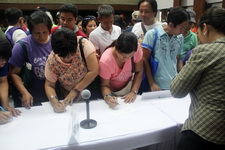 One hundred and sixty-six farmers, agriculture officers, technicians, researchers, and other stakeholders from the provinces of Laguna, Batangas, Quezon, and Camarines Sur signed a declaration of support for the commercial planting of the fruit and shoot borer resistant Bt eggplant during the second Public Dialogue on Bt Eggplant held at the Southeast Asian Regional Center for Graduate Study and Research in Agriculture (SEARCA), College, Los Baños, Laguna on October 21, 2014.
The declaration carried the same statements from the first declaration signed by farmers and agriculture stakeholders in Pangasinan during the first public dialogue held on September 3. It expressed the signatories' acknowledgement of the Bt eggplant project's proper compliance to the right authorities; its potential benefits to the Filipino community; and their encouragement and support for safe agricultural technologies such as Bt eggplant, among others.
The public dialogue briefed the participants on the Bt eggplant project background, status, regulatory compliance, and potential benefits, as well as the food and environmental safety of biotech crops. It also presented a study on insecticide residues in eggplant farms in Pangasinan. Academician and former UPLB Chancellor Dr. Emil Javier also gave his message of support to Bt eggplant, emphasizing that as a public sector product, Bt eggplant is the first "Pinoy" GMO and will be an advantage to local agriculture if commercialized.
The public dialogue was organized by SEARCA, ISAAA, and University of the Philippines Los Baños-Institute of Plant Breeding (UPLB-IPB). For more information about Bt eggplant in the Philippines, visit www.bic.searca.org.
Europe
The European Parliament's environment, public health and food safety (ENVI) committee is due to give its opinion on the draft report on biotech crops regulation on November 5, 2014, which is three years since the Parliament made votes on future legislation on the restriction of biotech crops in their territories. At present, only MON810 maize has been permitted for cultivation in Europe since 1998. In addition, seven requests are pending for approval.
For more information, read the article of the parliament's rapporteur on GMOs at https://www.theparliamentmagazine.eu/articles/feature/gmos-decision-marks-end-three-year-wait-eu and his draft report at http://www.europarl.europa.eu/sides/getDoc.do?pubRef=-%2f%2fEP%2f%2fNONSGML%2bCOMPARL%2bPE-537.550%2b01%2bDOC%2bPDF%2bV0%2f%2fEN.
[ Send to a Friend | Rate this Article ]
---
The Biotechnology and Biological Sciences Research Council (BBSRC) has published a position statement on new and emerging techniques for crop improvement. These techniques use precise genetic changes into plants, and are currently being used in research laboratories as a tool to help understand the function of genes.
The position statement was published after a workshop involving experts, including plant scientists, regulators and social scientists. The statement covers techniques commonly referred to as 'genome editing' and gene switching.
Professor Jackie Hunter, BBSRC Chief Executive, said "In order for farmers, both in the EU and globally, to provide a sustainable food supply, we will need to develop crop varieties with improved characteristics, such as drought tolerance, disease resistance or enhanced nutrient content. To do this we must take advantage of the wide range of techniques available in order to use the right approach for the right circumstance, such as conventional breeding, genetic modification or newer methods like genome editing."
For more information, read the BBSRC news release at http://www.bbsrc.ac.uk/news/policy/2014/141028-pr-position-statement-on-crop-breeding-techniques.aspx.
Research
Japanese and Korean scientists study the accumulation of arsenic in Oryza sativa (rice). Arsenic (As) is one of the compounds that can cause skin lesions and cancer in humans and its toxicity can promote stunted growth in rice plants. Thus the study of its accumulation in rice is necessary to find a solution on how this compound can be reduced. In their study, the role of OsABCC1, a C-type ATP-binding cassette (ABC) transporter family in arsenic accumulation in rice was investigated due to the report that it can reduce and detoxify As in rice grains. It is abundant in different parts of the rice and specifically located at the tonoplasts. Evaluation of its role is studied by comparing the growth and development and arsenic accumulation in rice between mutant rice, created by knocking out OsABCC1, and wild-type rice under arsenic condition.
Result show that the mutant rice exhibit poor growth compared to wild type rice indication of a decrease tolerance in As. A higher percent of As distributed in different parts of wild-type rice, specifically in nodes, was noted compared to mutant rice. In grains, lower As accumulation was observed in wild-type rice by a total of 3.4 percent in comparison with mutant rice, which has a total of 20 to 24 percent of As found in rice plant body. This finding shows the potential use of OsABCC1 in creating As tolerant genetically modified rice.
Read more the study at: http://www.pnas.org/content/early/2014/10/15/1414968111.full.pdf+html
[ Send to a Friend | Rate this Article ]
---
Salt tolerance in grapevine is associated with shoot chloride (Cl-) exclusion in shoots. Despite the knowledge of Cl exclusion in grapevine, the mechanism of this process has remained elusive. To search for candidate genes that control Cl exclusion, researchers led by Matthew Gilliham of the University of Adelaide in Australia compared three Vitis spp. with contrasting shoot Cl exclusion capacities using custom microarray.
Under 50mM Cl- conditions, the genotypes 140 Ruggeri (shoot Cl- excluding rootstock), K51-40 (shoot Cl- including rootstock) and Cabernet Sauvignon (intermediate shoot Cl- excluder) showed different transcriptional changes in their roots. The level of change was found to be correlated with the amount of Cl- accumulated in shoots. Despite these differences, no Cl- transporters were identified. However, under control conditions, genes for putative ion channels as well as members of NRT1 and CLC families were differentially expressed between rootstocks.
Results show that the Cl- exclusion mechanism in grapevine are not stress-inducible, but are constitutively different between varieties. The team has identified individual genes from large families known for anion transport as likely candidates for Cl- exclusion in Vitis species.
For more information on this study, read the full article here http://www.biomedcentral.com/content/pdf/s12870-014-0273-8.pdf.
[ Send to a Friend | Rate this Article ]
---
Transgenic maize event 5307 produces insecticidal protein eCry3.1Ab, an engineered chimera of Cry1Ab and modified Cry3A, to have internal protection against Western corn rootworm (Diabrotica virgifera virgifera). Laboratory tests were conducted to check if maize event 5307 cultivation would affect non-target organisms such as earthworm, mouse, shrimp, catfish, beetles, and bugs.
The non-target organisms were fed with eCry3.1Ab or diet with maize tissues and then evaluated for effects. Results showed that there were no significant differences in the survival of the non-target organisms exposed to the insecticidal protein and the control. Measured eCry3.1Ab concentrations in the laboratory studies were equal to or greater than the most conservative estimates of environmental exposure. The results of the laboratory studies indicate that there is no ecological risk in cultivation of maize event 5307.
Read the research article in Transgenic Research: http://link.springer.com/article/10.1007/s11248-013-9778-4.
Beyond Crop Biotech
U.S. Department of Agriculture (USDA) agronomist David P. Livingston has used an imaging technique to see what happens to oats when they freeze. Oats do not grow in many northern areas in the US because of cold temperatures, and Livingston's new technique is helping scientists understand how ice forms in oats.
Livingston's technique makes high-resolution digital photos of plant tissue slices, using commercial software to create a 3-dimensional perspective to create added depth to plant structures, above and below ground. He stained frozen tissue samples of oat plants and took 186 sequential images to see how they would react to freezing temperatures in the soil.
The images revealed that when oats freeze in winter, ice forms in the roots and portions of the crown, which lies just below the soil surface and connects the roots to the stalk. The images also showed that the ice in the crown is limited to its lowest and upper level parts, apparently leaving the middle portion ice-free. The crown is critical to growth because that is where the plant generates new tissue if it survives the winter cold. Livingston has also used the technique to examine wheat, barley, rye and corn.
For more details about this research, read the magazine story at: http://www.ars.usda.gov/is/pr/2014/141027.htm.
[ Send to a Friend | Rate this Article ]
---
A new and extensive meta-analysis conducted by an international team led by the University of California, Davis revealed that no-till farming, a key conservation agriculture strategy that avoids conventional plowing, may not bring a hoped-for boost in global crop yields.
No-till is promoted worldwide, in an effort to sustainably meet global food demands. But after examining results from 610 peer-reviewed studies and assessing more than 5,000 side-by-side observations, the research team found that no-till often leads to yield declines, compared to conventional tillage systems.
The team observed that all three conservation agriculture principles must be practiced, as part of an integrated management system rather than no-till alone. However, when adopted in dry climates in combination with the other two principles of conservation agriculture, no-till farming performed significantly better than conventional tillage.
For more details, read the news release at: http://news.ucdavis.edu/search/news_detail.lasso?id=11062.
Document Reminders
ISAAA releases Brief 48: Adoption and Uptake Pathways of GM/Biotech Crops by Small-scale, Resource-poor Farmers in China, India, and the Philippines. The Brief shows how modern biotechnology has transformed farming into a profession that harvests agronomic and socio-cultural benefits beyond promise. It embodies the stories of how biotech crops, particularly Bt cotton in China and India and biotech corn in the Philippines, are changing the lives of small farmers, their families, communities, and even nations.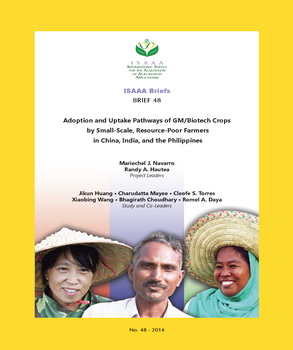 ISAAA Brief 48 is based on the results of a three-country study commissioned by ISAAA and funded by The John Templeton Foundation.
Download a copy of ISAAA Brief 48 for free at http://www.isaaa.org/resources/publications/briefs/48/default.asp.
From The BICs
Dr. Lukas Mueller, Associate Scientist of the Boyce Thompson Institute for Plant Research (BTI) in Cornell University, Ithaca, New York, presented accomplishments in the SOL Genomics Network (http://solgenomics.net/), particularly in sequencing various species of fruits of the Solanaceae family (i.e. tomatoes), in his talk "Putting Solanaceae Genomes to work" for Agriculture and Development Seminar Series (ADSS) of the Southeast Asian Regional Center for Graduate Study and Research in Agriculture (SEARCA) on October 16, 2014. Their sequencing efforts include those on Nicotiana benthamiana, Solanum galapagense, and Solanum chilense. He also discussed comparative genomics in different Solanaceae species and the use of VIGS (virus induced gene slicing) technology.
The seminar was attended by 115 students, faculty, researchers, scientists and other R&D constituents from the University of the Philippines Los Baños (UPLB) and other R&D institutes in Los Baños, Laguna. It was organized by SEARCA and the Philippine Genome Center - Agriculture Program.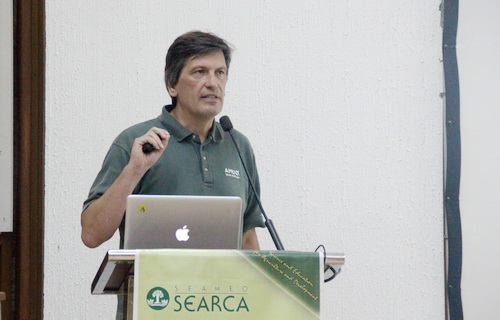 For more information about the seminar, contact bic@agri.searca.org.