News
Global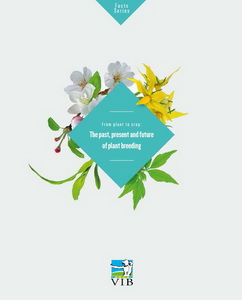 The new VIB Fact Series issue, From Plant to Crop: The Past, Present and Future of Plant Breeding, outlines how the crops we know today were developed via diverse plant breeding techniques. Special attention is given to the New Breeding Technologies (NBT).
Whenever plant biotechnology pops up in conversation, it is usually as part of a debate on GM crops. Nevertheless, selective genetic modification of crops with the use of GM technology is only one of the many possibilities we have to make plants respond better to our needs. This VIB Fact series issue outlines how the crops we know today have evolved from nature, with particular emphasis on the role humans have played.
Since agriculture began around 10,000 years ago, humans have adapted plants to suit their purposes. We selected plants and crossed them so that they slowly but surely become more adapted to our requirements. And with the rise of new plant breeding technologies, a debate started concerning their need, potential risks and technical aspects of how to create the appropriate legislation. In the wake of the GM debate, certain new breeding techniques—which are often referred to with the abbreviation NBTs (New Breeding Technologies)—are coming under increased scrutiny, especially from a regulatory standpoint. This VIB Fact series issue explains how these techniques work, how they differ from generally accepted methods, and what advantages they have over traditional breeding techniques.
Read more from VIB.
Africa
A group of undergraduate students under their umbrella association Biotechnology Students' Association of Makerere University petitioned members of Parliament to pass the National Biotechnology and Biosafety Bill into law. In their petition, students were concerned that since the bill's first tabling in 2012, there has been slow progress in enacting it into law. "As educators and students who are involved in building the capacity to develop and regulate use of biotechnology in Uganda, we are greatly interested in this Bill both as future developers and consumers," the petition reads in part.
The petition was delivered to the Speaker on April 27, 2016 who promised to bring it to the attention of the current house before its business closes on May 11, 2016. The Bill is intended to regulate the safe use and deployment of biotechnology products in Uganda. The current policy environment only allows for research on GM crops under controlled field trials. The students' petition was followed by a press conference, where students threatened to peacefully demonstrate outside Parliament if the bill is not urgently passed into law.
The students also noted that having no enabling policy environment for technologies such as biotechnology makes it bleak for their future career prospects. The students' petition sparked a series of other calls from other youth groups. On April 28, 2016, over 90 youths from Uganda Young Farmers' Movement (UYFM) organized a similar press conference calling for passing of the bill so as to have access to disease resistant bananas and cassava. Prior to the youth event, over 1,000 farmers signed a petition calling parliament to take action on passing the same bill.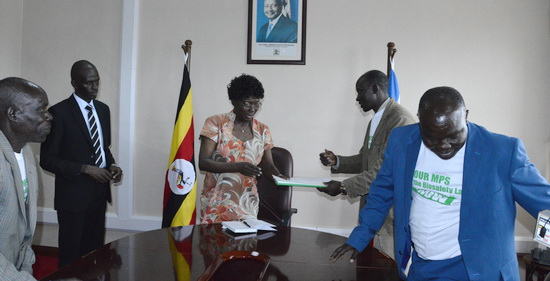 For more information, contact ubic.nacrri@gmail.com.
[ Send to a Friend | Rate this Article ]
---
ISAAA AfriCenter in collaboration with the Africa Seed Trade Association (AFSTA) and the Association Nationale des Entreprises Semencières du Burkina Faso (ANES-BF), a local seed trade association, launched the ISAAA Brief 51: 20th Anniversary (1996 to 2015) of the Global Commercialization of Biotech Crops and Biotech Crop Highlights in 2015 in Burkina Faso on April 20, 2016. The event was also an occasion to raise awareness for seed traders on GM crops. It was attended by 40 participants, including seed traders, media, regulators, and scientists.
Hon. Henri Koubizara, a member of the parliamentary commission on economic development, environment and climate change was the guest of honor at the event. In his speech, Hon. Koubizara underlined the importance of cotton for the agricultural sector as the country's first cash crop, saying that Bt cotton had made a difference for local farmers in Burkina Faso. He urged for more awareness on GMOs, saying that most information in the public domain on GMOs is negative. "Much needs to be done to improve awareness on GM crops even as the country is gearing towards adoption of more GM crops," said Hon. Koubizara. He pledged his own support to facilitate meetings between scientists and parliamentarians, for broader sensitization on issues of biotechnology and biosafety, among the country's legislators.
Dr. Margaret Karembu presented the highlights of the ISAAA report, emphasizing the role of seed traders in adoption and commercialization of GM crops. Local scientists and regulators shared the status of GM crop research and regulation in Burkina Faso, and the West Africa region at large.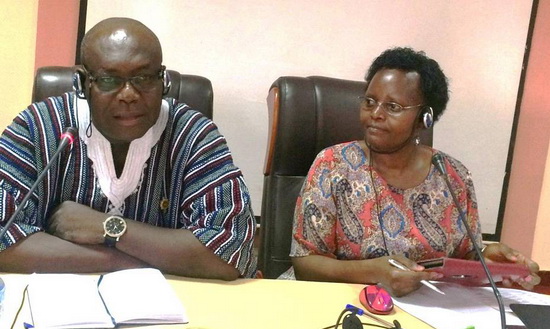 Read the Executive Summary of the report from ISAAA.
Americas
A team of engineers from Washington University in St. Louis has found a sustainable way to boost the growth of a protein-rich bean by improving the way it absorbs much-needed nutrients.
Ramesh Raliya and Pratim Biswas from the School of Engineering and Applied Science, discovered a way to reduce the use of fertilizer made from rock phosphorus and still see improvements in the growth of food crops by using zinc oxide nanoparticles. According to Raliya, the world's phosphorous supply could be depleted in about 80 years. Together with his research collaborators, Raliya created zinc oxide nanoparticles from a fungus around the plant's root that helps the plant mobilize and take up the nutrients in the soil. When they applied zinc nanoparticles to the leaves of the mung bean plant, it increased phosphorous uptake by nearly 11 percent and the activity of the three enzymes by 84 percent to 108 percent. That leads to a lesser need to add phosphorus to the soil, Raliya said.
"When the enzyme activity increases, you don't need to apply the external phosphorus, because it's already in the soil, but not in an available form for the plant to uptake," Raliya said. "When we apply these nanoparticles, it mobilizes the complex form of phosphorus to an available form."
For more details, read the news release.
[ Send to a Friend | Rate this Article ]
---
Two Texas A&M AgriLife Research scientists are studying 'war of the plants', a virtual tug-of-war that occurs when a plant is being attacked by a pathogen.
Dr. Kranthi Mandadi, plant genomics and molecular biologist at the Texas A&M AgriLife Research and Extension Center at Weslaco and Dr. Karen-Beth Scholthof, a plant virologist at Texas A&M University in College Station, are specifically working to improve the defenses of grasses that produce biofuel, such as switchgrass, sugarcane and energy cane, as well as those that produce food, including corn and sorghum.
When a pathogen invades a plant, the plant begins to alter levels of so-called reactive oxygen species, or free radicals, much as the human body does, to defend itself, and that's when the tug-of-war begins. The pathogen will try to take down the plant's defense by fighting off the free radicals, while the plant will fight off the pathogen by ramping up the free radicals. Mandadi and Scholthof are trying to identify the molecular changes that occur during these interactions, where the result will be either disease or defense.
For more details, read the news release at AgriLife Today.

[ Send to a Friend | Rate this Article ]
---
In Massachussetts, Whitehead Institute scientists have determined that a plant protein involved in the timing of flowering could in fact be a prion, proteins with the ability to self-perpetuate when they assume a particular conformation. They can be inherited separately from DNA. This is the first time that a possible prion has been identified in plants.
Recent research from Whitehead Member Susan Lindquist's lab has shown that prions can introduce evolutionarily beneficial traits that help an organism survive environmental stresses. The lab has identified such prions in yeast, including those able to regulate transcription, translation, and RNA processing.
Researchers in the Lindquist lab screened protein fragments from Arabidopsis thaliana and identified 474 that contain prion-like domains. Of those, the team focused on four prion candidates in the autonomous flowering pathway, which controls the timing of flowering.
To see if the candidates have the properties of prions, the scientists inserted the proteins into yeast. After testing, the scientists determined that one of the proteins, called Luminidependens (LD), has several traits associated with prions and could maintain a heritable, self-perpetuating state.
For more on this interesting study, read the article in the Proceedings of the National Academy of Sciences of the United States.
Asia and the Pacific
Monash University researchers have discovered a new mechanism that allows plants to regulate their flowering as temperatures rise. The team, led by Monash Associate Professor Sureshkumar Balasubramanian, made the discovery by using a combination of genetic, molecular and computational biology experiments to the flowering plant Arabidopsis.
Balasubramanian explained how two key basic cellular processes work together to reduce the levels of a protein that normally prevents flowering, allowing the plants to produce flowers in elevated temperatures. While he discovered the genetic basis of temperature-induced flowering ten years ago, it is only now, with the availability of new computational approaches, that they were able to discover this mechanism.
"This is very exciting as our understanding of how these genetic mechanisms work together opens up whole new possibilities for us to be able to develop technology to control when plants flower under different temperatures. These mechanisms are present in all organisms, so we may be able to transfer this knowledge to crop plants, with very promising possibilities for agriculture," Professor Balasubramanian said.
For more details, read the news release at the Monash University website.
[ Send to a Friend | Rate this Article ]
---
Over 50 representatives from media, academe, research institutions, goverment and private companies gathered on April 29, 2016 at Acacia Hotel, Manila, Philippines to be briefed through a media conference on the ISAAA Brief 51: 20th Anniversary (1996 to 2015) of the Global Commercialization of Biotech Crops and Biotech Highlights in 2015.
The report was presented by Dr. Paul S. Teng, Chair of the ISAAA Board of Trustees. According to the report, 350,000 Filipino farmers planted biotech corn in 2015. Dr. Gour Pada Das, Country Coordinator of the Feed the Future Bangladesh, and Dr. ASM Mahbubur Rahman Khan, Chief Scientific Officer of Bangladesh Agricultural Research Institute, discussed the highlights of the Bt brinjal project and the commercialization experience of Bangladesh, respectively.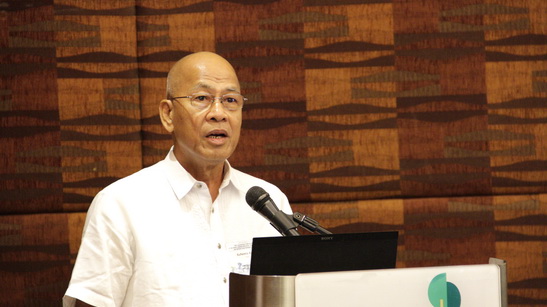 "Plant biotechnology continues to gain ground globally, including the Philippines, in spite of the fear mongering anti-biotech lobby. This is a tribute to the persistent effort and courage of ISAAA and SEARCA to bring this technology to the poor farmers in developing countries, said Dr. Eufemio T. Rasco, Academician of the National Academy of Science and Technology (NAST) during his message. He also encouraged the stakeholders to not let temporary setbacks dampen their commitment to help farmers and consumers by providing them access to technology that will not just improve the lives of farmers but also ensure environmental protection and promote human health.
The event was organized by ISAAA and Southeast Asian Regional Center for Graduate Study and Research in Agriculture (SEARCA).
For more information, contact the SEARCA Biotechnology Information Center at bic@agri.searca.org.
Europe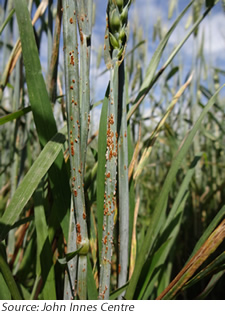 Scientists at the John Innes Centre (JIC) and The Sainsbury Laboratory (TSL) have pioneered a new gene-detecting technology which, if deployed correctly could help create a new elite variety of wheat with durable resistance to disease.
Dr. Brande Wulff from the JIC and colleagues from TSL developed the new technology called 'MutRenSeq' which accurately identifies the location of disease resistance genes in large plant genomes, and which has reduced the time it takes to clone these genes in wheat from 5 to 10 years down to just two. This technology will allow scientists to very quickly locate resistance genes from crops, clone them, and stack multiple resistance genes into one elite variety.
MutRenSeq is a three step method for quickly isolating resistance genes based on (1) creating mutants from resistant wild type wheat plants and identifying those with loss of disease resistance, (2) sequencing genomes of both wild type resistant plants and those which have lost resistance, and (3) comparing these genes in mutants and wild types to identify the exact mutations responsible for the loss of disease resistance.
In the first test run of MutRenSeq, Dr. Wulff's team successfully isolated a well-known resistance gene, Sr33, in a fraction of the time it had previously taken to do this by conventional breeding techniques. After which, the team then cloned two important stem rust resistance genes, Sr22 and Sr45, which scientists have until now, been unable to isolate successfully.
For more details, read the news release at the John Innes Centre website.
Research
Scientists from Chinese Academy of Agricultural Sciences (CAAS) reported in Journal of Economic Entomology that Cry1Ie toxin has no effect on the survival, pollen consumption, and olfactory learning of honey bees, a non-target insect of Bt crops.
CAAS scientist Ping-Li Dai and colleagues conducted the study in controlled laboratory conditions wherein the worker bees were exposed to different concentrations of Cry1Ie toxin (20, 200, or 20,000 ng/ml). As positive control, some bees were exposed to a sublethal concentration of imidacloprid, an insect neurotoxin.
Results showed that Cry1Ie toxin carries no risk to survival, pollen consumption, or learning capabilities of young adult honey bees. On the other hand, honey bees exposed to imidacloprid exhibited changes in learning behavior as well as in pollen consumption compared with the Cry1Ie groups.
Read the research article in Journal of Economic Entomology.
[ Send to a Friend | Rate this Article ]
---
Folate biofortification of major crops is a promising method to battle vitamin deficiency. Naty G. Ramírez Rivera and her team from Escuela de Ingeniería y Ciencias in Mexico aimed to increase folate, also known as vitamin B9, levels in common bean (Phaseolus vulgaris L.) by engineering the pathway of pteridine, a folate precursor.
The GTP cyclohydrolase I gene (AtGchI) from Arabidopsis thaliana was isolated and expressed in three common bean cultivars. Seed-specific overexpression of AtGCHI caused significant enhancement of pteridines in the transgenic lines. The pteridine increase resulted in higher folate levels in raw seeds. The overexpression also triggered an increase in PABA levels, another folate precursor. This was probably caused by a separate, still obscure mechanism.
For more information on the study, read the full article on Plant Biotechnology Journal.
Beyond Crop Biotech
Scientists at Uppsala University and their colleagues report that whole genome sequencing of Atlantic and Baltic herring revealed hundreds of loci underlying adaptation to the brackish Baltic Sea or timing of reproduction.
The new study reveals that the Atlantic herring, one of the most abundant fish in the world and has been a crucial food resource in northern Europe, is a near ideal model to study genes underlying ecological adaptation. First, it is highly adaptable and it shows a considerable diversity in spawning time. Secondly, the population size is enormous.
The scientists have sequenced entire genomes from Atlantic and Baltic herring and revealed hundreds of sites that are associated with adaptation to the Baltic Sea. The study also identified a number of genes that control spawning by comparing herring that spawn in the autumn with those that spawn in spring. This is important because natural populations must carefully time when they reproduce to maximize the survival of their young.
These new findings provide evidence of how changes in protein-coding genes and stretches of DNA that regulate gene expression both contribute to adaptation.
For more on the study, read the article in eLife Sciences.
Announcements
What: Banana Research in Africa: Modern Breeding Techniques, Regulatory and Biosafety Issues
Where: NARO-Kawanda, Kampala, Uganda
When: September 19-30, 2016
The deadline for registration is on June 30, 2016. For more information on the program, registration, scholarship eligibility criteria and application forms, visit the course website or contact Sylvie De Buck at sylvie.debuck@vib-ugent.be.
From The BICs
The Generation Agripreneur, Shaping the Next 25 years of Ugandan Agribusiness - an Agriculture value chain summit and Expo was organized by the American Chamber of Commerce Uganda from April 19-21, 2016 with the theme, "Agribusiness Investment Opportunities in Uganda: Gifted by Nature".
The National Agricultural Research Organization (NARO) through its information and knowledge sharing hub-Uganda Biosciences Information Center (UBIC) participated in the event to showcase and share with the wider public, information on modern agricultural research and its relevance in addressing issues pertinent to the agricultural sector. During the three-day event, local and international exhibitors, policy makers, farmers, and a range of professionals among others were engaged with the UBIC team in constructive exchanges of information and ideas concerning topical issues on modern agricultural research and development both in Uganda and globally.
By close of the event, over 100 participants visited the UBIC stall and got to learn about the diverse modern agricultural research currently taking place in Uganda. One of the stall visitors was the U.S. Ambassador to Uganda - Deborah R. Malac who commended the biotech research of NARO. An appreciable number of participants acknowledged that they all along had negative perceptions on GM crops. Most of them did not know the difference between conventionally bred crops and GM crops. Many were shocked to learn that the current policy environment does not allow for public release of GM crops some of which they were demanding.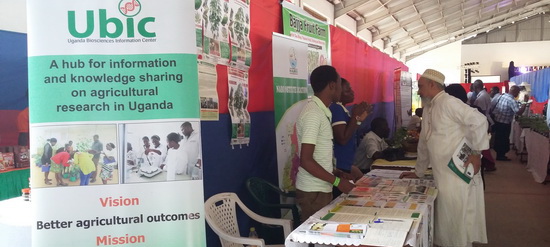 For more details, send email to ubic.nacrri@gmail.com.
---
The African Biosafety Network of Expertise (ABNE-NEPAD), in partnership with Burkina Faso National Agricultural Research Institute and the Open Forum on Agricultural Biotechnology in Africa (OFAB- Burkina Faso) organized a biotechnology and biosafety sensitization seminar on April 19, 2016 in Ouagadougou, Burkina Faso. It was attended by more than 80 participants including high level government officials, representatives from leading African biotechnology and biosafety organizations, civil society members, and the media.
Hon. Prof. Filiga Michel Sawadogo, Minister of Higher Education Scientific Research and Innovation, guest of honour at the event, pledged support for the ongoing research to address fiber length on current Bt cotton varieties. "My ministry will ensure that scientists work to address the issue of fiber length of the present Bt cotton varieties in order to satisfy the market." He recommended increased awareness initiatives on biotechnology and biosafety for decision-makers such ministers, members of parliament and other regional governing bodies.
ISAAA AfriCenter Director, Dr. Margaret Karembu, also presented the ISAAA Brief 51: 20th Anniversary (1996 to 2015) of the Global Commercialization of Biotech Crops and Biotech Crop Highlights in 2015.
The meeting brought together leading African biosafety and biotechnology stakeholders with the aim of sharing information and experiences with local decision makers on biotechnology and biosafety. It provided an opportunity for participants to have a better understanding of the context and status of biotechnology and biosafety in Burkina Faso and discuss strategies to enhance related science communication in the country.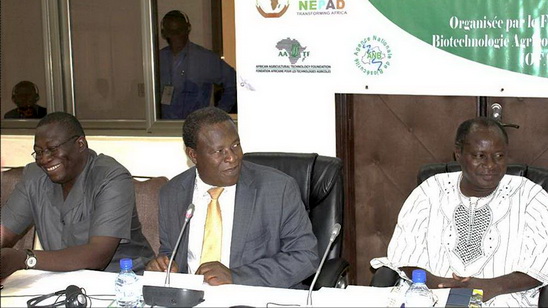 For more information about the event, contact Dr. Margaret Karembu at mkarembu@isaaa.org.