News
Global
The 2017 Global Hunger Index (GHI) indicates long-term advancement in decreasing global hunger. However, the progress has been uneven, with millions continuing to experience chronic hunger and many areas encountering food shortage and even starvation.
The 2017 GHI, published by the International Food Policy Research Institute (IFPRI), Concern Worldwide, and Welthungerhilfe, follows the status of hunger globally, highlighting the areas where action to address hunger is most urgently needed. To capture the multidimensional nature of hunger, GHI scores are based on four indicators: undernourishment, child wasting, child stunting, and child mortality.
The report shows that out of the 119 countries evaluated, one country (Central African Republic) is in the extremely alarming range. Seven countries have alarming hunger index, which includes Malawi, Sudan, Zambia, Chad, Yemen, Madagascar, Sierra Leone, and Liberia. A total of 44 countries are in serious range (including Asian countries India, Philippines, Indonesia, and Pakistan); 24 in moderate range; and 43 in low range. The percentage of undernourished declined to 13%, down from 18.2% in 2000.
With these results, it is evident that more work is needed in many countries to attain the Sustainable Development Goal of eradicating hunger by 2030. Download a copy of the report from the GHI website.
[ Send to a Friend | Rate this Article ]
---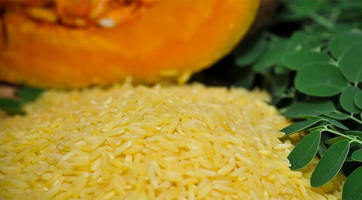 Precision agriculture, including GM crops, provides the tools to assist for macronutrients yield, climate change adaption, and other unfavorable growing conditions, as well as malnutrition. Adrian Dubock of the Golden Rice Humanitarian Board presented Golden Rice as an example of a product of precision agriculture that has a huge potential to improve micronutrient intake, especially in areas with high prevalence of vitamin A deficiency (VAD). The review article is published in Agriculture and Food Security journal.
According to the article, the first challenge for the Golden Rice project is to enable managed adoption in rice-consuming population with high incidences of VAD. "For the Golden Rice in the mega-rice varieties (IR64, IR36, BR29 and PSB Rc82) carrying the GR2E transformation event, it is time for scientists and rice breeders to 'pass the baton' to rice seed multipliers, to extension workers, to public health educators, to those responsible for children and women, for school meals services, and to health and welfare professionals. Hopefully, philanthropy will not be so bored and exhausted by the past 17 years, that they may assist in catalyzing this Golden Rice adoption work," says Dubock in his article. He also predicts that in the long run, other micronutrient traits will be combined with beta-carotene to produce multi-vitamin and multi-mineral rice.
Read more from Agriculture and Food Security.
Africa
In a speech read for him by the 3rd Deputy prime minister Hon. Kirunda Kivejinja, President Yoweri Museveni yet again highlighted the critical role of modern biotechnology in ensuring sustainable food and nutrition security for the country's 38 million people. This was during celebrations to mark World Food Day (WFD) on October 16, 2017 in Rubanda District, South Western Uganda. WFD came just days after the country's parliament passed the National Biosafety Act, ending years of legislation on whether Uganda farmers can have access to genetically modified crops and other tools of modern biotechnology. Cognizant of the WFD's theme, Change the future of migration: Invest in food security and rural development, the president asserted the key relevance of modern biotechnology in providing safe and nutritious food not only to its citizens but also the 1.8 million refugees it currently hosts.
Speaking at the same event, the Director General of the National Agricultural Research Organization (NARO), Dr. Ambrose Agona, commended researchers for their efforts in advocating for science to pass the Biotechnology Act. Going forward, NARO will now be able to conduct open field trials and National Performance Trials towards final deregulation and commercialization of a variety of food security crops that have been in the research pipeline for close to two decades.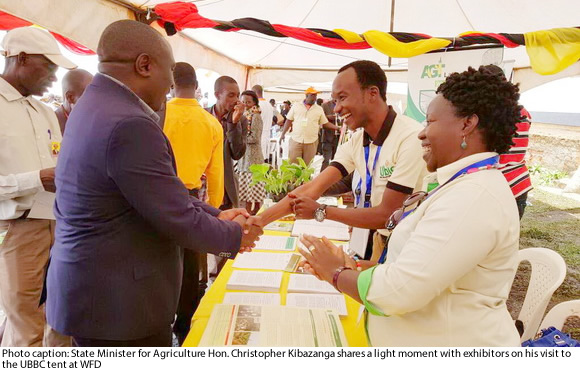 For more information, please contact the coordinator UBIC at ubic.nacrri@gmail.com.
Americas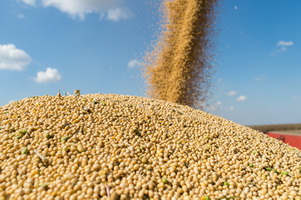 The Information Technology and Innovation Foundation (ITIF), one of the world's top science and technology body, together with a group of independent scientists, have submitted a letter to U.S. Interior Secretary Ryan Zinke to call on the department to reverse a Fish and Wildlife Service policy that phased out the use of genetically modified (GM) seeds. The letter argues that the policy was improperly adopted three years ago and stands at odds with the conservation objectives of the Fish and Wildlife Service.
The group said that the ban against the use of GM seeds is "arbitrary and capricious," as GM crops are shown to be the most modern, precise, efficient, and effective methods of seed improvement. They also said, "The prohibition of 'genetically modified' crops is a wrong-headed and anti-environmental policy, and the conceit that it is being advanced out of respect for a 'land ethic' is indefensible."
ITIF senior fellow Val Giddings said, "Labeling crops as 'genetically modified' stigmatizes their use, when in reality, their safety is proven and their benefits are significant."
Read the letter on the ITIF website.
Asia and the Pacific
The Office of the Gene Technology Regulator (OGTR) has received a license application under the Gene Technology Act 2000 (the Act) for Dealings involving the Intentional Release (DIR) of genetically modified organisms (GMOs) into the Australian environment. The application (DIR 158) from GO Resources Pty Ltd proposes the commercial release of two lines of genetically modified (GM) safflower. The GM safflower has been modified to lower the expression of two fatty acid biosynthesis genes to produce more oleic acid in the seed, and also contains a marker gene that was used for the selection of plants during the early stages of research.
DIR 158 aims to introduce the GM safflower into the Australian cropping system. If a license is issued, the GM safflower and its derived products would enter general commerce, with the oil derived from the GM safflower intended for commercial industrial oil production. Products derived from the GM safflower are not intended for use in human food.
The Risk Assessment and Risk Management Plan for the application will be released for public comment in March 2018.
For more information, including the notice of application, questions and answers, and summary of the license application, visit the DIR 158 page on the OGTR website.
[ Send to a Friend | Rate this Article ]
---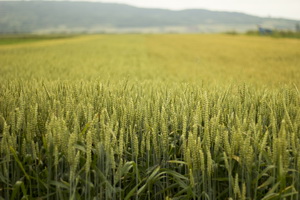 Researchers at Australia's University of Adelaide, in collaboration with US-based company DuPont Pioneer, have identified the wheat gene that, when turned off, eliminates self-pollination but still allows cross-pollination – opening the way for breeding high-yielding hybrid wheats.
The researchers say the discovery and the associated breeding technology have the potential to radically change the way wheat is bred. Dr. Ryan Whitford, Hybrid Wheat Program Leader at the University of Adelaide's School of Agriculture, Food and Wine said that wheat is the world's most widely grown crop, delivering around 20% of total food calories and protein to the world's population. He said that wheat production needs to increase by 60% in 2050 to meet the increased demand from predicted population growth.
"The pollination gene is 'biologically contained' to the breeding process and does not make its way past the grandparent stage in producing the end-user hybrid seed," says Dr. Marc Albertsen, Research Director, DuPont Pioneer.
More details are available at the University of Adelaide News & Events.
Europe
Scientists from the United Kingdom and Brazil have found the first evidence that ancient South Americans learned how to grow bigger rice crops with larger grains, but may have stopped after 1492 when Europeans arrived and the indigenous population was decimated.
The archaeologists analyzed 16 samples of microscopic plant remains from 10 different time periods found during excavations in 2014 led by the University of São Paulo in South West Amazonia. More phytoliths, hard, microscopic pieces of silica made by plant cells, were found at higher ground level, suggesting that rice began to play a larger role in the diet of people who lived in the area – and more was farmed - as time went on.
The evidence of success of early rice farmers on vast wetlands near the Guaporé River in Rondônia state, Brazil, could help plant breeders develop rice crops which are less susceptible to diseases and more adaptable to the effects of climate change than the Asian varieties.
Read more at the University of Exeter News.
Research
The 3-Hydroxy-3-methylglutaryl-coenzyme A synthase (HMGS) codes for isoprenoids including phytosterols, which can lower blood cholesterol levels. In a previous study, overexpressing the mustard (Brassica juncea) BjHMGS1 gene in Arabidopsis and tobacco upregulated genes in the sterol biosynthesis and increased its sterol content. The team of Pan Liao of the University of Hong Kong aimed to overexpress the wildtype (HGMS) and mutant (S359A) BjHMGS1 genes in tomato (Solanum lycopersicum).
Overexpression of either gene caused an accumulation of MVA-derived squalene and phytosterols, as well as vitamin E and carotenoids, in tomato. In tomato with the HMGS-overexpressing seedlings, genes associated with the biosyntheses of universal precursors of several compounds, including phytosterols, brassinosteroids, carotenoids, and vitamin E were upregulated. However, the S359A-overexpressing tomato fruits had greater squalene and phytosterol contents over the HMGS-overexpressing plants.
This study demonstrates that manipulation of the BjHMGS1 gene is a potential strategy to simultaneously elevate health-promoting squalene, phytosterols, α-tocopherol, and carotenoids in tomato.
For more on this study, read the article in Plant Biotechnology Journal.
[ Send to a Friend | Rate this Article ]
---
Potassium, an abundant cation in plant cells, is important in fruit development and plant resistance. However, how cellular potassium is directed by potassium channels in fruit development and quality formation of strawberry (Fragaria ananassa) is relatively unclear. Shufang Wang from China Agricultural University aimed to study this channel.
The team focused on a two-pore potassium (TPK) channel gene in strawberry, FaTPK1. Analysis showed that FaTPK1 is localized in the vacuole membrane. A transcription analysis also indicated that the expression level of FaTPK1 increased rapidly and was maintained at a high level in ripened fruit, suggesting that FaTPK1 is related to fruit quality formation.
The downregulation of FaTPK1 inhibited fruit ripening while overexpression of FaTPK1 promoted fruit ripening. This was demonstrated by the changes in firmness and the contents of soluble sugars, anthocyanin, and abscisic acid, as well as the transcript levels of ripening-regulated genes.
Thus, the strawberry TPK1 plays important roles in fruit ripening and quality formation.
For more information on this study, read the article in Plant Biotechnology Journal.
Beyond Crop Biotech
Scientists at Rothamstead Research discovered the gene that turns fungi into pathogens. The result is published in PLOS Pathogens journal.
Molecular pathologist Jason Rudd and colleagues were searching for genes of the wheat pathogen Zymoseptoria tritici, which causes Septoria leaf blotch, when they observed one specimen without filaments, which are essential for the fungus in invading its host.
"We were trying to identify loss of virulence through random mutations of the genome, with one mutation per individual present in over 1000 specimens" recalls Rudd. "Then noticed the failing hyphae in one of them and identified the affected gene with a mutation slap bang in the middle of it." The gene codes for glycosyltransferase, a protein that enables the fungal hyphae to grow and spread across the surface of a plant. Without this protein, the hyphae fails and the fungus stalls.
Further analyses showed that the same gene is present in over 800 genomes from taxonomically diverse fungi, which mostly infect plants and humans. Thus, the team is now working on characterizing the protein and will develop a fungicidal spray to shock spores before they turn pathogenic.
Read the original article from Rothamstead Research.
[ Send to a Friend | Rate this Article ]
---
The CRISPR-Cas9 genome editing tool has been instrumental in creating genetically modified pigs for use as biomedical or agricultural models. However, it is still unknown if the tool has an effect on the development of pig embryos. University of Missouri researchers led by Kristin Whitworth now aim to determine if DNA editing can result in delays in development to the blastocyst stage or in skews in the sex ratio.
Six DNA templates that were designed to express guide RNAs that target the transmembrane protease, serine S1, member 2 (TMPRSS2) gene were injected into the cytoplasm of zygotes and cultured in vitro to the blastocyst stage. Blastocysts were collected as they formed on days 5, 6 or 7. PCR was performed to determine genotype and sex of each embryo. Embryos were then transferred into recipient gilts.
Analysis found that the rate of blastocyst development was not significantly different between CRISPR-injected embryos and the non-injected controls at day 5, 6 or 7. Injection of CRISPR resulted in detectable mutations in 92–100% of the embryos analyzed. There was also no difference in the number of edits or sex ratio of male to female embryos when compared to the controls.
There were 12 resulting piglets and all had biallelic edits of TMRPSS2. Zygote injection with CRISPR-Cas9 proves to be an efficient tool to genetically modify pig embryos without any unwanted effects.
For more on this study, read the article in Transgenic Research.
Document Reminders
The International Plant Biotechnology Outreach (IPBO) released two new Fact Series publications .
The Facts Series titled Cotton in Africa reviews the impact of Bt cotton on African agricultural systems. It highlights the importance for donors and governments that invest heavily in the hope that GM crops will bring significant improvements to the livelihoods of resource-poor farmers to first pay attention to the fundamental institutions that support broader agricultural development and technology generation (with or without GM crops).
The Fact Series on Maize in Africa captures the importance of maize in Sub-Saharan Africa, the diseases and other problems encountered in growing maize, and how conventional breeding and modern biotechnology protect maize from such enemies. Biofortification efforts were also discussed in the publication.
Download the publications from the IPBO website.
---
Updated versions of the following Pocket Ks are now available for download:
Most of the updated information are based on the ISAAA Brief 52 and other reports with new data available.
Pocket Ks
are Pockets of Knowledge, packaged information on crop biotechnology products and related issues produced by the Global Knowledge Center on Crop Biotechnology. These publications are written in easy to understand style and downloadable as PDF optimized for mobile reading, sharing, and distribution. Other topics are also available at the
ISAAA website
.