News
Global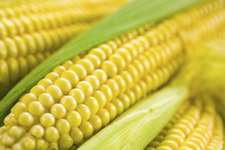 National Academy of Sciences (NAS) of the United States is embarking on a comprehensive study on genetically engineered (GE) crops. The study aims to examine the history of the development and introduction of GE crops in the United States and internationally, including GE crops that were not commercialized, and the experiences of developers and producers of GE crops in different countries. A committee was formed to review available information on GE crops.
The first public meeting was held on September 15-16, 2014 in Washington, DC. Twenty speakers were invited to present at the meeting, including Ian Baldwin of Max Planck Institute for Chemical Ecology, Jon Entine of Genetic Literacy Project, Doug Gurian-Sherman of Center for Food Safety, and Gregory Jaffe of the Center for Science in the Public Interest. Comments from the general public were also solicited during the meeting.
The committee will also review the scientific foundation of current environmental and food safety assessments for GE crops and foods and their accompanying technologies, as well as evidence of the need for and potential value of additional tests. As appropriate, the study will examine how such assessments are handled for non-GE crops and foods.
For more details, visit http://www.geneticliteracyproject.org/2014/09/15/national-academy-of-sciences-convenes-panel-to-re-evaluate-gmos/ and http://nas-sites.org/ge-crops/2014/07/16/first-public-meeting-september-15-16-2014/.
Africa
African Agriculture stakeholders were recently challenged to put more action than talk in the quest for sustainable agricultural development in Africa. H.E Hon. Akinwumi Adesina, Nigeria's Minister for Agriculture and Rural Development challenged his fellow Ministers of Agriculture in the continent to ensure that they advise their governments appropriately on what needs to be done for their countries to realize improved and sustained productivity.
"Visionary and focused leadership is needed to ensure that Africa reaches a full transformation in agriculture." Echoing his sentiments, H.E John Kufuor, UN Secretary General's Special Envoy on Climate Change said "Politics in Africa should focus on agriculture; Agriculture is a basic need for Africa."
The two officials made those remarks at the 4th African Green Revolution Forum (AGRF), an initiative that seeks to bring together African Heads of State, Ministers, farmers, private agribusiness firms, financial institutions, NGOs, civil society, scientists, and other stakeholders to discuss and develop concrete investment plans for achieving the green revolution in Africa. The meeting was held on September 1-4, 2014 in Addis Ababa, Ethiopia and was attended by over 1,000 delegates.
For more information on the Forum, contact Sylvia Mwichuli, Communications Manager at the Alliance for a Green Revolution in Africa (AGRA) at smwichuli@agra.org.
[ Send to a Friend | Rate this Article ]
---
A project using a food based approach through the production, consumption and marketing of orange flesh sweet potato seeks to improve vitamin A deficiency especially among children under five years in Ghana.
The initiative, System Approach to Improve and Sustain Food Security in West Africa (SATISFY), undertaken by World Vision Ghana would benefit two districts in the Brong Ahafo region, namely Kintampo South and Atebubu.
"We have realized that vitamin A deficiency is a problem in Ghana and supplementation is becoming a challenge, for the past three months now, the supply has been erratic,'' says Stephen Matey, World Vision project coordinator. "There is the need to introduce new approach and we think that food based approach is better, given that farming plays a major role in the country. Thus, farmers can produce crops that are high in vitamin A to address vitamin A deficiency to improve nutrition,'' he stated at Orange Flesh Sweet Potato Community of Practice meeting, organized by Farm Radio International in Accra.
According to Ghana Health Service, 12,000 children die every year of underweight-related ailments due to malnutrition. The statistics also indicate that under-nutrition contributes to about half of all child deaths beyond early infancy, whilst one out of every 13 children in Ghana die before their 5th birthday.
Having received training in OFSP, Matey says the plan is to pass on the knowledge to agricultural and extension officers and also to train the farmers and support them to grow, consume, and market the crop to get additional income.
For more information on biotech in Africa, contact bbita@isaaa.org.
Americas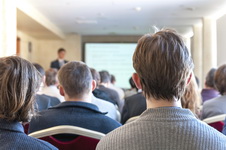 Researchers at North Carolina State University have identified candidate genes and cellular processes believed to control hypersensitive defense response (HR) in corn. Hypersensitive defense is a response by corn plants when they are under pathogen attack, where they sometimes respond by killing their own cells near the site of the attack to thwart further damage from the attacker. This cell sacrifice can cause very small, often microscopic, spots or lesions on the plant.
The NC State researchers worked with their colleagues from Purdue University and examined more than 3,300 corn plants that had exaggerated HR because one particular resistance gene, Rp1-D21, won't turn off. They examined the entire corn gene blueprint to find the genes most closely associated with HR. They found 44 candidate genes that seem to be involved in defense response, programmed cell death, cell wall modification and a few other responses linked to resisting attack, says Dr. Peter Balint-Kurti, a U.S. Department of Agriculture (USDA) professor who works in NC State's plant pathology and crop science departments.
"It's similar to a human having an auto-immune response that never stops," Balint-Kurti says. "This mutation causes a corn plant to inappropriately trigger this hypersensitive defense response, causing spots on the corn plant as well as stunted growth."
The research findings are available as an open access paper in PLOS Genetics. For details, read the NC State news release at: http://news.ncsu.edu/2014/09/corn-spots-study-finds-important-genes-in-defense-response/.
[ Send to a Friend | Rate this Article ]
---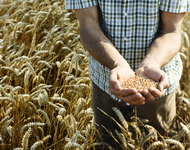 Washington State University (WSU) researchers have discovered "the most famous wheat gene" that can be used to transfer valuable genes from other plants to wheat. The gene, which WSU Professor Kulvinder Gill called Ph1, makes wheat fertile and controls the orderly pairing of wheat chromosomes during reproduction. However, the gene also prevents wheat from breeding with related ancestors.
Gill said "Now that we have the gene, we can actually use that gene sequence to temporarily silence the gene and make rye and other chromosomes pair with wheat." Their first effort involves transferring a gene from jointed goatgrass, a wild relative of wheat, to confer resistance to stripe rust.
For more information, read the WSU news release at: https://news.wsu.edu/2014/09/15/wheat-gene-discovery-clears-way-for-non-gmo-breeding/#.VBedxZSSySo.
Asia and the Pacific
GM crops with abiotic stress tolerance have been developed to reduce the losses in crop yield brought about by salinity, drought, extreme temperatures and others. With this development, issues about its food and environmental safety have surfaced, affecting adoption and acceptability of these GM crops. In the study by Liang and his co-researchers from RIKILT Wageningen UR, Institute of Food Safety, the importance of developing a comparative approach in assessing GM crops was discussed.
The results of their findings proved that acceptability and adoption of GM crops with abiotic stress tolerance is dependent on the result of their safety assessment. A triangle method to assess GM crops with abiotic stress tolerance was proposed to improve the current comparative approach for food and environment safety assessment in this type of GM crops. This method compares the cultivation of GM crop grown in two conditions: natural and under stress condition, wherein a conventional crop is also cultivated under natural condition. The effects or risks in cultivating GM crops under both conditions in the environment was accounted and assessed, as compared with conventional crops. GM crops considered safe for the environment is then assessed for its safety as a food.
For further details of the study read the article at: http://www.sciencedirect.com/science/article/pii/S0924224414001861.
[ Send to a Friend | Rate this Article ]
---
The Vietnam Ministry of Agriculture and Rural Development has issued Circular No. 29/2014/TT-BNNPTNT dated September 5, 2014 to amend Article 7 of Circular No. 23/2010/TT-BNNPTNT dated April 7, 2010. The move will allow recognition and use of biotechnology techniques in agriculture and rural development in the country. In so doing, some specific cases, stipulations should be included in the biotech crop registration dossier in order to be included in this exceptional recognition.
The full text of Circular No. 23/2014/TT-BNNPTNT in Vietnamese can be downloaded from: http://vanban.chinhphu.vn/portal/page/portal/chinhphu/hethongvanban?class_id=1&_page=1&mode=detail&
org_group_id=0&org_id=0&type_group_id=0&category_id=0&type_id=0&filters=&document_id=175906
For news on biotechnology in Vietnam, contact Le Hien at hientttm@yahoo.com.
[ Send to a Friend | Rate this Article ]
---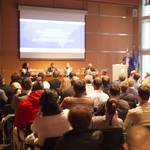 The 7th meeting of the Conference of the Parties serving as the meeting of the Parties to the Cartagena Protocol on Biosafety COP12/COP-MOP 7/COP-MOP 1 will be held in Pyeongchang, Gangwon Province in the Republic of Korea from 29 September to 17 October 2014.
Representatives from 194 governments, heads of relevant organizations and NGOs will come together to discuss, plan and take decisions during three distinct meetings for the overall implementation of the Convention and its Protocols: the 7th Conference of the Parties serving as the meeting of the parties to the Cartagena Protocol on Biosafety (COP-MOP-7) from 29 September to 3 October, the 12th meeting of the Conference of the Parties to the Convention on Biological Diversity (COP-12) from 6 to 17 October, and the first Conference of the Parties serving as the Meeting of the Parties to the Nagoya Protocol on Nagoya Protocol on Access to Genetic Resources and the Fair and Equitable Sharing of Benefits Arising from their Utilization (COP-MOP-1) from 13 to 17 October.
In addition, the side meeting events about agricultural biotechnology will take place along with CropLife Korea on September 30, at Hall F, Room 1 - Business Meeting Room, the Alpensia Resort. Dr. Hyo Guen Park, an advisor to CropLife Korea, will present the role of biotechnology in addressing food security. Dr. Soo Chul Park, Director, The National Center for GM Crops, Rural Development Administration, will provide an overview of the domestic status of biotech crop research and development in Korea, including a summary of the government-sponsored National Program for the GM Crops under the Grant Project of the 2nd Generation of Korea BioGreen and the future plant biotech pipeline in Korea.
For more information, contact Sumin Kim of the Korea Biotechnology Information Center at szkoo27@korea.kr.
Europe
New research published by plant scientists at the John Innes Centre in Norwich points to a breakthrough that could lead to new, high-yielding, disease-resistant crop varieties. Published in Molecular Plant and Microbe Interactions, the research suggests that the wild grass Brachypodium distachyon is an ideal model for studying disease resistance traits in wheat and barley.
According to Rachel Goddard, lead author of the paper, they have been investigating brassinosteroid (BR) signalling pathway in barley, a close relative of wheat. She added that similar to GA-defective plants, barley with a mutated BRI1 gene also seems to be a high yielding semi-dwarf that is more resistant to necrotrophic fungi. Goddard and her colleagues found that B. distachyon acts as a host to many of the same fungal pathogens that infect wheat and barley. They also showed that when genes in the BR-signalling pathway of B. distachyon are disrupted, the same disease resistance traits are observed. This suggests that the mechanisms associated with this pathway are conserved between barley and its grass relative.
For more information, read: https://www.jic.ac.uk/news/2014/09/wild-grass-for-wheat-barley-breeding-research/.
Research
Scientists from Academia Sinica conducted a compositional and proteomic analyses of biotech broccoli exhibiting improved shelf life and yield. They used proximate analysis to examine macronutrients, chemical and mineral constituents as well as anti-nutrient and protein changes of biotech broccoli and corresponding controls.
Results showed that most of the parameters were comparable between the biotech broccoli and controls, except for an increase in carbohydrate level and a reduction in magnesium content in biotech broccoli. Proteomic analysis showed over 50 protein spots in biotech broccoli at harvest and after cooking. One third of those proteins are similar with others that are important in plant defenses against stresses and biological aging.
Biotech broccoli-fed mice exhibited normal growth and immune function. Thus, the compositional and proteomic changes do not reach a threshold to affect growth or induce an immune response in mice under normal broccoli feeding.
The results are published in the International Journal of Molecular Sciences. For more details, visit http://www.ncbi.nlm.nih.gov/pubmed/25170807.
[ Send to a Friend | Rate this Article ]
---
Riboflavin is the precursor of flavin mononucleotide (FMN) and flavin adenine dinucleotide (FAD), cofactors for enzymes in biochemical reactions. Previously, it was shown that riboflavin, FMN, and FAD levels were decreased in leaves of transgenic Arabidopsis expressing the turtle riboflavin-binding protein or (RfBP). Hansong Dong of Nanjing Agricultural University recently studied the effect of flavin downregulation due to RfBP.
Early flowering was a constant phenotype of transgenic Arabidopsis. This early flowering was correlated with enhanced expression of flower promoting photoperiod genes in leaves. Further analysis correlated it with increased expression of the FD gene responsible for flowering time control. When RfBP was silenced, by contrast, the expressions of photoperiod genes in leaves and FD were not enhanced and flavin concentrations were elevated to the normal levels in leaves.
The results provide evidence that downregulation of leaf flavin by RfBP induces early flowering and coincident enhancements of genes that promote flowering through the photoperiod pathway.
For more information regarding the study, visit: http://www.biomedcentral.com/content/pdf/s12870-014-0237-z.pdf.
[ Send to a Friend | Rate this Article ]
---
Previous studies have revealed that soybean WRKY transcription factors are involved in plant responses to abiotic stresses and diseases, including Asian Soybean Rust caused by Phakopsora pachyrhizi. Researchers, led by Maria Helena Bodanese-Zanettini of Universidade Federal do Rio Grande do Sul, performed genome-wide annotation of the soybean WRKY family to identify genes involved in the response to P. pachyrhizi infection.
Seventy-five genes were differentially expressed during fungal infection, eight of which were suggested to be involved in the response to infection. The expression of these genes in a resistant genotype was found to be earlier and/or stronger compared with the response of susceptible genotypes. Transgenic soybean lines with silenced WRKY genes were generated. The leaves of transgenic silenced lines showed higher number of lesions than the wild-types. Embryos overexpressing WRKY genes were also obtained, but were unable to grow into plants.
These results suggest the possibility of manipulation of WRKYs as an approach to confer fungal resistance in soybean.
For more information regarding WRKY genes and this study, visit: http://www.biomedcentral.com/content/pdf/s12870-014-0236-0.pdf
Document Reminders
Marc Brazeau of Food and Farm Discussion Lab wrote a useful guide on GMOs. It includes the basic science of genetic engineering, current research, and potential impacts on the environment. Read the full article at http://fafdl.org/gmobb/gmos-an-introduction/.
---
Flax, an ancient crop used in the manufacturing industries as a potential source of fiber, has gained an increase in research interest due to several findings revealing its health and industrial benefits. Improvement in the yield and quality of fibers produced by flax was further developed due to genetic engineering.
The review article by Kulma and his colleagues in biotechnology of flax in Europe and China summarizes the recent developments and progress in genetic engineering of flax for its fiber. The article also shows the application of GM flax fiber in manufacturing industries and medicine, which reported its ability in chronic wound healing.
The review article can be viewed at http://www.sciencedirect.com/science/article/pii/S0926669014005123.
---
ISAAA releases a new Pocket K on Bt Eggplant. It features the technology behind the biotech crop and status of Bt eggplant adoption and experimentation including potential benefits in Bangladesh, India, and the Philippines.
Pocket Ks are Pockets of Knowledge, packaged information on crop biotechnology products and related issues available at your fingertips. They are produced by the Global Knowledge Center on Crop Biotechnology (http://www.isaaa.org/kc). The new format of the Pocket K is optimized for reading on PC or mobile devices.
Download a copy for free at http://www.isaaa.org/resources/publications/pocketk/48/default.asp.