News
Global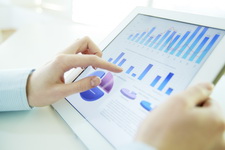 Biology Fortified, Inc. (Biofortified), a non-profit organization devoted to provide factual information and fostering discussion about issues in biology, launched a new project the Genetic Engineering Risk Atlas (GENERA). GENERA is a searchable database of peer-reviewed research on the relative risks of biotech crops. GENERA's website (http://genera.biofortified.org/) is currently available for public beta test, containing 400 out of over 1,200 studies on biotech crops.
Genetic Literacy Project (GLP), another source of information about genetics and biotechnology from plants and human, developed an infographic based on preliminary data available at GENERA. The infographics focused on answering the following questions: Where is the government-funded research happening? Are GMOs safe?
Results showed that out of the initial 400 randomly-selected studies posted in GENERA, half are funded entirely by government agencies and independent nonprofit organizations. The government-funded research was evident at the global scale, present in different regions of the world. This information debunks the common perception that GM crops are developed in private, U.S.-based laboratories.
For more details, read http://genera.biofortified.org/wp/wp-content/uploads/2014/08/GENERA_beta_PR.pdf. Download GLP's infographics at http://genera.biofortified.org/wp/genetic-literacy-project-makes-infographics-from-genera
[ Send to a Friend | Rate this Article ]
---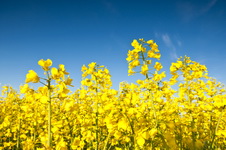 An international consortium of more than 30 research institutes, have deciphered the complex genome sequence of oilseed rape, Brassica napus L., more commonly known as canola, the most important oilseed crop in Europe, Canada, and Australia.
The study showed that apart from the post-Neolithic hybridization that led to its formation, oilseed rape has one of the most highly duplicated genome of all flowering plants, because of numerous older polyploidizations that occurred during its evolution. This phenomenon led to the accumulation of a great number of genes, 101,000 in total, the highest gene densities of any previously sequenced organism, four times more than the 20,000-25,000 genes of humans.
Boulos Chalhoub, from the French National Institute for Agricultural Research (INRA) who coordinated the research and federated research efforts within the international consortium said "The main difficulty for oilseed rape has been to differentiate its different sub-genomes. This has been achieved by the development of an original sequencing strategy, bioinformatics tools and the analysis of duplicated gene expression and their regulation."
The paper presenting the research results is published in the August 22, 2014 edition of Science (DOI: 10.1126/science.1253435). For more information about this breakthrough, read the following articles: http://presse.inra.fr/en/Resources/Press-releases/Oilseed-rape-genome-sequenced; http://www.plantsci.org.uk/news/oilseed-rape-genome-sequenced.
Africa
A science communication workshop training for 26 journalists was held in Kumasi, Northern Ghana on August 13-15, 2014. The journalists were trained on effective communication on biotechnology and biosafety issues. The workshop was very timely because of the need for media support for the breeders bill, which is causing heated debates in the Ghanaian public.
In a speech read on his behalf, Dr. Hans Adu-Dapaah, Director of CSIR-Crops Research Insitute, explained that the main objective of the bill was to establish a legal framework to acknowledge the achievements of breeders of new varieties. He added that CRI and other agricultural research institutes stand to benefit from the initiative, since it will promote the breeding of new varieties of plants, aimed at improving the quantity, quality and cost of food, fuel, fiber and raw materials for industry and will encourage investment in plant breeding and promote the seed industry.
The media were acquainted on basics of genetic modification as well as the status of biosafety research. They were also taught on how to pitch good stories and participated in several practical sessions aimed at employing best practices while writing agri-biotech related stories. They were taught the basics of extracting DNA from simple fruit and vegetables and visited the confined field trial of the NEWEST rice varieties at the Crops Research Institute trial site.
The activity was organized by ISAAA AfriCenter in partnership with Ghana Council for Scientific and Industrial Research (CSIR), the Program for Biosafety Systems, the Africa Biosafety Network of Expertise of NEPAD and Africa Harvest.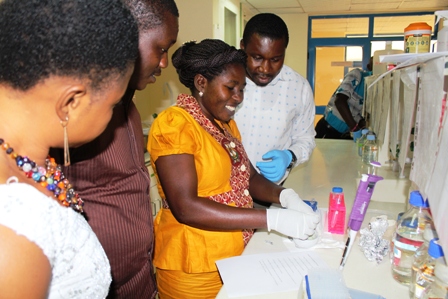 For more information about biotechnology in Africa, contact Margaret Karembu at mkarembu@isaaa.org.
Americas
A consortium of scientists received a $20 million grant from the National Science Foundation to investigate the effects of climate variability on crops. The consortium includes research teams from the University of Missouri campuses at Columbia, Kansas City, Rolla and St. Louis, as well as Washington University, Saint Louis University, Lincoln University, the St. Louis Science Center, and the Danforth Plant Science Center.
The team from Danforth Center will work on the genomes of corn to improve drought tolerance and water-efficiency. According to Danforth plant scientist Todd Mockler, the main objective of their study is to understand how roots contribute to drought tolerance and pinpoint which genetic traits are in charge of the water-efficient characteristics. They will also study how shoots, leaves, flowers, and other structures respond to drought.
On the other hand, Danforth's bioinformatics expert, Doug Bryant, will work on developing tools that will handle and analyze big data on humidity, soil temperature, plant growth and more, with some of the imaging data coming from drones. His team's end goal is to develop models that can help farmers predict yields and other outcomes with as much precision as possible.
For more details, visit http://www.danforthcenter.org/news-media/in-the-news/in-the-news-item/(st.-louis-business-journal)-data-farming-researchers-using-drones-data-to-beat-drought.
[ Send to a Friend | Rate this Article ]
---
Scientists at the University of Missouri discovered that boron plays an important part in development and reproduction in corn plants.
Boron deficiency is one of the most widespread causes of decreased crop yield. Thus, farmers in boron-deficient areas are required to supplement their soil with boron but little is known about how corn plants use up the essential nutrient.
According to researcher Paula McSteen, lack of boron leads to a problem in the meristems or the stem cells of the plant. Meristems include the growing points for each plant, and every organ in the plant is developed from these specialized stem cells. Inadequate levels of boron causes these growing points to disintegrate, significantly affecting corn tassels and kernels. When tassels are stunted, crop yields are reduced.
The research evaluated a group of plants stunted by its ability to grow tassels. Another researcher in the team, Kim Phillips, mapped the corn plant's genome and found that a genetic mutation stunted tassel growth because it was unable to transport boron across the plant membranes, inhibiting further growth in the plants.
Read the original article at http://munews.missouri.edu/news-releases/2014/0825-mu-researchers-find-boron-facilitates-stem-cell-growth-and-development-in-corn/.
Asia and the Pacific
The growth of agri-biotechnology has increased Philippines' prospects for increased food and feed exports to regional markets, according to a government official. Dr. Segfredo Serrano, Agriculture Undersecretary for Policy, Planning, Research & Development and Regulations, said that higher yields for the yellow corn biotech variety "favored the livestock industry and enabled farmers to export corn sillage to South Korea." Serrano said higher biotech yellow corn harvests helped the country stop the annual importation of one million metric tons of the commodity used by the livestock industry.
The Philippine Department of Agriculture announced last year that corn export was a part of the government's export program, with South Korea and Malaysia as initial target markets.
Read more at http://biotech.einnews.com/article/220253018/yRQLlu2s2OdDEFBD.
[ Send to a Friend | Rate this Article ]
---
The Office of the Gene Technology Regulator (OGTR) of Australia announced that they have received a licence application from the Commonwealth Scientific and Industrial Research Organisation (CSIRO) for field trials of biotech safflower (increased oleic acid) into the environment.
The field trials will be conducted to evaluate the agronomic performance of biotech safflower under field conditions in various locations (45 sites) in Australia for 4 years (January 2015 to August 2019) and collect enough oil for product testing.
OGTR is currently preparing a comprehensive Risk Assessment and Risk Management Plan for the application. These documents will be released for public comment and advice from experts in November 2014.
Read the Notification of Application at http://www.ogtr.gov.au/internet/ogtr/publishing.nsf/Content/3D65C12139D8BE26CA257D3E007FD665/$File/dir131ebnotific.pdf.
[ Send to a Friend | Rate this Article ]
---
A workshop to finalize the Guidelines for the Environmental Risk Assessment of Genetically Engineered (GE) Crops was concluded in Dhaka, Bangladesh on August 20, 2014. The one day-long stakeholders workshop featured experts Dr. Andrew Roberts (Deputy Director of the Center for Environmental Risk Assessment), Dr. Joseph Huesing (Sr. Biotech Adviser, USAID) and Dr. Imdadul Hoque (country coordinator of ABSP II), who provided insights and led discussions on risk assessment of biotech crops. More than 50 scientists, academicians, policy makers, environmentalists, and nongovernment agencies recommended the approval of the draft Guidelines for Gazzette notification. This will be handled by the Ministry of Environment & Forests (MoEF).

For details of the workshop, contact Dr. Khondoker Nasiruddin of Bangladesh BIC at nasirbiotech@yahoo.com.
[ Send to a Friend | Rate this Article ]
---
More than 40 representatives of ministries, research institutions, regulatory agencies, and the academe from China, Cambodia, Malaysia, India, Indonesia, Philippines, and Vietnam participated in a preparatory meeting for the upcoming Meeting of the Parties 7 (MOP7) in Bogor, Indonesia on August 25-26, 2014.
Prof. Piet van der Meer of Public Research and Regulation Initiative facilitated the entire meeting and led the discussion on the items to be taken up in MOP7. These include the implementation and assessment of the effectiveness of the Cartagena Protocol on Biosafety (CPB); general principles and methodology of risk assessment and risk management; socio-economic considerations; unintentional transboundary movements and emergency measures; and contained use, handling, transport, packaging and identification of living modified organisms. Featured speakers were Indonesian scientist Dr. Muhammad Herman, Dr. Ranjini Warrier (India), Dr. David Heron (USDA-APHIS), socio-economists Dr. Leonardo Gonzales (Strive Foundation) and Dr. Agus Pakpahan (National Biosafety Commission of Indonesia), and Dr. Fan Li Chou (USDA).
Organizer heads Dr. Randy Hautea of ISAAA and Dr. Bambang Purwantara of Indonesia Biotech Information Center welcomed the participants and challenged them on the importance of the meeting to biosafety regulation and implementation in their respective countries as well as on international trade of biotech crops.

For details of the meeting, contact knowledge.center@isaaa.org.
From The BICs
The launching ceremony of ISAAA report on global status of GM crops (ISAAA Brief 46) was organized by the Pakistan Biotechnology Information Center (PABIC) in collaboration with PABIC Lahore chapter at Forman Christian College on August 19, 2014. Renowned biotechnologists of Pakistan, Dr. Kauser Abdullah Malik and Dr. Tayyab Hussain, delivered talks at the event and said that that agriculture is the backbone of national economy.
Pakistan is among the largest producers of cotton, maize, rice, citrus, and other crops. However, the yield and quality of agriculture produce is not at par with global standards. Therefore, it is imperative to adopt science-based agricultural technologies at the national level in order to meet the constantly growing food, fiber, and fodder demands in Pakistan. Modern biotechnology, one of the important developments of present era, has immense potential for improving agricultural productivity. However, coherent policies and clear implementation strategy are needed to adopt agri-biotech.
Dr. Clive James, Founder and Emeritus Chair of ISAAA, authored ISAAA Brief 46. During his video message, he talked about the highlights of the report, including the adoption rate of agri-biotechnology worldwide. DG of environment protection agency in Islamabad, Dr. Khursheed Sawati, talked about biotech regulation in Pakistan.
PABIC director, Prof. M. Iqbal Choudhary made a brief presentation on PABIC activities for the promotion of biotechnology in Pakistan. These activities include distribution of materials on crop biotechnology, meetings with progressive farmers and stakeholders, and media workshops. He added that PABIC also organized essay and poster competitions and internship programs to promote the understanding and appreciation of biotechnology among the youth.
For more information about biotechnology in Pakistan, contact Dr. Sammer Yousuf at dr.sammer.yousuf@gmail.com.