News
Global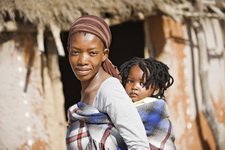 This is the final year for achieving the Millennium Development Goals (MDGs) which were set by governments in 2000 to guide global initiatives to end poverty. The World Heath Organization (WHO) released the World Health Statistics, which showed mixed results on the progress of health-related goals in each of the 194 countries. According to WHO, if the current trends continue, the world will have met the global targets on health by the end of the year by turning the epidemics of HIV, malaria, and tuberculosis, and increasing access to potable water. Furthermore, substantial progress will also be achieved in decreasing child undernutrition, maternal and child deaths, and increasing access to basic sanitation.
"The MDGs have been good for public health. They have focused political attention and generated badly needed funds for many important public health challenges," says Dr. Margaret Chan, WHO's Director General. "While progress has been very encouraging, there are still wide gaps between and within countries. Today's report underscores the need to sustain efforts to ensure the world's most vulnerable people have access to health services."
Read the news release at UN News Centre.
Africa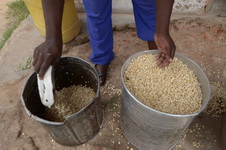 Policy breakthroughs in biotech research in Mozambique and Tanzania have led to approval of confined field trials and a more research-friendly regulatory framework, respectively. The confined field trials will be held at Instituto de Investigação Agrária de Moçambique (IIAM or Agricultural Research Institute of Mozambique) research station at Chokwe. Tanzania's stringent policy on placing prohibitive liability to researchers has been favorably revised. Thus, the two countries can engage more in the Water Efficient Maize for Africa (WEMA) project together with other partners. These breakthroughs were mentioned during the WEMA Project Review and Planning in Maputo, Mozambique.
In his speech, Dr. Inacio Mapossé, Director General of IIAM, said that Mozambique's Ministry of Agriculture had changed its name to Ministry of Agriculture and Food Security. He emphasized that such was not just a change of name, but also underscored its focus on projects such as WEMA, which are working towards achieving food security. "In Mozambique, you cannot talk about food security without talking about maize," he said. According to statistics, 95 percent of Mozambique's smallholders grow maize and maize covers 40 percent of the land for annual crops.
Read the complete article at CIMMYT.
Americas
Tomato varieties usually produce small, berry fruit sized fruits, but apparently, there is a tomato variety that produces a giant fruit weighing over a pound. This variety is called beefsteak tomato, and this ability to produce larger fruit size, makes it different and unusual. The Cold Spring Harbor Laboratory (CSHL) researchers studied the beefsteak tomato to identify the reason behind its large fruit.
In their study, stem cell production is the main reason for its large fruit size. There is an abnormal stem cell proliferation due to the mutation involving CLAVATA3. This gene inhibits stem cell production, and its mutation result to increase in stem cell number, leading to large fruit size.
With this discovery, the CSHL researchers devised a way to fine-tune growth of beefsteak tomato by changing the number of sugars attached with CLAVATA3 and through another mutation affecting the component of the pathways. This will help breeders in further improving tomato.
Full details of the study can be read at Cold Spring Harbor Laboratory's website.
[ Send to a Friend | Rate this Article ]
---
The USDA Animal and Plant Health Inspection Service (APHIS) released the draft environmental assessment (EA) and preliminary plant pest risk assessment (PPRA) for GE corn with resistance to corn rootworm and glyphosate herbicide developed by Monsanto. This is in response to the developer's petition to deregulate the GE corn.
USDA APHIS also released the review of a preliminary regulatory determination, draft EA, preliminary PPRA and preliminary findings of no significant impact (FONSI) in response to a Dow AgroSciences (DAS) petition to deregulate GE cotton with resistance to the herbicides 2,4-D and glufosinate.
The documents are available for public review and comment for 30 days.
Read the official stakeholder announcement from USDA APHIS.
[ Send to a Friend | Rate this Article ]
---
Researchers at the US Department of Energy (DOE) have developed and analyzed high-resolution crystal structures of an enzyme from the cellulose-degrading GH55 family. The team used a variety of techniques that resulted in the "most complete functional mapping of an entire GH family available to date."
The researchers from the Joint Genome Institute (DOE JGI) and Great Lakes Bioenergy Research Center have described the structure and function of another GH55 protein, SacteLam55A, which is encoded by the gene SACTE_4363. Through gene synthesis and cell-free protein translation, the research team was able to describe the biochemistry and structure of the GH55 family.
More details are available at the DOE JGI website.
Asia and the Pacific
The Market Research Team of the International Rice Research Institute (IRRI) released the preliminary results of their study conducted to understand the preferences of rice consumers in South Asia in terms of rice quality and characteristics. The findings will contribute to the development of product profiles for a more targeted rice breeding program at IRRI.
In the study, they interviewed 1,900 rice consumers in 11 major cities in East India, South India, and Bangladesh. Majority of East and South India respondents prefer medium-sized rice grains, while those from Bangladesh prefer short grains. In terms of shape, the majority of the respondents from the three study areas prefer slender rice grains. A large portion (37%) of the consumers in East India also considers aroma as a priority trait in rice.
For more details about the study, visit the IRRI website.
[ Send to a Friend | Rate this Article ]
---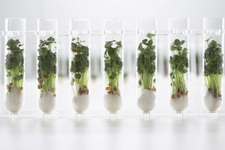 Scientists from the University of Melbourne and Queensland and IBM Research have been able to model the structure and dynamics of cellulose at the molecular level. Dr. Monika Doblin from the University of Melbourne said cellulose is a vital part of plant structure, but its synthesis is yet to be fully understood. "It's difficult to work on cellulose synthesis in vitro because once plant cells are broken open, most of the enzyme activity is lost, so we needed to find other approaches to study how it is made," Dr. Doblin said.
Using IBM's Blue Gene/Q supercomputer known as Avoca, the scientists were able to perform the quadrillions of calculations required to model the motions of cellulose atoms. The results show that within the cellulose structure, there are between 18 and 24 chains present within an elementary microfibril, much less than the 36 chains that had previously been assumed.
These insights could pave the way for more disease resistant varieties of crops and increase the sustainability of the pulp, paper, and fiber industry. According to IBM researcher Dr. Daniel Oehme, they are exploring ways to manipulate the composition of the wall to make it more resistant to diseases.
For more details, read the news release at the University of Melbourne website.
[ Send to a Friend | Rate this Article ]
---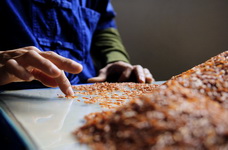 A team of scientists from the Chinese Academy of Sciences led by Lin Hongxuan successfully isolated and cloned heat tolerance genes from African rice strains, which could be used to develop rice varieties that can resist the effects of global warming.
According to Lin, temperatures over 35 degrees Celsius decreased the productivity of rice plants. Heat stress destroys rice proteins, causing the plants to wither. Under heat stress, the heat tolerance gene from African rice variety is activated, and gets rid of the toxic proteins that may cause death to the rice plant. The researchers have tested Asian rice varieties with the transplanted gene in field conditions. The results showed that the gene's dominant traits enabled the transformed plants to withstand heat stress. Furthermore, Lin said that the cloned gene may also be used to develop heat tolerant varieties of wheat and cruciferous vegetables such as Chinese cabbage.
Read the original article at Forum on China-Africa Cooperation.
Europe
The Scientific Network on Risk Assessment of Genetically Modified Organisms (GMO Network) conducted its 6th annual meeting on May 12-13, 2015 in Parma, Italy and discussed the upcoming EFSA outputs and activities relating to risk assessment of GMOs. The meeting was attended by over 40 scientific experts from 26 European Members States as well as from Norway and Switzerland. The discussions were focused on the two guidance documents: Draft Guidance Document for the agronomic and phenotypic characterization of genetically modified (GM) plants; and Draft Guidance Document for the risk assessment of the renewal of GM plant products. The experts also talked about issues on proposals submitted by Member States, such as risk assessment of second generation GM plants and of plants developed through new breeding tools.
The details of the meeting and the draft agenda are posted at EFSA.
[ Send to a Friend | Rate this Article ]
---
The research group headed by Professor Jonathan Jones at The Sainsbury Laboratory has discovered plant receptors carrying built-in decoys that detect pathogens and raise the cell's alarm during infection.
Pathogens target the plant's defense machinery to stop immune response. Plants have evolved to display these targets on receptors that are primed to set off their alarm system. When the pathogen binds, the receptor starts the process of shutting down the cell to contain the pathogen and stop it from spreading. The research of Professor Jones' group shows one way in which plants perceive pathogens, which is essential to their immunity.
Professor Jones hopes that the group's discovery could lead to bioengineering new receptors carrying decoys to perceive and trigger a defense to virtually any pathogen. Professor Jones said, "This is a very exciting discovery. It turns out as we survey the genomes of other plants we can see many more such "integrated decoy" domains associated with immune receptors, so we believe this observation will turn out to be of widespread significance."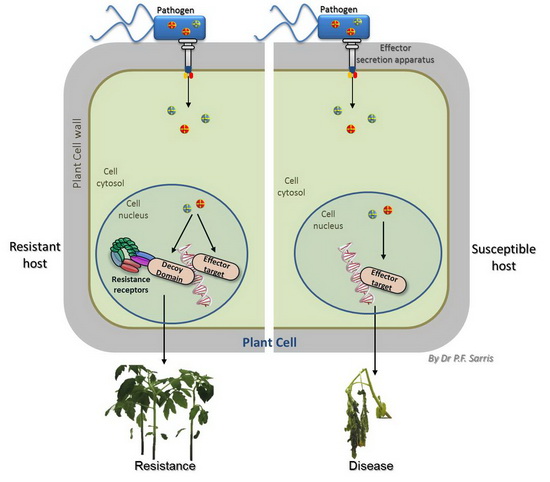 For more details, read the news article at The Sainsbury Laboratory website.
Research
A team of researchers led by Ingrid E. Jordan-Thaden from University of Florida developed an RNA extraction technique in a variety of plants. Their aim was to get high quality RNA from chemically complex plants through a fast, effective, and reliable RNA extraction method.
In the study, the researchers proposed three methods for RNA extraction, these include the use of TRIzol with sarkosyl as a solution, the addition of cetyltrimetyhlammonium bromide (CTAB) in TRIZol with sarkosyl and combination of CTAB and QIAGEN RNeasy Plant Mini Kit. These methods were applied to 91 plant taxa composed of woody, aromatic, and aquatic plants.
The results revealed that TRIzol with sarkosyl was the most effective and reliable method in extracting high quality RNA. This will be essential for better sequencing a plant's active genes or transcriptome.
Details of their study can be read at BioOne Online Journal.
[ Send to a Friend | Rate this Article ]
---
Massachusetts Institute of Technology researchers, Brian J. Caliando and Christopher A. Voigt developed a genetically encoded device based on the CRISPR system, the DNAi, that has the ability to respond to transcriptional input and degrades specific DNA. This enables engineered regions to be concealed when the cell enters a new environment.
In the CRISPR system, rapid degradation of engineered DNA or rapid cell death will occur once it recognizes a targeted DNA plasmid or targeted genome. This idea of recognition and degradation has been applied to DNAi to enable the GMOs to hide or degrade its engineered DNA.
This will help in preventing the release of GM DNA segments into the environment.
Read the full details of their study at Nature Communications.
Beyond Crop Biotech
The National Academy of Science and Technology of the Philippines (NAST PHL), held a roundtable discussion on Livestock Nutritional Biotechnology: Pre and Probiotics in Food Animals on May 11, 2015 at Hotel Jen, Pasay City, Manila. The activity focused on the hazards of the long-term consumption of meat and meat products with antibiotic residues from the improper use of antibiotic in food animal production.
Dr. January M. Nones, officer-in-charge of National Meat Inspection Service's (NMIS) laboratory division, discussed the current status of antibiotic usage and residue monitoring in the Philippines. She introduced the National Veterinary Drug Residue Monitoring Program, which uses Microbial Inhibition Test (MIT) and Enzyme Linked Immunosorbent Assay (ELISA) as screening test methods. However, limitations were still encountered in terms of budget and manpower resources, and the high cost of kits and equipment. It was reported that the NMIS is looking towards institutionalizing and strengthening its efforts on the said program and that the upcoming years will focus on method development so as to strengthen its regulatory policy.
Also tackled in the RTD were the pre and probiotics in food animal production, human health implications of antibiotic residues in meat and meat products, and the regulation and policies on the use of antibiotics in food animals in the Philippines.
For more details about this activity, send an e-mail to secretariat@nast.ph. For more information about biotechnology developments in the Philippines, visit SEARCA Biotechnology Information Center's website.
[ Send to a Friend | Rate this Article ]
---
Researchers at the Fralin Life Science Institute at Virginia Tech have identified a gene responsible for sex determination in mosquitoes that transmit yellow fever, dengue, and chikungunya viruses. The researchers identified a male-determining genetic switch called Nix in Aedes aegypti mosquitoes that underlies the difference between males and females. These master switches often reside in genomic black holes, which is why none had been found in mosquitoes or other insects before.
Only female mosquitoes bite because they need blood for developing eggs, and researchers believe that a higher ratio of males could reduce disease transmission. The study will help develop mosquito control strategies by converting females into harmless males or selectively eliminating deadly females.
Zhijian Jake Tu, Virginia Tech professor and affiliate at the Fralin Life Science Institute, said, "Nix provides us with exciting opportunities to harness mosquito sex in the fight against infectious diseases because maleness is the ultimate disease-refractory trait."
For more information, read the news article at the Virginia Tech website.

[ Send to a Friend | Rate this Article ]
---
The importance of genetic markers and genome mapping as tools in domestic animal breeds were highlighted and elaborated on during the roundtable discussion on Screening Genetic Defects in Domestic Livestock Industry organized by the National Academy of Science and Technology Philippines (NAST PHL) on May 14, 2015 at Acacia Hotel, Manila. The activity presented updates in animal breeding and development, particularly genetic defects screening of breeder stocks in commercial farms and all of incoming genetic materials in the country. Also highlighted was the ACTION scheme presented by Dr. Ming-Che Wu of Breeding and Genetics in Taiwan Livestock Research Institute. The said scheme aims for genetic improvement of elite breeding stocks in private farms with DNA-based screening for genetic defects in Taiwan.
For more details about this activity, send an e-mail to secretariat@nast.ph. For more information about biotechnology developments in the Philippines, visit SEARCA Biotechnology Information Center's website.