News
Africa
More African stakeholders are calling for increased adoption of GM crops to benefit farmers in the continent. During the recent launch of ISAAA's 2014 report on commercialized biotech crops, stakeholders in Burkina Faso and Kenya including policy makers, farmers and academicians said that the reported benefits should be enjoyed by the African farmers as well. In Burkina Faso, the new Minister for Science and Technology, Dr. Jean-Noel Poda reiterated the commitment by the country to use biotechnology, which has already given considerable benefits to farmers and the country.
"A recent study by Institut de l'Environnement et de Recherches Agricoles (INERA), the country's agricultural research institute, showed that Bt cotton farmers gained about 31% yield increase," said Dr. Poda. He added that thanks to Bt cotton, Burkina Faso is the number one country in cotton production in West Africa with 700,000 tonnes produced per year.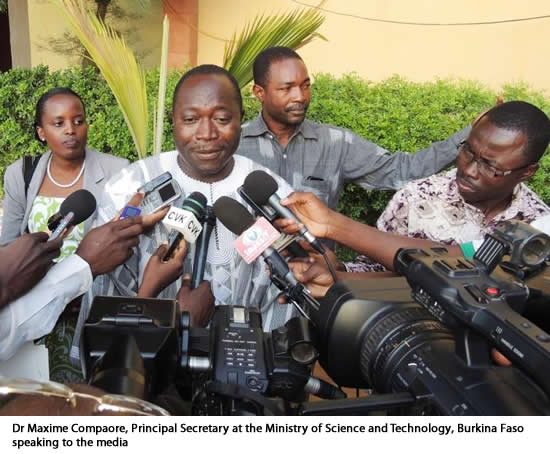 In Kenya, Hon. Dr. Robert Pukose, deputy chair of the parliamentary committee on health called for the lifting of the ban on GM food imports in Kenya, saying that fears related to their safety are unfounded. "If anything, food derived from GM crops are healthier because scientists have tested them for any adverse effects to human's well-being."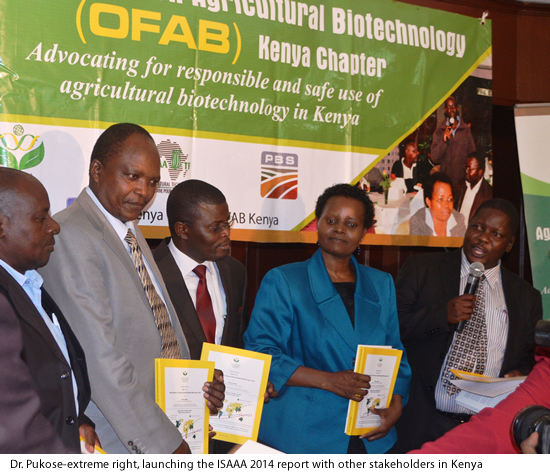 Dr. Pukose's speech was much appreciated by farmers who asked that they benefit from the products of research, especially Bt cotton. "Other farmers are benefiting all over the world, what is preventing us from enjoying the same? If it is the ban on GM food imports, the government should lift it," said Mr. Mugo Magondu, a farmer from Embu County, Eastern Kenya.
For more information, contact Dr. Margaret Karembu, director, ISAAA AfriCenter and chair of the Open Forum on Agricultural Biotechnology (OFAB) Kenya Programming Committee at mkarembu@isaaa.org.
[ Send to a Friend | Rate this Article ]
---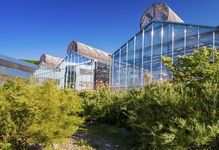 Nigerian senators have unanimously adopted the report of the joint committee on Agriculture and Rural Development and Science and Technology on the National Biosafety Management Agency establishment bill 2015, as presented by Senators Emmanuel Bwacha and Robert Borriface on February 27, 2015.
The agency will regulate the safe use, handling and transport of genetically modified organisms (GMO) and products in the country. It prescribes procedures for the movement, risk assessment, and adoption of any GMO and penalties for contravening the law.
The bill was piloted by the federal Ministry of Environment and other stakeholders who had argued that the "absence of biosafety law had made it difficult for the agency to effectively perform its statutory functions and bring the benefits of the technology to Nigeria."
Speaking at a press conference organized in appreciation of the passing of the bill by the senate, the entire members and staff of the National Biotechnology Development Agency in collaboration with the federal Ministry of Environment, Program for Biosafety System and other stakeholders appreciated the Nigerian Senate for passing its biosafety bill.
The bill has been considered in the House of Representatives on third reading and final passage, awaiting the final assent by the Nigerian President.
For more information, contact Dr. Rose S.M. Gidado, head, OFAB & Biotechnology Awareness Unit at the National Biotechnology Development Agency at roxydado@yahoo.com.
Americas
A new study conducted by researchers from the University of Nebraska-Lincoln (UNL) has revealed the genetic roots of resistance to wheat stem rust, a disease that has recently devastated crop yields from southern Africa through the Middle East. Plant breeders have successfully combated the disease by introducing rust-resistant cultivars in the mid-20th century, until Ug99, a mutated strain emerged in 1999 in Uganda.
A hardy wheat variety, Gage, has Sr2, a rare resistant gene against Ug99. In the recently published study led by P. Stephen Baenziger of UNL, the researchers isolated and examined DNA sequences of Gage to ascertain its resistance to stem rust, including Ug99, than other cultivars featuring the Sr2 gene. They concluded that Gage's rust-resistance at maturity is likely from a combination of Sr2 and an additional gene, which the team believes also contributes resistance at the seedling stage. The team has narrowed down the location and potential identity of this additional gene, which they hope to verify soon.
"It so happens that the source of Sr2 that was used to create Gage — the variety Hope — actually had a number of other stem rust resistance genes in it. Our results would say that it looks like Gage got the lucky straw, so to speak, from Hope," said Baenziger.
For more details, read the news release at the UNL website.
[ Send to a Friend | Rate this Article ]
---
Smartphones could be the solution for the labeling issue on biotech food products, according to US Agriculture Secretary Tom Vilsack. He mentioned this to the members of the Congress during a House hearing on agriculture spending last week. Vilsack said that consumers could just use their smartphones to scan special codes on food packages. Relevant information about the food product could pop up, such as whether the ingredients include GM products. It was a mere suggestion from Vilsack and not a formal proposal because the food package labeling is handled by the Food and Drug Administration.
The original article is published on The Christian Science Monitor.
Asia and the Pacific
Chinese scientists from Fujian Agriculture and Forestry University and the National Orchid Conservation Center of China have completed the genome sequencing of Vanilla shenzhenica, producing the world's first orchid genetic map.

"The research has helped us to understand the evolutionary history of the orchid, and it's of great importance to the conservation and breeding of the species," said Lan Siren, head of Fujian Agriculture and Forestry University.

Liu Zhongjian, chief scientist of the National Orchid Conservation Center of China said that the genome sequencing would make it possible to alter orchid properties through transgenic technology, indicating a possibility that a synthetic version of vanilla may be produced in the future.

Vanilla is the world's second expensive spice after saffron. For more details, read the news release at the website of the Ministry of Agriculture of the People's Republic of China.

[ Send to a Friend | Rate this Article ]
---
With its Philippine launch of the annual report on the global status of commercialized biotech crops in 2014, the International Service for the Acquisition of Agri-biotech Applications (ISAAA) highlighted the continued expansion of biotech corn in the country.
The Media Conference on the Global Status of Commercialized Biotech/GM Crops in 2014, co-organized with the Southeast Asian Regional Center for Graduate Study and Research in Agriculture (SEARCA), was held on February 27, 2014 at InterContinental Manila Hotel, Makati City. According to the ISAAA report, around 415,000 small and resource-poor Filipino farmers planted an estimated 831,000 hectares of biotech corn in 2014, placing the country on the 12th spot of top countries growing biotech crops. The area increased from 2013's 795,000 hectares of biotech yellow corn, the only biotech crop planted in the Philippines.
Speakers at the conference include ISAAA Chair of the Board Dr. Paul Teng; ISAAA Global Coordinator and SEAsiaCenter Director Dr. Randy Hautea; ISAAA Senior Program Officer Dr. Rhodora Aldemita; and Bukidnon farmer Mr. Edgar Talasan, who expressed his eagerness to plant an upcoming biotech crop, Bt eggplant. Department of Agriculture Assistant Secretary and Bureau of Plant Industry Director Atty. Paz Benavidez II and Academician Dr. Eufemio Rasco also gave messages of support for biotechnology and recognized the contribution of its products to food security. SEARCA Director Dr. Gil Saguiguit, Jr. emphasized support for science-based information and education on biotech in his welcome remarks.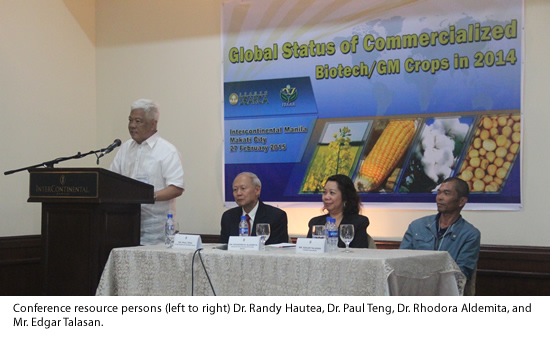 Other updates on biotechnology in the Philippines and in Southeast Asia are posted at the SEARCA Biotechnology Information Center's website. For questions or clarifications, send an e-mail to mmav@searca.org or smm@searca.org.
[ Send to a Friend | Rate this Article ]
---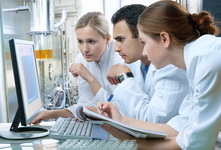 A team led by Tetsuya Sakurai from RIKEN Research developed a new database that will aid scientists in identifying the unknown functions of plant genes. This was done through analyzing protein structures encoded by the unknown genes.
Using six plants representative of plant species, Arabidopsis thaliana, Glycine max (soybean), Populus trichocarpa (poplar), Oryza sativa (rice), Physcomitrella patens (moss) and Cyanidioschycon merolae (algae), the researchers conducted a computational modeling to predict the physicochemical and structure properties of their genome's proteins. The features of the three dimensional structure specific to protein with its function were analyzed, and were subject to further analysis which led to the identification of the regions in the proteins that were functional.
An estimated total of 52,000 functional regions of the proteins was identified from the six plants. This result becomes the basis for their new database Plant Protein Annotation Suite or Plant-PrAs.
Read the full details of the study at RIKEN website.
Europe
Colorado potato beetle is one of the most destructive and hard to control insect pests due to its resistance against pesticides. Aside from pesticides, there are no other means of controlling the pest. An alternative control has been developed by researchers from Max Planck Institute. This was done by adopting the mechanism of RNA interference (RNAi) in protecting plant, fungi and insect against virus. The RNAi works by identifying the double stranded RNA transferred by the viral pathogen to host's cell and chopping this dsRNA into small interfering RNAs (siRNAS). siRNAs are then used to detect and destroy foreign RNA.
This RNAi mechanism has been employed by genetically engineering plants to modify their nuclear genome to produce dsRNA against insect pest. However, this was not too successful. Hence, the researchers developed transplastomic plants wherein the chloroplast genome is subject to modification instead of the nuclear genome. Feeding studies of potato beetle larvae with the leaves of transplastomic plants show that the leaves are lethal to the larvae and gain an increase resistance against herbivores. This finding provides an alternative way in fighting Colorado potato beetle without the use of any chemical pesticides.
Details of the study can be read at Max Planck Institute website and Science Magazine website.
[ Send to a Friend | Rate this Article ]
---
Scientists from the United Kingdom have developed a new genomics strategy to track the devastating wheat yellow rust pathogen. A major fungal disease of wheat, yellow (stripe) rust caused by the fungus Puccinia striiformis Westend f. sp. tritici Eriks. (PST) has re-emerged globally in recent years.
The team of scientists from The Genome Analysis Centre (TGAC), John Innes Centre (JIC), The Sainsbury Laboratory (TSL) and the National Institute of Agricultural Botany (NIAB) developed the "field pathogenomics" that can be readily applied to these difficult pathogens. This method, based on new gene sequencing technologies, enables scientists to assess the population structure of these pathogens directly from infected field samples.
The team used this strategy to sequence PST-infected wheat leaves, and their analysis showed a marked increase in the diversity of PST and a complete change in the population composition when compared to older archived UK samples. They conclude that this is likely due to a recent introduction of a set of exotic PST variants that displaced the previous PST populations. This detailed knowledge directly influences the management of the disease and is helping breeders develop more resistant varieties to these new PST variants. This new methodology can be used to accelerate the genetic analysis of such plant pathogen populations and could potentially be widely applied to a variety of emerging plant and animal diseases.
For more details, read the news release at the NIAB website.
[ Send to a Friend | Rate this Article ]
---
The newly formed European Bioeconomy Alliance (EBA) calls for more predictable policies leading to long-term strategy for a competitive, dynamic, and sustainable bioeconomy in Europe.
According to EBA's press release, developing the bioeconomy can only be achieved if EU provides a holistic, coherent, and harmonized policy framework for agriculture, forestry, marine, and other fields. Thus, they call for action on the following points:
implement priority recommendations from the Lead Market Initiative on bio-based products;
encourage member states to increase agricultural and forestry productivity and facilitate mobilizations and access to renewable feedstock at competitive prices;
address barriers to investment in first commercial operations, such as biorefineries; and
engage with civil society to encourage dialogue on shaping a more competitive, sustainable bioeconomy for Europe.
Read the
press release at EuropaBio
.
Research
The insufficient supply of photosynthates source of grains is considered to be one of the causes of chalkiness, a key factor in determining rice quality. In China, Zhaoqing University's Yonghai Liu studied the enzyme L-galactono-1, 4-lactone dehydrogenase (L-GalLDH, EC1.3.2.3), the catalyst for the final step in the synthesis of ascorbic acid (Asc) and its effect on grain chalkiness.
Researchers found that the L-GalLDH-overexpressing transgenic rice, GO-2, contains a higher Asc content in leaves than wild-type plants and exhibits reduced grain chalkiness. Further analysis showed that the enhanced level of Asc resulted in a significantly higher ribulose-1,5-bisphosphate (RuBP) carboxylase/oxygenase (Rubisco) protein level in GO-2 which increased the photosynthetic rate.
These results reveal that the enhanced level of Asc affects the chalkiness in GO-2 grains by maintaining photosynthetic function in leaves at key developmental stages related to grain filling.
For more information, read the full article on Science Direct.
[ Send to a Friend | Rate this Article ]
---
Gladiolus (Gladiolus hybridus) is susceptible to various pathogens and understanding the innate defense mechanism is required to develop protection strategies. The non-expressor of pathogenesis-related gene 1 (NPR1) and bzip transcription factor TGA2 have been known to regulate salicylic acid (SA)-mediated systemic acquired resistance (SAR).
Xionghui Zhong and Mingfang Yi of the China Agricultural University studied the NPR1 and TGA2 homologs from Gladiolus, GhNPR1 and GhTGA2, respectively. GhNPR1 expression was increased in leaves after treatment with salicylic acid, proving that the GhNPR1 promoter from gladiolus can be induced by SA. Overexpression of GhNPR1 in Arabidopsis restored basal resistance to Pseudomonas syringae pv. tomato DC3000. On the other hand, silencing of GhNPR1 resulted in an enhanced susceptibility to Curvularia gladioli.
These results suggest that GhNPR1 plays a pivotal role in the SA-dependent systemic acquired resistance in gladiolus.
Read the full article on Springer Link.
[ Send to a Friend | Rate this Article ]
---
Abiotic stress often results in the formation of reactive oxygen species (ROS) that causes cellular damage and inhibits photosynthesis. However, the effects of ROS are countered by antioxidant systems, with superoxide dismutase (SOD) being the first enzyme involved in detoxification. Neera Bhalla Sarin of Jahwarlal Nehru University in India led a research team and isolated the AhCuZnSOD gene from the salt tolerant cell lines of peanut (Arachis hypogaea).
The role of AhCuZnSOD in alleviation of abiotic stress was evaluated through its overexpression in transgenic tobacco plants. The transgenic tobacco had improved tolerance to salinity and dehydration stress with the transgenic plants surviving longer under water deficiency and salinity stress and showed improved recovery after rehydration.
Overexpression of AhCuZnSOD gene may play an important role in alleviating oxidative injury caused by abiotic stresses.
Read the full study on Springer Link.