News
Africa
Researchers from the University of Nigeria conducted a study to identify the level of awareness on genetically modified food of food consumers in Enugu, Nigeria. Enugu is an ancient coal-city of great political, commercial and socio-economic importance.
Results of the survey showed that most of the respondents were not very much aware (36.7%) about GM food. The top sources of information about GM foods were television (38.33%), radio (33.33%), and family/friends (30%). The researchers recommended increased publicity about GM food to enable food consumers make informed choices.
Read the abstract in Jokull Journal.
[ Send to a Friend | Rate this Article ]
---
Malawi's seed sector has called on the Government to consider genetically modified drought tolerant maize to counter the food shortages caused by frequent droughts in the country. The Government was also requested to fast-track the commercialization of insect resistant (Bt) cotton whose confined field trials (CFTs) have been concluded. The seed sector stakeholders were speaking during an agri-biotech and biosafety sensitization meeting that was organized by the Seed Trade Association of Malawi (STAM), African Seed Trade Association (AFSTA) and ISAAA AfriCenter, on June 20, 2016, in Lilongwe, Malawi. ISAAA Brief 51: 20th Anniversary (1996-2015) of the Global Commercialization of Biotech Crops and Biotech Crop Highlights in 2015 was launched during this event and was presented by Mr. Paul Chege of ISAAA AfriCenter.
Participants, who included seed traders, researchers and journalists agreed that use of outdated farming methods is responsible for Malawi's low agricultural production. "To adopt the emerging technologies, our population must agree to radically change their attitudes," said the guest of honor and STAM's Board Chair, Mr. John Lungu. He challenged journalists to give prominence to agricultural biotechnology stories as this will spur interest and create awareness.
Mr. Lungu lauded researchers for initiating and conducting GM crop trials in Malawi. While the Bt cowpea CFT continues, plans are underway to setup a 'bunchy-top' virus resistant banana trial. Bt cotton will soon move to open-release cultivation in national performance trials. "The efforts by researchers have put Malawi on the map as one of the countries gearing towards commercialization of biotech crops," said Prof. James Bokosi, the Bt cotton project Principal Investigator.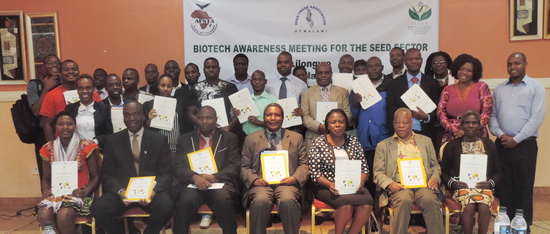 For more on this, contact Mr. Supply Chisi of STAM at chisisupply@yahoo.co.uk.
[ Send to a Friend | Rate this Article ]
---
Swaziland director for agriculture in the Ministry of Agriculture, Mr. Nelson Mavuso, has urged members of parliament to fast-track the proposed amendment to the country's biosafety law. Speaking at a recent awareness seminar on biotechnology and biosafety for members of parliament, Mr. Mavuso urged MPs to consider revising the liability clause in the Biosafety Act 2012 to make it easier for investors and researchers move to open field trials with insect resistant (Bt) cotton.
The meeting was organized by the Swaziland Cotton Board in partnership with the Alliance for Commodity Trade in Eastern and Southern Africa (ACTESA/ COMESA) and other partners. It was addressed by scientists from the cotton board who lamented the decline of cotton production in the country. "Insect damage has become a disincentive to cultivate conventional cotton for our farmers," said Daniel Khumalo, Swaziland's Cotton Board Chief Executive Officer.
Mr. Khumalo informed participants that the government had identified GM cotton as a strategic tool to revive the country's cotton industry and to meet the ginnery throughput of 25,000 metric tons. "We have tested Bt cotton and organized farmer field days. The crop has the potential to respond to challenges facing the industry at the moment. However, we could not proceed to open field trials due to the liability clause in the current Biosafety Act," said Mr. Khumalo.
Participants at the meeting visited GM crop farm in neighboring South Africa and interacted with farmers in Limpopo province, Northern South Africa. One of the cotton farmers in the region expressed his satisfaction with GM crops, "Before the introduction of GM crops, I could not expand my fields. When Bt cotton was introduced I started expanding my fields from 6 hectares to 150 hectares in just 15 years." He advocated for the use Bt cotton terming it the best crop to plant in dry lands. Another biotech crop farmer, Jordan Pheeney revealed that he managed to take home a fair harvest despite the drought that lasted throughout the year, thanks to biotech maize. "I will never use conventional seeds," said Mr. Pheeney.
For more information on the meeting, contact Dr. Getachew Belay, the Senior Biotechnology Policy Advisor at ACTESA/COMESA at gbelay@comesa.int.
Americas
University of Guelph researchers had an almost accidental discovery that could transform food and biofuel production and increase carbon capture on farmland.
The team found that by tweaking a plant's genetic profile, plant growth and seed production increased by more than 400 percent. They studied Arabidopsis and found that inserting a particular corn enzyme caused the plant's growth rate to skyrocket.
Prof. Michael Emes of University of Guelph said that the team's findings could boost the yields of important crops such as soybean and canola, as well as camelina, largely grown for biofuels. When they studied the enzyme's effect on starch, the researchers noticed that their genetically engineered plants looked different and much larger than previously grown plants. The researchers plan to test this enzyme in canola and other crops.
For more information, read the news release at the University of Guelph website.
[ Send to a Friend | Rate this Article ]
---
A new technique developed by scientists from Salk Institute to rapidly map regions of DNA targeted by regulatory proteins could provide insight into what makes some plants drought tolerant or disease resistant. Revealing this landscape of protein-binding zones on DNA, called the "cistrome," shows how plants control where and when genes are expressed. Previous methods to map the cistrome in plant cells were difficult and slow, but the new approach offers a sweeping view of this critical aspect of genetic regulation.
The cistrome was mapped using a system that the researchers created, where they could add a tagged transcription factor to a library of DNA, let it bind and then isolate all the DNA-protein pairs. The method, called DNA affinity purification sequencing (DAP-seq), vastly expands how much more information scientists can understand about transcription factors and their binding sites. To test DAP-seq, the researchers mapped 529 transcription factors bound to the genome of Arabidopsis thaliana and identified 2.7 million binding sites.
They repeated the experiments using DNA containing or not containing cytosine methylation, and the binding patterns of about three-quarters of the transcription factors that they tested changed. The results show not only how regulatory proteins alter gene expression, but also the roles the epigenomic methylation marks may play in this regulation.
For more details, read the news release at the Salk Institute website.
[ Send to a Friend | Rate this Article ]
---
A new study co-authored by University of Illinois weed scientist Patrick Tranel shows that Palmer amaranth populations from Arkansas are now resistant to a class of herbicides known as PPO-inhibitors (PPOs).
PPOs were used extensively in the early 1990s in soybeans, but when Roundup Ready® crops came along, most farmers switched to using glyphosate, with PPOs applied to soil prior to weed emergence. When glyphosate stopped working on waterhemp, farmers went back to PPOs for post-emergence control, but they were surprised to find that PPOs no longer worked on waterhemp in some fields.
The researchers looked at waterhemp's mechanism of resistance to PPOs, and found a different mutation. Instead of a change in a single nucleotide, they found the deletion of three nucleotides. This mutation probably happened because the sequence of three nucleotides was repeated, and this repeat just happened to be in the right place in waterhemp's genetic code.
The team looked at the genetic sequences of related pigweeds, to see if they had the repeat in the right place, and found that most did not, but when they looked at the genetic code for Palmer amaranth, they found the repeat. It was then predicted that Palmer amaranth would soon develop resistance to PPOs. Soon, farmers reported that Palmer amaranth wasn't being killed by PPOs. When samples were tested, the mutation was found.
For more information about this research, read the news release at the College of Agricultural, Consumer and Environmental Sciences website.

[ Send to a Friend | Rate this Article ]
---
Stem cells are thought to have the intrinsic ability to generate or replace specialized cells. However, a team of biologists at NYU showed that regenerating plants can naturally-reestablish their stem cells from more mature cells by replaying embryogenesis.
The researchers studied plant root regeneration using lineage tracing to determine the origin of cells, live imaging to observe the reassembly of tissues, and single cell RNA sequencing to analyze cells in transition during regeneration.
Analysis revealed that, after severe damage removed all stem cells of the root, new stem cells were recruited from other cell types that were already specialized. To do this, the plant replayed the steps of embryogenesis, first creating specialized tissues that generated a new set of stem cells. This showed that the important ingredient for long-term growth was the surrounding tissues that together created stem cell behavior.
Although the team can't assume that plant genes can help human regeneration, the principles involved in plant stem cell reconstitution could serve as a general model for human stem cell research.
For more information, read the article in Cell.
Asia and the Pacific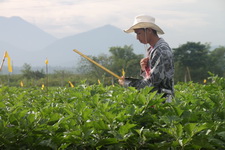 In a statement, the Philippine American Academy of Science and Engineering (PAASE) expressed strong support for the continuation of research and development and field testing of Bt eggplant in the Philippines, following the Supreme Court order halting its field testing last December 2015. Under the new biosafety guidelines of the Philippines signed by five government departments (Joint Department Circular No. 1, Series of 2016, titled Rules and Regulations for the Research and Development, Handling and Use, Transboundary Movement, Release into the Environment, and Management of Genetically-Modified Plant and Plant Products Derived from the Use of Modern Biotechnology), PAASE urged "all parties involved to take prompt and responsible actions…to implement the resumption and continuation of said research."
Elaborating Bt eggplant and GM technology's human, animal and environmental safety, and its potential contribution to food security in its 22-page statement, PAASE urged various stakeholders to mobilize Filipino S&T and partner with eggplant farmers "to build scientific and technological capacity best suited to their circumstances." They also committed to "working with the Philippine government, universities and the public in providing expert advice and recommendations on the various facets of the development and use of Bt talong in the Philippines."
PAASE is an international organization of scientists and engineers who have distinguished themselves in scholarly and research-related activities and who are of Philippine descent -- based in the Philippines, the United States or elsewhere. The academy promotes the advancement of science, engineering and technology; encourages collaborative efforts among scientists and engineers; and supports national inclusive growth and development through innovation in science and technology. A full copy of their statement can be downloaded here.
For more information about biotech developments in the Philippines, visit the website of the Southeast Asian Regional Center for Graduate Study and Research in Agriculture – Biotechnology Information Center (SEARCA BIC).
Europe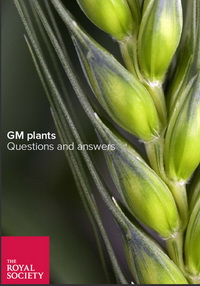 The Royal Society has drawn a panel of scientific experts and came up with a guide titled Genetically Modified (GM) Plants: Questions and Answers. The guide addresses 18 important questions asked by the general public about GM crops, based on the results of a survey. These questions include:
"The answers draw on a wide range of evidence and give some specific examples. In general, it is important to recognise that when the GM method is used, the crops produced should be assessed on a case by case basis. GM is a method, not a product in itself. Different GM crops have different characteristics and it is impossible, from a scientific point of view, to make a blanket statement that all GM is good or bad," said Venki Ramakrishnan, President of the Royal Society.
Download a copy of the guide from The Royal Society.
[ Send to a Friend | Rate this Article ]
---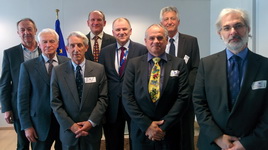 University of Leicester Professor Pat Heslop-Harrison has joined leading scientists across Europe in raising against the 'pseudoscience' concerning regulation of compounds used in agriculture, healthcare, and industry.
Professor Heslop-Harrison and fellow scientists met Dr. Vytenis Andriukaitis, European Commissioner of Health and Food Safety earlier this month. The scientists highlighted that some people are being 'deliberately selective' in presentations of risks, including those from glyphosate herbicides, new plant breeding technologies and endocrine disrupting chemicals or EDCs.
In the discussion, Professor Heslop-Harrison said, the concern was raised that public perceptions about scientific assessments are currently distorted by people, often from NGOs and well-funded pressure groups. The European Parliament and European Commission have access to robust scientific advice, but this is not always being used in legislation because of these strongly expressed opinions. He added, "The reality is that there is no robust, consistent scientific evidence to support these dogmatic stances, and indeed most of the robust evidence points in the opposite direction for some of the chemicals and techniques now being considered as subject to extra regulation."
For more details, read the news release at the University of Leicester website.
[ Send to a Friend | Rate this Article ]
---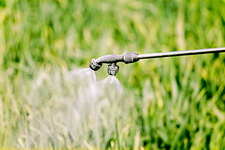 The EU Standing Committee on Plants, Animals, Food and Feed continues to be deadlocked over the renewal of licences for glyphosate use, which will expire on June 30, 2016, unless extended. The Green Alliance, composed of 46 Members in the European Parliament (MEP), is opposing the renewal.
The Alliance's concern is that the opinion of the European Food Safety Authority (EFSA) on glyphosate as unlikely to cause cancer in humans is flawed, since it was based on unpublished regulatory studies (which the industry has offered to make available).
Dr. Colin Ruscoe, Chairman of British Crop Production Council, has contacted Keith Taylor, Green MEP for SE England, to challenge this stance, saying that EFSA's conclusions were based on studies that are already comprehensively reviewed by EU regulators, which considered risk as well as intrinsic hazard.
The BCPC also challenges the Alliance's opposition to GM (and associated) technologies. Dr. Ruscoe cites the recent US Academy of Sciences, Engineering and Medicine report that covers 900 studies over three decades, and found no evidence of adverse effects of GM foods on human health or the environment. "Given this report, I would like to know how the Alliance can continue to justify its ideological opposition to genetic modification of crops," says Dr. Ruscoe.
For more details, and to read the full text of the BCPC's letter to the Green Alliance, go to the BCPC website.
Beyond Crop Biotech
Research work led by Santiago Costantino from Université de Montréal, Dr. Claudia Kleinman of the Jewish General Hospital and McGill University, and a team of collaborators, has successfully developed Cell Labeling via Photobleaching (CLaP), a method that enables instant, specific labeling of individual cells. This will become a vital ally in a range of scientific research.
The method uses a laser as a paint brush to tag cells one by one. While previous technologies need to either know molecular details of specific cells or label large numbers of cells in a non-specific way, CLaP permits painting cells based simply on observation.
This technique will be instrumental in pioneering next-generation sequencing for single-cell genomics. It is said to be versatile, efficient, and non-invasive, as well as being simple, inexpensive, and easily accessible to any researcher with a standard microscope. It also does not involve any cell damaging intervention, preserving the integrity of the cell.
For example, researchers can tag the big, fast or elongated cells. Next, these tagged cells are investigated at the molecular level to know what is special about these cells.
For more information on this technology, read the article in Nature.
[ Send to a Friend | Rate this Article ]
---
Porcine epidemic diarrhea virus (PEDV) is a highly contagious pathogen of swine. The spike glycoprotein (S) of PEDV plays a pivotal role in the induction of neutralizing antibodies against PEDV, which could be an ideal target for vaccine development. To develop a subunit vaccine for PEDV, Da-Chuan Piao of Seoul National University cloned two different fragments of S protein and expressed it as glutathione S-transferase (GST)-tagged fusion proteins, namely rGST-COE and rGST-S1D, in Escherichia coli.
The team tested various chaperone co-expression systems and found that co-expression of trigger factor (TF) with recombinant proteins at 15°C was most useful in soluble production of rGST-COE and rGST-S1D. The soluble rGST-COE and rGST-S1D were then purified and tested. Analysis revealed that the purified proteins showed immune reactivity with pig anti-PEDV immune sera.
Their results suggest that soluble rGST-COE and rGST-S1D produced by co-expressing chaperones may have the potential to be used as subunit vaccine antigens against PEDV.
For more information, read the article in BMC Biotechnology.