News
Global
The global agricultural biotechnology market is projected to have a 10.1 percent compound annual growth rate from 2015 to 2022, which may reach US$39.5 billion by 2022. This is according to the report released by HTF Market Intelligence Consulting titled Agricultural Biotechnology – Global Market Outlook (2016-2022).
The report analyzed the market trends in North America, Europe, Asia-Pacific, and the rest of the world. They also looked at the performance of important players in the industry. It aims to provide insights on current and future trends, focusing on growth prospects for forecast period of 2016-2022.
According to the report, the growth of the agri-biotech market is driven by increased capital inflow and investments for industry participants, as well as research and development in the Asia-Pacific and African regions. However, stringent government regulations and resistance to biotech crops may slow down the growth of the market.
Get more information from HTF Market Intelligence.
Americas
Too much sunlight is not good for plants. A team of scientists are proposing a way to measure how plants prevent burning out from too much exposure to the sun.
The team from Michigan State University (MSU) led by Steffie Tietz from the lab of plant scientist David Kramer at the MSU-DOE Plant Research Laboratory, has developed a new method that measures non-photochemical quenching, or NPQ. This is a strategy that plants use to adjust to changes in their surroundings.
Measuring NPQ has been a problem for scientists as they can take hours to complete, and they can only measure one leaf at a time. Research shows that the speed at which plants adjust to changes in their surroundings is important to their health. The team is now working to find genes that control the speed of NPQ so they can create plants with faster response times.
For more information, read the MSU Today.
[ Send to a Friend | Rate this Article ]
---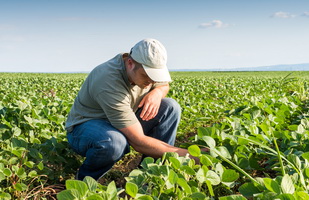 During their August plenary meeting, the National Technical Biosafety Commission (CTNBio) of Brazil has approved a new variety of Bt soybean for planting, human consumption, and animal consumption. In addition to insect resistance, the genetically modified (GM) soybean has tolerance to three herbicides: glyphosate, glufosinate, and dichlorophenoxyacetic acid (2,4-D).
The GM soybean was obtained by crossing the events DAS-81419-2 and DAS-44406-6, and contains two genes for insect resistance (cry1Ac and cry1F) and three for herbicide tolerance (aad-12, 2mepsps and pat).
The technology belongs to Dow AgroSciences, named as Conkesta Enlist E3™, and the first product released by CTNBio that has genes for insect resistance and herbicide tolerance in a single event. Dow AgroSciences is now working on the registration with Brazil's Ministry of Agriculture. The same event has already been released in Argentina in 2016.
For more details, read the article (in Portuguese) in Boas Práticas Agronômicas.
Asia and the Pacific
Research conducted by the Institute of Zoology of the Chinese Academy of Sciences (CAS) has discovered how a severe rice virus reproduces inside the small brown planthopper, a major carrier of the virus.
Rice stripe virus (RSV) causes severe damages to rice crops yearly. Viral infections in animal hosts activate a pathway by which a type of enzyme, called c-Jun N-terminal kinase (JNK), is signalled to respond. However, how exactly viruses regulate this pathway in vectors remains an open question.
To address this question, the team explored the effect of RSV on the JNK signalling pathway in the small brown planthopper, and found that the virus activates the pathway in various ways, but especially through the interaction of a planthopper protein called G protein pathway suppressor 2 (GPS2), and a viral protein called capsid protein. The research results also suggest that inhibiting the JNK pathway strengthens interactions with GPS2 or weakening the effects of TNF-a, which could be beneficial for rice agriculture.
For more details, read the CAS Newsroom.
[ Send to a Friend | Rate this Article ]
---
Thirty three (33) agricultural economics experts wrote an open letter to the Prime Minister of India to express their strong support for the commercialization of genetically modified (GM) mustard because of its potential benefits.
"The opponents to commercialization criticize the regulatory process. The integrity of the regulatory process is paramount and it should be protected at all costs. Products that meet the benchmarks laid down by a fair, transparent and rigorous regulatory process should be approved for commercialization," they stressed in the letter. The experts also explained that technology is not a magic bullet. Thus, complementary policies, cooperatives, and producer companies are needed for inclusive growth. To attain sustainable development, technologies such as biotechnology which conserve scarce resources are necessary.
"The University of Delhi developed GM mustard with financial support from the National Dairy Development Board and the Department of Biotechnology. GM mustard is an achievement of the Indian public sector. Its release will encourage and empower researchers in the public sector to bring in advanced quality traits in mustard as well as in other crops," they concluded.
Read the open letter published at Smart Indian Agriculture.
[ Send to a Friend | Rate this Article ]
---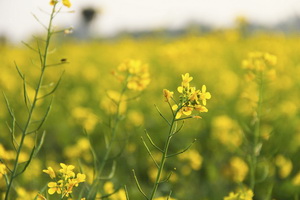 The environment ministry of India has told the Supreme Court that GM mustard has no herbicide tolerant trait and genetically modified crops have a proven history of safe use for more than 20 years.
GM mustard was developed by renowned geneticist Deepak Pental (former vice-chancellor of Delhi University) and his team, with support from the National Dairy Development Board and the Department of Biotechnology, Dhara Mustard Hybrid. It is expected to help farmers increase mustard productivity which has been stagnant for several years. No herbicide tolerance trait was introduced in the variety. However, biotech critics are repeatedly making misleading claims that GM mustard is a herbicide tolerant crop. Thus, the environment ministry released an affidavit stressing that GM mustard is not herbicide tolerant, and that the risk assessment studies showed that the GE crop does not pose any harmful effect to humans or animals.
"Rapeseed /canola (sister crop of mustard) hybrids based on same technology have been a major success in Canada, USA, and Australia … the technology has a proven history of safe use for more than 20 years. There is no report of any proven ill effects whatsoever in the use of this technology," said the environment ministry in its affidavit.
The Genetic Engineering Appraisal Committee (GEAC), the regulator of GM products in India, has recommended the approval of commercial planting of GM mustard on May 11, 2017.
Read more from Shafaqna and Live Mint.
Europe
Biologists led by Prof. Erika Isono from Konstanz University have discovered a previously unknown function of the SH3P2 protein, which has an important role in protein transport.
Plasma membrane proteins that will be degraded are transported to the vacoule, the largest compartment in the plant cell. For this reason, the transport pathway of a protein from the plasma membrane to the vacuole is one of the major transport pathways within a plant cell. The ubiquitin molecule marks the protein for transport, and transport proteins recognize and bind ubiquitin and carry it to the vacuole, where the protein will be degraded.
Isono's research discovered that the SH3P2 protein functions as a ubiquitin adaptor. It detects ubiquitin and guides it to the next station in the transport network called the ESCRT machinery, through which it reaches the vacuole. The research team is now looking at an additional protein called AMSH that plays a special role in this process. AMSH has the capability to remove ubiquitin.
For more details, read the news article in the Konstanz University website.
[ Send to a Friend | Rate this Article ]
---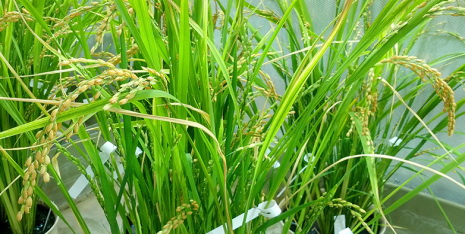 A group of researchers from ETH Zürich led by Navreet Bhullar and her PhD student Simrat Pal Singh have succeeded in genetically modifying a new rice variety that not only has increased levels of the micronutrients iron and zinc in the grains, but also produces beta-carotene, a precursor of vitamin A.
The group's success was the engineering of a gene cassette containing four genes for the micronutrient improvement that could be inserted into the rice genome as a single genetic locus. This allows the iron, zinc, and beta-carotene levels to be simultaneously increased by genetic crosses in rice varieties from different countries, instead of crossing rice lines with the individual micronutrients to reach their improved content in rice grains.
The new multi-nutrient rice lines are still being tested in the greenhouse and analyzed for their micronutrient content. Bhullar hopes that the new rice lines will be tested in the field next year.
For more details, read the ETH News article and the research article in Scientific Reports.
Research
Sweet potato (Ipomoea batatas) is suitable for growth on marginal lands due to its abiotic stress tolerance. However, extreme environmental conditions, including low temperature, significantly affect its productivity. A team of researchers from Korea Research Institute of Bioscience and Biotechnology, Korea University of Science and Technology, Jiangsu Academy of Agricultural Science and other research institutions and universities in South Korea aimed to develop sweet potatoes with enhanced tolerance to temperature stress using P3 proteins.
P3 proteins act as both protein and RNA chaperones to increase heat and cold stress tolerance in Arabidopsis. The team generated transgenic sweet potato plants expressing the Arabidopsis ribosomal P3 (AtP3B). Three lines (OP1, OP30, and OP32) were then selected based on their AtP3B transcript levels.
The OP plants displayed greater heat tolerance and higher photosynthesis efficiency than wild type plants. The OP plants also exhibited enhanced low temperature tolerance, with higher photosynthesis efficiency and less membrane permeability. While the yields of tuberous roots and aerial parts of plants did not significantly differ between OP and WT plants, the tuberous roots of OP transgenic sweet potato showed improved storage ability under low temperatures.
The OP plants developed in this study exhibited increased tolerance to temperature stress and enhanced storage ability under low temperature.
For more information, read the article in BMC Plant Biology.
[ Send to a Friend | Rate this Article ]
---
The functions of plant-specific BURP domain-containing proteins (BDP) have been determined for a few plants, however, their roles in most plant species, including coffee (Coffea arabica), are unknown. Chonnam National University researchers studied the function of a C. arabica BDP, CaBDP1, using transgenic Arabidopsis plants.
Initial analysis revealed that expression of CaBDP1 in coffee was highly modulated by drought, cold, and salt stresses, as well as abscisic acid (ABA). CaBDP1 proteins were also revealed to be localized in the endoplasmic reticulum.
Ectopic expression of CaBDP1 in Arabidopsis resulted in delayed germination of the transgenic plants under abiotic stress and in the presence of ABA. Cotyledon greening and seedling growth of the transgenic plants were also inhibited in the presence of ABA due to the upregulation of ABA signaling-related genes.
This study reveals that the coffee BDP gene plays an important role in the response of transgenic Arabidopsis plants to abiotic stresses by regulating various proteins. This study also highlights the potential role of BDPs in improving plant responses to abiotic stresses.
For more on this study, read the article in Plant Cell Reports.