News
Global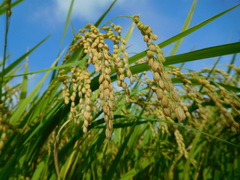 Stress-tolerant rice varieties can help farmers face the challenges of climate change, according to Matthew Morell, Director General of the International Rice Research Institute (IRRI). Morell stressed this during his Millenium Lecture at the M.S. Swaminathan Research Foundation in Chennai, India on February 10, 2017. Furthermore, he labeled rice as "the engine of food security" since more than half of the world's population consider rice as their daily staple food. Thus, the efforts of rice scientists to improve rice are vital in addressing hunger and malnutrition in developing countries.
Morell also discussed the climate change-ready rice varieties developed by IRRI and its partners, which produce high yields and at the same time tolerant to flooding, drought, and saline soils.
Read the news article from IRRI.
Africa
The Harvest Money Expo is an annual agricultural exhibition organized by the New Vision, a top media house in Uganda. This event remains as one of the biggest agricultural shows in the country since its maiden event in 2010. With the theme "Climate Smart Agriculture", the event was held on February 17-19, 2017. This year's edition of the expo attracted over 500 local and international exhibitors in the agriculture industry to showcase different technologies and share experiences with the general public on how to improve agricultural productivity and incomes.
Uganda Biosciences Information Center (UBIC) participated in the event to showcase the agricultural research tools/products and their significance to agricultural advancement in the country. The UBIC stall was a bee-hive of activities over the three-day exhibition registering over 300 visitors who thronged in to learn about the various crop improvement tools being deployed by the National Agricultural Research Organization (NARO) to address the key crop production constraints such as pests, diseases, and drought.
Local and international exhibitors, policy makers, farmers, students, and a range of professionals among others engaged the UBIC team in constructive dialogue concerning topical issues on how research and development can contribute to sustainable and profitable agriculture in Uganda.
A considerable number of guests at the UBIC stall offered to try out GM crops developed to circumvent some of the incessant challenges faced by farmers in Uganda in their personal farms. However, they were disappointed to learn that the current policy environment in the country does not allow general use of GM crops, some of which they desperately needed to address crop production challenges. As their feedback, farmers called on the relevant authorities to enact laws that will give them a chance to have access to GM crops.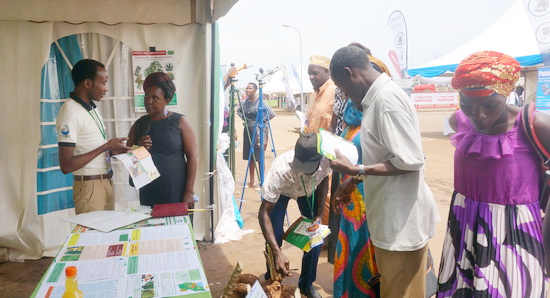 For more information about biotechnology in Uganda, contact the UBIC coordinator at ubic.nacrri@gmail.com.
Asia and the Pacific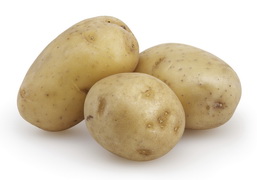 The Office of the Gene Technology Regulator (OGTR) in Australia has issued a license to the Queensland University of Technology, allowing the limited and controlled release (field trial) of potato genetically modified (GM) for disease resistance.
The field trial (License Application DIR 150) is authorized to take place at one site of up to 0.1 hectare in Redland City, Queensland, for a period of two years. It will assess the agronomic characteristics and Potato virus X disease response of the GM potato plants under field conditions. The GM potatoes will not be used in human food or animal feed.
The final Risk Assessment and Risk Management Plan (RARMP) concludes that this limited and controlled release poses negligible risks to people and the environment and does not require specific risk treatment measures.
The finalized RARMP, together with a summary of the RARMP, a set of Questions and Answers on this decision and a copy of the license, are available online from the DIR 150 page in the OGTR website.
Research
Oilseed rape (Brassica napus L.) is an important oil crop and also a raw material for biofuel. Seed weight and seed size are the main contributors to its seed yield, which directly affect its oil yield. The gene DA1 is known to negatively regulate seed size and downregulation of the DA1 gene in Arabidopsis (AtDA1) leads to larger seeds and organs. Jie-Li Wang from Jiangsu University in China led a team of scientists and downregulated BnDA1 in B. napus by overexpressing AtDA1R358K, a non-functioning form of DA1.
The transgenic plants showed significant increases in the biomass and size of the seeds, cotyledons, leaves, flowers, and siliques. Furthermore, the 1000-seed weight increased by 21.23%, while the seed yield per plant increased by 13.22% in field conditions. The transformation had no negative effects on the yield.
This study proved that regulation of DA1 gene is a promising target for seed improvement in oilseed rape.
For more on this study, read the article in Plant Biotechnology Journal.
[ Send to a Friend | Rate this Article ]
---
Abiotic stresses, such as heat and drought, are major factors affecting crop productivity. In a previous study, a plastid outer envelope protein gene from wheat (Triticum aestivum), TaOEP16-2, was identified. Xinshan Zang and a team of researchers from China Agricultural University aimed to isolate and characterize the TaOEP16-2 gene.
Three sequences of TaOEP16-2 were isolated from hexaploid wheat, localized on chromosomes 5A, 5B and 5D. These homoeologues exhibited different expression patterns under heat stress conditions. TaOEP16-2-5B was the dominant one, and was selected for further analysis.
TaOEP16-2 was found to be involved in plant responses to drought stress. TaOEP16-2-5B has the same function in ABA-controlled seed germination as AtOEP16-2. Compared with wild type plants, transgenic Arabidopsis plants overexpressing the TaOEP16-2-5B gene exhibited enhanced tolerance to heat stress, as proven by improved survival rate, strengthened cell membrane stability, and increased sucrose content.
These results suggest that TaOEP16-2-5B could be utilized in transgenic breeding of wheat and other crops.
For more information, read the article in Plant Science.
Beyond Crop Biotech
Multi-copy gene integration into microbial genomes is a conventional way to gain improved gene expression. For Penicillium chrysogenum, the fungal producer of the antibiotic penicillin, several producing strains carry multiple copies of the penicillin synthesis gene cluster. This led to the generally accepted view that high penicillin concentrations are the result of multiple copies of penicillin genes. Sandra Ziemons of Ruhr-Universität Bochum investigated P2niaD18, a production strain with only two copies of the penicillin gene cluster.
The team investigated the production, deletion and overexpression strains generated in the P. chrysogenum P2niaD18 background to determine the copy number of the penicillin biosynthesis gene cluster, study their expression, and the resulting penicillin concentration. Analysis showed that the increase in penicillin concentration did not depend on the copy number of the penicillin gene cluster.
Based on these results, the enhanced penicillin concentration does not strictly depend on the number of gene clusters. Therefore, manipulation of complex regulatory mechanisms could be another suitable way to increase penicillin synthesis.
For more on this study, read the article in BMC Biotechnology.
Announcements
Are you curious about GMOs? Do you wish you knew more about the technology, and associated issues, so you could respond to questions and criticisms? Have you been seeking a source of credible information on agricultural biotechnology?
Then register now and take advantage of the relaunch of "Science and Politics of the GMO," Cornell University's new edX Massive Open Online Course (MOOC). It's free, and open to anyone, anywhere, with an Internet connection.

The five-week course begins on March 1, 2017. Students will learn the basics of genetic engineering, explore the political debate around the GMO and review the arguments for and against the technology's use. They will study the politics surrounding the GMO and its impact at both an individual level and on society as a whole, including problems, perceptions, benefits and risks associated with GMOs. For more information, visit the GMO MOOC edX website.
[ Send to a Friend | Rate this Article ]
---
The Michigan State University (MSU) World Technology Access Program (WorldTAP) invites applications to its training program, "Technology Transfer, Intellectual Property Management, Technology Commercialization, and Product Stewardship" which will run from August 20 to September 1, 2017 in East Lansing, Michigan.
The training program is designed to enhance knowledge and skills of scientists and research managers in various aspects of agricultural research management, technology transfer, and commercialization. The program will share best practices in research management and partnerships, technology transfer, and delivery systems.
More information about the course is available at the WorldTAP website, or contact Dr. Jane Payumo at payumoja@msu.edu.
[ Send to a Friend | Rate this Article ]
---
The Institute of Plant Biotechnology Outreach (IPBO) in collaboration with VIB-UGent Center for Plant Systems Biology, and with the support of VLIR-UOS invites application for the course "Modern Breeding Techniques of Maize." The course will be conducted August 21 to September 8, 2017 in Gent, Belgium.
The program will start with fundamental background sessions on maize breeding, use of molecular markers in plant breeding, plant biotechnology, genetic transformation, and new breeding techniques for maize. Experts from Europe and Africa will give an overview of all biotic and abiotic stresses affecting the growth of maize, and possible solutions to overcome these threats. During the sessions, special emphasis will be given on the effects of fungal contamination, drought and soil fertility on the growth and yield of maize. The course will continue with both theory and exercises for the understanding of the basic principles and methodologies of crop safety and risk assessment. The sessions will include group work, presentations, and discussions. The program also includes practical exercises on maize phenotyping and bio-informatics and visits to confined field trials.
For more information, visit the course website, or contact sylvie.debuck@vib-ugent.be.
Document Reminders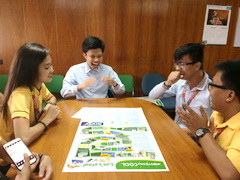 ISAAA releases its first printable board game on biotechnology! The new material is called #BiotechisCool, which highlights the fun facts on crop biotechnology such as the wonder bacterium and gene gun used for modifying crops and what farmers say about planting biotech crops. The material comes with a board game which allows the players to understand the twists and turns of developing a biotech crop from the lab, then to the test fields, and finally to the farmers' fields. The new material has been pretested with students from high school and college, as well as with professionals.
Download a copy now from the ISAAA website and play it with your friends. Don't forget to share the experience on our Facebook page or tag us on Twitter (@isaaa_org) and use the hashtag: #BiotechisCool.
---
The Cornell Alliance for Science has recently released two communication materials. The blog article "Drought-tolerant Maize Shows Promise in Tanzania," written by Mark Lynas, tells the story of Water Efficient Maize for Africa (WEMA) project, and the country's first ever genetically modified crop. Read the article at the Alliance for Science website.
A new video, "Championing Innovation on Ghanaian Farms," by Joseph Opoku Gakpo and Atu Darko, follows the life of John Dzwiornu, a rice farmer and 2016 Alliance for Science Global Leadership Fellow, who has become a strong advocate of farmer's rights and the need for access to better agricultural technology, a position he champions as vice president of the Ghanaian Association of Farmers and Fishermen. Watch the video here.
From The BICs
A science exchange program was held in February 2017 between Cairo University, Egypt and Helsinki University in Finland. Prof. Naglaa Abdallah of Cairo University and director of Egyptian Biotechnology Information Center (EBIC) participated in the event.
Dr. Teemu Teeri of Helsinki University gave a series of lectures on his current projects and research activities including genes involved in regulating flower organ identities as well as flower type determination and differentiation. Dr. Teeri and colleagues are also exploring gerbera's secondary metabolism and the function of chalcone synthase genes in anthocyanin biosynthesis of gerbera hybrid. Aside from flowers, Dr. Teeri is also working on Scots pine (Pinus sylvestris L.) wood using transcriptomics studies.
Prof. Naglaa Abdallah gave a lecture on the New Breeding Techniques: GM and Gene Editing for Improving Abiotic Stresses. Dr. Abdallah and her research team are currently using gene editing to improve drought tolerance in canola and wheat. She said, "Gene editing has brought considerable excitement, especially among agricultural scientists because of its simplicity, precision, and power. It offers new opportunities to develop improved crop varieties with clear-cut addition of valuable traits or removal of undesirable traits. We are underway to improve two important crops in Egypt, wheat and canola with strong drought stress tolerance."
"Wheat is one of the most important staple food crops in Egypt and is adversely affected by drought. Also, oil crops are of particular interest for Egypt, therefore we are in an attempt to improve drought tolerance in canola to obtain high oil yield in semiarid and arid area in Egypt. We hope that we will have a future collaboration with Helsinki University in the field of gene editing," she added.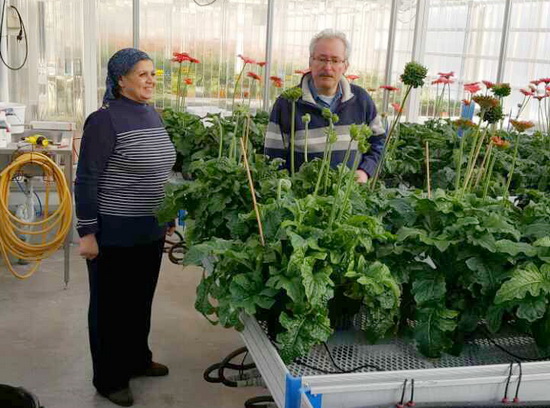 For more information about the collaboration, contact Dr. Naglaa Abdallah at naglaa.abdallah@agr.cu.edu.eg.