News
Global
A new report offers solutions to meet the world's growing food needs, while advancing economic development and environmental sustainability. The analysis finds that the world will need 70 percent more food in order to feed 9.6 billion people in 2050. Produced by the World Resources Institute (WRI), United Nations Development Programme (UNDP), United Nations Environment Programme (UNEP), and the World Bank, the Report was launched during the 3rd Global Conference on Agriculture, Food and Nutrition Security and Climate Change, in Johannesburg, South Africa on December 3, 2013.
The Report finds that boosting crop and livestock productivity on existing agricultural land is critical to saving forests and reducing greenhouse gas emissions, but that the world is unlikely to close the food gap through yield increases alone. The new report finds that crop yields would need to increase by 32 percent more, over the next four decades than they did in the previous four to avoid more land clearing. The report's recommendations to close the food gap include:
Improve soil and water management
Improve pastureland productivity
Use degraded lands
Avoid shifting agricultural land from one place to another
Leave no farmer behind
For more details about the WRI report, read the news release at http://www.wri.org/sites/default/files/WRR_Interim_Findings_Release.pdf.
Africa
A study was conducted by Kansas State University researchers about the labor-savings of herbicide tolerant (HT) maize in South Africa. Data was collected during the 2009-2010 maize production season from 184 households with a total of 212 maize plots in two regions of South Africa. The researchers used an unrestricted cost function approach to assess the differences in cost between maize varieties, assuming that households use different input allocations to minimize expenditure while producing the same output. A treatment effects model used to control for selection bias showed that the entire cost advantage and more can be attributed to the herbicide tolerance technology. The model further revealed that HT maize producers have US$102.44 (30%) lower costs per maize plot. Therefore, the entire cost advantage and more can be attributed to HT maize, after isolating the effect of HT maize on total cost, by removing the lower costs attributed to HT maize from those associated with farm and farmer characteristics.
Read the research paper at http://ageconsearch.umn.edu/bitstream/160521/2/Gregory%20K.%20Regier,%20Timothy%20J.%20Dalton.pdf
[ Send to a Friend | Rate this Article ]
---
Prof. Bamidele Solomon, Director-General, National Biotechnology Technology Development Agency (NABDA), said that Nigeria was yet to benefit from the great potentials of biotechnology. He said this during the November meeting of the Open Forum on Agricultural Biotechnology (OFAB). He also said that Nigerians must let go of their fears and start embracing biotechnology for the good of their future generations. Solomon described biotech as a fast moving train which must be used to get to the country's desired destination–"place of agricultural dominance and unfathomable growth, a place of hope and plenty...the promised land of agriculture." Solomon also narrated the benefits of the technology which are being experienced in the adopting countries.
Read more at http://www.thepharmaletter.com/news/nigeria-must-benefit-from-biotechnology-nabda-spyghana-com and http://www.dailytimes.com.ng/article/nigeria-yet-benefit-great-potentials-biotechnology-nabda.
[ Send to a Friend | Rate this Article ]
---
A joint statement issued by Mozambique Department of Agriculture, agricultural company Matanuska, International Institute of Tropical Agriculture (IITA), Stellenbosch University in South Africa, and Bioversity International revealed that a destructive strain of a banana wilt disease has been discovered on Cavendish bananas in Mozambique. The disease, widely known as Foc TR4, is a form of Fusarium wilt or Panama disease, caused by the fungus Fusarium oxysporum f. sp. cubense Tropical Race 4. This fungus has devastated banana plantations in Asia over the past two decades. The African outbreak was discovered on a commercial farm in northern Mozambique earlier in 2013 in a surveillance study supported by Universidade Eduardo Mondlane in Maputo. The responsible fungus was subsequently identified at Stellenbosch University.
See IITA's news release at http://www.iita.org/2013-press-releases/-/asset_publisher/CxA7/content/new-banana-disease-to-africa-found-in-mozambique?redirect=%2F2013-press-releases&utm_source=dlvr.it&utm_medium=twitter#.Upv_QdJQKSo. For further information please contact Fen Beed, IITA plant pathologist f.beed@cgiar.org.
[ Send to a Friend | Rate this Article ]
---
The First International Conference on "Food and Agriculture: New Approaches" was held at the National Research Center in Egypt in collaboration with the Arab Union for Sustainable Development and the Environment from 2 to 4 December 2013. The conference was under the auspices of Dr. Ramzy Steno Minister of Scientific Research and Dr. Ayman Abu Hadid, Minister of Agriculture and Land Reclamation and Dr. Laila Rashid, Minister of State for Environment; and Dr. Ashraf Shaalan, President of the National Center for Research (NRC).
The conference was attended by Dr. Ali Abd El-Rahman, head of the Arab Union for Sustainable Development and the Environment, Ashraf Mansour Secretary General of the Arab Union. The Minister of Agriculture took the lead in discussing the national strategy for agricultural development in 2030 to be participated in by university professors and researchers from different research centers. The strategy includes the following themes: preserve the natural resources of land and water; improve the standard of living and take advantage of small-scale industries; develop agricultural legislation rules to suit new circumstances; adopt modern systems in scientific research work to increase crop productivity; and respond to problems caused by climate change.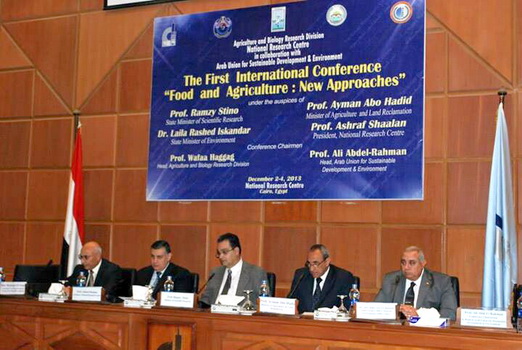 For more details visit http://www.youtube.com/watch?v=ZoFX7BQ06AY or contact Dr. Naglaa Abdalla of the Egypt Biotechnology Information Center at nabdallah@e-bic.net.
[ Send to a Friend | Rate this Article ]
---
The International Maize and Wheat Improvement Center (CIMMYT) is leading collaborative research efforts to control the deadly maize lethal necrosis (MLN) disease that is devastating crops in Kenya, Rwanda, Tanzania and Uganda. First identified in farmers' fields in eastern Africa in 2011, MLN results from the combined infection of two plant viruses and can cause nearly 100 percent crop loss.
CIMMYT is spearheading efforts to identify sources of MLN resistance and is developing a strategy to contain the disease by studying it and the pests that contribute to its spread. A CIMMYT-Kenya Agricultural Research Institute MLN Screening Facility and Maize Doubled Haploid Facility was also launched to help speed development of MLN-resistant varieties.
For more information, visit http://blog.cimmyt.org/?p=11610.
Americas
Plant scientists from the University of Missouri's College of Agriculture, Food and Natural Resources (CAFNR) borrowed a tool from medicine to unravel how plants fight off pest attacks. The scientists show how plants divide and share sugars to protect against attackers using positron emission tomography (PET) scans.
The team led by Jack Schultz and Abigail Ferrieri used Arabidopsis to investigate how and where sugars travel when young leaves are attacked by pests. Radioactive sugar was fed to the plant's old leaves. Ferrieri then injured young leaves with a mechanical wheel and introduced methyl jasmonate to the wounds to send signals to other plant parts that an attack is happening. They then took PET scans to determine where these sugars traveled. Ferrieri found that most sugars travel to roots and also to leaves in a line above and below them, in the injured plant. Three hours later, PET scans showed that radioactive sugars migrated to the attacked leaves regardless of whether they were in the same row on the stem. Damaged leaves then used those sugars to make phenolic glycosides, compounds that help defend the leaf. Using the more short-lived radioactive tracers, Ferrieri saw leaves send sugar to the roots within minutes of an attack on nearby leaves, and 24 hours later, damaged leaves started receiving more sugar.
Read more about this research in the paper published by Plant Physiology available at http://www.plantphysiol.org/content/161/2/692.short. The CAFNR news release can be read at http://cafnrnews.com/2013/12/the-sweet-path/.
[ Send to a Friend | Rate this Article ]
---
Scientists from the Boyce Thompson Institute for Plant Research (BTI) at Cornell University have identified plant proteins that regulate the interaction between a beneficial fungus and plant roots that is effective in helping plants to thrive during nutrient poor conditions. This process could reduce too much use of synthetic fertilizers in agriculture.
In this interaction, referred to as arbuscular mycorrhizal (AM) symbiosis, the fungus develops highly branched tree-like structures, called arbuscules (from the Latin arbusculum meaning "small tree"), in the root cells. The research team analyzed mutants of a legume plant (Medicago truncatula) to show that proteins called DELLAs are essential for arbuscule formation. When gibberellin levels rise, DELLA proteins are deactivated and the plant grows.
Through a series of experiments, the researchers showed that gibberellin prevents arbuscule formation, and the plants containing mutant dominant DELLA proteins are not deactivated. This continue to promote arbuscule formation through interaction with a second set of the signaling proteins that control the symbiosis.
See BTI's news release at http://bti.cornell.edu/della-proteins-regulate-arbuscule-formation-in-arbuscular-mycorrhizal-symbiosis/#more-7763.
[ Send to a Friend | Rate this Article ]
---
Scientists from Michigan State University (MSU) and collaborators from Colorado State University and Uppsala University, Sweden have found that plant adaptation to different environments involves tradeoffs in performance. MSU plant biologist Douglas Schemske and Jon Agren from Uppsala University led the 5-year study that focused on Arabidopsis plant populations in Sweden and Italy.
The scientists observed that in direct competition, the home plants outperformed their visitors, supporting the notion that home populations are adapted to their local conditions. The long-held view they dispelled, however, was that it takes many genes to fuel the adaptations that allow plants to thrive in different climates. "Even though the environments of Sweden and Italy are vastly different, we found that only 15 regions of the plant's genome are involved in adaptation," Schemske said.
Read more about this study at: http://msutoday.msu.edu/news/2013/home-teams-hold-the-advantage/.
Asia and the Pacific
Thirty-six farmers and farmer-leaders from various provinces in the Philippines signed a statement of support on the use of modern biotechnology in agriculture during the study visit for the "Bioteknolohiya at Pagsasaka: Forum and Farmers' Exposure Trip on Agricultural Biotechnology" at the University of the Philippines Los Baños (UPLB), Laguna on November 26, 2013. The farmers' forum, held on November 25-26, was part of the celebration of 9th National Biotechnology Week. The forum and exposure trip or study visit allowed the farmers to interact with various experts on the science and safety of biotech and its products, as well as with biotech farmer-leaders on their adoption experiences.
The statement affirms that the farmers recognize the potentials and value of biotech crops being developed in the country such as the pest resistant Bt eggplant of UPLB which, they conveyed, can help boost their yield with significantly less usage of chemical pesticides. Ultimately, these biotech crops "could contribute to food and fiber security and would increase productivity and income to alleviate hunger and rural poverty." They also expressed their confidence on the competency of Filipino scientists in carrying out biotech R&D and the biosafety regulatory system in the country.
The forum was co-organized by ISAAA, the Department of Agriculture-Biotechnology Program Office, Commission on Higher Education, and the Southeast Asian Regional Center for Graduate Study and Research in Agriculture-Biotechnology Information Center (SEARCA BIC).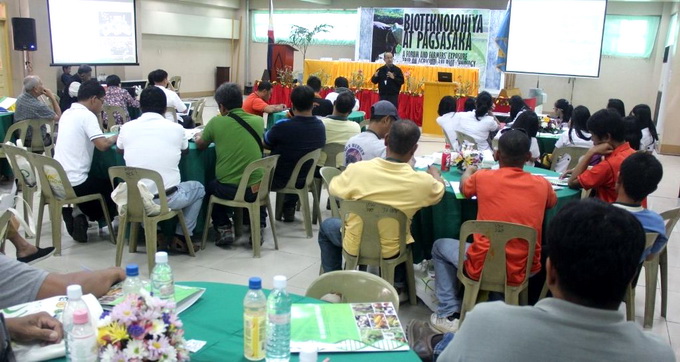 For more information about the activity, visit SEARCA BIC's website, http://www.bic.searca.org/ or send an e-mail to bic@agri.searca.org.
[ Send to a Friend | Rate this Article ]
---
U Thein Sein, the President of the Republic of the Union of Myanmar has visited the International Rice Research Institute in Los Baños, Philippines to express his desire to continue his country's decades-long collaboration with the International Rice Research Institute (IRRI).
The President appraised IRRI on the challenges and aspirations of Myanmar's agriculture sector. He also asked IRRI to develop and share improved rice varieties that respond to unfavorable environments of the hilly and dry regions in the country's north, and the wet and frequently flooded areas in the south.
See IRRI's news release at http://irri.org/index.php?option=com_k2&view=item&id=12705:myanmar-president-at-irri-to-push-for-stronger-research-ties&lang=en.
Europe
Researchers at University of Bayreuth analyzed the perceptions of about 500 Bavarian tenth graders regarding genetic engineering. By using mixed-methods approach, the students scored their hopes and fears about the technology on a 4-point Likert scale and wrote statements about their individual associations.
Results of the survey showed that hopes scored much higher than fears, indicating medium effect. Hopes were associated with economic and ecological aspects as well as with world food security, while fears were related to risks to human health and the environment. Subjective knowledge were also found to have significant effect on hopes, while objective knowledge did not.
The findings of the study can help educators in preparing age-appropriate biology lessons: Hopes and fears need to be specifically addressed in order to optimize educational efforts and to support students to become responsible citizens.
Read more about the study at http://ageconsearch.umn.edu/bitstream/161082/2/1314-goldschmidt_v2.pdf.
[ Send to a Friend | Rate this Article ]
---
London School of Economics released the report Feeding the Planet in a Warming World which explains why advanced agricultural innovation, including the development and deployment of next-generation of biotech crops, is an essential response to the growing challenges of food security and climate change. The authors also outlined policies that should be implemented globally and locally to create a more robust agricultural innovation ecosystem that has the capacity to produce next-generation crop technologies needed to feed a rapidly growing population on a warming planet. These policies are:
boost global public investment in advanced agriculture innovation;
governments worldwide should reform GMO regulations; and
create or strengthen institutions to serve as Centers of Innovation Excellence.
Download a copy of the report at
http://www2.itif.org/2013-feeding-planet-warming-world.pdf
.
[ Send to a Friend | Rate this Article ]
---
The European Food Safety Authority (EFSA) has released a new guidance on submission of applications for authorization of genetically modified (GM) plants under Regulation (EC) No 1829/2003. The EFSA submission guidance is now updated to account for requirements outlined in Implementing Regulation (EU) No. 503/2013. This Regulation only covers GM plant applications for food and feed uses, and excludes GM plant applications for cultivation in the EU. Therefore, the update of the EFSA submission guidance focuses on the relevant parts related to molecular characterisation and food and feed safety assessment as outlined in Appendix A (the completeness checklist). Parts pertaining to the Environmental Risk Assessment were not changed, except for Appendix E which was updated.
The EFSA submission guidance and all appendices are available in electronic format on EFSA's website: http://www.efsa.europa.eu/. For more information, see EFSA's news release at http://www.efsa.europa.eu/en/efsajournal/pub/3491.htm.