News
Global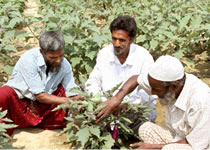 ISAAA releases the latest Brief 47: The Status of Commercialized Bt Brinjal in Bangladesh. Brief 47 presents a thorough review and analysis of the deregulation of Bt brinjal in Bangladesh – from the scientific and biosafety assessment and commercial release to the planting of Bt brinjal by farmers in Bangladesh.
Bangladesh is the first country in the world to approve the commercial planting of four varieties of the insect resistant Bt brinjal on October 30, 2013. Subsequently, 20 farmers planted Bt brinjal seedlings on over 2 hectares (each on 1 bigha equivalent to 0.13 ha) in four brinjal growing regions of Gazipur, Jamalpur, Pabna/Ishurdi and Rangpur in the spring season 2014. Notably, Bt brinjal allowed farmers to raise healthy and vigorous brinjal crop, substantially cut down pesticide sprays to control fruit and shoot borer (FSB), considerably decreased cost of cultivation and significantly increased marketable yield.
The Union Minister of Agriculture Ms. Matia Chowdhury, in her message for ISAAA Brief 47, supports the use of Bt brinjal in Bangladesh and endorses the commercial approval of Bt brinjal as a step in the right direction. Congratulating the authors for bringing out facts on Bt brinjal to the people of Bangladesh and to the global society, Minister Chowdhury referred to ISAAA Brief 47 as a comprehensive document that will help readers understand the rationale for commercial release of Bt brinjal in Bangladesh.
Suggesting a coherent approach on information and knowledge sharing on Bt brinjal in Bangladesh, Minister Chowdhury emphasizes that "we accord the highest priority to the safety and benefits to the society but shun any activity that intends to spread misinformation and misguide the public about Bt brinjal or other products that are evaluated by public sector research institutions."
Presenting the field level experience and evidence, Brief 47 also encapsulates the testimonials of experts and farmers attesting the benefits of Bt brinjal after a bountiful harvest in the first cropping season 2014. The Brief also presents a set of Bt brinjal photos from farmers' field and a collection of highly cited references on Bt brinjal in Bangladesh.
Download ISAAA Brief 47: The Status of Commercialized Bt Brinjal in Bangladesh from www.isaaa.org/india. For a print copy of ISAAA Brief 47, email your request to b.choudhary@cgiar.org or nasirbiotech@yahoo.com. For ISAAA Brief 47, Minister's Message, Executive Summary, Top Ten Facts on Bt Brinjal and photo gallery, visit www.isaaa.org and www.isaaa.org/india. Readers are also encouraged to refer to previous ISAAA Brief 38: The Development and Regulation of Bt Brinjal in India available at http://www.isaaa.org/resources/publications/briefs/38/download/isaaa-brief-38-2009.pdf. Mr. Mark Lynas video on Bt brinjal in Bangladesh can be downloaded from https://www.youtube.com/watch?v=_LoKPldPopU. ISAAA Bt brinjal videos The Story of Bt Brinjal in India and Bt Brinjal: Safer, Better and Affordable can be downloaded from http://www.youtube.com/watch?v=sUqvfpNhGGQ.
[ Send to a Friend | Rate this Article ]
---
The International Wheat Genome Sequencing Consortium (IWGSC) has published in Science a draft sequence of the bread wheat genome. The draft sequence provides new insight into the structure, organization, and evolution of the world's most widely grown cereal crop.
The consortium has established the first reference sequence for the largest chromosome, 3B, which could serve as a template for sequencing the remaining chromosomes. Catherine Feuillet, IWGSC co-chair, said "With the draft gene sequence for each of the bread wheat chromosome and the first reference sequence of chromosome 3B, we have reached a great milestone in our roadmap."
With a chromosome-based full sequence in hand, plant breeders now have high quality tools at their disposal to speed up breeding programs and identify how genes control complex traits such as yield, grain quality, disease, pest resistance, or abiotic stress tolerance. They will be able to produce a new generation of wheat varieties with higher yields and improved sustainability to meet the demands of a growing world population in a changing environment.
For more details about this research, read the news release available at: http://www.wheatgenome.org/News/Press-releases/Draft-sequence/Press-releases/Genetic-blueprint-of-bread-wheat-genome-unveiled.
[ Send to a Friend | Rate this Article ]
---
Biotech trade organizations from different continents joined forces to form a council that aims to support international biotech development. The bylaws of the International Council of Biotechnology Associations (ICBA) was ratified on July 10, 2014 in Washington, D.C., during the BIO International Convention. The founding members include Biotechnology Industry Organization (BIO), EuropaBio, AfricaBio, and other 17 groups. The Council will convene every year during the BIO International Convention.
"The increasingly global biotechnology industry provides breakthrough products and technologies that combat debilitating and rare diseases, reduce our environmental footprint, feed the hungry, use less and cleaner energy, and have safer, cleaner and more efficient industrial manufacturing processes," said Jim Greenwood, elected chairman of ICBA. "However, the biotechnology sector faces both challenges and opportunities that cross borders. In forming the ICBA, our industry is taking an important step that allows us to better coordinate, organize and face these issues around the world together."
Read more at http://www.europabio.org/press/new-council-international-biotech-associations-formed-group-s-membership-represents-six#sthash.H6f222h3.dpuf.
Americas
The US House Agriculture Committee's Subcommittee on Horticulture, Research, Biotechnology, and Foreign Agriculture held a public hearing to consider the benefits of biotechnology. The hearing was held on July 9, 2014. The witnesses in the hearing include Dr. David Just of Cornell University; Dr. Calestous Juma of Harvard University; Dr. Olga Bolden-Tiller of Tuskegee University; and Mrs. Joanna Lidback, a dairy farmer and mother from Westmore, Vermont. All the witnesses emphasized how consumers, farmers, and the environment have benefited from traditional and modern biotechnology applications.
"It is clear from the hearing today that biotechnology plays a critical role in meeting a number of consumer and societal needs. In a world where it is important to help feed our expanding population while ensuring that everyone has access to safe, diverse, and quality food, the U.S. can, and should, be a leader in biotech development to address the coming challenges for future generations. Whether it is treating vitamin deficiency, autoimmune disorders or addressing hunger, biotechnology has and will continue to play a large role in global agriculture," said Chairman Austin Scott during the hearing.
Read the press release at https://agriculture.house.gov/press-release/subcommittee-highlights-benefits-biotechnology.
[ Send to a Friend | Rate this Article ]
---
The United States Department of Agriculture has released a new report on the adoption of herbicide tolerant and insect resistant crops since their introduction in 1996. According to the report, the percentage of genetically modified (GM) seed within the U.S. corn crop nearly doubled over the past 10 years, from less than half of the total planted corn acres in 2004 to 93 percent this year, up from 90 percent last year.
The report also revealed that farmers in the United States have widely adopted genetically modified crops because of the many benefits they provide. Genetically engineered (GE) soybeans, cotton, and corn are the preferred varieties of US farmers. The report's key findings include:
GE soybean is 94 percent of soybean hectarage in the US in 2014 from 93 percent in 2013;
GE corn is 93 percent of all corn planted in the US, up from 90 percent in 2013; and
GE cotton is 96 percent of all cotton grown in the US, up from 90 percent in 2013.
The report, including recent trends and documentation, is available at: http://www.ers.usda.gov/data-products/adoption-of-genetically-engineered-crops-in-the-us.aspx#.U8x6HZSSySr.
Asia and the Pacific
Farmers in Hokkaido expressed their enthusiasm to field trial GM crops during the two symposia conducted in Hokkaido University and Obihiro University on July 12 and 14, respectively. A total of 70 stakeholders composed of farmers, consumers, researchers, faculty, and students participated in the two seminars. The back-to-back symposia were co-organized by Nippon Biotechnology Information Center, Hokkaido BioIndustry Association, and ISAAA with partial support from Center for Biotechnology Information of Japan.
In Hokkaido University, local scientist Dr. Toshihiko Yamada gave a talk on their genetic engineering efforts to improve Miscanthus to make it suitable for biofuel production. Dr. Rhodora Aldemita of ISAAA provided the recent global status of biotech crops and the Philippine experience on GM corn. Dr. Fusao Tomita, director of Nippon BIC gave insights on the current agribiotech status in Japan. Possibilities of field trials were raised during the open forum.
Similar presentations were conducted in Obihiro University with Prof. Hiroaki Yamauchi who gave an overview of the university's wheat breeding efforts. Farmer Yohsuke Okabe also gave his experiences on wheat farming, the challenges and the need for biotechnology. Farmer Yasushi Onodera, a sugar beet farmer presented the possible increased yield, reduction in cost of production, and profit if he plants herbicide tolerant sugar beet. Farmers and consumers present in the seminar were enthusiastic on the possibility of having field trials of GM sugar beet and wheat in the very near future.

For details of these symposia and for biotech news in Japan, contact Dr. Fusao Tomita at YRL05042@nifty.com or ftomita@isaaa.org.
[ Send to a Friend | Rate this Article ]
---
University of Western Australia (UWA) is repeating wheat experiments done five decades ago to see if lower chlorophyll levels promote greater grain yields. Adjunct Professor John Hamblin and team prepared for trials using wheat varieties with very low chlorophyll.
Professor Hamblin offers four possible reasons why low-chlorophyll wheat might be more productive. First, leaves naturally produce shade, depriving competing plants of light. This is a useful adaptation in nature but a disadvantage in crops, where growers want minimal competition between neighbours. Second, harvesting excessive light damages chloroplasts, and repairing damaged chloroplasts uses extra energy. Third, capturing excess light causes plants to heat up. He said that a heated leaf needs more water to survive. The fourth reason is that chloroplasts are full of all sorts of goodies.
For more information about Professor Hamblin's work, read the UWA news release at http://www.sciencewa.net.au/topics/agriculture/item/2941-wheat-possibilities-lower-chlorophyll-to-boost-yields.
[ Send to a Friend | Rate this Article ]
---
Researchers have identified a gene of wild soybean linked to salt tolerance that could help soybean grow in saline soil. The research team include experts from The Chinese University of Hong Kong, BGI and other institutes.
The research team discovered a novel ion transporter gene, GmCHX1, and suggested it is related to salt tolerance, and that it acted probably through lowering the Na+/K+ ratio. The team assumed that the elimination of GmCHX1 in salt-sensitive germplasms may be an example of negative selection against a stress tolerance gene in unstressed environments.
For more details, read the news release at http://www.genomics.cn/en/news/show_news?nid=104052.
[ Send to a Friend | Rate this Article ]
---
The Korean Society of Breeding Science hosted a symposium "Plant Breeding Strategies for Improvement of Productivity" on July 2-4, 2014 at Ramada Plaza Jeju Hotel in Korea. Co-organizers were the Next-Generation BioGreen21 Program and Golden Seed Project.
Topics of discussion were on conventional breeding strategy in China (Zhong-Ze Piao, Shanghai Academy of Agricultural Science, China), development and utilization of hybrid rice in China (Zhi-Xiang Lu, Anhui Academy of Agricultural Science, China), conventional breeding goal (Bo-Kyoung Kim, National Institutie of Crop Science, South Korea), and GM crops development strategy of the private sectors in domestic (Hee-Young Park, Syngenta).
For details of the symposium, visit http://www.breeding.or.kr/.
Europe
Oxford University researchers have captured a 'genetic snapshot' of maize as it existed 10 million years ago when the plant doubled its genome. They then traced how maize evolved to use these 'copied' genes to cope with the pressures of domestication 12,000 years ago. The team discovered that these copied genes were important to optimizing photosynthesis in maize leaves and that early farmers selecting for them 'fuelled' the transformation of maize into a high-yield crop.
Dr. Steve Kelly of Oxford University's Department of Plant Sciences, and lead author of the report published in Genome Research said, "Although whole genome duplication events are widespread in plants, finding evidence of exactly how plants use this new 'toolbox' of copied genes is very difficult." He added that they can now chart how the gene copies were first acquired, then put to work, and finally 'whittled down' to create the modern maize plant today.
For more information, read the news release at http://www.ox.ac.uk/news/2014-07-15-maize-ing-double-life-genome.
[ Send to a Friend | Rate this Article ]
---
An international team of scientists has caught an important step of photosynthesis for the first time. Led by Prof. Petra Fromme from Arizona State University, the team used the world's most powerful X-ray flashlight at the SLAC National Accelerator Laboratory in the U.S. to record still frames of a molecular complex called photosystem II as it splits water into hydrogen and oxygen, a process that maintains the oxygen in the earth's atmosphere.
Professor Fromme said "This is the very first scene of a molecular movie showing light-driven water splitting in photosystem II, the mechanism which makes all oxygen in the atmosphere." The observations show with molecular resolution that photosystem II significantly changes shape during this process. To observe photosystem II in action, the team grew tiny nano-crystals of the photosystem II complex of Thermosynechococcus elongatus cyanobacteria . These crystals were illuminated with a visible laser to start the water splitting process, which is otherwise driven by sunlight. The researchers used double light flashes to trigger the transition from stage S1 to stage S3, as this transition was expected to show the largest dynamics.
For more details, read http://www.desy.de/information__services/press/pressreleases/@@news-view?id=8441.
Research
Ultraviolet (UV) radiation affects the expression of several phenylpropanoid biosynthesis-related genes, which in turn affects the final composition of both grapes and wines. However, the full influence of solar UV radiation in grapes remains relatively unknown.
Researchers from the Universidad de La Rioja, Edificio Científico-Tecnológico in Spain found 121 grape genes which had altered expressions due to solar UV radiation. Analysis of the grape berry skin revealed that genes up-regulated by UV radiation were mostly UV-B -responsive genes. Secondary metabolism-related genes were also induced by UV radiation including flavonol biosynthetic and monoterpenoid biosynthetic genes.
Results suggest that the biosynthesis and accumulation of secondary metabolites, which adds quality in winemaking, were triggered by UV radiation exposure. This may lead to additional treatments or practices that may increase solar UV radiation on vineyards since they may improve grape features.
For more information on the study, visit http://www.biomedcentral.com/1471-2229/14/183/abstract.
[ Send to a Friend | Rate this Article ]
---
Rhodococcus, a member of the Actinobacteria, can cause gall symptoms and deformities and are pathogens to a wide range of plants. A current belief is that pathogenic Rhodococcus isolates contain the fas operon. This fas operon produces a mixture of growth-regulating cytokinins which, in turn, cause hormonal imbalance in plants, resulting in abnormal growth.
Researchers from Oregon State University compared 20 isolates of Rhodococcus to study the mechanisms of infection in these bacteria. Although the fas operon is present in most phytopathogenic isolates, it is absent from pathogenic isolate A21d2. Instead, this isolate has a gene chimera that encodes a protein capable of catalyzing and activating several cytokinins. Analysis of an archetypal isolate with the fas operon revealed that only one active cytokinin type, isopentenyladenine cytokinin, was specifically synthesized.
These results show that only isopentenyladenine cytokinin is necessary for Rhodococcus pathogenicity, contrary to the belief that a mixture of cytokinins was necessary for Rhodococcus to cause gall symptoms.
Learn more on this study by visiting http://www.plosone.org/article/info%3Adoi%2F10.1371%2Fjournal.pone.0101996.
[ Send to a Friend | Rate this Article ]
---
Powdery mildew (PM) caused by Podosphaera leucotricha is a major fungal disease of thousands of plants, including many cultivated Rosaceae species. PM pathogenesis is associated with up-regulation of MLO genes during early stages of infection. The genes' upregulation causes decrease in plant defense. MLO gene family can act as susceptibility genes, since down-regulation of these genes may grant plant resistance.
The Fondazione Edmund Mach in Italy carried out an analysis of the MLO genes in apple, peach, and strawberry. The researcher identified candidate PM susceptibility genes through studying their relationships with other characterized MLO genes. In apple, susceptibility genes were inferred by monitoring their expression following inoculation with Podosphaera leucotricha.
Genomic tools available for Rosaceae family were exploited to identify the candidate MLO susceptibility genes. In follow-up studies it can be investigated whether silencing in one or more of these candidate genes leads to PM resistance.
Learn more on this study by visiting http://www.biomedcentral.com/content/pdf/1471-2164-15-618.pdf.
Document Reminders
ISAAA releases the second batch in the revised series Biotech Country Facts and Trends. This set features the five developing biotech countries of South Africa, Pakistan, Uruguay, Bolivia, and the Philippines. Biotech Country Facts and Trends are concise summaries highlighting the commercialization of biotech crops in specific countries. Data on biotech crop commercialization (hectarage and adoption), approvals and planting, benefits and future prospects for each country are presented in a brief and easily understandable manner. The contents are based on ISAAA Brief 46: Global Status of Commercialized Biotech/GM Crops in 2013, authored by Clive James.
The Biotech Country Facts and Trends are available for download at: http://www.isaaa.org/resources/publications/biotech_country_facts_and_trends/default.asp.
---
An infographic featuring the conclusions of GM safety is published on the website Agrogene (www.agrogene.cn). It extracts the final conclusions about GM safety made by 9 international organizations and 9 state institutions. These authorities includes World Health Organization (WHO) , European Commission (EC), Food and Agriculture Organization of the United Nations(FAO), Society of Toxicology (SOT), U.S. National Academy of Sciences(NAS), American Medical Association (AMA), Royal Society of Medicine, Académie des Sciences and so on. The central theme of all these conclusions is that after science-based evaluation, GM crops and GM foods are as safe as their traditional counterparts.
The website Agrogene is the portal of the Platform of Science Communication for Agricultural Biotechnology (PSCAB) which is co-established by Chinese Society of Biotechnology(CSBT), Chinese Society of Plant Physiology and Molecular Biology, Chinese Society of Agri-biotechnology , Chinese Society of Crop Science and China Society of Plant Protection. See the Chinese infographic at http://www.agrogene.cn/info-1555.shtml