News
Global
Is there a place for biotechnology in the world? What is its impact? These are some of the questions answered by biotech experts, farmers, economists, and journalists in ISAAA's latest brief titled Voices and Views: Why Biotech? The Brief was launched during the International Conference on Agricultural Biotechnology and Biosafety Communications on April 13, 2015 at Safari Part Hotel, Nairobi, Kenya attended by 150 delegates from Asia, Africa, Latin America, UK, Belgium and the U.S.
ISAAA Brief 50 is a collection of personal essays about 32 individuals from all over the world who have followed the development of biotechnology and are convinced that it has a significant role in improving the quality of life. These individuals were interviewed face-to-face or through email by 23 members of the ISAAA biotechnology information network. The Brief was edited by Dr. Mariechel Navarro, Director of the Global Knowledge Center on Crop Biotechnology.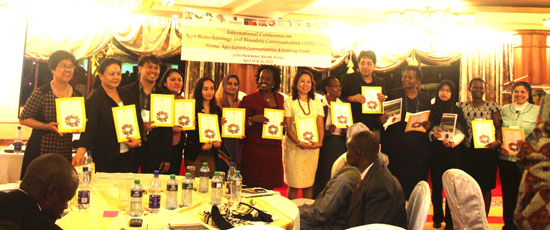 The Brief was released in time for the anniversary of the Millennium Development Goals set in 2000 to address issues of poverty and hunger.
Get a copy of Brief 50 from the ISAAA website.
Africa
Uganda's State Minister for Industry and Technology has come out strongly to support the adoption of biotech crops in Uganda, noting that they have the potential "enhance productivity, address food security issues, increase production, and increase our export base". Hon. James Mutende made these remarks while launching the Global Status of Commercialized Biotech/GM Crops: 2014 on April 7, 2015 at Hotel Africana in Kampala, Uganda.
Hon. Mutende pointed out that if the National Biotechnology and Biosafety Bill- currently awaiting a second reading in Parliament- is passed into law, it will ensure safe development and use of modern biotechnology by scientists in Uganda. However, he appealed to scientists who have openly criticized the technology to have a dialogue with researchers working on biotech/GM crops so that they have a harmonized voice. He said that the divided scientists' viewpoints about the technology have been partly responsible for Parliamentarians' delay in passing the Bill into law. Hon. Mutende called on Uganda farmers to consider adopting biotech crops if they are to compete in commercial farming.
Speaking at the launch, Dr. Andrew Kiggundu―Head of Biodiversity at NARO―noted that Ugandan researchers are currently developing GM crops to address challenges such as pests, diseases, nutritional deficiencies, and harsh climatic conditions such as drought. For example, banana has been fortified with iron and Vitamin A using a gene that previously only expressed in the leaves to express to the fruit. A popular rice variety- NERICA 4, has also been modified to grow in areas of low soil nitrogen, salty soil, and in dry areas. Other biotech crops currently in the research and development stages in Uganda include: cassava, maize, sweet potato, ground nuts, and millet.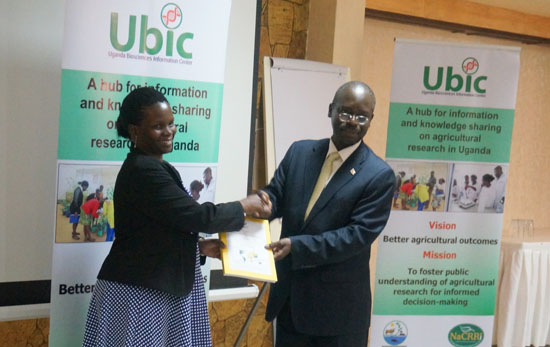 The launch was organized by the Uganda Biosciences Information Centre (UBIC) and was attended by about 70 participants.
For more details about biotechnology in Uganda, contact Barbara Mugwanya of UBIC at bmugwanya@gmail.com.
Americas
Active cell division takes place in the tip of a plant's root, where different zones work together to expand into new depths of the soil. Optimal root growth rate is important for plant survival and maximizing resource allocation to important plant parts. This is why root-expansion mechanisms are of great interest to scientists and to those interested in improving agricultural yields.
One of the major driving factors of root tip growth discovered by Juthamas Chaiwanon and Zhiyong Wang from Carnegie Institution for Science is the class of steroid hormones called brassinosteroids, which they found to act on a concentration gradient to regulate root growth patterns. In many parts of a plant, brassinosteroids function cooperatively with the plant hormone auxin. But Chaiwanon and Wang's results show, surprisingly, that in root tip growth, brassinosteroids and auxin had opposite effects on root cell elongation, and the balance between their actions regulated a root's growth rate.
The team identified more than 2,000 genes that are regulated by both brassinosteroid and auxin, and about 70 percent of these co-regulated genes responded to brassinosteroids and auxin in opposite directionsóbeing turned on by one and off by the other or vise versa.
For more information about this research, read the news article at the Carnegie website.
[ Send to a Friend | Rate this Article ]
---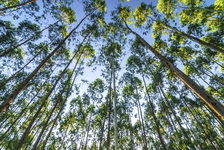 The Brazilian National Technical Commission on Biosafety (CTNBio) has approved the commercial use of the yield enhanced genetically modified (GM) eucalyptus developed by FuturaGene, a wholly owned subsidiary of Suzano Pulp and Paper. Field experiments conducted since 2006 at various locations in Brazil have demonstrated an approximate 20% increase in yield compared to its equivalent conventional variety.
This is the first GM eucalyptus event to be approved worldwide and represents the most significant productivity milestone for the renewable plantation forest industry since the adoption of clonal technology in the early 1990's. The approval also represents the beginning of a new era for sustainable forest management by enabling the production of more fiber, using less resources. Brazil is the first country to complete the development cycle of such a technology.
FuturaGene CEO Stanley Hirsch said that the yield-enhanced GM eucalyptus has been under development since 2001 and has undergone extensive biosafety assessment prior to submission for commercial approval. For more information, read the news release at the FuturaGene website.
[ Send to a Friend | Rate this Article ]
---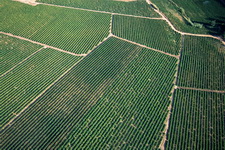 Canada's Agriculture Minister Gerry Ritz has announced upcoming changes to streamline and modernize the way crop varieties are registered in Canada. The Government of Canada worked closely with the crop production value chain to ensure that the country's Variety Registration (VR) system continues to protect Canada's international reputation for high-quality crops and encourages innovation in crop variety development by removing potential barriers to crop innovation. The changes include:
Streamlining the variety registration system to two tiers: Basic and Enhanced.
Model Operating Procedures that will streamline Recommending Committees. This will give Canadian farmers faster access to the newest cutting-edge varieties.
Incorporation by reference that will allow value chain consensus to speed up administrative changes by up to 24 months.
These changes will go through additional consultations with industry groups in the coming months. For more information, read the news release at Agriculture and Afri-Food Canada website.
Asia and the Pacific
Researchers from Kings Park, Western Australia discovered that aspirin's key ingredient, salicylic acid, plays an important role in plant transpiration during drought conditions. Salicylic acid has the ability to protect the photosynthesis system, allowing plant growth despite water deficit condition. This is possible due to salicylic acid's role in assisting stomatal openings regulation preventing too much water loss.
Trials of using aspirin in plants reveal that given one liter of water for one month, 40 percent of the plants survived in comparison with 3 percent in untreated plants. The results of this study will be vital in the plant restoration project in the Thumama Nature Park, Riyadh.
Details of the study can be accessed at Science Network's website.
[ Send to a Friend | Rate this Article ]
---
The University of Agriculture Faisalabad (UAF) has launched an e-farming system for the first time in Pakistan. The e-farming system is aimed to train the farmers and assist them in attaining maximum yield and profits by using modern agricultural biotechnology applications.
Dr. Rashid Ahmed, leader of the project, said that through e-farming, yields can be enhanced to 40 maunds per acre (1,493 kilograms per acre). He added that the e-farming department at UAF is providing amenities to farmers across the province. Farmers can get in touch with agriculture specialists, researchers and analysts to receive advice on extracting better crop yield. He also said that annual reports and surveys of the e-farming department show that farmers in Multan, a city of Punjab in Pakistan, who were getting 20 maunds per acre (746 kilograms per acre) of cotton yield on average, are now receiving 40 when they planted biotech cotton.
For more information about biotechnology in Pakistan, visit the Pakistan Biotechnology Information Center website.
Europe
Vegetables such as crucifer crops are effective diet in blood LDL-cholesterol reductions preventing heart diseases. Glucoraphanin is a naturally occurring compound present in crucifers which aids in LDL-cholesterol reduction through the action of isothiocyanates. Broccoli is a crucifer crop bred to contain about two to three times higher levels of glucoraphanin.
The newly enriched broccoli is assessed for its efficiency by a group of researchers led by Dr. Richard F. Mithen from Institute of Food Research (IFR) and his colleagues from University of Reading. This was done by conducting two independent studies with over one hundred volunteers included 400 grams of broccoli either standard or enriched in their diets.
The result of the plasma lipid analysis reveals that volunteers consuming enriched broccoli gain a higher reduction in LDL-cholesterol by 7.1% and 5.7% in contrast with 1.8% and 2.5% reduction from consuming standard broccoli. This provides evidence on the efficiency of enriched broccoli to significantly reduce LDL-cholesterol.
Read the details of their study at IFR's website.
[ Send to a Friend | Rate this Article ]
---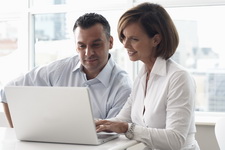 The European Commission initiated a web-based dialogue on how science and innovation can help the European Union (EU) ensure safe, nutritious, sufficient, and sustainable food for the global population. The dialogue focuses on the theme of World Expo 2015, "Feeding the Planet, Energy for Life," which aims to go beyond cultural activities and open a real political debate on global food security and sustainability.
A discussion paper was presented by Tibor Navracsics, Commissioner for Education, Culture, Youth and Sport, together with Franz Fischler, Chairman of the Expo 2015 EU Scientific Steering Committee. According to Fischler, the paper gives an overview of where European research can add the most value in relation to tackling food and nutrition security challenges and points to areas where EU can expand its research potential. Moreover, it highlights the need to develop a governance structure that will allow sharing of best practices and facilitate the transfer of knowledge and innovation to feed the planet sustainably. It should stimulate a global discussion with stakeholders and the general public, ultimately shaping a legacy for Expo 2015.
The consultation is available online for input from all interested stakeholders until September 1, 2015. The results of the consultation will be released on October 15, 2015.
Read the press release at the European Commission PR Database.