Africa
A five days' workshop entitled "Utilization of Molecular Markers for PGRFA Characterization and Pre-Breeding for Climate Changes" was held on August 31 to September 4, 2014. The workshop was held under the auspices of his Excellency Professor Adel Elbeltagy, the Minister of Agriculture and Land reclamation. In her speech, Prof. Hanaiya Elitriby, Director, National Gene Band in Egypt addressed the importance of biodiversity in the world of changing climate, to increase the production and productivity and to increase food security, "The more diversity, the more option will be available to face climate changes". Dr. Mohamed El-Ansary, FAO stressed the importance of developing new varieties with improved quality and quantity to face tomorrow's challenges. Prof. Sherin Assem, Director of AGERI stressed the importance of the new technologies to develop new varieties with improved characteristics and the importance of cooperation between Gene Bank and Research Institutes for improving agriculture worldwide.
The workshop was attended by 20 participants from Yamane, Lebanon, Iran, Jordan, Bahrain, Emirates, and Egypt. The training also provided information on the following topics: types and applications of molecular markers; genotyping using linkage mapping, allelic size data and binary data; sequencing technologies for automated AFLP; mapping and QTL; statistical and bioinformatics methods for measuring genetic diversity; marker assisted selection; and TILLING and EcoTILLING for detection of natural mutations in individuals and for population genetics analysis in crops.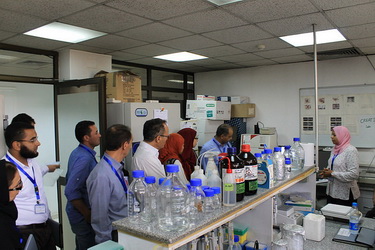 For the opening video visit https://www.youtube.com/watch?v=gHiqTA2iTZ0. For more information on biotech in Egypt, contact naglaa_a@hotmail.com or visit www.e-bic.net.
Americas
A research finding on the aroma produced by mown grass when cut does not only signal a distress condition, but also a signal attracting beneficial insects such as parasitic wasps to come to the plant and lay eggs to the insect pests. This aroma is caused by the emitted volatile organic compounds that produce a defensive plant mechanism or make the plant less appetizing. Dr. Michael Kolomiets, a plant pathologist from Texas A&M AgriLife Research led a study on the role of an organic volatile compound, green leaf volatile that is observed in mown grass, in plants.
In his study, he observed the function of green leaf volatile by doing a laboratory and field trial of exposing a mutant corn not producing the compound under the attack of insect pests. The results show that parasitic wasps are not attracted to the mutant corn despite the damage caused by insect pests. This implies that the compound activates jasmonate hormone, a hormone releasing defensive signals, and produces a SOS-type signal to attract parasitic wasps to come to the plant due to the presence of insect pests. In addition, this compound is necessary in certain plant physiological process. These findings can be useful in creating new drought tolerant and insect resistant crop varieties.
Read more about this study at: http://today.agrilife.org/2014/09/22/mown-grass-smell-sends-sos-for-help-in-resisting-insect-attacks-researchers-say/.
[ Send to a Friend | Rate this Article ]
---
USDA Agricultural Research Service (ARS) granted Science Hall of Fame recognition for four scientists involved in soybean genomics, sustainable farming, poultry disease control, and crop micronutrients. One of them is Perry Cregan, research head of the ARS Soybean Genomics and Improvement Laboratory. He has been the driving force behind the development of new tools to identify, describe, and map soybean, wheat, common bean genes for economically significant characteristics such as resistance to pests and diseases, stress tolerance, increased yield, and improved seed quality.
Ross Welch was also recognized for his contributions in research on the functions of zinc, iron, nickel, and other micronutrients in sustaining plant health and productivity. His discoveries showed the relevance of using plant breeding and fertilization to improve micronutrient concentrations in stable food crops, especially for developing countries where malnutrition has been a rampant concern.
For more details, read the article at http://www.ars.usda.gov/is/pr/2014/140910.htm.
[ Send to a Friend | Rate this Article ]
---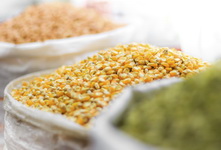 The US Department of Agriculture (USDA) has given the final approval to Dow AgroSciences' Enlist™ corn and soybean traits in the United States. The Enlist traits are part of the Enlist™ Weed Control System, a new trait and herbicide technology that seeks to control herbicide resistant weeds. The approval applies to the Enlist corn, Enlist soybean and Enlist E3™ soybean traits. The company now awaits registration of Enlist Duo™ herbicide with the Environmental Protection Agency (EPA), the companion herbicide to the Enlist traits.
U.S. farmers, who anxiously waited for the commercial availability of the Enlist™ Weed Control System, voiced strong support following the USDA decision. Brooks Hurst, a farmer from Tarkio, Missouri, said: "Tools like Enlist will help me do my job more efficiently and productively. That benefits Americans in two ways: It puts food on our tables, and contributes to a healthy economy."
For more, read the news release at: http://newsroom.dowagro.com/press-release/usda-allows-commercialization-dow-agrosciences-enlist-corn-soybean-traits.
Asia and the Pacific
South Korean scientists Dae Wook Kim and Jai Rohila from National Institute of Crop Science, will develop a Korean wheat line variety tolerant to preharvest sprouting, a condition which frequently occurs during wet conditions and affects the quality and yield of grain, through genetic screening technique. This technique, developed by and used in South Dakota State University (SDSU) will be adopted by Kim in creating different lines of wheat varieties.
Kim was able to identify 33 proteins tolerant to sprouting by comparing tolerant and susceptible from both SDSU and Korean wheat lines. Then, a comparative study will be conducted on the newest sprout resistant wheat line developed by Karl Glover, an SDSU wheat breeder, with a Korean wheat cultivar to identify the proteins that will be important in creating a preharvest sprouting tolerant Korean wheat.
Read more about this study at: http://www.sdstate.edu/news/articles/visiting-scientist-uses-sdsu-technology-to-improve-korean-wheat.cfm
[ Send to a Friend | Rate this Article ]
---
Scientist-members of the National Academy of Science and Technology (NAST) in the Philippines held Biotechnology IEC Forums in Davao City and Butuan City in Mindanao last September 17 and 19, 2014, respectively. Discussed during the forums were modern biotechnology in general --its principles, applications, products, safety, and benefits. These activities were part of NAST Philippines' project Capability-Building and Sustainable Biotechnology Information, Education and Communication for DOST and LGU Key Personnel, which aims to create awareness and provide science-based information on modern biotechnology to key personnel in various local government units and DOST regional office.
Resource persons and experts were Dr. Antonio Laurena of the University of the Philippines Los Baños (UPLB), Dr. Emma Sales of the University of Southern Mindanao and NAST Biotech Focal Person for Region 12, and Dr. Marcos Valdez, Jr. of UP Cebu, for the Davao forum; and Dr. Prima Fe Franco of Maria Marcos State University and NAST Biotech Focal Person for Region 1, Dr. Roberta Garcia, Dr. Eureka Ocampo, both of UPLB, and Dr. Sales for the Butuan forum.
The scientists also discussed risk assessment studies for food and environmental safety of GMOs, as well as the national biosafety regulation policies in the country. They encouraged and called for the support of the upcoming local biotech crops, the UPLB-developed fruit and shoot borer resistant Bt eggplant, and the vitamin A-enriched Golden Rice. They expressed that these biotech crops, as products of public research institutions, are important investments for the country's agricultural development. They also said that biotechnology, through the development of biotech crops, upholds farmers' choice.

The activity was co-organized by the Southeast Asian Regional Center for Graduate Study and Research in Agriculture - Biotechnology Information Center (SEARCA BIC). For more information about biotech developments in the Philippines or in Southeast Asia, visit SEARCA BIC's website at http://www.bic.searca.org/ or send an e-mail to bic@searca.org.
[ Send to a Friend | Rate this Article ]
---
USDA Foreign Agriculture Service released a report on agri-biotechnology in the Philippines. According to the report, the Philippines continues to be a regional leader in biotech research and commercialization, as well as a model for science-based and thorough biotech regulatory policy.
The Philippines is now self-sufficient in corn after successful propagation of biotech corn over the past decade. No environmental or health issues have been reported regarding the use of biotech corn varieties. In addition, with Golden Rice and Bt eggplant, the Philippines is poised to be the first Southeast Asian country to commercialize locally developed GE crops. The success of the Philippines in these food security efforts has attracted attacks from anti-biotech groups that filed a lawsuit delaying the commercialization of Bt eggplant. Activist groups also destructed the field trials of Golden Rice in 2013. According to academia, industry, and local government sources, these anti-biotech activities have galvanized local stakeholders to coordinate educational outreach activities to promote the safe and responsible use of biotechnology.
Download a copy of the report at http://www.fas.usda.gov/data/philippines-agricultural-biotechnology-annual.
[ Send to a Friend | Rate this Article ]
---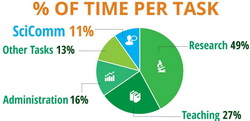 Studies have shown that university professors and public sector scientists are regarded by the public as highly credible sources of information on biotechnology. Thus, their role in communicating biotechnology is critical.
ISAAA conducted a survey to investigate how scientists and academics view science communication (scicom) and their role in public awareness and understanding. Over 200 respondents from 63 different research institutions and universities in Indonesia, Malaysia, and the Philippines were involved in the study.
Results showed that although the scientists and academics recognize the importance of science communication, they only devote a small portion of their time in public engagement. Almost half of the respondents (40%) had low level of engagement (1-10 activities per year), mostly conducted for students and staff outside their host institution with an objective of fostering awareness and understanding on biotechnology. Only 10% attended formal training on communicating biotechnology, which were mostly sponsored by non-governmental organizations. According to the scientists and academics, with more funds and training, they would be more encouraged to engage with the public.
Download the infographics on this study at http://www.isaaa.org/resources/infographics/scicomm2014/scicomposter2014.jpg.
The study was conducted by Ms. Kristine Tome, Dr. Mariechel Navarro, and Dr. Rhodora Aldemita of the Global Knowledge Center on Crop Biotechnology (KC). The research article was published in the latest issue (August 2014) of The Philippine Journal of Crop Science, http://www.cssp.org.ph/pjcs/abstracts. For more information about the study, contact ktome@isaaa.org.
[ Send to a Friend | Rate this Article ]
---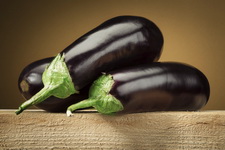 Researchers from Japan's Kazusa DNA Research Institute and National Agriculture and Food Research Organization (NARO) Institute of Vegetable and Tea Science (NIVTS) report for the first time the completed genome sequence of eggplant (Solanum melongena L.).
Clustering analysis of the predicted genes of eggplant along with the genes of three other solanaceous plants as well as Arabidopsis thaliana revealed that, of the 35,000 clusters generated, 4,018 were exclusively composed of eggplant genes that would perhaps confer eggplant-specific traits, they said. They also found that between eggplant and tomato, 16, 573 pairs of genes were deduced to be orthologous (homologous sequences descended from the same ancestral sequence), and 9,489 eggplant scaffolds could be mapped onto the tomato genome.
"The detailed comparative analysis of the eggplant and tomato genomes will facilitate our understanding of the genomic architecture of solanaceous plants, which will contribute to cultivation and further utilization of these crops," said the researchers.
The results of the genome study are published in the journal DNA Research as an open access paper. It is available at: http://dnaresearch.oxfordjournals.org/content/early/2014/09/16/dnares.dsu027.short?rss=1#aff-1.