CROP BIOTECH UPDATE
---------------------------------------------------------------------------
A weekly summary of world developments in agri-biotech for developing countries, produced by the Global Knowledge Center on Crop Biotechnology, International Service for the Acquisition of Agri-biotech Applications SEAsiaCenter (ISAAA)
---------------------------------------------------------------------------
August 22, 2018

In This Week's Issue:

News

Global
• Scientists Release Fully Annotated Wheat Reference Genome

Africa
• Nigeria's Federal High Court Ruling Permits Bt Cotton Commercialization

Americas
• Researchers Use Wheat's Bacterial Partners to Fight A Pathogen

Asia and the Pacific
• Scientists Identify Enzyme that Could Accelerate Biofuel Production
• CSIRO Works on Next Generation Synthetic-Like Cotton
• Filipino Farmer-leaders Show Support for Biotech Crops
• Biotech Players Discuss Biodiversity Agreements and Protocols

Research
• Scientists Determine the Genomic Predictability of 25 Agronomic and Quality Traits in Alfalfa

New Breeding Technologies
• Scientists Update on CRISPR Utility for Crop Improvement
• CRISPR-Cas9 Used to Knockout Genes for Pollen Tube Growth
• CRISPR-Cpf1 Used in Targeted Gene Replacement in Rice

Beyond Crop Biotech
• Gene Editing Technique Used to Develop Spider Silk-producing Silkworm
• African Biosafety Leadership Summit Tackles Gene Drive Technology
• India Starts Research on GE Mosquitoes to Combat Dengue

Announcements
• Crop Innovations and Regulations Conference

Document Reminders
• EuropaBio Brochure Tackles EU Protein Gap, Trade, and GMOs
• Video: Saving the Orange



----
NEWS
----

Global
SCIENTISTS RELEASE FULLY ANNOTATED WHEAT REFERENCE GENOME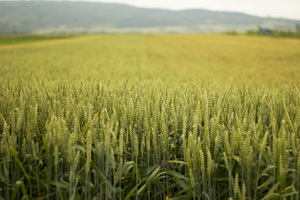 Bread wheat covers almost a fifth of the total calories consumed all over the world. Its massive and hexaploid genome, composed of three subgenomes, 21 chromosomes, and 85% repetitive DNA, hinders wheat genetic improvement toward its full potential. The International Wheat Genome Sequencing Consortium gives hope to wheat farmers as they publish the fully annotated reference genome for wheat in Science.
The paper reports on the following aspects:
a reference genome with 107,891 high-confidence gene models, 94% estimated coverage, and 21 chromosome-like sequence assemblies
transcriptome atlas representing all stages of wheat development
expansion and contraction of gene families in connection to wheat traits
demonstration of the utility of the reference genome by resolving the genetic basis of a quantitative trait locus conferring abiotic stress and insect resistance and by using it as a basis for genome-editing a flowering-time trait
The reference genome allows greater possibilities for wheat improvement, including genomics-assisted breeding and genome editing for biotic and abiotic stress adaptation, end-use quality, and yield improvement.

The Wheat@URGI portal was also created to facilitate the maximum utility of information. The portal consists of extensive information, genome browsers, BLAST function, InterMine tools, and other features.

For more information, read the paper in Science or visit the data repository at Wheat@URGI.



Africa
NIGERIA'S FEDERAL HIGH COURT RULING PERMITS BT COTTON COMMERCIALIZATION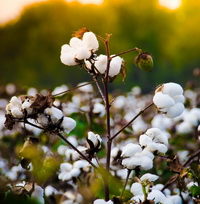 Nigeria's Federal High Court (FHC) has dismissed a lawsuit filed against the National Biosafety Management Agency (NBMA) over a permit issued by the Agency for the commercial release of Bt cotton. An advocacy group and 16 other civil society organizations filed the suit in September 2017, asking the court to revoke the permit issued to Monsanto Agricultural Nigeria Limited in 2016 for the commercial release of GM cotton.

Delivering the ruling on August 15, 2018, Justice A. R. Mohammed dismissed the case on the ground saying that it was statute-barred, and the court lacked the jurisdiction to entertain it. The Judge ruled that the matter was not a fundamental rights issue as claimed by the plaintiff, adding that it was instituted over a year after the cause of action arose. This case, he observed, contravened provisions of the country's Public Officers Act, which requires such an action to be instituted within three months.

The plaintiff had named NBMA, National Biotechnology Development Agency (NABDA), the Federal Ministry of Environment, the Federal Ministry of Justice, Monsanto Agricultural Nigeria Limited, the Federal Ministry of Agriculture, and the National Agency for Food and Drugs Administration and Control (NAFDAC) as co-defendants.

Reacting to the ruling, NBMA Director General Dr. Rufus Ebegba said that the victory was well-deserved, as it was a test for proper regulation of modern biotechnology in Nigeria. Dr. Ebegba said, "The judgment proves that our judiciary system is a beacon of hope." He said that NBMA remains an unbiased umpire in the regulation of genetically modified organisms (GMOs) and assured Nigerians that the safety of their health and environment will continually be the number one responsibility of the Agency.

In July 2018, the country's National Committee on Naming, Registration and Release of Crop Materials officially approved and registered two Bt cotton varieties – MRC 7377 BGII and MRC 7361 BGII. The FHC verdict now means all is set for farmers to access biotech cotton seeds.

For more information, contact Rufus Ebegba at rebegba@gmail.com, or read more on the NBMA Website.



Americas
RESEARCHERS USE WHEAT'S BACTERIAL PARTNERS TO FIGHT A PATHOGEN



Fusarium head blight is a devastating fungal disease that affects wheat and barley crops worldwide. The American Phytopathological Society reports that the disease has cost U.S. wheat and barley farmers more than $3 billion since 1990.

Scientists from the U.S. Department of Agriculture - Agricultural Research Service (USDA-ARS), together with land managers and other scientists at research universities, are taking different approaches to solve this problem. Scientists have taken an interest in using beneficial species from wheat's microbiome to help the plant's immune system fight off enemies.

Graduate student Briana Whitaker and USDA-ARS microbiologist Matt G. Bakker have identified beneficial bacteria from the wheat microbiome and are pitting these against the Fusarium head blight fungus. The research is still in the early stages, but the research group is comparing the interactions of the two microbial adversaries under laboratory conditions and also within the plant.

For more details, read the USDA media release.



Asia and the Pacific
SCIENTISTS IDENTIFY ENZYME THAT COULD ACCELERATE BIOFUEL PRODUCTION



Researchers at the Tokyo Institute of Technology (Tokyo Tech) have identified an enzyme from the glycerol-3-phosphate acyltransferase (GPAT) family as a promising target for increasing biofuel production from the red alga Cyanidioschyzon merolae.

Algae store large amounts of oils called triacylglycerols (TAGs) under adverse conditions. This mechanism has caught the interest of the biotechnology sector as TAGs can be converted to biodiesel. A study led by Sousuke Imamura at Tokyo Tech's Laboratory for Chemistry and Life Science has shown that the enzyme GPAT1 plays an important role in TAG accumulation in C. merolae even under normal growth conditions. The research team found that TAG production could be increased by more 56 times in a C. merolae strain overexpressing GPAT1, without any negative effects on algal growth.

More details are available in Tokyo Tech News.


CSIRO WORKS ON NEXT GENERATION SYNTHETIC-LIKE COTTON



Scientists from Australia's Commonwealth Scientific and Industrial Research Organisation (CSIRO) are now working on a next generation cotton that will have the properties of synthetics, such as being stretchy, non-creasing, and even waterproof while retaining its natural fiber feel.

Synthetics such as polyester and nylon let off thousands of tiny non-biodegrable microfibers during washing, entering waterways. Cotton sheds fibers during washing, but these fibers are biodegradable and break down naturally.

"If we can produce next generation cotton, then we can take a large market share of the synthetics industry and that's a win not just for Australia's $2.5 billion industry, but also for the environment," Managing Director of Cotton Seed Distributors (CSD) Peter Graham said.

CSIRO and partners, including CSD, have been credited for reducing insecticide use in cotton, growing by 85 percent and cutting herbicide use by 60 percent through more than 30 years of improved cotton breeding using GM techniques. Australian cotton is also the most water efficient cotton in the world.

For more details, read the CSIRO news release.


FILIPINO FARMER-LEADERS SHOW SUPPORT FOR BIOTECH CROPS



Filipino farmer-leaders from Mindanao expressed their support for biotech crops, stating that they are waiting for the release of biotech crops in the market. A total of 28 farmer-leaders from six regions in Mindanao signed the Declaration of Support for the Application of Biotechnology in Agriculture after attending a seminar on biotechnology organized by the Asian Farmers Regional Network (Asfarnet) Philippines and the Department of Agriculture Biotech Program Office in Camiguin Island.

During the seminar, the farmer-leaders were equipped with knowledge on traditional and modern applications of biotechnology. Philippine Rice Research Institute (PhilRice) scientist and Golden Rice project leader, Dr. Rey Ordonio, discussed the latest information on the research and development of Golden Rice. According to Dr. Ordonio, the GM crop was developed by experts to help address the vitamin A deficiency problem. He reported that Golden Rice contains a significant amount of beta carotene (vitamin A precursor) and provides 30 percent to 50 percent of the estimated average requirement for vitamin A.

Read more from Business Mirror.


BIOTECH PLAYERS DISCUSS BIODIVERSITY AGREEMENTS AND PROTOCOLS



Some 70 biotech players from 15 countries in Asia convened at Sunway Pyramid Convention Centre in Bandar Sunway, Malaysia for a workshop on Current and Emerging Topics Under the Convention on Biological Diversity (CBD) and its Protocols. This workshop was organized to assist Asian public researchers and other stakeholders in preparing for the UN Biodiversity Conference, which refers to three international negotiations relevant to agri-biotechnology that will be held simultaneously in November 2018 in Sharm-el Sheikh, Egypt.

This workshop was a joint effort of ISAAA, Global Asia in the 21st Century (GA21) platform of Monash University Malaysia, the Malaysian Biotechnology Information Centre (MABIC), and Public Research and Regulation Initiative (PRRI), with the support of other international partners, held from August 14-16, 2018 and attended by biotechnology scientists, farmer leader, regulators, science communicators, journalists, and representatives from public and private sectors.

Prof. Piet van der Meer, a biologist and lawyer from Ghent University, led the discussions on the international agreements, as well as key topics such as national regulatory systems for biosafety, socio-economic considerations, synthetic biology, gene drives, risk assessment, and unintended trans-boundary movements. The resource persons for the workshop were Dr. Lucia de Souza from PRRI, Dr. Ranjini Warrier, former adviser of Ministry of Environment, Forests and Climate Change of India, Prof. Kazuo Watanabe from Tsukuba University, Japan, Dr. Samantha O'loughlin from Target Malaria and Prof. Selim Cetiner from Sabanci University in Turkey. Dr. Craig Cormick from Australian National University, and Dr. Mahaletchumy Arujanan, Executive Director of MABIC led the session on communicating agri-biotech and biotech regulations.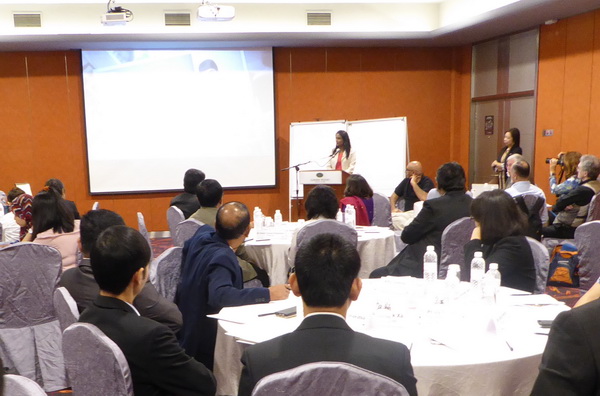 Fore more details, contact maha@bic.org.my.



Research
SCIENTISTS DETERMINE THE GENOMIC PREDICTABILITY OF 25 AGRONOMIC AND QUALITY TRAITS IN ALFALFA



Alfalfa is an important legume in the forage industry. Important traits related to biomass yield and good nutritional quality have been successfully improved through phenotypic selection, but genetic gain has not been achieved due to low trait heritability, genetic complexity, and high environmental influence. Thus, scientists reports on the utility of genomic prediction (GP) using genotyping-by-sequencing data to determine the predictive ability of 25 alfalfa traits related to biomass and nutrition.

The scientists used three regression methods in the GP, including BayesA, BayesB, and BayesC. Traits with moderate to high prediction accuracies are deemed useful in future breeding programs. These traits include mineral element Ca, NDF digestibility, mineral element Mg, plant height in fall, flowering date, plant regrowth, leaf to stem ratio, plant branch, and biomass yield.

Other traits with low prediction accuracies are said to be improved using a bigger reference population, higher SNP marker density, and more powerful statistical tools.

For more information, read the article in Frontiers in Plant Science.



New Breeding Technologies
SCIENTISTS UPDATE ON CRISPR UTILITY FOR CROP IMPROVEMENT



CRISPR is a second-generation genome-editing tool that proved to have advantages over first-generation tools such as zinc finger nucleases (ZFNs) and transcription activator-like effector nucleases (TALENs). After five years since the technology was discovered, scientists from India review the progress of using CRISPR for crop improvement.

The paper tackles the reasons behind the time- and cost-effectivity of CRISPR compared with other genome-editing tools. The review also touched on the improvements made in the Cas9 enzyme to improve its specificity and reduce off-target cleavage. They also mentioned the discovery of CRISPR-Cpf1 and described Addgene, which is the global repository for plasmids that researchers can use to target specific genes of interest.

The progress in using CRISPR to improve important traits in crops such as rice, wheat, maize, arabidopsis, cotton, soybean, tomato, potato, citrus, and grape was also discussed. It was concluded that CRISPR-edited crops has the potential to pave the way to better food security.

For more information, read the review in Frontiers in Plant Science.


CRISPR-CAS9 USED TO KNOCKOUT GENES FOR POLLEN TUBE GROWTH



Pollen tube growth, which is important in species-specific barrier mechanism, is once thought to be promoted by sugars. This belief is disproved by a study by Ruth Stadler and colleagues from the University of Erlagen in Germany.

The team finds the inhibitory effect of glucose on pollen tube elongation through in vitro assays of plants with CRISPR-Cas9-knocked out SUGAR TRANSPORT PROTEIN (STP) genes. These plants had a weak response to glucose, indicating that glucose uptake is mainly mediated by these knocked out genes. They also reported that glucose can be detected by HEXOKINASE, and its effect can be countered by supplying the plant with equal amounts of fructose.

For more information, read the article in The Plant Cell.


CRISPR-CPF1 USED IN TARGETED GENE REPLACEMENT IN RICE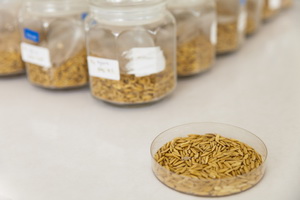 CRISPR-Cpf1 is an alternative to CRISPR-Cas9, as it targets sequences that are inaccessible to Cas9 due to different recognizable sequence requirement. Both systems are usually used to produce mutations on a target site in the genome to enable the disruption of the gene of interest. A more limitedly used function of these systems is the homology-directed repair (HDR) of a DNA sequence of interest. In HDR, a specific allele is replaced or introduced to the genome.

In the study, scientist Lanqin Xia from the Chinese Academy of Agricultural Sciences and colleagues, replaced the wild-type ALS gene with a mutated version, which confers herbicide resistance, in rice using the CRISPR-Cpf1 system. They observed that using the left homologous arm as the only donor repair template is enough for a precise targeted allele replacement. The study allows a better understanding on and greatly simplified HDR in rice.

For more information, read the article in Journal of Experimental Botany.



Beyond Crop Biotech
GENE EDITING TECHNIQUE USED TO DEVELOP SPIDER SILK-PRODUCING SILKWORM



Scientists from Chinese Academy of Sciences and other institutions used gene editing to manipulate silkworms to make spider silk, one of the best silk fibers, with remarkable strength and extensibility. The results are published in the Proceedings of the National Academy of Sciences of the USA (PNAS).

Spider silk has several applications, including creation of micro-capsules for cancer drugs delivery, damaged nerve repair, and additional strength for bulletproof vests. Thus, the researchers sought ways to produce spider silk for commercial use by applying transcription activator-like effector nucleases (TALENs). The technique used "molecular scissors" to substitute a portion of the silkworm genome with a fragment coming from a golden orb-web spider to develop silkworms that produce spider silk. The silk fiber from the GE silkworm exhibits improved extensibility.

Read the research article in PNAS.


AFRICAN BIOSAFETY LEADERSHIP SUMMIT TACKLES GENE DRIVE TECHNOLOGY



Deployment of gene drive technology as a complementary tool in the fight against intractable vector-borne diseases such as malaria would have the biggest impact in Africa. This was the key message from the 2nd African Biosafety Leadership Summit held in Nairobi, Kenya, August 17-18, 2018. The event, co-organized alongside the 7th Annual Biosafety Conference of the National Biosafety Authority, brought together 78 participants with expertise in biosciences, animal, health, and environment, as well as heads of biosafety regulatory agencies from 20 countries in sub-Saharan Africa.

Stakeholders shared experiences on existing country laws, practices, and capacities for research and regulation of emerging technologies, specifically gene drives and synthetic biology. A contrast from Living Modified Organisms was highlighted, with propositions made on risk assessment components to be considered on a case-by-case basis. The chair, African High-Level Panel on Emerging Technologies, Prof. Yaye Gassama informed participants that the African Union has identified gene drive technology as a potential new option to augment existing interventions in pursuance of achieving the African Union Agenda 2063. Dr. Willy Tonui, founder member the Association of National Biosafety Agencies in Africa (ANBAA), which co-supported the Summit argued, "Africa can take a leading position in research, development and implementation of these emerging technologies to address critical health, agricultural and environmental challenges currently facing the continent."

The summit also explored opportunities for developing consensus on regulatory and institutional frameworks to govern application of gene drive and synthetic biology, effective communication, and socio-economic implications of the technologies in Africa. Further, the delegation had an opportunity to discuss multilateral negotiations on biosafety issues to be discussed at the upcoming UN Biodiversity Conference in November 2018 in Egypt. ISAAA AfriCenter supported 25 experts and youth from Ethiopia, Egypt, Ghana, Kenya, Nigeria, Rwanda, Senegal, Sudan, and Uganda for the preparatory meeting.

For more information, contact Drs. Margaret Karembu (mkarembu@isaaa.org) and Willy Tonui (wtonui@gmail.com).


INDIA STARTS RESEARCH ON GE MOSQUITOES TO COMBAT DENGUE



The Indian government launched an 18-month experimental project using genetically engineered mosquitoes to prevent the spread of Dengue and other vector-borne diseases. Aedes aegypti mosquitoes will be exposed to Wolbachia bacteria and then released into the wild to spread the bacteria. Infected mosquitoes would have reduced ability to transmit viruses and aid in the decline of Dengue outbreaks.

The project was launched in Paderu, Visakhapatnam, where there are reported cases of Dengue fever every year. The first batch of infected mosquitoes would be ready by August 30, 2018 and by September 20, 2018 there would be 50,000 infected mosquitoes ready for release into the wild.

Read more from BIO SmartBrief.



Announcements
CROP INNOVATIONS AND REGULATIONS CONFERENCE



What: Crop Innovations and Regulations

Where: CCIB, Barcelona, Spain

When: September 4-6, 2018

To register, visit the conference workshop.



Document Reminders
EUROPABIO BROCHURE TACKLES EU PROTEIN GAP, TRADE, AND GMOS



EuropaBio has released the brochure, The EU Protein Gap, Trade and GMOs to inform the current debate with the objective of supporting a rational, coherent and realistic protein strategy.

EuropaBio states that closing the protein gap and growing more protein crops in the EU would take very big efforts over many years. The EU should invest more in research and recognize that discriminating against innovation and technology has actually widened the gap.

Read or download a copy of the brochure from the EuropaBio website.


VIDEO: SAVING THE ORANGE



The American Seed Trade Association (ASTA) and CropLife International have launched the first video in a new series about gene editing in plants.

"Saving the Orange," a four-minute video focuses on the very-real challenge of citrus greening—a devastating disease which has led to a nearly 80 percent decrease in Florida citrus production over the past 12 to 15 years.

The video also profiled Dr. Fred Gmitter, University of Florida Citrus Research and Education Center, who calls citrus greening "the worst possible nightmare imaginable." By using innovative breeding methods like gene editing, Dr. Gmitter and his team are working to improve orange trees, making them more resistant to the disease.

Watch the video on YouTube.





(c) 2019. ISAAA.