News
Global
Adoption of environment and farmer friendly biotech crops around the world has brought tremendous benefits to farmers because of higher yields, reduced production cost, and good quality of the produce. After twelve years of introduction, today's biotech soybean, corn, and canola are generally established and have brought tremendous economic impact globally. To obtain the same benefits, nine organizations of wheat growers in Australia, Canada and the United States have recently issued a joint statement calling for a synchronized introduction of genetically modified (GM) wheat in the market.
Several GM wheat lines have been developed to eliminate the problem of Fusarium which produces the dangerous mycotoxins, that can tolerate drought and heat stress, and with altered seed grain starch composition to reduce the occurrence of intestinal diseases, diabetes and obesity. Although it will take around six to ten years before the GM wheat is commercialized, its realization would give a significant impact to the reduction of hunger and poverty.
See the article in Spanish at http://www.fundacion-antama.org/noticia/trigo-modificado-geneticamente-una-demanda-global
[ Send to a Friend | Rate this Article ]
---
The Consultative Group on International Agricultural Research's (CGIAR) Generation Challenge Program (GCP) has recently launched a five-year, multi-partner project to deploy a web-based Molecular Breeding Platform (MBP) which will be "one-stop-shop for information, analytical tools and related services to design and efficiently conduct molecular-assisted breeding experiments." GCP says that the MBP aims to pull together existing, disparate molecular breeding efforts and provide tools and technical support to enhance plant breeding efficiency in the developing world and beyond. MBP has a budget of USD 21 million, resulting from multilateral funding from various donors, though largely supported by the Bill and Melinda Gates Foundation.
Molecular breeding, which employs molecular markers to select plants with desirable traits, has been widely used by the private sector to increase the efficiency of the breeding process. Scientists from the public sector, particularly in developing countries, however have had limited access to this technology. The new Platform aims to bridge this gap.
David Bergvinson, senior officer at the Bill and Melinda Gates Foundation, notes that the project "is uniquely positioned to promote research collaboration and increase the number of plant varieties available to small farmers in the developing world." MBP will pilot ten pre-existing projects on molecular-assisted breeding covering seven crops across 15 countries in sub-Saharan Africa and South Asia.
For more information, read http://www.generationcp.org/UserFiles2/File/MBP-Project_press-release_Sep-01-09.pdf and http://www.generationcp.org/latestnews.php?i=1579
[ Send to a Friend | Rate this Article ]
---
Monsanto Company obtained a non-exclusive research and commercial license agreement with Cellectis S.A., a biotechnology company in France, for use of its meganuclease technology in plants. Meganucleases, as defined in a Monsanto press release, are "molecular scissors that can be directed to a single site in the genome of a plant cell. This allows a wide range of precise genome modifications, including gene stacking, gene knock-out as well as modulation of gene function to develop new traits."
Robert Fraley, chief technology officer for Monsanto said that "This technology has the potential to accelerate delivery of our ever expanding trait pipeline to farmers in the form of value-added, multi-trait products."
For the full press release view http://monsanto.mediaroom.com/index.php?s=43&item=745
Africa
The livelihood of millions of farmers in Africa is being threatened by two fast-spreading diseases that attack banana crops. The diseases also threaten food supplies in countries such as Kenya, Uganda, Rwanda and Tanzania, where banana is a staple food. Scientists from all over the world met last week in Arusha, Tanzania to come up with strategies to control the rapid spread of the diseases.
One disease, caused by the banana bunchy top virus, was found by scientists to have already taken root in 12 countries. The disease was first noted in Malawi in 1994 where it completely wiped out the Mkhotakota Cavendish banana variety. A study conducted by researchers at the Nigeria-based International Institute for Tropical Agriculture (IITA) found the disease to be well established in Gabon, Democratic Republic of Congo (DRC), Congo Brazzaville, and Northern Angola. Farmers in these countries are well acquainted with the disease, likening it to AIDS, and calling it "witches broom."
The other, caused by the bacterium Xanthomonas, is wreaking havoc in Uganda and DRC. It has also been found in neighboring Kenya, Tanzania and Rwanda. Banana plants infected with the bacterium exhibit a variety of symptoms, including leaf yellowing and wilting, and premature fruit ripening, rotting and subsequently plant death. Jerome Kubiriba, an expert from Uganda's National Agricultural Research Organization, said that Uganda, the number one producer and consumer of bananas, loses up to USD 200 million every year to Xanthomonas wilt.
Patrick Mobambo, a scientist from Bioversity International, said that the two diseases have caused losses of up to 90 per cent in some of the areas under attack, "increasing the poverty levels of a people recovering from the effects of many years of war." He also pointed out that in some villages, the diseases have forced people to switch to cassava.
The original article is available at http://www.iita.org/cms/details/news_feature_details.aspx?articleid=2735&zoneid=342
[ Send to a Friend | Rate this Article ]
---
Data from the UN Food and Agriculture Organization (FAO) show that there was an 18 percent increase in rice production in 2008 in Africa, compared to 2007 production levels. The African Rice Center (WARDA) says that increase was brought about by WARDA member countries' adoption of key policy measures which were recommended by the Center in 2007.
Burkina Faso, one of the countries hardest hit by the food riots in 2007, increased its rice production by 241 percent in 2008. FAO attributes this increase to government support to farmers that ensured access to high quality certified rice seed, including rice varieties developed by the Africa Rice Center, and other basic farm inputs. Other African rice-producing countries that have recorded double-digit increases in rice production include Senegal (90 percent), Mali, Benin, Nigeria and Ghana.
Papa Abdoulaye Seck, WARDA director general, noted that "Rather than being a threat, the increasing rice price is a unique historical opportunity and incentive to use Africa's latent potential for rice production and break away from decades of policy bias against agriculture which accounts for 35 percent of sub-Saharan Africa's GDP and 75 percent of the continent's employment." Many African governments prioritized agriculture, in particular the local rice production, as a response to the rice crisis in 2007.
Read the press release at http://www.warda.cgiar.org/warda/newsrel-precom-sep09.asp
[ Send to a Friend | Rate this Article ]
---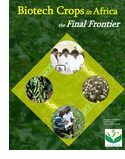 The International Service for the Acquisition of Agri-biotech Applications (ISAAA) AfriCenter based in Nairobi, Kenya has just released Biotech Crops in Africa -The Final Frontier. The booklet captures some key developments in agricultural biotechnology in Africa. Contrary to the strongly held belief that the continent is not ready to embrace new technologies, much has been accomplished in agricultural biotechnology. The document narrates notable scientific breakthroughs, political support, policy formulation, capacity building and awareness creation on agricultural biotechnology in the continent. It highlights activities in three African countries (South Africa, Burkina Faso and Egypt) that have commercialized biotech crops and are now experiencing socio economic benefits as well as improved environmental conservation.
Download a copy of the booklet at http://www.isaaa.org/resources/publications/biotech_crops_in_africa/download/
Americas
After a thorough review of scientific information, public comments, and an environmental assessment, the U.S. Department of Agriculture's Animal and Plant Health Inspection Service (APHIS) said that it will deregulate the genetically engineered (GE) papaya designated as event X17-2. The papaya and its progeny can now be moved freely and planted without regulatory oversight by APHIS.
The University of Florida submitted a petition to APHIS to deregulate the GE papaya, which is genetically engineered to be resistant to papaya ringspot virus.
View http://www.aphis.usda.gov/biotechnology/fr_notices.shtml for additional information.
[ Send to a Friend | Rate this Article ]
---
The U.S. Department of Agriculture's Animal and Plant Health Inspection Service (APHIS) is seeking public comment on a petition submitted by Pioneer Hi-Bred International to deregulate a genetically modified soybean variety that contains higher levels of oleic acid, a monounsaturated omega-9 fatty acid commonly found in olive oil. APHIS has regulated the soybean through its notification and permitting process since 2002.
If APHIS grants the petition for deregulation, the GM soybean and its progeny can be planted freely without the requirement of permits. APHIS said that scientific evidence indicates that there are unlikely to be any environmental, human health or food safety concerns associated with the GM soybean. Pioneer has also submitted documents to the US Food and Drug Administration (FDA). FDA concluded its review and had no further questions regarding the safety of the GM soybean.
For more information, read http://www.aphis.usda.gov/newsroom/content/2009/09/gesoybea.shtml
[ Send to a Friend | Rate this Article ]
---
The fragrant Indian Basmati rice and the Thai Jasmine rice are two of the most expensive and popular rice varieties in the world. A study published in the Proceedings of the National Academy of Science reports that the fragrance is due to the mutation of the gene called BADH2. The study reports eight novel mutations in the gene which are all associated with fragrance in Japonica (Basmati) and in Indica variety (Jasmine).

Further genetic analysis also revealed that the major fragrance allele originated in a Japonica-ancestor of Basmati rice which was later transferred to Indica varieties. The study authored by Susan McCouch and student Michael Kovach also confirmed two important findings: that Basmati rice is a true Japonica rice, and that the fragrance gene originated from Basmati and not from the Thai Jasmine rice.

For details, see the article at http://www.news.cornell.edu/stories/Sept09/RiceFragrance.html
[ Send to a Friend | Rate this Article ]
---
Camelina is an oilseed crop that can be used as a feedstock for biodiesel. It grows well on marginal land and uses little water and fertilizer. Recently, Camelina has been modified to resist Group 2 herbicides that include imidazolinones, sulfonylamino-carbonyltriazolinones, sulfonylureas, triazolpyramidines and triazolones. Agragen, a leader in using biotechnology to modify Camelina, introduced specific genetic modifications that increased the plant's tolerance to the Group 2 herbicides by more than 300-fold in laboratory testing.
The plant's improved trait will allow the use of areas where residual Group 2 herbicides in the soil limit farmer's cropping options. Sam Huttenbauer, CEO of Great Plains and partner of Agragen said "We see the importance of expanding the capacity of Camelina to tolerate Group 2 herbicides. This new development will make Camelina an ideal rotation crop in these areas".
Visit https://www.camelinacompany.com/Marketing/PressRelease.aspx?Id=26 for more information.
[ Send to a Friend | Rate this Article ]
---
DuPont's herbicide tolerance trait (HT) Optimum GAT has received full approval from the Canadian government for use in corn and soybean for both food and feed. Optimum GAT seeds are resistant to both glyphosate, marketed by Monsanto Co. as Roundup, and ALS (acetolactate synthase) inhibiting herbicides. DuPont said in a press release that the trait is its first product using the gene shuffling technology and the company's first proprietary genetically engineered trait.
"The Canadian regulatory approval of the Optimum GAT trait in corn and soybeans brings Pioneer closer to offering more technologies to farmers' fields," said DuPont vice president Paul E. Schickler. The company has received US approval for the use of the trait in soybean last July and expects approval for Optimum GAT corn seeds in the coming months. DuPont is planning demonstration plots in 2009 and 2010 and will introduce commercial soybean varieties with the trait in the US in 2011.
Read the press release at http://onlinepressroom.net/DuPont/NewsReleases/
[ Send to a Friend | Rate this Article ]
---
Corn germ is often fed to poultry and other livestock animals after oil is extracted from it. A scientist from the Department of Agriculture Agricultural Research Service has found another use – that of a protein extender for plywood glues. This is good news because the conventional extender is industrial grade wheat flour which either is more expensive or experiences a supply problem. Chemist Milagros Hojilla-Evangelista found out that the bonding strength, viscosity and mixing properties of the corn-germ-based glue was similar to that of the wheat-flour-based formula.
View this report at http://www.ars.usda.gov/is/pr
Asia and the Pacific
Experts from Vietnam's government ministries met last week to discuss issues pertaining to genetically modified organisms (GMOs). Nguyen Xuan Cuong, deputy minister of the Ministry of Natural Resources and Environment (MoNRE), said in the meeting that "in order to develop and apply GMOs into agricultural production in a sustainable way, it is necessary to set up and implement effective biotechnology regulations and safety management mechanisms for GMOs and foods derived from recombinant DNA."
According to Le Thanh Binh, deputy head of MoNRE's Biodiversity Preservation Department, the ministry has prepared a draft biosafety decree which it will submit to the government next month. According to the proposed decree, GMOs being considered for use in food or other products would have to undergo safety assessments by the Ministry of Agriculture and Rural Development (MARD), and the Ministry of Health (MoH). MoNRE will be responsible in issuing approval for the release of GMOs in the environment while MoH will take the lead in granting approval for GMOs that will be used for food. The draft decree also states that products containing more than 5 percent of GMOs will have to be labeled.
The article published by MARD noted that "GM crops are expected to make up to 50 per cent of Vietnam's total agricultural output by 2020."
Read the original article at http://xttmnew.agroviet.gov.vn/TestE/load/tn-spec-nodate-detailTP.asp?tn=tn&id=264083
[ Send to a Friend | Rate this Article ]
---
The Indian Council of Agricultural Research (ICAR) has been working on an ambitious "Seed Production in Agricultural Crops" project to create awareness on the importance of quality seeds among farmers. The project aims to quantum jump quality production of seeds of improved varieties with superior genetics and to motivate farmers to substitute age-old farm-saved seeds. The Planning Commission of India has sanctioned Indian Rupee 2622 million for the seed project covering field crops, horticulture and fisheries during 2005 to 2009 to enhance quality seed planting material/fish seed production and capacity building of the National Agricultural Research System by providing required infrastructure, equipment and implements.
In the annual review meeting of the seed project held on 24 to 25 August 2009, Prof. Swapan Kumar Datta, Deputy Director General (Crop Science) of the Indian Council of Agricultural Research (ICAR) stressed the importance of educating farmers regarding the significance of quality seeds and the need to replace farm-saved seeds with quality seeds of improved varieties. He enumerated steps taken by ICAR under the seed project that made a significant impact on national seed production in the last three years and suggested strategies to formulate dynamic contingent seed production plan and crop wise monitoring of seed production. "We need to upgrade our production in terms of quality to play an important role in seed trade at national and international levels," said Datta. The seed project involves various agencies at national and state levels including ICAR institutions and project directorates, State Agricultural Universities and cooperating centers across the length and breadth of the country.
For details about the ICAR seed project visit the Indian Council of Agricultural Research (ICAR) website at: http://www.icar.org.in/news/Replace-farm-saved-seeds%20.htm For more information about crop biotech in India contact: b.choudhary@cgiar.org and k.gaur@cgiar.org
[ Send to a Friend | Rate this Article ]
---
In the presence of India's Union Minister of Science and Technology Prithviraj Chavan, the Maharashtra Hybrid Seeds Company Limited (Mahyco) signed a series of biotechnology transfer agreements with Bose Institute, Kolkatta and Assam Agricultural University (AAU), Jorhat on August 28, 2009 at New Delhi, India. These biotechnology transfer agreements deal with the Garlic Lectin gene developed by Bose Institute, Kolkata and a modified Bt gene developed by the Assam Agriculture University (AAU), Jorhat under the aegis of Indo-Swiss Collaboration on Biotechnology (ISCB), a collaborative project between Swiss Agency for Development and Cooperation (SDC) and India's Department of Biotechnology (DBT).
These biotechnology acquisitions will allow Mahyco to develop commercial biotech product such as insect resistant chickpea - one of the most important pulse crops in India. At the same time, the State Agriculture Universities will be able to develop products for resource poor farmers in India. Minister Chavan said that biotechnology applications have already demonstrated their impact in healthcare through the use of new generation vaccines, diagnostics and biological drugs. In case of agriculture, genetically modified crops particularly Bt cotton, biofertilizers, biopesticides and molecular breeding technologies have resulted in crop improvement both in terms of quality and yield of crops.
"The international collaboration and partnerships are essential for updating and advancing the state-of-the-art technologies in India and facilitating adoption of the latest technology complementary to the research and development work with the most advanced countries for mutual benefit", lauded the Minister. He also called upon public sector institutions to emulate this example and gear up to develop technologies for increasing productivity and quality for crops particularly suited for rain-fed situation and drought.
A press release by the Press Information Bureau (PIB), Government of India is available at http://pib.nic.in/release/release.asp?relid=52228 For more information about Mahyco visit http://www.mahyco.com/ and Barwale Foundation at: http://www.barwalefoundation.org/ For more information about crop biotech in India contact b.choudhary@cgiar.org and k.gaur@cgiar.org
[ Send to a Friend | Rate this Article ]
---
Australia's Office of the Gene Technology Regulator is calling for comments on a consultation Risk Assessment and Risk Management Plan for limited and controlled release of sugarcane genetically modified (GM) for herbicide tolerance. The trial will evaluate agronomic properties of the GM sugarcane under field conditions. It will be tested in six stations in four Queensland shires on a maximum area of 26 hectares between November 2009 and November 2015.
For additional information visit http://www.ogtr.gov.au/internet/ogtr/publishing.nsf/Content/dir096
Europe
The federal states of Germany have released the results of the annual screening of food products for the presence of GMO materials. Results suggest that regulations on the labeling of GMOs are largely observed in the country. GMO Compass reports that slight traces of GM soybeans were frequently found by inspectors in products containing soy, whereas those derived from maize were mostly "GMO free." In the state of Baden-Württemberg for instance, 33 percent of soy products inspected (57 of 172) were found to contain traces of GM soy. This is significantly lower compared to last year's 39 percent. The detected values remained below the threshold value (0.9 percent) and often approximated the detection level of 0.1 percent.
Germany's Agriculture Minister Ilse Agner recently introduced a new "GMO-Free" logo that will be used in the country. The minister, earlier this year, banned the cultivation of the insect resistant, genetically modified maize MON810 in the country. The maize is the only GM variety allowed for cultivation in the European Union.
The original story is available at http://www.gmo-compass.org/eng/news/463.docu.html
[ Send to a Friend | Rate this Article ]
---
The Western corn rootworm (Diabrotica virgifera virgifera), one of the most devastating corn pests in the world, is wreaking havoc in Lombardy, Italy's main corn growing region. According to an article published by GMO Safety, the rootworm has already destroyed 30 percent of this year's harvest. From Eastern Europe, where it was first recorded in the 1990s, the rootworm has made its way to Italy, France, UK, Belgium and the Netherlands.
In North America, estimates show that more than 30 million hectares of corn are infested with the rootworm, causing more than USD 1 billion in lost revenue annually.
According to the article, "experts are assuming that the natural spread of the Western corn rootworm can no longer be prevented in Europe, only delayed." Scientists from the continent are working to develop ways of fighting the pest. They are currently looking at a natural predator that can be used to control the pest, albeit the research is still at its early stage. Recently, a team of researchers from University of Neuchâtel in Switzerland developed corn plants that resist the dreaded pest by emitting a volatile chemical that summons insect-killing nematodes, the rootworm's natural enemy. However, the corn variety has been genetically modified. It is no secret that there is a wide public opposition to GM crops in Europe. Authorization for GM corn varieties with Diabrotica resistance has been applied for in the EU, but as yet there is no sign of it being approved.
Read the original article at http://www.gmo-safety.eu/en/news/714.docu.html
[ Send to a Friend | Rate this Article ]
---
NEMO, an acronym for Novel high performance enzymes and microorganisms for conversion of lignocellulosic biomass bioethanol project, has been recently launched by the European Commission (EC). As the name of the project implies, research initiatives will be focused on the generation of new ways of converting agricultural and forestry waste, such as straw and wood chips into liquid biofuels. This biofuel strategy is more acceptable to consumers and environmentalists since the biofuel feedstocks are from non-food sources and emits lesser greenhouse gases.

The four-year project is a partnership of 18 entities including universities, research institutes and companies producing enzymes, ethanol and chemicals from nine European countries (Belgium, Finland, France, Germany, Italy, the Netherlands, Slovenia, Sweden and Switzerland). Professor Merja Penttila of VTT Technical research Center of Finland coordinates the project's activities which is funded by the 'Food, Agriculture and Fisheries, and Biotechnology' theme of the Seventh Framework Program of the EC.

See the article at: http://cordis.europa.eu/fetch?CALLER=EN_NEWS_FP7&ACTION=D&DOC=7&CAT=NEWS&QUERY=01237eb65643:9804:382af0a0&RCN=31177.
[ Send to a Friend | Rate this Article ]
---
While risk assessments should be rigorous, it is vital that regulatory barriers do not unnecessarily restrict or prevent the application of genetic engineering to important crops in developing countries. Efficient regulatory decision-making should make effective use of published information on the biology and ecology of the crop in the country where approval is sought, along with regulatory data produced for GM crops that have received regulatory approvals elsewhere. New data should be collected only if existing data do not corroborate identified risk hypotheses with sufficient certainty.
In " Making effective use of existing data for case-by-case risk assessments of genetically engineered crops", J. Romeis and colleagues of Agroscope Reckenholz-Tanikon Research Station in Switzerland and Syngenta in the United Kingdom, illustrate how such an approach could work using risks to non-target organisms from insect-resistant GM pigeon pea in India as an example.
The article is published in the Journal of Applied Entomology and can be accessed at http://www3.interscience.wiley.com/journal/122406516/abstract.
[ Send to a Friend | Rate this Article ]
---
Bayer Crop Science AG has entered into an exclusive licensing agreement with Canada-based Performance Plants Inc. for the later's Yield Protection Technology (YPT). The YPT technology has been conducted in canola which has been successfully field tested to be highly effective in preserving yields under conditions of drought stress. YPT canola has consistently produced seed yield increases of up to 26 percent in five years of field trials.

The present licensing agreement will cover the development and commercialization of trough tolerant cotton using the YPT Technology. Dr. Linda Trolinder, Global Cotton R&D Manager at BioScience, a business operations unit of Bayer CropScience, welcomes this business relationship with Performance Plants. She anticipates that Performance Plants' innovative YPT will contribute to further strengthen the company's leadership in the global cotton market, especially with regard to ensuring higher yields in difficult climatic conditions. Peter Matthewman, President and Chief Executive Officer of Performance Plants said that, "This agreement is a further validation of the commercial potential of our traits."

For details, see the press release at:
http://www.bayercropscience.com/bcsweb/cropprotection.nsf/id/EN_20090901_2?open&l=EN&ccm=500020.