Africa
The National Biosafety Committee of Uganda has released the approval to Water Efficient Maize for Africa (WEMA) to carry out confined field trial in Kasese District.
"The decision was made and the permit was issued to the project on July 7," said Dr. Yona Baguma, Head of the WEMA Regulatory Team in Uganda. "We are now going to use the permit to pursue for a research permit from the office of the president and then later chase for a seed importation permit from the Ministry of Agriculture, Animal industry and Fisheries," he discussed in the regulatory stakeholders meeting in Kampala on July 30. He also mentioned that the planting of the first trial could be in November with the assumption that they would get the two remaining permits in two months.
Read the complete story at http://allafrica.com/stories/201008040120.html.
[ Send to a Friend | Rate this Article ]
---
"Rice is critical to our country's economy. We have joined AfricaRice Center because we realize that the future of rice production in the continent depends on this partnership," said Madagascar Minister of Agriculture Mamitiana Jaonina to AfricaRice Director General Papa Absoulaye Seck. AfricaRice Center is one of the 15 international centers supported by the Consultative Group on International Agricultural Research.
As the biggest per capita consumer of rice in the world, Madagascar needs to boost production as it imports about 200,000 tons of rice annually. In collaboration with AfricaRice Center, the country has greatly benefited from a Participatory Learning and Action Research for Integrated Crop Management project. Farmers' fields in northern Madagascar have doubled average rice yields.
The Center was created in 1971 by 11 African states as an autonomous intergovernmental research organization. It has a current membership of 24 countries covering West, Central, East and North African regions.
See AfricaRice Center's press release at http://www.africaricecenter.org/warda/newsrel-madagascar-aug10.asp
[ Send to a Friend | Rate this Article ]
---
HarvestPlus is developing new varieties of beans with increased iron content. or 'iron beans'. It is estimated that 56% of preschool children and 33% of women in Rwanda are experiencing anemia, a disease often brought about by deficiency in iron. The 'iron beans' is expected to be released this year. HarvestPlus aims to feed 3.1 million people with biofortified beans after 10 years of release. Rwanda Agricultural Research Institute (ISAR) and the International Center for Tropical Agriculture (CIAT) are two of the other institutions that partnered with HarvestPlus to develop 'iron beans'.
For more information, visit http://www.harvestplus.org/content/beans-better-health.
[ Send to a Friend | Rate this Article ]
---
Banana, an important staple food in Africa is affected by devastating diseases, one of which is the Banana Xanthomonas Wilt (BXW). The disease causes half a billion dollars worth of damage yearly. A major breakthrough towards the possible control of the disease was the development of genetically-modified banana that contains the plant ferredoxin-like amphipathic protein (Pflp) or hypersensitive response-assisting protein (Hrap) from green pepper. The research was conducted by a group of research scientists led by Dr. Leena Tripathi of the International Institute of Tropical Agriculture (IITA) and the National Agricultural Research Organization (NARO) of Uganda in partnership with the African Agricultural Research Foundation (AATF).
"The Hrap and Pflp genes work by rapidly killing the cells that come into contact with the disease-spreading bacteria, essentially blocking it from spreading any further. Hopefully, this will boost the arsenal available to fight BXW and help save millions of farmers' livelihoods in the Great Lakes region," she said. The research is published in the Molecular Plant Pathology Journal and promising resistant lines will soon be evaluated in confined field trials after the recent approval of the Ugandan National Biosafety Committee.
Details of the story can be viewed at http://www.iita.org/news-feature-asset/-/asset_publisher/B3Bm/content/green-pepper-to-the-rescue-of-african-bananas?redirect=%2Fweb%2Fiita%2Fnews
Americas
Monsanto Company announced that they will introduce the aphid tolerant Genuity® Roundup Ready 2 Yield® soybean varieties in 2011. Aphids have been a major pest in soybean fields in Northern United States. The aphid tolerance trait came from the Rag1 gene, discovered by plant breeders at the University of Illinois. This new variety will be released together with Acceleron insecticide/fungicide seed treatment products for complete aphid control.
According to Aaron Robinson, Monsanto soybean traits technical manager, the aphid-tolerant technology could help eradicate the use of insecticide sprays that also target beneficial insects. Another benefit of this technology was stressed by Dr. Shawn Conley, state soybean specialist at the University of Wisconsin. "If you look at the impact that these insects have, true aphid resistance could provide a real economic boon to farmers in helping to reduce their yield loss," he said.
Read the press release at http://monsanto.mediaroom.com/monsanto_introduces_aphid_tolerant_Genuity_RR2Y_soybeans_for_2011 .
[ Send to a Friend | Rate this Article ]
---
Syngenta Seeds, Inc. announced the release of import approval from Japanese and Taiwanese regulatory authorities for its Enogen corn amylase trait (Event 3272). Based on tests, this event exhibit enhanced productivity and sustainability in the production of ethanol from corn. The approval allows importation of grain and co-products such as dry distillers grains (DDG) grown from corn hybrids with the Enogen trait for food and feed use in Japan and Taiwan. The Enogen trait stacked with Agrisure 3000GT has also been approved in Japan.
"As a leader in the development of plant-based solutions, Syngenta is pleased that the Enogen corn trait has been approved by the Japanese and Taiwanese governments," said David Morgan, president of Syngenta Seeds. "We believe our Enogen corn technology will play a vital role in improving ethanol plant productivity and increasing profit potential at a critical time for the ethanol industry."
Aside from Japan and Taiwan, the Enogen trait has already been approved for import into Canada, Australia, New Zealand, Mexico and the Philippines, and the corn hybrids have been approved for cultivation in Canada since 2008.
Read Syngenta's press release at http://www2.syngenta.com/en/media/mediareleases/en_100802.html.
[ Send to a Friend | Rate this Article ]
---
Agronomists from the Montana State University (MSU) Research Centers (RC), together with MSU scientists, are currently working on spring wheat cultivars with resistance to orange wheat blossom midge (OWBM). The 2006 outbreak of OWBM costs wheat producers in Flathead County more than $1.5 million. They were able to harvest only two to three bushels per acre, instead of the expected 80 bushels per acre.
"OWBM is a problem in spring and winter wheat around the world, not just in Flathead County. An OWBM resistant cultivar will benefit many growers," said Bob Stougaard, agronomist from Northwestern RC who discovered that some spring wheat varieties were very susceptible to the pest, while others were less attractive to the adult female midges.
MSU molecular geneticist Jamie Sherman has identified molecular markers to screen and select genetic material carrying the gene for resistance to OWBM.
Read more at http://ag.montana.edu/excellence/aglink/AgLinkSpring2010.pdf
[ Send to a Friend | Rate this Article ]
---
Two lines of soybean resistant to aphids have been developed by a team of scientists led by Dechun Wang of Michigan State University. Wang tested some 2,000 strains of soybeans against aphids to isolate four with different resistant genes. From those, he developed germplasm, or seeds to breed into varieties suited to Michigan's shorter growing season.
"The final goal would be to have one variety that has all those resistant genes," said Wang. This would maximize protection against different biotypes of aphids and perhaps other pests such as Japanese beetle. Soybean aphids are known to cause a sooty black mold on plants and can transmit the virus widely and fast.
According to the Department of Crop and Soil Sciences Chairperson James Kells, most of the major soybean genetics companies have already licensed Wang's germplasm because of the high level of resistance to soybean aphids.
See the orginal article at http://news.msu.edu/story/8137/
[ Send to a Friend | Rate this Article ]
---
The Arabidopsis Information Resource (TAIR), one of the most widely-used public biological databases in the world, and an initiative from the Carnegie Institution's Department of Plant Biology in Stanford, California has been providing high quality data to researchers and improving the accuracy and completeness of the Arabidopsis genome annotation. Accordng to a news release, the database "provides access to data on genes, clones, markers, mutant genes, proteins, publication protocols, DNA and seed stock information and more, and receives over 20 million page views annually from around the world." TAIR also provides researchable materials on the genes and basic biological processes with other species of plants and animals including humans.
The database has been supported by the public and private sector, and two new supporters, Dow Agro Sciences and Syngenta (both private) and the Gregor Mendel Institute, a public research institute affiliated with the Austrian Academy of Sciences have signified their monetary support.
On the contributions, Eva Huala, principal investigator and director of TAIR said that, "These contributions will have a significant impact on our ability to maintain the high quality datasets researchers depend on. Diversifying our sources of funding will make it easier to sustain TAIR over the long term. We're very pleased that there is interest in corporate sponsorship from the private sector and we hope to see more in the coming months."
See the original news at http://www.physorg.com/news200138975.html
[ Send to a Friend | Rate this Article ]
---
The Government of Canada through the Minister of Veteran Affairs and Minister of State Jean-Pierre Blackburn announced the granting of $1.2 million to Phytodata Inc. to develop DNA-based technologies for disease monitoring in vegetables. Minister Blackburn said that "Investments in innovation keep our farmers on the cutting edge of technology. This project will provide our producers with tools to help improve pest and disease management, which will boost their productivity and help them compete in the marketplace."
The funds will be used to develop a DNA-based technology, a highly-reliable method of monitoring major diseases in potatoes, grapes, and greenhouse tomatoes. The technology can also be used to monitor diseases in other vegetables. "Thanks to the funding from Agriculture Canada, Phytodata and its partner, McCain Foods Canada, will develop expertise unmatched in the world in the detection of late blight in potatoes and several other airborne plant diseases," said Luc Brodeur, president of Phytodata Inc.
See the original news article at http://www.agr.gc.ca/cb/index_e.php?s1=n&s2=2010&page=n100803
[ Send to a Friend | Rate this Article ]
---
"Invasive Plant Pest and Disease Awareness Month" is the new program for August by the U.S. Department of Agriculture's Animal and Plant Health Inspection Service (APHIS). This was conceived by the agency in response to the increasing problem on the entry of invasive species and pests to the country that have harmed the economy, the environment and the human health. Scientists estimated that the economic impact from invasive species exceed $1 billion annually in the U.S., in addition to the damage they cause to hundreds of millions of acres of native ecosystems and associated native plants and animals.
The APHIS news release itemized some activities throughout the month across the country according to the theme that would range from "giving presentations to provide information on invasive pests, the damage they cause, and what Americans can do to prevent their entry into the country and to stop their spread upon entry."
In addition, APHIS calls for citizens to be active and play a vital role in protecting US agriculture and the environment from invasive pests. A list of specific actions citizens can take to protect the nation's agricultural and ecological health can be downloaded in the APHIS factsheet "Attack of the Invasive Species" at http://www.aphis.usda.gov/publications/plant_health/content/printable_version/attack_of_the_
invasive_species.pdf
The original news can be viewed at http://www.aphis.usda.gov/newsroom/content/2010/08/invasive_pest_awareness.shtml
[ Send to a Friend | Rate this Article ]
---
Aphids, the sap sucking pest of many agricultural crops may now be controlled effectively through modern biotechnology and the use of its natural predator, the ladybug. Genetically-engineered Arabidopsis thaliana that produce the alarm pheromone beta-farnesene, the compound that warns aphids of existing predators, was developed by Georg Jande, an associate scientist at Cornell and Boyce Thomson Institute. Aphids that feed on these GM plants get used to the pheromone, and after three generations of feeding no longer respond to the compound, thus, they are more exposed and vulnerable to the predators.
The research published in the online edition of PNAS also revealed that GM plant fed aphids did not have any altered gene expression response compared to normal aphids which have been exposed to beta farnesene for 15 minutes. This result indicates that the signaling pathway of the habituated aphids was altered. This basic study could open more possibilities in controlling aphid pests.
Details of the news story can be viewed at http://www.news.cornell.edu/stories/Aug10/AphidsJander.html
[ Send to a Friend | Rate this Article ]
---
Agricultural innovations such as the drought resistance technology are needed to increase productivity and meet the demands of the growing population, announced DuPont Executive Vice President James C. Borel in Woodland, one of two managed stress facilities of DuPont.
"Drought tolerance technologies are part of the next great wave of agricultural innovation that will improve agronomic characteristics of plants so they more efficiently use available resources," said Borel. "They will further empower farmers with better product choices to meet growing demand while reducing their environmental footprint."
Drought is the most harmful among the environmental factors that affect agricultural productivity. In 2009, drought cost farmers $14 billion worldwide. Pioneer has been working on drought-tolerant corn hybrids for over 50 years and is planning to release the first of the next generation of hybrids as early as 2011.
Read the complete news article at http://www.pioneer.com/web/site/portal/menuitem.50ccfe7db37d91e389108910d10093a0/.
Asia and the Pacific
In a bid to commercialize the state-of-the-art PCR based technologies for the detection of various GMO in food crops, the National Bureau of Plant Genetic Resources (NBPGR) has successfully inked a deal with M/s Amar Immunodiagnostics, a Hyderabad based GMO-detection company. A Memorandum of Understanding (MOU) was signed between NBPGR and Amar Immunodiagnostics on May 17, 2010 at New Delhi. This is the first public- private partnership on the GMO detection technologies between NBPGR and Amar Immunodiagnostics. These GMO detection technologies are available for further collaboration and technology transfer to interested parties.
A set of PCR- based GMO detection technologies, kits, bioassay and protocols have been developed in-house by the team led by Dr. Gurinder Jit Randhawa of the National Research Centre on DNA Fingerprinting based at NBPGR under the collaborative projects supported of the Indian Council of Agricultural Research (ICAR) and the Department of Biotechnology (DBT), Government of India. With the commercialization of these easy to use and reliable detection kits, a broad range of stakeholders would be benefited in detecting DNA sequences in GM crops for its effective regulation. The kits will help build the confidence of consumers in the technology for the development of GM crops, assisting in post release monitoring and solving legal disputes if they arise.
Two recent peer-reviewed articles showing proficiency of detection methodology developed by NBPGR which were published in Food Analytical Methods and the Journal of Agricultural and Food Chemistry are available at http://www.springer.com/food+science/journal/12161 and http://pubs.acs.org/journal/jafcau, respectively. For more information on the PCR based GMO detection technology, contact Dr. Gurinder Jit Randhawa at gjr@nbpgr.ernet.in or gurinder.randhawa@rediffmail.com or visit NBPGR at http://www.nbpgr.ernet.in/
[ Send to a Friend | Rate this Article ]
---
India's apex biotech regulatory committee, the Genetic Engineering Approval Committee (GEAC) that functions as a statutory body under the Environment Protection Act 1986 of the Ministry of Environment & Forests (MoEF), has been changed to Genetic Engineering Appraisal Committee. The change was effected through a Gazette Notification issued on July 22, 2010 which is now available on the MoEF's website.
In Feb 2010, the Minister of MoEF announced his intention to change the name of the Genetic Engineering Approval Committee to Genetic Engineering Appraisal Committee while imposing moratorium on Bt brinjal in his decision on commercialization of Bt brinjal on February 9, 2010. Under the EPA 1986 "Rules for Manufacture, Use, Import, Export and Storage of Hazardous Microorganisms/Genetically Engineered Organisms or Cells 1989", GEAC is responsible for granting permits to conduct experimental and large-scale open field trials and also grant approval for commercial release of biotech crops. With the changing name of GEAC to appraisal committee, the mandate and its statutory powers as a scientific body remain uncertain.
MoEF's decision on commercialization of Bt brinjal is available at http://www.moef.nic.in/downloads/public-information/minister_REPORT.pdf Download MoEF's Gazette notification in this regard from http://www.envfor.nic.in/divisions/csurv/geac/613.pdf
[ Send to a Friend | Rate this Article ]
---
The Office of the Gene Technology Regulator (OGTR), Australia announced the application from the Queensland University of Technology for the intentional release of genetically-modified (GM) banana resistant to pathogenic microorganisms such as Fusarium wilt and Sigatoka leaft spot. The trial will be conducted as a proof of concept experiment to assess the disease response and/or developmental effects on the GM banana lines. The proposed trial will be conducted in one site in the Litchfield Municipality LGA (NT) on a maximum area of 1.5 ha between November 2010 and November 2014. A comprehensive Risk Assessment and Risk Management Plan (RARMP) for the application is currently being prepared which will be out by October 2010. All inquiries and comments should be directed to the OGTR.
See the application and the original announcement at http://www.ogtr.gov.au/internet/ogtr/publishing.nsf/Content/dir107-4/$FILE/dir107ebnotific.rtf
[ Send to a Friend | Rate this Article ]
---
Researchers and collaborators of the Fruit and Shoot Borer Resistant (FSBR)/Bt eggplant project, members of Institutional Biosafety Committees (IBC) and regional plant quarantine officers from seven Bt/FSBR eggplant multi-location trial sites in the Philippines underwent a biosafety and biotech communication skills enhancement training on July 27-28, 2010 at Los Baños, Laguna, Philippines. Organized by the Agricultural Biotechnology Support Project (ABSP) II, the International Service for the Acquisition of Agri-biotech Applications (ISAAA), and the Southeast Asian Regional Center for Graduate Study and Research in Agriculture (SEARCA) Biotechnology Information Center, the training was part of a series of capacity building and technology acceptance initiatives related to the Bt/FSBR eggplant product development. The workshop was also supported by the Department of Agriculture Biotech Program Office (DA-BPO) and the United States Agency for International Development (USAID).
A communication workshop module tailored specifically for the project allowed the participants to improve their skills to effectively share information, respond proactively to inquiries, and anticipate public's information needs in relation to issues raised about the Bt eggplant technology. Dr. Anabelle Novero, IBC Chair from University of the Philippines Mindanao shared the difficulty of scientists and academicians to convey science-based information related to Bt technology in layman's perspective. Dr. Eduardo Tulin, IBC Chair from the Visayas State University, expressed the importance of being equipped with factual, science-based information and the necessary communication skills in addressing possible inquiries related to the Bt/FSBR eggplant.
Dr. Desiree M. Hautea, project leader and product development manager from the University of the Philippines Los Banos - Institute of Plant Breeding reported that initial observations from the first multi location trials showed that the Philippines' Bt/FSBR biotech eggplant has high resistance to the pest. The Bt eggplant technology is expected to provide positive impact to the farmers for the control of the pest and could immensely reduce pesticide use.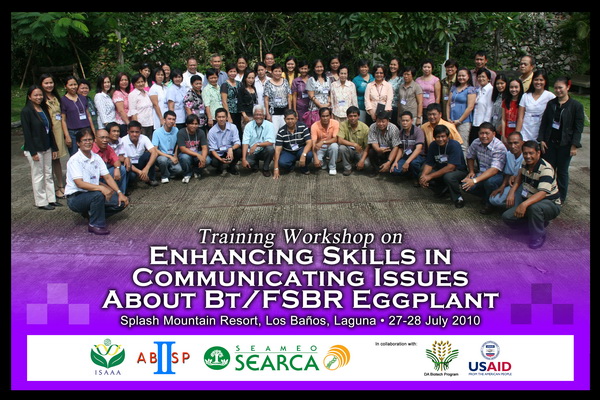 For biotech updates in the Philippines, visit www.bic.searca.org or send an email to bic@agri.searca.org
[ Send to a Friend | Rate this Article ]
---
Monsanto is seeking approval to the Office of Gene Technology, Australia, to conduct a field trial of canola genetically modified for herbicide tolerance. The GM canola proposed for release is similar to the commercially approved Roundup Ready® canola. The trial will be conducted to evaluate the agronomic performance of the herbicide tolerant line under field conditions in two sites in the first year, 8 sites in the second and third years, and up to 20 sites in the fourth year. The identified sites may include 46 possible local government areas in New South Wales, 28 in Victoria and 53 in Western Australia. There will be a maximum of 10 ha and the trial will be conducted for four years from March 2011 to December 2014.
A comprehensive Risk Assessment and Risk Management Plan (RARMP) for the application is currently being prepared and will be released for public comment in October 2010. All inquiries and comments will be received by the OGTR.
To view the original announcement and to access the application dossiers, see http://www.ogtr.gov.au/internet/ogtr/publishing.nsf/Content/dir105-4/$FILE/dir105ebnotific.rtf