News
Global
Crop bioengineering opens the floodgates to opportunities for crop improvement. However its success depends to a large extent on how effectively the global scientific community and the public and the private sectors can harness together its power and other allied fields of genomics and bioinformatics for the world's poor. In Crop bioengineering: Enormous potential for catalyzing international development published in Agriculture for Development, Peter Gregory of Cornell University and Stanley Kowalski of the Franklin Pierce Law Center, USA, say that: "This in turn depends on the extent to which projects are demand-driven and holistic in approach, integrating all technical and non-technical factors relevant to the product development and commercialization/delivery chain." Strong emphasis must be placed on inter-institutional collaboration and focused and sustained capacity building at both human and institutional levels.
Successful distribution of bioengineered crops requires a communication strategy that provides regular and accurate information about them to various stakeholders. Gregory and Kowalski conclude that this will facilitate public acceptance and continued development of bioengineered crops.
For more information contact Peter Gregory at pg46@cornell.edu or Stanley Kowalski at skowalski@piercelaw.edu.
[ Send to a Friend | Rate this Article ]
---
Interim director of Purdue's Climate Change Research Center Noah Diffenbaugh, co-author of a Purdue study, said that "Studies have shown global warming will likely increase the frequency and intensity of heat waves, drought and floods in many areas. It is important to understand which socioeconomic groups and countries could see changes in poverty rates in order to make informed policy decisions." With this as a guide, the team used data from the late 20th century and projections for the late 21st century to develop a framework that examined extreme climate events, comparable effects to grain production and the impact on the number of impoverished people in the 16 developing countries studied.
"Bangladesh, Mexico and Zambia showed the greatest percentage of the population entering poverty in the wake of extreme drought, with an additional 1.4 percent, 1.8 percent and 4.6 percent of their populations being impoverished by future climate extremes, respectively," Thomas Hertel, a co-author of the study said. There will also be large reductions in grains productivity due to extreme climatic events.
This study is an initial quantification of how poverty is tied to climatic fluctuations, and the team is improving the modeling and analysis system to enable more comprehensive assessments of the link between climate volatility and poverty vulnerability.
For more details, see the report at http://news.uns.purdue.edu/x/2009b/090820DiffenbaughHertel.html
[ Send to a Friend | Rate this Article ]
---
A virulent strain of the wheat rust disease is on a global march, leaving a trail of destruction in its wake. Originating in Uganda (hence the name UG99) and having made its way to the Arabic Peninsula, the disease caused by the fungus Puccinia graminis now threatens the wheat mega-producing countries of Central Asia. A new partnership has been formed that aims to develop wheat varieties that can better resist the dreaded fungus. Syngenta AG, the Syngenta Foundation for Sustainable Agriculture (SFSA) and the International Maize and Wheat Improvement Center (CIMMYT) will work together to identify and map genetic markers for use in wheat resistance breeding. The marker data arising from the research will be made available to the public.
SFSA said in a press release that the research collaboration will "combine Syngenta's plant genetic profiling expertise with the strengths of CIMMYT's extensive field research to develop a genetic map of wheat stem rust resistance." SFSA will be funding the project.
CIMMYT Director General Thomas Lumpkin noted that the Center is "very pleased to enter the new partnership." Lumpkin said, wheat yields need to rise 1.6 percent each year to reach required global production levels by 2020, yet investments in wheat technology have lagged far behind those for other cereals.
The press release is available at http://www.syngentafoundation.org/db/1/821.pdf
Africa
In the 2nd World Congress of Agroforestry, Director General Dennis Garrity of ICRAF (World Agroforestry Centre), host of the Congress said that, "Growing the right tree in the right place on farms in sub-Saharan Africa-and worldwide- has the potential to slow climate change, feed more people, and protect the environment. This tree, as a source of free, organic nitrogen, is an example of that. There are many other examples of solutions to African farming that exist here already."
The tree he is referring to is the tall, long-lived acacia tree Faidherbia albida, known for its nitrogen-fixing qualities that could limit the use of fertilizers; provide fodder for livestock, wood for construction and fuel, and medicine through its bark as well as windbreaks and erosion control to farmers across the sub-Saharan Africa. The tree is also widely adapted to a wide array of climates and soils from the deserts to the humid tropics.
With African farms being severely degraded and African farmers applying only 10 percent of soil nutrients used in the rest of the world, planting acacia tree is an important option. The tree goes dormant and shed its nitrogen-rich leaves during the early rainy that coincides with the planting season. Field crops planted around the trees are fertilized during their entire growing season, and leaves and pods provide fodder for livestock in the dry season when the plants have dried up. In many African countries, the tree is a frequent component of farming systems.
Yield increases have been documented in unfertilized millets grown under the tree in West Africa, for sorghum in Ethiopia, other parts of Africa, and in India, in addition to groundnuts and cotton. Often, millet and sorghum exhibit no further response to artificial fertilizers beyond that provided by the tree's leaf fall.
See the report at: http://www.worldagroforestry.org/af/index.php
Americas
Through a $10.2 million loan from the International Fund for Agricultural Development, a program was introduced to distribute and multiply quality seeds of such crops as beans, maize, and sorghum and planting materials for cassava, sweet potato and banana to farmers in Haiti. In addition, 500 tonnes of rice seed will also be distributed.
According to the Food and Agriculture Organization which is implementing the project, the scheme has significantly increased food production, provided cheaper food, and boosted farmers' incomes. Almost 250,000 smallholder and landless farmers are expected to benefit from the program. "We are extremely encouraged by the results we are seeing in this program which, along with favorable weather, has been an important factor in increasing the amount of food available to poor people in Haiti," said FAO Haiti Representative Ari Toubo Ibrahim.
Read the FAO press release at
http://www.fao.org/news/story/en/item/29457/icode/
[ Send to a Friend | Rate this Article ]
---
The newly-bred "CRIL-7" chickpea is hoped to end the fight against the crop-damaging larval stage of the beet armyworm, said a report by the United States Department of Agriculture-Agricultural Research Service. Chickpea provides protein, fiber and other nutrients, and an important crop in semi-arid tropical countries like India. The beet armyworm is a very devastating pest in India which used to be the world leader in chickpea production in 2005.
The team of scientists led by entomologist Stephen Clement selected 42 lines from the seven generation of progenies from the cross between the wild species Cicer reticulatum which has broad insect resistance trait, with the susceptible cultivar FLIP 84-92C. The selected lines were tested in 2006-07 green house trials, and 28 to 62% of the beet armyworms that fed on the leaves died within a few days from hatching from eggs. Worms which survived were shorter and smaller. Agronomic testing will be conducted next before the lines are commercialized.
See the report at http://www.ars.usda.gov/is/pr/2009/090825.htm
[ Send to a Friend | Rate this Article ]
---
The Agricultural Plant Biotechnology Association (Agro-Bio) and the Institute of Biotechnology, National University (IBUN) in Colombia organized a field trip for journalists to visit farmers' fields planted to genetically modified maize in Meta, Colombia. Meta is located east of the Andes mountains. The journalists were able to interact with Sergio Valencia, a farmer who had 20 years experience in planting different crops but was growing GM maize for the first time.
Agro-Bio reports that the journalists were able to appreciate the technology through their interaction with those who are directly benefiting from it. Biotech maize is not approved for commercialization in Colombia. However, in 2008, it planted biotech maize in a "controlled planting program". In May 2009, the Colombian Agricultural Institute approved the semi-commercial planting of Bt-11 maize.
For the full story in Spanish visit http://www.agrobio.org/index.php?option=com_content&task=view&id=7505&Itemid=25
[ Send to a Friend | Rate this Article ]
---
Scientists of the United States Department of Agriculture-Agricultural Research Service headed by geneticist Jay Evans found that the presence of abnormal ribosomal RNA (rRNA) fragments in the guts of honey bees may be the cause of Colony Collapse Disorder (CCD). This disease caused the decline of the honey bee population last year.

Using genome-wide microarray, the scientists found a large amount of abnormal rRNA fragments which indicate that the affected honey bees had reduced ability to synthesize new proteins. According to entomologist Mary Berenbaum, if the bees' ribosomes are compromised, then they can't overcome exposure to pesticides, viral, fungal, bacterial infections or inadequate nutrition because the ribosome is central to the survival of any organism.

Although the study did not establish a direct cause-and-effect link between the abnormal rRNA and CCD, colony surveillance by assays of rRNA and other markers expressed by bees could provide the earliest indication of CCD found so far.
For details, see the report at http://www.ars.usda.gov/is/pr/2009/090824.2.htm
[ Send to a Friend | Rate this Article ]
---
An industry-led group, called the Global Harvest Initiative, announced the launch of a campaign that aims to "heighten awareness of the increasing gap between the world's agricultural production capacity and what will be required to meet the needs of a growing population." Global Harvest Initiative was founded by four U.S. agricultural companies: John Deere, DuPont, Monsanto and Archer Daniels Midland Company. The group will launch the effort in a symposium in Washington DC in the U.S. next month.
"The Global Harvest Initiative is mobilizing a diverse group of thought-leaders to focus on the challenge of doubling agricultural output, and doing so in a sustainable manner," said William G. Lesher, executive director of the Global Harvest Initiative. "Already, efforts are underway to enhance agricultural production, minimize post-harvest losses and introduce efficiencies throughout the value chain. But achieving such a monumental task requires additional attention and support from many."
View the press release at http://news.prnewswire.com/DisplayReleaseContent.aspx?ACCT=104&STORY=/www/story/08-20-2009/0005080808&EDATE For more information on the group, visit http://www.globalharvestinitiative.org/
[ Send to a Friend | Rate this Article ]
---
Comments are still welcome on the draft audit standard developed for the biotechnology quality management system (BQMS) pilot project by the U.S. Department of Agriculture's Animal and Plant Health Inspection Service (APHIS). The BQMS is a voluntary compliance assistance program that aims to help stakeholders manage the regulatory requirements for field trials and interstate movement of certain genetically engineered (GE) organisms.
For more information visit http://www.aphis.usda.gov/biotechnology/news_bqms.shtml.

[ Send to a Friend | Rate this Article ]
---
In a press release, Mycogen Seeds announces 14 new elite MYCOGEN SmartStax hybrids, including 12 grain corn hybrids and two MYCOGEN brand SILAGE-SPECIFIC™ corn hybrids. The hybrids contain the broadest spectrum insect control to date, and would provide growers a yield advantage due to reduced refuge requirement: 5 percent refuge instead of the traditional 20%.

In addition, they have all season built-in protection from both above- and below-ground corn pests, including earworm, fall armyworm, western bean cutworm and rootworm. The multiple modes of action brought by the different insect resistance genes attack pests at two locations in the midgut, making it much more difficult for insects to develop resistance to the technology.

"Growers can maximize profits by planting MYCOGEN SmartStax hybrids. Our lineup offers a wide selection, so growers can find the right hybrids for their unique on-farm situations," says Keith Porter, agronomy services manager, Mycogen Seeds.
For the detailed listing of the hybrids and their specific traits, see the press release at http://www.dowagro.com/mycogen/resource/newsreleases/20090826a.htm
Asia and the Pacific
The Trust for the Advancement of Agricultural Sciences (TAAS), a think tank on advancement of S&T in agriculture in India, has conferred the Dr. M.S. Swaminathan Award for Leadership in Agriculture to Dr. Rattan Lal on August 11, 2009 at New Delhi, India. Dr. Lal is an alumni of the Indian Agricultural Research Institute (IARI) and a world-renowned soil scientist and director of the Carbon Management and Sequestration Center of the Ohio State University, USA.
The MS Swaminathan Award for Leadership in Agriculture was instituted in honor of Dr. M.S. Swaminathan, the architect of the Green Revolution in India and chairman of the National Commission of Farmers. Dr. Swaminathan is currently serving as a Member of Parliament, Rajya Sabha, the Parliament of India. The award recognizes those who have made great impact in the field of agriculture on a global basis, and in food security and sustainability of agriculture in India. Nobel Laureate Dr. Norman E. Borlaug received the first MS Swaminathan award from former President of India, Dr. A.P.J. Abdul Kalam in March 2005. The second and third Award was presented to distinguished scientists and World Food Laureates Dr. G.S. Khush in 2006 and to Dr. S.K. Vasal in 2007.
The guidelines and nomination for the Dr. MS Swaminthan Award for Leadership in Agriculture is available on the website of the Trust for the Advancement of Agricultural Sciences (TAAS) at: www.taas.in.
For more information about Dr. Rattan Lal and his contribution on carbon management and sequestration at the Carbon Management and Sequestration Center (C-MASC) visit http://senr.osu.edu/cmasc/index.html.
For more information about biotech development in India contact: b.choudhary@cgiar.org and k.gaur@cgiar.org
[ Send to a Friend | Rate this Article ]
---
Genetically modified (GM) rice may soon be part of a Chinese meal. "China has worked on research of transgenic rice and is strongly considering its commercialization," says Vice Minister of Agriculture Niu Dun. This was concurred by Cao Mengliang, a researcher on molecular rice at the China National Hybrid Rice R&D Centre, who added that: "Studies of the safety of the technology have been completed. Discussions about whether to open it up to the market are now in the final stages. Now, the safety certificate is the last thing needed before commercialized production."
China Daily reports that the Center for Chinese Agricultural Policy notes that GM rice could lead to an 80 percent cut in pesticide use and that yields could increase by around 6 percent. China currently produces around 500 million tons of rice. With its population expected to grow to 1.6 billion by 2020, 630 million tons of rice will be needed.
The full article is available at http://www.chinadaily.com.cn/china/2009-08/25/content_8611098.htm
[ Send to a Friend | Rate this Article ]
---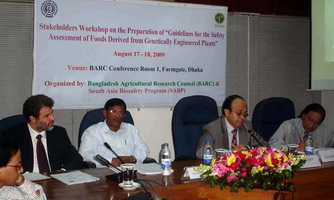 Bangladesh has finalized the GM Food Safety Guidelines in a two-day Stakeholder meeting on the finalization of Guidelines for the safety assessment of foods derived from genetically engineered plants in Bangladesh. Mr. CQK Mustaq Ahmed, Secretary, Ministry of Agriculture and the Chief Guest said that Bangladesh should go for the viable option of Evergreen Revolution through genetic engineering for food and nutritional security in a safe manner. The meeting was jointly organized by Bangladesh Agricultural Research Council (BARC) and South Asia Biosafety Program (SABP). Dr Robert Potter, Senior Associate, AGBIOS Canada and Dr Vibha Ahuja, General Manager, Biotech Consortium of India Ltd explained about the safety assessment of GM foods, Codex Alimentarius and other related principles followed worldwide.
Around 80 participants from universities, relevant government and non-government organizations and people involved in policy-making were present to contribute to the fine tuning of the document. While chairing the inaugural session, Dr Wais Kabir, Executive Chairman of BARC expressed his optimism on the rapid progress and outcome of Bt Brinjal, late blight resistant potato and Golden Rice in Bangladesh for food and nutrition, that conform to the GM Food Safety Guidelines.
For details of the event and information on biotechnology in Bangladesh, contact Prof. K. M. Nasiruddin of Bangladesh Biotechnology Information Center at nasirbiotech@yahoo.com.
[ Send to a Friend | Rate this Article ]
---
Taiwan's Department of Health has cleared Syngenta's four stacked-trait biotech corn products for import into the country. With this recent approval, the DOH has granted permits for 11 stacked-trait biotech corn products in total, including eight events of 2-way stack, two events of 3-way stack and one event of 4-way stack. According to a report by the US Grains Council, the latest approval of stacked events "should undoubtedly help smooth the import process for U.S. corn."
Taiwan imported 423,955 metric tons of corn in July 2009, a 20 percent increase compared to last year.
Read the original article at http://www.grains.org/news-events/1871-approval-of-biotech-events-in-taiwan-creates-opportunity-for-us-corn
[ Send to a Friend | Rate this Article ]
---
Japanese government representatives from the Japan International Research Center for Agricultural Sciences (JIRCAS), Japan International Cooperation Agency (JICA) and Japan Science Technology (JST) are meeting with Embrapa Soja, in Londrina, a unit of the Brazilian Agricultural Research Corporation to discuss the details of a project on the development of soybean cultivars tolerant to drought and high temperatures. The discussion on the five- year research project focuses on the responsibilities for each research activity, the plans on scientific exchange, and the memorandum of agreement to be signed by both parties.

The support by the Japanese government will enable EMBRAPA to improve its laboratory. In addition, EMPRABA Soja researcher Alexandre Nepomuceno said that, "With the resources available in this technical cooperation project, we can expand the conduct of field trials, further studies on biosecurity and also start testing new strategies in genetic engineering to develop commercial soybean cultivars tolerant to environmental stresses such as drought or heat."

See report in Portuguese at http://www.cnpso.embrapa.br/noticia/ver_noticia.php?cod_noticia=572.
Europe
At the Max Planck Institute for Developmental Biology in Tubingen, developmental biologists have discovered that the regulatory mechanism that switches Arabidopsis to flower depends on a group of related regulators, the SPL proteins. Its production on the other hand is triggered with the decrease in concentration of microRNA in the shoot apex of flowering plants. This activation process occurs even in the absence of other regulators that measure daylength or external temperature, which may allow a sufficiently old plant to flower even in an unfavorable environment.

MicroRNAs are very short RNA sequences that function as essential regulators in the proper functioning of genes in plants and animals. By binding to the complementary motifs in a messenger RNA (coding for amino acids), they inhibit its translation to protein and the consequent inactivity of the corresponding gene. As the microRNA concentration is lowered, plants can synthesize the corresponding proteins needed for flowering.

See the report at http://www.mpg.de/english/illustrationsDocumentation/documentation/pressReleases/2009/
pressRelease20090817/index.html.
[ Send to a Friend | Rate this Article ]
---
A field of genetically modified (GM) barley was destroyed by activists last week in Gunnarsholt, Southern Iceland, according to a report by Iceland Review. The field was the property of ORF Genetics, a start-up company that produces pharmaceuticals and medical research products from GM plants. Björn Lárus Örvar, ORF's CEO, told Iceland Review that the activists have caused the company millions in damage. "For a small company like ours, which is struggling in the difficult innovation environment, this is a serious matter." Responsibility for the attack has been claimed by a group of activists which calls itself Illgresi (weed in Icelandic).
Attacks on GM field trials have been common in Europe, particularly in Germany, France and the United Kingdom. Recently, environmental activists ripped up a field of nematode-resistant GM potatoes in Yorkshire, UK. The destruction caused more than USD 40,000 damage and wasted months of research.
The original article is available at http://icelandreview.com/icelandreview/daily_news/?cat_id=16539&ew_0_a_id=338035
[ Send to a Friend | Rate this Article ]
---
Keygene N.V. and Wageningen University and Research Centre (Wageningen UR) signed a licensing agreement that strengthens and expands their research collaboration. The research agreement comprises fungal resistance intellectual property (IP) and technology and continued use of AFLP technology of KeyGene for research purposes. KeyGene will have access to sublicensing and commercial rights to some of Wageningen URs abiotic and biotic stress resistance IPs. With the signing of this licensing agreement, the combined strengths of both parties will be used to introduce novel (a)biotic stress tolerances in commercially important crops.


Raoul Bino, director of Plant Sciences Group, Wageningen UR, added that "Combating plant diseases and finding solutions to enable sustainable and high crop production under adverse conditions, is a challenge and does ask for combined efforts and expertises. This strengthened collaboration between KeyGene and Wageningen UR will certainly provide new opportunities and will also guarantee that our knowledge and expertise will find its way to the plant breeders."
For details, see press release at: http://www.wur.nl/UK/newsagenda/news/keygene210809.htm
[ Send to a Friend | Rate this Article ]
---
The European Molecular Biology Laboratory's European Bioinformatics Institute (EMBL-EBI), based at Hinxton near Cambridge, has received a £10 million (USD14.3 million) grant from the UK's Biotechnology and Biological Sciences Research Council to dramatically increase EBI's data storage and handling capacity. The BBSRC funding is expected to help fuel the success of ELIXIR, a large-scale, EU-funded, data-storage project. The grant adds to the USD 6.3 million that the European Commission awarded to launch the project a year ago and an additional USD 2.5 million that several Swedish funding agencies pledged towards the project earlier this year.
Huge amounts of biological data are being generated daily throughout Europe. In order to use the data efficiently and to accelerate advances, such as the development of new drugs or higher yielding crops, scientists require better ways to deal with the flood of information.
"The UK's decision to invest in ELIXIR is an important milestone in creating the infrastructure for biological information in Europe," said Janet Thornton, EMBL-EBI Director and ELIXIR coordinator. "The EBI will form the hub of a network of ELIXIR nodes that will empower European science at the interface of biology, computing and data management - one of the most vibrant areas of contemporary research."
For more information, read http://www.bbsrc.ac.uk/media/releases/2009/090825_uk_leads_european_research_with_10million_investment.html and http://www.genomeweb.com/informatics/ebi-lands-143m-uks-bbsrc-support-elixir-projects-it-infrastructure