News
Global
PG Economics recently released their 2011 Report on GM Crops: Global Socio-Economic and Environmental Impacts 1996-2009 and is now available at their website. The Report is the latest of the annual update report of global biotech crop impacts authored by Graham Brookes and Peter Barfoot.
"Biotech crop adoption continues to contribute to reducing the release of greenhouse gas emissions from agriculture, decreasing pesticide spraying and significantly boosting farmers' incomes, especially in developing countries" said Graham Brookes, director of PG Economics, co-author of the report. "The technology has also made important contributions to increasing crop yields, reducing risks, improving productivity and raising global production of key crop."
In summary, the key findings are:
Biotech crops have contributed to significantly reducing the release of greenhouse gas emissions from agricultural practices. This results from less fuel use and additional soil carbon storage from reduced tillage with biotech crops. In 2009, this was equivalent to removing 17.7 billion kg of carbon dioxide from the atmosphere or equal to removing 7.8 million cars from the road for one year;
Biotech crops have reduced pesticide spraying (1996-2009) by 393 million kg (-8.7%) and as a result decreased the environmental impact associated with herbicide and insecticide use on the area planted to biotech crops by 17.1%;
Herbicide tolerant biotech crops have facilitated the adoption of no/reduced tillage production systems in many regions, especially South America. This has made important contributions to reducing soil erosion and improving soil moisture levels;
There have been substantial net economic benefits at the farm level amounting to $10.8 billion in 2009 and $64.7 billion for the fourteen year period. The farm income gain in 2009 is equivalent to adding 4.1% to the value of global production of the four main biotech crops of soybeans, corn, canola, and cotton;
The share of the farm income gains, both in 2009 and cumulatively (1996-2009), has been about 50% each for farmers in developing and developed countries;
The cost farmers paid for accessing GM technology in 2009 was equal to 30% of the total technology gains (a total of $15.3 billion inclusive of farm income gains ($10.8 billion) plus cost of the technology payable to the seed supply chain ($4.5 billion);
For farmers in developing countries the total cost of accessing the technology in 2009 was equal to 18% of total technology gains, whilst for farmers in developed countries the cost was 39% of the total technology gains.
Since 1996, biotech traits have added 83.5 million tonnes and 130.5 million tonnes respectively to global production of soybeans and corn. The technology has also contributed an extra 10.5 million tonnes of cotton lint and 5.5 million tonnes of canola;
If GM technology had not been available to the (14 million) farmers using the technology in 2009, maintaining global production levels at the 2009 levels would have required additional plantings of 3.8 million ha of soybeans, 5.6 million ha of corn, 2.6 million ha of cotton and 0.3 million ha of canola. This total area requirement is equivalent to about 7% of the arable land in the US, or 24% of the arable land in Brazil.
The press release and the full report can be downloaded at http://www.pgeconomics.co.uk.
[ Send to a Friend | Rate this Article ]
---
Asia and the Pacific are expected to spearhead the global market for crop biotechnology. Four countries in Asia and the Pacific-Australia, China, India, and the Philippines are mega biotech countries or those that grew 50,000 hectares or more of biotech crops. These countries take the lead in sharing their experiences in communicating biotechnology in a book Communication Challenges and Convergence in Crop Biotechnology edited by Drs. Mariechel J. Navarro and Randy A. Hautea of the International Service for the Acquisition of Agri-biotech Applications (ISAAA). The book was launched at Biopolis, Singapore on April 6, 2011 during a Public Forum on Science Communication.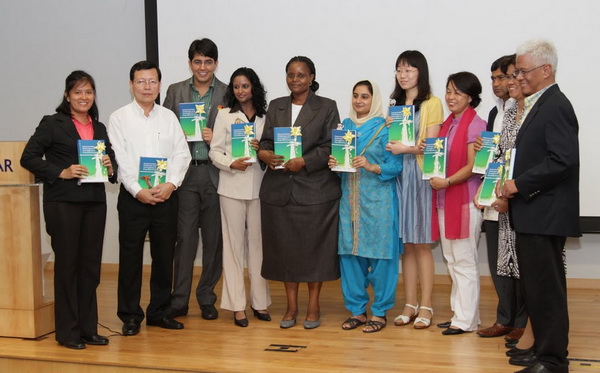 Science communication initiatives of countries such as Philippines, China, Australia,Thailand, India, Malaysia, Bangladesh, and Vietnam as well as the Organization of Islamic Conference countries and CropLife Asia are discussed in the 13 chapter, 310 page book.
The authors say that the book presents case studies that offer unique and rich examples of how countries have been able to guide through the 'drama' of crop biotechnology as they shepherd innovations from the laboratory, greenhouse trials, multi-location trials, and hopefully to farmers' fields. "Each country is making its own contribution, and together they converge to form a consensus on crop biotechnology," they added. Lessons learned from counter experiences will hopefully contribute to a better appreciation and understanding of the crucial role of science communication in the laboratory to farmer's field continuum.
The case studies show that despite diversity in culture, political set-up, economic development, religious beliefs, and language, countries have been able to address specific issues that impede or hasten the development of crop biotechnology. "An appreciation of science communication and appropriate strategies have led to a better understanding of the societal environment where the technology can best thrive," the authors conclude.
For more information about the book, email knowledge.center@isaaa.org.
[ Send to a Friend | Rate this Article ]
---
Golden Rice, a genetically modified rice that contains vitamin A precursor beta carotene, is hoped to be released to the farmers in three to five years in the Philippines and Bangladesh, respectively. This is going to be made possible by collaboration of three rice research institutes (International Rice Research Institute, Philippine Rice Research Institute and Bangladesh Rice Research Institute) and the Hellen Keller International. The Golden Rice is being bred into local high yielding and popular varieties at the research institutes.
Hellen Keller International (HKI) is a leading global health organization that conducts studies related to reduction of blindness and prevention of malnutrition worldwide, and has been designing, implementing, and testing vitamin A delivery programs for more than 20 years.
"The most vulnerable children and women in hard-to-reach areas are often missed by existing interventions that can improve vitamin A status, including vitamin A supplementation, food fortification, dietary diversification, and promotion of optimal breast-feeding," said Ms. Nancy Haselow, HKI vice president and regional director for Asia-Pacific. "We welcome the opportunity to see if Golden Rice is efficacious and can fill the gap in access to adequate vitamin A for all vulnerable groups in a sustainable way," she added.
For the complete news release, see http://irri.org/news-events/media-releases/New-Golden-Rice-partners-join-vitamin-A-deficiency-fight.
Africa
Calestous Juma, director of the Science, Technology and Globalization Project at the John F. Kennedy School of Government at Harvard University, was film-interviewed at the official launch of a Bio-Innovate Program at the International Livestock Research Institute (ILRI), in Nairobi on 16 March 2011. In the interview, Juma, an eminent Kenyan bioscientist, says that biosciences offer many regions in Africa an opportunity to produce surplus food for the first time. 'Without biosciences research within Africa, agriculture will face a difficult future.
The Bio-Innovate Program is important because it will stimulate new industries that are linked to the life sciences. Farmers will not benefit from producing more food unless they can get it to markets to process and sell. 'Rwanda after the genocide, the first thing they did was to modernize agriculture. And Rwanda has started to feed itself,' Juma added.
See the news at http://www.ilri.org/ilrinews/index.php/archives/4872
Americas
The Donald Danforth Plant Science Center has received an $8.3 million grant from the Bill and Melinda Gates Foundation, which will be used to support Phase II of BioCassava Plus (BC Plus). BC Plus is a project developed for the reduction of malnutrition through the improvement of the nutritional value of cassava, a staple crop consumed by over 250 million sub-Saharan African and nearly 700 million people worldwide.
"Beta-carotene, the precursor to vitamin A, and iron are contained in various foods today, but those foods are scarce, unavailable, or too expensive for many people in Nigeria and Kenya," said Dr. Mantin Fregene, project director of BC Plus. "Increasing nutrients in local cassava varieties will make it both accessible and affordable for communities to improve their own nutrition."
The team of researchers who will be continuing the project includes experts from the Donald Danforth Plant Science Center, National Root Crops Research Institute, and Kenya Agricultural Research Institute.
For more information, visit http://www.danforthcenter.org/science/programs/international_programs/bcp/.
[ Send to a Friend | Rate this Article ]
---
Director of the USDA's National Institute for Food and Agriculture (NIFA), Roger Beachy, expressed his strong belief on the power of agricultural technology in attaining food security. In an interview, he said that every country must implement their own strategies for fostering agricultural technology.
"China largely now has multinational seed companies and a burgeoning domestic company—and seed policies that are favorable to both. In India there's a strong sense of local ownership and every new variety of seed that comes in the country then has to work within their system, and I think that makes for healthy competition. Hopefully all the governments of other developing economies will invest more in this terribly important sector of food security and agriculture economy," said Beachy.
Beachy is a famous expert in plant viruses and sowed one of the first genetically modified food crops-GM tomato with resistance to mosaic virus.
Read more about Roger Beachy in the current issue of Scientific American at http://www.scientificamerican.com/article.cfm?id=food-fight.
[ Send to a Friend | Rate this Article ]
---
Iowa State University's Corn and Soybean Initiative has recently launched its newly developed North Central ipmPIPE website. The website accessible at http://www.ncipmpipe.org is an interactive collection of maps and related resources designed to help growers and agribusinesses more easily track and manage crop pests of regional importance, said the news release.

"We built the website to serve as a regional pest management tool that can complement Iowa's local scouting networks," said Daren Mueller, coordinator of the ISU Corn and Soybean Initiative and ISU's Integrated Pest Management (IPM) program. "Because of its collaborative nature, the site has the potential to become a dynamic virtual community."
For more on this news, see http://www.ag.iastate.edu/news/releases/931/.
[ Send to a Friend | Rate this Article ]
---
The US Federal Register is calling for public comment on environmental assessment for the proposed determination of non-regulated status for the genetically modified (GM) rose with altered color. The solicitation is in accordance with the agency's regulation concerning the introduction of certain genetically engineered organisms and products which are likely to pose a plant pest risk.
The full notice can be accessed at http://edocket.access.gpo.gov/2011/pdf/2011-8775.pdf
[ Send to a Friend | Rate this Article ]
---
"USDA and President Obama are committed to producing clean energy right here at home, to not only break our dependence on foreign oil, but also boost rural economies," said Agriculture Secretary Tom Vilsack. "These projects will give us the scientific information needed to support biofuel production and create co-products that will enhance the overall value of a biobased economy. This will propel us to out-educate, out-innovate and out-build in the field of renewable energy and help America win the future."
These words and the announcement on the USDA grants were made by the National Institute of Food and Agriculture Director Roger Beachy during the 16th 1890 biennial Research Symposium in Atlanta, Georgia, on behalf of Secretary Vilsack. The research grant is hoped to spur production of bioenergy and bio-based products that will lead to the development of sustainable regional systems and help create jobs. The funded projects focus on three areas: crop protection for sustainable feedstock production systems, enhanced value co-product development, and carbon sequestration and sustainable bioenergy production.
A full list of awardees can be found online at http://www.nifa.usda.gov/newsroom/news/2011news/sus_bioenergy_awards.html. See the news release for more details at http://www.usda.gov/wps/portal/usda/!ut/p/c4/04_SB8K8xLLM9MSSzPy8xBz9CP0os_gAC9-wMJ8QY0MDpxBDA09nXw9DFxcXQ-cAA_2CbEdFAEUOjoE!/?contentidonly=true&contentid=2011%2F04%2F0161.xml.
[ Send to a Friend | Rate this Article ]
---
Climate change especifically drought and high temperature could affect the chemical composition of drying leaves, said a new report published in the online version of the journal New Phytologist.
"When the leaves are particularly water-stressed by drought or drought with higher temperatures, we see more protective compounds, more tannins and a change in the chemistry of the tannins," said Jeff Dukes an associate professor of forestry and natural resources at Purdue University.
The increase in leaf tannin could cause leaves to decompose more slowly and also interfere with critical soil enzymes, affecting nutrient availability in plants. The chemical composition of the tannins is also different which make it interact more strongly with the soil enzymes. The report also provides additional insights on how climate change may impact food production.
For more on the news, see http://www.purdue.edu/newsroom/research/2011/110405DukesTannins.html.
[ Send to a Friend | Rate this Article ]
---
Wheat rusts have been regarded as the most devastating disease that attack and damage plants and trees that leads to an estimated loss of $200 million a year in cereal crops in Canada. The pathogen is able to move from one country to another and could easily adapt to the efforts made to control them.
Using genomics, University of British Colombia researcher Dr. Richard Hamelin and Dr. Guus Bakkeren of the Agriculture and Agri-Food Canada strive to learn more about the molecular and genetic interactions between rust and their host plants and trees. Different wheat and polar tree varieties will be infected with various rust fungi strains and will use genome sequencing technologies to identify and compare the activated genes. The genes will be used in devising screening tools for the rapid development of resistant trees and crops.
"Since WWII, breeders have been working on rust resistance, but with genomics we can examine all the genetic information of these rust fungi. This speeds up our understanding of how they interact with host resistance genes and how we might be able to fight them off," says Dr. Bakkeren.
For more on this news, see http://www.genomebc.ca/media/news-releases/2011/new-local-research-aims-to-combat-global-fungi-epidemic-that-thr/.
[ Send to a Friend | Rate this Article ]
---
A special edition of M&M'S had Sub1 and SCUBA rice logos printed on the world famous candies. This was initiated by Dr. David Mackill, a former plant breeder at the International Rice Research Institute (IRRI) who discovered the submergence tolerance gene in rice varieties in Orissa and Sri Lanka. The gene encodes tolerance to flood, producing rice grains even after two weeks of submergence in flood. The gene is inserted into the DNA of Indian rice variety Swarna, leading to the formation of transgenic Scuba rice. Mackill now works at Mars Incorporated, the maker of M&M'S.
Read the original story at http://irri.org/news-events/irri-news/transferring-sub1-genes-into-special-edition-mm-s%C2%AE.
Asia and the Pacific
The Bangladesh Rice Research Institute (BRRI) released two new stress-tolerant varieties of rice for cultivation in flood-affected areas. The new varieties BRRI Dhan 51 and BRRI Dhan 52 could produce grain even after two weeks of submergence. According to the officials of BRRI, the new varieties have an average yield of 5.0 tonnes and would be very effective in increasing rice production in Bangladesh.
Executive Director of the Bangladesh Agricultural Research Council (BARC) Wais Kabir said, "We have self-sufficiency in food grains but still we have more chances to greatly increase our food output. The north-western and the southern parts of the country are suffering from drought and salinity respectively; for the stressed condition of these areas the country is being deprived of a large crop output."
"To get significant crop production from these areas we have to adopt modern agricultural technologies and have to introduce stress-tolerant varieties of crops," the BARC chief added.
Read more information at http://irri.org/news-events/irri-bulletin/2011.14?print=1&tmpl=component.
[ Send to a Friend | Rate this Article ]
---
The Ministry of Health of Vietnam was tasked by the government to draft a decree that aims to better regulate genetically modified organisms. The decree would authorize the ministry to grant license on GM products before they can be sold in Vietnam. GM products would only receive licenses if they are shown to have already been commercialized with their safety proven in at least five countries. Imported GM products for food processing would require certificates of free sale and certificates on food hygiene and safety from their country of origin.

"Vietnam has imported genetically modified food during the past few years and the nation has not banned the import of such products," Nguyen Quoc Binh, deputy director of the Ho Chi Minh City Biotechnology Centre, said, adding that GM imports have yet to be regulated so enterprises can distinguish them from non-GM products.
Currently, the Ministry of Agriculture and Rural Development has licensed four scientific agencies and one company to engage in GM tests on better strains of cotton and corn crops in the country.

Details on the news can be seen at http://en.vietnamplus.vn/Home/Genetically-modified-products-regulated/20113/16588.vnplus
[ Send to a Friend | Rate this Article ]
---
Around 100 scientists from several major universities across Asia gathered in Hanoi in March for the Second International Conference on Sustainable Science in Asia (ICSS-Asia 2011). The forum was chaired by the directors of Hanoi's National University and Tokyo University who discussed topics relating to the development of science and creating a safe environment for people to live in.

Also on the agenda were issues on climate change, urban and rural sustainable development, environmental protection and human resources training in science. The event was an opportunity for scientists to share their experiences on sustainable socio-economic development and helped to link training and research establishments and international organizations operating in the communal sustainable development sector.
For more on this news, see http://en.vietnamplus.vn/Home/Hanoi-hosts-science-meeting-with-Asian-theme/20113/16417.vnplus
[ Send to a Friend | Rate this Article ]
---
Vietnam and Cuba plan to further scientific and technological cooperation for mutual advancement in agriculture. Vietnamese Deputy Minister of Science and Technology Nguyen Van Lang, and Head of the Managing Board of Hoa Lac Hi-tech Park visited Cuban Deputy Minister of Science, Technology and Environment Lina Rodriguez in Havana for the series of talks.

The partnership plans to enhance agricultural productivity through the development of science and technology parks, technical cooperation in agricultural research, farming of industrial crops with high economic values, such as cashews, tea, coffee and cacao, and partnership in producing new plant varieties.
See the original news at http://en.vietnamplus.vn/Home/VN-Cuba-enhance-science-agriculture-cooperation/20113/16378.vnplus
Europe
GM-Free Ireland, an association of groups opposed to genetically modified crops has called for a five-year moratorium on GM trials in Ireland. However, scientists at The Irish Agriculture and Food Development Authority (Teagasc) say that GM crops could provide significant benefits to the country.
Ten years ago, there was strong opposition to GM technology in Ireland manifested by the protests against GM sugarbeet trials. But recently, Ireland has imported animal feed from the United States which contains GM varieties approved by the European Union. Irish Farmers' Association President John Bryan said that "many tillage growers would benefit from GM technology once it is approved."
Read the original article at http://www.rte.ie/news/2011/0411/food.html.
[ Send to a Friend | Rate this Article ]
---
Spanish Farmers from the Association Probio demand for continuous planting and availability of genetically-modified maize seeds. The farmers said in a press release that they believe they have the right to plant biotech seeds in the light of the benefits that many farmers are already enjoying in GM-planting countries.
Farmers in Spain are included in the more than 97 percent of farmers who have repeatedly planted transgenic seeds because biotech crops generate higher profits and savings from reduced pesticide applications to control insects. The pest resistant Bt cotton and herbicide tolerant sugar beet are the two other GM crops the farmers would like to plant. These GM crops are already planted worldwide and higher profits are already being enjoyed by competitor countries with less environmental impact.
For details, see the news in Spanish at http://asociacionprobio.files.wordpress.com/2011/04/np-probio-semana-anti-omgs.pdf.
Document Reminders
Sainsbury Laboratory scientist Jonathan D.G. Jones released an article titled "Why genetically modified crops?" at the current issue of Philosophical Transactions of the Royal Society. He discussed widespread misinterpretation on the field of GM plant science and stressed the environmental impact of the technology. He strongly recommended the use of GM technology during this time "when we need every tool in the toolbox to ensure adequate food production in the short, medium and long term."
The abstract of his paper is available at http://rsta.royalsocietypublishing.org/content/369/1942/1807.short.
---
Sharad Tiwari, Director of the Biotechnology Center of J.N. Agricultural University in India, and colleagues, released a minireview on the biotechnological techniques used for sesame (Sesamum indicum L.) and niger (Guizotia abyssinica L.f. Cass.), minor oilseed crops of subtropical countries. It has been reported that the growing area and production of these crops have declined through time and thus the biotechnological approaches discussed are relevant to catch up with the development of other oilseed crops.
Read the full paper published by the Asia Pacific Journal of Molecular Biology and Biotechnology at http://www.msmbb.org.my/apjmbb/html191/191a.pdf.
---
The USDA-FAS GAIN Report on Biotechnology in China is now available at the FAS website. The nine-page Report, authored by Scott Sindelar, Joshua Emmanuel Lagos, and Wu Bugang provides information on crop biotechnology trade and production, animal biotechnology, plant biotechnology policies, plant biotechnology marketing issues and plant biotechnology capacity building and outreach in the country. China is currently the sixth largest producer of biotechnology enhanced plants based on total acreage (3.7 million hectares in 2009) and the government is actively fostering the agriculture biotech industry as a new strategic sector for the country through research, investment, and public policy.
The Report can be viewed and downloaded at http://gain.fas.usda.gov/Recent%20GAIN%20Publications/Biotechnology%20-%20GE%20Plants%20and%20Animals_Beijing_China%20-%20Peoples%20Republic%20of_3-15-2011.pdf.
---
Jeff Dukes of Purdue University and Lewis H. Ziska of USDA co-authored the book Weed Biology and Climate Change. The book provides an overview of climate change and weed biology, and expound on climate's effect on weed growth and reproduction, weed management, invasive species, ecosystem functioning, and food security. There is also a chapter on how to modify existing farm practices to address the changing climate. The book consolidates literature from across the fields of weed biology and climate change and could be used as a textbook or reference for researchers.
See the news release and how to avail the book at http://www.purdue.edu/newsroom/research/2011/110411DukesBook.html.