Tobacco Enzymes Inactivated via Multiplex CRISPR-Cas9 Strategy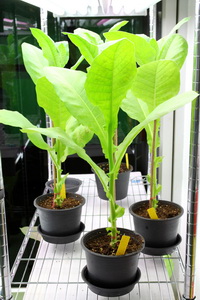 Plants or plant cells can be used to produce pharmacological glycoproteins such as antibodies or vaccines. However, these proteins carry N-glycans with plant-typical residues, which greatly impact the effect or activity of the protein. Two enzymes are responsible for the addition of plant-specific glycans: β(1,2)-xylosyltransferase (XylT) and α(1,3)-fucosyltransferase (FucT).
The Crop Biotech Update is a weekly newsletter of ISAAA, a non-for-profit organization. The CBU is distributed for free to over 23,000 subscribers worldwide to inform them about the key developments in biosciences, especially in agricultural biotechnology. Your support will help us in our mission to feed the world with knowledge. You can help by donating as little as $10.