CROP BIOTECH UPDATE
---------------------------------------------------------------------------
A weekly summary of world developments in agri-biotech for developing countries, produced by the Global Knowledge Center on Crop Biotechnology, International Service for the Acquisition of Agri-biotech Applications SEAsiaCenter (ISAAA)
---------------------------------------------------------------------------
September 13, 2017

In This Week's Issue:

News

Africa
• NAM Adopts Resolution Supporting Biotechnology

Americas
• Scientists Unlock Secrets of Photosynthesis

Asia and the Pacific
• New Oat Variety Developed to Help Reduce Cholesterol
• Sweet Potato Genome Provides Insights on its Revolutionary History
• Vietnam Eyes GM Corn to Help Reduce Corn Imports

Europe
• Glyphosate Has No Endocrine Disrupting Properties, EFSA Peer Review Concludes
• Scientists Decode Finger Millet Genome

Research
• Lysin Motif-Containing Proteins Play Role in Defense against Verticillium dahliae in Cotton
• CAAS Scientists Develop GE Cabbage Resistant to Diamondback Moth

New Breeding Technologies
• Scientists Use CRISPR-Cas9 to Change Morning Glory's Flower Color
• CRISPR-Cas9-Mediated Mutagenesis of SlMAPK3 Reduces Drought Tolerance in Tomato

Beyond Crop Biotech
• Overexpression of HbERF-IXc5 Enhances Abiotic Stress Tolerance and Latex Production in Rubber
• Brazil Releases GM Mosquitoes to Combat Diseases

Document Reminders
• Let the CRISPR Games Begin!



----
NEWS
----

Africa
NAM ADOPTS RESOLUTION SUPPORTING BIOTECHNOLOGY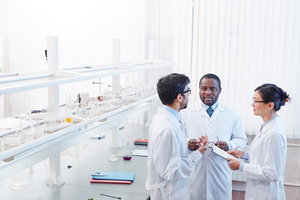 The Non-Aligned Movement scientists acknowledged the importance of biotechnology during the technical meeting on Science and Technology in Zimbabwe on August 22-24, 2017. The meeting focused on its theme "Driving Value Addition and Beneficiation" with participating experts from Cuba, Egypt, Gambia, India, Indonesia, Kenya, Malaysia, Mauritius, Myanmar, Nepal, Nigeria, South Africa, Sri Lanka, Sudan, Tanzania, Togo, Zambia, and Zimbabwe.

Zibabwean biochemist, Prof. Christopher Chetsanga, said in his keynote message that GMOs are safe for human consumption citing the US as an example of a country where biotech products have been consumed for over 20 years.

"Most African countries still fail to take full advantage of biotechnology in agriculture and industry...There are continuing false rumors about GMOs being health hazards to humans. I worked extensively with GMOs when I was working as a professor in the US...There has not been any report of people's health being harmed by these new GMO products," he stressed.

A new resolution on biotechnology was adopted during the meeting. Member states of NAM were encouraged to invest more in scientific research to maximize the potential of biotechnology in driving economic progress.

NAM, with 120 member states to date, was established in 1961 with the goal of representing the political, economic and cultural interests of the developing world.

For more details, read the articles from The Southern Times on the technical meeting and the resolution. Visit the NAM S&T website for more information on their scientific areas of priorities.



Americas
SCIENTISTS UNLOCK SECRETS OF PHOTOSYNTHESIS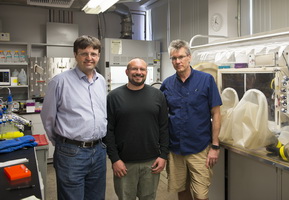 Photosynthesis is one of the most important biological processes in the world. It works by using photosynthetic reaction centers (RC) — specialized membrane proteins — which collect the energy from light and use it to pump electrons across a biological membrane from one cellular electron carrier to another, resulting in the conversion of electromagnetic into chemical energy, which can be used by organisms.

A team of scientists from Arizona State University (ASU) and Pennsylvania State University has taken a step closer to unlocking the secrets of photosynthesis. The research team believes that the first reaction center was simpler than the versions available today. In terms of the protein structure, it was a homodimer — that is, two copies of the same polypeptide came together to form a symmetric structure. The reaction centers whose structures we know are all heterodimers in which this inherent symmetry has been broken, although at their heart they still retain the vestiges of the original symmetric architecture.

The research showed the first homodimeric RC structure and it sheds light in several ways on what the ancestral RC may have looked like. The overall architecture of the protein is very similar to photosystems of plants and cyanobacteria and the RC of the purple sulfur bacteria.

More details are available at ASU Now.



Asia and the Pacific
NEW OAT VARIETY DEVELOPED TO HELP REDUCE CHOLESTEROL



Researchers at the South Australian Research and Development Institute (SARDI) developed a new variety of high yielding oat with increased levels of beta glucan.

The new variety called Kowari is a dwarf-type oat that produces more beta glucan than other varieties. Beta glucans are natural sugars that help decrease blood cholesterol re-absorption. The variety also produces more yield and has better disease resistance compared with other varieties in the market.

Kowari is a product of the National Oat Breeding Program of SARDI. The program has produced most of the oat varieties in the Australian market. Kowari seeds are expected to be available in Australia by next year.

Read the news release from the Primary Industries and Regions of South Australia.


SWEET POTATO GENOME PROVIDES INSIGHTS ON ITS REVOLUTIONARY HISTORY



The seventh most important crop in the world, sweet potato is an important source of calories, proteins, vitamins, and minerals. An international team of researchers from China and Germany has been able to sequence and phase the sweet potato genome, giving insights about the evolutionary history of the sweet potato.

The team found that there are 78,781 gene models from 49,063 gene loci in current assembly. The study also showed that, due to functional redundancy among the six homologous chromosomes in the sweet potato, quite a number of the genes have deleterious mutations in different alleles, such as a high frequency of frameshift events identified in the phased six haplotypes. The result indicated that the natural selection pressure on particular genes in the hexaploid organism is much lower than those in diploid organisms, which also provides the basis for faster genome evolution in the polyploid organisms.

Many gene clusters were found in current genome assembly, implying that pathway regulation via clustered genes is commonly used in the genus Ipomoea. Although all the orthologous genes found are based on protein sequence similarity, their biological functions are not necessarily the same as those reported for similar gene clusters in other species. Nevertheless, the identified gene clusters in sweet potato open up possibilities for investigating metabolic regulatory mechanisms in this plant.

More details are available at the Chinese Academy of Sciences Newsroom.



VIETNAM EYES GM CORN TO HELP REDUCE CORN IMPORTS



Corn is currently one of the ten agricultural commodities that Vietnam imports the most. Without rapidly raising productivity to meet the shortage of corn, it is expected that spending billions of dollars to import corn will continue in the years to come.

According to the Ministry of Agriculture and Rural Development, in the first seven months of 2017, corn imports reached 4.13 million tonnes valued at $825 million, up 9% in volume and up more than 11% in value over the same period in 2016. Argentina and Brazil are the two main corn import markets in the first half of the year accounted for 49.5% and more than 15% of total import value, respectively. In particular, in the first six months of the year, corn imports from Thailand increased sharply both in volume and value compared to the same period last year with increases of 14.9 times and 3.54 times, respectively.

As predicted, Vietnam's demand for animal feed will continue to increase over time, along with the demand for maize, as domestic production only meets less than half of the demand. Some experts estimate that if Vietnam does not quickly solve the shortage of maize, besides the loss of foreign currency, in the long run, Vietnam may still be in the situation. "Even if we have money, it is difficult to buy maize. In case of maize situation, it should promote the development of many forms, especially genetically modified corn. This is how many countries like USA and Argentina did it. These countries not only meet domestic demand, but also export to other countries, including Vietnam. The important solution now is to increase productivity on available acreage to increase yields through the promotion of genetically modified maize. These varieties will minimize yield losses from pests and weeds while reducing input costs as well as negative environmental impacts.

To gradually reduce dependence on imports of maize, Vietnam should focus on the production of new varieties that are high yielding, and resistant to insects and diseases.

For more information, read the Vietnamese news at Haiquan Online.



Europe
GLYPHOSATE HAS NO ENDOCRINE DISRUPTING PROPERTIES, EFSA PEER REVIEW CONCLUDES



The European Food Safety Authority (EFSA) has published a review of the pesticide risk assessment of the potential endocrine disrupting properties of glyphosate.

The current assessment concluded that the weight of evidence indicates that glyphosate does not have endocrine disrupting properties through oestrogen, androgen, thyroid, or steroidogenesis mode of action based on a comprehensive database available in the toxicology area. The available ecotox studies did not contradict this conclusion.

Read the full conclusion in an open access paper published in the EFSA Journal.


SCIENTISTS DECODE FINGER MILLET GENOME



Finger millet is a major staple food in Africa. It is a good source of minerals, vitamins, and essential amino acids, and has resistance to drought and heat.

Finger millet came from the hybridization of two different plant species. A polyploid, the size and complexity of its genome are thought to confer the broad environmental tolerance of finger millet, while making genome research extremely difficult. For the first time, an international team of researchers from the University of Zurich has managed to decode the complex genome of finger millet in great detail. It comprises about 2.6 million base pairs and has more than 62,300 genes – about twice as many as rice.

The researchers found that 57,900 finger millet genes (over 90 percent) occur in more than two copies. As their DNA sequences are very similar, it was difficult to correctly allocate the numerous, decoded DNA sections within the entire genome. The scientists combined a sophisticated bioinformatics strategy that uses state-of-the-art sequencing methods with a new technology that can optically map the long, individual DNA molecules in the genome. "Our newly developed strategy will help sequence the genome of other polyploid cultivated plants that have not been able to be determined until now," said Kentaro Shimizu, professor at the UZH Department of Evolutionary Biology and Environmental Studies.

For more information, read the UZH News.



Research
LYSIN MOTIF-CONTAINING PROTEINS PLAY ROLE IN DEFENSE AGAINST VERTICILLIUM DAHLIAE IN COTTON



Lysin motif (LysM)-containing proteins are important pattern recognition receptors (PRRs) in plants, which function in the perception of microbe-associated molecular patterns (MAMPs) and in the defense against pathogenic attack. To date, the LysM genes have not been fully analyzed in cotton (Gossypium hirsutum) or effectively utilized for disease resistance.

The team of Jun Xu from Nanjing Agricultural University in China identified all LysM genes from four sequenced cotton species. These LysM genes were then classified into four groups with different structural characteristics and a variety of expression patterns in different organs and tissues when induced by chitin or Verticillium dahliae. The team then focused on three genes, Lyp1, Lyk7, and LysMe3, which showed a significant increase in expression in response to chitin signals, V. dahliae presence, and several stress-related signaling compounds.

Lyp1, Lyk7, and LysMe3 proteins were found to be localized to the plasma membrane. Silencing of their expression in cotton drastically impaired salicylic acid, jasmonic acid, and reactive oxygen species generation. The silencing also impaired defense gene activation and compromised resistance to V. dahliae.

These results indicate that Lyp1, Lyk7, and LysMe3 are important PRRs that function in the recognition of chitin signals to activate the downstream defense processes and induce cotton defense against V. dahliae.

For more on this study, read the article in BMC Plant Biology.


CAAS SCIENTISTS DEVELOP GE CABBAGE RESISTANT TO DIAMONDBACK MOTH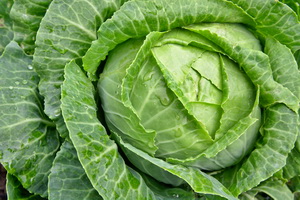 Chinese Academy of Agricultural Sciences researchers successfully incorporated a Bt gene into cabbage plants to improve resistance to destructive pest, diamondback moth (Plutella xylostella). The results of their study are published in Scientia Horticulturae.

The researchers used Agrobacterium tumefaciens-mediated transformation to develop transgenic cabbage plants with Bacillus thuringiensis cry1Ia8 gene. The resulting transgenic plants were able to control both susceptible and Cry1Ac-resistant diamondback moth larvae.Then they analyzed the expression and inheritance of the Bt gene in four single-copy lineages and their sexually derived progenies.

Results of the analyses showed that the transgene was successfully inserted in the genome of cabbage and the inheritance of the gene in the progenies followed the Mendelian segregation pattern. These results imply that the transgenic lines exhibiting stable inheritance can be used as donor in breeding programs for cabbage.

Read the research article for more information.



New Breeding Technologies
SCIENTISTS USE CRISPR-CAS9 TO CHANGE MORNING GLORY'S FLOWER COLOR



Scientists from University of Tsukuba, the National Agriculture and Food Research Organization (NARO), and Yokohama City University in Japan have for the first time altered the flower color of the traditional Japanese garden plant, Japanese morning glory (Ipomoea nil or Pharbitis nil), from violet to white, by disrupting a single gene.

Japanese morning glory, or Asagao, was chosen for the study as it is one of two traditional horticultural model plants in the National BioResource Project in Japan (NBRP). The research team targeted a single gene, dihydroflavonol-4-reductase-B (DFR-B), encoding an anthocyanin biosynthesis enzyme, responsible for the color of the plant's stems, leaves, and flowers.

The CRISPR-Cas9 system was inserted into tissue-cultured embryos of Japanese morning glory plants. The DFR-B enzyme was successfully inactivated, resulting in approximately 75 percent of the transgenic plants with green stems and white flowers. Genetic analyses confirmed that the DNA target sequence had been altered in the transgenic plants, with either DNA insertions or deletions in both copies of the DFR-B gene (so-called bi-allellic mutants). The other related genes, DFR-A and DFR-C, were examined and no mutations were found, confirming the high specificity of the CRISPR-Cas9 system.

For more details, read the University of Tsukuba Research.


CRISPR-CAS9-MEDIATED MUTAGENESIS OF SLMAPK3 REDUCES DROUGHT TOLERANCE IN TOMATO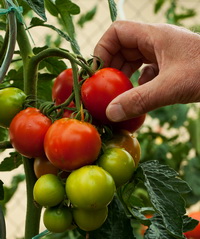 Drought stress is one of the most destructive environmental factors that affect tomato plants. Mitogen-activated protein kinases (MAPKs) are important signaling molecules that respond to drought stress in plants. Liu Wang from the American Chemical Society studied the gene SlMAPK3, which is induced by drought stress. The team also used the CRISPR-Cas9 system to generate loss-of-function slmapk3 mutants.

Two independent T1 lines and wild type tomato plants were used to analyze drought tolerance. Compared with WT plants, slmapk3 mutants exhibited severe wilting, higher hydrogen peroxide content, lower antioxidant enzymes activities, and suffered more membrane damage under drought stress. Furthermore, knockout of SlMAPK3 affected the expressions of drought stress-responsive genes.

These results suggest that SlMAPK3 is involved in drought response in tomato plants by protecting cell membranes from oxidative damage and modulating transcription of stress-related genes.

For more on this study, read the article in Journal of Agricultural and Food Chemistry.



Beyond Crop Biotech
OVEREXPRESSION OF HBERF-IXC5 ENHANCES ABIOTIC STRESS TOLERANCE AND LATEX PRODUCTION IN RUBBER



The ethylene response factor 1 (ERF1) in Arabidopsis coordinates a large number of genes involved in plant defense. Its orthologue in rubber (Hevea brasiliensis), HbERF-IXc5, is assumed to play a major role in laticifer metabolism and tolerance to harvesting stress which directly affects latex production. Retno Lestari of the French Agricultural Research Centre for International Development aimed to study transgenic lines of rubber overexpressing HbERF-IXc5.

Overexpression of HbERF-IXc5 greatly enhanced plant growth and enabled plants to maintain some physiological parameters in response to abiotic stresses such as water deficit, cold, and saline conditions. Analysis also revealed that HbERF-IXc5 has rubber-specific functions as transgenic plants overexpressing HbERF-IXc5 accumulated more starch and had more latex cells.

For more on this study, read the article in Plant Biotechnology Journal.


BRAZIL RELEASES GM MOSQUITOES TO COMBAT DISEASES



A new batch of genetically modified mosquitoes was released in Brazil to combat mosquito-borne diseases such as Dengue, Zika, and Chikungunya.

The GM mosquitoes contain Wolbachia bacterium which interferes with the reproduction of new offsprings, thus eradicating the population and the spread of diseases. According to the head researcher, Luciano Moreira, the effectiveness of the plan will only be evaluated after three to five years. He also called on the residents to help combat the diseases through their own efforts.

"People must be aware that they have to do their part. It's really important. Taking care of their yards, eliminating breeding sites, not leaving containers or vessels with water for mosquitoes to breed," said Moreira.

Around 2 million GM mosquitoes are targeted to be released by the end of 2018.

Read more from Nigeria Circle and Xinhuanet.



Document Reminders
LET THE CRISPR GAMES BEGIN!



A team of researchers from Stanford University School of Medicine has launched a new challenge for players of the computer game Eterna. Players will be asked to design an RNA molecule capable of acting as an on/off switch for the gene-editing tool CRISPR-Cas9.

Anyone can play the Eterna RNA-design game. "All you need is a good internet connection, the interest, and the time," said Howard Chang, MD, PhD, professor of dermatology and director of the Center for Personal Dynamic Regulomes at Stanford. The Eterna game is also meant to get more people interested in science.

For more details about the game, read the Stanford Medicine News Center.





(c) 2018. ISAAA.