CROP BIOTECH UPDATE
---------------------------------------------------------------------------
A weekly summary of world developments in agri-biotech for developing countries, produced by the Global Knowledge Center on Crop Biotechnology, International Service for the Acquisition of Agri-biotech Applications SEAsiaCenter (ISAAA)
---------------------------------------------------------------------------
February 10, 2012

In This Week's Issue:

News

Global
• ISAAA Launches 2011 Global Data on Biotech Crops in the Philippines
• WEF Leaders See Need to View Agriculture as a Holistic System
• Germplasm Resources Information Network Launched
• Policy Actions Recommended to Tackle Food Security in Arab World

Africa
• Tanzania Has 2 New Cassava Varieties Resistant to CBSD and CMD
• Agriculture Minister Says Tanzania Ready for Biotechnology

Americas
• Scripps Research Team Elucidates Structure of UV Protection Molecule in Plants
• ASA Comments on EU Free Trade Agreement

Asia and the Pacific
• Japanese Scientists Sheds Light on Genetics of Rice Metabolism
• NCKU's Research on Heat-tolerant Cauliflower Seedlings Benefits World Food Supply
• ICAR Publishes 6th Revised Edition of Handbook of Agriculture

Europe
• Regulations on GM Field Trials in Europe: A Review
• European Leaders Say Europe Needs Biotech
• UK Scientists Identify Important Gene in Maize Plant
• EC JRC Publishes New Summary Plant Notifcations
• GM Potatoes Producing Biopolymer as a Renewable Resource

Research
• Scientists Analyze Susceptibility of Mediterranean Corn Borer to Cry1F-expressing Maize
• Functional Characterization of GlZEP Promoter in GE Tomato
• Role of Docs1 in Specification of Outer Cell Layers in Rice Roots

Beyond Crop Biotech
• How DNA Finds its Match
• Protein Structures Give Disease Clues
• Gene Therapy Restores Vision in Both Eyes

Document Reminders
• EFSA Report on Risk Assessment of Food and Feed Derived from GM Animals



----
NEWS
----

Global
ISAAA LAUNCHES 2011 GLOBAL DATA ON BIOTECH CROPS IN THE PHILIPPINES


A 94-fold increase from 1.7 million hectares in 1996 to 160 million hectares in 2011 makes biotech crops the fatest adopted crop technology in recent history. A record 16.7 million farmers planted biotech crops, over 90% of whom were from developing countries. These data were highlighted in an international webcast on February 7, 2012 by the International Service for the Acquisition of Agri-biotech Applications' (ISAAA) to launch ISAAA Brief No. 43 on the Global Status of Commercialized Biotech/GM Crops in 2011.
The first in a series of country launches in Asia, Africa, and Latin America was held February 8, 2012 at Hyatt Hotel, Manila, Philippines. Dr. Clive James, founder and chair of ISAAA and author of Brief 43, cited the successful experiences of developing countries such as Brazil with biotech crops. The Philippines also remained a top biotech mega-country planting more than 600,000 hectares of biotech crops in 2011. Members of the local scientific community, local government units, non-government organizations, private sector, farmers, regulators, and media practitioners attended the launch and expressed their appreciation of the continuous increase in biotech crops adoption.
Corroborating the significant benefits of biotech crops in the Philippines was the Provincial Agriculture Officer of Isabela Province Mr. Danilo Tumamao, who showed the development of the corn industry in the province since the commercialization of biotech corn in 2003. Mr. Tumamao also said that the province is looking forward to planting other biotech crops particularly those resilient to climate change such as the drought tolerant rice and corn, submergence tolerant rice, and insect-resistant Bt eggplant.
Agriculture Undersecretary for Policy and Planning Segfredo Serrano also shared experiences from a decade of biotech commercialization in the Philippines. Usec. Serrano said that the very interest of the Department of Agriculture on modern biotechnology stems from the very nature of Philippine agriculture which is archipelagic, lacks vast land areas, and the various environment that needs to be dealt with on the development of a technology. He therefore emphasized the need to "exploit the resources of the mind", the output of which is the technology, and the need for the ability of the farming population or the stakeholders to utilize and benefit from the technology.
Dr. Emil Q. Javier, President of the National Academy of Science and Technology (NAST), reiterated in his welcome message the significant developments of biotechnology in the country through government efforts. "So we look forward to making continuing progress to modernize our agriculture by way of applications of modern biotechnology…and finally having Golden Rice served on our tables; we look forward to Bt eggplant similarly getting to our tables, and of course the ringspot papaya virus resistant papaya," he said. On further developing agricultural biotechnology in the country, Dr. Javier said that one firm step is to dedicate a regulatory unit in the Bureau of Plant Industry, with permanent people, adequate laboratory facilities, and all kinds of support.
In his closing message, Dr. Gil Saguiguit, Jr., Director of Southeast Asian Regional Center for Graduate Study and Research in Agriculture (SEARCA), expressed the Center's commitment in supporting technologies and practices that will enhance food productivity and promote sustainable agriculture. He also emphasized the importance of informing and "enlightening the public on the true picture concerning biotechnology".
The seminar was co-organized with ISAAA by the NAST, Biotech for Life Media and Advocacy Resource Center (BMARC) and SEARCA.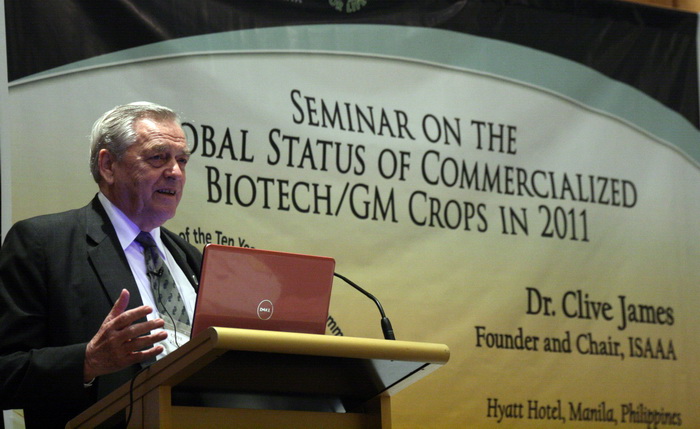 To download Highlights of Brief 43 ad other related materials including videos, visit http://www.isaaa.org. For more details about the Philippine launch visit http://www.bic.searca.org.


WEF LEADERS SEE NEED TO VIEW AGRICULTURE AS A HOLISTIC SYSTEM



Global leaders during the World Economic Forum (WEF) Annual Meeting in Davos, Switzerland realized that agriculture must be seen in a more holistic perspective, alongside other issues such as nutrition, health, natural resources, energy, and climate change.

International Food Policy Research Institute Director General Shenggen Fan who attended the meeting also noted the need for the following concrete actions:
Continue strengthening an integrated approach to agriculture that takes account of smallholder farming, nutrition and health, climate change, and natural resources.
Base the price of natural resources on their full market value by including their social and environmental costs, such as impacts on climate change and health.
Set up a global system to measure, track, and monitor the cross-sectoral impacts among agriculture, food and nutrition security, energy, and natural resources.
Improve skills and knowledge at the country and local level through capacity building efforts.
For more information visit http://www.ifpri.org/blog/integrated-sustainable-and-shared-growth-davos?utm_source=New+At+IFPRI&utm_campaign=22be1f63ec-New_at_IFPRI_Feb_8_2012&utm_medium=email


GERMPLASM RESOURCES INFORMATION NETWORK LAUNCHED



The U.S. Department of Agriculture's (USDA) Agricultural Research Service (ARS), in collaboration with Biodiversity International and the Global Crop Diversty Trust, has launched the Germplasm Resources Information Network-Global (GRIN-Global). It is an Internet-based information management system for the world's plant genebanks.

USDA Chief Scientist Catherine Woteki announced the germplasm network at a White House event on Innovation for Global Development. "Innovation in agriculture is central to global development," Woteki said. "For agricultural genebanks, researchers and producers worldwide, GRIN-Global provides a powerful information tool to safeguard and utilize invaluable crop diversity."

Cary Fowler, Executive Director of the Global Crop Diversity Trust, added that "Plant breeders turn to genebanks for this diversity, whether they are searching for pest resistance or drought tolerance or any other characteristic. How the seeds and the associated information are managed is therefore of huge importance to that breeding effort. USDA's genebank management software is the best in the world, and GRIN-Global now makes this technology available for free to genebanks everywhere. This is real innovation for development."

More information on the network is available at http://www.usda.gov/wps/portal/usda/usdahome?contentid=2012/02/0044.xml&contentidonly=true


POLICY ACTIONS RECOMMENDED TO TACKLE FOOD SECURITY IN ARAB WORLD



The International Food Policy Research Institute (IFPRI) report "Beyond the Arab Awakening: Policies and Investments for Poverty Reduction and Food Security" shows that food security remains a serious challenge. The Arab region is confronted by its dependency on food imports, rising food demand, and limited potential for agricultural growth.

"As food security was one of the triggers of the Arab Awakening, finding policy responses to food insecurity is particularly important for policymakers in Arab countries," said Clemens Breisinger, IFPRI research fellow and lead author of the report. "Given the high levels of growing dissatisfaction of people in the region, urgent actions should be taken."

The report offers three key policy recommendations: 1) improve data and capacity for evidence-based decision making, 2) foster growth that enhances food security, and 3) revisit the allocation and efficiency of public spending.

View the IFPRI press released at http://www.ifpri.org/pressrelease/urgent-policy-actions-needed-tackle-food-and-nutrition-security-arab-world?utm_source=New+At+IFPRI&utm_campaign=22be1f63ec-New_at_IFPRI_Feb_8_2012&utm_medium=email. Download the full report at http://www.ifpri.org/publication/beyond-arab-awakening



Africa
TANZANIA HAS 2 NEW CASSAVA VARIETIES RESISTANT TO CBSD AND CMD



Two devastating diseases of cassava - cassava brown streak (CBSD) and cassava mosaic (CMD) have been fast spreading through East Africa. The good news is that collaborative research and conventional breeding work between Tanzanian Agricultural Research Institutes, International Institute of Tropical Agriculture (IITA), and International Center for Tropical Agriculture have developed two new varieties to address these diseases.

The resistant varieties, dubbed Pwani, Mkumba, Makutupora and Dodoma, are also high yielding. A potential harvest of 23- 51 tons/ha are expected against the current average yield of 10 tons/ha.

Edward Kanju, cassava breeder with IITA-Tanzania, said that the varieties were developed by crossing local varieties with those introduced from Latin America from CIAT in Colombia. "We used local varieties from Tanzania as sources of resistance to CBSD and for local adaptation and those from CIAT as sources of high yield and resistance to CMD and cassava green mites," he said.

The IITA press release is at http://www.iita.org/news-frontpage-feature


AGRICULTURE MINISTER SAYS TANZANIA READY FOR BIOTECHNOLOGY



Minister for Agriculture, Food Security and Cooperatives Prof Jumanne Maghembe told participants at an international conference in Dar es Salaam last February 6, 2012 that Tanzania is ready to accept biotechnology.

"We are at the crossroads, it is important not to close the doors to science. It is becoming increasingly clear that we should not close ourselves to anything. "When weather patterns change and suddenly you have all rains coming in one week, then you need to develop new crops," he said.

The conference on sustainable intensification of cereal-based farming systems in Eastern and Southern Africa was organized by the International Institute of Tropical Agriculture (IITA). It was attended by participants from 18 international research organizations.

Tanzania is currently debating on whether to allow genetically modified organisms in the country with focus on the biosafety regulatory framework.

See http://allafrica.com/stories/201202070750.html for more information.



Americas
SCRIPPS RESEARCH TEAM ELUCIDATES STRUCTURE OF UV PROTECTION MOLECULE IN PLANTS



In 2002, scientists from the Scripps Research Institute discovered that plants have developed "natural sunscreen" controlled by a ultra violet-sensing protein molecule named UVR8. In a follow up study together with scientists at the University of Glasgow, they were able to determine the molecular architecture of UVR8, including the 3D arrangement of its atoms. The researchers produced and purified copies of UVR8 and chemically induce it to crystallize. Then the crystallized molecule was fired with X-rays to analyze its diffracttion pattern. They also confirmed that UVR8 can sense UV-B light on its own by altering amino acids in the molecule.

"Tryptophans in the pyramid structure turned out to be crucial for UV-B detection; in fact, amino-acid substitution of one tryptophan by a phenylalanine shifts the sensitivity of UVR8 to shorter-wavelength UV-C radiation," they reported. The next step of the researchers would be to find out more precisely how the absorption of UV-B causes the disassociation of the UVR8 dimer, and then how the separated subunits interact with other proteins and chromosomes in the nucleus to switch on protective responses in the plant.

For more details about the study, contact mikaono@scripps.edu.


ASA COMMENTS ON EU FREE TRADE AGREEMENT



The American Soybean Association (ASA) submitted formal comments to the US Trade Representative Ron Kirk to move for an improvement of the nation's trade relationship with the European Union.

ASA pointed out that multiple EU policies hinder the importation and use of biotech crops from the United States such as delays in approvals of new biotech traits, despite positive assessments by the European Food Safety Authority; commercially infeasible requirements on biotech content in food products under EU Traceability and Labeling Regulations; state-by-state restrictions on biotech imports; and application of National Seed Catalog and Coexistence requirements to planting of biotech crops by certain EU member states.

The ASA members hope that with this meeting, new partnerships and resolutions will be forged for the benefit of all.

The news release can be viewed at http://www.soygrowers.com/newsroom/releases/2012_releases/r020712b.htm



Asia and the Pacific
JAPANESE SCIENTISTS SHEDS LIGHT ON GENETICS OF RICE METABOLISM



Scientists at the RIKEN Plant Science Center in Japan conducted a large-scale study to analyze the metabolic compounds in rice grains using advanced mass spectroscopy pipelines they have developed. The team was able to identify 131 rice metabolites including amino acids, lipids, and flavonoids. They also found out that the levels of the metabolites are influenced mainly by environmental factors. Their findings could be used to bioengineer rice varieties by selectively increasing the production of specific metabolites, and thus boost the nutritional value of the crop.

Read more details at http://www.riken.jp/engn/r-world/info/release/press/2012/120208_2/index.html.


NCKU'S RESEARCH ON HEAT-TOLERANT CAULIFLOWER SEEDLINGS BENEFITS WORLD FOOD SUPPLY



"Heat stress due to high ambient temperatures is an important agricultural problem in the world. High temperature exposures result in floral abortion on many plant species, including bean, broccoli, cauliflower, cotton, pea, pepper, and tomato," Professor Huang Hao-Jen of life science at National Cheng Kung University (NCKU) noted.

The research team developed and selected a number of genetic markers that would allow the improvement of the brassicas especially cauliflower to be tolerant to temperatures higher than 25°C. "Biotechnology seed industry may have a promising future in Taiwan and the production of seedlings of high economic value crops for export can be the new focus of Taiwan's agriculture," Huang further suggested. Now, cauliflower can be grown all year round with this biotechnology.

View the original article at http://english.web.ncku.edu.tw/bin/home.php


ICAR PUBLISHES 6TH REVISED EDITION OF HANDBOOK OF AGRICULTURE



The Indian Council of Agricultural Research (ICAR) has come out with the latest edition of "Handbook of Agriculture" that presents science-led developments in Indian agriculture, the ongoing research efforts at the national level and the shape of future agriculture. The 6th revised edition will serve as a useful book for stakeholders taking interest in agriculture.

The Handbook of Agriculture is a treasure-trove of valuable agricultural knowledge for a large audience of scientists, policy-planners, researchers, extension-workers, students, progressive farmers and other concerned stakeholders. The latest edition of the handbook encapsulates research information on the present science-led developments in Indian agriculture, on-going research efforts at the national level and ideas on the future needs of agriculture.

For more information visit http://www.icar.org.in/node/847 and for obtaining a copy of the publication email bmicar@icar.org.in



Europe
REGULATIONS ON GM FIELD TRIALS IN EUROPE: A REVIEW



A review article on field trials regulations in Europe was published in Plant Biotechnology journal authored by Sonia Gomez-Galera and colleagues. According to the report, the European Union probably has the most stringent regulations in governing field trials. However, there has never been any negative environmental impact reported from any GM trial carried out in the EU.

Thus, the authors recommend that EU should demonstrate that the risk linked to GM crops has been "reduced to the level where it is regarded as acceptable within the narrowly defined limits of the regulations developed and enforced by national and regional governments, that is, there is no greater risk than growing an equivalent conventional crop." They also stressed that the involvement of national and regional competent authorities in the decision-making process can add multiple layers of bureaucracy to the complicated process of regulation.

Get a copy of the review at http://onlinelibrary.wiley.com/doi/10.1111/j.1467-7652.2012.00681.x/full


EUROPEAN LEADERS SAY EUROPE NEEDS BIOTECH



Europe needs new technologies to respond to food production issues. "Until Europe unlocks the potential of new technologies farmers will be unable to play their part in meeting the challenges facing food production," said Dr. Julian Little, Chair of the Agricultural Biotechnology Council.

Dr Andrea Graham from the National Farmers Union (NFU) added: "Unfortunately, UK farmers continue to be denied the choice of being able to access certain types of biotechnology which are now common place outside Europe. This impacts on their competitiveness in the global market whilst also preventing us from having the opportunity to explore the potential environmental benefits and other positive traits this technology can offer. We urgently need a science-based decision-making process on biotech crops in Europe to allow UK farmers to have access to this technology as part of their toolbox in meeting the challenges of the present and the future."

Check out these views at http://www.abcinformation.org/index.php?page=news#114


UK SCIENTISTS IDENTIFY IMPORTANT GENE IN MAIZE PLANT



Scientists from Oxford University and the University of Warwick (UK), in collaboration with agricultural biotech research company Biogemma-Limagrain, have identified a gene, called Meg 1 in the maize plant. It regulates the transfer of nutrients from the plant to the seed and is responsible for the formation of specialized conduit cells that confer placenta-like properties to the embryo surrounding tissues of plant seeds.

Dr Gutierrez-Marcos of the University of Warwick said: 'These findings have significant implications for global agriculture and food security, as scientists now have the molecular know-how to manipulate this gene by traditional plant breeding or through other methods in order to improve seed traits, such as increased seed biomass yield.

A report of the research, entitled Maternal control of nutrient allocation in plant seeds by genomic imprinting, is published in the journal Current Biology.

Check out the news from Oxford University at http://www.ox.ac.uk/media/news_stories/2012/120113.html


EC JRC PUBLISHES NEW SUMMARY PLANT NOTIFCATIONS



The European Commission's Joint Research Center published 29 new summary notifications for the deliberate release and placing on the European Union market of genetically modified organisms. Spain had the most number of notifications at 23 from KSW SAAT Ag, Monsanto Europe, Syngenta Seeds, Bayer Crop Science, and Public University of Navarre. GM crops include sugarbeet, maize, and cotton.

The Czech Republic had a notification from Agritec Research, Breeding and Services Ltd., to study the transformation of flax aimed at fatty acid desaturate 2 gene inactivation; Hungary through the Central Food Research Institute for environmental risk assessment of GM maize; Sweden through the Swedish University of Agricultural Sciences for research on barley; and Slovakia's Plant Production Research Center Plestany for field trials of Bt maize.

See the details of the notifications at http://gmoinfo.jrc.ec.europa.eu/gmp_browse.aspx


GM POTATOES PRODUCING BIOPOLYMER AS A RENEWABLE RESOURCE



An interview by GMO Safety with Inge Broer of the University of Rostock reveals the results of the biosafety research conducted on potatoes with increased cyanophycin. The potatoes were made to contain the gene from cyanobacteria that allows the production of polyacrylates that are used in concrete or in diapers to absorb moisture, and as a substitute for phosphate in detergents.

The researchers conducted a three-year environmental research assessment of the GM potato and found that, "the potatoes in relation to earthworms, bacteria and fungi behaved similarly as the controls… the rotting rate correlates with the amount of cyanophycin, ie, when the potatoes produce a lot of this biopolymer, they rot faster than if they produce little or nothing of it. These potatoes survive so well in a field less than the non-GM potatoes. The probability that one finds it in the next year as a volunteer is therefore extremely low."

For details, view the video in German at http://www.biosicherheit.de/



Research
SCIENTISTS ANALYZE SUSCEPTIBILITY OF MEDITERRANEAN CORN BORER TO CRY1F-EXPRESSING MAIZE



The Mediterranean corn borer (Sesamia nonagrioides) is one of the most devastating pests of maize in the Mediterranean basin. A research team from Centro de Investigaciones Biológicas, Spain, led by G. P. Farinós analyzed the efficacy of maize hybrids expressing Cry1F toxin in controlling the Mediterranean corn borer. They also analyzed if larvae from different origins would have different responses to the toxin.

Samples of corn borer larvae were fed with Cry1F-expressing maize leaf tissues. Results showed high mortality rate implying that the maize was effective against the pest. Furthermore, percentage mortality of the pests was comparable with mortality of corn borer exposed to Cry1Ab-expressing maize hybrid, which has been known to be effective against the pest. Populations of the corn borers collected from different field locations had minor differences in mortality when exposed to Cry1F-expresing maize.

Read the abstract at http://www.ingentaconnect.com/content/esa/jee/2012/00000105/00000001/art00027.


FUNCTIONAL CHARACTERIZATION OF GLZEP PROMOTER IN GE TOMATO



Carotenoid production in plants is controlled by the spatiotemporal expression profiles of genes that code for enzymes in the carotenogenic pathway. Qingjie Yang of the Northeast Normal University in China and team cloned and characterized the Gentiana lutea zeaxanthin epoxidase (GlZEP) promoter to know its function in the regulation of carotenoid production, because the native gene is highly expressed in petals, which has large amounts of chromoplast. They transformed tomato plants with the gusA gene encoding the reporter enzyme β-glucuronidase (GUS) under the control of the GlZEP promoter, and analyzed the reporter expression profile at the mRNA and protein levels.

Their findings showed that there were high levels of gusA expression and GUS activity in chromoplast-containing flowers and fruits, but low expression in immature fruits with green chloroplasts. It was confirmed that GlZEP-gusA expression is exclusively related to fruit development and chromoplast differentiation. According to the authors, these findings suggest an evolutionarily-conserved link between ZEP and the differentiation of organelles that store carotenoid pigments.

Transgenic Research subscribers can access the research article at http://www.springerlink.com/content/a31431514m048w77/.


ROLE OF DOCS1 IN SPECIFICATION OF OUTER CELL LAYERS IN RICE ROOTS



Outer cell layers of rice roots play a significant role in protecting the plant from different stresses in soil. Molecular mechanisms involved in specification of these cell layers are poorly understood. Chao-Feng Huang from Okayama University in Japan and colleagues reported a gene called defective in outer cell layer specification 1 (Docs1), which has been found to be involved in the specification of outer cell layers in rice roots. They isolated Docs1 through map-based cloning using mutant (c68) defective in outer cell layers in primary roots. The gene also code for a leucine-rich repeat receptor-like kinase (LRR RLK). The mRNA of Docs1 was found to be expressed not only in the roots but also in other plant parts such as the leaf and flower. Immunostaining showed that Docs1 was localized at the epidermis and exodermis, depending on the root region. At the subcellular level, Docs1 was found to be localized in the plasma membrane.

Genome analysis of the wild type and mutant roots showed that 61 genes were up-regulated in the mutant, and 41 genes were downregulated. Results of the study suggest that Docs1 might directly or indirectly control several genes involved in the development of the outer cell layers in rice.

Read more about the study at http://onlinelibrary.wiley.com/doi/10.1111/j.1365-313X.2011.04824.x/abstract.



Beyond Crop Biotech
HOW DNA FINDS ITS MATCH



Secrets on how the DNA is repaired in bacteria and animals were recently revealed by researchers from UC Davis led by Stephen Kowalczykowski. The paper just published in the online journal Nature presented findings that DNA repair in bacteria through the RecA complex is more efficiently conducted when the DNA is in a coiled form.

"The most efficient homology search is when the local DNA density is higher and the RecA-DNA filament can contact more areas of duplex DNA at the same time," Kowalczykowski said. "RecA doesn't slide along the DNA looking for a partner."

Research activities in their lab also include a study to purify the protein made by the BRCA2 gene, a gene strongly associated with breast cancer. BRCA2 loads Rad51, the human equivalent of RecA in bacteria, onto DNA to search the human DNA for the correct region to use for repair. These findings could lead to strategies to cure and prevent human cancer.

See the news article at http://news.ucdavis.edu/search/news_detail.lasso?id=10141


PROTEIN STRUCTURES GIVE DISEASE CLUES



Researchers at UC Davis recently found evidence that the systems operating similar to lock and key in proteins, could give insights on how diseases are developed and could lead to ways for treating and preventing cancers and Alzheimer's disease.

A series of research findings published last month and the results of new studies published in Nature and Journal of Biological Chemistry reveal that two protein channels inositol triphosphate receptor and the ryanodine receptor are similar in structure and binds to the stimuli molecule to release calcium inside the cell. There are evidences to show that calcium concentrations in cells are associated with the occurrence of breast cancer, Parkinsons and Alzheimer's diseases among others.

Researchers hope that understanding how inositol triphosphate triggers calcium flows, and how that process might be boosted or blocked, will lead to new ways to treat neurodegenerative diseases.

See the full detail of the news at http://news.ucdavis.edu/search/news_detail.lasso?id=10138


GENE THERAPY RESTORES VISION IN BOTH EYES



Jean Bennett and colleagues at the University of Pennsylvania reported that three women who were born virtually blind now have improved vision through gene therapy. The three patients have Leber's congenital amaurosis, a rare heritable eye disease that destroys vision by killing photoreceptors. One probable cause of this disorder in the mutation of genes in the retinal cells such as the RPE65, which codes for the production of an enzyme that helps break down retinol. In their initial study, Bennett injected a harmless virus carrying normal copies of the RPE65 into the retinal cells of one eye to began producing the enzyme. Six out of the twelve patients showed improvements in their vision.

In their new study, Bennett injected functional genes in the other eye which was left untreated. Six months after the gene therapy, the patients' exhibited great results: " They could navigate an obstacle course, even in dim light, avoiding objects that had tripped them up before, as well as recognize people's faces and read large signs." Aside from improved sensitivity to light, they also observed that the patients' brains were more responsive to optical input as well.

Read more at http://www.scientificamerican.com/article.cfm?id=gene-therapy-blindness.



Document Reminders
EFSA REPORT ON RISK ASSESSMENT OF FOOD AND FEED DERIVED FROM GM ANIMALS



The European Food Safety Authority (EFSA) has published guidance for the risk assessment of food and feed derived from GM animals and on related animal health and welfare aspects. The document outlines specific data requirements and the methodology to be followed for appropriate risk assessment.

The risk assessment approach compares GM animals and derived food and feed with their respective conventional counterparts, integrating food and feed safety as well as animal health and welfare aspects.

Details of the report are available at http://www.efsa.europa.eu/en/efsajournal/pub/2501.htm





(c) 2018. ISAAA.