CROP BIOTECH UPDATE
---------------------------------------------------------------------------
A weekly summary of world developments in agri-biotech for developing countries, produced by the Global Knowledge Center on Crop Biotechnology, International Service for the Acquisition of Agri-biotech Applications SEAsiaCenter (ISAAA)
---------------------------------------------------------------------------
September 19, 2018

In This Week's Issue:

News

Global
• UN: Global Hunger Continues to Rise

Africa
• Kenyan Scientists Concerned Perceptions on GMOs May Slow Down GM Crops Commercialization
• Researchers to Improve Iron Toxicity Tolerance and Yield of Rice in Africa
• Burkina Faso Farmers Call for Return of Bt Cotton

Americas
• Scientists Crack A Code that Could Help Nourish the World
• How Plants Signal Danger Long Distances

Asia and the Pacific
• International Team Delivers Intermediate Wheatgrass Reference Genome
• Australian OGTR Invites Comments on GM Canola Field Trial

Europe
• John Innes Centre Leads Group's Call for Clarity after EU Ruling on Gene-Edited Crops

Research
• Vietnamese Scientists Develop Carotenoid-rich Maize
• Candidate Genes Related to Drought Stress Identified in Cotton

New Breeding Technologies
• CRISPR-Cas9 Reveals New Findings on miRNAs in Rice
• Bacterial Speck Resistance Developed in Tomato Using CRISPR-Cas9
• Rice Plant Architecture Engineered Using CRISPR-Cas9
• Scientists Develop Modified CRISPR-Cas9 System for Tetraploid Potato

Beyond Crop Biotech
• Researchers Use CRISPR Technology to Treat Beta Thalassemia Patients
• Thousands of Breast Cancer Gene Versions Classified Using CRISPR-Cas9
• Scientists Engineer Powerful Weapon Against Antibiotic-Resistant Bacteria



----
NEWS
----

Global
UN: GLOBAL HUNGER CONTINUES TO RISE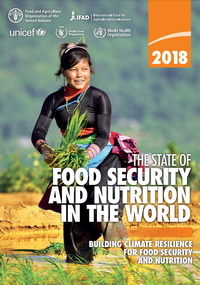 The number of hungry people is growing globally, reaching 821 million in 2017 or one in every nine people, according to the United Nation's report on The State of Food Security and Nutrition in the World 2018.

This is the third year that UN reported about the continuous increase of hunger worldwide, with current levels equivalent to records a decade ago. The report also emphasized that there was a slow progress in addressing the multiple forms of malnutrition, which includes child stunting and adult obesity, making the health of hundreds of millions of people at risk. These findings translate into a clear warning that more efforts must be done rapidly to achieve the Sustainable Development Goal of Zero Hunger by 2030.

Climate variability, which has an impact on rainfall patterns and agricultural seasons, and extreme climate conditions such as drought and floods were reported to be the main drivers of the increase in hunger, together with conflict and economic slowdowns.

Read the news release for more information or download the complete report from FAO.



Africa
KENYAN SCIENTISTS CONCERNED PERCEPTIONS ON GMOS MAY SLOW DOWN GM CROPS COMMERCIALIZATION



Kenyan scientists have expressed their concern that negative perceptions tied to genetically modified organism (GMOs) could be detrimental in commercializing GM crops in the country. Speaking during a cassava stakeholder study tour to GM cassava research confined field trial (CFT) site in the country's coastal region, the scientists dismissed any fears associated with biotech crops saying GMOs are subjected to very rigorous safety assessments before they are approved.

Dr. Richard Oduor, a senior lecturer at Kenyatta University's Department of Biochemistry and Biotechnology lamented that the ban on importation of GM foods imposed in the country in 2012 was largely fueled by poor perceptions on GMOs. He termed it unfortunate and ill-informed. He wondered why the government has not lifted the ban yet it continues to fund GM research studies. "Scientists have not been given enough opportunity to advise the government regarding the ban," said Dr. Oduor. "GM foods have been ratified by reputable international bodies such as World Health Organization (WHO) and U.S. Food and Drug Administration (FDA)," he added.

ISAAA AfriCenter Director Dr. Margaret Karembu said the ban affects the perception of what key decision and policy makers have about biotechnology. "It is time we up our momentum in sensitizing every segment of our society about the safety and benefits of GM crops," she said. Dr. Karembu termed the ban a deterrent to research development in biotech crops.

Dr. Karembu, however, applauded the government for drafting flour blending guidelines that are set to be operationalized by the end of the year. The initiative will have all flour blended by crops including cassava, sorghum, millet, and sweet potato to contribute towards food security and improved nutrition. "I hope that this initiative will drive cassava into the national system making it a key food security crop in the country," she said.

For more updates about biotech in Kenya, visit the ISAAA AfriCenter website.


RESEARCHERS TO IMPROVE IRON TOXICITY TOLERANCE AND YIELD OF RICE IN AFRICA



Iron toxicity is one of the main barriers in increasing rice production, especially in Sub-Saharan Africa. Conventional, indigenous rice varieties in Africa have tolerance to iron toxicity, but produce low yields. Thus, scientists from Cranfield University, UK, will conduct a research project to overcome this problem.

The study, led by Prof. Guy Kirk, will evaluate the traits that enable African rice varieties to tolerate iron toxicity and incorporate the traits to high yielding varieties. The team will also try to map areas where the new rice varieties will be most beneficial. The researchers will use techniques in soil chemistry, plant physiology, and molecular genetics, together with plant breeders and agronomists based in West Africa and Madagascar.

"There is widespread recognition of the need to increase sub-Saharan rice production to meet projected increases in demand for rice. Less than 10% of the total inland valley area in sub-Saharan Africa could be sufficient to meet the demand for rice in Africa if we can overcome iron toxicity. But currently, increased production with low-yielding varieties and poor management is destroying large swathes of natural ecosystems in inward valleys. With realistic improvements in varieties and management, we can greatly reduce the amount of land needed and therefore safeguard the vital biodiversity of the African inward valleys," said Prof. Kirk.

Read more from Cranfield University.


BURKINA FASO FARMERS CALL FOR RETURN OF BT COTTON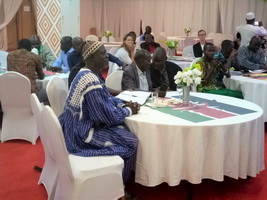 Cotton farming in Burkina Faso is in a fast slump two years after the suspension of Bt cotton. This was reported by Burkinabé farmers during the launch of the ISAAA report on the Global Status of Commercialized Biotech/GM Crops: 2017 in Ouagadougou on September 11, 2018. Cotton has been the most important cash crop for Burkinabé farmers, with the country having been Africa's number one cotton producer for 7 consecutive years between 2008 and 2015. It is hardly a coincidence that Bt cotton was commercially cultivated in Burkina Faso during the same period.

For Francois Traore, a Burkinabé cotton farmer of over three decades, Bt cotton came with significant reduction in cost of pesticides as spraying was reduced to 2 times per cropping time compared to 6-15 times he sprayed to his conventional cotton. "It was a bountiful couple of years with Bt cotton," he recounts. Cultivation of Bt cotton was suspended following concerns regarding short fiber length. According to the report, a 70 percent increase in chemical use has been reported as the African bollworm resurges, with many farmers withdrawing from growing the country's top foreign exchange earner. "It is unfortunate that we abandoned this technology, it reduced our labor, increased our profits and kept us from constant contact with chemicals," added Mr. Traore. Farmers attending the launch unanimously urged the Government to quickly resolve the issue in order to reinstate the biotech cotton program.

Presenting the report in the capital city Ouagadougou to OFAB stakeholders from 8 countries – Burkina Faso, Ethiopia, Ghana, Kenya, Mozambique, Nigeria, Tanzania, and Uganda, Dr. Margaret Karembu, ISAAA AfriCenter Director, emphasized the need to expedite delivery of appropriate technologies that enable farmers to maximize their returns in farm investments. The launch was hosted by the Open Forum on Agricultural Biotechnology in Africa (OFAB) during its annual planning meeting. A total of 55 participants, including farmers, journalists, and scientists attended the meeting.

For more information on agricultural biotechnology in Africa, contact Dr. Margaret Karembu at mkarembu@isaaa.org.



Americas
SCIENTISTS CRACK A CODE THAT COULD HELP NOURISH THE WORLD



Iron deficiency anemia affects 2 billion people around the world, particularly in low-income countries where grains are the staple. Efforts to discover exactly how plants regulate the amount of iron they take up through their roots are now being led by Massachusetts Amherst molecular biologist Elsbeth Walker.

Walker explains that plants have a regulatory mechanism to keep their iron content at a certain level, which makes it hard to make them carry more iron. Iron is an oxidant and causes cellular damage if not carefully controlled. Plants evolved signaling systems to communicate iron status in their tissues. Walker is now working to understand these signals. She is focusing on yellow-striped corn, a mutation whose stripes indicate iron starvation. Walker is sequencing the genome to find out where the mutation is.

"There's no iron in the grain of rice," explains Walker. "There's iron in the leaves, but we don't eat the leaves. So we have to figure out how to get the iron to a place in the plant that we eat."

For more details, read the UMassAmherst news release.


HOW PLANTS SIGNAL DANGER LONG DISTANCES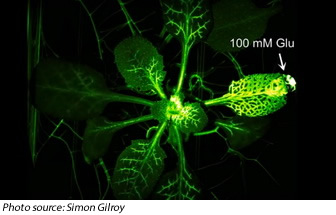 A video shows how seconds after a hungry caterpillar severs a leaf from the rest of the plant, a blaze of fluorescent light washes over the other leaves, signaling that they should prepare for future attacks by the caterpillar or its kin.

The fluorescent light tracks calcium as it goes through the plant's tissues, warning of a threat through electrical and chemical signals. University of Wisconsin-Madison Professor Simon Gilroy and his lab reveals how glutamate, an abundant neurotransmitter in animals, activates a wave of calcium when the plant is wounded. To see calcium in real time, Masatsugu Toyota, a postdoctoral researcher in Gilroy's lab, developed plants that produce a protein that only fluoresces around calcium, allowing the researchers to track its presence and concentration. They were able to see plants lighting up as calcium flows from the site of damage to other leaves.

A research previously done by Swiss scientist Ted Farmer showed that defense-related electrical signals depended on receptors for glutamate. Farmer showed that mutant plants missing glutamate receptors also lost their electrical responses to threats. Toyota and Gilroy looked at the flow of calcium during wounding in these mutant plants. They found that while normal plants blaze brightly with fluorescent calcium waves during wounding, mutant plants were barely sputtering marginal flashes of light. These results suggest that glutamate spilling out from wound sites triggers the burst in calcium that spreads across the plant.

To watch the videos, visit the University of Wisconsin-Madison website.



Asia and the Pacific
INTERNATIONAL TEAM DELIVERS INTERMEDIATE WHEATGRASS REFERENCE GENOME



A team of researchers from Israel and the United States has released the improved and accurate assembly of the intermediate wheatgrass genome. The latest version of the assembly has reached a scaffold N50 of 25.9 MB with 2.55% unfilled sequence gaps and complete BUSCO gene coverage of 97.9%.

Dr. Lee DeHaan of The Land Institute is leading efforts to transform intermediate wheatgrass into a perennial grain crop. Several rounds of selecting and inter-mating the best plants based on yield, disease resistance, shatter resistance, free threshing ability, grain quality, and seed size have resulted in improved populations of intermediate wheatgrass that are currently being evaluated and further selected in diverse environments.

The goal is to develop grain-producing intermediate wheatgrass varieties that can be grown in different climates to meet human food needs while enhancing soil health. In addition to helping with domestication of intermediate wheatgrass, the assembly is expected to expedite the development of perennial wheat by wide hybridization between wheat and the perennial grass.

For more details, read the news release from NRGene.


AUSTRALIAN OGTR INVITES COMMENTS ON GM CANOLA FIELD TRIAL



The Office of the Gene Technology Regulator (OGTR) of Australia is currently assessing license application DIR 164 from Monsanto Australia Limited, for a field trial (limited and controlled release) of canola genetically modified (GM) for herbicide tolerance.

The trial sites are proposed to be selected in 140 possible local government areas in New South Wales, Queensland, South Australia, Victoria, and Western Australia between January 2020 and January 2024. The proposal is to plant up to 15 sites with a maximum combined area of 30 hectares per year in 2020, increasing to 20 sites with a maximum combined area of 100 hectares in 2023. The GM canola grown in this field trial would not be used for commercial human food or animal feed.

The Gene Regulator has prepared the Risk Assessment and Risk Management Plan (RARMP) for the application which concludes that the proposed release would pose negligible risk to human health and safety or to the environment. The Regulator welcomes written submissions to finalize the RARMP, which will then inform the decision on whether or not to issue the license. Submissions should be received by close of business on October 22, 2018.

For more details, read the DIR 164 documents available at the OGTR website.



Europe
JOHN INNES CENTRE LEADS GROUP'S CALL FOR CLARITY AFTER EU RULING ON GENE-EDITED CROPS



The John Innes Centre (JIC) has joined a group of 33 signatories in a call for the Government to address the implications of a European Union judicial ruling that classifies gene-edited crops as genetically modified organisms (GMOs). The group, composed of leading research institutions, universities, plant breeders, crop agronomy companies, biotech multinationals, farmers, and landowner organizations signed a letter addressed and delivered to Michael Gove, Secretary of State of the Department for Environment, Food and Rural Affairs (Defra) on September 13, 2018.

The letter, signed by 33 signatories, requests a roundtable meeting involving all stakeholders and Defra to agree to a clear way forward on research and future use of new plant breeding technologies. It states, "We feel there are significant questions that must be addressed urgently by government if the UK is to retain its strength in plant genetics, to use innovation to boost productivity and competitiveness, and to meet the challenges of nutritional health and environmental protection."

The move follows the July ruling by the Court of Justice of the European Union (CJEU) concluding that organisms obtained by newer forms of mutagenesis, such as gene-editing, are considered GMOs.

For more details, read the JIC news release.



Research
VIETNAMESE SCIENTISTS DEVELOP CAROTENOID-RICH MAIZE



Gene Orange (Or) plays an important role in the accumulation of carotenoid and participates in the non-pigmented plastidation of chromosomes. It does not interfere with the carotenoid synthesis, but regulates the process of reservoirs for the isolation and storage of carotenoids. Or gene expression increased carotenoid accumulation in the scar tissue of rice and sweet potato. Applying gene technology to express the carotenoid accumulation gene is an important way to improve carotenoid content, increase the nutritional value of maize, contribute to human health and effective in breeding.

The research team of Vietnam Academy of Science and Technology has isolated the Or gene from the Hoang Long sweet potato variety (IbOr) (code KX792094.1) and the Or gene from cauliflower (code KX396544.1). The team also designed two expression structures carrying the IbOr gene to enhance carotenoid accumulation: pCambia2300/Ubi/IbOr/Nos and pCambia2300/Glo1/IbOr/Nos.

The pCambia2300/Glo1/IbOr/Nos construct was successfully transferred into several maize lines and developed 18 transgenic lines with a total carotenoid content increase from 1.756 to 12.515 times, respectively, and β-carotene increased from 2,022 to 19,002 times. Of these, six lines had β-carotene levels more than 10 times.

For more information, read the article from the Institute of Agricultural Science for Southern Viet Nam.


CANDIDATE GENES RELATED TO DROUGHT STRESS IDENTIFIED IN COTTON



Drought stress threatens yield in cotton, the most important crop in the textile industry. Thus, developing cotton lines with tolerance to drought is important in cotton breeding. Quantitative trait loci (QTLs) have been developed using traditional molecular markers (SSRs, RFLPs), but only a few of these QTLs have been verified in terms of their functions.

Scientist Wangzhen Guo and colleagues from Nanjing Agricultural University use single nucleotide polymorphisms (SNPs), the most abundant variation in the DNA of many organisms, to find markers associated with drought. They use the CottonSNP63K SNP array to screen 719 cotton accessions and performed genome-wide association study (GWAS). By combining the GWAS results with RNA-seq and qRT-PCR data, they find four major genes that are potentially important to drought stress. These genes include RD2 (response to desiccation 2 protein), HAT22 (homeobox-leucine zipper protein), PIP2 (plasma membrane intrinsic protein 2), and PP2C (protein phosphatase 2C).

For more information, read the article in Frontiers in Plant Science.



New Breeding Technologies
CRISPR-CAS9 REVEALS NEW FINDINGS ON MIRNAS IN RICE



The discovery of more microRNAs (miRNAs) and their functions is hindered by the lack of suitable knockout tools. The CRISPR-Cas9 system aided researcher Jianping Zhou of University of Electronic Science and Technology of China and colleagues in determining the functions and regulations of miRNA single genes and gene families in rice.

miRNAs are small non-coding RNAs important in plant development and stress responses. In rice, the OsMIR408 and OsMIR528 miRNA genes play roles in copper and salinity stress responses. Using single and dual-target Cas9 systems, the researchers targeted these genes and find medium to high editing efficiency by the system (48 to 89 percent). Results show altered response in the mutants, proving the genes' functions in abiotic and biotic stresses response in rice. They also find that mutating either of these genes resulted to altered expression of other miRNAs. Lastly, they demonstrated the utility of CRISPR-Cas9 in modifying miRNA gene families by targeting OsMIR815 and OsMIR820.

For more information, read the article in Frontiers in Plant Science.


BACTERIAL SPECK RESISTANCE DEVELOPED IN TOMATO USING CRISPR-CAS9



Developing disease resistance in tomato is a trade-off between pathogens feeding on living cells (biotrophs) and those feeding on dead cells (necrotrophs). Scientist Robert Solano from Centro Nacional de Biotecnologia in Spain and colleagues utilize CRISPR-Cas9 to confer bacterial speck resistance in tomato without compromising susceptibility to necrotrophic pathogen Botrytis cinerea, a fungus that causes tomato gray mold.

The research team targets SlJAZ2, a gene similar to Arabidopsis AtJAZ2, which is involved in preventing the stomatal opening caused by Pseudomonas syringae pv. tomato (Pto) DC3000, the pathogen that causes bacterial speck disease. The gene-edited tomatoes show stomatal opening prevention and resistance to the pathogen. At the same time, the transpiration rate and resistance to B. cinerea are retained. Thus, the method is found effective in creating resistance in tomato.

For more information, read the article in Plant Biotechnology Journal.


RICE PLANT ARCHITECTURE ENGINEERED USING CRISPR-CAS9



During the Green Revolution, short plant height is desirable for crops, as it results to increased yield. Thus, plant architecture has been a key trait in breeding programs, and architecture-related genes are modified in crops through random mutagenesis and traditional plant breeding.

In a study by researcher Haroon Butt and colleagues from the University of Science and Technology in Saudi Arabia, CRISPR-Cas9 is used to mutate the OsCCD7 gene in rice to explore the strigolactone (SL) biosynthesis in rice. SL is a plant hormone that determines the tiller number, regulates primary and lateral root growth, and participates in biotic and abiotic stresses in plants, such as Striga. Results show impaired SL biosynthesis in OsCCD7 mutants and lower Striga seed germinating activity than the wild type, confirming the gene's role in SL biosynthesis. This study can serve as a model for fine-tuning and engineering SL biosynthesis in plants for improved plant architecture and lowered biotic stress effects.

For more information, read the article in BMC Plant Biology.


SCIENTISTS DEVELOP MODIFIED CRISPR-CAS9 SYSTEM FOR TETRAPLOID POTATO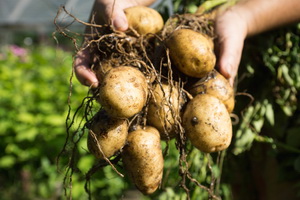 Potato's tetraploid genome requires a more powerful genome editing system. Scientist Hiroaki Kusano of Tokyo University of Science and colleagues apply the translational enhancer dMac3 to the Cas9 expression vector to increase the amount of Cas9 proteins produced inside potato cells.

dMac3 is a 161-bp region of the OsMac3 mRNA, which promotes efficiency of translation in the nearby gene. By engineering it to a developed Cas9 system, the researchers find increased efficiency of targeted mutagenesis in the potato gene GBSSI. GBSSI mutants show low amylose starch content in the tubers, a favorable trait in potato. They particularly observe 28% of plants with mutations for all four copies of GBSSI in the tetraploid genome, emphasizing the usefulness of the enhancer in polyploid genome editing. The researchers also elaborate on the enhancer's contribution to more efficient targeted mutagenesis in the paper.

For more information, read the article in Nature Scientific Reports.



Beyond Crop Biotech
RESEARCHERS USE CRISPR TECHNOLOGY TO TREAT BETA THALASSEMIA PATIENTS



The first human trial in the U.S. using CRISPR gene-editing technology will soon be launched by Vertex Pharmaceuticals and CRISPR Therapeutics. The developers will conduct the trial to evaluate CTX001, a stem cell therapy developed using CRISPR to treat patients with beta thalassemia, a blood disorder characterized by low levels of hemoglobin which can lead to lack of oxygen in various parts of the body. The trial will be conducted at a German testing site.

Read more from Biocentury.


THOUSANDS OF BREAST CANCER GENE VERSIONS CLASSIFIED USING CRISPR-CAS9

New versions of BRCA1, a tumor suppressor gene involved in breast cancer, make clinical management difficult. Different versions of BRCA1 need unique treatment. Some versions are pathogenic, whereas some are neutral. However, information on new BRCA1 versions are limited, and more versions are expected to be discovered in patients through the course of time.

To aid clinical practitioners in classifying risky and neutral BRCA1 versions, researcher Lea Starita of Brotman Baty Institute for Precision Medicine in the USA and colleagues discover and classify nearly 4,000 BRCA1 variants using CRISPR-Cas9. They produce 96.5% of all possible versions of 13 most important sequences in the gene. They find ~400 non-functional and ~300 pathogenic versions. The team said that this study is just a start of further classifying versions of other sequences of BRCA1 and other breast cancer-related genes.

For more information, read the article in Nature.


SCIENTISTS ENGINEER POWERFUL WEAPON AGAINST ANTIBIOTIC-RESISTANT BACTERIA



Dreaded diseases such as meningitis, pneumonia, and deadly diarrhea have been a struggle to treat because the gram-negative bacteria that cause them have double cell walls with an outer membrane that is particularly difficult for drugs to penetrate and resistance to such compounds is soaring.

Now, a team of scientists has created a compound that can breach these bacterial outer membranes. A team led by Peter Smith at Genentech in South San Francisco, California, began with a class of natural compounds called arylomycins. Smith and colleagues chemically modified an arylomycin to "systematically optimize" it such that the drug could more easily reach the inner membrane. They created the molecule called G0775, which is at least 500 times more potent than a naturally found arylomycin against some of the biggest gram-negative bacterial threats to humans, including Escherichia coli, Klebsiella pneumoniae, Pseudomonas aeruginosa, and Acinetobacter baumannii. G0775 remained potent against all 49 isolates of multi-drug resistant forms of these bacteria from patients. When tested against a notoriously drug-resistant strain of K. pneumoniae that has defied 13 different classes of antibiotics, G0775 defeated the bacterium in lab dish experiments.

For more details, read the news article in Science.





(c) 2018. ISAAA.