CROP BIOTECH UPDATE
---------------------------------------------------------------------------
A weekly summary of world developments in agri-biotech for developing countries, produced by the Global Knowledge Center on Crop Biotechnology, International Service for the Acquisition of Agri-biotech Applications SEAsiaCenter (ISAAA)
---------------------------------------------------------------------------
May 16, 2018

In This Week's Issue:

News

Global
• Report: GM Crops to Dominate Global Agri-biotech Market

Africa
• Swaziland Approves Importation and Environmental Release of Bt Cotton
• African Women for Biosciences Platform Launched

Americas
• Biologists and Computer Scientists Identify Temporal Logic of Regulatory Genes Affecting Nitrogen Use Efficiency in Plants
• Analysis Reveals Cassava Breeding Has Not Improved Photosynthesis or Yield Potential
• Corn Breaks Genetics Law

Asia and the Pacific
• Chinese Researchers Complete Genome Sequencing of Wheat A Subgenome
• GM Mustard to Undergo Another Field Trial in India

Europe
• Researchers Discover Plants Respond Better to Overdoses of Light

Research
• Researchers Discover the Negative Regulator of Anthocyanin in Cabbages
• Harpin Protein Gene Confers Enhanced Resistance to Phytophthora Rot in Soybean

New Breeding Technologies
• Genome Modification Delays Petal Senescence in Japanese Morning Glory
• Researchers Control Rice Hull Color via CRISPR
• ZFN-Mediated Editing Leads to Imidazolinone Herbicide Tolerance in Wheat
• CRISPR Helps Clarify the Mechanism Behind Tomato rin Mutants

Beyond Crop Biotech
• Gene Editing Shows Promise for Improving Cacao
• Gene Studies Land on the List of Most Cited Scholarly Articles in Wikipedia



----
NEWS
----

Global
REPORT: GM CROPS TO DOMINATE GLOBAL AGRI-BIOTECH MARKET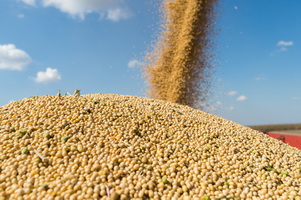 GM crops are expected to dominate global agriculture biotechnology market in 2017-2024. This is according to the latest report of Research and Markets titled "Global Agriculture Biotechnology Market - Technologies, Market share and Industry Forecast to 2024" released in May 2018.

The growth in global agriculture biotechnology market over the forecast period of 2017-2024 is attributed to the increase in global food demand caused by the rapid growth in world populations. Since agricultural biotechnology is focused on using methods to advance agriculture and its production, then it is expected to contribute in fulfilling the global food demand.

The report also stated that North America is expected to dominate the market during the forecast period.and the Asia Pacific is expected to register fastest growth.

Read more about the report from Research and Markets.



Africa
SWAZILAND APPROVES IMPORTATION AND ENVIRONMENTAL RELEASE OF BT COTTON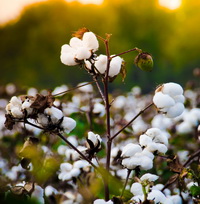 Swaziland Environment Authority (SEA) has granted two landmark approvals for importation of Bt cotton seed and environmental release of the crop making the Kingdom of eSwatini the latest African country to adopt Bt cotton. In accordance with Biosafety Act, SEA granted approval to the Swaziland Cotton Board (SCB) to import 3,000 kilogrammes of GM cotton seed for commercial release. The Board will import the seed from JK Agri-Genetics Limited, an Indian-based seed company.

The authority stated that the approval is subject to export and transit permits, which should be sought by the applicant or supplier. "The applicant and transporter should take full responsibility for the load in transit, and should be aware of the Emergency Response Measures of GMO consignments," read part of the approval notice. SEA also requires the cotton board to adhere to the requirements for conveyor shipment as dictated in Article 7 of the Cartagena Protocol on Biosafety on the Advance Informed Agreement procedure.

On environmental release, SEA reveals: "In accordance with the Biosafety Act, 2012 and its Draft Regulations, approval is granted to Swaziland Cotton Board to intentionally introduce genetically modified cotton with Bacillus thuringeinsis gene to be grown in Swaziland." The approvals were signed by the authority's Acting Executive Director, Ishmael Ndwandwe.

In November 2016, SEA okayed SCB to undertake confined field trials for the GM crop. Cotton industry has been one of the leading industries driving Swaziland's economy. However, production has been dwindling owing to insect attack, key among them the bollworm.

For more on this, contact Swaziland Cotton Board at ceosec@cottonboard.co.sz.


AFRICAN WOMEN FOR BIOSCIENCES PLATFORM LAUNCHED



Women in biosciences remain grossly under represented in leadership and decision-making levels, limiting contribution of scientific research to national development. A new platform - the African Women for Biosciences (AWfB), launched on May 10, 2018 in Nairobi aims to address some of the challenges faced by women in biosciences. The event was part of Kenya's 7th National Science week celebrations under the National Commission for Science, Technology and Innovation (NACOSTI).

Kenya's Public Service, Youth and Gender Affairs Cabinet Secretary, Prof. Margaret Kobia, officiated the launch and expressed her optimism about the network saying it will provide a unique platform to share experiences and critical learning in scientific research and innovations. "This is a very welcome initiative and will serve to compliment government's effort in women empowerment, especially for the many marginalized women living in rural areas, who in reality bear the biggest burden of underdevelopment," she said.

During the launch, the chair of Africa Union/NEPAD High Level Panel on Emerging Technologies, Prof. Yaye Kene Gassama, said the platform offers an opportunity for women scientists to shape up the future. "Investing in education, especially for vulnerable groups, is an effective way to achieving sustainable transformation in our society," Prof. Gassama remarked. She challenged the Kenyan women to create bio-enterprise start-ups saying this is one of the most powerful strategies to reduce unemployment of women and youth.

AWfB is a network of women with interest and passion in Science, Technology, and Innovation (ST&I). It aims to play a significant role in strengthening the capacity of African women to engage in biosciences and policy dialogue for sustainable livelihoods. The network, initiated in April 2017, is a brainchild of ISAAA AfriCenter. Dr. Margaret Karembu, Kenya chapter's chairperson revealed that the new outfit will support the government's effort towards implementation of The Big Four Action Plan. "This is a platform for women to engage the public on bioscience issues and advocate for investment in innovations that promote bio-based enterprises for sustainable livelihoods," she explained. She also called on men to support the network to help bridge the gender equity gap and ensure women realize their dreams.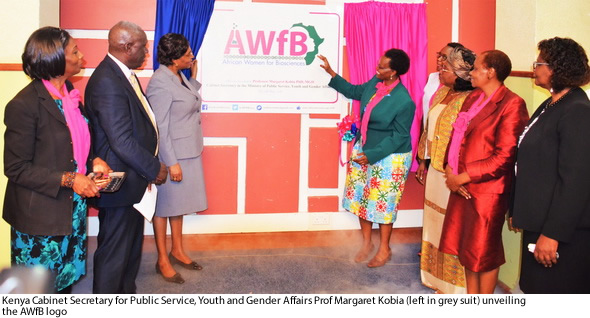 Membership is open to corporate organizations and affiliates that support gender equity through the ISAAA AfriCenter website. Know more about AWfB by downloading the AWfB Brochure or contact Dr. Margaret Karembu at mkarembu@isaaa.org.



Americas
BIOLOGISTS AND COMPUTER SCIENTISTS IDENTIFY TEMPORAL LOGIC OF REGULATORY GENES AFFECTING NITROGEN USE EFFICIENCY IN PLANTS



A research team of biologists and computer scientists has adopted a time-based machine-learning approach to deduce the temporal logic of nitrogen signaling in plants from genome-wide expression data. The research is centered on gene regulatory networks (GRNs) that identify which transcription factors serve to regulate genes needed to respond to nitrogen, a nutrient vital to plant development and human nutrition.

The research used time, which is the fourth and largely unexplored dimension of GRNs, to better explain the transcription factors (TFs) relevant to genetic responses to nitrogen. Understanding how transcription factors function at different points in time allows scientists to target the early responders and to make predictions on the temporal operation of the entire gene regulatory network.

The time-based GRN provides regulatory knowledge to inform testable hypotheses on how 155 transcription factors exert regulatory control of nitrogen response and its effect on core plant life processes, including circadian rhythm, photosynthesis, and RNA metabolism, among other phenomena affecting plant growth, development, and yield.

Read more in the New York University news release.


ANALYSIS REVEALS CASSAVA BREEDING HAS NOT IMPROVED PHOTOSYNTHESIS OR YIELD POTENTIAL



Cassava is a staple of more than one billion people from 105 countries, yet, it has not received the same attention compared to corn and soybean. While scientific advances have helped cassava withstand pests and diseases, the crop yields no more today than it did in 1963. Corn yields, by comparison, have more than doubled.

Researchers from the University of Illinois have analyzed four African cassava cultivars to find out how breeding has impacted photosynthesis, and they found that unimproved landraces of cassava are actually 20 percent better at photosynthesizing than their improved counterparts.

Stephen Long, Director of the international research project Realizing Increased Photosynthetic Efficiency (RIPE) said, "Cassava breeders have diligently worked to improve the pest and disease resistance of this crop, which has been absolutely critical. The next step is to improve cassava yield potential by improving its photosynthetic performance."

However, the changes needed to improve cassava photosynthesis cannot be achieved through traditional breeding and will require genetic engineering. Amanda De Souza, RIPE postdoctoral researcher said, "Genetic engineering of cassava is our major hurdle going forward. We know it is possible."

For more details, read the article from the University of Illinois website.


CORN BREAKS GENETICS LAW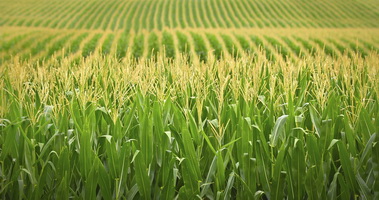 Some heirloom varieties of corn contain a cheater chromosome, called Abnormal chromosome 10 (Ab10). It cheats in the female part of the flower during meiosis, where it is regularly transmitted about 75 percent of the time instead of the normal 50 percent.

A team of researchers from multiple universities led by University of Georgia Professor of Genetics, Kelly Dawe, discovered that Ab10 encodes a cluster of genes coding for specialized motor proteins. These motor proteins bind to chromosomes and actively pull them to the reproductive egg cell. The molecular motors are only found on Ab10, and they enable the Ab10 chromosome to be transmitted to more than 50 percent of the offspring.

These so-called meiotic drive systems were thought to have evolved and gone extinct many times. The presence of cheaters has favored the evolution of new biological rules that thwart the cheaters and ensure overall fairness. It is rare to visualize a cheater in action, and rarer still to solve its molecular mechanism. "The mystery had been known for many years before I began studying it, and we have been trying to solve the problem in our laboratory for over 20 years," Dawe said. "It was very satisfying to finally find the genes, and even more satisfying to learn that molecular motors are powering the process."

Read more from UGA Today.



Asia and the Pacific
CHINESE RESEARCHERS COMPLETE GENOME SEQUENCING OF WHEAT A SUBGENOME



Chinese researchers have completed sequencing the genome of the wheat A subgenome, and generated a high-quality draft of its chromosomes. The researchers generated a molecular map of seven chromosomes of the wheat A subgenome and identified 41,507 protein-coding genes, providing high-quality genomic information and a new perspective for studying genetic variation in wheat.

Cultivated wheat contains three genomes: A, B, and D. They are huge and complex, about 40 times larger than rice genomes. More than 85 percent of the genomic DNA of wheat is repetitive, making the study of its genome sequencing difficult. The researchers believe the sequencing will help improve competitiveness in the wheat industry, boost the quality and production efficiency, and safeguard food security.

Read more in the Chinese Academy of Sciences Newsroom.


GM MUSTARD TO UNDERGO ANOTHER FIELD TRIAL IN INDIA



The Genetic Engineering Appraisal Committee of India (GEAC) under the Union Ministry of Environment and Forest (MoEF) ordered another round of multi-location field trials of genetically engineered mustard developed by Delhi University.

During their meeting on March 21, GEAC asked Delhi University's Genetic Manipulation of Crop Plants to conduct field trials in an area of 5 acres at two to three different locations. This is to obtain additional data on the effect of GE mustard on honey bees and other pollinators, as well as honey and microbial diversity. GEAC also asked the scientists who will conduct the trials to submit details of the protocol to be approved by the committee prior to the trial.

For more details, read the news articles from the Genetic Literacy Project and Deccan Herald.



Europe
RESEARCHERS DISCOVER PLANTS RESPOND BETTER TO OVERDOSES OF LIGHT



Too much sunlight can damage plants, but researchers from Wageningen University & Research and Lithuania have discovered how the internal protection system works to help plants prevent damage from these overdoses.

Green plants are effective in capturing and processing sunlight. They divert the absorbed photons (light particles) to the reaction center - where a series of chemical reactions convert the energy into electrons and protons needed to produce molecules such as sugar. In bright sunlight, however, the reaction center is unable to do this. To prevent the next absorbed light particle from being sent to the reaction center before the previous one has been completely processed, plants deploy various protection mechanisms that convert some of the absorbed light into harmless heat.

To activate the protection system, the plant triggers various enzymes. This effect lasts some tens of seconds to several minutes. In fluctuating light, for example when leaves are blown by the wind, it can result in costly energy losses. The research team discovered that an important part of the activation process is much faster than expected. Although the activation process initially lasts tens of seconds, once the protection has been activated the system can respond to the state of the reaction center almost instantaneously. If the reaction center is still processing the previous bundle of energy, a new incoming bundle is converted into heat; but if the reaction center is available, then a much smaller fraction is converted into heat and so the energy losses are limited.

For more details, read the press release from Wageningen.



Research
RESEARCHERS DISCOVER THE NEGATIVE REGULATOR OF ANTHOCYANIN IN CABBAGES



Anthocyanin is an important ingredient in health-improving supplements and valuable for the food industry. Although studies have been done on breeding crops containing high levels of anthocyanin, genetic variation in red or purple cabbages (Brassica oleracea var. capitata F. rubra) has not yet been studied thoroughly. The team of Hayoung Song and Hankuil Yi from the Chungnam National University in South Korea identified the mechanism for the formation of purple color in cabbages.

The BoMYBL2–1 gene is a repressor of anthocyanin synthesis in cabbage and its expression is not detectable in purple cabbages. Analysis of purple cabbages revealed that they have a defective BoMYBL2–1 gene. This finding was further demonstrated via the analysis of other genes in the anthocyanin synthesis. Molecular markers for purple cabbages were then developed and validated.

This is the first report of molecular markers for purple cabbages. These markers will be useful for the production of hybrids for functional foods, and for industrial purposes requiring high anthocyanin content.

For more information, read the article in BMC Plant Biology.


HARPIN PROTEIN GENE CONFERS ENHANCED RESISTANCE TO PHYTOPHTHORA ROT IN SOYBEAN



Phytophthora root and stem rot (PRR) caused by Phytophthora sojae is one of the most devastating diseases of soybean (Glycine max). Harpin proteins in plant pathogenic bacteria have been confirmed to enhance disease and insect resistance in crop plants. The team of Qian Du from Jilin University in China introduced a harpin protein-encoding gene, hrpZpsta (renamed hrpZm), from Pseudomonas syringae pv. tabaci and introduced it to soybean cultivars.

Three independent transgenic lines overexpressing hrpZm were obtained and exhibited enhanced tolerance to P. sojae infection compared to the non-transformed (NT) plants. Analysis revealed that the activities of defense-related enzymes increased significantly in the transgenic lines compared to the NT after inoculation.

These results suggest that overexpression of the hrpZm gene significantly enhanced PRR tolerance in soybean. This could provide an alternate approach for developing soybean varieties with improved tolerance against the soil-borne pathogens.

For more information, read the article in Transgenic Research.



New Breeding Technologies
GENOME MODIFICATION DELAYS PETAL SENESCENCE IN JAPANESE MORNING GLORY



Flower longevity is one of the most important traits in ornamental plants. In Japanese morning glory (Ipomoea nil), EPHEMERAL1 (EPH1), a NAC transcription factor, is a regulator of petal senescence. A team of scientists led by Kenichi Shibuya's from the National Agricultural Research Organization in Japan used the CRISPR-Cas9 system for targeted mutagenesis of the EPH1 gene in Japanese morning glory.

Three regions within the EPH1 gene were simultaneously targeted by a single CRISPR vector containing three single-guide RNAs. The team then selected eight transformed plants containing the transferred DNA. Analysis revealed that mutations occurred at single or multiple target sites in all eight plants. These mutations were inherited in the T1 generation, where plants exhibited a clear delay in petal senescence.

These results confirm that CRISPR-Cas9 technology can efficiently induce mutations in Japanese morning glory gene. The eph1 mutants developed in this study will be useful for further studies on petal senescence.

For more information, read the article in Plant Physiology and Biochemistry.


RESEARCHERS CONTROL RICE HULL COLOR VIA CRISPR



Rice chalcone isomerase gene (OsCHI) is a recessive gene that controls rice hull color. To develop OsCHI mutants in rice, the team of Zhiqun Que from Yichun University in China designed a CRISPR-Cas9 genome editing vector, harboring a single guide RNA targeting OsCHI.

The designed plasmid was transformed into the rice cultivar Taipei309 via Agrobacterium-mediated transformation. The team obtained four OsCHI-knockout mutant rice plants, including two homozygous deletion mutations and two heterozygous deletion mutations. Almost all developed mutants exhibited brown pigmentation in the panicle at heading stage, which then turned golden at maturity.

CRISPR-editing OsCHI successfully developed rice golden hull mutants and also proves that CRISPR-Cas9 is a powerful tool for rice genetic improvement.

For more information, read the article in Journal of Biobased Materials and Bioenergy.


ZFN-MEDIATED EDITING LEADS TO IMIDAZOLINONE HERBICIDE TOLERANCE IN WHEAT



Sequence‐specific nucleases have been used to engineer targeted genome modifications in various plants. While targeted gene knockouts resulting in loss-of-function have been reported, targeted gene editing using DNA repair template from another organism is still challenging.

Researchers from AgriBio in Australia used zinc finger nuclease (ZFN)-mediated editing of a native gene in allohexaploid bread wheat to introduce a specific single amino acid change in the acetohydroxyacid synthase (AHAS) gene using a DNA repair template.

The team recovered edited wheat plants with the targeted modification in one or more AHAS alleles using selection for resistance to Imazamox, an AHAS‐inhibiting imidazolinone herbicide. All ZFN‐mediated mutations were also transmitted to the following generations.

For more information, read the article in Plant Biotechnology Journal.


CRISPR HELPS CLARIFY THE MECHANISM BEHIND TOMATO RIN MUTANTS



Tomato (Solanum lycopersicum) rin mutants completely fail to ripen. These mutants do not produce red pigmentation, soften, or induce an ethylene burst. Therefore, RIN has long been believed to function as a major regulator for the induction of ripening. The team of Yasuhiro Ito from the National Agriculture and Food Research Organization in Japan aimed to contradict this concept of RIN function and show fruit ripening induction in the absence of RIN.

The team first developed RIN-knockout tomato mutants using CRISPR-Cas9. The resulting mutants did not exhibit repressed initiation of ripening and the mutant fruits actually showed moderate red coloring. Moreover, inactivation of the mutant allele in rin mutants partially restored the induction of ripening.

RIN is not required for the initiation of ripening in tomato. Further analysis also found that the rin mutant does not actually have a null mutation, but has a gain-of-function mutation. This then produces a protein that represses ripening.

For more information, read the full article in Nature Plants.



Beyond Crop Biotech
GENE EDITING SHOWS PROMISE FOR IMPROVING CACAO



Cacao trees produce the cocoa beans that are the raw material of chocolate. Reliable productivity from cacao trees is essential to the multibillion-dollar chocolate industry and the livelihoods of millions of smallholder cacao farmers. Each year, diseases severely limit global production, with 20-30 percent of cocoa pods destroyed at preharvest.

According to Pennsylvania State University scientists, CRISPR-Cas9 could help breed cacao trees with enhanced resistance to diseases, and reported research results are the first to demonstrate the feasibility of using cutting-edge CRISPR technology to improve cacao.

Previous research on cacao identified the gene TcNPR3 that suppresses the plant's disease response. The researchers, led by Andrew Fister, postdoctoral scholar in plant science in Pennsylvania State University hypothesized that using CRISPR-Cas9 to knock out this gene would result in enhanced disease resistance. Using Agrobacterium tumefaciens, the researchers introduced CRISPR-Cas9 components into detached cacao leaves. Subsequent analysis of treated tissue found deletions in 27 percent of TcNPR3 copies.

When infected with Phytopthera tropicalis, a naturally occurring pathogen of cacao and other plants, the treated leaves showed greater resistance to the disease. The researchers also created CRISPR gene-edited cacao embryos, which they will grow into mature trees to test the effectiveness of this approach at a whole-plant level.

For more information, read the Penn State News.


GENE STUDIES LAND ON THE LIST OF MOST CITED SCHOLARLY ARTICLES IN WIKIPEDIA



The most-cited scholarly articles in Wikipedia were about science, particularly about genes. Most of these scholarly articles were cited more in Wikipedia than in scientific literature.

Matt Miller, a data scientist and librarian based in New York City, analyzed the citation data released by Wikimedia Foundation in March 2018. The data set, which has 15.7 million records, shows how many times sources with formal identifiers such as international standard book numbers (ISBNs) and digital object identifiers (DOIs) were cited. Miller looked at the English publications with DOIs, the most widely used identifier for scholarly articles and came up with a subset of 1.2 million citations, citing over 835,000 unique articles.

The most-cited paper is about the generation and initial analysis of full-length human and mouse cDNA sequences published in 2002. This particular paper was cited 4,702 times in English Wikipedia. The other 5 scholarly articles in the top 10 list were also about genetics.

Read more from Nature.





(c) 2018. ISAAA.