News
Global
Conservation and management of biodiversity is vital for improvement of livelihoods, especially in developing countries, according to Ademola Adenle of United Nations University-Institute of Advanced Studies in Japan. Adenle shared his insights on this matter in a paper published at Biodiversity Conservation journal.
Adenle stressed that since there was a failure in reaching the global targets set under the convention on biological diversity (CBD) and Millennium Development Goals (MDGs) to decrease rate of biodiversity loss by 2010, developing countries need better technologies to conserve and manage biodiversity. Biodiversity conservation for the benefit of developing countries is intricately linked to advancements in biotechnology, specifically genetically modified organisms. International conferences such as the Rio+20 meeting and CBD conference of parties 11 are good platforms for strengthening the present frameworks and prioritizing relevant technological innovations to improve biodiversity conservation and development.
Read the complete paper at http://www.springerlink.com/content/2241711u70646362/fulltext.pdf.
[ Send to a Friend | Rate this Article ]
---
The Food and Agriculture Organization of the United Nations (FAO) and the Consultative Group on International Agricultural Research (CGIAR), two of the world's premier institutions in terms of ensuring agricultural sustainability and food security, have signed a Declaration of Intent on July 12 to establish "a strong and long-lasting collaborative effort building on the different institutional strengths of both organizations". The Declaration was signed by FAO Director-General José Graziano da Silva and Carlos Pérez del Castillo, CGIAR Consortium Board Chair.
FAO and the CGIAR Consortium will work together on projects and programs under a future framework agreement. One particular area of cooperation involves making CGIAR's research results and technologies available to small-scale farmers among others.

View the original article at http://www.fao.org/news/story/en/item/151733/icode/.
Africa
Banana with six times the normal level of vitamin A will soon join the apple in keeping the doctor away. Uganda's National Agricultural Research Organization (NARO) acting director Andrew Kiggundu hopes for the genetically modified banana to be available in five years time.
Kiggundu said that 52 percent of children under the age of five in Uganda suffer from vitamin A deficiencies and can lead to stunting. Iron deficient anemia accounts for 40% of deaths among this age group and 30% of deaths in pregnant women. "There will be considerable debate both pro and against the technology but we are very optimistic that the (GM commercialization) law will be eventually passed. We have been engaging at a top level and the message we have been receiving is that they will probably support the projects and eventually have them with the farmers."
The research project is supported by the Ugandan government, NARO, the Bill & Melissa Gates Foundation, and the U.S. Agency for International Development (USAID).
View the original article at http://www.freshfruitportal.com/2012/07/24/new-gm-banana-could-solve-ugandas-nutrition-challenges/.
[ Send to a Friend | Rate this Article ]
---
The Center for International Forestry Research (CIFOR), together with the Worldwide Fund for Nature (WWF) have prepared a briefing paper to stimulate debate regarding the palm oil industry's growing demand for large tracts of land in Cameroon, notably in forest areas and to support the government with constructive ideas on how palm oil expansion can be achieved sustainably in order to support the country's economic growth strategy.
Palm oil industry is undeniably beneficial to Cameroon's economy, having generated a sharp rise in the number of investors seeking to start palm oil plantations in the country. With industrial palm oil production being a key element of the Cameroonian government's poverty reduction strategy, it is willing to offer concessions to companies demanding large acreages of land in forested zones for oil palm production.
But Patrice Levang, scientist at the Institut de Recherche pour le Développement (IRD) and Center for International Forestry Research (CIFOR) and co-author with David Hoyle (WWF) of a new study entitled Oil Palm Development in Cameroon, explained that the potential of Palm Oil Industry in the country cannot be taken advantage of unless the government works with all relevant stakeholders to develop a national palm oil strategy that will guide the rapid expansion of the sector.
The working paper of CIFOR and WWF thus includes strategies to create a sustainable palm oil industry in the country.
For more information, visit http://www.cifor.org/online-library/browse/view-publication/publication/3793.html and http://blog.cifor.org/10285/palm-oil-development-in-cameroon-an-urgent-need-for-a-national-strategy/#.UBFQX2Fvnzs.
[ Send to a Friend | Rate this Article ]
---
Kenya National Biosafety Authority CEO, Dr. Willy Tonui has urged for calm among biotechnology stakeholders who have expressed reservations against the new GM labeling regulations produced by the body. Speaking during an OFAB session held in Nairobi on 26th July, Dr. Tonui struck a conciliatory tone stating that "NBA is not meant to impede biotechnology, we welcome any comments with regards to the recently gazetted regulations. They are not cast in stone."
The Biosafety body's move to welcome further dialogue over the regulations comes just a month after the Kenyan millers association expressed concerns that the new regulations were likely to stifle trade in the milling industry.
Asked whether the process of review of the new regulations was easy, Dr. Tonui pointed out that while it was not a one day affair, it could certainly be done. "It is not very difficult to revise the regulations, you as the stakeholders need to organize yourself and offer comments which the NBA will then use as a basis to review the regulations," he said.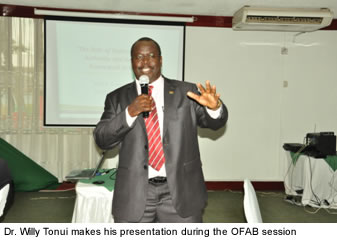 For more on this event, contact Jonathan Odhong of ISAAA AfricaCenter at jodhong@isaaa.org.
[ Send to a Friend | Rate this Article ]
---
The Food and Agriculture Organization (FAO) announced that Somalia, which suffered famine a year ago, is now on the path to recovery but the situation remains critical and continued aid is vital in order to preserve food security.
FAO's aid strategy in southern Somalia was able to help farmers and herders build long-term resilience to drought and other emergencies in a region plagued by recurrent droughts. One of the organization's strategy is to provide farmers agricultural inputs like fertilizers and improved seeds. The assistance enabled farmers in the regions of Bay and Shabelle to double their production of maize and sorghum last year.
FAO also delivered aid in the form of cash-based intervention. This helped vulnerable communities to secure food which, together with agriculture inputs and livestock health services, allowed people to remain in their places of origin. Aside from putting money in people's pockets, cash-based schemes also benefit communities in the long-term with better infrastructure. For example, in all 1,626 km of canals were rehabilitated, serving 82,231 farmers who are now able to benefit from irrigation and are no longer dependant on rainfed agriculture.

View FAO's news release at http://www.fao.org/news/story/en/item/152914/icode/.
Americas
The International Potato Center (CIP) has implemented an RNA silencing project that aims to reduce the time of plant virus elimination from one year to far less. This is by cracking the RNA silencing code that will enable them to add modified RNA to a test tube − and in a simple, one-step process, rid the plant of viral infection.
At present time, removing virus from an infected plant takes considerable time and money. The process takes almost a year while the cost of the operation is more than $500 thus searching for a more cost-effective and time saving solution is essential.
Plants can defend themselves against viruses using a class of small RNAs called small interfering RNA (siRNA). The siRNA recognizes the viruses and destroys them by cutting their DNA or RNA into tiny pieces. This process is called RNA silencing. However, since plants' defense mechanism cannot suffice to some strong viruses, scientists will add bullets (siRNA) to plants' defense arsenal.
If successful, Dr. Kreuze and his team will produce "kits" containing appropriate cocktails for different crop viruses. Initially, the project will be tested on potato. However, the technique can also be applied to a wide range of viruses and crops.
See the CIP news release at http://cipotato.org/press-room/press-releases/cip-scientists-hope-to-crack-the-rna-silencing-code-to-stamp-out-plant-viruses.
[ Send to a Friend | Rate this Article ]
---
Plant breeders from Clemson University announced a new high-yielding oat variety that grows to medium height, withstands lodging, matures earlier, and produces more seeds than comparable varieties. The new variety, named Graham, will be available in limited quantities for growers to plant during the fall planting season, according to Chris Ray, director of the South Carolina Crop Improvement Association.
Ray said that Graham has "excellent yield potential and produces a 32.2-pound bushel compared to 31.9-pound bushel for Rodgers." It has produced slightly higher test weights (pounds per bushel) and consistently 20 bushels per acre more yield than the most commonly used oat varieties planted in the Carolinas.
Clemson University Public Service and Agriculture oversees the S.C. Crop Improvement Association, which runs the foundation seed program to provide growers with the highest-quality planting stock available. The seed is produced at Clemson University Experiment Station research centers and made available to producers and seedsmen.
The new oat variety is named after W. Doyce Graham, the small-grains breeder at Clemson University from 1966 to 2003.
More information about the Graham oat variety can be read at http://www.sciencedaily.com/releases/2012/07/120723151149.htm?utm_source=feedburner&utm_medium=feed&utm_campaign=Feed%3A+sciencedaily+%28ScienceDaily%3A+Latest+Science+News%29.
[ Send to a Friend | Rate this Article ]
---
The Energy Department and U.S. Department of Agriculture (USDA) will fund eight research projects aimed at applying biomass genomics to improve promising biofuel feedstocks and energy production. These projects will use genetic mapping to advance sustainable biofuels production. They will analyze and seek ways to maximize genetic traits like feedstock durability, tolerance to environmental stresses, and the potential for feedstocks to be used in energy production.
In addition, the USDA and Energy will support 13 projects worth $41 million to improve biofuels production and feedstock. "If we want to develop affordable alternatives for oil and gasoline that will help reduce our dependence on foreign oil, we need investments like these projects to spur innovation in bioenergy," said Agriculture Secretary Tom Vilsack. "By producing energy more efficiently and sustainably, we can create rural jobs, boost rural economies and help U.S. farmers, ranchers and foresters prosper."
More on this news at http://www.usda.gov/wps/portal/usda/usdahome?contentid=2012/07/0251.xml&navid=NEWS_RELEASE&navtype=RT&parentnav=LATEST_RELEASES&edeployment_action=retrievecontent
[ Send to a Friend | Rate this Article ]
---
The North Carolina Biotechnology Center (NCBiotech) in the U.S. inaugurated a new initiative that aims to help expand the state's agricultural economy by developing more crop choices for farmers. With the help of partners worldwide, NCBiotech has established the Biotechnology Crops Commercialization Center, which targets potentially valuable crops that fit the state's climate and agribusiness conditions. Agri-biotech expert Alan Kriz is now the executive director of the commercialization center.
The primary focus of the commercialization center is to facilitate a new project called Swine Feed Project, which aims to reduce the import of swine feed from outside the state. One of the crops under study is sorghum, which produces corn-like grains not typically grown in the state.
"The tools of biotechnology have become integral to agriculture. They allow us to see markers that serve as 'ID cards' for selecting plants or animals ideal for breeding. We can use polymerase chain reaction, or PCR, technology to analyze genetic traits of interest. Biotech will help us continue to improve everything from corn to switchgrass. And, eventually, maybe we'll develop even more productive North Carolina sorghum, " explained Kriz.
For more information, visit http://nctechnews.com/2012/07/18/agricultural-technology/ncbiotech-launches-center-to-commercialize-new-crops/7552/.
[ Send to a Friend | Rate this Article ]
---
Farmers in the Mississippi Delta can lose as much as 25 percent when they plant soybean crops in rotation with paddy rice. But scientists led by U.S. Department Agricultural Research Service Tara Van Toai might just have the solution to this problem. They are incorporating genes from non-native soybean varieties to supplement the narrow genetic base of U.S. soybeans and improve their tolerance to wet soil and associated diseases. This opens up the possibility for flood tolerant soybeans.
In screenhouses, the scientists identified the top three flood-tolerant lines: Nam Vang, which is native to Cambodia; VND2, native to China; and ATF15-1, which is native to Australia. Plants grew the tallest, produced the biggest seeds and highest yields. When planted in flooded experimental fields, they obtained similar results.
Check out the ARS News Service report at NewsService@ars.usda.gov.
[ Send to a Friend | Rate this Article ]
---
Using molecular markers, scientists of the U.S. Department of Agriculture would be able to expedite development of resistance to two important pests of cotton – the root knot nematode and the reniform nematode. These cotton pests have been wreaking havoc for more than 100 years and breeding research has slowed down because resistance is governed by multiple genes, as well as being costly and time-consuming.
At the agency's Genetic and Precision Agricultural Research Unit in Mississippi, plant geneticist Johnie Jenkins and colleagues developed genetic markers for the genes responsible for resistance to root-knot nematode in upland cotton. They were identified and found to be in chromosomes 11 and 14. The researchers also found resistance to reniform nematode in wild Gossypium barbadense that is governed by more than one gene. The markers linked to these genes were located in chromosomes 21 and 18.
Read the original news at http://www.ars.usda.gov/News/docs.htm?docid=1261
[ Send to a Friend | Rate this Article ]
---
A team of plant biologists at the University of California, Davis led by Neelima Sinha has developed a transgenic approach to fight parasitic vines that affect food crops. The team identified RNA molecules that respond to signals from the parasite to provide water, sugar and other nutrients.The genes responsible for the molecules are found in the actively dividing cells of the host and in the junctions where the parasite enters the host.
Using RNA interference, the team identified regions that were unique to the parasite, and used them to make a short DNA construct. Tobacco plants were engineered to contain this construct to make short pieces of RNA molecules that match the genes of the parasite but not the host.
Dodder vines which were allowed to grow on genetically engineered tobacco did not grow well, showed high level of stress as manifested by early flowering. The team hopes to extend application of this knowledge in Africa to prevent infection of Striga, a parasitic weed that affect grain crops.
See the news at http://news.ucdavis.edu/search/news_detail.lasso?id=10292.
Asia and the Pacific
Mr. Pranab Mukherjee was elected the 13th President of India and administered the oath of office to "preserve, protect and defend the constitution and law". In his brief acceptance address, he stated that the national mission should be to eliminate the curse of poverty and hunger.
Mr. Mukherjee said "There is no humiliation more abusive than hunger. Trickle-down theories do not address the legitimate aspirations of the poor. We must lift those at the bottom so that poverty is erased from the dictionary of modern India." He referred to education as the alchemy that can bring India its next golden age and as the framework of society is laid around the pillars of knowledge; "Our challenge is to convert knowledge into a democratic force by taking it into every corner of our country. Our motto is unambiguous: All for knowledge, and knowledge for all." he said.
A copy of the acceptance speech of the President of India is available at http://presidentofindia.nic.in/.
[ Send to a Friend | Rate this Article ]
---
U.S. Ambassador to Bangladesh Dan Mozina has expressed interest to undertake joint initiatives with Bangladesh Agricultural University to expedite agricultural development through sharing of modern technologies. During his visit and meeting with high officials on July 17, 2012, he emphasized the need for sustained crop production by harnessing emerging new avenues like biotechnology.
Mozina also expressed his government's desire to cooperate in establishing a gene bank, semen bank and cryopreservation system of crops, fish and animal. He noted that the existing Germplasm Centre, Central Lab and Agricultural Museum at BAU was satisfactory. BAU, according to the Ambassador has significant contributed to agricultural development, food sufficiency and poverty alleviation and that the U.S. would help to further enhance its activities.
Dr. Md Rafiqul Hoque, BAU Vice Chancellor, and local state administrators gave their commitments to meet the goal of making the university a center of excellence.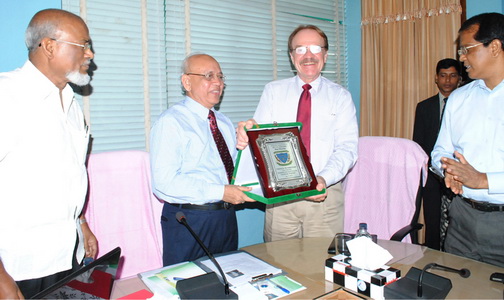 For more news about crop biotechnology email Dr. Khondoker Nasiruddin of the Bangladesh Biotechnology Information Center at nasirbiotech@yahoo.com.
[ Send to a Friend | Rate this Article ]
---
The International Maize and Wheat Improvement Center (CIMMYT) has introduced a wheat variety known as Francolin in Bangladesh which is tolerant to the Ug99 strain of stem-rust fungus.​ CIMMYT was assisted by the Bangladesh Agricultural Research Institute and supported in part by a United States Agency for International Development seed-multiplication program.​ The new seed variety will be combined with another seed variety called Hashi to cover around 5% of the country's total area harvested by 2013.​
The article is available at http://globalrust.org/traction/permalink/newsroom678.
[ Send to a Friend | Rate this Article ]
---
A new corn hybrid was launched by DuPont Pioneer in Indonesia. The hybrid labeled as P27 produces superior ears with high quality grain filling and with the capability to develop strong stalks and sturdier root systems for enhanced performance in adverse weather conditions and low yielding environments.
Aside from the gathering of 3,000 farmers who listened to the benefits and proper agronomic techniques to be applied in planting P27, Pioneer also unveiled a 2,400 m˛ elephant-shaped crop formation representing the characteristics of the new hybrid: strong and dependable.
Read the media release at http://www.pioneer.com/home/site/about/template.CONTENT/news-media/feature-stories/guid.88B1B26D-F859-B110-0CAA-C5A83A76611D.
Europe
A team of scientists from the University of Dundee and the James Hutton Institute (JHI) are the first researchers in the world to apply a new technique to sequence the genes of the plant Arabidopsis. Funded by the Biotechnology and Biological Sciences Research Council, they are the first to try to understand how plant genes are organized by directly sequencing RNA instead of DNA.
The research involved collaboration between a team of biologists led by Dr. Gordon Simpson of the University and JHI, computational scientists led by Professor Geoff Barton at Dundee, and a technology group from Helicos Biosciences in the United States. Dr. Simpson explained that "Until now, people have sequenced RNA by first converting it back into DNA. They chop it up, add on special molecules and then because there is not enough, they copy the bits again and again, before finally sequencing. The trouble is that all these steps introduce bias and error. What's special about what we have done is we have avoided all these steps and sequenced the RNA directly."
The new technique developed by the team allows scientists to see where genes end. This is important because it helps find individual genes within genomes and also reveals something about the behavior of cells. Aside from enabling scientists to understand what genomes actually encode and how active genes are, direct RNA sequencing is especially useful for situations where only a few cells are available.
The news release from the University of Dundee is available at http://www.dundee.ac.uk/pressreleases/2012/july12/plantgenomes.htm.
[ Send to a Friend | Rate this Article ]
---
Genetically modified organisms (GMOs) are no riskier than their conventional counterparts said European Commission's Chief Scientific Advisor Anne Glover in an exclusive interview for EurActiv. "There is no substantiated case of any adverse impact on human health, animal health or environmental health, so that's pretty robust evidence, and I would be confident in saying that there is no more risk in eating GMO food than eating conventionally farmed food," Glover explained.
The Chief Scientific Advisor added that scientific evidence is needed to play a stronger role in policymaking. "I think we could really get somewhere in Europe if and when the evidence is used partially, there were an obligation on people to say why they have rejected evidence," she said. Glover also said that she was looking into the possibility of creating a network of individual chief scientific advisors within member states to enhance scientific evidence within EU policy making.
The exclusive feature is at http://www.euractiv.com/innovation-enterprise/commission-science-supremo-endor-news-514072?utm_source=EurActiv%20Newsletter&utm_campaign=0fa3855ac8-newsletter_daily_update&utm_medium=email.
[ Send to a Friend | Rate this Article ]
---
UK's Department of Environment, Food, and Rural Affairs (Defra) released the conclusions of the Green Food Project together with the sub-group reports and online forum summary. The project aimed to bring together environment, industry, and environmental partners to agree on how improving the environment and increasing food production could be achieved.
The project steering group presented the following conclusions and recommendations in the report:
the project has promoted increased awareness and interest in sectors concerning farming, food and environment and that work in this areas should continue under this banner, where appropriate;
the innovative, open policy making approach taken in the project has generated a positive collaborative approach, which should continue as the actions are taken forward;
in areas where the issues are complex and solutions could not be easily found, particularly due to the differing views involved, a more strategic and substantive discussions is needed;
in taking forward the conclusions and corresponding actions, links will be made to ongoing related initiatives and existing good practices that are seen across the industry must be continued.
Read the report at http://www.defra.gov.uk/publications/2012/07/10/pb13794-green-food-project/.
[ Send to a Friend | Rate this Article ]
---
Public acceptance of genetically modified crops appears to be increasing based on the survey conducted by ComRes for The Independent in United Kingdom.
The respondents were asked if the Government should allow research on GM crops to reduce pesticide use of farmers. Majority (64%) agreed, 27% disagreed, and 9% were undecided. The results also showed that there is a significant "gender gap" with females having more knowledge about the conduct of GM crop trials than the males. However, more males (70%) said that such experiments should be encouraged, while only 58% of the females share the same thinking.
Few differences were found in terms of opinion and the respondents age, social class, or location. The overall findings look encouraging for researchers who hope that a more softly approach to the development of GM crops in UK will gradually win over a skeptical public. At present, no GM crops are grown commercially in UK but imported commodities contain GM crops such as soybean are used for animal feed.
The original story is available at http://www.independent.co.uk/news/uk/politics/dramatic-change-as-twothirds-now-support-gm-crop-testing-7973432.html.