News
Global
The Consultative Group on International Agricultural Research (CGIAR), the world's largest publicly-funded research body, has outlined a seven-point plan on how global farm and development research can contribute to a more sustainable, food-secure future.
The seven point plan calls for: adoption of cross-sectoral approaches to facilitate broader partnerships, coordinated regulatory frameworks, and appropriate economic incentives; adoption of measures to address the unequal sharing of natural resources and their benefits through improved governance and technology dissemination; supporting of global knowledge sharing systems, actions to support the wide range of options currently available to restore and better manage degraded environments and ecosystems; measures to strengthen and support local food production groups, livestock herders, and smallholder farmers; endorsement of full implementation of the ITPGRFA (International Treaty on Plant Genetic Resources for Food and Agriculture) and actors to make a clear commitment to sustainable agricultural systems that prioritize food and nutrition security to lessen the need for emergency responses.
To read the statement in full, go to http://www.iita.org/c/document_library/get_file?uuid=7aa0cf59-cf37-41aa-a55e-a72f4f681b0c&groupId=25357.
[ Send to a Friend | Rate this Article ]
---
Two recent events at the United Nations Conference on Sustainable Development (Rio+20) in Rio de Janeiro, Brazil discussed ways on how to enhance sustainable agriculture inspite of various challenges that the planet is facing such as population inflation, climate change and scarcity of land and water resources.
Experts from different parts of the globe highlighted the important role of agricultural technologies- from drought tolerance to water harvesting - in increasing crop yields while reducing agriculture's environmental footprint at the same time. International Food Policy Research Institute's (IFPRI) Senior Researcher Claudia Ringler presented the preliminary results of an ongoing IFPRI study that assesses the potential impacts of nine specific agricultural technologies and practices on crop yields, food security, and the environment globally - with an emphasis on developing countries. As the initial result suggests, all nine technologies assessed have potentials to increase the affordability of food in developing countries by reducing projected price increases for key staple grains.
In relation with IFPRI's observations, Lindiwe Majele Sibanda of the Food, Agriculture and Natural Resource Policy Analysis Network (FANRPAN) and Elisio Contini of the Brazilian Agricultural Research Corporation (Embrapa) explained the importance of modification of these technologies to the specific needs of farmers in Sub-Saharan Africa and Brazil, respectively. Adrian Fernández of the Commission on Sustainable Agriculture and Climate Change, on the other hand, presented specific policies that could be implemented by governments to ensure that the technologies can also meet important climate change adaptation and mitigation objectives.
See the original article at http://www.ifpri.org/blog/agriculture-game-changers-rio20
[ Send to a Friend | Rate this Article ]
---
The Food and Agriculture Organization (FAO), International Fund for Agricultural Development (IFAD), World Food Programme (WPD) and Biodiversity International have issued a joint statement on eradicating hunger and poverty by implementing strategies that do not compromise the planet's resources for the future generation's use. The joint statement was released on the occasion of the United Nations Conference on Sustainable Development (UNCSD), also known as the Rio+20 conference from June 20 to 22, 2012 in Rio de Janeiro, Brazil.
As the joint statement implies, all the efforts toward "sustainable development" will be in vain if humanity cannot be fed and the resources upon which life depends cannot be protected. Thus, the said organizations recommended several methods and strategies which include demonstrating political will to improve governance, reform policy and most especially, take action.
To ensure the poorest of the poors' adequate and nutritious food, they should be supported through research, education, assistance, and social protection programmes or safety nets. The joint statement also acknowledged the important role of agricultural methods and technologies in producing more and sustainable crops. As indicated, promotion of crop diversification can ensure that agriculture produces a variety of foods suitable for health and nutrition, and also provides the necessary resilience to cope with climate change.
The FAO release is at http://www.fao.org/news/story/en/item/150055/icode/.
[ Send to a Friend | Rate this Article ]
---
The revised version of Multi-Crop Passport Descriptors is now available in the web. The new list of descriptors, named the FAO/Bioversity Multi-Crop Passport Descriptors (MCPD V.2), is the expanded version of the original publication which was first released in 2001 by the Food and Agriculture Organization (FAO) and the International Plant Genetic Resources Institute (now Biodiversity International). The new version is expected to accommodate emerging documentation needs, derived inter alia from the entry into force of the International Treaty on Plant Genetic Resources for Food and Agriculture and its Multilateral System for access and benefit-sharing, and from technological changes such as the broader use of GPS tools.
See the news release of Biodiversity International at http://www.bioversityinternational.org/nc/publications/publication.html?user_bioversitypublications_pi1%5BshowUid%5D=6901&cHash=707d08e264e414bbcf9a8a09b55ca694. To access MCPD V.2, go to http://www.bioversityinternational.org/fileadmin/bioversity/publications/pdfs/1526_FAO-Bioversity_multi_crop_passport_descriptors_V.2.pdf?cache=1340343362.
Africa
Biotechnology researchers presented the benefits of genetic modification in plants during the AfricaBio media dialogue on agricultural biotechnology held last month. According to the researchers, GM plants help ensure crop protection, decrease input costs and exposure to harmful chemicals and improve grain quality.
The researchers also presented legislative control of GM organisms that help ensure safe and responsible handling of GM crops in South Africa, as well as the results of a public perception study and the socio-economic impact of GM crops in South Africa.
Marnus Gouse, a researcher from the University Pretoria, presented the approved GM crops in South Africa: maize, soybean, and cotton. "Most benefits arise from education around the effective use of GM crops. However, farmers are pragmatic and will not use the GM seeds should the prices rise too sharply," he explained.
Michael Gastrow, another researcher from Human Sciences Research Council, discussed the impact of public perception on GM crops. "Public perceptions shape policy, meaning that science must engage effectively in public relations. Further, governments are often not involved in shaping public perception through information dissemination, which can also lead to negative perceptions if conflated with labor issues or ethical issues – issues that are often not connected to the topics being discussed." He also added that the relationship of the scientists with the media is important to ensure that science-based information is delivered to the public.
Read more at http://www.engineeringnews.co.za/article/biotechnology-important-to-africas-development-2012-06-15.
[ Send to a Friend | Rate this Article ]
---
New iron-rich bean varieties bred by the Rwanda Agriculture Board (RAB) and the International Center for Tropical Agriculture (CIAT) using conventional breeding methods were recently released by the Rwandan government. In field trials, in addition to being iron-rich, the farmers found the beans to be high yielding and resistant to major diseases and pests, as well as possessing large seed size and in preferred colors.
The development and delivery of the iron-rich beans is being funded by HarvestPlus in partnership with local government, RAB and CIAT. It is planned that 200 tons of the bush bean varieties will be distributed to 75,000 farming households in September this year.
See the news at http://www.ifpri.org/pressroom/briefing/rwanda-releases-iron-rich-beans.
[ Send to a Friend | Rate this Article ]
---
Prof. Calestous Juma, one of Kenya's most influential scientists, has called upon Kenya's youth to make biotechnology promote economic inclusion, in the same way that mobile technology has done for money transfer and banking. He spoke at the Jomo Kenyatta University for Agriculture and Technology (JKUAT) where he received an honorary doctorate on 22 June 2012. He stressed the importance of agricultural biotechnology for Kenya as one of the solutions to the major challenges facing the country, such as rising population, ecological degradation, and climate change.
Like mobile phone technology, he said, biotechnology has its detractors. He expelled misinformation about the technology such as benefiting only the rich, destroying the environment, and undermining food security. "It is estimated that the use of agricultural biotechnology over the 1996-2010 period reduced carbon dioxide emissions by 19.4 billion kilograms. Over the same period, pesticide spraying went down by 438 million kilograms hence health benefits by minimizing chemical poisoning among farmers," Juma explained.
Citing examples of studies in the US and China on the effects of biotechnology on the environment, the Kenyan scientist explained that there exists unintended benefits of agricultural biotechnology, whereby conventional farmers report lower pest infestation if their neighbors grow pest-resistant crops. These first studies show positive area-wide impact of biotechnology crops. A vision for biotechnology in Kenya will include meeting the needs of the very poor by developing cheaper products such as diagnostics for crop diseases.
For more news about biotechnology in Africa, email J. Odhong of the East and Central Biotechnology Information Center at j.odhong@isaaa.org.
[ Send to a Friend | Rate this Article ]
---
Improved seeds and other farm technologies are best bet for enhanced agricultural productivity in Sub-Saharan Africa (SSA) where smallholder farmers make up 70 percent of people that depend solely on agriculture for livelihood and suffer most challenging farming problems. This was the remark of Dr. Denis T Kyetere, Executive Director of the African Agricultural Technology Foundation (AATF), at the 2012 'Bio International Convention: the Global Event for Biotechnology' in Boston, Massachusetts, USA.
Dr. Kyetere added that smallholder farms also have the lowest farm production costs and any investment will be visible and have impact. The use of improved technologies will result in higher and better yields, labor savings and will also allow for possible crop diversification and address production constraints such as insect and weed pests, drought, disease and soil degradation, as well as protect the environment. However, while agricultural biotechnology advances rapidly in the developed world, developing countries are struggling to keep pace for various reasons including human and institutional capacity challenges, lack of familiarity with the biotech product development process, and difficulties in navigating cumbersome regulatory processes.
"We are calling on the private sector to partner with the public sector to contribute to the development and delivery of biotechnology tools to smallholder farmers in Sub-Saharan Africa to help overcome some of these challenges. The private sector can contribute their technologies, knowhow and even funding. Other key areas include capacity strengthening in areas such as stewardship, product development and deployment, and participating in policy development debates where they can share their experience with governments," Dr Kyetere added.
Email n.muchiri@aatf-africa.org for additional information.
[ Send to a Friend | Rate this Article ]
---
An interactive roundtable on opportunities in science was organized by the Egyptian Competitiveness Council (ENCC) to identify and prioritize innovative scientific and technological developments in agriculture last June 12, 2012. The event held in Cairo was sponsored by USAID, Egyptian's Competitiveness Program and ENCC. It was attended by 50 participants from both government and the private sectors.
The round table discussion was moderated by Tarek Tawfik, ENCC Member and Head of Food Security and Safety Sub-council, who gave an update on global food security and developments in biotechnology to address agricultural challenges. Mrs. Amina Ghanem, Executive Director of the ENCC, noted that Egypt's score on the Global Competitiveness Index (GCI) has been decreasing, from 83 out of 131 countries in 2009-2010 to 103 in 2011- 2012. She said that this is cause for alarm and that Egypt should spur developments to avoid future crises.
The participants stated that Egypt needs to initiate and facilitate trust between private sectors, researchers, and decision makers. Important issues that need to be addressed include the need for transparency to maximize the benefits of research and communication to reach out to stakeholders. In addition, IPR and plant varieties protection should be taken into consideration. Among the recommendations were to decentralize research, create a non-centralized knowledge park, facilitate access to innovation, maximize the role of the private sector, and create long term working groups.
For more news about biotechnology in Egypt, email Dr. Naglaa Abdalla of the Egypt Biotechnology Information Center at nabdallah@e-bic.net.
[ Send to a Friend | Rate this Article ]
---
A one-day workshop on Biosafety of GMOs was held on June 9, 2012 at the Faculty of Agriculture, Cairo University for 130 specialists in the field of biotechnology and food safety. The first in a series organized by the Egyptian Biotechnology Information Center (EBIC), the workshop aimed at enhancing participants' understanding of the key principles of biosafety and risk assessment of genetically modified organisms (GMOs).
Experts included Dr. Ahmed Naguib Sharaf, Dean of the Faculty of Agriculture, Cairo University; Prof. Hussein Mansour, Head of the National Authority for Food Safety, Ministry of Trade and Industry; Dr. Mohammad Abdul Ghani Roudhan, Deputy Director of Quality Management and Development Office of the Prime Minister; and Dr. Salah Soliman, Advisor of Bibliotica Alexandrina. The following recommendations were forwarded after the round table discussion with experts:
The application of biotechnology and the use of GMOs are no longer options but necessary.
Transparency between researchers, stakeholders and decision-makers regarding biosafety and risk assessment is needed for accurate information dissemination.
There is need to raise awareness regarding GMOs and biosafety among members of the community through media, seminars in schools and public libraries,universities as well as in the rural communities.
Institutional biosafety committees in different universities and research institutes working with biotechnology must be reactivated.
Private sector should participate in using GM technology to develop Egyptian agriculture.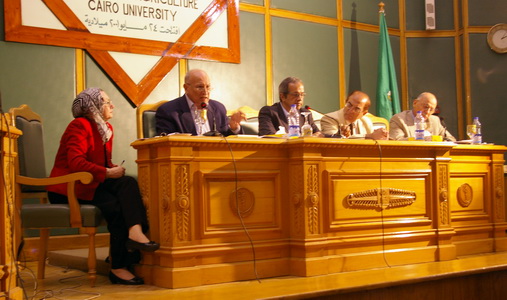 For more on this workshop, visit the EBIC website at http://www.e-bic.net or contact Dr. Naglaa Abdallah at nabdallah@e-bic.net
[ Send to a Friend | Rate this Article ]
---
Scientists from the International Crops Research Institute for the Semi-Arid-Tropics (ICRISAT) conducted a study summarizing strategies for plant breeders to enhance the adaptation of pearl millet and sorghum to climate variability in West Africa.
Among the study's recommendation are development of variety types with high degrees of heterozygosity and genetic heterogeneity and traits that potentially enhance adaptive phenotypic plasticity or yield stability in variable climates such as photoperiod-sensitive flowering, plastic tillering, flooding tolerance, seedling heat tolerance, and phosphorus efficiency.
For more information, visit http://oar.icrisat.org/6012/.
Americas
Bt crops have been proven to be effective in controlling pests as long as the pests do not evolve resistance to the toxin produced by the crop. The U.S. Environmental Protection Agency (EPA) required the use of refuge, or host plants that do not produce Bt toxin, to delay the pests' evolution of resistance. The EPA requires minimum refuges of 20% for Cry3Bb1 corn and 5% for corn producing two Bt toxins active against corn rootworms.
Scientists Bruce Tabashnik and Fred Gould from North Carolina State University suggested through an article that the refuge requirement be increased because Bt corn hybrids active against corn rootworms do not meet the high-dose standard, and western corn rootworm has rapidly evolved resistance to Cry3Bb1 corn in the laboratory, greenhouse, and field. Thus, they recommend that the minimum refuge for Bt corn targeting rootworms should be increased to 50% for plants producing one Bt toxin and 20% for plants producing two Bt toxins. They said that this increase in refuge percentage would help delay resistance, promote integrated pest management and sustainable crop protection.
Read the abstract at http://www.bioone.org/doi/abs/10.1603/EC12080.
[ Send to a Friend | Rate this Article ]
---
Two improved varieties of potatoes were able to increase the crop's yield eight times higher than any of the 150 native potato varieties grown in the Cusco region in Peru three years after their formal release. This was reported by Stef de Haan, International Potato Center's (CIP) breeder.
The two varieties, named Pallay Poncho and Puka Lliclla, are both resilient to late blight disease, a fungus that is posing an increasing threat to potato production in the Andes. The two varieties give yields of about 15-16 tons per hectare, compared to 5 tons per hectare from traditional native potatoes.
View the original article at http://www.cgiar.org/consortium-news/improved-potato-varieties-ensure-peruvian-communities-have-enough-to-eat/.
[ Send to a Friend | Rate this Article ]
---
Canada's International Development Research Centre (IDRC) and the Canadian International Development Agency (CIDA) launched two projects by the University of Saskatchewan (U of S) to deliver safe and more nutritious food in Ethiopia and Kenya. With the Ethiopian partner Hawassa University, a $1.6 million project will tackle malnutrition by developing and introducing legume crops to provide farmers high protein crops that are rich in iron and zinc, at the same time enriching soils through the crops' nitrogen-fixing capabilities.
U of S and the Kenyan Agricultural Institute on the other hand, partnered in a $3.7 million project to develop an affordable, safe, easily produced and easily stored vaccine to eradicate contagious bovine pleuropneumonia of cattle. This cow disease has an estimated economic impact of $2 billion per year.
See the news at http://news.usask.ca/2012/06/20/u-of-s-kenyan-and-ethiopian-scientists-partner-to-combat-hunger/.
[ Send to a Friend | Rate this Article ]
---
US Department of Agriculture Tom Vilsack addressed the American Seed Trade Association's 129th Annual Convention about the need for the seed industry to help educate the policy makers in the capital about the importance of agricultural research and to farmers about coexistence. He highlighted the importance of research and innovation in helping farmers adapt to climate change and be more efficient with resources such as water, nitrogen and fertilizer, the news says. He also opined that as science changes and advances, the regulatory framework needs to follow.

On genetic engineering (GE) Vilsack said that the United States is a large country and there are vast land holdings that can use GE, conventional, and organic at the same time. Farmers should be able to choose the production method they want. All aspects of agriculture must be tapped to make it an interesting and attractive endeavor. Seed industries should be there to help the country and the farmers realize this.
For details on this news, see http://www.amseed.org/newsDetail.asp?id=256.
[ Send to a Friend | Rate this Article ]
---
NEXGROW™ alfalfa, the new brand name for the Syngenta and NK® brand of alfalfas has been launched recently. NEXGROW™ alfalfa provides producers the same high yield and forage quality as the former Syngenta and NK® alfalfas.
Grant Ozipko, Syngenta crop portfolio head said. "Grower favorites like 6422Q, the top winner at World Dairy Expo's 2011 World Forage Analysis Superbowl, will be available along with varieties that are glyphosate tolerant or highly resistant to potato leafhopper."
This brand will also offer next generation glyphosate tolerant varieties, such as Revolt; and superior late fall dormant varieties with exceptional winter hardiness.
For more information on NEXGROW™ alfalfa, visit http://www.plantNEXGROW.com.


Asia and the Pacific
Scientists at the University of Toronto discussed in an article the importance of trait stacking for biotech crops in developing trust for agri-biotech development projects. According to Obidimma Ezezika and colleagues, there is an advance in the agri-biotech humanitarian projects for food security and this will be sustained over the next years. However, it is important that these projects build trust with the public especially the farmers, who would directly benefit from the results of the projects.
Based on the authors' social audit engagement with the Water Efficient Maize for Africa Project, it was revealed that stacking traits in biotech crops is an unrecognized component of building trust with farmers. The concerns about stacked traits must be publicly addressed to increase the potential of all partners and stakeholders to generate mutually advantageous solutions and enhance opportunities to build trust.
Read the complete article at http://www.agricultureandfoodsecurity.com/content/pdf/2048-7010-1-5.pdf.
[ Send to a Friend | Rate this Article ]
---
The Center for Jatropha Promotion and Biodiesel (CJP) is promoting the use of castor bean for feedstock and biodiesel. Castor bean, an annual oil crop that grows in arid and semi-arid areas produces seeds that contain approximately 50 percent oil. This oil has a growing market for biodiesel manufacturers and has a wide range of applications in the industrial bio-chemical sector.
CJP is exploring ways of growing castor using combined conventional breeding methods with biotechnological techniques. This combination will help develop castor bean oil for biofuel purpose.
To read more about this new opportunity, visit http://www.eco-business.com/press-releases/castor-bean-moving-forward-on-new-biodiesel-crop-opportunity/.
[ Send to a Friend | Rate this Article ]
---
Australia's Grains Research and Development Corporation has embarked into a 'pre-breeding research' investment of $13.5 million for wheat and barley and has invested close to 51.5 million from 2009-2010 to 2012-13. Details of the 'pre-breeding' investments' are contained in the newly released Cracking Wheat's Toughest Nuts Fact Sheet.
The fact sheet includes sections on important traits related to climate change such as frost, drought, salinity, nutrient use efficiency (nitrogen and phosphorus), diseases, and quality and functionality, as well as a table outlining progress made on these challenges.
"The lag between investment and delivery of improved varieties to growers is generally between 10 to 20 years, although many tools developed as part of pre-breeding research can deliver benefits much earlier to current breeding programs and therefore new varieties," said Dr. Jorge Mayer, quality traits manager of GRDC. "It is also important to remember that Australian growers are reaping the benefits of investments made many years ago in genetic improvement," Dr. Myer added.
The GRDC Cracking Wheat's Toughest Nuts Fact Sheet is available at http://www.grdc.com.au/GRDC-FS-CrackingWheatsToughestNuts. For details of this news, view http://www.grdc.com.au/director/events/mediareleases/?item_id=0CC7793901CF2827D5C4CA97EF237829.
[ Send to a Friend | Rate this Article ]
---
Israel's Evogene signed an agreement with India's Rasi Seeds to develop rice with increased yield and drought tolerance. Under the collaboration agreement, candidate genes discovered by Evogene for these key traits will be introduced into Rasi Seeds pipeline to evaluate them in field trials for the development of improved hybrid rice. The agreement also allows Rasi Seeds the right to commercialize hybrid rice with these genes in India and other countries in Southeast Asia.
Dr. M. Ramasami, managing director of Rasi Seeds, said "We are pleased to collaborate with Evogene to introduce new technologies and excel our research and development in rice hybrids. With Rasi's leaderships in hybrid seed products in India, this collaboration serves our goal to expand into a multi-crop quality research to contribute the farming community and the industry, primarily in India."
The news release is available at Evogene's website at http://www.evogene.com/News-Events/Press-Releases/2012/Rasi-Seeds-and-Evogene-to-Collaborate-on-Improving-Key-Traits-in-Rice.
Europe
Rothamsted Research scientists are studying the genes from marine organisms that make omega-3 oils to use them in crops. Omega-3 fatty acids are important in our diet because they protect us from heart ailments and provide nutrients for lactating mothers, explained Rothamsted's Director Maurice Moloney during his talk at Cereals 2012 held on June 12-13 at Boothby Graffoe, Lincolnshire, England. He stressed that when the right genes from marine organisms are used in oilseeds and linseeds, omega-3 fatty acids in human diet would be improved and at the same time ease the pressure on declining fish supply.
"Our suggestion to solve the sustainability problem is to look at the metabolism in these omega-3 long chain fatty acids in the native organisms - primarily micro algae, singled celled photosynthetic organisms…Those genes have been cloned in a variety of plant models. We could reestablish the metabolic pathway of those algae in oilseeds…If we do that, we can grow our oilseeds adjusted as we grow oilseeds right now," Moloney explained.
The oil produced from GM oilseeds may be packaged into capsules as supplements for lactating mothers who need the oil for their children's development. The oil could also be added to yoghurts and soft drinks, which are appetizing for children.
Read the original article at http://www.fwi.co.uk/Articles/15/06/2012/133442/39GM-oilseed-rape-could-cut-healthcare-bill39.htm.
[ Send to a Friend | Rate this Article ]
---
A new website to support wheat research has been recently launched by the BBSRC (Biotechnology and Biological Sciences Research Council), INRA (Institut National de la Recherche Agronomique) and CIMMYT (International Maize and Wheat Improvement Centre) to contribute to the coordination of activities of the Wheat Initiative. It aims to be an information resource for worldwide research programs and contribute to food security globally.
The Wheat Initiative coordinates research to produce improved wheat varieties, disseminate better agronomic practices worldwide, and to help farmers to stably produce more and better wheat in diverse production environments.
Steve Visscher, BBSRC Deputy Chief Executive, said, "There is a worldwide need to increase wheat yield and improve tolerance to stresses, diseases and pests. Coordinated research can also help us to improve the efficiency of farming inputs for more sustainable wheat production. The Wheat Initiative will help to combat this grand challenge by exchanging knowledge, identifying synergies and encouraging collaborations among major wheat research programs."
View the website at http://www.wheatinitiative.org. Details of the news can be seen at http://www.bbsrc.ac.uk/news/food-security/2012/120618-n-new-website-to-support-wheat-research.aspx.
[ Send to a Friend | Rate this Article ]
---
The USDA FAS Global Information Network (GAIN) reports the current status of agricultural biotechnology in Germany. It is characterized by mixed policies and messaging, the report says. In summary, the general public has rejected biotech crops as there is no commercial biotech crop production, the government has banned the planting of some EU-approved biotech crops, and GM products are not sold in the markets.
The report discussed various government policies that support biotechnology and the rise of the industries such as the "High-Tech Strategy 2020". Under this strategy, the German government "seeks to lead in Europe in terms of number of biotech enterprises, sales and employment figures." They have also launched a "National Research Strategy BioEconomy 2030" to advance research. However, large anti-biotech NGOs are targeting retailers who are offering GMO-labeled products. In addition, Germany which gave rise to top biotech crop companies such as Bayer CropScience, BASF and KSW, has also many anti groups that made field testing and research not conducive thus, BASF has announced its relocation to the United States in January this year.
Details of the report can be viewed at http://gain.fas.usda.gov/Recent%20GAIN%20Publications/Agricultural%20Biotechnology%20Annual_Berlin_Germany_5-10-2012.pdf.
[ Send to a Friend | Rate this Article ]
---
The European Commission Bioeconomy Action Plan, a ten year result of researches to deliver improved and safer food chain in Europe, has been completed and published. Results were obtained from individual FP6 projects and will be disseminated to the stakeholders. Initially, the results of the project was presented at the "What's for Lunch" forum held in Brussels in late 2011, and later, this has been compiled in an academic textbook titled Food Chain Integrity.
The projects were conceived to address origin and traceability issues as well as safety. The Integrated Project TRACEBACK focus on food origin, and provides information link from product's raw material to its sale. Project TRACE involves the identification and assessment of vulnerabilities in the food chain and will help consumers better know where their food comes from.
Project BIOTRACER identifies the origin of the food as well as pinpointing exactly where contamination happened. And lastly, on genetically modified (GMs) organisms, the Co-Extra Project which specifically deals with "GM and non-GM supply chains: their co-existence and traceability" brought together 52 partner institutions in 18 countries. It specifically covers issues of non-authorized GMs under any jurisdiction as they may have unknown risks to health and environment.
The news release can be viewed at http://cordis.europa.eu/fetch?CALLER=EN_NEWS&ACTION=D&SESSION=&RCN=34749.