News
Global
In the years following the end of World War II, a new revolution started. A revolution that transformed agriculture, saved millions of lives and played an important role in the economic growth of many impoverished countries. This Green Revolution introduced high-yielding and disease-resistant varieties of rice, wheat and maize, in addition to new methods of growing and harvesting crops. Norman Borlaug, known as the father of the Green Revolution, now calls upon this generation "to begin a second, more extensive, rebellion against world hunger." The Nobel Peace Prize laureate said that the green revolution hasn't been won yet. He stressed that "developing nations need the help of agricultural scientists, researchers, administrators and others in finding ways to feed ever-growing populations."
Borlaug believes that the Global Food Security Act of 2009, a U.S. legislation that would authorize appropriations for fiscal years 2010 through 2014 to provide assistance to foreign countries to promote food security and improve agricultural productivity, can lead the way in starting a second Green Revolution. He also sees U.S. Land Grant institutions playing important roles in contributing to worldwide food security. Borlaug noted that these institutions "can provide developing countries with technical assistance, educational outreach, improved technology and agricultural practices, scientific training and research, and hands-on instruction."
The Food Security Act, which amends the Foreign Assistance Act of 1961, is now awaiting approval by the U.S. Senate.
Read the original article at http://agnews.tamu.edu/showstory.php?id=1054
[ Send to a Friend | Rate this Article ]
---
Chile's President Michelle Bachelet was awarded the United Nations Food and Agriculture Organization's (FAO) Ceres Medal in honor of her country's progress in promoting agriculture in the fight against hunger. The medal was conferred by FAO Director-General Jacques Diouf at the La Moneda Presidential Palace. Diouf lauded Bachelet for "giving agriculture the importance it deserves" and noted that Chile is one of the countries which are on track in meeting the 1996 World Food Summit commitment to halve the number of people who suffer from hunger. Bachelet is the country's first woman president.
The Ceres Medal, named after the Roman goddess of agriculture, is given to distinguished women who have contributed to the fight against hunger. Previous recipients include Mother Theresa of Calcutta, Bangladesh Prime Minister Sheikh Hasina, Queen Sofia of Spain and Thailand's Queen Sirikit.
For more information on the award, visit http://www.fao.org/news/story/en/item/10457/icode/
[ Send to a Friend | Rate this Article ]
---
Farmers and scientists are now devising ways to increase food production in the midst of fast changing climate. Climate change affects all aspects of agriculture including water resources, variety of crops to use, and the timing of planting. Genetic conservation of crops also requires drastic and innovative strategies to meet the needs of agriculturists. Toby Hodgkin, Principal Scientist and Director of the Global Partnership Programme at Bioversity International, told the Climate Congress in Copenhagen that the four areas needed to be re-examined are:
Ex-situ conservation in genebanks must expand dramatically.
Diverse farming systems do adapt and help poor farmers to survive change; more use should be made of biodiversity as an adaptive strategy.
The relationship between on-farm conservation and genebanks must change.
Access to genetic diversity, by farmers and by breeders, becomes of paramount importance.
He further added that, "As climate change continues to change the geography of agriculture, we have to mimic natural systems ourselves and use a diversity of approaches to ensure that farmers and breeders have the ability to get hold of and make use of as much diversity as possible. That way, we might stand a chance of creating secure food systems."
See the press release for more details at:. http://www.bioversityinternational.org/news_and_events/news/news/article/the_use_and_conservation_of_
diversity_must_change_with_climate_change.html?tx_ttnews%5BbackPid%5D=323&cHash=45815b1e86
Africa
Scientists at the International Institute of Tropical Agriculture (IITA), in collaboration with researchers from the Tokyo University of Agriculture and Crop Research Institute in Ghana, have developed a new way of propagating and growing yam (Dioscorea sp.), an important root crop in Sub-Saharan Africa.
The scientists developed a technique that eliminates the use of tubers; therefore more of the crop is available for food or for sale. Vine cuttings in a carbonized rice husk growth medium are used to propagate the crop. This minimizes nematode infestations and promotes faster multiplication and better and more uniform crop quality. Carbonized rice husk could be obtained by farmers cheaply, if not for free.
Hidehiko Kikuno, IITA plant physiologist and project leader, said "Our goal is to reduce the amount of yam tubers invested as seeds so that farmers will have more food and make more money." The cost of planting materials is a major constraint in yam cultivation, with tubers used as seed taking up 30 to 50 percent of the production cost.
FAO estimates that the West Africa accounts for 97 percent of world yam production.
Read the original article at http://www.iita.org/cms/details/news_details.aspx?articleid=2113&zoneid=81
[ Send to a Friend | Rate this Article ]
---
The Asian Vegetable Research and Development Center - The World Vegetable Center has released the results of the evaluation of 20 tomato lines for adoption in West Africa. The testing was a part of the Bill and Melinda Gates Foundation-funded project on Vegetable Breeding and Seed Systems for Poverty Alleviation in sub-Saharan Africa. The testing conducted in Mali showed two tomatoes CLN2366A and CLN2366B having a yield of 23 and 28 t/ha, respectively and grown under hot-wet conditions. The fruit of both lines is orange in color, an indication of high beta carotene, which was confirmed in laboratory tests to contain 10 to 12 times more than the normal red-fruited tomato.
The lines are adapted to the hot-wet season in the region, they flower early and have determinate vines. Sokona Dagnoko, a vegetable breeder from the Center's Subregional Office for West and Central Africa in Bamako, Mali is optomistic that year-round production and consumption of high beta-carotene tomatoes like CLN2366 and CLN2366B would help fight vitamin A deficiency in West Africa.
For details, see press release at: http://www.avrdc.org/morenews/2009/news-03-06-2009.pdf
Americas
Monsanto Company is one step closer to releasing the world's first drought-tolerant genetically modified corn after completing regulatory submissions in the United States and Canada. The biotech corn, developed in collaboration with Germany-based BASF, has moved into the final phase of development and could be available to farmers as early as 2012. Scientists from public research institutions and agricultural companies are racing to develop new crop varieties that can thrive when water is in short supply amid fears of global climate change.
Monsanto applied for U.S. Department of Agriculture (USDA) approval of its drought-tolerant corn product following its submission to the Food and Drug Administration (FDA) last December. The company said that regulatory submissions in key import markets such as Japan, Mexico, and Korea, will be made in the next several months.
The company has been working with BASF Plant Science on the drought-tolerant corn since March 2007. Monsanto and BASF are jointly contributing US$1.5 billion over the life of the collaboration, which is aimed at developing higher-yielding crops and crops more tolerant to adverse environmental conditions.
The media release is available at http://monsanto.mediaroom.com/index.php?s=43&item=695
[ Send to a Friend | Rate this Article ]
---
In a study by David Hannapel, professor in horticulture at Iowa State University, the mechanism on how potatoes develop tubers was recently discovered. "We've always known that there was a signal activated in the leaf that was sent down the plant to activate tuber formation," Hannapel said. "But the identity of that signal has never been confirmed." Results of his recent study shows that a sunlight activated signal RNA molecule makes the Bel5 protein which moves from the leaves to the tubers and communicates to the plant to activate the pathway that leads to tuber formation. The Bel5 serves as the master switch that activates other genes for tuber formation underground.
In an expression experiment, the gene allowed the formation of more tubers in the genetically modified potato in a short span of time. Experiments are underway to fully understand and characterize the proteins that recognize mobile RNAs and the facilitation of their movements, as well as the specific controls associated with the gene. Guru Rao, professor and chair of the Department of Biochemistry, Biophysics and Molecular Biology stressed that the system can potentially be used to enhance crop productivity in potatoes considering that potato is the most productive food crop on the planet and is a critical staple in many developing countries.
For details of the study see press release at http://www.public.iastate.edu/~nscentral/news/2009/mar/storage.shtml
[ Send to a Friend | Rate this Article ]
---
"Today, more than ever before, science holds the key to our survival as a planet and our security and prosperity as a nation. It's time we once again put science at the top of our agenda and work to restore America's place as the world leader in science and technology." With this pronouncement United States President Barack Obama signed a Presidential Memorandum on scientific integrity.
The Memorandum aims to "restore scientific integrity in government decision making." Hence, the Administration's decisions about public policy will be guided by the most accurate and objective scientific advice available. "The public must be able to trust that advice, as well, and to be confident that public officials will not conceal or distort the scientific findings that are relevant to policy choice," the Memorandum noted.
Read more on the Memorandum at http://www.whitehouse.gov/the_press_office/Fact-Sheet-on-Presidential-Memorandum-on-Scientific-Integrity/
[ Send to a Friend | Rate this Article ]
---
Varieties of blueberries and cranberries can now be identified efficiently using microsatellite genetic markers. Scientists at the Agricultural Research Service (ARS) have developed a collection of short repetitive, non-coding DNA sequences or microsatellite markers that would compare species and varieties. This technology will be very useful in tracking genetic diversity and greatly accelerate breeding for improved agronomic, quality and nutritional traits. In addition, the technology has been used to improve blueberry trait such as cold hardiness and fruit quality. Leading the project are Nahla Bassil of the Northwest Center for Small Fruit Research and Jeanine Rowland of the ARS Genetic Improvement of Fruits and Vegetables Research Unit who collaborate with international institutions in these efforts.
For details, view press release at http://www.ars.usda.gov/is/pr/2009/090309.htm
Asia and the Pacific
Genetically modified blue roses may soon be growing in Australia. The country's Office of the Gene Technology Regulator (OGTR) has received an application from Florigene Pty Ltd for the commercial release of GM Hybrid Tea rose. The rose expresses the flavonoid 3'5'-hydroxylase gene from Viola and the athocyanin 5-acyltransferase gene from Torenia for altered flower color. It also contains the selectable antibiotic-resistance marker gene nptII. The GM rose was created by Florigene and Japan-based Suntory Company after twelve years of joint research.
The GM rose line submitted for commercial approval is one of the three lines the OGTR approved for a limited and controlled release in March 2006. Florigene intends to grow the GM rose plants and handle their products in the same manner as conventional roses. Flowers that are produced would be sold through normal commercial distribution channels to the public, Australia-wide.
The OGTR has prepared a Risk Assessment and Risk Management Plan (RARMP) which concludes that the proposed release would pose negligible risk to human health and environment safety.
For more information, visit http://www.ogtr.gov.au/internet/ogtr/publishing.nsf/Content/dir090
[ Send to a Friend | Rate this Article ]
---
A three day International Conference on Plant Breeding and Seed for Food Security was recently held at the Bangladesh Agricultural Research Council, Dhaka, Bangladesh with both Ms. Matia Chowdhury, Minister for Agriculture and Dr. M. A. Razzaque, Minister for Food and Disaster Management supporting the use of biotechnology as the prime option for food and nutritional security for Bangladesh.
Ms. Chowdhury assured that the government will continually support initiatives for food security using high tech agriculture. Dr. Razzaque on the other hand, emphasized the development of world class biotech laboratories and research institutions that will conduct significant research to address agricultural problems such as salinity, waterlogging, drought, diseases and pests. He further suggested to develop varieties for improved water/nutrient use efficiency and more photosynthetic ability like converting C3 to C4 plants.
Similarly, Bangladesh Food and Agriculture Organization representative Ad Spijkers expressed his support to biotech and basic research especially for developing saline tolerant crops and other varieties of crops with important traits for food security. The conference was attended by 600 scientists, seed growers, farmers, researchers and was chaired by Dr Kazi Badruddoza, National Scientist Emeritus.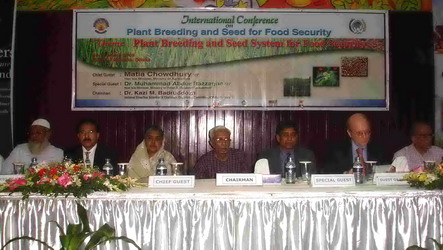 For details of the conference, contact Dr. K. M. Nasiruddin of Bangladesh Biotechnology Information Center at
nasirbiotech@yahoo.com
.
Europe
The German Federal Ministry of Education and Research has awarded Freie Universität Berlin and China Agricultural University a € 1.35 million (US$ 1.74 million) grant for a project that could speed up the development of nitrogen use efficient rice varieties. The scientists working on the project will focus on deciphering the molecular structures responsible for urea's absorption and metabolism in the crop.
Urea is the nitrogenous fertilizer most commonly used in agriculture around the world, particularly in Asia where it accounts for more than half of the fertilizers used. Availability of nitrogen use efficient rice varieties can significantly reduce the amount of fertilizers farmers apply to fields. This can increase farm productivity and reduce the ecological impacts associated with nitrogen fertilizers.
Read the press release at http://www.fu-berlin.de/presse/fup/2009/fup_09_043/index.html
[ Send to a Friend | Rate this Article ]
---
Bayer's genetically modified herbicide-tolerant cotton (GHB614) is as safe as its conventional counterpart with respect to potential effects on human and animal health and the environment. This is the conclusion of the study conducted by the European Food Safety Authority's (EFSA) Scientific Panel on Genetically Modified Organisms. The EFSA GMO Panel assessed Bayer's GM cotton with reference to its intended uses, which include import and processing of cotton materials and use as food and feed.
EFSA's scientific assessment includes molecular characterization of the inserted DNA and expression of the new protein, comparative analysis of agronomic traits and composition, and evaluation of the new protein and the whole food/feed with respect to nutritional quality, potential toxicity and allergenicity. The GM cotton expresses a modified maize ESPS gene that confers tolerance to glyphosate-based herbicides.
The complete scientific opinion is available at http://www.efsa.europa.eu/EFSA/efsa_locale-1178620753812_1211902368331.htm
[ Send to a Friend | Rate this Article ]
---
Scientists at the Wageningen University in the Netherlands achieved a major advance by developing transgenic potato plants producing itaconic acid, a valuable raw material used in the production of high-quality synthetic materials such as resins and acrylic latexes. Iatonic acid serves as a starting material for production of methacrylate, building blocks for PMMA or polymethyl methacrylate acrylic plastic (known also as Lucite, plexiglass or perspex), with a global production volume of 3 million. PMMA is used as a glass substitute, radiation shield, and optical media storage and in bone implants and dentures.
Scientists have long been interested in using plants as biofactories to produce base compounds for the chemical industry. Plants can be engineered to produce hundreds of thousand of tons of a single compound. And since they are solar-powered, plants may offer an eco-friendly way of producing raw building block chemicals.
The scientists, led by Ingrid van der Meer, are still fine-tuning itaconic acid expression in potato. "We now want to investigate in which part of the plant, and in which compartment of the cells, the itaconic acid can be synthesized and accumulated best," says van der Meer. "We already know, for instance, that tubers are far more suitable for the process than leaves."
For more information, read http://www.pri.wur.nl/UK/newsagenda/news/itaconzuur050309.htm
Research
Scientists at the Southern Illinois University and Washington University in the U.S. have developed transgenic moss (Phsycomitrella patens) accumulating high levels of paclitaxel, a potent anti-cancer drug. Paclitaxel, or more commonly known by its brand name Taxol, is widely prescribed to patients with lung, breast and ovarian cancer as well as to patients with advanced form of Kaposi's sarcoma. First isolated from the bark of Pacific yew (Taxus brevifolia), paclitaxel inhibits the proliferation of cancer cells by disrupting microtubule disassembly during cell division.
Extremely low levels of paclitaxel in Pacific yew prompted researchers to develop chemical methods to synthesize the anti-cancer agent. Transgenic expression systems, especially using bacteria and yeasts, have also been used to produce paclitaxel precursors. But none of these methods are suitable for large-scale commercial production of paclitaxel. Currently, the drug is manufactured from a precursor compound isolated from the needles of European yew.
Compared to other plant expression systems, the transgenic moss that the scientists developed accumulated higher levels of the paclitaxel precursor taxa-4(5),11(12)-diene (up to 0.05% fresh weight of tissue). Although this is lower than what can be achieved when yeasts and bacteria are used, the scientists noted that microbes have different post-translational modification mechanisms which may affect the activity of the paclitaxel precursor.
The complete article published by Transgenic Research is available for download at http://dx.doi.org/10.1007/s11248-009-9252-5
[ Send to a Friend | Rate this Article ]
---
The shedding of plant organs such as leaves and flowers, known to plant biologists as abscission, and dehiscence or the spontaneous opening of a plant structure to release its content, are the culmination of a series of well-orchestrated molecular events involving cell separation. Cell separation is an important phenomenon. In addition to dehiscence and abscission, it enables the vascular tissue to differentiate, leaves to form, pollens to shed from the anther and radicle to emerge from the germinating seed. Scientists at the Australian Commonwealth Scientific and Industrial Research Organization (CSIRO) have now identified the molecular underpinnings of cell separation.
Using the plant model Arabidopsis thaliana, the researchers found cell separation to be a complex process, involving several different enzymes, particularly polygalacturonases, and phytohormones. The scientists identified one of the main enzymes involved in the process, QRT2. The research also highlighted the effects various plant hormones have on QRT2 and the other enzymes involved in cell separation.
The study has important implications for agriculture and horticulture. For instance, reducing the activity of genes that are involved in cell separation in legumes and brassicas may lead to seed pods that are less prone to shattering, reducing seed losses prior to harvest.

For more information, visit http://www.csiro.au/resources/The-Science-Of-Breakups.html The paper published by The Plant Cell is available to subscribers at http://dx.doi.org/10.1105/tpc.108.063768
[ Send to a Friend | Rate this Article ]
---
A group of scientists from the Huazhong Agricultural University, in Wuhan, China found that a WUSCHEL-related Homeobox (WOX) gene in rice, named WOX11, is involved in the activation of crown root emergence and growth. In rice, the shoot-borne crown roots are the major root type and are initiated at lower stem nodes as part of normal plant development. However, the regulatory mechanism of crown root development is poorly understood. The team led by Dr. Dao-Xiu Zhou found that the expressions of auxin- and cytokinin-responsive genes were affected by WOX11 overexpression and RNA interference in transgenic plants. The results suggest that WOX11 may be an integrator of auxin and cytokinin signaling for regulation of cell proliferation during crown root development.
The article is published online by The Plant Cell. For the full article, visit http://www.plantcell.org/cgi/rapidpdf/tpc.108.061655v1
Announcements
This video produced by the International Service for the Acquisition of Agri-biotech Applications (ISAAA) South Asia Office presents the major findings of the Global Status of Commercialized Biotech/GM Crops in 2008 and addresses the growing interest biotech crops have experienced in the past years, including substantial advances in Africa. The video discusses in detail the three questions global society has begun to ask about biotech crops. First, can they contribute to more affordable food? Second, can they help mitigate climate change and contribute to sustainability? And finally, can they contribute to global food security and the alleviation of poverty?
View the video at http://www.isaaa.org/Resources/videos/gs2008/default.html. For a copy of the video contact ISAAA South Asia Office at b.choudhary@cgiar.org .
[ Send to a Friend | Rate this Article ]
---
Monsanto Canada is offering between 60 and 70 scholarships to grade 12 graduating students from farm families who plan to pursue post-secondary education in agriculture or forestry in the fall of 2009. Monsanto Canada Opportunity Scholarships are available to eligible students entering their first year of post-secondary education in agriculture or forestry at a recognized Canadian educational institution. "Our scholarship program is just one way we can show support for those who have a passion for agriculture and want to enter this growing and vibrant sector," said Trish Jordan, public affairs director with Monsanto Canada.
Visit http://www.monsanto.ca/about/news/2009/03_12_09.asp for more information.
[ Send to a Friend | Rate this Article ]
---
The Association of Applied Biologists is organizing an international conference that will be held at Rothamsted Research, Harpenden, Herts, UK on 12-14 October 2009. With the theme Agriculture: Africa's Engine for Growth - Plant Science & Biotechnology Hold the Key, the international symposium is designed to bring together scientists from Africa, Europe and the USA to examine how new advances in plant science research and developing technologies can be used to the benefit of African agriculture.
Visit the conference website at http://www.aab.org.uk/contentok.php?id=83&basket=wwsshowconfdets
[ Send to a Friend | Rate this Article ]
---
The 9thAfrican Crop Science Society Conference is scheduled to be held on 28 September 2009 at Cape Town, South Africa. The theme of the conference will be "Science and Technology Supporting Food Security in Africa". Aspects such as agronomy, horticulture, crop improvement and physiology, post harvest handling and food sciences and rural socio-economics and agricultural extension will be covered.
Visit conference website at http://www.acss2009.up.ac.za/ for more information or contact G.D. Joubert at joub@absamail.co.za
[ Send to a Friend | Rate this Article ]
---
An International Seminar and Workshop on Biodiversity, Biotechnology, and Crop Production is scheduled to be held at Padang, West Sumatera on 17-18 March 2009. The seminar aims to introduce current molecular biology techniques to explore potentials of germplasm (plant or microbial) biodiversity for biotechnology applications and strengthen information dissemination on biotechnology. The event is organized by the Indonesian Association on Agricultural Biotechnology West Sumatra Branch, Andalas University and Indonesian-German Networking-Teaching, Training and Collaboration Research (IGN-TTRC). Lecturers and university students, professionals from government research institutions, private sectors, and non-government organizations are invited to attend this event.
For more information, visit http://bioteksumbar.multiply.com/journal/item/2/Seminar_International_Biotechnology or contact Dr.sc.agr. Ir. Jamsari, at ajamsari@yahoo.com. For information on biotechnology in Indonesia, contact Ms. Dewi Suryani at dewisuryani@biotrop.org.