News
Global
ERA-NET for Coordinating Action in Plant Sciences (ERA-CAPS), a European Commission-funded network, was launched to coordinate plant science research across Europe and beyond. The network composed of 26 partners from 23 countries will fund plant science research programs to help address global challenges such as ensuring food security and providing sustainable bioenergy.
The UK Biotechnology and Biological Sciences Research Council (BBSRC) will coordinate ERA-CAPS. The collaborative projects will do research on plant biology that may have applications including improved crops for food, energy and industrial biotechnology.
For more information, visit http://www.bbsrc.ac.uk/news/policy/2012/120213-n-international-plant-science-network.aspx
[ Send to a Friend | Rate this Article ]
---
Farmers in sub-Saharan Africa and South Africa are the targets of an agriculture and development project recently announced by Bill and Melinda Gates Foundation during the 35th Session of the Governing Council of the International Fund for Agricultural Development (IFAD) in Rome. Included in the grant is a three-year US$21 million Tropical Legumes II livelihood project that would bring about US$1.3 billion added value to the productivity of the target crops: chickpea, common bean, cowpea, groundnut, pigeonpea, and soybean.
"If you care about the poorest, you care about agriculture," said Bill Gates, co-chair of the foundation. "Investments in agriculture are the best weapons against hunger and poverty, and they have made life better for billions of people. The international agriculture community needs to be more innovative, coordinated and focused to really be effective in helping poor farmers grow more. If we can do that, we can dramatically reduce suffering, and build self-sufficiency."
During the first phase of the project, more than 60 new varieties of tropical legumes have been released to 240,000 small holder farmers in several countries, and together with extension workers have been trained on improved farming practices. The second phase of the grant will focus on gender specific aspects of tropical legume production, marketing, and consumption. There will be emphasis on location-specific monitoring and evaluation, impact assessment, data management and increased seed production and delivery as well as the strengthening of national agricultural research systems in the two regions.
Details of this news can be seen at http://www.icrisat.org/newsroom/news-releases/icrisat-pr-2012-media5.htm.
[ Send to a Friend | Rate this Article ]
---
A new annual award to be given by the World Food Price Foundation and the Rockefeller Foundation is targeted to honor young field researchers emulating Dr. Norman Borlaug. The Norman Borlaug Award for Field Research and Applications is endowed by the Rockefeller Foundation which carries a $10,000 cash prize. The award will be a recognition of young individuals under the age of 40 who are working closely and directly in the field of production or processing level with farmers, animal herders, fishers or others in rural communities, in any discipline or enterprise across the entire food production, processing and distribution chain.
"It is the spirit of innovation that defined Dr. Borlaug's work and a commitment to leveraging those innovations that aided the poor and vulnerable on a global scale; that has also animated the work of the Rockefeller Foundation for nearly 100 years," said Dr. Judith Rodin, president of the Rockefeller Foundation. "This new award will focus attention on those young scientists engaged in field research and application of the type Norm Borlaug and his Rockefeller colleagues pioneered when they were early in their careers working in Mexico, Colombia and India, and other countries in the developing world."
Nominations for the Norman Borlaug Award for Field Research and Application, endowed by the Rockefeller Foundation, are invited now through June 30, 2012. See announcement at http://www.worldfoodprize.org/index.cfm?nodeID=24667&action=display&newsID=17108.
Africa
Ghana's Biosafety Act 831 has finally received Presidential Assent, thus becoming a complete law allowing the application of biotechnology in food crop production involving genetically modified organisms to enter food production. The law will also establish a transparent and predictable process to review and make decisions on certain GM products that are for pharmaceutical use.
According to Ebenezer Adjietror, Principal Assistant Clark in Charge of Rable Office, Parliament House, the act went through all the necessary stages before it was approved as a law. Under the new biosafety law, a National Biosafety Authority will be formed with functions specified in the act.
Read the media release at http://www.ghana.gov.gh/index.php/component/content/article/96-top-headlines/11068-ghanas-biosafety-law-finally-receives-presidential-assent.
[ Send to a Friend | Rate this Article ]
---
The Biosciences eastern and central Africa Hub, International Livestock Research Institute (BecA-ILRI Hub) hosted an inception workshop for a new project which will explore the current knowledge and research focus on tissue culture and plant transformation methods for under-studied crops in the region. The workshop was attended by 22 scientists from across 16 institutes from Burundi, Ethiopia, Kenya, Rwanda,Tanzania, Uganda and was facilitated by the BecA hub with its partners from Switzerland and Australia.
The participants identified several under-studied crops to focus on for this project including enset, yam, taro, rose apple, baobab, passion fruit, and garlic. It is expected that tissue culture protocols for the production of improved planting materials and/or conservation for these crops will be developed as part of a three-year program funded by the Swedish Ministry for Foreign Affairs through Swedish International Development Cooperation Agency (SIDA). The program supports biosciences research, development and related capacity building, in an effort to address food security issues in Africa.
For more information on the project, contact Ethel Makila, communications officer at BecA Hub at e.makila@cgiar.org.
Americas
The public comment period for a petition by Dow AgroScience LLC for corn event DAS-40278-9 seeking a determination of nonregulated status was announced by the US Department of Agriculture's Animal and Plant Health Inspection Service to be extended through April 27, 2012.
The corn event was genetically engineered to provide tolerance to 2,4-D and aryloxyphenoxypropionate acetyl coenzyme A carboxylase inhibitors. APHIS made available for public comment its plant pest risk assessment and draft environmental assessment for DAS-40278-9. These documents can be found at http://www.aphis.usda.gov/biotechnology/news.shtml.
The news release can be viewed at http://www.aphis.usda.gov/newsroom/2012/02/gecorn.shtml.
[ Send to a Friend | Rate this Article ]
---
Canada's Premier Brad Wall during the Saskatchewan Agriculture Wheat Summit in Saskatoon announced a $10 million fund for five years for wheat-related research.
"It's time to put wheat back on top again," Wall said. "Early varieties like Marquis made farming worthwhile in all but the most inhospitable parts of the prairies…. It's time to recapture that leadership, so Saskatchewan can help feed a hungry planet."
The new wheat-related research funding will be used to partner with public and private organizations that will make wheat farming profitable again. New varieties of wheat that are sturdy against pests and diseases and tolerant to drought and extreme temperatures thus need to be developed.
See the original news for more information at http://www.gov.sk.ca/news?newsId=76a8df03-54b1-460d-8e41-7db94ca792f5
[ Send to a Friend | Rate this Article ]
---
A research study conducted by Marty Williams and Jerald Pataky of the University of Illinois investigated disease and weeds and their interaction on sweet corn growth and development. The results published in the journal Field Crops Research entitled Interactions between maize dwarf mosaic and weed interference on sweet corn discuss how maize dwarf mosaic (MDM) affects sweet corn which is made worse by the invasion of the weed wild-proso millet.
The study revealed that the combination of the disease and the weeds bring too much stress in sweet corn since MDM stunts corn that hinder its ability to capture light. In the presence of weeds, the crops have more difficult time competing for nutrients, water, and light.
Author Williams said "this study gives the sweet corn industry and research community a better understanding of the individual and combined effects these two stresses have on crop growth and yield. The work provides strong incentive for developing hybrids with higher levels of MDM resistance and improved competitive ability with weeds."
For more on this news, see http://www.aces.uiuc.edu/news/stories/news6148.html
[ Send to a Friend | Rate this Article ]
---
An international team of scientists led by Stewart Gray of the USDA-ARS received a three year grant to develop protein biomarkers that would facilitate identification of insects capable of transmitting viral disease. This Basic Research to Enable Agricultural Development (BREAD) grant worth $868,896 from the National Science Foundation and the Bill and Melinda Gates Foundation would be utilized in the development of a test kit that farmers can use to identify virus insect vectors.
Viral diseases in plants are incurable and control of insect vectors would be one strategy to stop disease spread. Rampant use of insecticide has killed various insects including beneficial ones. Thus, once insect vectors have been identified through the use of this protein maker, growers can target particular insects with pesticides at a certain time in their life cycle.
More on this news can be seen at http://www.news.cornell.edu/stories/Feb12/BREADGrant.html
[ Send to a Friend | Rate this Article ]
---
An international team of scientists led by Prof. Debashish Bhattacharya of Rutgers University conducted a study that is considered as the final piece of the photosynthesis evolution puzzle. Their study titled Cyanophora paradoxa genome elucidates origin of photosynthesis in algae and plants is published this week in the journal Science.
The team sequenced the 70 million base pair nuclear genome of Cyanophora, a single-celled alga that has retained much of the ancestral gene diversity common between algae and plants. The team used the Illumina Genome Analyzer IIx in Rutgers to get the data which provided the conclusive proof that all plastids trace their origin to a single primary endosymbiosis, which has been believed to be the event that led to the development of photosynthetic species.
Read more at http://news.rutgers.edu/medrel/news-releases/2012/02/the-origin-of-photos-20120220.
[ Send to a Friend | Rate this Article ]
---
Bayer CropScience and Texas AgriLife Research, a part of the Texas A&M University System, College Station, Texas, USA have signed an agreement to develop and commercialize improved wheat varieties. The goal is to allow wheat to grow in areas which are currently unfavorable for its production.
The research team will focus on developing wheat lines that offer improved yields, as well as drought resistance, disease resistance and improved quality. Development of molecular breeding tools to facilitate the rapid genetic improvement of wheat will be pursued in combination with both classical and modern breeding techniques.
Check out the press release at http://www.press.bayer.com/baynews/baynews.nsf/id/EDB866CA86DF6E0CC12579A7003BCE80?open&ccm=000
[ Send to a Friend | Rate this Article ]
---
On farm trials of Monsanto's DroughtGard™ Hybrids will commence this spring in the Western Great Plains of the United States. The approval of this trial was issued to Monsanto following the December 2011 USDA deregulation of the drought trait.
DroughtGard Hybrids belong to the Genuity® corn family that contains drought-tolerant characteristics with agronomic recommendations. For the spring 2012 trials, Monsanto plans to have Genuity® VT Triple PRO®, Genuity® VT Double PRO® and Roundup Ready® Corn 2 technologies to serve as the agronomic trait platforms for DroughtGard Hybrids.
"DroughtGard Hybrids have shown strong performance in our trials and demonstrated an advantage over competitor products," said Mark Edge, DroughtGard Hybrids marketing lead. "Our on-farm trials this season are focused on giving farmers a chance to see the performance of these hybrids and to give us feedback to help us make commercial decisions."
View the original news at http://monsanto.mediaroom.com/index.php?s=43&item=1020
Asia and the Pacific
Development of wheat and barley tolerant to frost is the best solution to minimize losses due to frost. The Grains Research and Development Corporation of Australia has identified barley germplasm with frost tolerance which is now included in the barley breeding programs. Similarly, wheat lines with frost tolerance are under evaluation. Department of Agriculture and Food (DAFWA) research officer Ben Biddulph says that frost tolerance development in crops can now be conducted with greater accuracy and repeatability in their laboratory.
The researchers observed that reduction in the number of grains in the head start to occur in wheat and barley when temperatures are around 0 and -2°C respectively with no visible signs of frost damage. Under severe frost (<-2° for wheat and <-6°C for barley) all varieties are equally susceptible with substantial reduction in the number of grains in the head. "Future work will continue refining screening methods, searching for sources of tolerance, work towards developing frost sensitivity ratings of new varieties and validate the impact of frost induced sterility from mild frosts on yield in wheat and barley," Dr. Biddulph said.
See the news at http://fw.farmonline.com.au/news/state/grains-and-cropping/general/frost-nurseries-identify-tolerant-grain-varieties/2464587.aspx
[ Send to a Friend | Rate this Article ]
---
More than 200 local officials from municipalities in the province of Pangasinan, Philippines learned about biotechnology and Bt eggplant during the Seminar-Workshop on Agri-biotechnology towards Food Security and Sustainable Agriculture in a Changing Climate last February 17, 2012 at the Asturias Hotel, Puerto Princesa, Palawan.
Scientists and regulators discussed and introduced the Philippine and global biotech scenario; the basic science and applications of biotech, biotech regulatory framework in the country, public sector efforts, and the global potential and impacts of biotech crops. Speakers from the farmer sector also gave talks on their experiences from planting biotech corn to partnerships.
The participants expressed their interest in bringing Bt eggplant to farmers to their municipalities. During the workshop, the Pangasinan officials concluded that there is a need for more information outreach activities in the region, to raise awareness and understanding of the benefits and potentials of biotechnology among key stakeholders. Similarly, the local policymakers identified proper policies on biotech as a requirement for its advancement. They looked forward to the commercialization of biotech products such as flood and drought tolerant, as well as pest resilient crops, recognizing biotech as a tool for agricultural development in the country.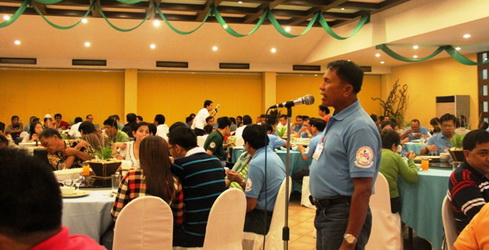 For more information about the seminar, visit http://www.bic.searca.org or e-mail bic@agri.searca.org.
[ Send to a Friend | Rate this Article ]
---
Speakers at a recently arranged exposition in Pakistan stressed the need for advanced scientific research in the agriculture and livestock fields to augment the country's key export sectors and making the nation self-sufficient in several edible commodities. Agriculture-based companies, including fisheries, poultry, livestock, dairy, biotechnology deployment, and agriculture farm equipment, took part in one of the country's largest agricultural and livestock expositions at Expo Center, Islamabad.
Foreign delegations of growers and agriculture experts also participated in the recently arranged show. Local investors set up stalls displaying various products. Federal Commerce Secretary Zafar Mehmood said that the country should reshape the pivotal agriculture sector with scientific research. He called for enhancing the supply chain up to consumers.
Check out http://www.pabic.com.pk/Scientific%20Research%20Necessary%20to%20Speed%20up%20Agri,%20Livestock.html for the full story.
[ Send to a Friend | Rate this Article ]
---
In a meeting in Sahiwal, Pakistan, farmers voiced out their support for the approval of genetically modified corn following the successful completion of the field trials. Monsanto's GM corn product "VT Double Pro" that contains insect resistance and herbicide tolerance genes have been tested for its efficacy to control insect pests and weeds in field conditions.
The commercialization of the GM corn now awaits the approval by government authorities. The farmers upon learning the successful field trial of the GM corn urged the government to approve its release to the Pakistani farmers. They also asked the help of the media in promoting modern crop technologies in Pakistan.
Read the news release at http://www.pabic.com.pk/Government%20wants%20to%20give%20approval%20to%20genetically%20modified%20corn.html
Europe
As per European Commission's request, EFSA Panel on Genetically Modified Organisms has issued a scientific opinion related to risk assessment of cisgenic and intragenic plants. The panel compared the hazards associated with plants produced by cisgenesis and intragenesis with those obtained either by conventional plant breeding techniques or plant genesis.
The Panel concludes that "similar hazards can be associated with cisgenic and conventionally bred plants, while novel hazards can be associated with intragenic and transgenic plants." Thus, the GMO panel opined that the established Guidance for risk assessment of food and feed from genetically modified plants and the Guidance on the environmental risk assessment of genetically modified plants are applicable for the evaluation of food and feed products derived from cisgenic and intragenic plants and for performing an environmental risk assessment and do not need to be developed further.
More on this news at http://www.efsa.europa.eu/en/efsajournal/doc/2561.pdf
[ Send to a Friend | Rate this Article ]
---
EFSA's Panel on Genetically Modified Organisms has ruled that "the information available for soybean MON 87701 x MON 89788 already addresses the scientific comments raised by Member States and that it is safe as its comparator with respect to potential effects on human and animal health and the environment, in the context of its intended users."
The GM soybean event underwent risk assessment for consideration for food and feed uses, import and processing. It contains genes for insect resistance and herbicide (glyphosate) tolerance through conventional crossing of two soybean events MON 87701 × MON 89788. The F1 plant contains one copy of the gene or is hemizygous for the newly introduced traits.
Details of the risk assessment decisions can be seen at http://www.efsa.europa.eu/en/efsajournal/doc/2560.pdf
[ Send to a Friend | Rate this Article ]
---
United Kingdom Environment Secretary Caroline Spelman stated that drought may be a new norm for UK, during the annual conference of the National Union of Farmers (NFU) held last February 21, 2012 in Birmingham City, England. Thus, she said that UK must find more ways to make plants resistant to drought, citing an Australian project working on GM rice as an example.
"This technology, if used responsibly, may be one of the tools in terms of food security that we need going forward," she said. "It could be one of the tools in the tool kit to help us with food security. The key thing is to keep investing in the science base."
NFU president, Peter Kendall, also said that it was "desperately worrying" that GM crops are not being developed in Europe at the same rate as China and US, and already, other countries are progressing.
Visit http://www.habitat.org.uk/news1.htm for more details.
[ Send to a Friend | Rate this Article ]
---
Dr. Anne Glover, the first ever European Union chief scientific adviser, sees the need to "seriously look at GM crops when we tackle the global problem of climate change and being able to feed the population of the world. It links into food security as well and we do need to think about that." In an exclusive interview with PublicServiceEurope.com, Glover said that being in molecular biology has allowed her to know the power of the technology and in making appropriate regulations.
"By turning our backs on the evidence, there is a question over whether we are still going to be as competitive. We need to seriously look at GM crops when we tackle the global problem of climate change and being able to feed the population of the world. It links into food security as well and we do need to think about that," the scientific adviser added.
Glover averred that for Europe to be successful in the 21st century and beyond, the economy has to be based on science, engineering and technology.
View http://www.publicserviceeurope.com/article/1519/the-new-eu-chief-scientist-in-her-first-major-interview for the full interview.
Beyond Crop Biotech
Biotechnology research is hoped to be made cheaper and more efficient with the research findings from a new project funded by the Longer and Larger grant from the Biotechnology and Biological Sciences Research Council (BBSRC). Scientists at the University of Southampton and Oxford have found that DNA and RNA segments can be 'clicked' together using chemical methods instead of using enzymes which require specificity and can only be conducted in small scale.
The research team has been awarded over £4 million to develop a new technique for 'clicking' DNA and RNA segments together. DNA that underwent the 'click' method can still be recognized, copied and read, and enzymes can even make RNA. Synthesizing strands of DNA using enzymes which require extreme optimization and specificity can thus be replaced by the 'click' technology. The 'click' technology could be used in certain cancer therapy and HIV treatment where long strands of DNA are used to turn off genes. This could be done by Introducing shorter DNA into the cell and allowing them to strongly stick together once inside the cell.
Professor Andrew Turberfield of the University of Oxford one of the lead researchers of the project believes that "this new technology is an important addition to the toolbox of molecular techniques that is allowing researchers to explore how biological systems function by creating simplified and modified biomolecular machinery."
View the news at http://www.bbsrc.ac.uk/news/industrial-biotechnology/2012/120221-pr-project-herald-efficient-biotechnology.aspx
[ Send to a Friend | Rate this Article ]
---
Two proteins that bind together stronger than the strongest "glue" were found by researchers at the Department of Biochemistry, Oxford University. Named SpyTag and SpyCatcher, the two protein complex of FbaB were found in human pathogen Streptococcus pyrogenes. The FbaB protein has a 3D structure that is stabilized by another covalent bond, which instantly binds and loops the amino acid chain together with exceptional strength.
Published in this week's Proceedings of National Academy of Sciences, results of the study led by Mark Howarth shows that the two parts of FbaB protein can be split by around the covalent bond and can be brought together again forming the strong bond once more, even at extreme temperatures. The ability of SpyCatcher and SpyTag to stick onto other molecules you want to glue together could have many applications in biological systems inside the cells, such as in sticking all the enzymes involved in a chemical process into a small factory, speeding reactions and increasing yields.
See the story at http://www.ox.ac.uk/media/science_blog/120221.html
[ Send to a Friend | Rate this Article ]
---
A research team from the Australian National University developed a strategy that would help other researchers search for the key genetic information that dictates development of cancer. Led by Prof. Thomas Preiss, the team used a new mapping technique to expose cancer-related signals in the ribonucleic acid (RNA).
"RNA acts as a messenger, carrying genetic information to the parts of the cell in which proteins are made. Enzymes in the cell can modify RNA, leaving 'sign posts', known as m5C sites," Professor Preiss said. "The enzymes that modify RNA have proven connections to cancer and stem cell biology. Understanding the patterns of these modifications will help cancer researchers focus their attention on the contribution that RNA makes to cancer."
The team mapped the said modifications in the RNA for the first time and was able to identify more than 10,000 new sites. Results of their study further revealed that these sites were more widespread than previously perceived, and occurred near genetic landmarks.
Read the original article at http://news.anu.edu.au/?p=13741.
[ Send to a Friend | Rate this Article ]
---
DNA origami, a technique used by scientists to design structures from DNA, is now being used by experts to make devices that can seek out and destroy living cells like robots. Thus, the researchers have called them nanorobots. According to Ido Bachelet, one of the authors of the study from the Harvard Medical School in Massachusetts, once the nanorobot recognizes a cell, it will automatically alter its shape and deliver its cargo.
"You can think about it as a sort of combination lock," says Bachelet. "Only when both markers are in place, can the entire robot open." They tested different types of locks that have been designed to target various kinds of cancer cells in culture. Those that were designed to attack a leukemia cell exhibited the ability to select the cell from the mixture of cells then release the antibody that would stop the cells from growing.
The nanorobots were designed using a software called Cadnano. Since the nanorobots can be programmed to release their payload only when the target cell is in a certain disease state, then they have the specificity that is absent in other drug-delivery methods. The team is planning to test the nanorobots in mice soon.
The original article can be viewed at http://www.scientificamerican.com/article.cfm?id=dna-robot-kills-cancer-cells.