News
Global
Performance Plants Inc., a Canadian agricultural biotechnology company, has announced that it has secured Canadian and US patent protection for its proprietary crop drought protection -- Yield Protection Technology™ (YPT™). The announcement marked the opening of a new company facility in Kingston, Ontario.
YPT™ protects crops by allowing them to close earlier their stomata- the plants' microscopic pores that mediate gas exchange- thereby reducing water loss through transpiration. As a result, YPT™ enables plants to increase yield by 15% - 25%, depending on the plant species. The technology is expected to be available to farmers in 2011.
"Biotechnology is the best solution to some very large human problems such as water shortages, climate change and increased population," said Dr. David Dennis, President and Chief Executive Officer. "What we are doing at our new laboratory facilities in Kingston and at our lab in Saskatoon will put Canada and Performance Plants in the forefront of developing a secure food supply for the world."
For more information visit: http://www.performanceplants.com/
[ Send to a Friend | Rate this Article ]
---
A roundtable discussion by the Organization for Economic Cooperation and Development (OECD) led by Richard Doornsbosch and Ronald Steenblik, was conducted to (1) determine whether the technical means exist to produce biofuels in ways that enable the world to meet demand for transportation energy in more secure and less harmful ways, on a meaningful scale and without compromising the ability to feed a growing population; and (2) to determine if the current national and international policies that promote the production of biofuels represent the most cost-effective means of using biomass, and the best way forward for the transport sector.
Participants to the discussion recommended the development of a new alternative policy agenda that highlights the necessity to find renewable energy sources that are cheap, clean, flexible and easily scalable. The policy should address concerns on: tapping other energy sources besides ethanol; removal of present government mandates on blends that leads to a domino effect of complex problems; need for a thorough study of the subsidy policies which currently blind consumers on the realities of the biofuel industry; and the establishment of regulatory interventions and fiscal resources that enable the widest array of biofuel technology to compete.
The full OECD can be viewed at: http://www.oecd.org/dataoecd/33/41/39276978.pdf
[ Send to a Friend | Rate this Article ]
---
The billions of poor and malnourished people of Asia, Africa and South America are the most vulnerable to climate change. But, with advances in science, knowledge-based interventions, and significant donor support from the developed and developing countries to support research, these people can be made less vulnerable, according to Dr. William Dar, Director General of the International Crops Research Institute for the Semi-Arid Tropics (ICRISAT), and the Chair of the Committee for Science and Technology of the United Nations Convention to Combat Desertification (UNCCD).
ICRISAT, which focus on research and development of semi-arid crops, is finding ways to address the current climate uncertainty, land degradation and water scarcity. These initiatives include improved climate variability analysis; projects to overcome land degradation and water scarcity; use of improved crop management options; improved crop breeding; and a pro-poor BioPower strategy.
The full press release can be viewed at: http://www.icrisat.org/Media/2007/media14.htm
Africa
Only four sub-Saharan African countries, South Africa, Zimbabwe, Sudan and Burkina Faso, have fully functional biosafety legal frameworks despite the fact that other parts of the world have been growing biotech crops for over ten years. Fifteen other Sub-Saharan countries, including Kenya, Malawi and Tanzania, have interim biosafety frameworks. Francis Nang'ayo, biosafety expert at the African Agricultural Technology Foundation (AATF), speaking during the tenth session of the Open Forum for Agricultural Biotechnology (OFAB 10) held recently in Nairobi, wondered why African states were so reluctant to enact biosafety laws, yet had signed and ratified the Cartagena Protocol on Biosafety, which mandates them to enact national biosafety legislations.
'There is encouraging progress towards enactment of biosafety laws in Africa', he noted. Even so, participants at the OFAB 10 were concerned that most states were held hostage by anti-biotech lobby groups who could easily influence them to enact stringent laws that would impede rather than facilitate biotechnology research, development and deployment" OFAB is a monthly networking and biotechnology discussion forum for scientists, regulators, policy makers, media, politicians and the public.
For more information contact Dr. Francis Nang'ayo (email: f.mangayo@cgiar.org), Regulatory Specialist, AATF, or visit: http://www.aatf-africa.org
[ Send to a Friend | Rate this Article ]
---
A research and education partnership was created to promote the manpower capability in science and technology for the people of Africa. The Alliance for a Green Revolution in Africa (AGRA) is partnering with the University of Ghana, Legon, for the West Africa Centre for Crop Improvement (WACCI); and with the University of KwaZulu-Natal in South Africa for the African Centre for Crop Improvement (ACCI). Both programs will train 120 PhD plant breeders who will serve as the critical mass of scientists to help end Africa's food crisis. "These programs will bridge a wide gap in African scientific capacity, by training African plant breeders in African universities to improve and adapt the indigenous and orphan crops needed to meet Africa's food needs," said Joseph DeVries, Director of AGRA's Programme for Africa's Seed Systems.
The students will be tasked to develop strategies for conquering malnutrition and hunger in Africa. These future crop breeders should develop high-yielding, hardy, and nutritious varieties of African crops adapted to the wide range of conditions and constraints faced by Africa's small scale farmers. African staple crops cassava, sorghum, millet, plantain, and cowpea will be the priority crops for improvement.
Cornell University in New York joins the partnership and is tasked to provide services and resources for curriculum design, assessing research capacity and reviewing dissertation proposals.
The full report can be accessed at: http://www.agra-alliance.org/news/pr091707.html
[ Send to a Friend | Rate this Article ]
---
The yam bean, a root vegetable grown in South and Central America, South Asia, East Asia and the Pacific is a source of protein and seed oil used in the food industry in these regions. Séraphin Zanklan, a scientist at Centre Songhai in Porto-Novo, Benin, investigated the yam bean for its potential to grow and produce food under West African conditions. In an article to be published in the journal Crop Science, Zanklan reports that 34 yam genotypes were grown with and without flower removal at one droughty location and one irrigated location. Of the 33 traits that were measured, nearly all showed large genetic variation. In addition, the easy spreading of its seeds makes this crop very desirable to breeders.
Email Sara Uttech of the American Society of Agronomy at suttech@agronomy.org for highlights of the study.

Americas
Monsanto and DowAgrosciences have reached a cross-licensing agreement aimed at launching SmartStax™, the first-ever eight-gene stacked combination in corn. SmartStax will include the companies' above- and below-ground insect protection systems including Dow's Herculex® I and Herculex RW technologies; Monsanto's YieldGard VT Rootworm/RR2™ and YieldGard VT PRO(TM); and their weed control systems, Roundup Ready® and Liberty Link®. Every trait included in SmartStax is either available commercially or in advanced stages of regulatory review. The agreement is expected to create a new competitive standard for stacked-trait offerings as well as expand both the companies' seed brands and trait businesses.
"By bringing together the two companies that have developed and commercialized the trait technologies widely used in agriculture today, we can provide farmers an 'all-in-one' answer to demands for comprehensive yield protection from weed and insect threats," said Carl Casale, Monsanto's executive vice president of strategy and operations. The companies have collaborated on initial proof of concept testing on SmartStax aimed at feasibility of trait integration and viability of enhanced performance. SmartStax is expected to be commercially available by the end of 2010.
Read the press release at http://monsanto.mediaroom.com/index.php?s=43&item=527
[ Send to a Friend | Rate this Article ]
---
Senesco Technologies, Inc. and Bayer CropScience entered into a licensing agreement, consequently to which Bayer CropScience was granted the exclusive and worldwide rights to Senesco's proprietary gene technology for its use in rice. This is the third agreement for Bayer's use of Senesco's proprietary constructs after previous license agreements for the use of the technology in cotton and canola. The agreement anticipates that the licensed technology will enable Bayer CropScience to significantly enhance seed yields.
Dr. Michiel van Lookeren Campagne, Head of Research at BioScience, a business operations unit of Bayer CropScience, welcomes the expanded business relationship with Senesco: "Advantages in yield and yield stability have been the basis for the fast adoption of our superior hybrids. We anticipate that the further integration of Senesco's proprietary gene technology into our R&D pipeline can allow us to offer further benefits to our customers, especially with regard to ensuring high yields in difficult climatic conditions."
Read the press release at http://newsroom.bayercropscience.com/bayer/cropscience/cscms.nsf/id/20070918_EN?Open&ccm=400&L=EN&markedcolor
[ Send to a Friend | Rate this Article ]
---
The Inter-American Institute for Cooperation on Agriculture (IICA) and CropLife Latin America, a crop science industry group, have signed an agreement of cooperation aimed at facilitating the transfer of agricultural biotechnology to rural farmers in Latin America and the Caribbean. The two-year renewable agreement includes plans to establish distance and on-site seminars, structured workshops and fora, scholarship and internship programs, technological tours, research projects and the promotion of experiences in the transfer of "best practices." Both institutions will appoint a working group responsible for negotiating and drawing up the work agenda, and will assign staff to program, execute and monitor any training, research and dissemination programs agreed upon.
During the signing ceremony, IICA Director General Chelston Brathwaite underscored the important role science and technology play in agriculture, and the need to ensure that any agreements signed by the Institute benefit farmers in the hemisphere.
Read more at: http://www.iica.int/noticias/detalles/2007/CP35-2007_eng.pdf
[ Send to a Friend | Rate this Article ]
---
A survey by the Washington-based International Food Information Council (IDIC) shows that there has been little change in the American public's perception of food biotechnology. Those who had an opinion about food biotech were twice as likely to have favorable rather than unfavorable perceptions about it. "The public's attitudes about food biotechnology remained constant despite a year of tremendous media attention on food concerns," said IFIC President and CEO David Schmidt.
Respondents had an overall high level of confidence in the food supply. Those who cited a specific food safety concern, mentioned disease and contamination. The source or country of origin was a major concern this year.
See IFIC's press release at http://www.ific.org/newsroom/releases/biotechresearchrelease2007.cfm
Asia and the Pacific
Deltapine Australia Pty Ltd has obtained approval from the country's Office of Gene Technology Regulator (OGTR) for the limited and controlled release of four GM cotton lines modified to resist the cotton bollworm and tolerate glyphosate application. The trial is authorized to take place at up to 50 sites, in a maximum total area of 500 hectares in New South Wales and Queensland over a three year period (2007-2010).
The approval was made following extensive consultation on the Risk Assessment and Risk Management Plan (RARMP) with the public, the Gene Technology Technical Advisory Committee and other local councils. The finalized RARMP, which was prepared for DIR 073/2007 and formed the basis of the Regulator's decision, concluded that the proposed release poses negligible risks to people or the environment. Several restrictions, like the monitoring of harvest, transport and storage of GM plant materials, will be strictly imposed.
Several documents relating to this decision are available on the OGTR website http://www.ogtr.gov.au/ir/dir073.htm
[ Send to a Friend | Rate this Article ]
---
A study conducted by the Grains Research and Development Corporation (GRDC) found widespread and multiple herbicide resistant annual ryegrass in Western Australia (WA). Grain growers are now faced with severe management and sustainability issues. In less than two decades, the ryegrass across the WA wheat fields has evolved from being susceptible to being resistant to a number of herbicides including Oust and Hoegrass. The study also found that several populations are developing resistance to trifluralin and Select, herbicides used to control Oust and Hoegrass tolerant ryegrass. Although most of the populations are still susceptible to paraquat and glyphosate, the area's most popular knock-down herbicide, the future challenge is to sustain the effectiveness of these compounds by using more diversified cropping and farming systems, with less overall reliance on herbicides and more integrated management strategies.
Read more at http://www.grdc.com.au/director/events/mediareleases/?item_id=1BF189DEC1AD690BE49600A00E092D6A
[ Send to a Friend | Rate this Article ]
---
Mr. Fernando Nebbia, Argentina's Undersecretary of Food and Agriculture Policies, stressed the importance of agricultural biotechnology in transforming Indian agriculture and raising the income levels of small farmers in the same way that it did to farmers in Argentina. As the second largest grower of GM crops in the world, Argentina planted 18 million hectares of GM soybean, maize and cotton in 2006. The country increased its farm income by $5.4 billion in the last ten years and created thousands of job opportunities for Argentineans, said Nebbia during an international conference on agricultural biotechnology (AgriBio2007) in New Delhi.
In line with the Argentinean experience, India should accept that genetically modified seeds can be a part of the solution to feed the growing population and reduce the pressure on land. "If we like it or not, transgenics are the order of the day," said Mangala Rai, Director General of the Indian Council of Agricultural Research. The Federation of Indian Chambers of Commerce and Industry, in collaboration with the Department of Biotechnology and the Indian Council of Agricultural Research, organized the two-day conference. The International Service for the Acquisition of Agri-biotech Applications (ISAAA) and the US Department of Agriculture were also partners in this endeavor.
For details on the conference, visit http://www.ficci.com/press/release.asp or http://www.agribio2007.com. More news on agri-biotech information in India from Bhagirath Choudhary at b.choudhary@isaaa.org.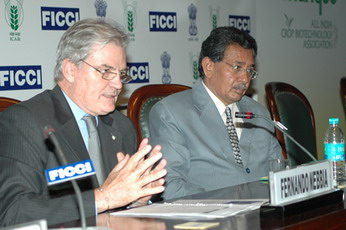 [ Send to a Friend | Rate this Article ]
---
An expert consultation on biofuels was organized by the Asia Pacific Association of Agricultural Research Institutions (APAARI) together with the Philippine-based International Rice Research Institute (IRRI), the International Crops Research Institute for the Semi-Arid Tropics in India (ICRISAT), the Washington-based International Food Policy Research Institute (IFPRI), and the International Maize and Wheat Improvement Center in Mexico (CIMMYT). The consultative meeting held at IRRI's headquarters in Los Baños, Philippines, focused on important biofuel issues such as (i) how bioenergy production may have an impact on global and regional food security; (ii) understanding bioenergy options for key crops and cropping systems in Asia; (iii) identifying research priorities for designing and evaluating integrated food-bioenergy production systems; and (iv) developing a framework for research on biofuels in key agricultural systems of Asia.
"There's no doubt biofuels will have an impact on agriculture in Asia and the Pacific and present some very interesting new opportunities," APAARI's executive secretary, R.S. Paroda, said. "But we need to be absolutely sure this will not affect the region's food security and its continuing efforts to alleviate poverty."
Some Asian countries have already started their own biofuel industries and are currently hoping for the promise of the biofuel industry in their respective countries; renewable source of energy that is cheap, clean, flexible, and can provide additional income to the poor people.
The article can be viewed at :http://www.irri.org/media/press/press.asp?id=158 and the proceedings at: http://72.14.253.104/search?q=cache:-sI-YtHC5_YJ:www.fao.org/docs/eims/upload/232867/2007%2520Expert%2520Consultation%2520on%2520Biofuels%2520Proceedings.pdf+Asian+consultation+on+biofuels+by+APAARI&hl=en&ct=clnk&cd=6
[ Send to a Friend | Rate this Article ]
---
An eggplant variety has been genetically modified to contain the natural insecticide from Bacillus thuringiensis (Bt), to improve its resistance to the fruit and shoot borer. Scientists from Cornell University, in partnership with Sathguru Management Consultants of India, led an international consortium through the first phase of the project. The project is a part of the Agricultural Biotechnology Support Project II (ABSPII), and is funded by the U.S. Agency for International Development (USAID).
Eggplant is a popular crop in the subtropics and tropics, especially in India and Bangladesh, where it is grown on about 1.5 million acres. Eggplant is sprayed many times during its fruiting stage to kill the larvae that penetrate the fruit. Insecticide spraying will not be effective anymore once the larvae have gotten inside the fruit. Insecticide use is expected to be reduced by 30%, and the yield to double as a result of better insect protection in genetically-modified eggplant.
"Cornell has worked effectively to facilitate a productive partnership between the public and private sectors that will make this technology available to eggplant producers at every economic level," said Ronnie Coffman, international professor of plant breeding and genetics and director of International Programs in Cornell 's College Agricultural Life Sciences CALS. Once all the greenhouse and field testing has been completed, the Bt eggplant will be released to the farmers in Asia by 2009.
For the full report, see press release at: http://www.news.cornell.edu/stories/Sept07/EggplantBt.kr.html
[ Send to a Friend | Rate this Article ]
---
India's Ministry of Environment and Forests (MOEF) through the Gazette notification dated 11 Sept 2007 has given an exemption to Rule 11 titled "Permission and approval of food stuffs" of the manufacture, use, import, export and storage of hazardous microorganisms/genetically engineered organisms from the Cells Rules 1989 (Rules 1989) of the Environment Protection Act 1986.
This exemption will allow producers not to seek approval from the Genetic Engineering Approval Committee (GEAC) to produce, sell, import or use food stuffs, ingredients in food stuffs and additives including processing aids containing or consisting of genetically engineered organisms or cells where the end product is not a living modified organism (LMO). However, the food stuffs derived from the GM organisms, as other food products will be regulated as per the Prevention of Food Adulteration Act and Rules 1954. The GEAC will continue to regulate and govern products consisting of living modified organisms (LMOs).
For details about this notification see The Gazette of India Extraordinary Part II -Sec.. 3(ii) S.O.No.1519 (E) New Delhi, published on 11 September, 2007. For more information about biotech in India contact: Bhagirath Choudhary at b.choudhary@isaaa.org.
[ Send to a Friend | Rate this Article ]
---
A seminar on Science and Technology Indicators in Indonesia was held at the Indonesian Institute of Science (LIPI) at Widya Garaha, to develop a concept of indicators that hopes to enhance the development of the biotechnology sector. The indicators will be used to determine industry and market conditions as well as identify priority biotechnology programs that will help facilitate the decision process of policy makers.
Indonesians have realized the potential contributions of biotechnology in food, health and industry, and are looking forward to the development of a technology -intensive industry in many sectors.
For more details see: http://www.korantempo.com/korantempo/2007/09/13/Ilmu_dan_Teknologi/krn,20070913,58.id.html or email dewisuryani@biotrop.org at the Indonesia Biotechnology Information Center.
[ Send to a Friend | Rate this Article ]
---
Local chief executives and representatives of more than 20 towns from all over the Philippines attended a two-day crash course on biotechnology, with emphasis on agricultural applications. The course included discussions of modern and traditional biotechnology; possible applications; and the various measures available to local government units (LGU) to help the farmers and traders gain from its economic potentials.
Overall, the participants gave the course a positive rating, saying that it provided them very important inputs on how biotechnology can help improve governance through various interventions at the local level. Mayor Florcelie L. Esguerra said learning biotechnology and its economic potentials helped her determine strategies for local development in terms of learning more, planning and the capacity to implement biotech programs to boost agricultural production. Mayors Development Center (MDC) president Gerardo DeLeon said that the pilot-testing of the LGU Course on Biotech will serve as the MDC's take off point to share the wealth of information on how to increase farm production.
The course was made possible by a collaborative effort of the Biotechnology Program Office of the country's Department of Agriculture, the Biotechnology for Life Media Advocacy and Resource Center (BMARC) and International Service for the Acquisition of Agri-biotech Applications (ISAAA).
Read more at http://www.da.gov.ph/
[ Send to a Friend | Rate this Article ]
---
Vietnam is considered as one of the 16 countries with a rich source of biodiversity. The Vietnamese government has acknowledged the importance of its vast naturally-endowed resources and the role of national and international laws to protect and promote its sustainable use.
A workshop attended by more than 100 biologists, and intellectual property managers from Switzerland and Vietnamese research agencies was conducted to discuss issues and strategies to protect inventions related to biodiversity and genetic resources. The workshop is a part of the Swiss-Vietnamese intellectual property project and jointly organized by the Swiss Federal Institute of Intellectual Property, the National Office of Intellectual Property of Vietnam, and the Department of Science and Technology of Ho Chi Minh City.
Hoang Thanh Nhan, deputy director of the Department of Environment Protection, said that "Vietnam has to deal with many challenges including conflict between social and economic development and biodiversity preservation, inconsistent policies, legislation and institutional plans on IPR, and the failure to encourage the community to preserve biodiversity".
For details of the workshop contact Hien Le of Biotech Vietnam at hientttm@yahoo.com.
Europe
The European Court of Justice has confirmed that the statutory GMO free regions are illegal after dismissing the appeals of Upper Austria and the Austrian Government against their ban on the use of genetically modified crops in the region of Upper Austria. The Judgement says that practices such as organic or small scale farming cannot be used as an argument to prohibit the cultivation of biotech crops approved by the European Union. It also confirms that it is illegal for national governments to impose bans and deprive individual farmers of the choice to grow GM crops which have been approved for commercial cultivation in the EU.
"Attempts to create so called "GMO-free regions" should be seen for what they are: a denial of the freedom of choice for farmers and consumers" said Johan Vanhemelrijck, Secretary General EuropaBio – the EU association for bioindustries. He also added that the court's dismissal is great news for farmers, for the European Food Safety Authority's (EFSA) scientific assessment, and for the EU biotech regulatory framework established by Member States. Farmers are free to take official actions should their region or government tries to stop them from cultivating approved transgenic crops.
Read the press release at http://www.europabio.org/articles/PR-Austrian_ECJ_070914.pdf
[ Send to a Friend | Rate this Article ]
---
Spain has currently over 75000 hectares of land under cultivation of biotech maize, an increase of 40 percent over last year's area, according to the Ministry of Agriculture, Fisheries and Food. Over half the maize planted in the province of Cataluña is genetically modified, and the area occupied by biotech varieties has doubled and tripled in Extremadura and Navarra, respectively. Bt maize accounts now for over 20 percent of the maize production in Spain.
A very significant increase in the adoption of biotech varieties is also observable in France, where the area under biotech maize increased by a factor of 4 in 2007. Other countries commercially growing biotech crops in Europe are Portugal, Germany, Check Republic, Romania, Slovakia and Poland.
For more information visit: http://www.fundacion-antama.org/node/206