News
Global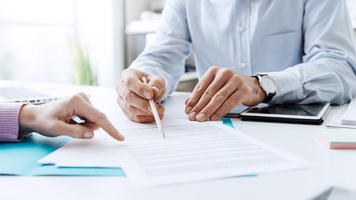 Scientists Miguel Sanchez of ChileBio and Wayne Parrott of the University of Georgia released an article on their review of research papers that are usually used as evidence of negative effects of GM food and feed. Their review article is published in the Plant Biotechnology Journal.
A total of 35 articles were evaluated. These articles are often cited by biotech critics to emphasize the adverse effects of GM crops. Studies not published in scientific journals as well as those reports evaluating only immunogenicity of pure proteins, instead of whole food or GM crops studies, were not included in the evaluation. Most of the articles assessed (43%) were about the effects of herbicide tolerant soybean event 40-3-2. Insect resistant maize MON810 was covered by 23%, while 9% tackled non-commercial events. Seven studies (20%) did not disclose which particular GM crop was used, making it impossible to replicate the experiments. Eleven out of 35 studies were authored by the Malatesta group at the University of Urbino and University of Verona in Italy.
The evaluation of research articles showed that the studies were conducted in just a few laboratories and published in less popular journals. Methodological flaws were also found in the papers, such as failure to disclose important details in the experiment and actual measurement of results, which invalidate the conclusions of the study.
Read the review article in Plant Biotechnology Journal.
Africa
Ghana's Ministry of Environment, Science, Innovation, and Technology called out to scientists to intensify research to combat fall armyworm.
During the Open Day event of the Council for Scientific and Industrial Research, Sector Minister, Prof. Kwabena Frimpong Boateng said, "The Crop Research Institute (CRI) has medium and long term plans using science and genetic engineering to produce something that could fight the fall armyworm in the years to come… It will help solve the threat of the deadly pest, which has destroyed swathes of farm fields across the country, and also a threat to government's planting for food and jobs program."
Prof. Boateng also said that he is delighted that the Minister of Agriculture supports the research. He mentioned that the study includes seed development so that in four years, Ghana will be able to produce more seeds and thus import less. "To the research community, the president has promised to devote 10% of the GDP towards research and development for all of us, if the right structures are put in place," he stressed.
Aside from addressing the scientists, he also encouraged the industry representatives and investors to invest more in science and agricultural innovation.
Read more from My Joy Online.
Americas
In a major step towards accuracy and completeness for the wheat genome, a team of scientists from Johns Hopkins present a new assembly that demonstrates the importance of using long, highly-accurate reads for resolving extremely complex, repetitive genomes.
The project aimed to overcome a longstanding challenge for wheat research as common bread wheat has one of the most complex genomes, with 6 copies of each chromosome, enormous numbers of near-identical sequences scattered throughout, and an overall size of more than 15 billion bases. Multiple attempts in the past to assemble the genome have failed.
In 2012, only one-third of the genome was assembled. In 2014, a short-read assembly managed to capture two-thirds of the genome in a highly fragmented assembly, while a subsequent short-read-based effort delivered more sequence but in millions of contigs. According to the authors of the study, this project is the first assembly that contains essentially the entire length of the genome, with more than 15.3 billion bases, and its contiguity is more than ten times better than the partial assemblies published in the past.
The most interesting finding of this study was the delineation of the ancestral plant's contributions to the bread wheat genome (known as the wheat D genome). "By aligning this assembly to the draft genome of Aegilops tauschii, the progenitor of the wheat D genome, we were able to cleanly separate the D genome component from the A and B genomes of hexaploid wheat, which is reported here for the first time," the team explains.
Read more about this research at the PacBio website.
[ Send to a Friend | Rate this Article ]
---
The U.S. Department of Agriculture's (USDA) Animal and Plant Health Inspection Service (APHIS) has announced the extension of deregulation to Bayer CropScience's canola event MS11, genetically engineered (GE) for male sterility and herbicide resistance.
APHIS has previously reviewed and deregulated these GE traits in other varieties of GE canola, and has prepared a plant pest risk similarity assessment (PPRSA), draft environmental assessment (EA), preliminary finding of no significant impact (FONSI), and a preliminary determination of nonregulated status. These documents were available for a 45-day public review and comment period on April 12, 2017. After considering the public comments, APHIS has determined there is no plant pest risk and is extending deregulation to the GE canola line.
The documents mentioned are all available at the USDA APHIS website.
Asia and the Pacific
The ISAAA report, (Brief 52) Global Status of Commercialized Biotech/GM Crops: 2016, was launched in Pakistan in an event organized by the Pakistan Biotechnology Information Center (PABIC) in collaboration with International Center for Chemical and Biological Sciences (ICCBS), University of Karachi (ICCBS). The report launch was conducted during the inaugural ceremony of SINO-Pak Hybrid Rice Research Center at ICCBS, University of Karachi on July 26, 2017. Prof. Dr. Muhammad Ajmal Khan and Prof. Dr. Atta-ur-Rahman jointly launched the 52nd annual report of ISAAA.
PABIC Director, Prof. M. Iqbal Choudhary discussed highlights of the ISAAA report as well as the achievements of Pakistan in the field, being the seventh largest biotech country in the world. On the other hand, Prof. Dr. Atta-ur-Rahman emphasized the need for swift adoption of agri-biotech applications in Pakistan to meet the food, fodder, and fiber needs for the growing population.
The ceremony was also attended by His Excellency Wang Yu, Consul General of China in Karachi and six member delegation of Chinese National Rice Research Center (CNRRI), Hangzhou - China, comprised of Prof. Dr. Cheng Shihua, Director General CNRRI, Prof. Dr. Zhuang Jieyun, Deputy-Director CNRRI, Prof. Dr. Wu Jianli, Dr. Wang Kejian, Professor, Dr. LuoJu, and Dr. ZhengYouchuan.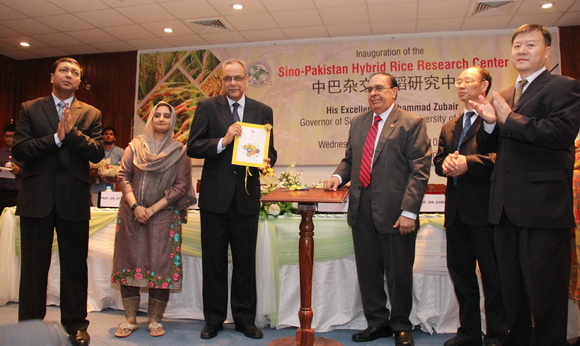 For more details about the event, contact Dr. Sammer Yousuf (dr.sammer.yousuf@gmail.com).
[ Send to a Friend | Rate this Article ]
---
CSIRO scientists and partners successfully mapped for the first time the genome of cotton bollworm and corn earworm, two of the most devastating caterpillar pests in agriculture. This relevant information will make it easier for researchers to identify the weaknesses of the pests, predict how they will mutate, and design plants that they will not want to eat. This breakthrough could potentially help the agriculture industry save billions of dollars a year.
The bollworm and earworm cause an excess of US$5 billion in control costs and damage crops in Asia, Europe, Africa, America, and Australia. The bollworm, in particular, easily develops resistance to pesticides. "It is the single most important pest of agriculture in the world, making it humanity's greatest competitor for food and fiber," CSIRO scientist Dr. John Oakeshott said. "Its genomic arsenal has allowed it to outgun all our known insecticides through the development of resistance, reflecting its name, armigera, which means armed and warlike."
In the mid-1990s, CSIRO scientists and Australian cotton breeders developed insect resistant varieties with Bt genes. After 10 years, there was an 80 percent decrease in the use of chemical pesticides that were used to control bollworms. However, a small percentage of bollworms have developed resistance to Bt cotton and new pesticides were introduced to manage the pest problem. With the genome data available, new resistance management strategies can be developed.
Read the news release from CSIRO for more information.
[ Send to a Friend | Rate this Article ]
---
Farmers, local government constituents, and other key stakeholders in the province of Pangasinan, Philippines expressed their backing for, and willingness to adopt Bt talong (eggplant) by signing a declaration of support for its commercialization during a seminar with key people involved in the development and commercialization of Bangladesh's Bt brinjal last July 27, 2017 at Pangasinan State University (PSU)-Sta. Maria Campus.
Dr. Md. Kamrul Hasan, Principal Scientific Officer, On-Farm Research Division of Bangladesh Agricultural Research Institute (BARI); Ms. Zawata Afnan, Assistant Director for the Department of Environment of Bangladesh; Dr. Mohammad Abdur Rashid, Principal Scientific Officer of the Agricultural Economics Division of BARI; and Dr. Gour Pada Das, Former Coordinator of Feed the Future Eggplant Project, shared their experiences and lessons in terms of research and development, regulatory measures employed upon Bt brinjal's commercialization, and the learnings and challenges linked to farmer adoption in the Media Conference, Interaction and Field Visits with Bt Brinjal Stakeholders from Bangladesh held on July 26-28, 2017 in Quezon City and Pangasinan, Philippines.
Bt eggplant project and study leaders Dr. Desiree Hautea and Dr. Lourdes Taylo of UPLB also presented the development, safety, regulation, and potential benefits of Bt talong in the Pangasinan seminar.
The media conference was attended by members of the press, scientists, and key partners, while the seminar gathered farmers and local government units from 10 districts of Pangasinan province, as well as students and faculty of PSU. Both activities served as platforms for the participants to ask their questions and voice their concerns about Bt brinjal adoption, biotechnology, and how lessons from Bangladesh can be applied in the Philippines.
The three-day activity was organized by the Department of Agriculture (DA)-Biotechnology Program Office and ISAAA. The seminar, meanwhile, was held in partnership with the Municipality of Sta. Maria, Pangasinan, and PSU-Sta. Maria Campus.

For more updates on biotechnology in the Philippines, visit the SEARCA BIC website.
Europe
A new study published and conducted by researchers from Switzerland, Czech Republic, and China confirms that the individual Cry proteins in SmartStax maize do not harm non-target species that are non-sensitive to the individual proteins. This is the first study that investigated the impact of SmartStax maize (expressing 6 different Bt Cry proteins to control pest Lepidoptera and Coleoptera) on non-target arthropod predators.
Arthropods are exposed to genetically engineered (GE) crops with stacked insecticidal traits from multiple Cry proteins from Bacillus thuringiensis (Bt). The research team followed the flow of different Cry proteins through the foodweb (from plant to herbivore to predator) and conducted feeding bioassays. They found that three predators (lacewing, ladybird, and spider) are not affected by SmartStax maize.
For more details, read the abstract of the paper in Proceedings of the Royal Society B.
Research
The Arabidopsis gene RESISTANCE TO POWDERY MILDEW8.1 (RPW8.1) confers resistance to virulent fungal pathogens. However, the underlying mechanism remains unclear. Yan Li and a team of researchers from Sichuan Agricultural University studied the gene by ectopic expression of RPW8.1 in Arabidopsis and rice. This boosted pattern-triggered immunity (PTI), resulting in enhanced resistance against different pathogens in both crops.
In Arabidopsis, analysis revealed that ectopic expression of RPW8.1-YFP upregulated expression of many pathogen-associated molecular pattern (PAMP-)-inducible genes. The transgenic line exhibited pronounced PTI responses such as callose deposition, production of reactive oxygen species, expression of defense-related genes and hypersensitive response such as cell death.
Hence, the growth of a virulent bacterial pathogen was significantly inhibited in transgenic lines expressing RPW8.1-YFP. In rice, expression of RPW8.1-YFP led to enhanced resistance to the blast fungus Pyricularia oryzae and the bacterial pathogen Xanthomonas oryzae pv. oryzae.
These results suggest a connection between RPW8.1 function and PTI, and demonstrate the potential of RPW8.1 as a transgene for engineering disease resistance across crops.
For more information, read the article in Plant Biotechnology Journal.
[ Send to a Friend | Rate this Article ]
---
DA1 and DAR1 are ubiquitin receptors that function as negative regulators of cell proliferation during development in Arabidopsis. An arginine to lysine mutant at amino acid site 358 could lead to the da1-1 phenotype, which results in an increased organ size and larger seeds. The team led by Guangning Xie from Shandong University in China separately introduced the mutated ZmDA1 (Zmda1) and mutated ZmDAR1 (Zmdar1) into the maize elite inbred line, DH4866.
The grain yield of the transgenic plants was 15% greater than that of the wild types due to improvements in the grain number, weight, and starch content. Analysis showed that overexpression of mutated Zmda1 and Zmdar1 promoted kernel development and enhanced expression of starch synthase genes, leading to enhanced grain yield.
This study suggests that the overexpression of the mutated ZmDA1 or ZmDAR1 genes can improve starch synthesis in maize kernels. This could be a candidate gene for improving maize yield.
For more on this study, read the article in Plant Biotechnology Journal.
New Breeding Technologies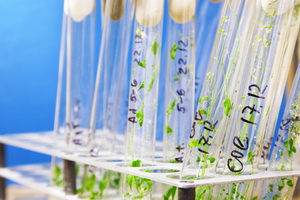 The CRISPR-Cas9 system allows effective gene modification through RNA-guided DNA targeting. Researchers have significantly altered Cas9, resulting in partially or completely deactivated Cas9. The deactivated Cas9 (dCas9) offers a platform to regulate transcriptional expression with the addition of an activator or repressor.
The team of Jong-Jin Park of the Oak Ridge National Laboratory redesigned a CRISPR-Cas9 activation system by adding several activators (p65 transactivating subunit of NF-kappa B and heat-shock factor 1, or HSF activator) to the dCas9 for application in plants. The redesigned CRISPR-Cas9 activation system was tested in Arabidopsis to increase endogenous transcriptional levels of production of anthocyanin pigment 1 (PAP1) and Arabidopsis thaliana vacuolar H+-pyrophosphatase (AVP1).
The expression of PAP1 was increased significantly and the activated plants exhibited purple leaves similar to that of PAP1 overexpressing lines. The AVP1 gene expression was also significantly increased in the CRISPR-edited plants. Compared to wild types, the AVP1 activated plants had increased leaf numbers, larger single-leaf areas and improved tolerance to drought stress, similar phenotypes to AVP1 overexpressors.
Therefore, the redesigned CRISPR-Cas9 activation system containing modified p65-HSF provides a simple approach for producing activated plants by upregulating endogenous transcription levels.
For more information on the study, read the article in PLOS One.
Beyond Crop Biotech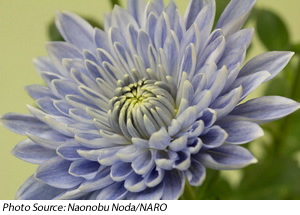 Researchers led by plant biologist Naonobu Noda at the National Agriculture and Food Research Organization in Tsukuba, Japan have genetically engineered the world's first true blue chrysanthemum.
True blue flowers are rare in nature, and occur only in selected species such as morning glories and delphiniums. True blue requires complex chemistry. Anthocyanins, the pigment molecules in the petals, stem, and fruit, consist of rings that cause a flower to turn red, purple, or blue, depending on what sugars or other groups of atoms are attached. Conditions inside the plant cell also matter, so simply transplanting an anthocyanin from a blue flower like a delphinium will not really work.
Noda first inserted a gene from the bluish flower Canterbury bell into a chrysanthemum. The gene's protein modified the chrysanthemum's anthocyanin to make the bloom appear purple instead of reddish. To get closer to a true blue, Noda and his team then added a second gene from the blue-flowering butterfly pea. This gene's protein adds a sugar molecule to the anthocyanin. The research team planned to add a third gene, but the chrysanthemum flowers were blue with just the two genes. Chemical analyses revealed that the blue color was possible in just two steps because chrysanthemums already had a colorless component that interacted with the modified anthocyanin to create the blue color.
For more details, read the news article from Science Magazine.
Announcements
What: European Biotech Week: Celebrating Innovation
Where: All across Europe (See list of events here.)
When: September 25 - October 1, 2017
For more information, visit the European Biotech Week website.
From The BICs
The Government of Sindh, International Center for Chemical and Biological Sciences (ICCBS), and China National Rice Research Institute (CNRRI) have mutually agreed that CNRRI will facilitate Pakistan, especially the agriculture research-based centers of Sindh to test different hybrid rice varieties, small and large scale seed production of most suitable varieties, and their commercialization in Pakistan.
This agreement was discussed by CNRRI representatives, together with ICCBS and Pakistan Biotechnology Information Center Director, Prof. M. Iqbal Choudhary, and Mr. Sohail Anwar Siyal, Minister of Agriculture, Sindh Province, on July 26, 2017.
In addition, CNRRI will also train young Pakistani researchers in the field of agriculture so that they can effectively utilize modern biotech techniques to improve their local rice verities. The partners also agreed that CNRRI and ICCBS will work at their ends to solve quarantine issues for prompt transfer/clearance of seed materials. The Agri Minister also expressed his full support on the issue.
For more updates on biotechnology in Pakistan, send an e-mail to Dr. Sammer Yousuf (dr.sammer.yousuf@gmail.com).
---
Socio-economic considerations, multiple agency review, labeling, and legal court challenges are the major obstacles in getting biotech crops to farmers, according to Senior Legal Consultant of the Program for Biosafety Systems (PBS) Atty. Gregory Jaffe, who presented in the Agriculture and Development Seminar Series (ADSS) of the Southeast Asian Regional Center for Graduate Study and Research in Agriculture (SEARCA) on July 24, 2017 in his talk titled "GM Crops to Farmers: Curves in the Roads." An example cited was the court case filed against Bt eggplant in the Philippines which is more of a procedural issue than a technical one. According to Atty. Jaffe, the key is transparent and predictable biosafety regulatory procedures that anticipate and address the said issues before a product is approved for release.
The seminar was organized by SEARCA Biotechnology Information Center (BIC) and PBS Philippines. It was attended by students, researchers, and key scientists and experts from the Los Baños scientific community.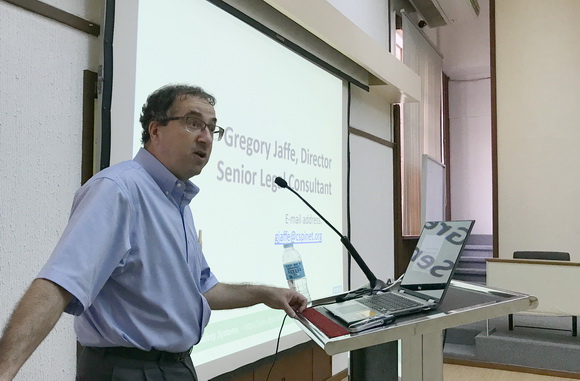 For more biotech updates in the Philippines, visit the SEARCA BIC website.